Chocolate Cherry Brownies
Ah yes. Chocolate Cherry Brownies. Without a doubt the best thing that ever happened to regular, plain ole chocolate brownies.
Think gooey, moist, rich chocolate brownies loaded with juicy cherries that are slightly tart, slightly sweet, bringing about a nice texture and flavor to each bite.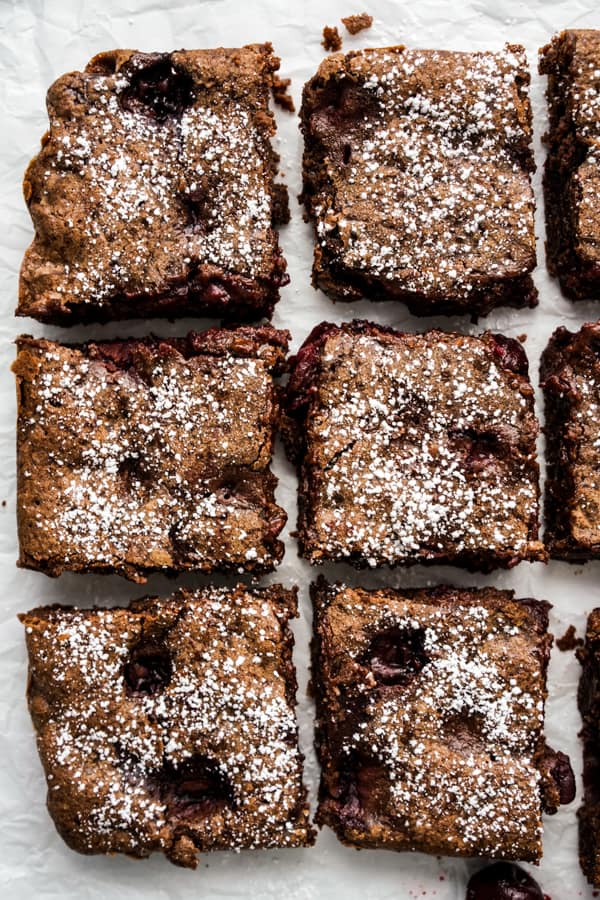 These chocolate cherry brownies are perfect for everyday consumption. For when you want a little twist to good old brownie.
And even more perfect for the holiday season! ❤️💚
The Best Chocolate Cherry Brownies
I like to make all kinds of excuses to consume all my favorite desserts in the month of December. There's my other holiday brownie favorite, Mint Chocolate Brownies with Andes Mint, and these delicious White Chocolate Peppermint Cookies, which are often in our holiday baking to-do list.
And recently these Chocolate Cherry Brownies have been especially close to my heart.
Something about the rich fudge-y brownie along with cherries make it so festive and fun.
I'll have one, and then another, and then another…
Chocolate cherry brownies are addictive, and yes, sometimes it can be a problem.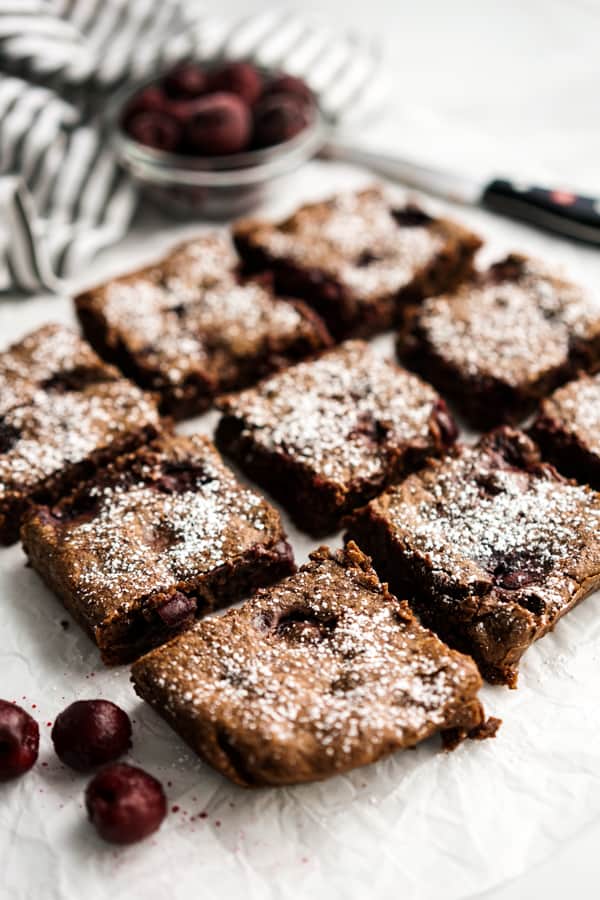 But hey, it's Christmas and sweets are totally allowed during this season. Especially Christmas in 2020 where everything seems weird and unusual.
It should be a rule. Chocolate Cherry Brownies are an absolute necessity in Christmas 2020.
In all seriousness, these chocolate cherry brownies are simply awesome, and the very best kind of brownies. And here's why:
One-bowl prep! Who doesn't love a batter that you can make all in one bowl?
It is rich, fudge-y and so moist. I've said this multiple times, but it's worth mentioning how irresistibly decadent this brownie is.
Those cherries! This recipe uses frozen cherries (or fresh if you can find them). The beauty of using frozen/fresh cherries instead of jarred cherries is that it doesn't have additives and coloring which often leave a weird aftertaste.
15 minutes active time. That's all the time it will take you to be in your kitchen doing the actual work and the oven does the rest of it. If this doesn't make you want to skip future store-bought brownie mix, well…it totally should! 😉
The BEST kind of pick-me-up. Something about that chocolate just gives me a little jump-start, a little pick-me-up, when I am feeling a little blah. This is exactly what my 2020 needs.
Let's make it!
Like I mentioned earlier, this chocolate cherry brownie recipe is a one-bowl, 15-minute prep kinda recipe.
Translation: so dang easy!!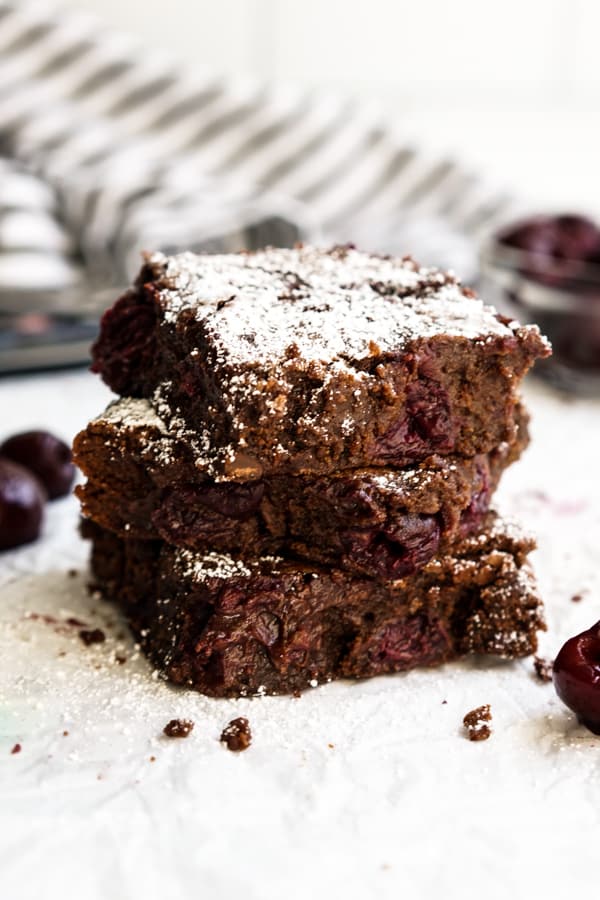 Let's make some chocolate cherry brownies! It's SO easy.
First, whisk the wet ingredients together:
granulated sugar
eggs
unsalted butter
vanilla extract
Then add the dry ingredients:
all purpose flour
cocoa powder
chocolate chips
a pinch of salt
Mix everything up to combine, then add in frozen or fresh (pitted) cherries). I like to use frozen because it's much easier to find, especially in December. Also, frozen cherries are pitted, and just as good as fresh when you are baking them.
This chocolate cherry brownie recipe measurements is made for a 9′ x 9′ square baking dish.
Remember to line baking dish with parchment paper or grease it before pouring brownie batter onto it. This will make it much easier to remove brownie from dish when it is done baking.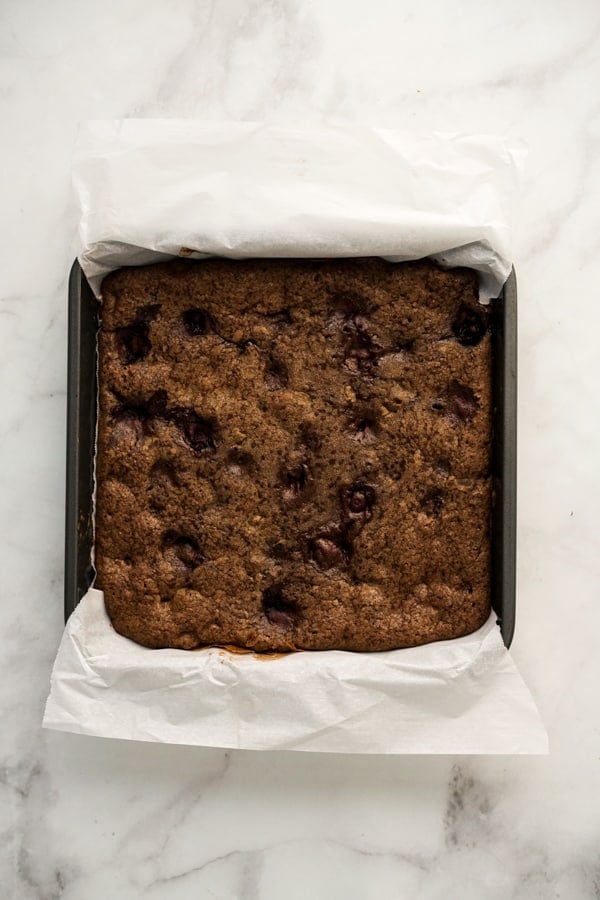 When chocolate cherry brownies are done baking, let it cool, then cut the brownies into nine squares and if you want to give it that snowy top look, sprinkle with powdered sugar.
Powdered sugar doesn't add much to the taste so if you are out of it you can definitely omit this step.
And last, but definitely not the least, bite into those gooey, warm, decadent chocolate cherry brownies.
Enjoy it, savor every single bite. ❤️
Tips and Tricks
A few things to note when baking these chocolate cherry brownies:
Use good quality cocoa powder and chocolate chip for the best chocolate cherry brownies!
Line baking dish with parchment paper or grease for cooking oil for easy removal.
Brownie batter is thick and will be slightly clumpy when added to the baking dish. Do your best to spread it out even with spatula but don't worry to much about getting it perfect. Once it bakes/warms up, the batter will spread out more evenly.
Insert toothpick into brownie (into areas without the cherries) to test for doneness when it comes out of the oven. If toothpick comes out clean, then it is done.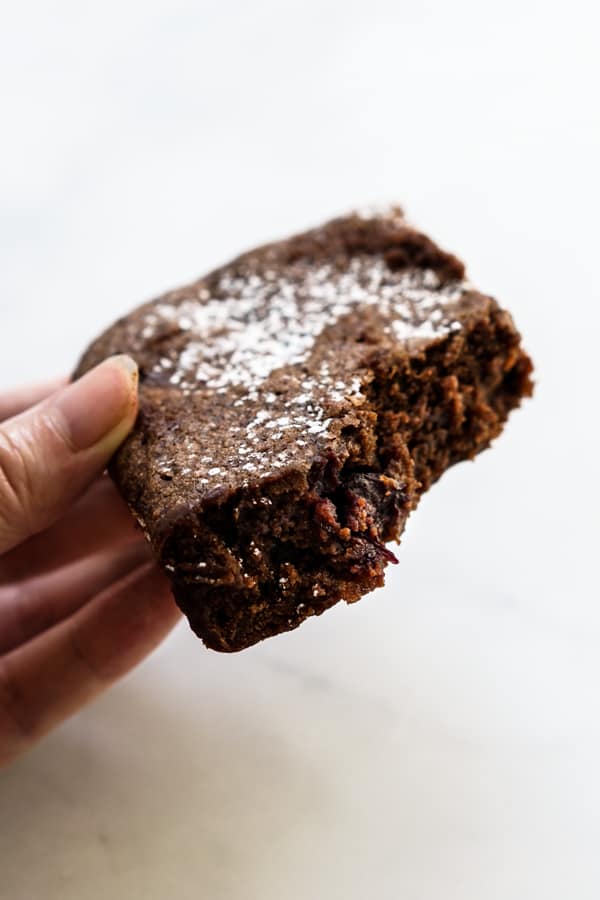 Common Questions
How to Store Leftover Brownies?
Keep brownies in an airtight container for up to 2 days in room temperature or up to 7 days in the refrigerator. When ready to eat, microwave it for 10 seconds – they taste best gooey and warm.
Can brownies be frozen?
Yes. You can keep in airtight container and freeze for up to 2-3 months. Brownie batter can be frozen as well. Bring frozen batter to a complete defrost the night before prior to baking.
Trust me when I say, this, my friend, is what you need this holiday season.
Team Chocolate Cherry Brownies forever. ❤️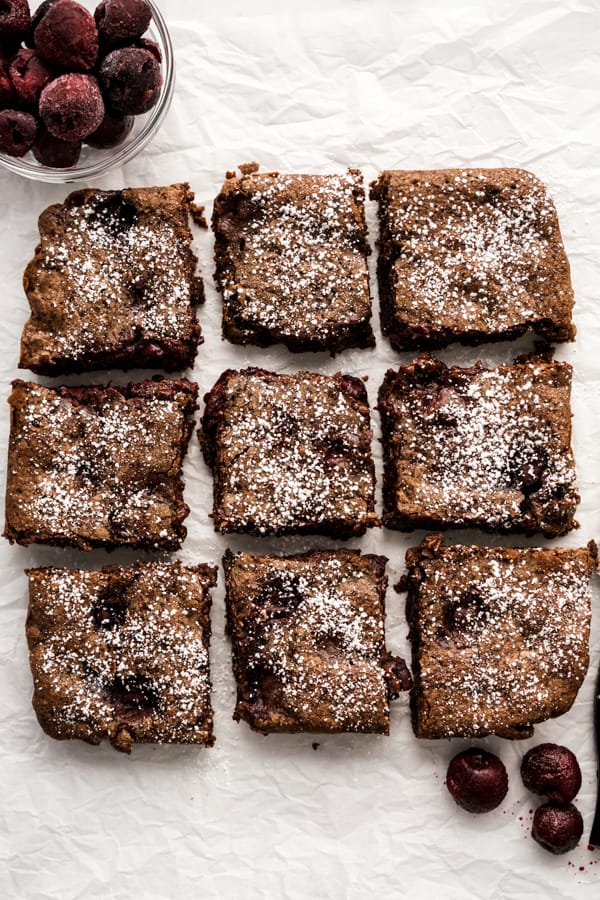 Other Delicious Treats
Check out some of my favorites:
DID YOU ENJOY THIS RECIPE? Please comment below and give us a 5-star rating! This will help others find this recipe on Google and Pinterest. We very much appreciate your help! 🤍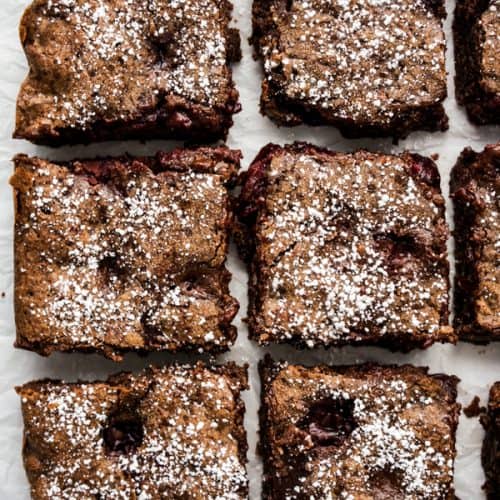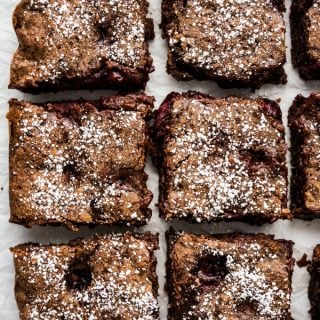 Chocolate Cherry Brownies
Fudge-y, rich and gooey chocolate brownies filled with juicy cherries, sprinkled with powdered sugar. A fun and festive dessert recipe!
Print
Pin
Ingredients
1/2

cup

unsalted butter

softened

1 1/4

cup

granulated sugar

2

large eggs

1

tsp

vanilla extract

3/4

cup

all purpose flour

1/3

cup

cocoa powder

1/2

tsp

salt

1/2

cup

chocolate chips

1

cup

frozen cherries

or fresh

powdered sugar

optional
Instructions
In a large bowl, bright together butter, sugar, eggs, and vanilla extract. Whisk to combine.

Add flour, cocoa powder, salt and chocolate chips. Combine well using a spatula.

Add cherries, then fold to combine. Batter will be thick.

Line baking dish with parchment paper or grease baking dish. Then bring batter onto baking dish and use spatula to spread evenly. Batter will be chunky but will even out after baking.

Bake for 40-45 minutes, or until toothpick comes out clean.

Let it cool completely in the pan on a wire rack and then cut brownie into smaller pieces.

Sprinkle with powdered sugar. Serve and enjoy!
Nutrition
Calories:
318
kcal
|
Carbohydrates:
47
g
|
Protein:
4
g
|
Fat:
14
g
|
Saturated Fat:
9
g
|
Cholesterol:
65
mg
|
Sodium:
152
mg
|
Potassium:
107
mg
|
Fiber:
2
g
|
Sugar:
36
g
|
Vitamin A:
400
IU
|
Vitamin C:
1
mg
|
Calcium:
28
mg
|
Iron:
1
mg