I have a serious obsession with this Caramelized Onion Dip recipe. Creamy yet still fairly light, flavorful and filled with chunks of golden brown, caramelized onions, I'm here to warn you that this thing is dangerously delicious.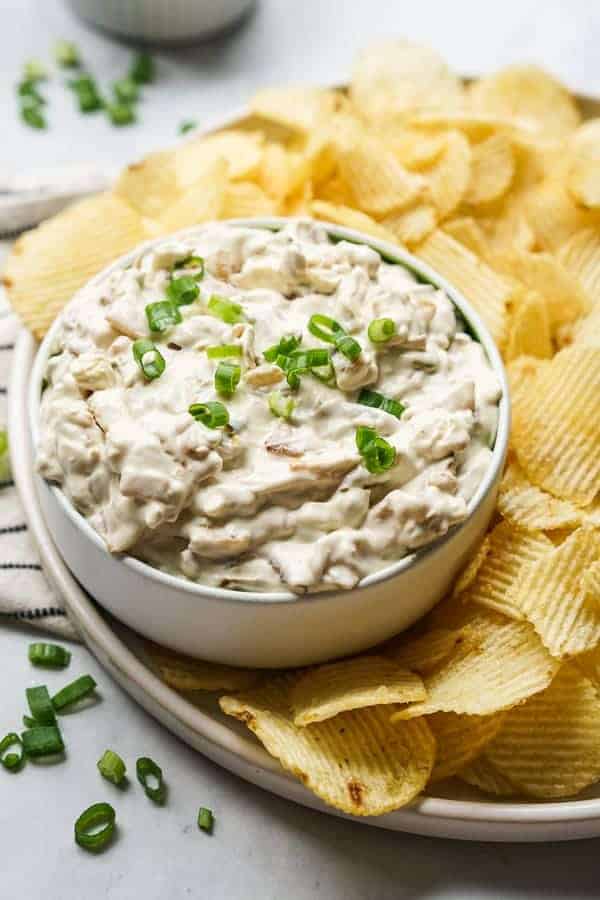 Looking for more appetizers and finger food? Check these favorites out as well: Cream Cheese Sausage Balls, Spinach Pinwheels, and Everything Bagel Pigs in the Blanket.
Mind-Blowing Onion Dip
I love bringing this to parties and potlucks because it takes 20 minutes to put together and it's always gone before I know it.
I get to go home with an empty bowl and not be tempted because I love this so much it is dangerous to have around the house (it's a bit of an obsession).
At the same time I will be lying if I say I have not eaten my feelings and cleaned it out all by myself.
Grab a chip, dig in, and you will know what I mean.
It is very very hard to stop at one. Or two. Or twenty. 😉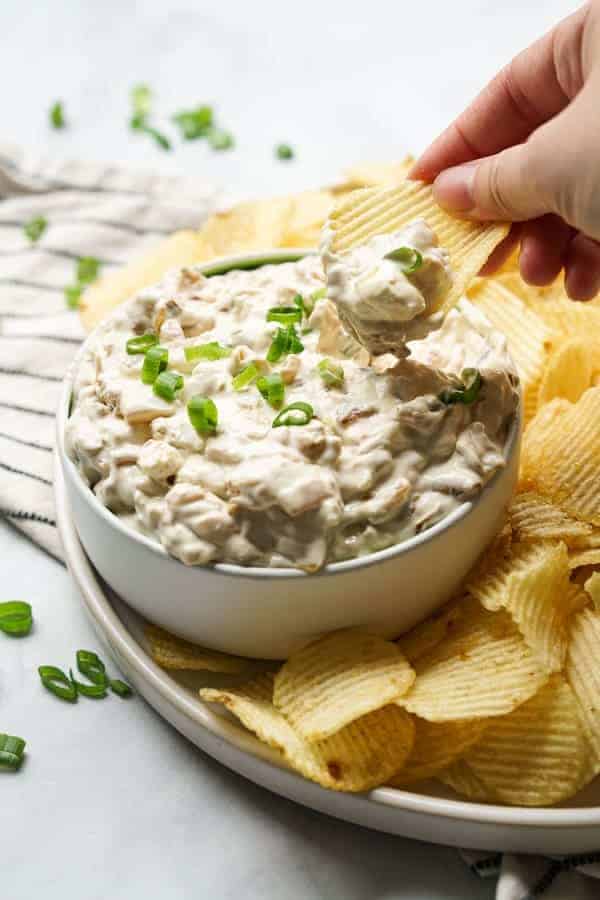 I've been obsessed with yummy dips lately. Maybe it's because it's football season and all the game day talk has been making me crave all the game day food (yes yes game day is about the food).
My refrigerator is filled with salsas and hummus and all the dip things. I have also been craving my Easy Queso and Homemade Guacamole big time. There must be something in the air that is putting me in a "dip mood" lately.
The Inspiration
Everyone who knows me know my love for Trader Joe's.
And one of the many things I love about Trader Joe's is their Caramelized Onion Dip.
I love getting that tub of goodness, a bag of potato chips, and just PIG OUT in front of the TV.
That's really how I came about making this. I wanted more Caramelized Onion Dip. Instead of a small tub, I want a whole lot of it to be able to bring to parties and share with friends and family during get-togethers.
I also wanted a whole lot but not a lot of $$. And you betcha you get a whole lot of Caramelized Onion Dip from this recipe! It is a super cost efficient party food, game day food, holiday appetizer, or snack any time.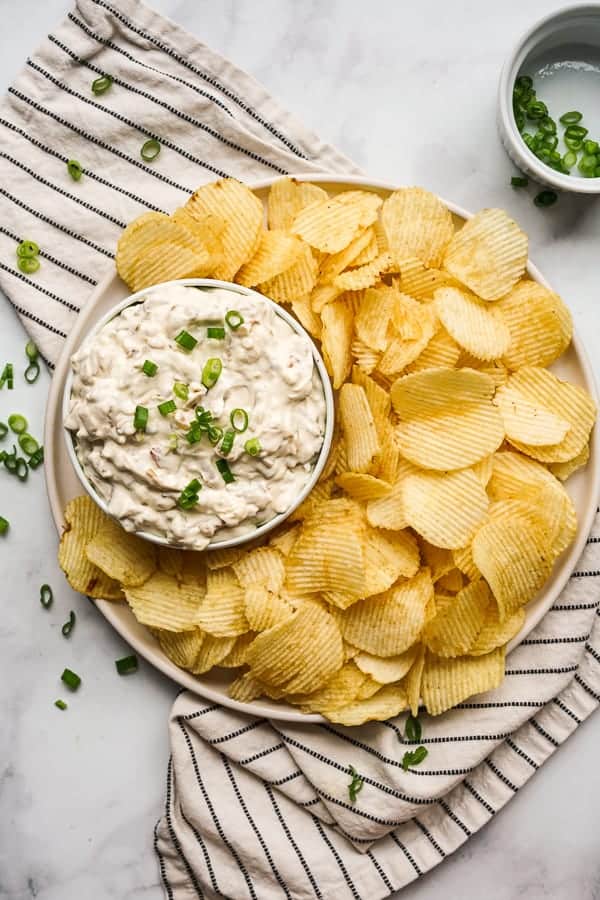 How to make Caramelized Onion Dip
Something magical happens when you sear white onions in butter until it turns golden brown and soft. It produces this sweetness and completely changes the texture of an onion.
It also makes your kitchen smell heavenly.
And that's exactly what we are doing. Grab a large skillet, sauté diced white onions (do not use red onions) in butter under medium heat and wait patiently till it softens and caramelizes.
It will take a little while (approximately 5-10 minutes), and the onions will shrink significantly when it softens.
And don't gorget to add a pinch of salt to open up the flavors even more and give it that final oomph.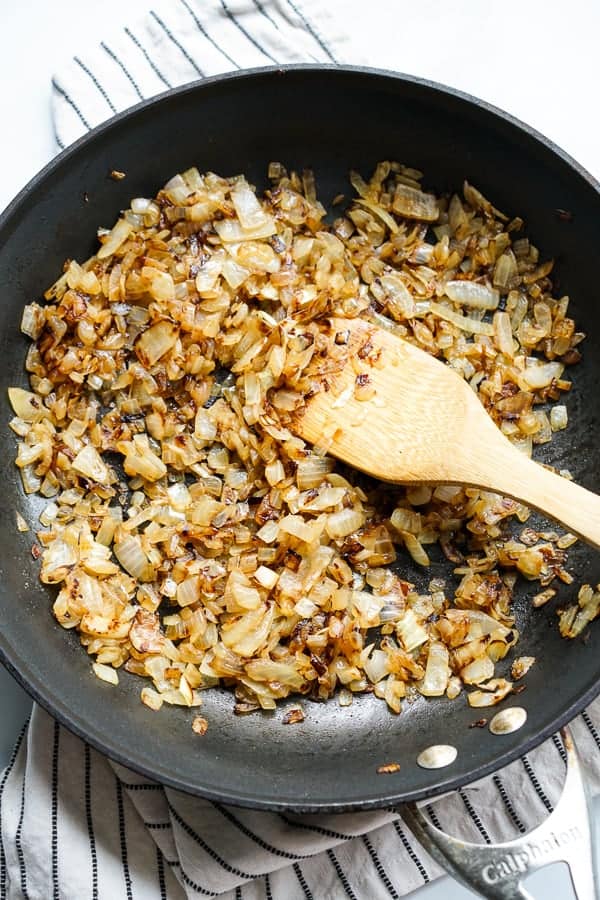 Then add the caramelized onions into a big bowl and combine with sour cream, softened cream cheese, salt (optional), sugar and a little bit of soy sauce.
Yes, soy sauce.
It is the secret ingredient that makes this dip what it is.
TRUST ME.
Garnishing is totally optional but if you choose to, sprinkle with some green onions if you have them at hand.
And then comes the best part: grab a chip and dip in!
How long can you keep Caramelized Onion Dip?
You can store the dip in the fridge in an airtight container for up to 7 days!
Potato Chip Substitutes
Besides potato chips, here are other ingredients that you can dip into this bowl of deliciousness!
Veggie sticks – carrots, cucumber, celery
Pretzels
Pita chips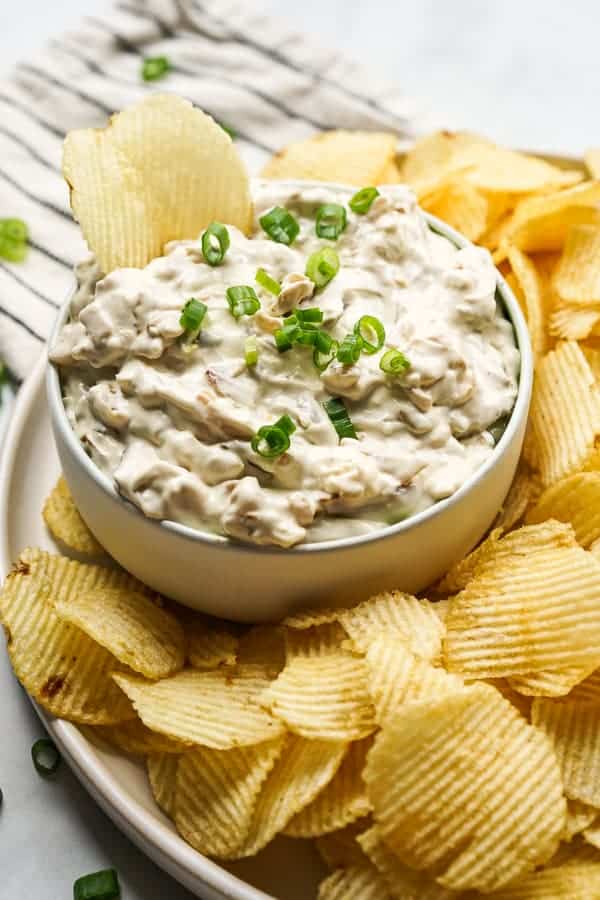 Other Tips and Tricks
Be patient and let the onions cook until they cook down, soften and turn brown. Stir every 30 seconds to ensure the onions are cooked evenly.
After caramelizing the onions, add a pinch of salt to open up the flavors
Be sure to completely soften cream cheese before combining it with the other ingredients to avoids chunks of cream cheese in the dip. Use the defrost setting on the microwave to soften it if needed.
Taste the mixture before adding more salt at the end!
Like this less salty? Add less salt or do not add more salt at the end, or use low-sodium potato chips.
If you are into savory snacks, appetizers, or just yummy food in general, make this because you are going to love this!
I am all about crispy potato chips combined with creamy, flavorful dip with chunks of softened caramelized onions.
SO. DANG. GOOD.
Now excuse me while I go munch of some of this yumminess.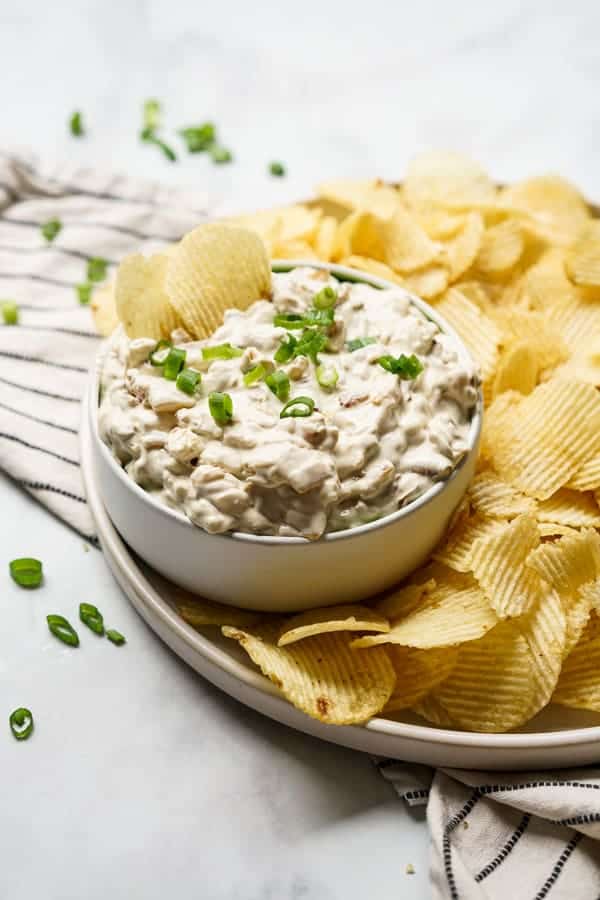 Other Appetizer or Dips!
If you like this dip, you might enjoy some of these other recipes!
DID YOU ENJOY THIS RECIPE? Please comment below and give us a 5-star rating! This will help others find this recipe on Google and Pinterest. We very much appreciate your help! 🤍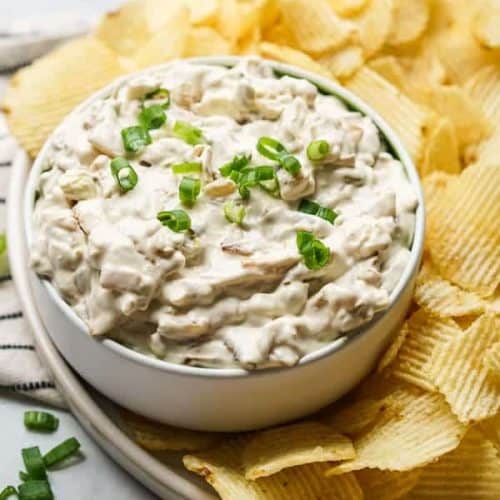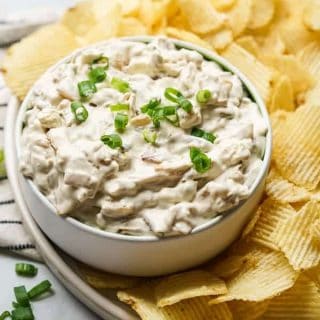 Caramelized Onion Dip
A creamy and flavorful dip filled with chunks of delicious caramelized onions, served with potato chips. It's the ultimate appetizer, dip, game day snack and party food!
Print
Pin
Ingredients
16

oz

sour cream

3-4

oz

cream cheese

softened

2

large

white onions

3

tbsp

butter

1/2

tsp

salt

to taste, + more for sautéing onions

1

tsp

sugar

1

tsp

soy sauce

1

bag

potato chips

1-2

tbsp

chopped green onions

optional
Instructions
Soften cream cheese. Make sure it is completely softened – defrost in microwave if needed.

Melt butter in a large skillet under medium heat, then add diced onions. Stir every 30 seconds or so to make sure onions are evenly cooked. Sauté until onions are soft and golden brown. This may take a little while – be patient! Add a pinch of salt to open up flavors. Remove from heat.

In a large bowl, combine sour cream, softened cream cheese, caramelized diced onions, sugar, soy sauce, and 1/2 tsp salt (see Note 1). Mix well.

Optional: garnish with chopped green onions.
Notes
Note 1: Adjust salt accordingly! If you like it less salty, taste before adding salt as you may not need the amount the recipe calls for!
Nutrition
Calories:
284
kcal
|
Carbohydrates:
16
g
|
Protein:
3
g
|
Fat:
24
g
|
Saturated Fat:
10
g
|
Polyunsaturated Fat:
4
g
|
Monounsaturated Fat:
8
g
|
Trans Fat:
1
g
|
Cholesterol:
42
mg
|
Sodium:
354
mg
|
Potassium:
496
mg
|
Fiber:
2
g
|
Sugar:
3
g
|
Vitamin A:
508
IU
|
Vitamin C:
7
mg
|
Calcium:
72
mg
|
Iron:
1
mg