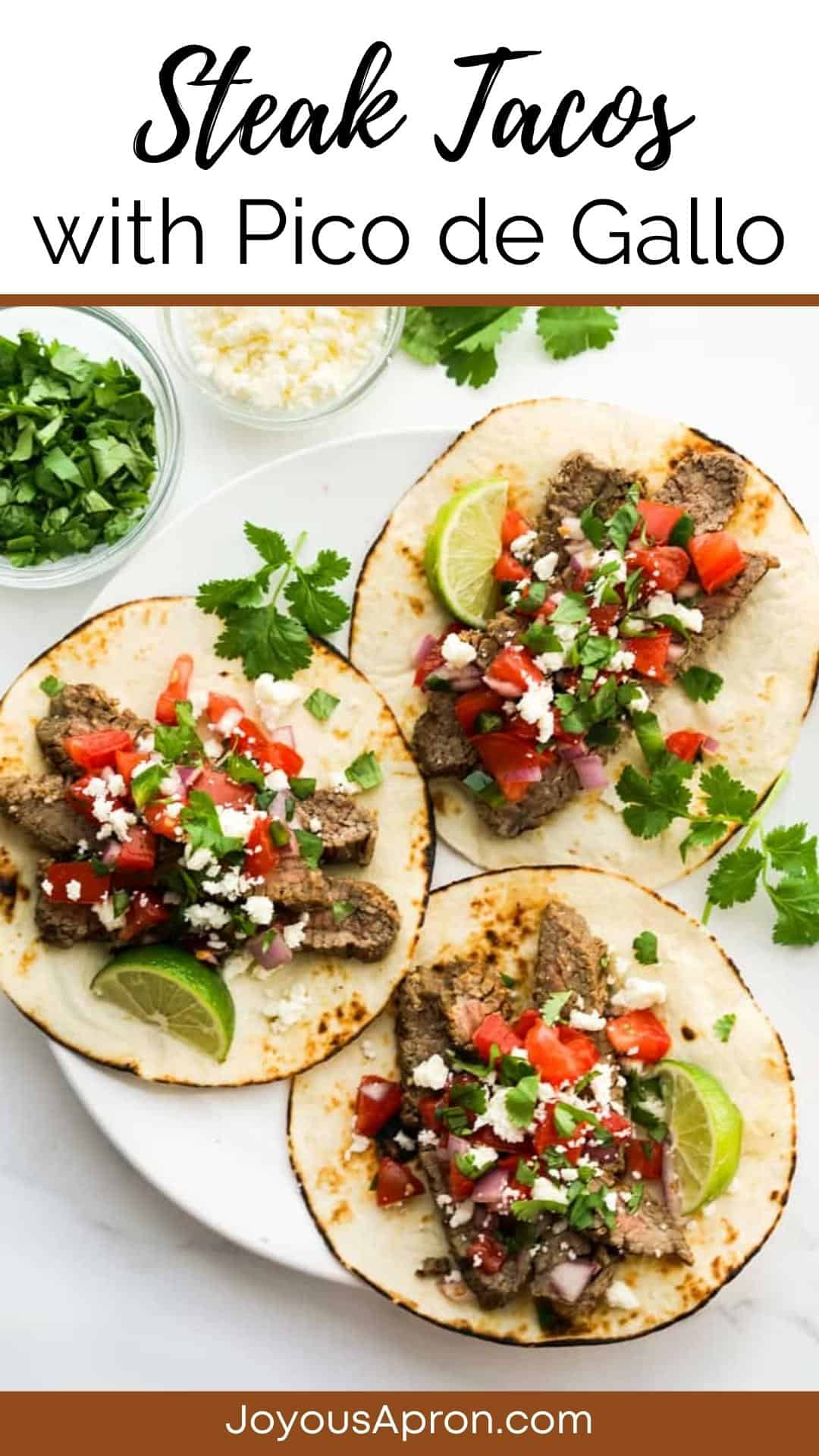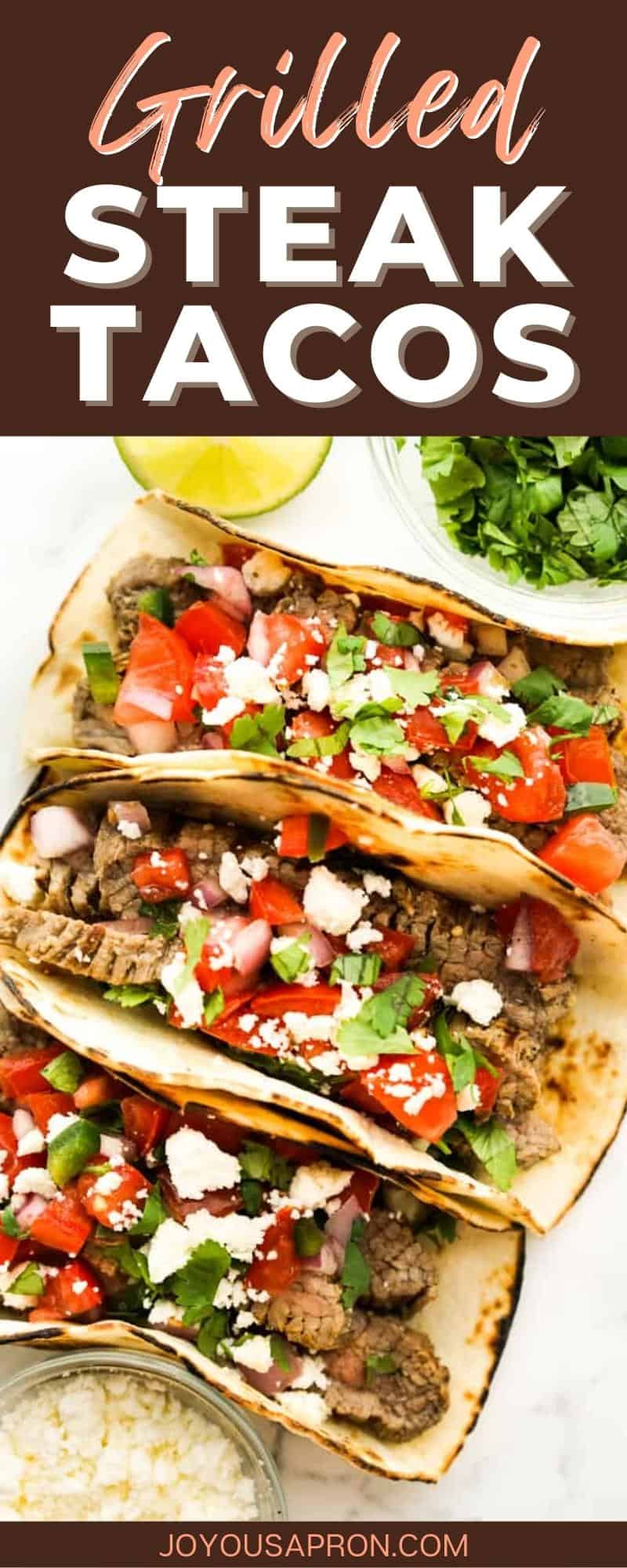 I'm loving these easy and delicious Grilled Steak Tacos! These marinated steak pieces are wrapped in a warm grilled flour tortilla, then topped with a tangy pico de gallo, queso fresco and fresh cilantro.
You can make the beef steaks on the outdoor grill or even on a grill pan, and enjoy this light and yummy dinner any time of the year!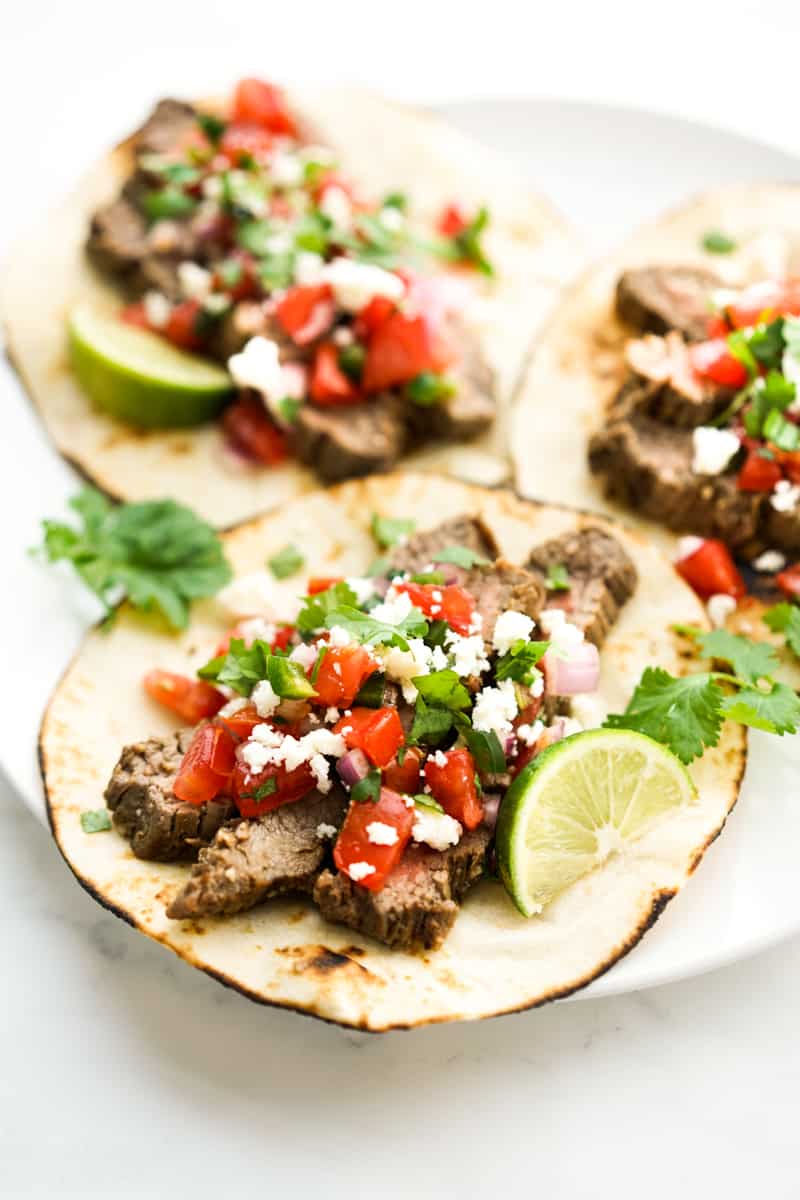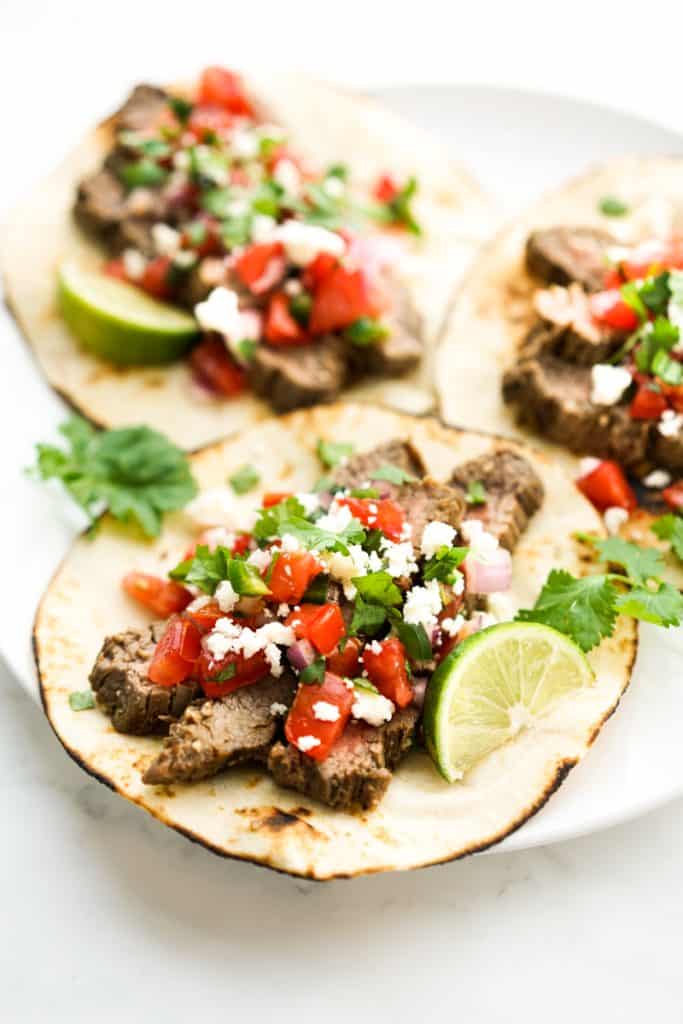 Grilled Steak Tacos with Pico de Gallo
One of my favorite things about these grilled steak tacos is that they are yummy, healthy, easy to make, can be easily customizable for picky eaters. They are always a hit!
You may think of grilled steak tacos as a meal for a spring and summer day, but we make this year round. Sometimes I make my steak tacos on the outdoor grill, but frankly, I make them just as much on my cast iron grill pan indoors.
It's quick to make once you start cooking, but you do want to reserve time to marinate beef for a few hours so that the steak is truly flavorful on the inside. Those few hours of marinating are so worth it, I promise!
I love topping my grilled steak tacos with pico de gallo. The tangy flavors and freshness from the tomatoes, jalapeños and lime juice concoction contrast and pair well with the savory flavors and textures of the beef tacos.
In addition to pico, a few crumbles of queso fresco (a classic Mexican cheese) and some cilantro totally rounds out the flavor and textures of the grilled steak taco.
As for picky eaters, feel free to top your beef tacos with any of your other favorite toppings. If pico or queso fresco isn't for you, bring in a different cheese, topping or sauce. This Grilled Steak Taco recipe is easily customizable and will tastes yummy regardless!
Ingredients
Here are the ingredients you will need for your grilled steak tacos: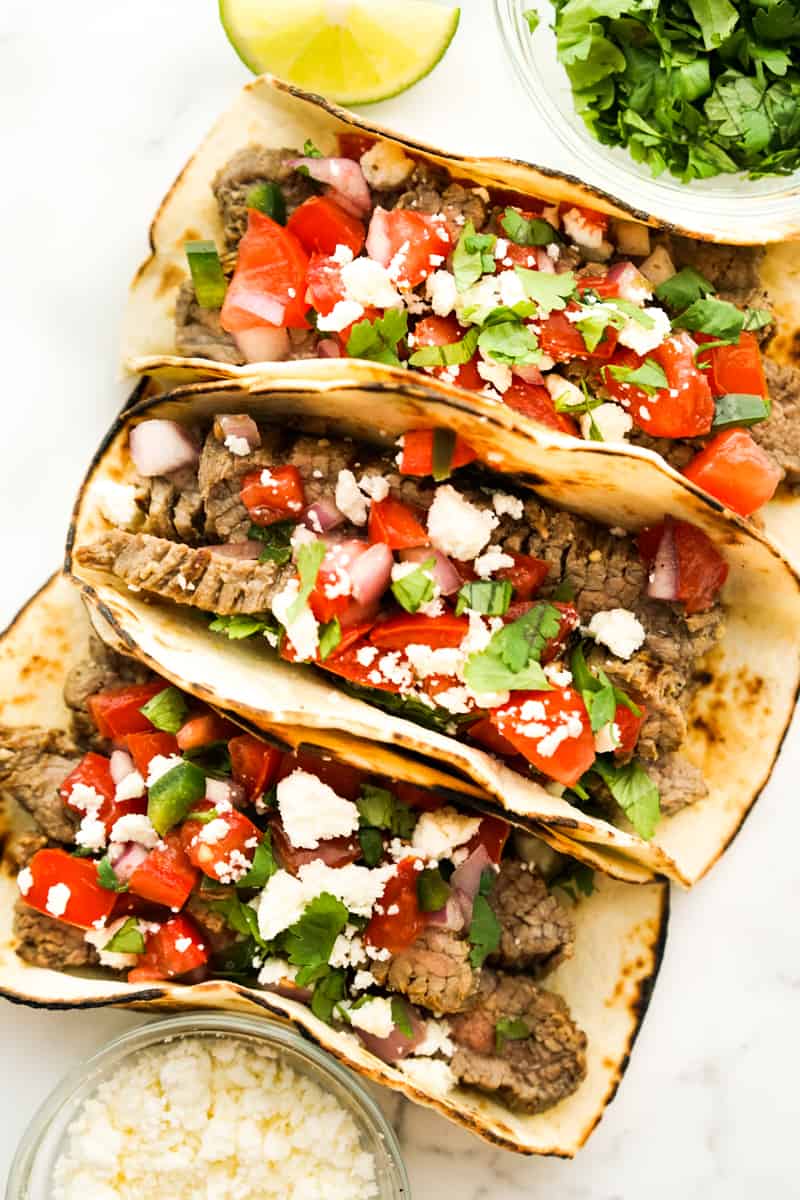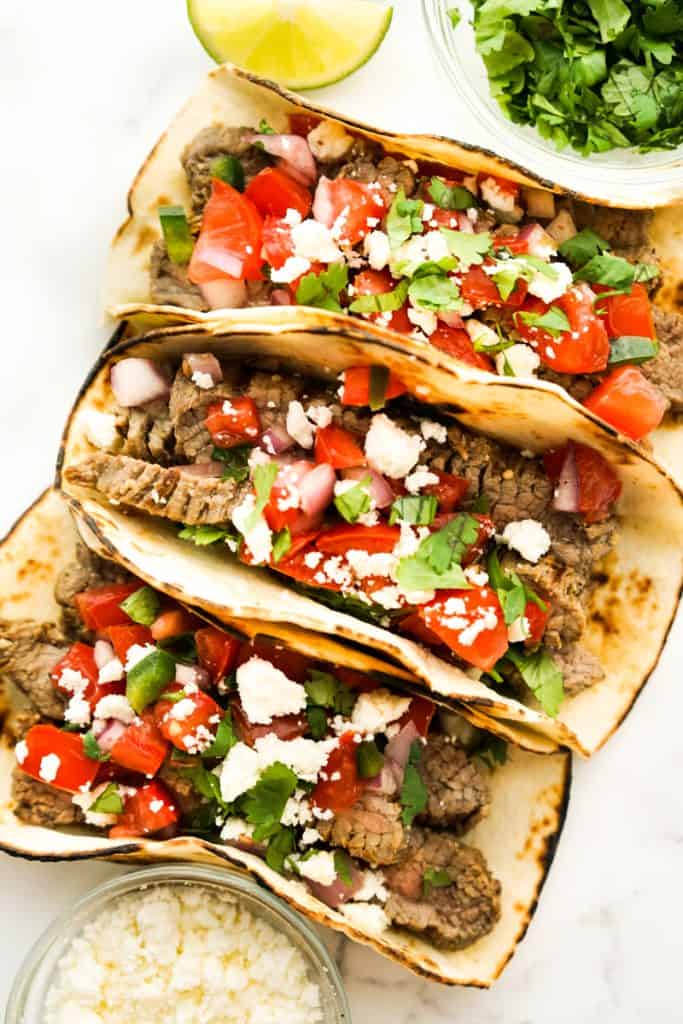 Flank steak – a reasonably priced cut steak that is cooked quickly (to avoid overcooking and getting tough). It takes only a few minutes to cook flank steaks. I like to get the ones that are already tenderized (they usually run a blade cross grain multiple times so you will see actual strips cross grain). Skirt steak is also another good piece of steak to use for this grilled steak taco recipe.
Flour tortilla – round and thin, it's the staple bread item in Mexican cuisine. You can substitute with corn tortilla if you prefer.
Roma tomatoes – they are usually smaller so if you are using a large tomato, you may only need one tomato.
Lime juice – I prefer to freshly squeeze from fresh limes. Used in the pico de gallo and also as a marinade for flank steak.
Jalapeño – used in the pico de gallo, this is what brings on the spicy flavors! Omit if you do not want your grilled steak tacos spicy.
Red onions – you can use white or yellow onions if that's what you have at hand, but I do think red onions work better for this.
Cilantro – used both in the pico and as a topping for grilled steak tacos.
Queso fresco – a popular cheese in Mexican cuisine. This is a mild, flaky and soft cheese that typically comes in a block. You can even make it yourself – check out the recipe here!
Orange juice
Fresh garlic – do not substitute with garlic powder – the flavors are just not the same!
White vinegar
Salt and black pepper
How to make steak tacos
Step 1: Marinade flank steak
You will want to do this at least 2 hours before you start cooking/making your grilled steak tacos. This will enable the steaks to be flavorful on the inside, and not just the outside.
To marinade the steaks, mix together the marinade ingredients and soak the whole piece of flank steak in it.
orange juice
lime juice
minced garlic
white vinegar
salt and black pepper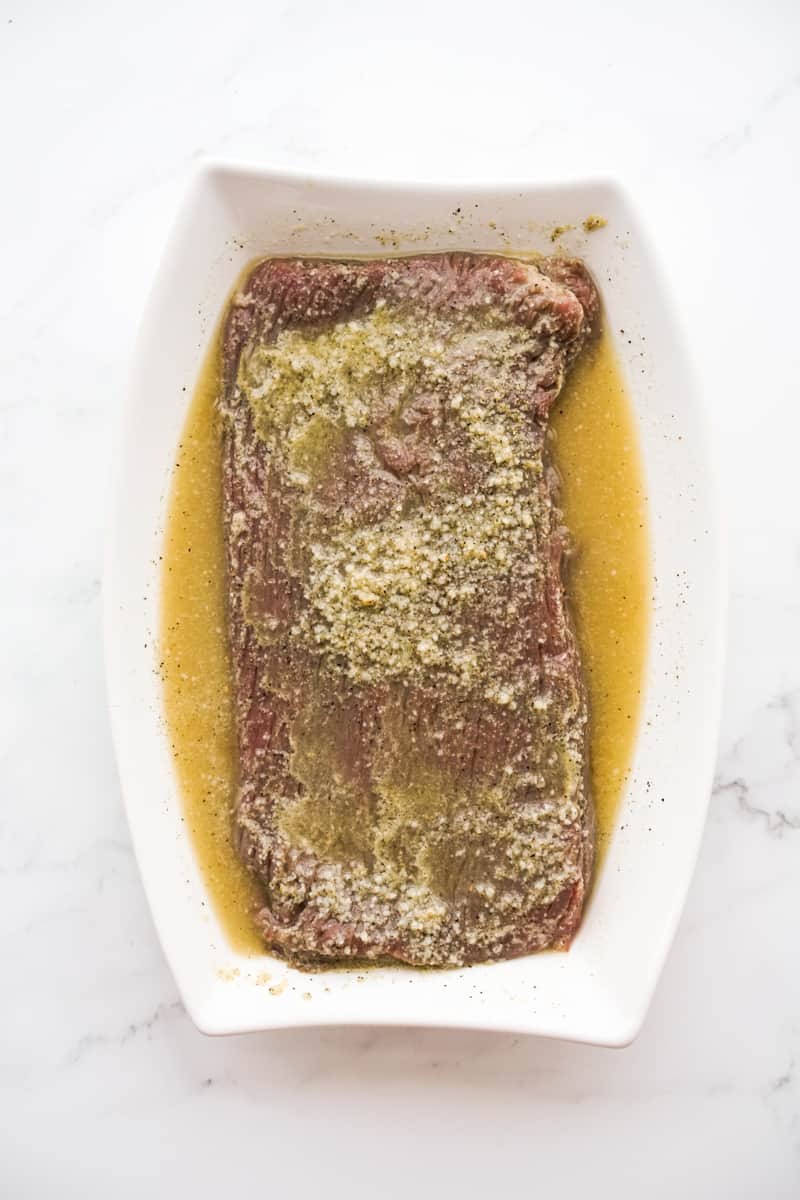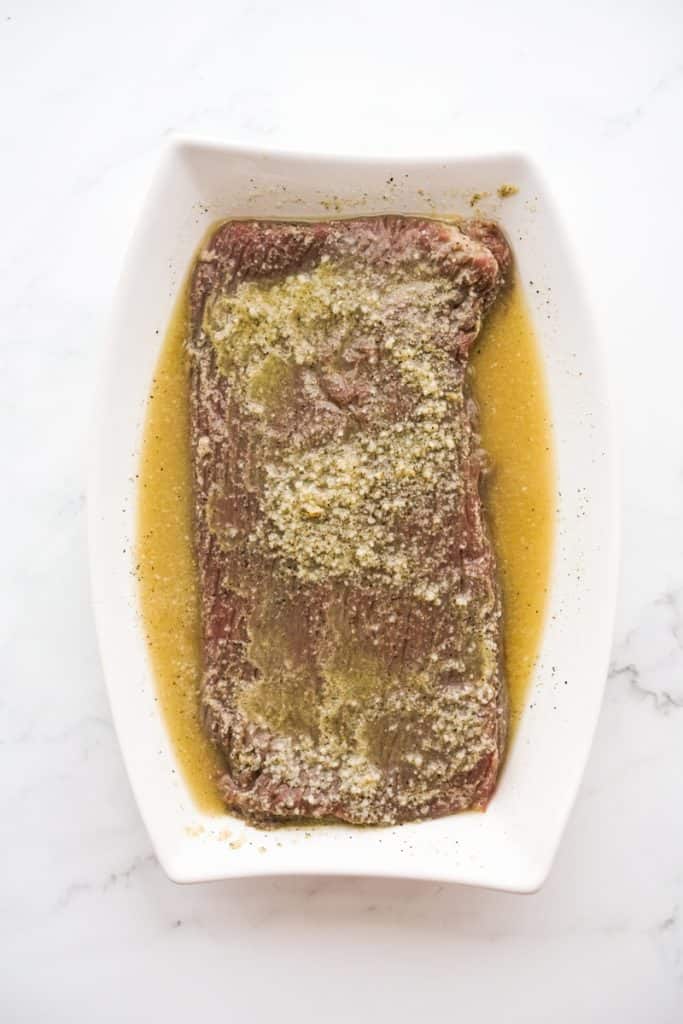 It doesn't look too appetizing yet…but I promise you, it is GOOD.
Step 2: Make Pico de Gallo
I like to make the pico de gallo that goes on top of my grilled steak tacos right after I marinade the flank steak. It is not necessary to do this ahead of time, but I like to let my pico sit for a bit so that the flavors come together better.
To make pico de gallo, simply bring together tomatoes, jalapeños, red onions, lime juice, cilantro and a little bit of salt to open up all the flavors.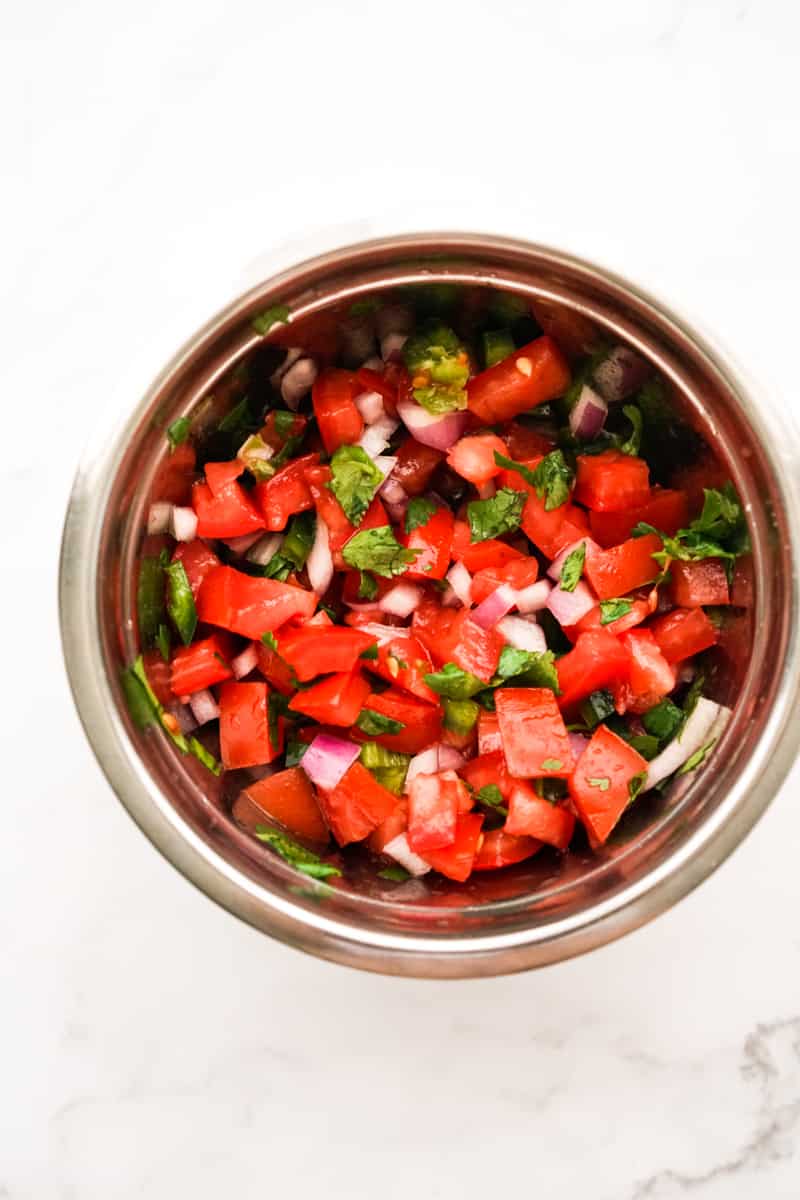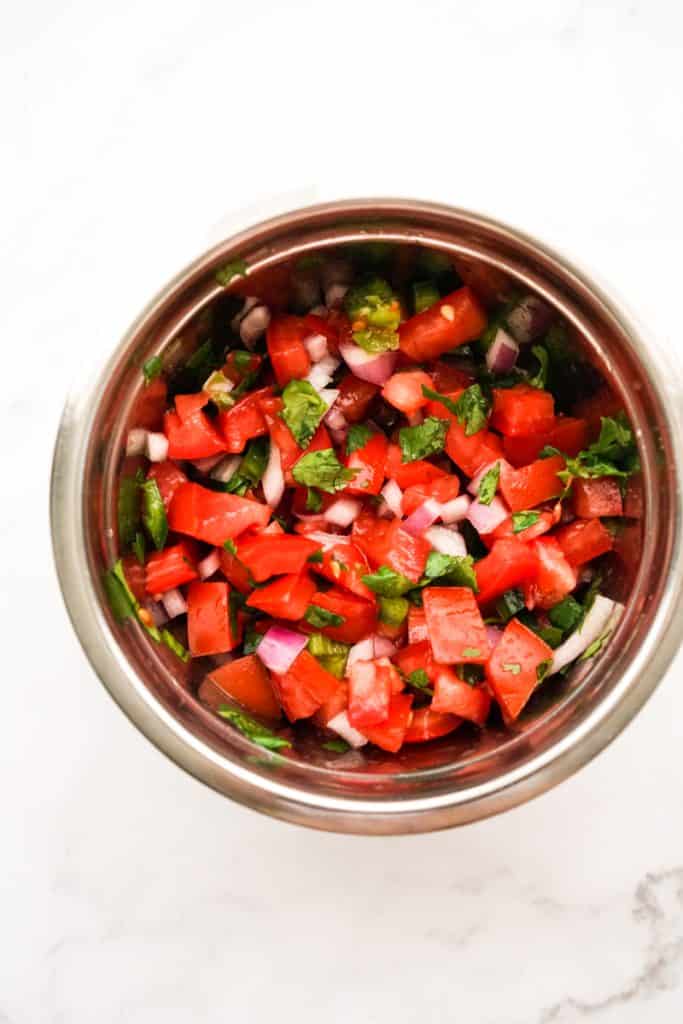 Sep 3: Grill steaks
Once steak has been marinated for at least 2 hours (a few hours longer is fine! In fact, it'll probably be more flavorful), grill the whole piece of steak on a grill or grill pan indoor.
Grilling time will depend on how well done you like your steaks to be.
The best way to determine that is by using a meat thermometer, and poking the meat thermometer into the thickest part and also the center of the steak. Both areas should be at or above to your desired temperature.
Medium rare – ~140℉
Medium – ~150℉
Medium well – ~160℉
Well done – ~165℉
When steak is done, remove it from the grill immediately and let it rest on a plate wrapped in aluminum foil for 5-10 minutes.
Then slice it into small strips of steaks.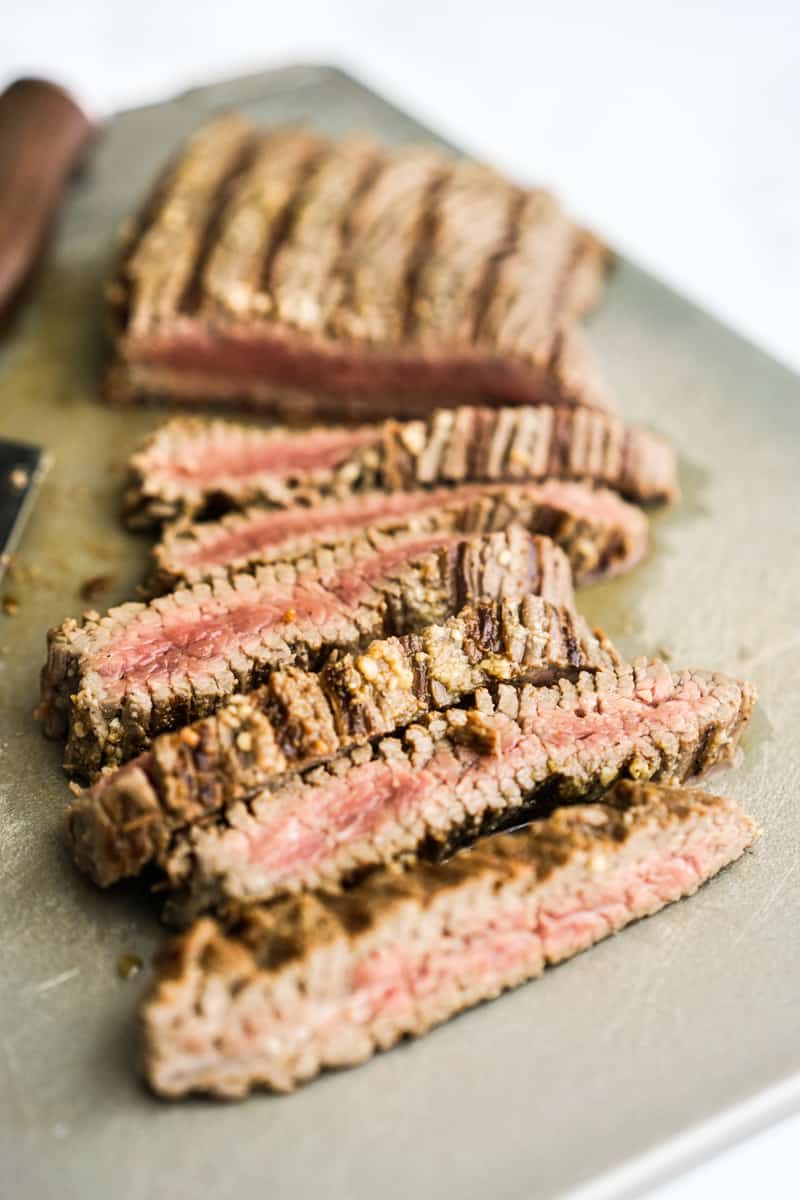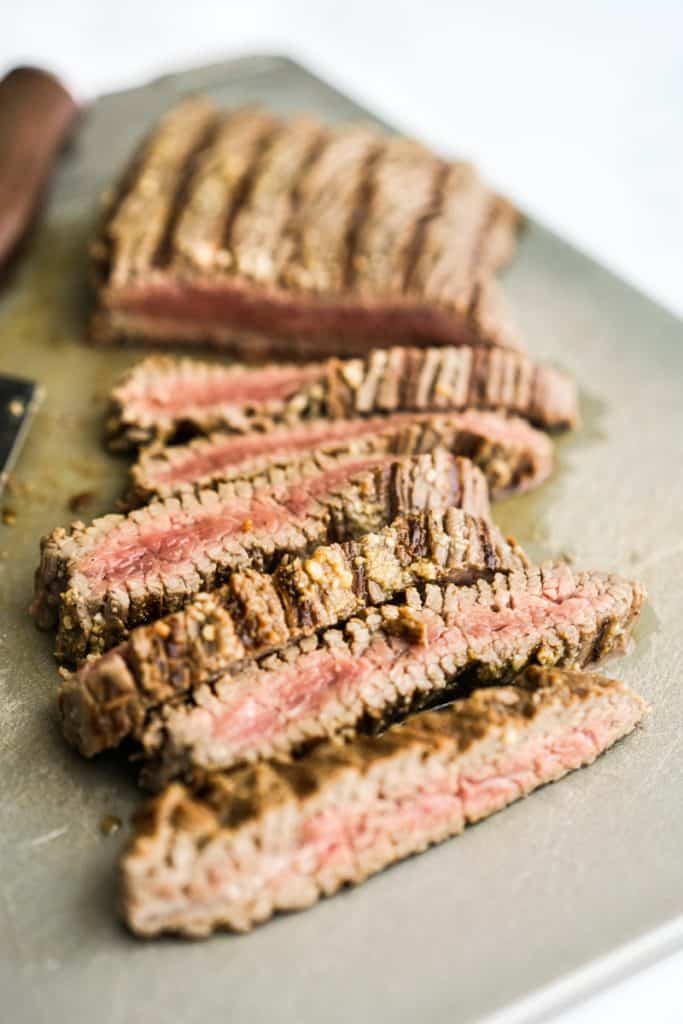 Step 4: Assemble steak tacos
Finally, let's assemble those delicious grilled steak tacos!
Grilling / warming tortillas
This is not necessary but if you want to, also throw those tortillas on the grill to warm it up. It should take no more than a few seconds on each side. Another way to warm your tortillas is to wrap them in a wet paper towel and microwave for a few seconds.
Once tortillas are warm and ready, place a few pieces of steak onto the middle of a tortilla, then top with pico de gallo, queso fresco and chopped cilantro. And there you have it – grilled steak tacos. It's quick, easy and so delicious!
I typically serve all the mixings separately and let everyone assemble their own grilled steak tacos. This way everyone can customize it accordingly.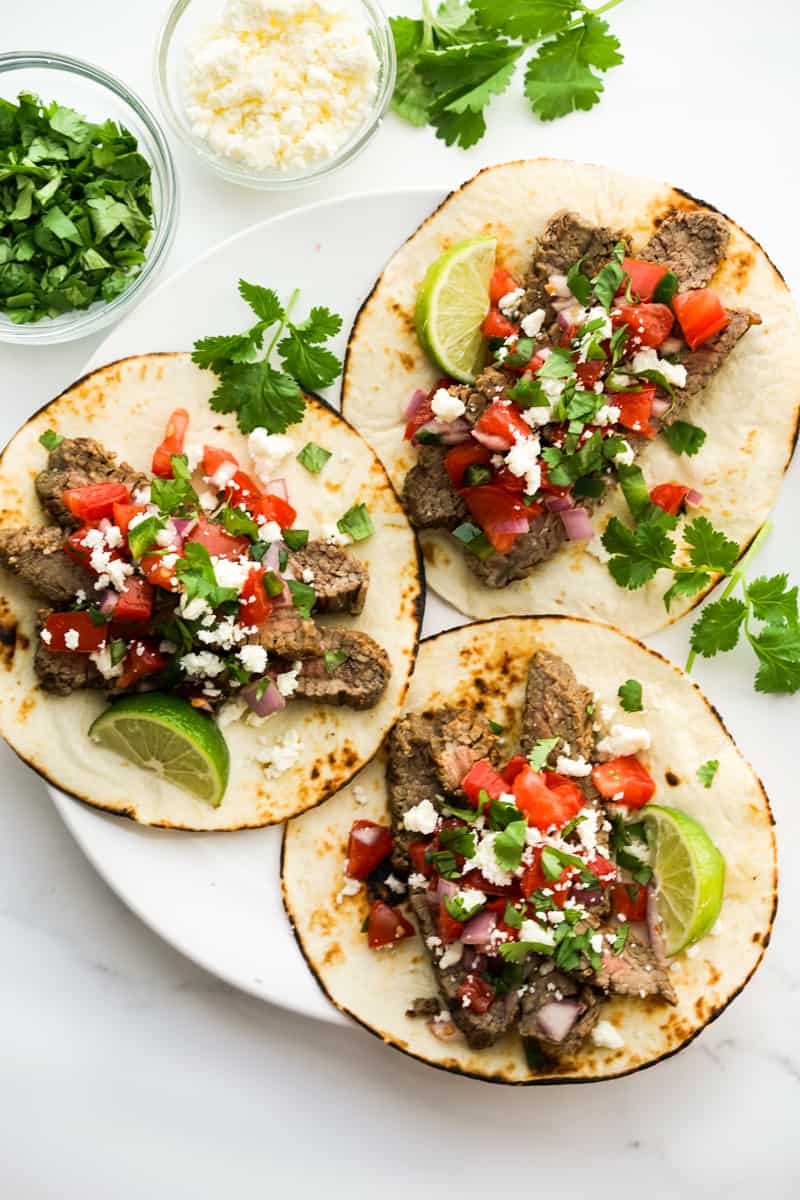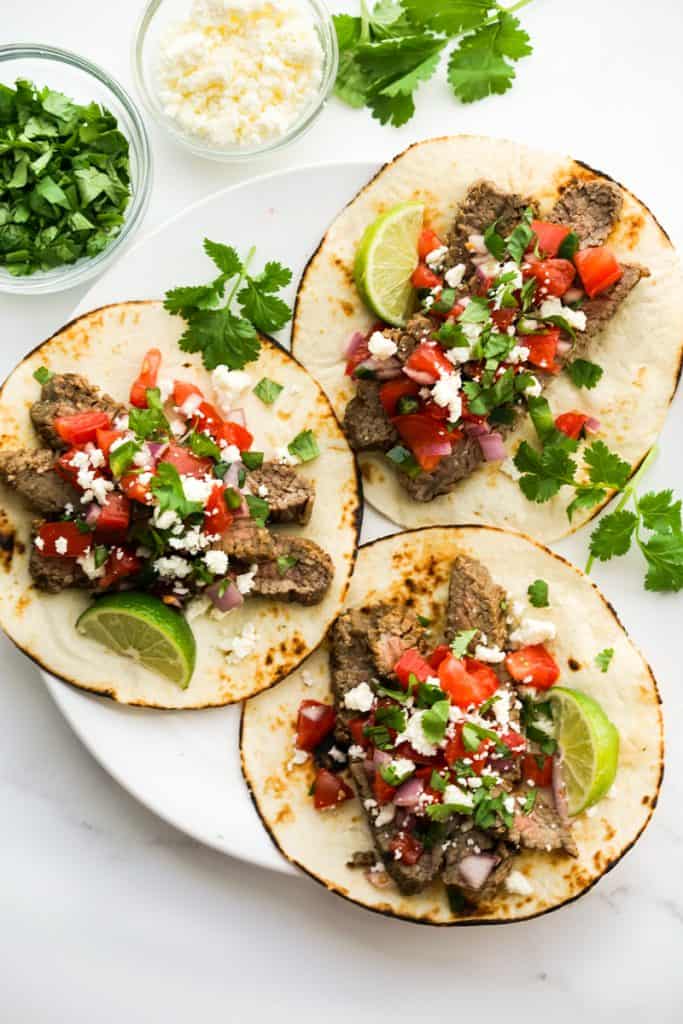 More Steak Taco Topping Ideas
As I mentioned earlier, there are so many ways to customize and enjoy your grilled steak tacos. Here are more topping ideas that can be added in addition or in place of pico and cheese:
Other cheeses such as mozzarella, cheddar, Mexican blend, or homemade velveeta queso
Guacamole or avocado slices
If you like it spicy, jalapeño or your favorite hot sauce
Vegetables such as lettuce, onions, bell peppers or others
Your favorite salsa
Frequently Asked Questions
Can I use another cut of steak?
I recommend flank or strip steak for Grilled Steak Tacos but you can use leaner, better-quality meat such as strip or ribeye. I would avoid chuck roast or tougher cuts that are used for stews or soups that would require longer cooker time.
How do I grill or heat tortillas?
– place it on the racks of an outdoor grill, 20-40 seconds on each side.
– place it on open flame on a gas stovetop, also 20-40 seconds on each side. (This is the method I used for the grilled steak tacos in the photographs).
– wrapped in wet paper towel and microwave for 15-20 seconds.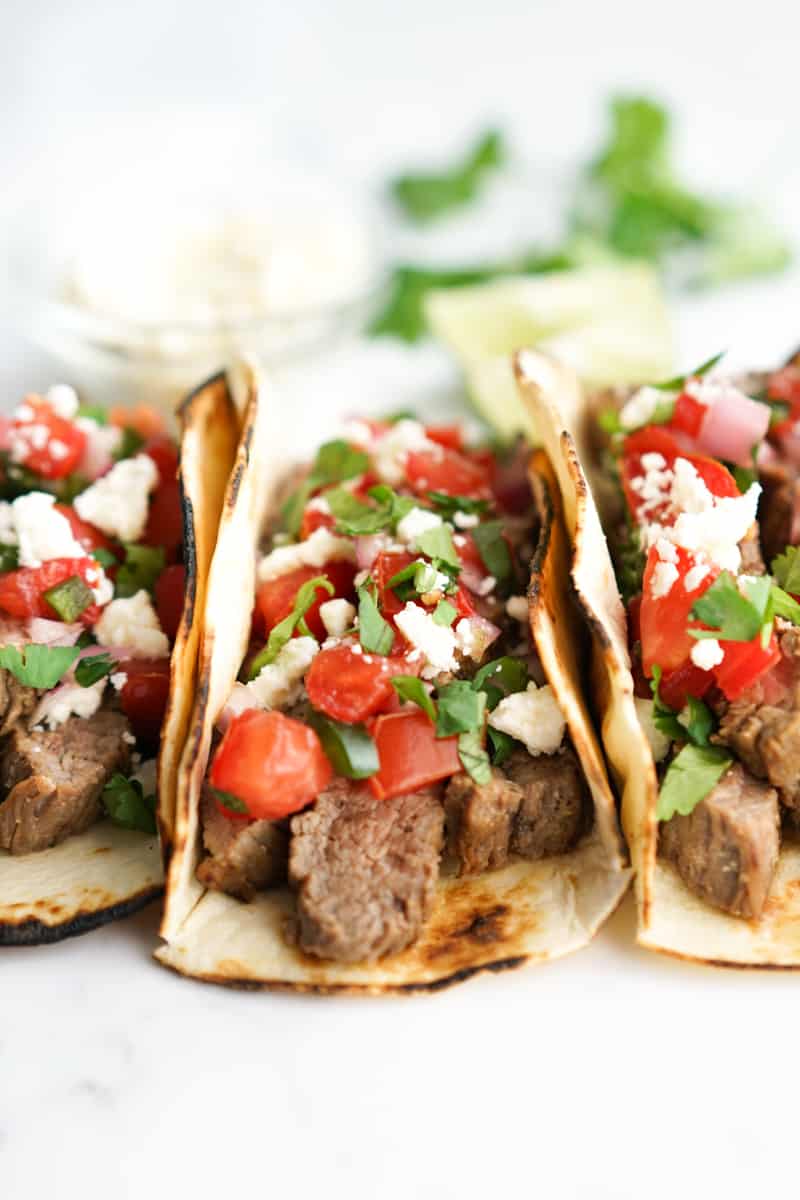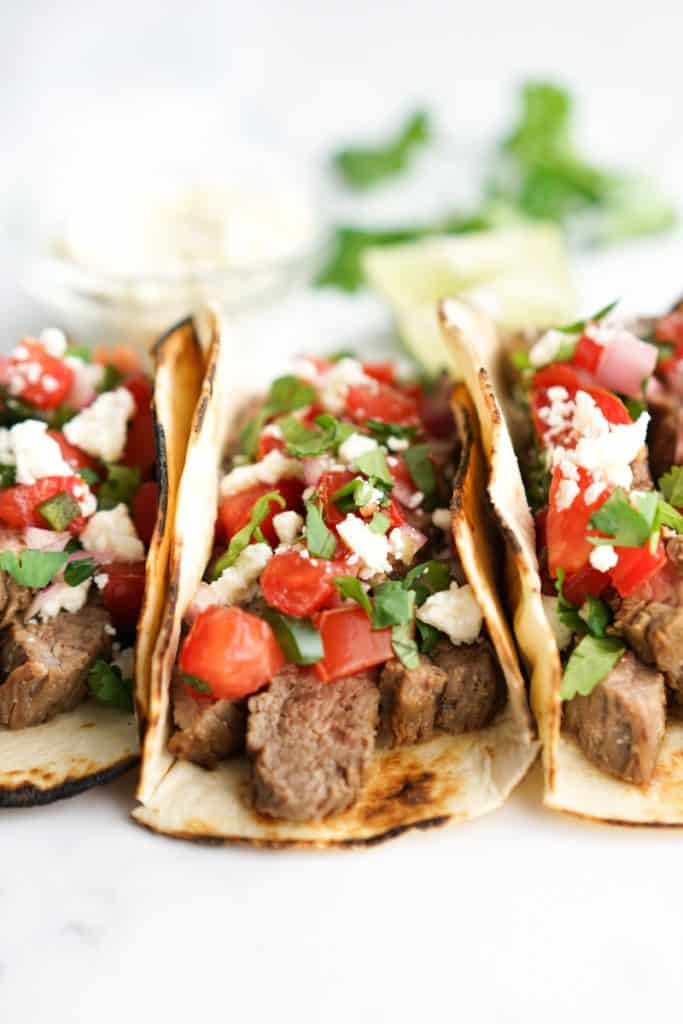 DID YOU ENJOY THIS RECIPE? Please comment below and give us a 5-star rating! This will help others find this recipe on Google and Pinterest. We very much appreciate your help! 🤍
More Taco Recipes
Tacos are some of our favorite food group around here! Check out our other favorites!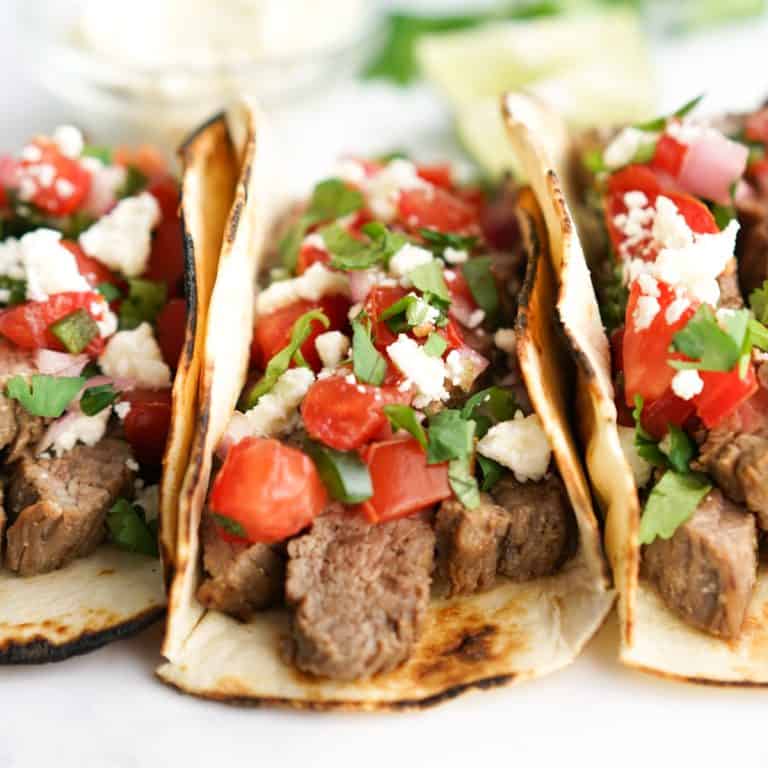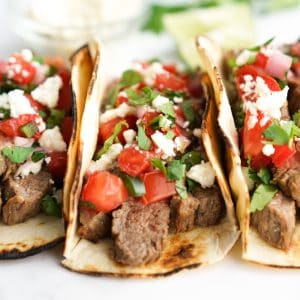 Grilled Steak Tacos
Marinated grilled steaks wrapped in a warm flour tortilla, topped with pico de gallo, queso fresco and cilantro. A easy steak taco recipe that can be made on an outdoor grill or grill pan on the stovetop.
Print
Pin
Ingredients
Steak marinade
1

lbs

flank steak

or skirt steak

1/4

cup

lime juice

1/4

cup

orange juice

1

tbsp

white vinegar

4

cloves

garlic

minced

1

tsp

salt

1/2

tsp

black pepper
Pico de Gallo
2

roma tomatoes

1/4

cup

red onions

diced

2

tbsp

jalepeno

diced

2

tbsp

cilantro

1

tbsp

lime juice

1/2

tsp

salt
Other
6

flour tortillas

1/2

cup

queso fresco

crumbled

1/4

cup

cilantro

chopped
Instructions
Combine all the ingredients under "steak marinade" except for flank steak in a bowl. Whisk to combine.

Pour marinade onto flank steak, and make sure flank steak is covered in marinade. Marinade for at least 2 hours, but no longer than 12 hours.

Combine all the pico de gallo ingredients in a small mixing bowl. Refrigerate and set aside until ready to use.

Grease and heat grill or grill pan. When grill is hot, place flank steak on the grill (shake off access moisture before placing on grill).

Grill steak for a few minutes on each side, then flip and grill the other side for another few minutes. Cook time varies based on doneness preferences. Use a meat thermometer to determine doneness. See chart in notes for steak temperature at different level of doneness.

When steak is done, remove promptly. Place steak on a plate and wrapped in aluminum foil to rest for 5-10 minutes. Slice steak into thin strips.

Heat tortillas either on the grill, stovetop or in microwave.

Top tortillas with sliced steaks, pico de gallo, queso fresco and cilantro. Serve and enjoy!
Notes
Steak temperature:
Medium rare – ~140℉

Medium – ~150℉
Medium well – ~160℉
Well done – ~165℉
Nutrition
Calories:
552
kcal
|
Carbohydrates:
49
g
|
Protein:
44
g
|
Fat:
19
g
|
Saturated Fat:
8
g
|
Polyunsaturated Fat:
2
g
|
Monounsaturated Fat:
6
g
|
Trans Fat:
0.2
g
|
Cholesterol:
105
mg
|
Sodium:
1990
mg
|
Potassium:
884
mg
|
Fiber:
4
g
|
Sugar:
8
g
|
Vitamin A:
780
IU
|
Vitamin C:
38
mg
|
Calcium:
289
mg
|
Iron:
6
mg