Nectarine and Blueberry Brie Bites
Every now and then we get fancy around here. Fancy, but practical fancy. The kind of fancy that doesn't take forever to be fancy, but has all the bells and whistles of fanciness. Where everyday people like you and me go "I can totally take on this fancy". This Nectarine and Blueberry Brie Bites recipe? 100% this kind of fancy.
Hey, want a petite and cute bite-sized appetizer made with this pillowy, flaky puff pastry goodness that gives you a feeling of royalty? Well, good news for you – it is a 15-minute prep, 15-minute bake kind of food. So easy it makes you (and your guests should you choose to share) think you bent over backwards whipping these fancy pants/ultra-delicate appetizer together. DON'T LET IT FOOL YOU.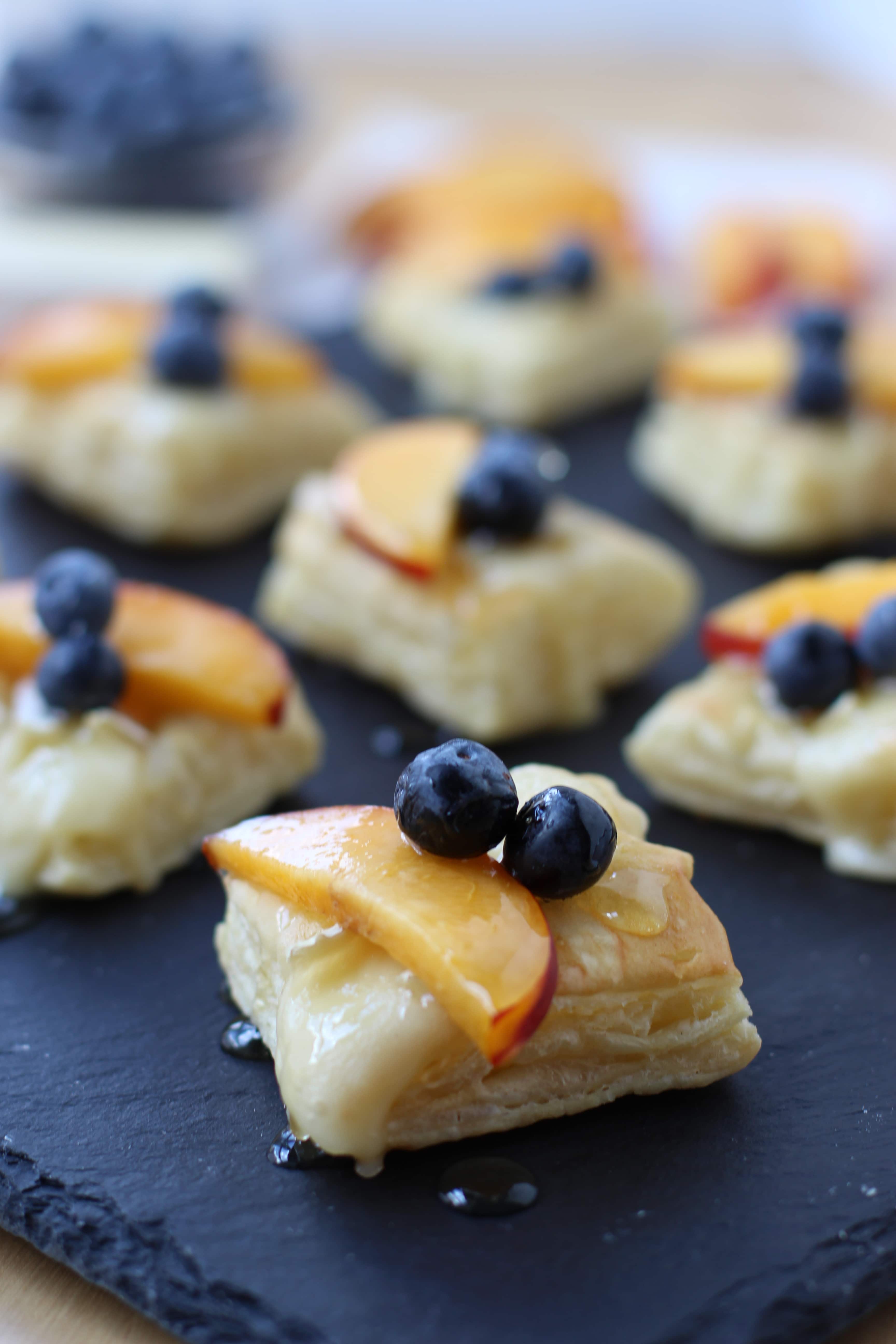 And goodness gracious it is GOOD.
I've got more fancy-but-simple news for you. This thing is six-ingredients easy. WHAAAATT.
One puff pastry sheet; 1-2 nectarines; 1/3 cup blueberries; Brie cheese; Honey; Egg (as egg wash).
Told ya I wasn't kidding.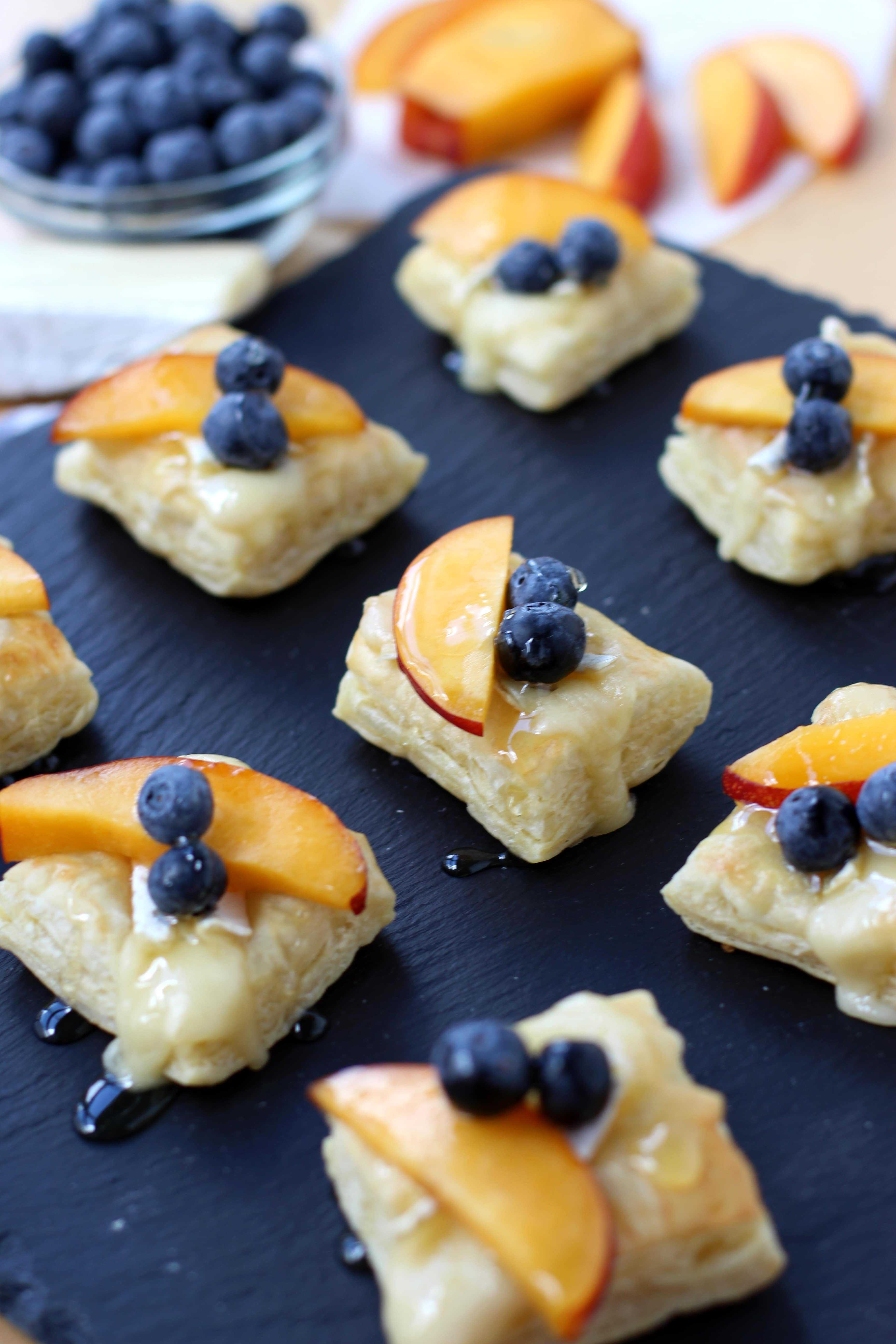 So how does this magic happen?
I'm so glad you asked.
Start with one sheet of puff pastry sheet. I buy Pepperidge Farm and they usually come in twos and each is ~10″ x 10″ in size. Cut the puff pastry sheet into 16 squares, and place them a few inches apart from each other on a baking sheet lined with parchment paper.
If you are not using parchment paper, be sure to grease baking sheet. Pastry will stick to the sheet otherwise.
Bake them in the oven for 10-12 minutes at 400 degrees F.
Remove and place a slice of brie cheese on top of each of the squared puff pastry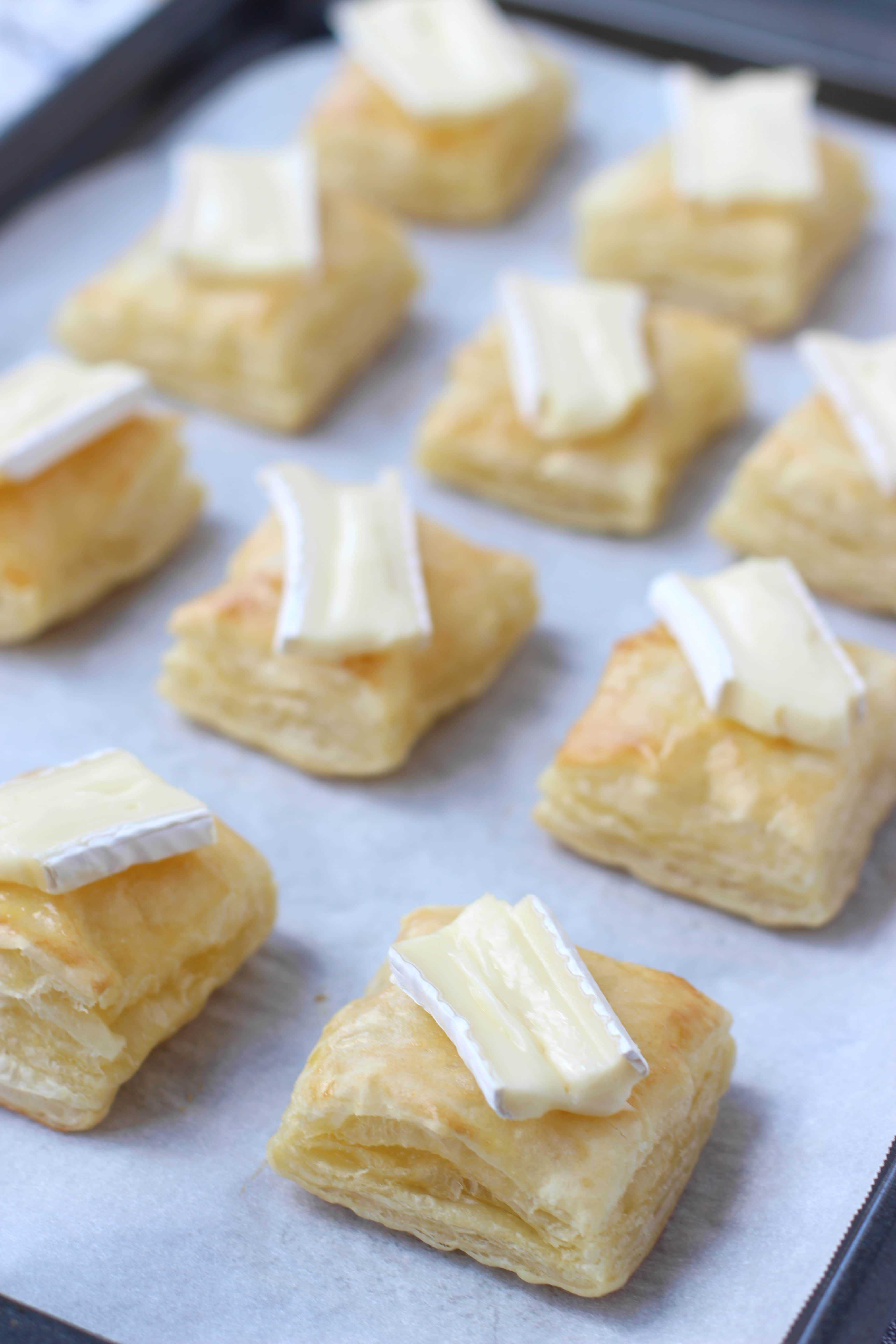 Bake for another 3 minutes in the oven to melt that CHEEEESE…
Then place the sliced nectarines and blueberries on top.
And last but not least, drizzle honey on each of the pastry bite. Honey seals the taste together and is such a good add in the flavor department. In addition, it also acts as a glue, as its stickiness enables the nectarines and especially the blueberries to stay in place.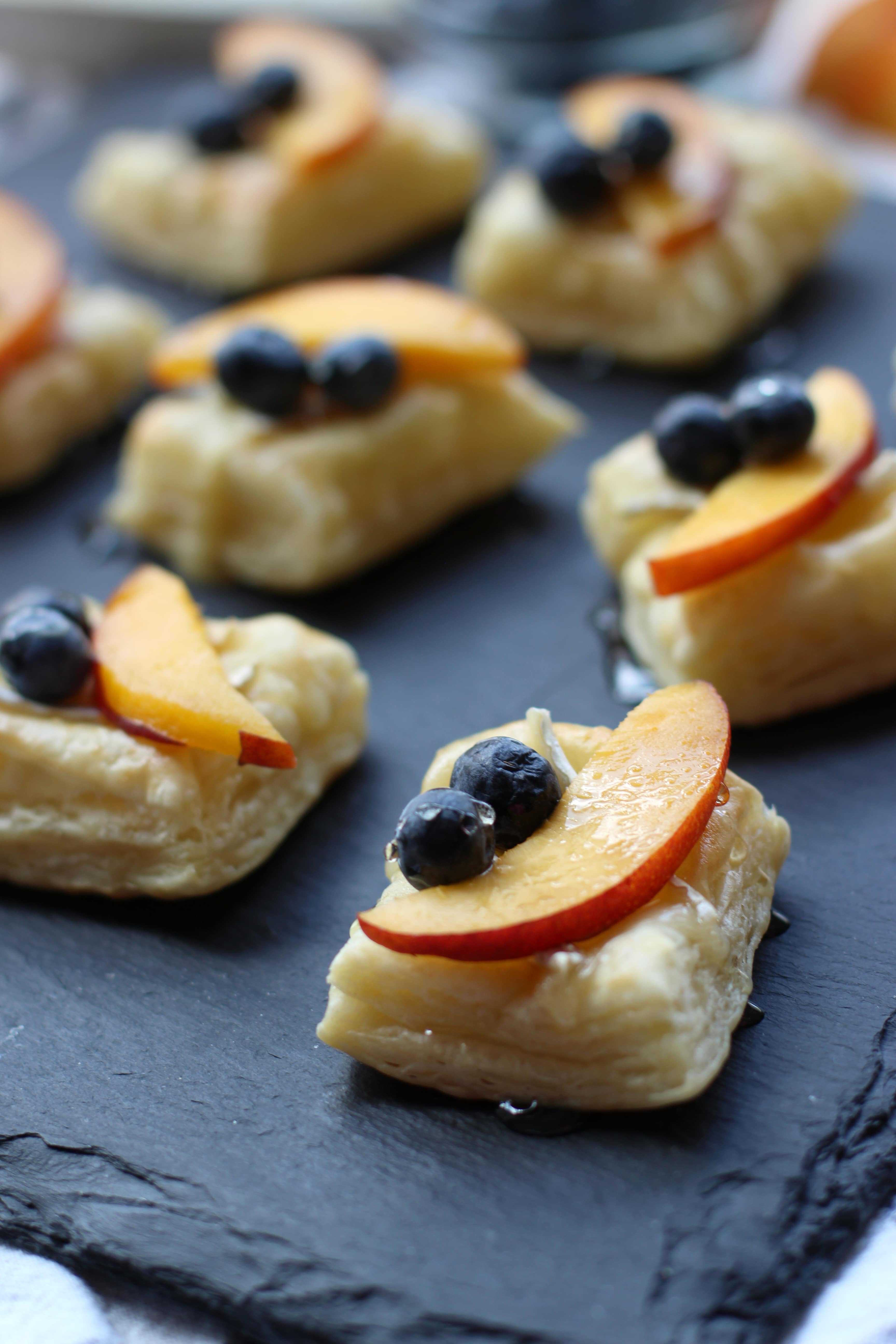 This little thing is the perfect starter to your picnic, cookout, dinner parties, showers, potluck, birthdays….ENDLESS opportunities to showcase your fanciness without putting in much work at all! 😉
So much LOVE for this delish little things. Brie is a creamy, smooth, super mild cheese that is a good contrast to the flaky puff pastry. Then you add the sweetness from the fruits and honey, completing the flavor and texture palette. YUM.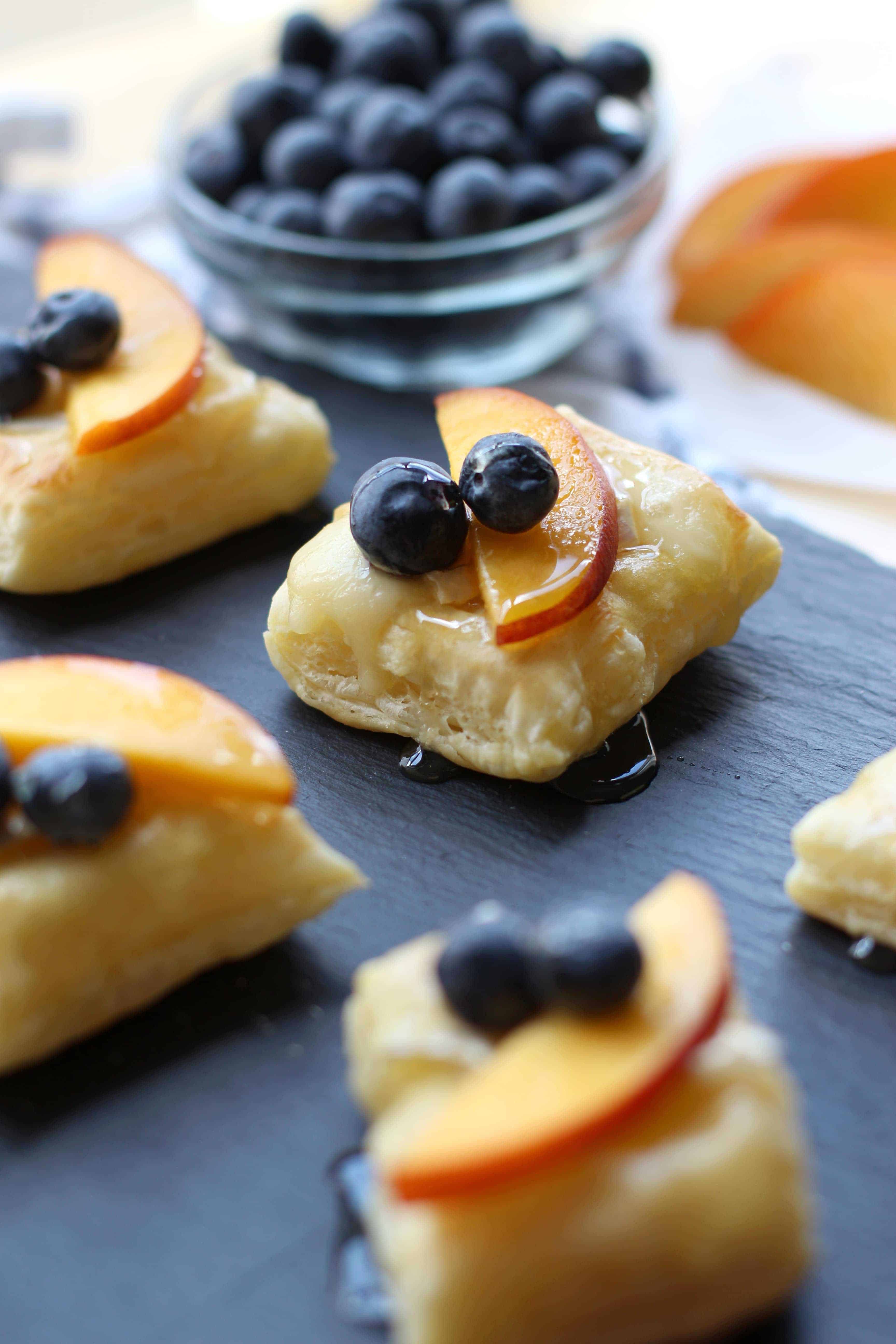 Always a nice, quick nibble before you dive into your main course! Whatever that may be.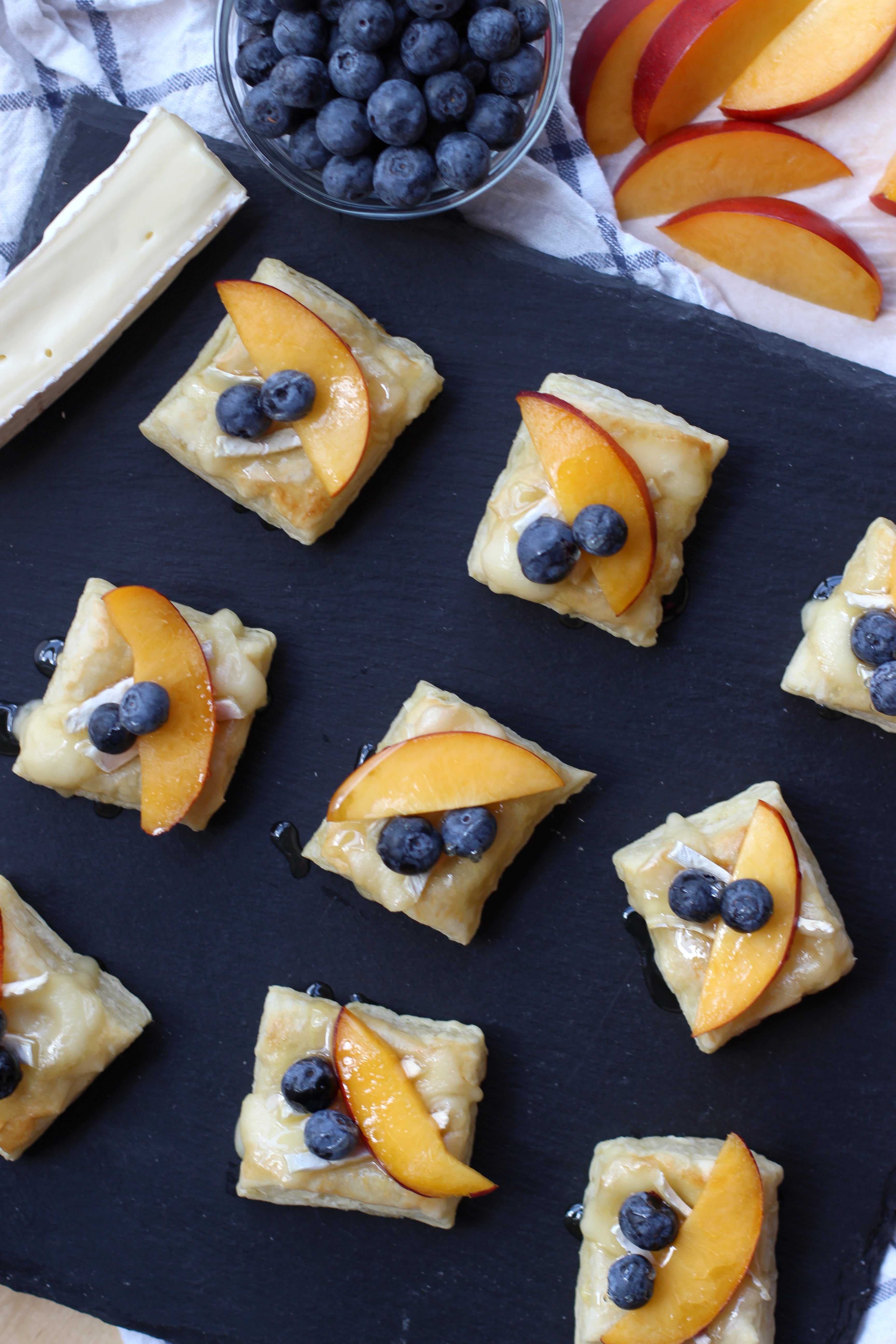 There you go, EASY and FANCY. That's really the only way you can get me to be fancy. Because why work so hard when you DON'T HAVE TO. And who has all the time in the world? It is quite a bargain I tell you.
This is a fun one – have FUN with it!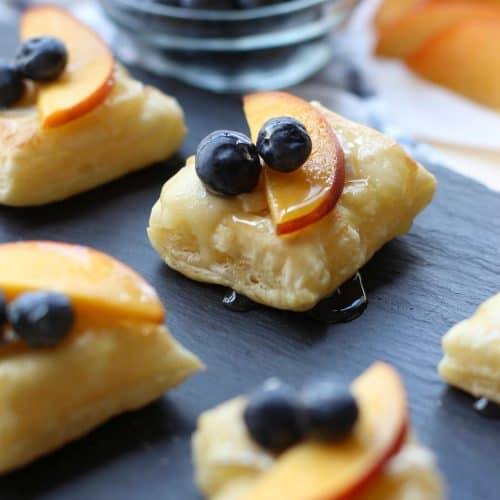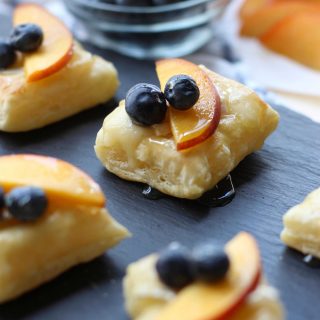 Nectarine and Blueberry Brie Bites
Baked puff pastry bites topped with melted brie cheese, sliced nectarine and blueberries, and drizzled with honey. These cute little appetizers are so easy to make, and the perfect starter to any parties, gatherings or meals.
Print
Pin
Ingredients
1

sheet

puff pastry

10" x 10"

4-6

oz

brie cheese

1-2

nectarines

1/2

cup

blueberries

honey

1

egg
Instructions
Bring one puff pastry sheet to refrigerator to defrost for 2-3 hours.

Cut puff pastry sheet into 16 equal-sized squares.

Place puff pastry squares a few inches apart from each other onto baking sheet lined with parchment paper. Grease baking sheet if you are not using parchment paper.

Beat up one egg, and brush egg wash on the surface of each puff pastry square.

Bake for 10-12 minutes, or until the top of the squares turn slightly golden brown. Remove from oven.

Thinly slice 16 slices of brie and place a slice of brie on each square. Bake in the oven for 3 minutes, or until brie melts. Remove from oven.

Place sliced nectarine and a couple of blueberries on each square.

Drizzle honey onto each square.
Nutrition
Calories:
123
kcal
|
Carbohydrates:
10
g
|
Protein:
3
g
|
Fat:
8
g
|
Saturated Fat:
3
g
|
Polyunsaturated Fat:
1
g
|
Monounsaturated Fat:
4
g
|
Trans Fat:
1
g
|
Cholesterol:
17
mg
|
Sodium:
87
mg
|
Potassium:
46
mg
|
Fiber:
1
g
|
Sugar:
2
g
|
Vitamin A:
89
IU
|
Vitamin C:
1
mg
|
Calcium:
17
mg
|
Iron:
1
mg