This Cranberry Mimosa cocktail is exactly what you need this holiday season! Combine cranberry juice, orange juice and some fizzy champagne (or Prosecco, or sparkling wine) to make this festive treat this Christmas and New Years!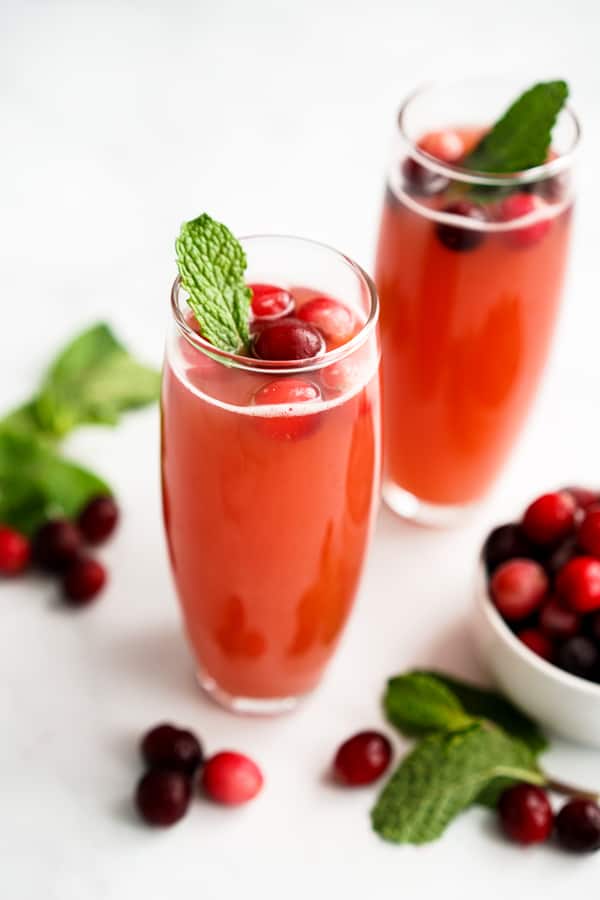 Cranberry Mimosas…so festive!
Tis' the season to BRING ON THE COCKTAILS!
From this Apple Cider Sangria to this fun tropical Coconut Rum Cocktail, there's nothing like a fun beverage to kick off a party or to relax with after a long day.
This Christmas, we will be happily sipping on this new favorite of mine – Cranberry Mimosa!
It's pretty much mimosa with a holiday twist. Mimosa with cranberry and orange juice makes for the perfect cocktail for holiday brunch, or whenever you need a little sip of holiday cheer during this festive season.
All the reasons why you need this cranberry mimosa in your life:
It's so pretty! In all seriousness though, its prettiness makes cranberry mimosa a great drink for holiday parties and gatherings.
Uses only 3 ingredients and 5 whole minutes to bring it all together! In other words, so easy!
Tasty! That fizzy cranberry and orange combo is an absolute dream…
Oh hello, everyone needs a fun drink every now and then!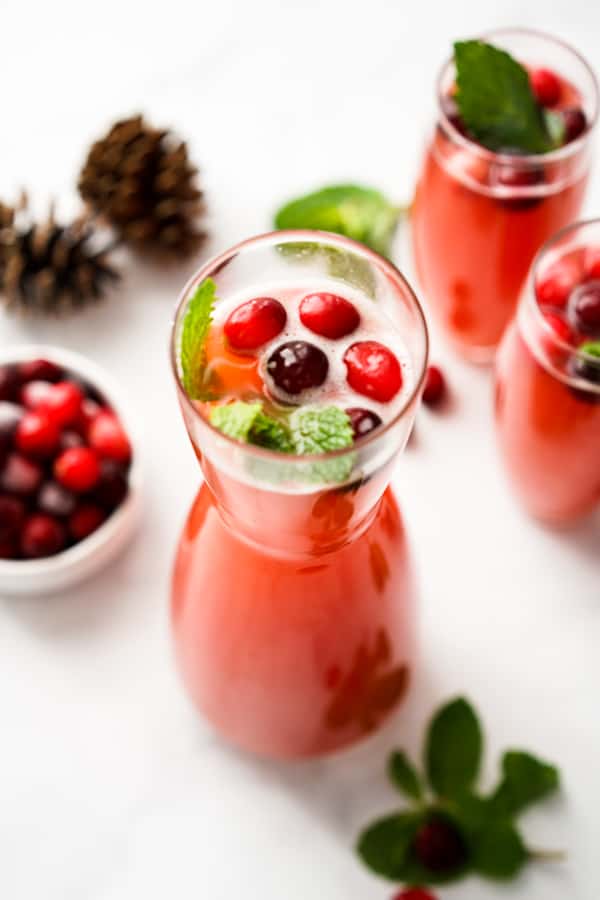 Ingredients
Are you ready for this?
THREE whole ingredients is all you need to make this delicious cranberry mimosa beverage:
Champagne – or Prosecco or sparkling wine.
Orange juice – use orange juice not from concentrated for best results
Cranberry juice – if you can, use not from concentrated as well.
If you are trying to make it look pretty, serve your cranberry mimosa in a champagne flute and garnish with some cranberries and fresh mint leaves.
What's the difference between Champagne and Prosecco and Sparkling Wine?
Champagne is technically sparkling wine made in Champagne, France. And they are usually on the pricey side.
Even though mimosas are known to be an 'orange-juice-and-champagne' kinda drink, most of the time, it's more like an 'orange-juice-and-sparkling-wine' or 'orange-juice-and-Prosecco' kinda drink.
You can totally use Prosecco or any other sparkling white wine to make cranberry mimosas. Prosecco is basically the Italian version of Champagne.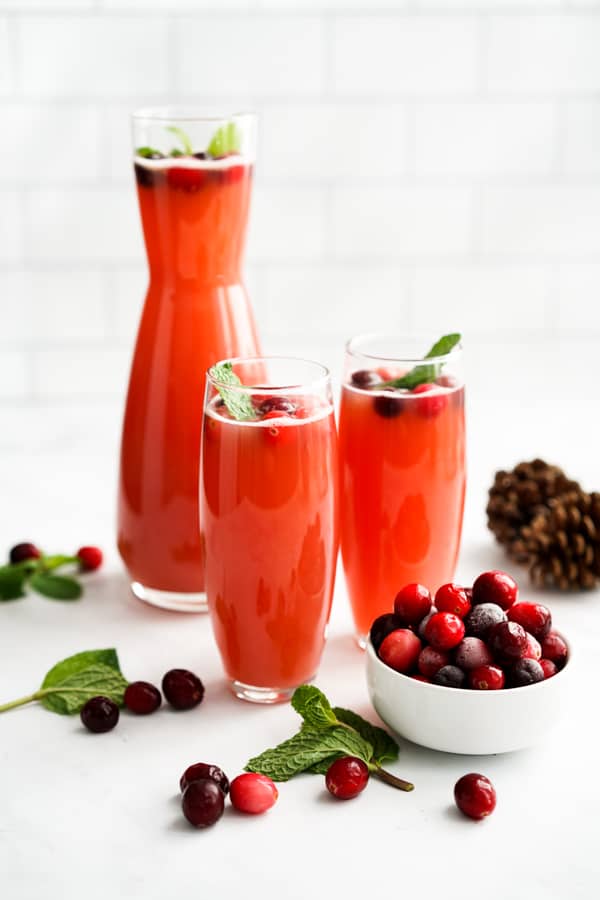 How to Make It + Tips
Before getting started, you will want to decide whether you want to: a) make a whole jug, or b) make individual glasses
Only make a whole jug of it if you know most of it is going to be consumed immediately, because you don't want your cranberry mimosa to go flat.
If cranberry mimosa will not be drank immediately, it's probably better to make individual glasses.
Here's my typically rule when it comes to making these cranberry mimosas: a ratio of 2:1:1 of champagne (or other sparkling wine) to cranberry juice to orange juice.
If you like it with a stronger alcoholic taste, add more champagne, and if you like it weaker, add more orange juice and cranberry juice.
If you are making a whole jug, I would pour the whole bottle of champagne (which is usually a little over 3 cups), and then adjust the juices based on your preference.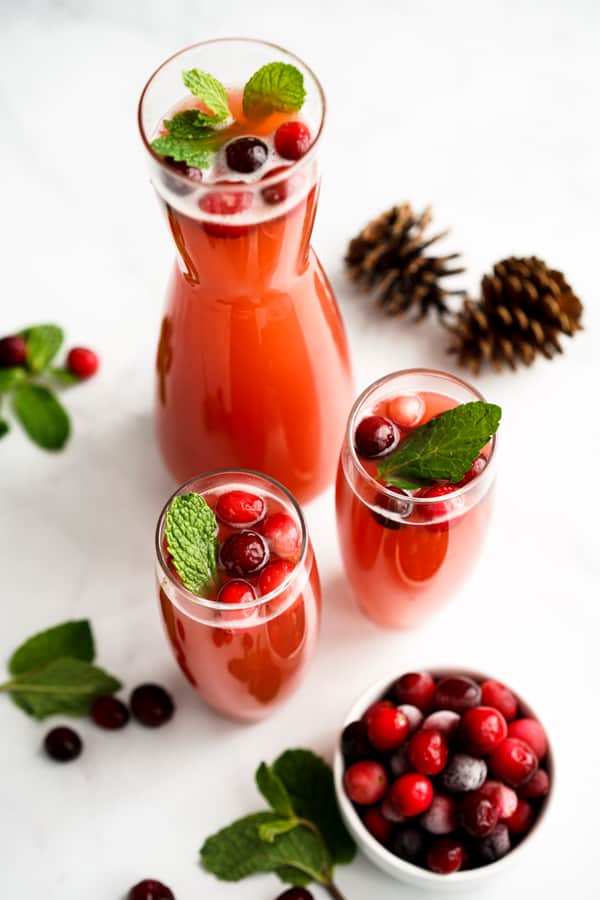 Important reminders!
Chill all your cranberry mimosa ingredients an hour or two ahead of time so that when you combine them they are nice and cold and you do not have to add ice to your drink. Adding ice will dilute your mimosas, which is typically not ideal.
You can always add more but you can't take it away once you combine the ingredients. So, go easy first, and then adjust accordingly! 😉
Champagne or Prosecco or sparkling wine will go flat after it is left out open for too long. Because of that, it is not ideal to make ahead cranberry mimosa. If there is still champagne in the bottle, remember to immediately place the cork back onto the champagne bottle to prevent it from going flat.
Once a champagne bottle is opened, it can be kept in the refrigerator sealed well for up to 3-5 days.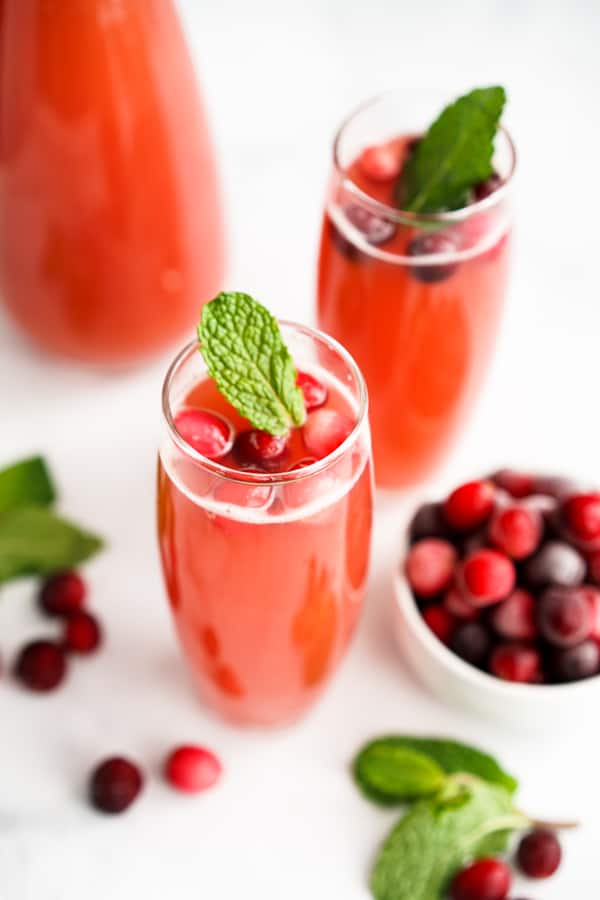 Cranberry mimosas are especially perfect to bring on some Christmas cheer during a holiday brunch or a girls holiday party. Probably my two favorite times to make these.
Its bright colors automatically puts on a smile on my face, and a few sips of it quickly makes me a much more relaxed and happy girl. 😉
Cheers to fun drinks like cranberry mimosa that bring on the holiday spirits! ❤️💚
DID YOU ENJOY THIS RECIPE? Please comment below and give us a 5-star rating! This will help others find this recipe on Google and Pinterest. We very much appreciate your help! 🤍
More Fun Drinks!
Both alcoholic and non-alcoholic options!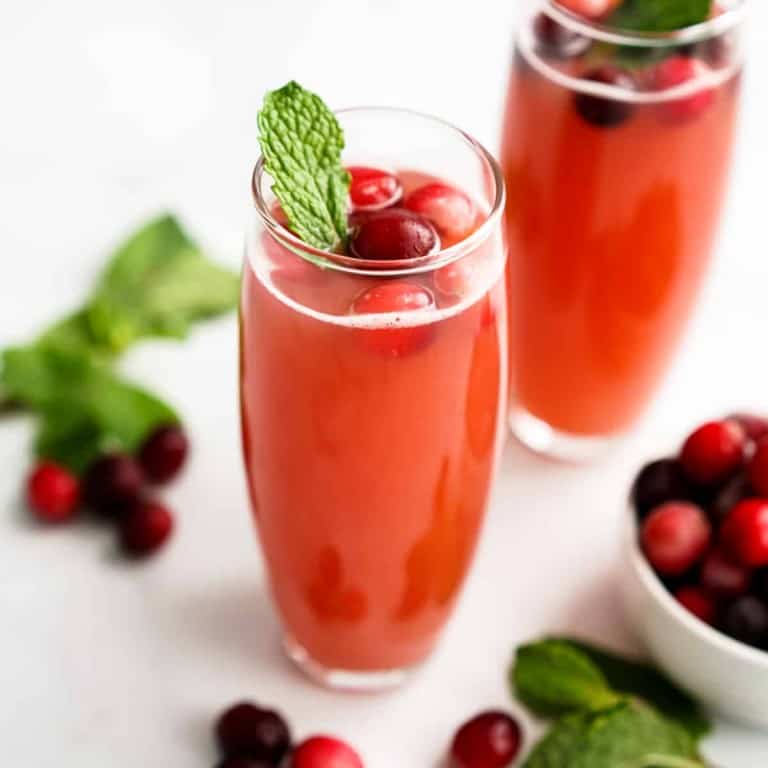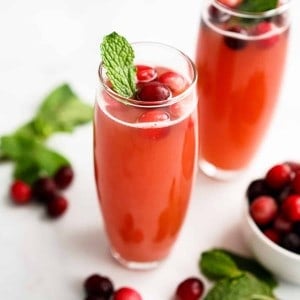 Cranberry Mimosa
Mimosa with a festive twist! This cranberry mimosa is a fizzy and delicious alcoholic drink perfect for the holidays!
Print
Pin
Ingredients
1

bottle

champagne or prosecco or sparkling wine

25 fl oz

1 1/2

cups

orange juice

1 1/2

cups

cranberry juice
Garnish
1/2

cup

cranberries

fresh or frozen

a few

bunch

mint leaves

fresh
Instructions
Chill champagne/Prosecco/sparkling wine, orange juice and cranberry juice in refrigerator an hour or two ahead.

Combine everything into a large jug.

Pour into champagne flutes and top with fresh cranberries and mint leaves.
Notes
To make individual servings, use a ratio of 2:1:1 of champagne to orange juice to cranberry juice.
If you like stronger alcoholic flavor, reduce the amount of orange juice and cranberry juice (ratio of 3:1:1 of champagne to orange juice to cranberry juice). If you like it less strong, add more orange juice and cranberry juice.
If beverages are not chilled, add some ice cubes at the end. It will dilute it slightly.
Cranberry Mimosas should be consumed immediately for best taste.
Nutrition
Calories:
46
kcal
|
Carbohydrates:
11
g
|
Protein:
1
g
|
Fat:
1
g
|
Saturated Fat:
1
g
|
Polyunsaturated Fat:
1
g
|
Monounsaturated Fat:
1
g
|
Sodium:
2
mg
|
Potassium:
135
mg
|
Fiber:
1
g
|
Sugar:
10
g
|
Vitamin A:
118
IU
|
Vitamin C:
28
mg
|
Calcium:
9
mg
|
Iron:
1
mg