This post may contain Amazon or other affiliate links. As an Amazon Associate I earn from qualifying purchases at no additional cost to you.
There is something beautiful about crispy fried chicken on top of a bed of fresh lettuce, with all your favorite salad toppings and a crazy good Honey Mustard BBQ dressing.
Because the way to indulge in crispy chicken and feel semi good about ourselves is to turn it into a salad.
No judgement please. We try to live on the edge like that.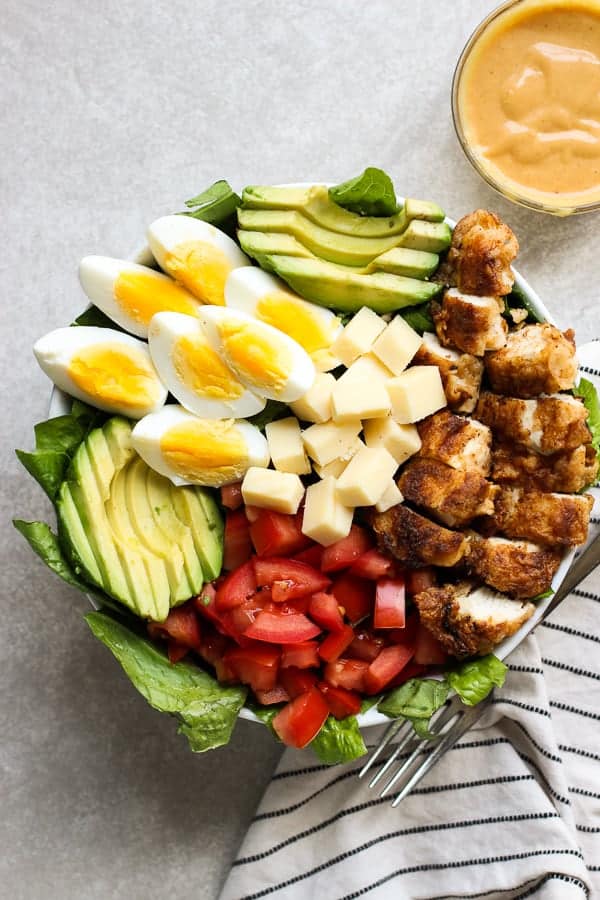 Why Crispy Chicken Salad
When the fried chicken craving is real, but you want a healthier version than the ones dunked into a deep fryer. And while you love your carbs (I mean, potatoes like this is life), but you know you cannot be having all the carbs all the time.
Get it get it get it?? I know you get it.
Crispy Chicken Salad combines the best of both worlds. Crazy yummy and healthy-ish…or as healthy as fried chicken can get. 😉
Juicy, crispy, amazing pan-fried chicken (NOT deep fried) served with lots of yummy protein (hello avocados and boiled eggs) and crunchy veggies.
Then we drizzled the perfectly perfect Honey Mustard BBQ Dressing. With a tiny bit of BBQ sauce added to it, we get a nice twist to the classic Honey Mustard Dressing. It also so happens to be so ridiculously good and you will not look at Honey Mustard Dressing the same way again ever ever. Just trust me.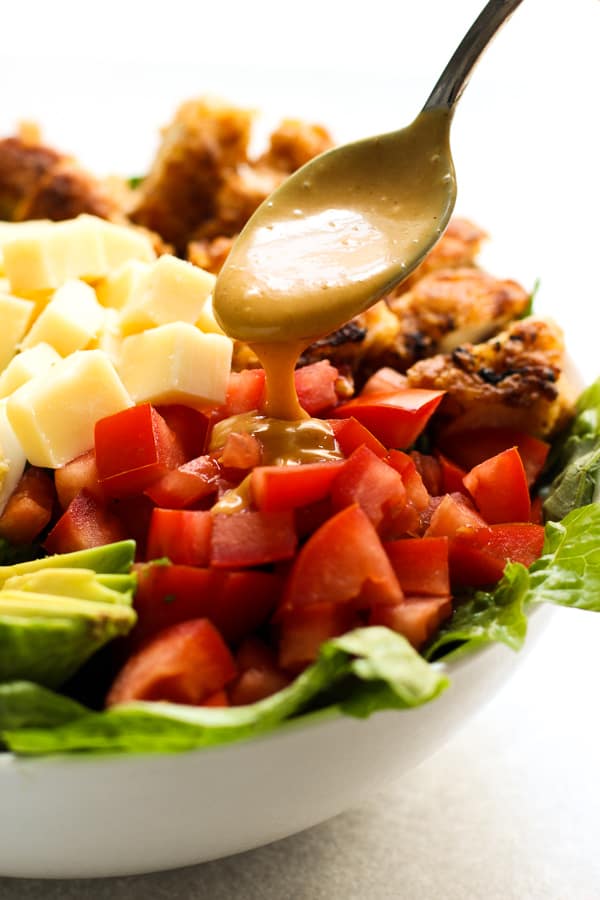 Honey Mustard BBQ Dressing
The best part is, there's nothing too complicated about this. It is as simple as combining your favorite Honey Mustard Dressing with a tiny bit of your favorite BBQ sauce.
It also tastes really similar to Chick Fil-a sauce. I won't go as far to say it's an exact copycat, but it has hints of Chick Fil-a sauce written all over it. And I do love my Chick Fil-a sauce.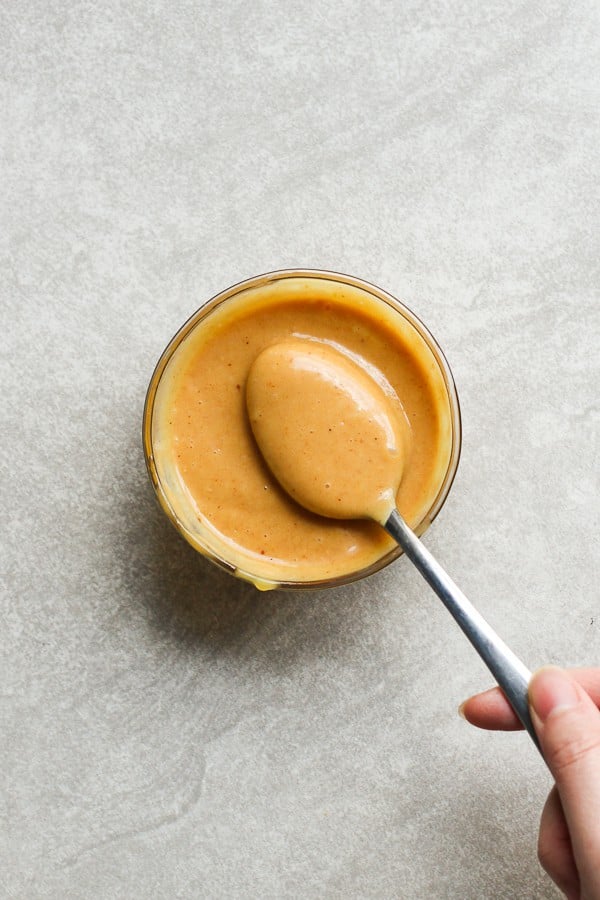 Make it your own
The beautiful of this salad is you can truly make it your own. Typically when I make this Crispy Chicken Salad, I eat it as a main dish so I pile on some of my favorite protein (i.e. boiled eggs, avocados, white cheddar cheese) so that it will fill me up.
But you can also make it a lighter salad, use a different cheese or lettuce, use other ingredients that you like (peppers, carrots, croutons, nuts, dried fruits etc), add more or less of the ingredients you like. The world is your oyster.
Pro tip: cube your cheeses when adding them to salads (instead of using shredded cheese), especially if you are using good quality cheese. This way when you bite into your salads, you will be able to bite into the cheese and really taste it. In my humble opinion, it makes a whole of a difference in a salad.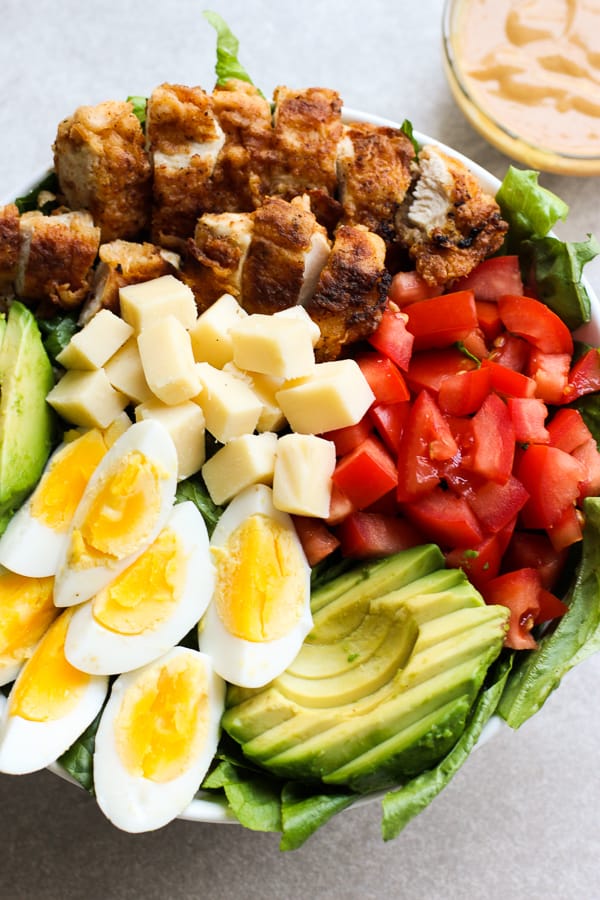 Tips for pan frying Crispy Fried Chicken
Pan frying chicken is a bit trickier than deep frying them, but it is a lot healthier to pan fry, and it will taste just as delicious if you get it right. Here are some tips:
Use enough oil to cover the full surface of the skillet and make sure the oil is hot before adding chicken to the skillet
Do not overcrowd chicken – cook in two batches if needed!
Adjust heat as needed. If the outsides of the chicken look cooked but the inside is not, lower heat to avoid burning the chicken.
Use a pair of tongs to move the chicken around. This works better than a spatula. If you don't own one, it's a great thing to have in the kitchen, get it here! (affiliate link)
After removing chicken from skillet, let chicken sit for a few minutes before slicing them into strips.
In my experience, with a little attention to the details and a bit of practice, pan fried chicken is totally a reality!
That's it for this one, folks! Enjoy this yummy salad as we wrap up the summer! Can you believe we are talking about wrapping up the summer already?!? No I can't no I can't.
If you make this recipe, comment below and let me know what you think! Also, don't forget to take a picture and tag me on Instagram, because I WANNA SEE!!
Other Yummy Salad Recipes!