Molten Chocolate Lava Cake
Introducing the sexist dessert alive: Molten Chocolate Lava Cake. A rich and decadent chocolate cake with gooey lava in the middle, served with vanilla ice cream.
Simply put: It is what dreams are made of.
As sophisticated as it looks and sounds, Chocolate Lava Cake is so simple to make. Like 20-minute and 7-ingredient type of simple. And that 7-ingredient even includes the ice cream.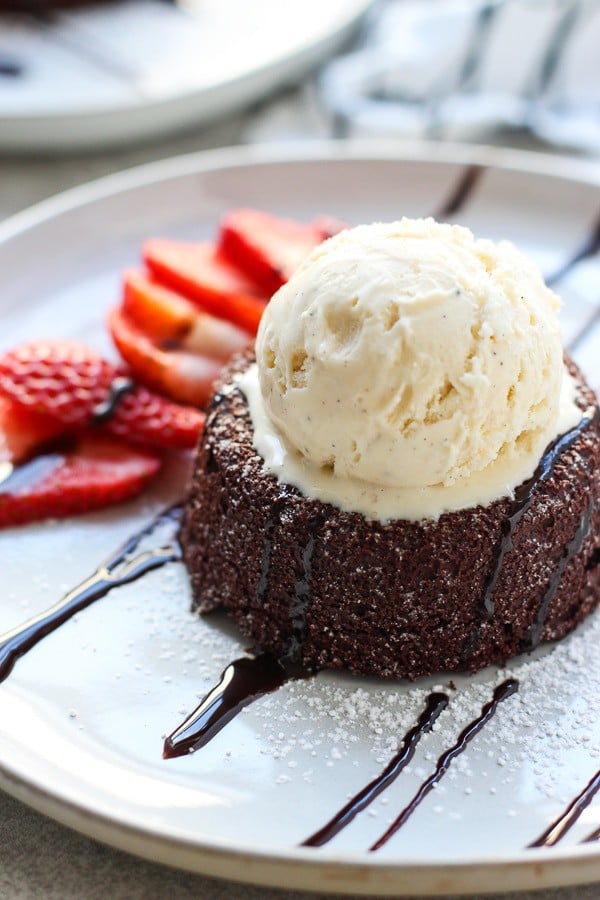 Lava Cake with Ice Cream
If you never had Molten Chocolate Lava Cake…with ice cream, of course, run and make it/find it/buy it…do what you need to do to change that immediately.
When I first took a bite of this warm, sinfully gooey lava cake with that sweet creamy ice cream…I seriously thought I tasted a drop of heaven.
Yes – if you haven't already read between the lines. Molton chocolate lava cake is one of my all-time favorite desserts. My dessert of choice at restaurants.
If I get stuck in a desert island, and I can bring one thing with me, it will be my molten chocolate lava cake.
With ice-cream, of course.
What you will need
When I first made this, I was so surprised by how easy it is.
I learned how to make my first molten chocolate lava cake using this recipe from Food & Wine. And GENIUS is what it is.
This chocolate lava cake recipe of mine is definitely inspired by the Food & Wine recipe, with some slight changes made.
To make molten chocolate lava cake with ice cream, all you need are two 6oz ramekins, a whisk, two medium bowls, and the ingredients listed. And about 20 minutes of your time.
Prepare to be blown away.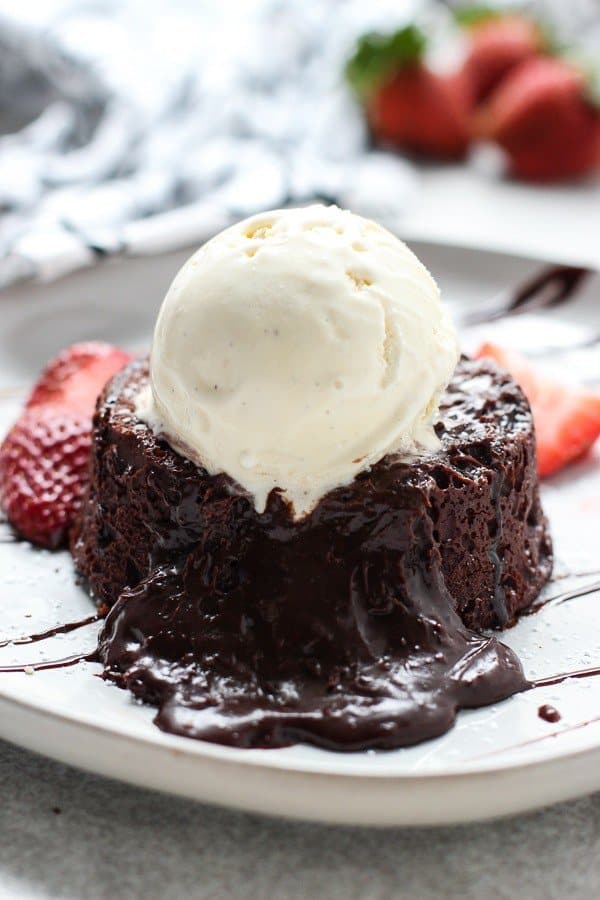 Ingredients for Molten Chocolate Lava Cake
Here are the 7 ingredients to make this chocolate lava cake recipe:
60-75% dark chocolate bars – an important ingredient! Use good quality chocolate because that is the key ingredient, and it will determine how good your molten chocolate lava cake tastes! In addition, better quality chocolate melts better as well. Tip: Trader Joe's is a great place for good quality chocolate for reasonable price.
unsalted butter – avoid salted butter to control the salt content in your chocolate lava cake.
granulated sugar
all-purpose flour
egg
egg yolk – using egg yolk in addition to eggs to make the texture of our molten chocolate lava cake richer.
vanilla ice cream – a must! Lava cake with ice cream is the best way to do lava cake!! The combination of that warm gooey chocolate cake with cold vanilla ice cream is what dreams are made of…
How to Make It
Would you believe it if I tell you homemade lava cake with ice cream takes 20 minutes from start to finish?
You can't even bake cookies or regular cakes that fast!
To start, we are going to melt that chocolate. You can use a double boiler if you'd like, but I have this nifty trick of melting chocolate in the microwave, which I think is faster and it'll be less dishes to wash at the end of it. You're welcome.
Just remember to microwave chocolate (along with unsalted butter) for 30 seconds at 50% power, remove from microwave, stir, and repeat until chocolate is completely melted.
Remember to not short cut the steps because chocolate will burn otherwise. The trick is to melt it slow on low heat (thus 50% power), and stirring it while it melts.
In another small/medium bowl, whisk together egg, egg yolk, flour, and sugar.
Then add melted chocolate to the bowl, and whisk to combine until mixture is smooth.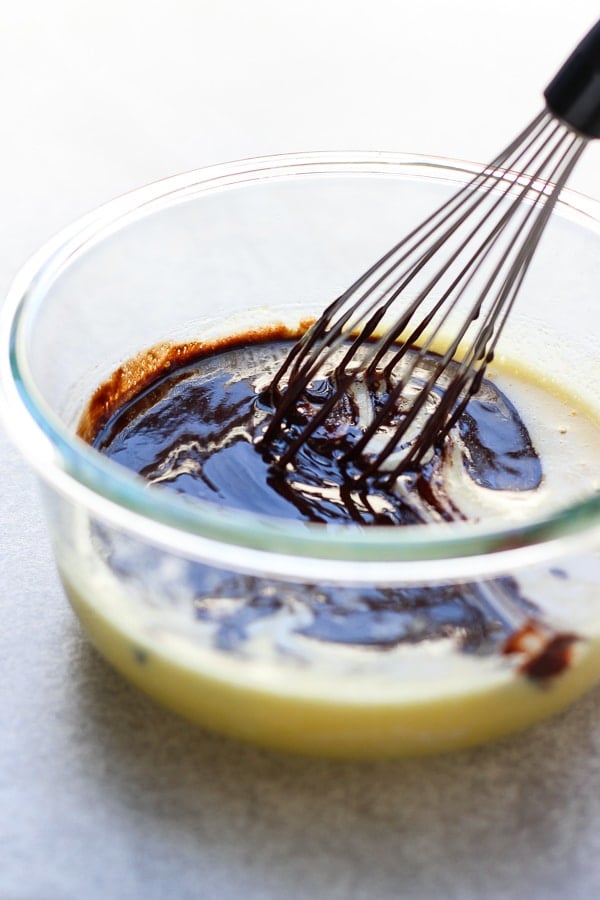 Generously grease two 6 oz ramekins with unsalted butter, then pour the chocolate mixture into the two ramekins.
Place ramekins on a baking sheet, then bake in the oven for 12-13 minutes at 450℉.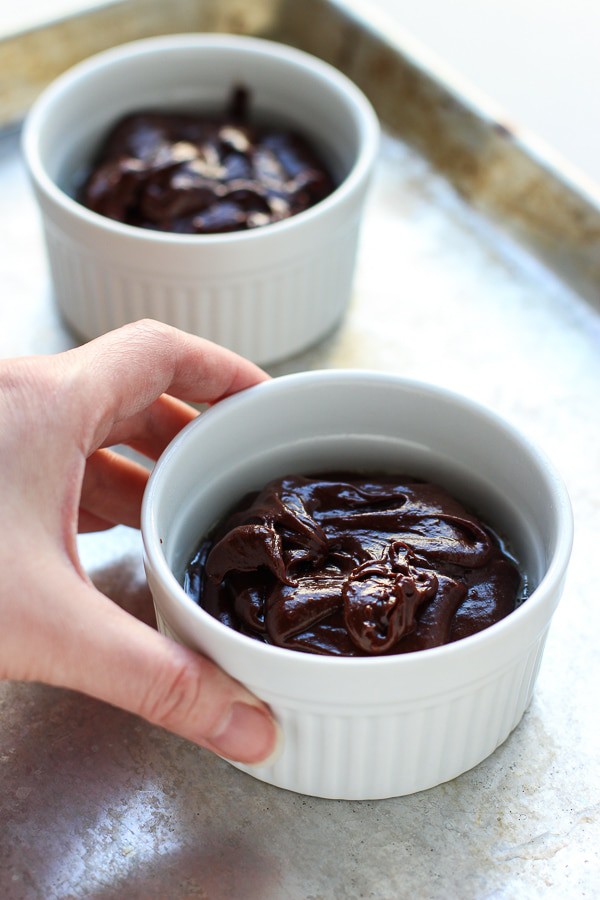 When molten chocolate lava cake is done, remove from oven promptly and let the cake sit for 1 minute. Then immediately invert cake onto a plate. Do not let it sit in the ramekin for longer than 1 minute if not the middle will not longer be gooey.
Last, and definitely not least, top lava cake with ice cream.
When you dig into the middle of the cake, the gooey chocolate will ooze out from the warm moist chocolate cake.
So decadent. So dreamy. So delicious.
I love these Molten Chocolate Lava Cake so much. Proof: I have made, tasted, eaten, photograph over a dozen of these things over the past week, and I am still PUMP about making it for Valentine's Day.
Side note: This is probably up there when it comes to the hardest foods I have ever photographed. Thus the dozens of chocolate lava cake made.
Melting ice cream and gooey lava gives me a window of like 10 seconds to get the perfect shot, which translates into, remaking of cake, re-staging, starting over. Again, and again, and again.
Okay, rant over. I will spare you the details. But the reason I say all this is this…
I STILL LOVE THIS THING SO DANG MUCH, even after being over-exposed to it this week.
And I'm totally still making it for Valentine's Day. My husband is still super excited about having his 10th lava cake for the month.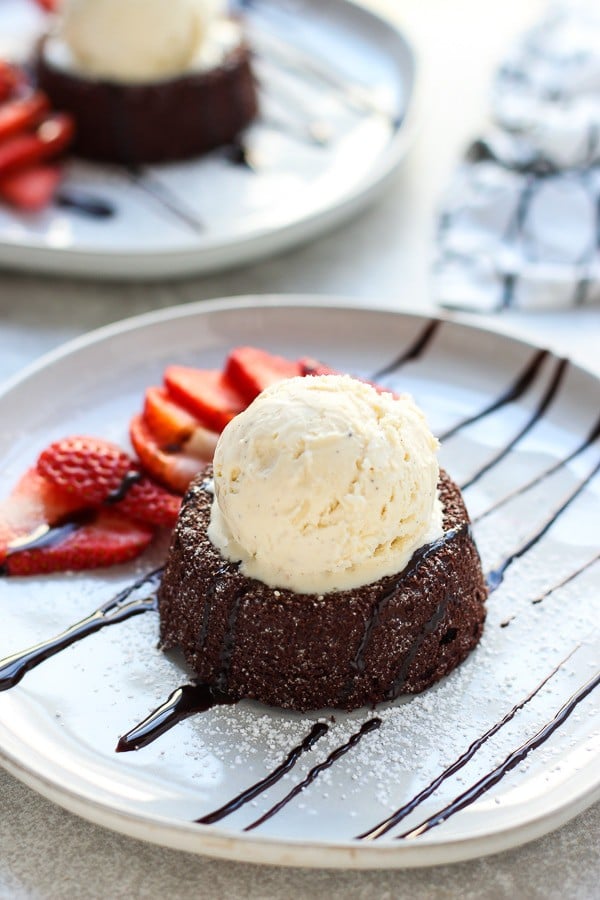 Frequently Asked Questions
Can I use chocolate chips instead of chocolate/baking chocolate?
Chocolate chips has additional coatings in it thus changing the texture of the chocolate. I highly recommend using baking chocolate instead of chocolate chips.
Why isn't the center of my cake gooey?
It's probably overcooked. Make sure to remove from oven promptly and promptly remove cake from ramekin. An extra minute in the oven or letting the baked cake sit for a few additional minutes in the ramekin can change the texture of the cake significantly.
Can I make this ahead of time?
This is one of those recipes that you want to make and consume immediately. The good news is you can prepare the batter ahead of time and it only takes a few minutes to bake!
Whether you are celebrating Valentine's Day or not, make some molten chocolate lava cake with ice cream! You'll love it!
Trust me, I wasn't a Valentine's Day kinda person for a long time. It can be a pretty depressing holiday. But seriously, what better way to chase away all that than a decadent lava cake. 😉
Also perfect for special occasions, a nice dessert after a nice dinner in, or just whenever your heart tells you its time for some lava cake.
DID YOU ENJOY THIS RECIPE? Please comment below and give us a 5-star rating! This will help others find this recipe on Google and Pinterest. We very much appreciate your help! 🤍
Other Chocolate Desserts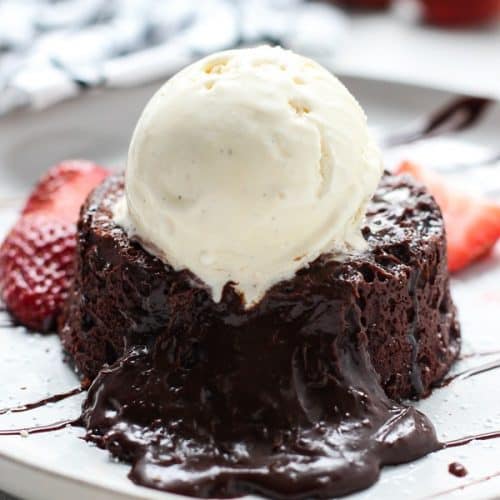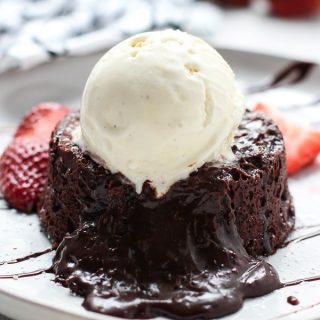 Molten Chocolate Lava Cake
An elegant and delicious dessert that is actually really easy to make (only 20 minutes!). Warm, rich, decadent chocolate cake with a gooey lava filling in the middle, topped with vanilla ice cream.
Print
Pin
Ingredients
3

oz

dark chocolate (60-75%)

1/4

cup

unsalted butter

+ more for greasing

1

egg

1

egg yolk

1/4

cup

granulated sugar

2

tbsp

all-purpose flour

Vanilla ice cream
Instructions
Pre-heat oven to 450 degrees F.

Bring dark chocolate and unsalted butter to a small/medium micrwavable bowl.

Microwave for 30 seconds at 50% power, remove from microwave, stir with a spoon, bring back to microwave. Repeat until all chocolate is melted. Note: do not short cut this step to void burning chocolate!

In another small/medium bowl, whisk together egg, egg yolk, flour, and sugar.

Add melted chocolate into egg mixture. Whisk to combine.

Generously grease two 6 oz ramekins using unsalted butter. Can grease with vegetable oil or canola oil as well.

Divide mixture equally into the two ramekins. Place ramekins on baking sheet.

Bake for 12-13 minutes. Remove ramekins promptly. Let it rest for 1 minute (don't let it sit for too long as it will continue to cook and it will not longer be gooey in the middle). Invert ramekins onto plates.

Top with vanilla ice cream. Serve and enjoy!
Nutrition
Calories:
525
kcal
|
Carbohydrates:
47
g
|
Protein:
8
g
|
Fat:
35
g
|
Saturated Fat:
21
g
|
Trans Fat:
1
g
|
Cholesterol:
270
mg
|
Sodium:
92
mg
|
Potassium:
187
mg
|
Fiber:
1
g
|
Sugar:
39
g
|
Vitamin A:
1236
IU
|
Vitamin C:
1
mg
|
Calcium:
117
mg
|
Iron:
1
mg