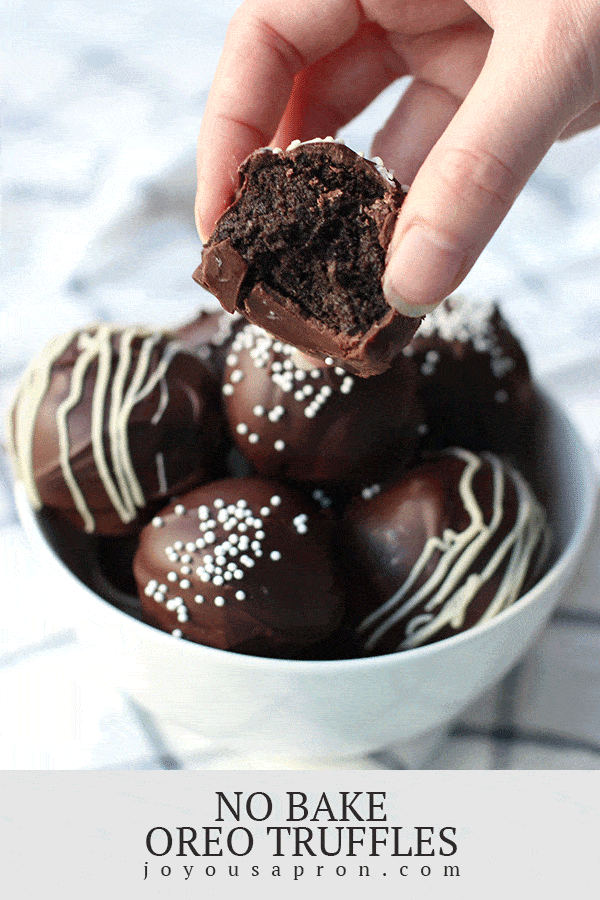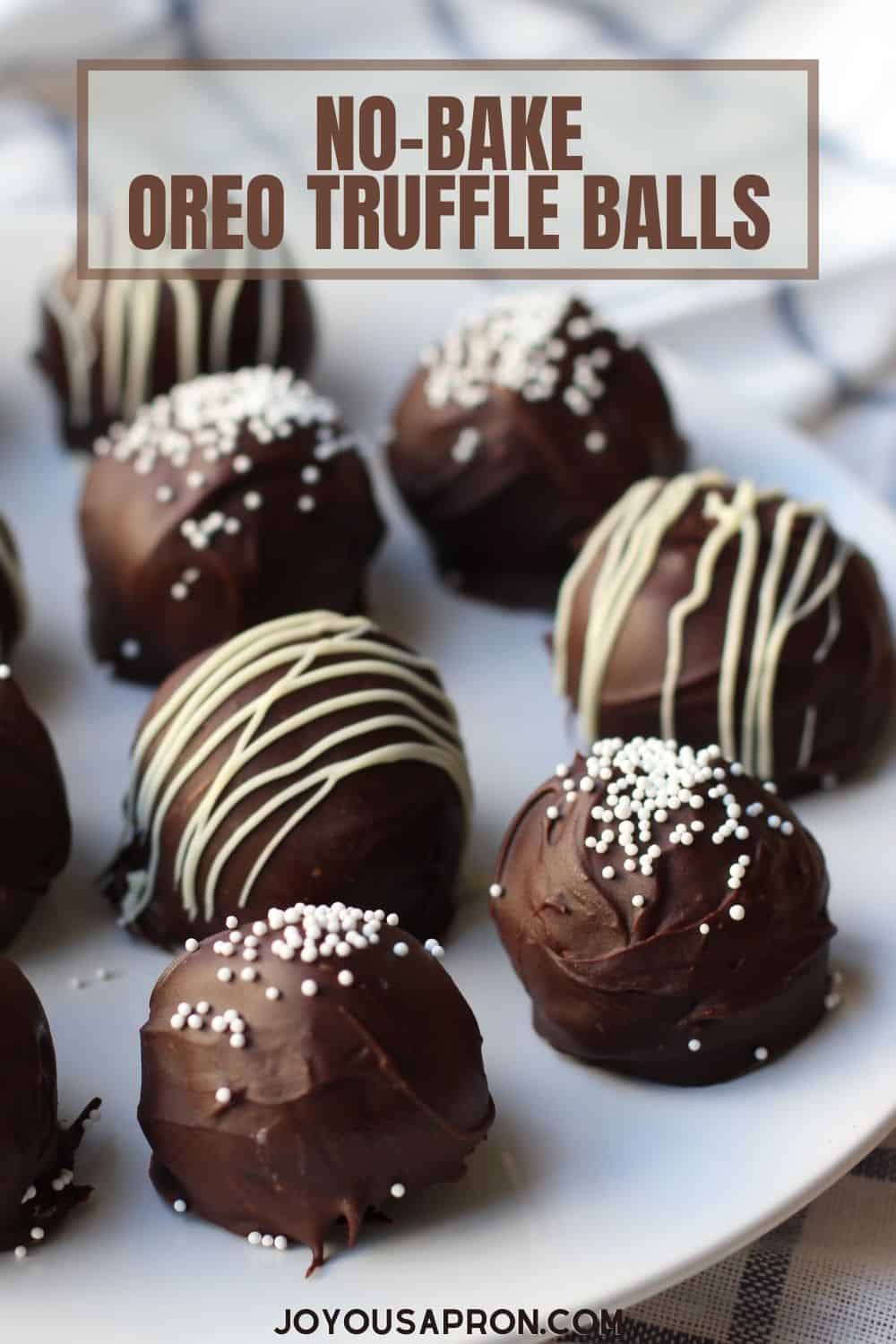 This post may contain Amazon or other affiliate links. As an Amazon Associate I earn from qualifying purchases at no additional cost to you.
Oh, how I love these No-Bake Oreo Truffles, and let me tell you why…
Why #1: Did I say no-bake? OH YES I DID. Think serious summer heat coming up, and you can get oh-so delish desserts without switching on that heat-producing-device call the oven. Winning.
Why #2: Only THREE ingredients! Which translates to easy peasy. You can top the truffles with additional ingredients such as sprinkles and/or melted white chocolate to make them look prettier like I did in Exhibit A (below), but you really only need three key ingredients to make this thing taste wowza – lots of chocolate chips, lots of Oreos and a block of cream cheese.
Why #3: Well, hello! Did I just say these things are pure deliciousness? Not to mention addictive, like makes-you-dream-about-it addictive. To say I have developed an obsession with these little truffle thingies is an understatement.
Where it all began…
The person responsible for all this Oreo Truffle business is my friend, Lisa.
John and I have been eating copious amount of Oreo truffles since the day she made it for a party years ago. Let's just say we loved every single bite of it, and so did our waistlines.
Lisa got this recipe from her mom, who got it from somebody else. So the bottom line is, we really don't know where the recipe came from, but I would like to take a minute and just give sincere gratitude to Lisa, Lisa's mom and that pretty cool person who invented these glorious truffles, because these truffles are LIFE.
So yes, these things taste like heaven on earth, but they are also super easy to make! Think crushed up Oreos mixed with cream cheese dip in chocolate. Yeah, that's it. THAT IS IT.
And that produces pure delight, joy and happiness for mankind.
How to Make No Bake Oreo Truffles + Pro Tips
Let me just say this though. Prior to this, I would never in a million years mix Oreo and cream cheese together, but I'm telling you, some things just work, and THIS is one of them. Together they make this sweet, gooey, cake-like/brownie-like amazingness.
Trust it, friend. Just trust it. And you can thank me later.
When I first got the recipe from Lisa, I would put Oreos in a zip lock bag and have John pound it with a rolling pin until they become little pieces because he is the stronger human being of the two of us.
Or maybe I tend to boss him around the kitchen (sometimes) 😉 .
Then Lisa told me she crushes the Oreos up in a food processor. Talk about a time-saver! That takes five seconds, literally. You can use a blender too if you have that instead.
After crushing up the Oreos, add softened cream cheese and mix/crush it further. This whole process takes less than a minute. It's amazing. And kinda life changing.
And if you do not have a food processor or blender, another option is to use a hand held mixer to mix the crushed oreo cookies into the cream cheese.
Then shape the mixture into small 1-1 1/2 inch Oreo balls.
Freeze the Oreo balls for about 1 hour because it makes the process of dipping them into chocolate a lot easier if they are firmer.
When you are ready to dip them into chocolate, bring chocolate chips to a bowl and heat them in a microwave in 20-second increments.
That means putting it in the microwave for 20 seconds, bringing it out, stirring, putting them back into the microwave, and repeat until all the chocolate chips are melted.
Next, dipping techniques. This is the messy but fun part. Here are a few ways to do this:
Sit ball on a fork and submerse it into the melted chocolate. You might need a spoon to assist in covering it completely in chocolate. Then place the chocolate-coated balls back onto the wax paper using the fork.
Prick ball with toothpick, then dip into chocolate. Use this technique only if the balls are still cold and firm; it will fall apart if it is not. You will probably also need a spoon to completely cover the ball with chocolate (especially if your bowl isn't deep enough). Place the ball on the wax paper and gentle wiggle the toothpick to remove it from the ball.
After dipping all the Oreo balls into chocolate and placing them on wax paper, bring them back to the fridge to refrigerate for 30 minutes. If you want to decorate the truffles with sprinkles, do so while the chocolate is still wet and before you refrigerate the truffles.
If you are decorating with white chocolate, wait until truffles are refrigerated. Then melt some white chocolate chips in microwave in 20-second increments, then add melted white chocolate into a zip lock bag.
Squeeze them into a corner and cut a small slit (start as small as possible) on the corners. Then you can squeeze the white chocolate out from the corner to draw thin lines (or anything really) on the truffles.
This is the same decorating technique used in my Chocolate Covered Strawberry recipe. There are more detailed step-by-step pictures on the Chocolate Covered Strawberry post to show you how to do this!
I'm telling you, this is one of my favorite year round dessert!
We love it during the holidays because they are always such a hit at holiday parties and gatherings.
They also happen to be perfect during the spring/summer dessert as no baking is required and you don't have to turn on the oven.
In addition, it is also an amazing make-ahead-of-time dessert for parties, showers, snacks for anytime!
It keeps well for days and if you have much to do for an event, you can make it when you have time/way ahead of time!
For me, the most challenging part to master in this whole Oreo Truffles making process is the dipping the balls into chocolate. But just practice it on the first few truffles and you will be a pro before the batch is over!
The chocolate looks messier prior to refrigerating. Somehow after refrigeration the chocolate hardens and the truffles will firm up and look way more professional compared to right after you dip them into chocolate.
Also, let's face it. Truffles with messy chocolate coatings and not-messy chocolate coatings TASTE THE SAME!
So whatever the mess, you will forget about it once you bite into these addictive, yummy little things!
Friends, this is too good to pass up. We love it in our household, and devour these little things like nobody's business. Try it and let me know what you think!
More Oreo Desserts
Check out another favorite on the blog – The Best Cookies and Cream Ice Cream. We call it the best because it is, in fact, THE BEST.
Other Chocolate Desserts
DID YOU ENJOY THIS RECIPE? Please comment below and give us a 5-star rating! This will help others find this recipe on Google and Pinterest! We very much appreciate your help! 🤍
No-Bake Oreo Truffles
So easy to make yet so yummy – this is the perfect no-bake treat! Lots of crushed Oreos combined with cream cheese, covered with lots of chocolate. Warning: these things are addictive!
Print
Pin
Ingredients
14

oz

oreo cookie

(1 standard package)

8

oz

cream cheese block

softened

16

oz

semi sweet chocolate chips

sprinkles

optional

white chocolate chips

optional
Instructions
Crush up Oreos using a food processor or blender. If you don't have a food processor or blender, place Oreos into a zip lock bag and use a rolling pin or something heavy to crush it up.

Add cream cheese to the crushed Oreos and mix well using a blender, food processor, or using a mixing spoon.

Roll mixture into a 1-1 1/2 inch ball and place on a plate lined with wax paper. Freeze for an hour, or until Oreo balls are cool and firm (See Note 1).

Microwave chocolate chips in a bowl for 20 seconds, remove and stir, and repeat a few times until all chocolate chips are melted.

Once chocolate is melted, place Oreo ball on a fork and submerse it into the chocolate. Use a spoon to assist getting chocolate coated all over the Oreo balls. Place coated ball back onto the wax paper with the fork and gentle slide the fork out. Or, gently insert a toothpick into the Oreo ball and dip ball into chocolate. Also use a spoon to assist. Then place coated ball back on the wax paper and gently wiggle the toothpick to remove it.

Repeat Step 5 for all the Oreo balls. If decorating with sprinkles, add sprinkles to the top of Oreo balls before refrigerating it.

Refrigerate chocolate coated Oreo balls for at least 1 hour.

If decorating with white chocolate, melt white chocolate chips in microwave for 20 seconds and stir, then repeat until all white chocolate chips are melted. Place melted white chocolate into one of the corners of a zip lock bag. Cut a small slit in the corner and squeeze white chocolate out from the slit to draw thin lines onto the truffles. Refrigerate truffles for 10-15 minutes. For pictures on this step, see my Chocolate Covered Strawberries recipe.
Notes
Note 1: Freezing the Oreo balls will make the Oreo balls firmer, and thus makes it easier to manage when dipping them into melted chocolate.
Nutrition
Calories:
315
kcal
|
Carbohydrates:
36
g
|
Protein:
6
g
|
Fat:
17
g
|
Saturated Fat:
8
g
|
Polyunsaturated Fat:
1
g
|
Monounsaturated Fat:
6
g
|
Trans Fat:
1
g
|
Cholesterol:
4
mg
|
Sodium:
231
mg
|
Potassium:
270
mg
|
Fiber:
3
g
|
Sugar:
23
g
|
Vitamin A:
24
IU
|
Calcium:
78
mg
|
Iron:
4
mg