Peanut Butter Rice Krispie Treats
My sweet tooth and I cannot get enough of these chewy, ooey gooey Peanut Butter Rice Krispie Treats!
Marshmallows, peanut butter, rice Krispies cereal….listen, even if you don't cook or bake often, it's really hard to go wrong with this easy, no bake, 5-ingredient Rice Krispie treats loaded with peanut butter!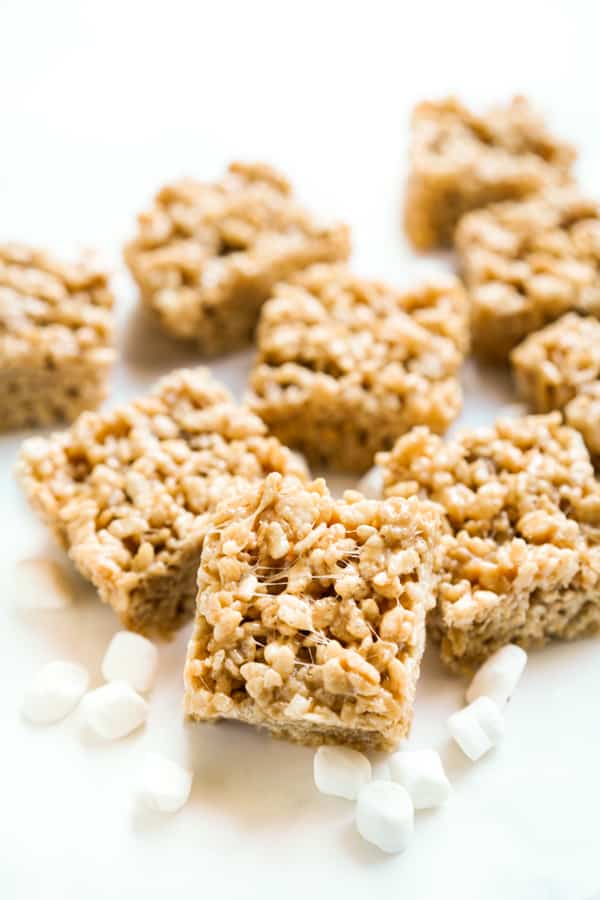 Rice Krispie Bars…with Peanut Butter!
I love the peanut butter in these Rice Krispie Bars because it takes the simple classic cereal treat to a whole new, much more delicious level.
Whenever I make Peanut Butter Rice Krispie Treats I can never count on leftovers because they always disappear before my eyes…
Like these Strawberry Thumbprint Cookies or Mango Crumble Bars, I don't expect these to hang around a long time in the kitchen!
I have all the tips and tricks for making the most perfect Peanut Butter Rice Krispie Treats, everything from flavor to texture to how to prepare it.
But first, here's what you need to know about these yummy rice krispie treats with peanut butter:
They are perfectly gooey, chewy and delicious.
Peanut butter brings a nice flavor to it, and also making it not crazy sweet, but just sweet enough! It also packs some nice protein, and I like to think it makes it (slightly) healthier! 😉
Takes only about 15 minutes to make.
No baking required, just a little time for the Peanut Butter Rice Krispie Treats to set (30 minutes).
Makes a delicious dessert or snack!
Keeps well in room temperature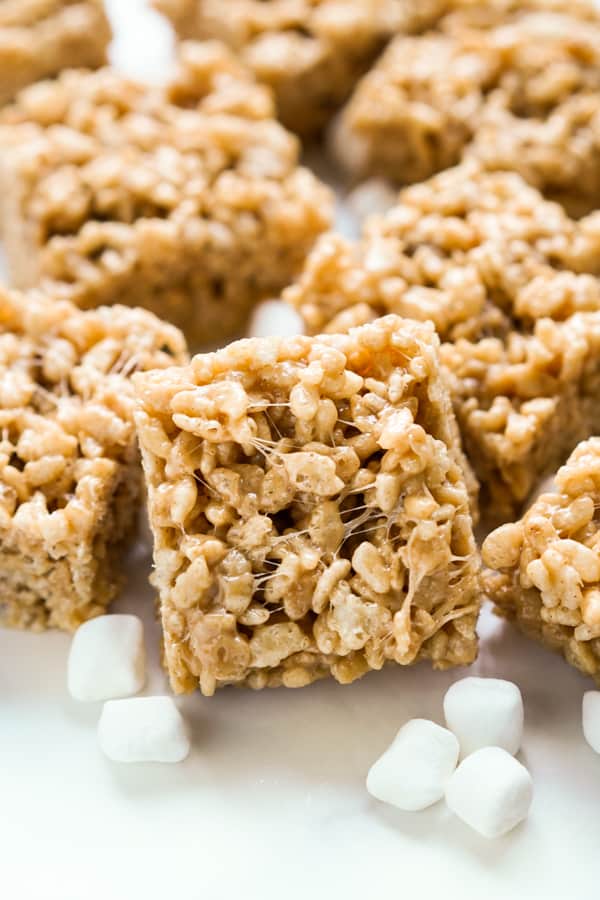 Ingredient Notes
Here's the best part: these Peanut Butter Rice Krispie Treats are made with only FIVE ingredients!
Five easy-to-find, pantry-friendly ingredients that you may already have at hand:
Rice Krispie cereal – I have used off-brands and they work just as well
Mini marshmallows – the mini ones melt faster so that is why I always recommend using mini marshmallows. If you are using bigger marshmallows, cut them into smaller pieces.
Salted butter – I like using salted instead of unsalted because the salt in the butter opens up the flavor and brings a nice touch to the treat.
Peanut butter – use the creamy kind, I just don't think crunchy works as well in this
Vanilla extract – brings a nice vanilla flavor to these treats
Equipment Needed
When making Peanut Butter Rice Krispie Treats, I highly recommend using a dutch oven, non stick pot or some kind of enamel coated pot.
In addition you will also need 8″x8″ square dish for this.
A 9″ x 13″ dish can be used too – it will just yield a thinner Peanut Butter Rice Krispie Bars.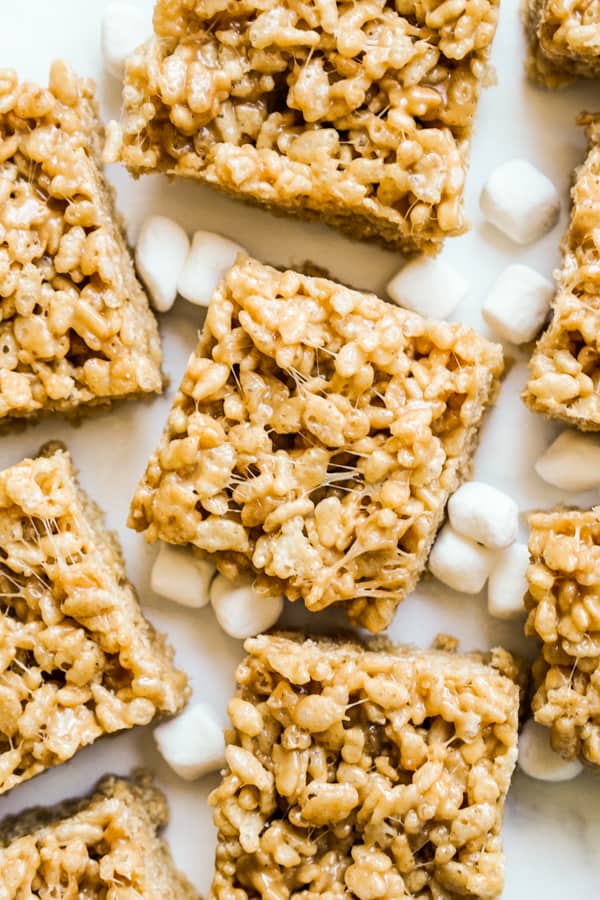 How to make Peanut Butter Rice Krispie Treats
Let's start by making the marshmallow/peanut butter sauce that is responsible for holding the Rice Krispies together.
The sauce is made out of butter, peanut butter, marshmallow and vanilla extract.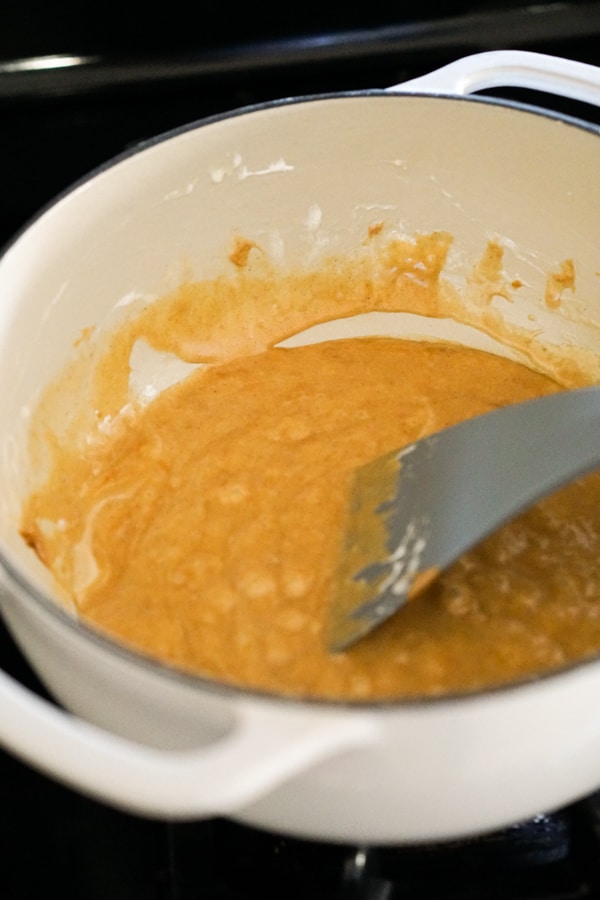 Make sure to cook under medium low heat and stir continuously.
Once all the marshmallows are dissolved, switch off heat, then add the Rice Krispies cereal to the pot.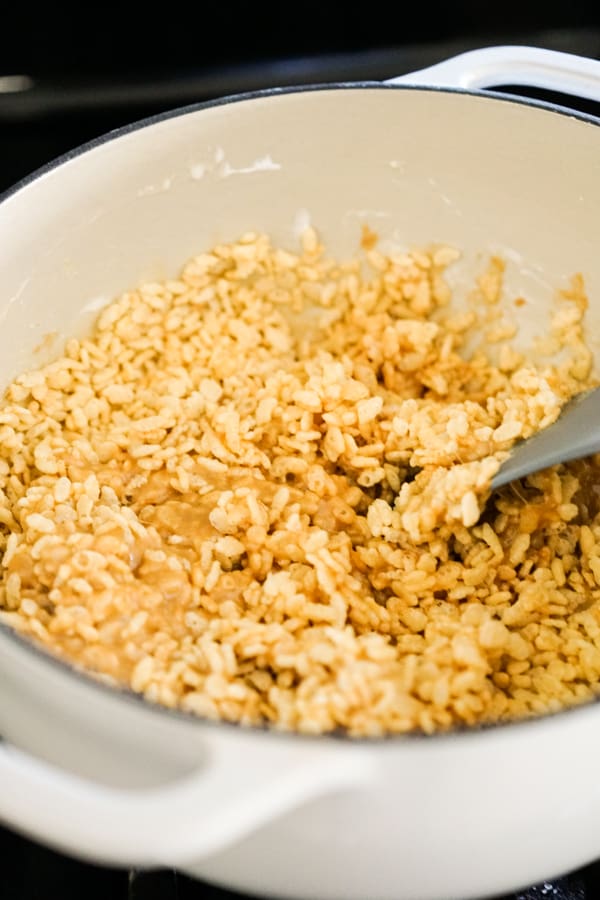 Fold cereal into the mixture until it is all combined.
At this point, it is very tempting to munch on these sticky Peanut Butter Rice Krispie Treats….I say go for it!
I will not disclosed the amount of munching I did while making batches of these yummies… (Hint: too much. Way too much…)
Let's just say once you start snacking on these Peanut Butter Rice Krispie Treats, it is hard to stop!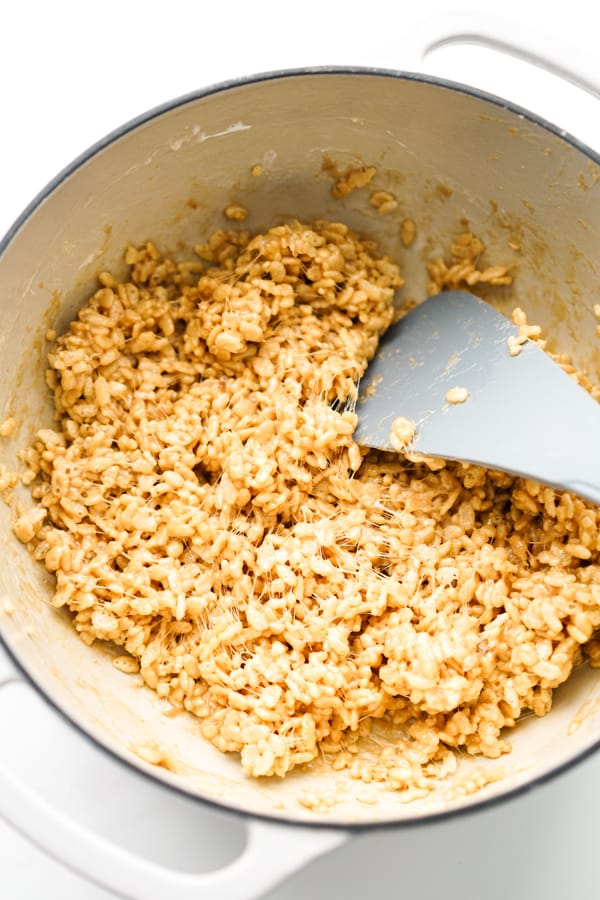 Don't munch on it for too long though…only because you want to transfer these Peanut Butter Rice Krispie Treats into a greased baking dish that is at least 2-3 inches deep before it hardens.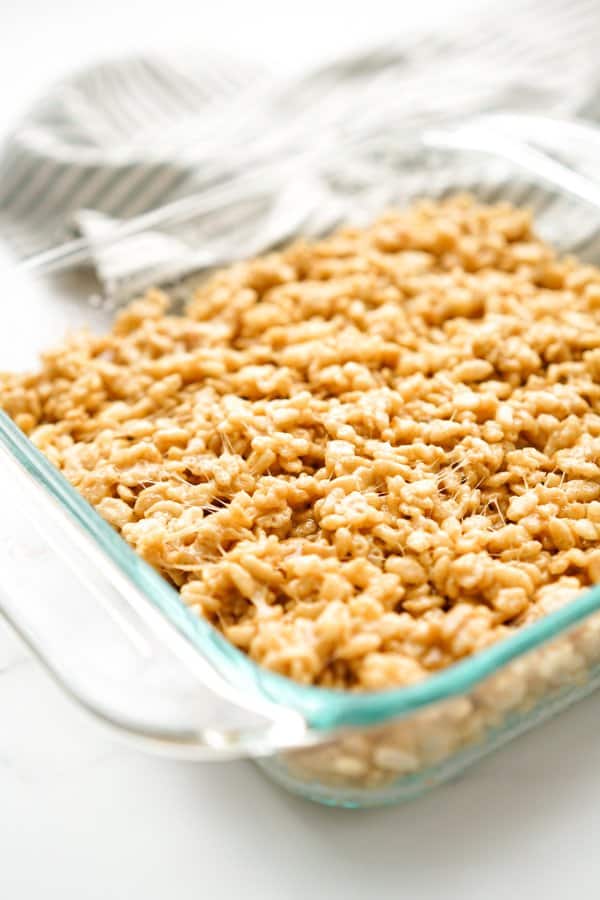 When adding to the dish, do not press on Peanut Butter Rice Krispies too much because that will make it harder to cut and pull apart once the marshmallow hardens.
Just gently spoon it onto the baking dish, and even if the top isn't perfectly even, I would leave it that way, and not press on it too much.
Let it sit for 30 minutes in room temperature and cut them into square bars.
The final product? Bite-size Peanut Butter Rice Krispie Treats that are chewy, sticky, peanut butter-y (is that even a word?) and simply irresistible.
Tip and Tricks
Peanut Butter Rice Krispie Bars are indeed super easy to make! Just take note of a few of this and you'll be an expert before you know it!
When cooking peanut butter and marshmallow mixture, stir continuously under medium low heat to avoid the burning the mixture.
Be sure to grease the dish before adding the sticky Peanut Butter Rice Krispies for easy removal.
Once the heat is turn off, quickly place sticky Rice Krispies onto the baking dish before it hardens. It hardens pretty quickly!
Avoid pressing on Peanut Butter Rice Krispies when placing them on the dish and overpacking them.
Do not store in refrigerator because marshmallow would harden and it will be hard to bite into. Store in room temperature in an airtight container.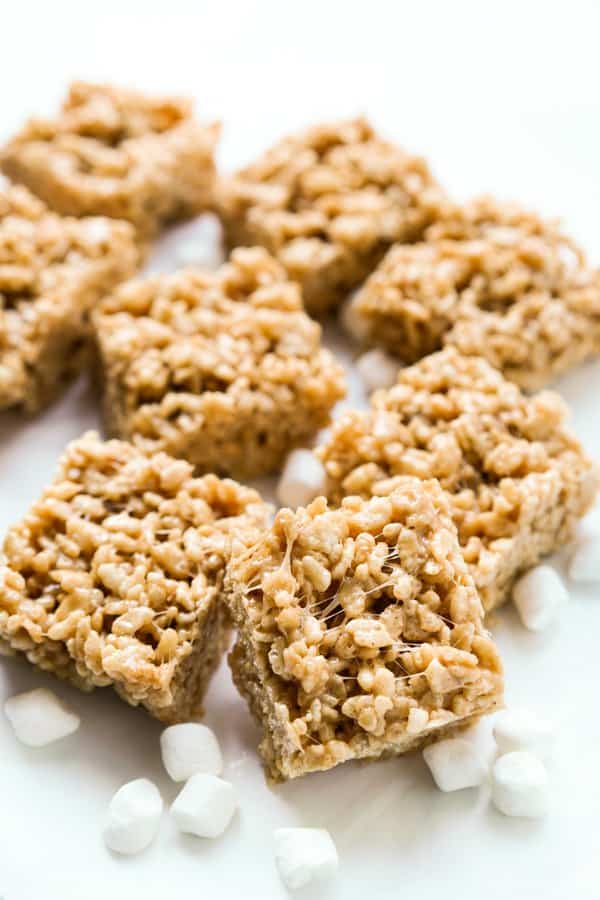 FREQUENTLY ASKED QUESTIONS
Can I use a 9′ x 13′ rectangular dish for this?
Yes! It will just yield a thinner Peanut Butter Rice Krispie Squares.
How to store Rice Krispie Treats?
Store them in an air tight container in room temperature, do not refrigerate or freeze them – it will be too hard to bite into.
Can I use off brand Rice Krispies? Do they work the same?
Yes! They work just fine!
DID YOU ENJOY THIS RECIPE? Please comment below and give us a 5-star rating! This will help others find this recipe on Google and Pinterest. We very much appreciate your help! 🤍
MORE SWEETS AND TREATS!
Some of my other favorites!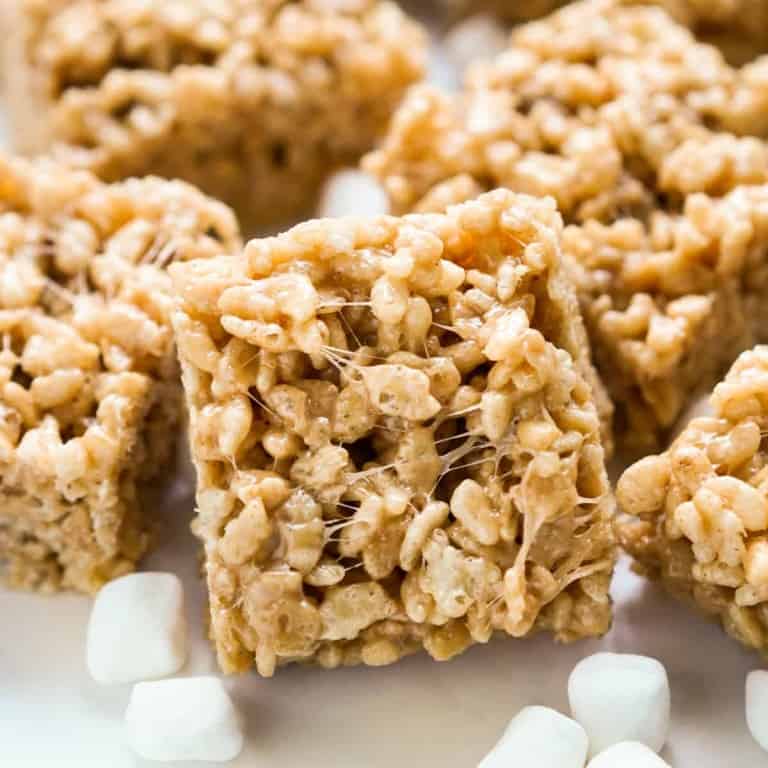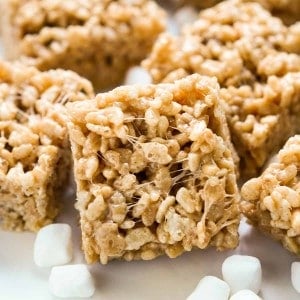 Peanut Butter Rice Krispie Treats
These Rice Krispies are made with gooey marshmallows, peanut butter and Rice Krispies. Cereal treats make the best snack and desserts!
Print
Pin
Ingredients
6

tbsp

salted butter

10

oz

mini marshmallows

1

tsp

vanilla extract

1/4

cup

creamy peanut butter

4

cups

RIce Krispie cereal
Instructions
Heat a large pot under medium heat and add butter until it is completely melted.

Lower heat to medium low. Add mini marshmallows, vanilla extract and peanut butter. Stir continuously until mixture is combined and marshmallows dissolve.

Remove from heat and add Rice Krispies cereal. Fold them into the sticky sauce.

Grease a 9' x 9' baking dish and fill it with sticky Rice Krispie cereal. Avoid pressing down on Rice Krispie Treats because we don't want to pack it in – it will make it hard to cut into pieces.

Let it sit for 30 minutes. Cut into 9 square pieces.
Notes
Alternatively, a 9′ x 13′ baking dish can be used as well. It will yield thinner pieces of Rice Krispie Treats.
Nutrition
Calories:
258
kcal
|
Carbohydrates:
38
g
|
Protein:
3
g
|
Fat:
11
g
|
Saturated Fat:
6
g
|
Polyunsaturated Fat:
1
g
|
Monounsaturated Fat:
4
g
|
Trans Fat:
1
g
|
Cholesterol:
20
mg
|
Sodium:
190
mg
|
Potassium:
67
mg
|
Fiber:
1
g
|
Sugar:
20
g
|
Vitamin A:
1061
IU
|
Vitamin C:
8
mg
|
Calcium:
7
mg
|
Iron:
4
mg