This post may contain Amazon or other affiliate links. As an Amazon Associate I earn from qualifying purchases at no additional cost to you.
Lately I have this crazy urge in me to bake more batches of cookies than I am capable of eating, decorate cookies, eat cookies, gift people with cookies, show up at parties with cookies. Oh, and make my house smell like cookies all the time.
The holiday season and cookies – they go hand in hand. So BRING ON all the cookie business.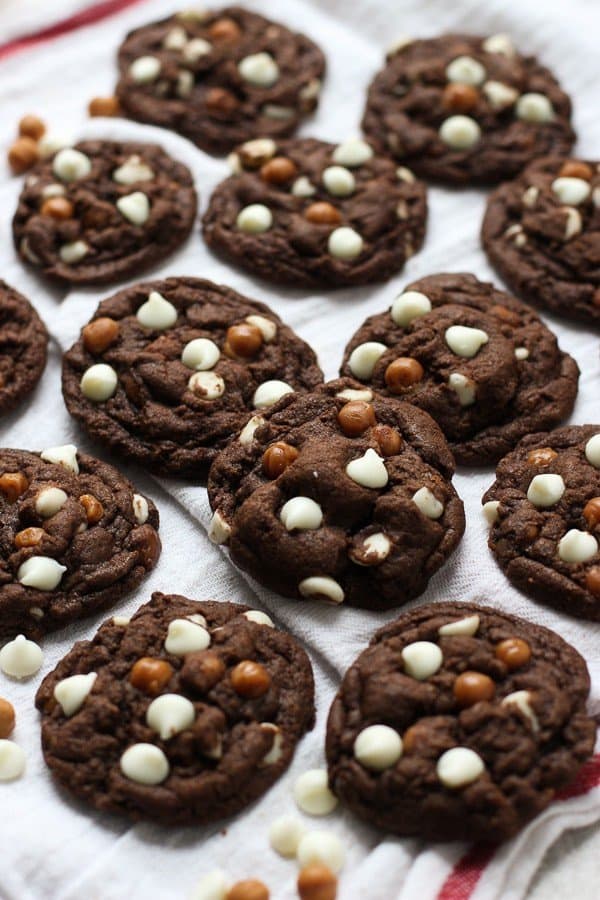 I was doing my usual thing, testing out my savory recipes when the cookie craving struck. Before I knew it I was making some rich chocolaty cookies with chunks of sweet, gooey stuff on it. Because that sounded so good.
And good it surely was. No one needs to be keeping Caramel White Chocolate Chip Chocolate Cookies to themselves. It came into my life and left me a more satisfied person, so here you go. You need it as well.
This cookie is soft and gooey, made of rich chocolaty flavors, and filled with salty sweet goodness that is caramel chips and white chocolate chips. You can make it slightly crispier if you leave it in the oven for the full 11 minutes. But only 9 minutes for the gooey cookie lovers (and yes – that would be me).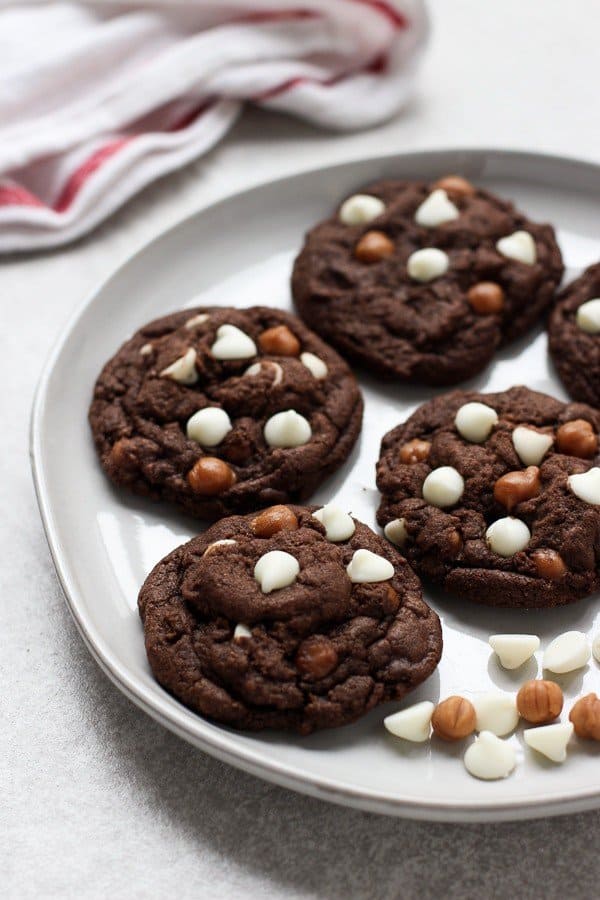 Tricks to make the cookies super soft
I have perfected the way to bake cookies to make sure it has that soft, gooey texture to it. I will also tell you how to make it slightly crispier, so non-gooey cooker eater, so hang tight!
To make super soft cookies, grab the cookie out of the oven right at the 9 minute mark, and then let them sit on the baking sheet for about two minutes. Then, using a spatula, very, very gently lift them from the baking sheet to a baking rack. They are still pretty soft and can sometimes break apart – so be gentle with it.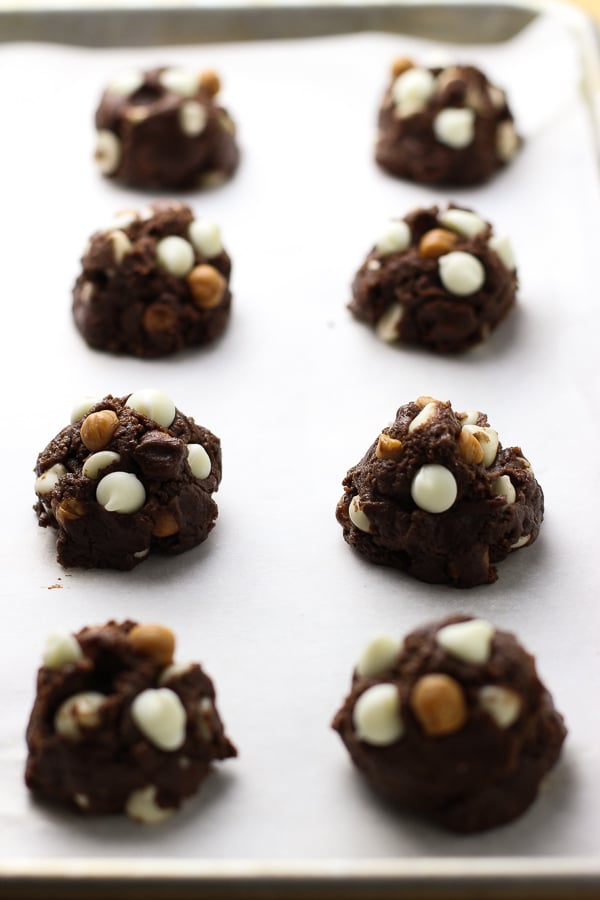 Cookies will continue to cook if they sit on the hot baking sheet even after they come out of the oven. Bring them to a baking rack so that they don't continue to cook.
It is very challenging to get them off the baking rack right after they come out of the oven because they are still super gooey and hard to handle, so we wait for two minutes. But don't wait too long, because then they will get crispier the longer they sit there.
So there. My cookie trick is more of a super careful, overly meticulous way of handling those precious cookies to prevent them from hardening and crisping.
How to make them less soft and gooey
If you like the cookies crispier, cook them closer to the 11 minute mark, and let them sit on the baking sheet longer, and then only remove them and place on baking rack.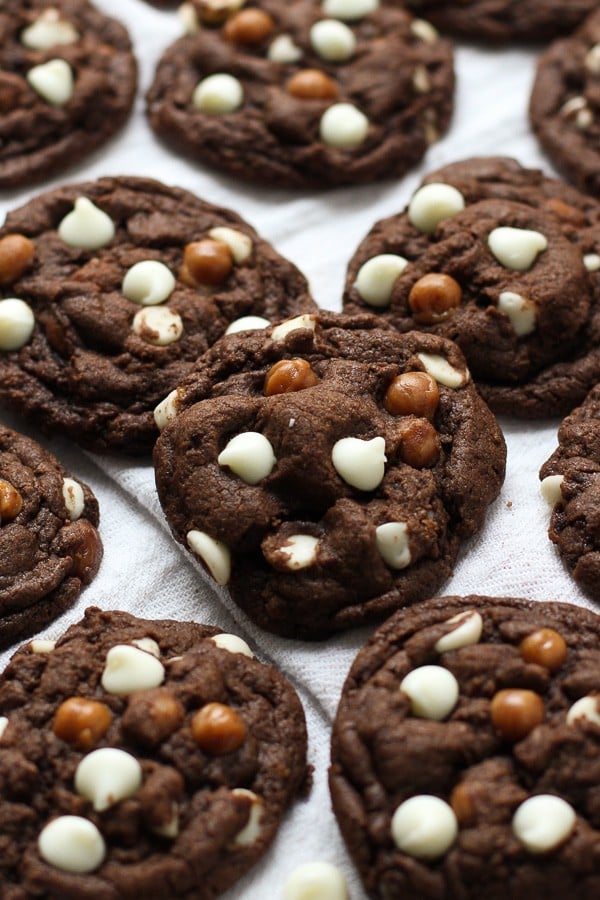 Soft or not so soft, I heart these Caramel White Chocolate Chip Chocolate Cookies so, so much!
Besides the fact that they are, duh, CHOCOLATE. And let's be real here – chocolate can barely do anything wrong. There's something about the slightly bitter cocoa contrasting with the sweet white chocolate chips and caramel chips. I also love the slight hint of saltiness from the caramel with the sweetness from everything else.
All that to say – I love these cookies SO DANG MUCH.
Also, don't ever (ever ever ever) count on eating just one. If you have a ton of people, make a ton, because they disappear quickly.
Have fun with this one! And as usual, be sure to tell me what you think in the comment box below! If you are on Instagram, share pictures of your creations by tagging #joyousapron! And while you are there, don't forget to follow me! 🙂
Other Cookie Recipes on the Blog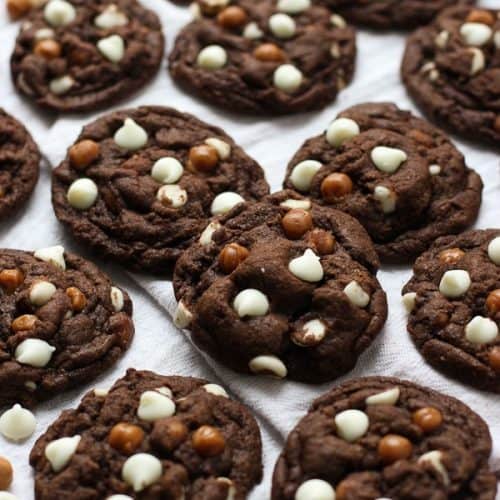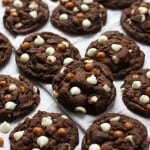 Caramel White Chocolate Chip Chocolate Cookies
Easy and yummy cookie recipe! Soft chocolate cookies filled with caramel and white chocolate chips – a fun sweet treat with hints of salty/sweet bites.
Ingredients
1/2

cup

unsalted butter

melted

3/4

cup

granulated sugar

1

large eggs

1

tsp

pure vanilla extract

1

cup

all-purpose flour

1/3

cup

cocoa powder

3/4

tsp

baking soda

1/2

tsp

salt

1

cup

white chocolate chips

3/4

cup

caramel chips
Instructions
Pre-heat oven to 350 degrees.

In a large bowl, combine the wet ingredients – melted butter, sugar, eggs, and vanilla extract.

In another bowl, combine the dry ingredients – flour, cocoa powder, baking soda and salt.

Mix the dry ingredients into wet ingredients. Then add 3/4 cup white chocolate chips and 1/2 cup caramel chips to mixture, and mix well. Note that we are saving some of the chips to add to the top of the cookies, but add all the white chocolate and caramel chips into the mixture if preferred.

Roll dough into 22-24 small ~1.5-inch balls, and place them on baking sheet lined with parchment paper.

Add the rest of the white chocolate and caramel chips (2-3 white chocolate and 2-3 caramel chips) to the top of each cookie.

Bake for 9-11 minutes. Closer to 9 minutes for a softer cookie. It will looks slightly soft and that is ok. Let cookies sit on baking sheet for 2 minutes before carefully removing them and placing them onto a baking rack to cool for 10 minutes. It can still be a little soft but if you want a soft cookie, you don't want to let it sit too long on the baking sheet as they continue to cook on the hot surface.