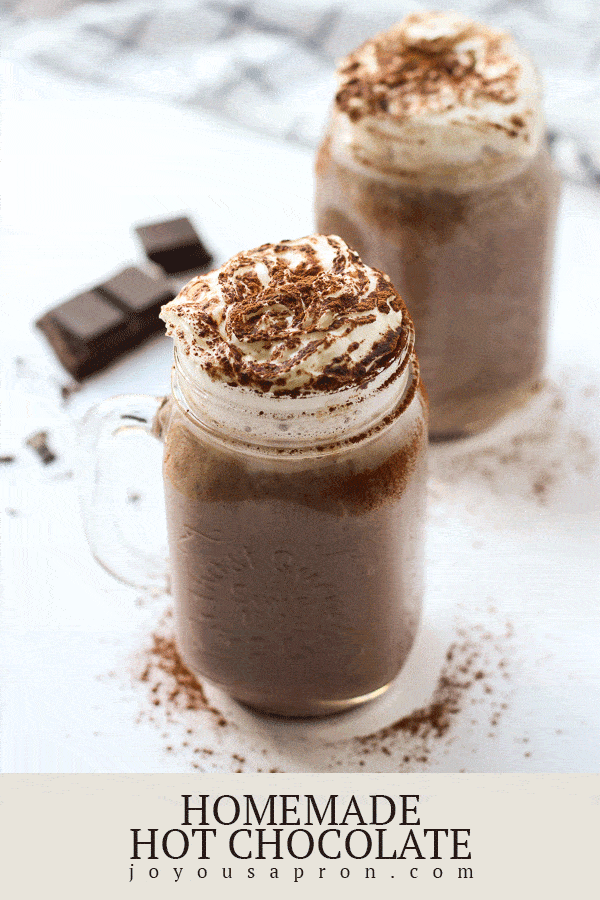 Homemade Hot Chocolate. The perfect winter-time dessert. To be sipped slowly and enjoyed thoroughly. Warm, rich, creamy, silky, with a FULL-ON chocolate flavor. Because we don't settle for anything less than FULL-ON around here.
If you have not tried Homemade Hot Chocolate, or sometimes called Hot Cocoa, you are missing out. Like big time missing out. Because there is nothing quite like it.
The packet stuff is acceptable, but if you are going to consume calories, I say let's make it count and do it the right way. 😉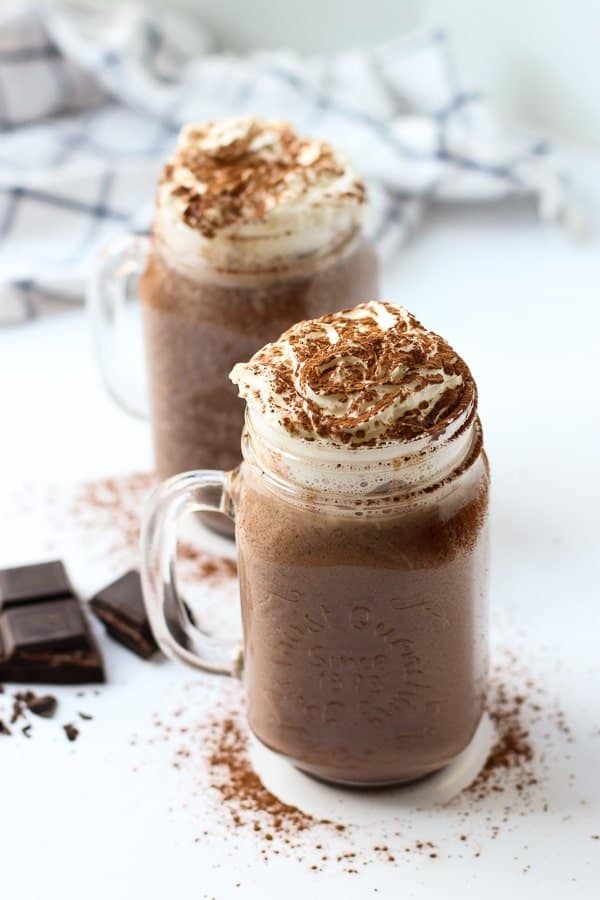 During the holiday season, I'm always looking for different ways to bring festive fun into our home.
We decorate the house, listen to Christmas music…and being a bit (or a lot) of a foodie, I naturally, and rather subconsciously, incorporate festive theme food, drinks and desserts into our lives.
I honestly don't know how Homemade Hot Chocolate fits into the holiday theme, besides being a warm beverage and it is currently cold outside.
But we love a good Hot Chocolate during this time of the year, although I would argue anytime of the year is a time for some Homemade Hot Chocolate.
Even the summer, with the air conditioning on. 😉
I perfected my Homemade Hot Chocolate recipe to bring you the ultimate hot cocoa experience.
Over the last week or so, John and I will sit on our couch after dinner, with the Christmas lights on, wearing oversized sweatshirts, snuggle underneath blankets, and sip multiple mugs of Homemade Hot Chocolate.
Life is good, I tell ya. These dreamy mugs of chocolaty goodness are the real deal.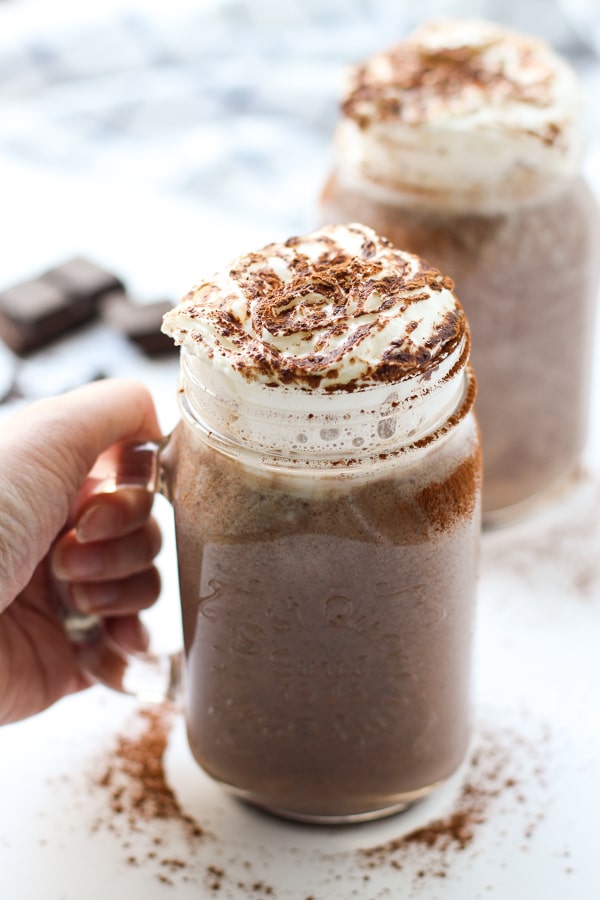 Secrets behind this Homemade Hot Chocolate
One of the many things that makes this hot chocolate recipe amazing is this – melting real chocolate (I recommend using 65%-75%) into the drink, in addition to using cocoa powder, which is only what most recipe calls for.
Melting chocolate into this thing is the way to go. It gives this hot cocoa recipe rich chocolaty flavors not achievable by just using cocoa powder.
Also. Good ingredients.
I always preach the importance of quality ingredients…and this recipe is one of those where the quality of the chocolate and cocoa powder will influence how good your Homemade Hot Chocolate turns out!
Any good quality chocolate would work…and as for the cocoa powder, I usually like using Trader Joe's cocoa powder or Ghirardelli's premium cocoa powder.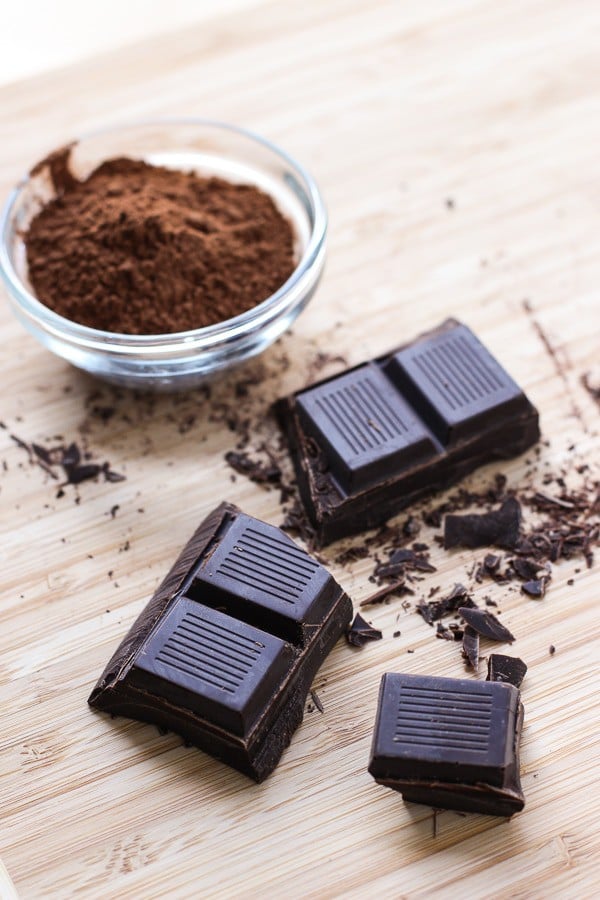 As for milk, I highly recommend using 2% and up. Avoid using skim milk or even 1% milk. You can use whole milk if you want a creamier taste and texture.
How to make Homemade Hot Chocolate
Combine all the ingredients in a pot – chocolate, cocoa powder, milk, vanilla extract, sugar, and a pinch of salt to open up the flavors, and bring to a boil.
Then pour into mugs and pile on the whipped cream or marshmallows, or both.
It's so simple, and so yummy.
I promise, you it will not be disappointed.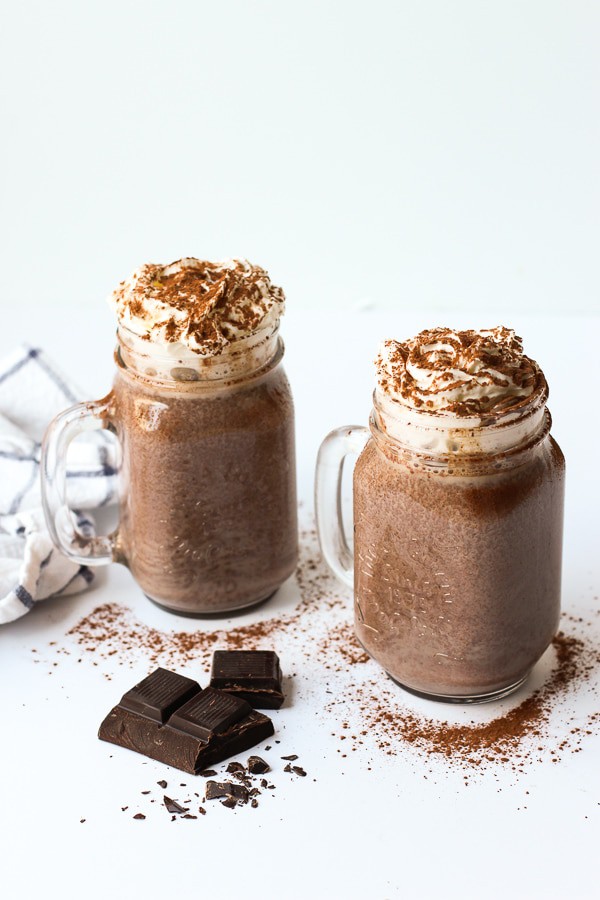 You can also sprinkle cocoa powder on top of the whipped cream or marshmallow to make it look all professional and Instagram-worthy.
Just like what a barista in a coffee shop would do before delivering you your Hot Chocolate drink.
It makes me feel all artsy and fancy and cool drinking it.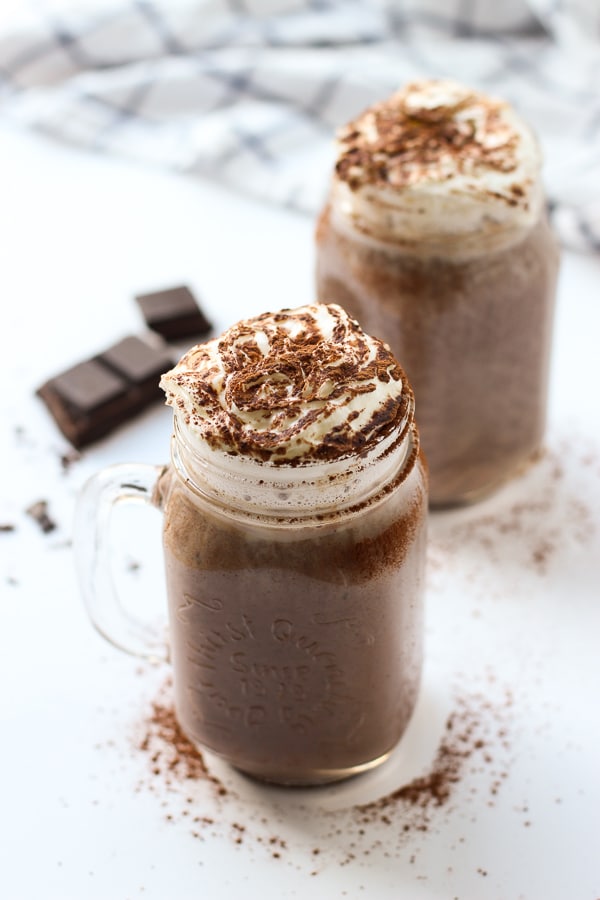 So snuggle up with this warm cup of Homemade Hot Chocolate and be prepared to say bye-bye to the ready-made pouches, and become one of those Hot Chocolate snobs.
It is totally okay to be a Hot Chocolate snob. 🙂
Friends, make this today! And be sure to tell me what you think in the comment box below!
DID YOU ENJOY THIS RECIPE? Please comment below and give us a 5-star rating! This will help others find this recipe on Google and Pinterest. We very much appreciate your help! 🤍
Other Chocolate Treats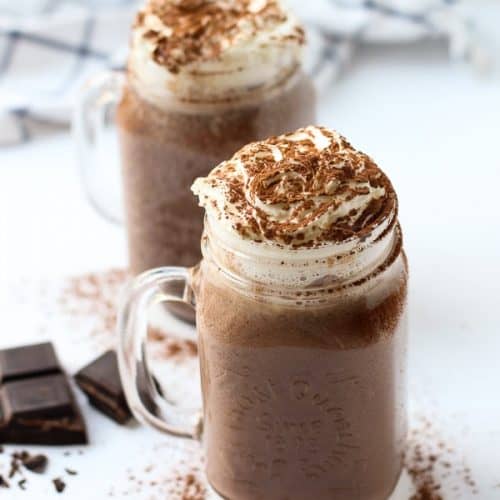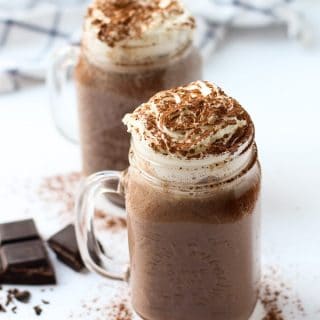 Homemade Hot Chocolate
Homemade Hot Chocolate is the perfect drink dessert for cold-weather days! Warm, silky, creamy, rich and with real chocolate flavors. Top with whipped cream or marshmallow. You will never look at store-bought ones the same way again!
Print
Pin
Ingredients
5

cups

2% milk

1/4

cup

cocoa powder

3

oz

65%-75% chocolate

1/2

tsp

pure vanilla extract

3/4

cup

sugar

1/4

tsp

salt
Toppings
3

tbsp

whipped cream

1/4

cup

marshmallows
Instructions
Combine all ingredients, except whipped cream and marshmallows, into a pot. Heat on medium heat and stir to combine. Bring to a boil.

Once all the ingredients have dissolved and liquid is smooth, remove from heat and pour into cups

Top with whipped cream and/or marshmallows.
Nutrition
Calories:
457
kcal
|
Carbohydrates:
69
g
|
Protein:
13
g
|
Fat:
16
g
|
Saturated Fat:
10
g
|
Polyunsaturated Fat:
1
g
|
Monounsaturated Fat:
5
g
|
Trans Fat:
1
g
|
Cholesterol:
27
mg
|
Sodium:
294
mg
|
Potassium:
654
mg
|
Fiber:
4
g
|
Sugar:
61
g
|
Vitamin A:
332
IU
|
Vitamin C:
1
mg
|
Calcium:
380
mg
|
Iron:
3
mg