This post may contain Amazon or other affiliate links. As an Amazon Associate I earn from qualifying purchases at no additional cost to you.
Chocolate Covered Strawberries. No introduction is needed to this lovely dessert. It is the happy food, guilty pleasure, a gesture of love and beauty. DREAMY. There's something about it that makes a difficult day turn a little easier, puts a smile on a sad face, and makes me want to do the happy dance.
Sweet dreams are made of these…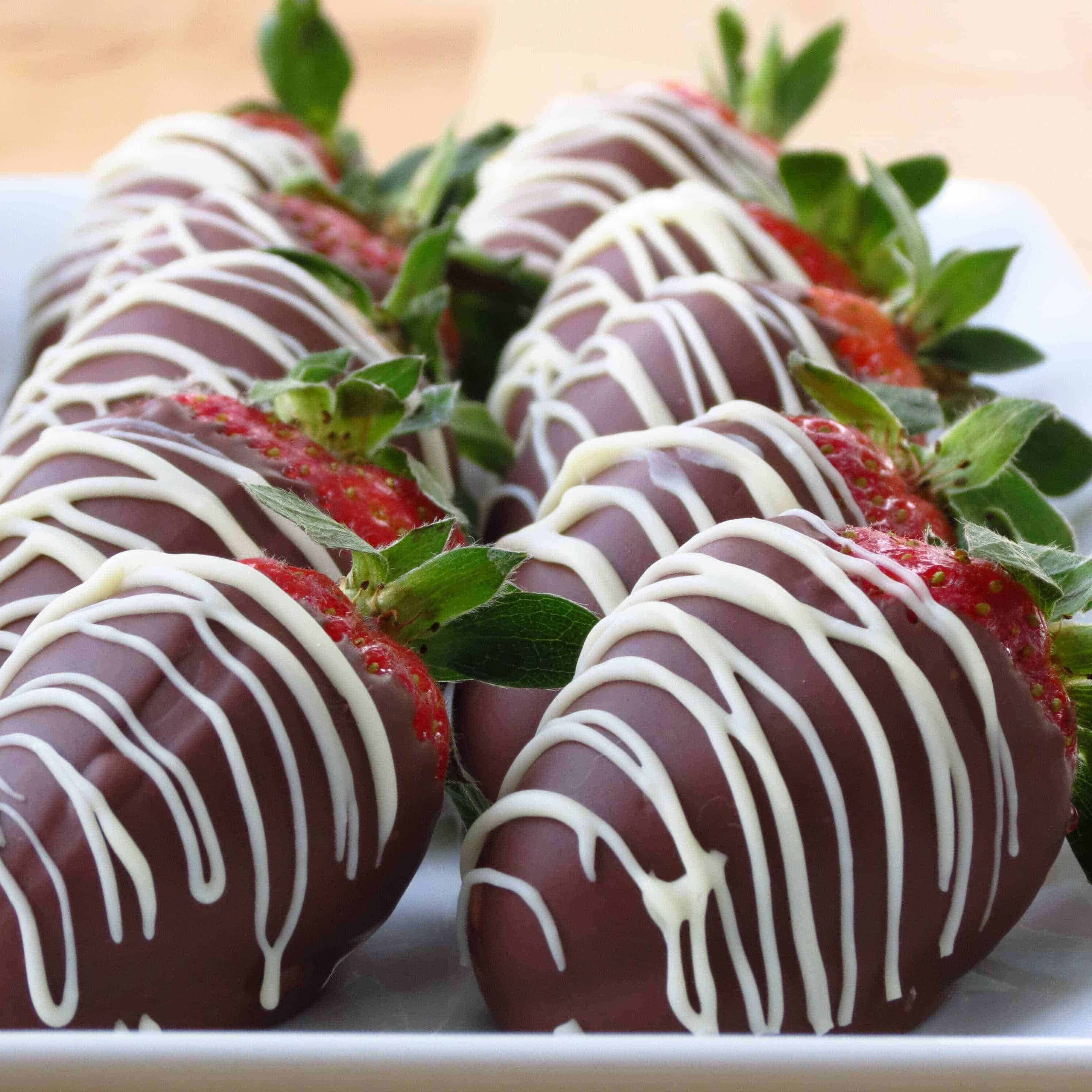 Bonus: It is super easy (and FUN) to make.
With Valentines Day around the corner, Chocolate Covered Strawberries are everywhere.  It can be a fun and easy Valentine's dessert and present, but it is not just a Valentine's Day thing. Make them for a hang-out with girlfriends, take a bath and enjoy them with a glass of wine (talk about dreamy), substitute them for popcorn for movie night in your pajamas after a long day of work (me, please!).
Valentine's Day can be a fun day for some, but let's face it, it can also be a downer holiday for others. I have been on both ends (spent way longer time on the downer end), and am right there with you, sister. And brother. 🙂
I love making this because there is literally just three (or two) ingredients to this thing, and no cooking is required. Just a microwave.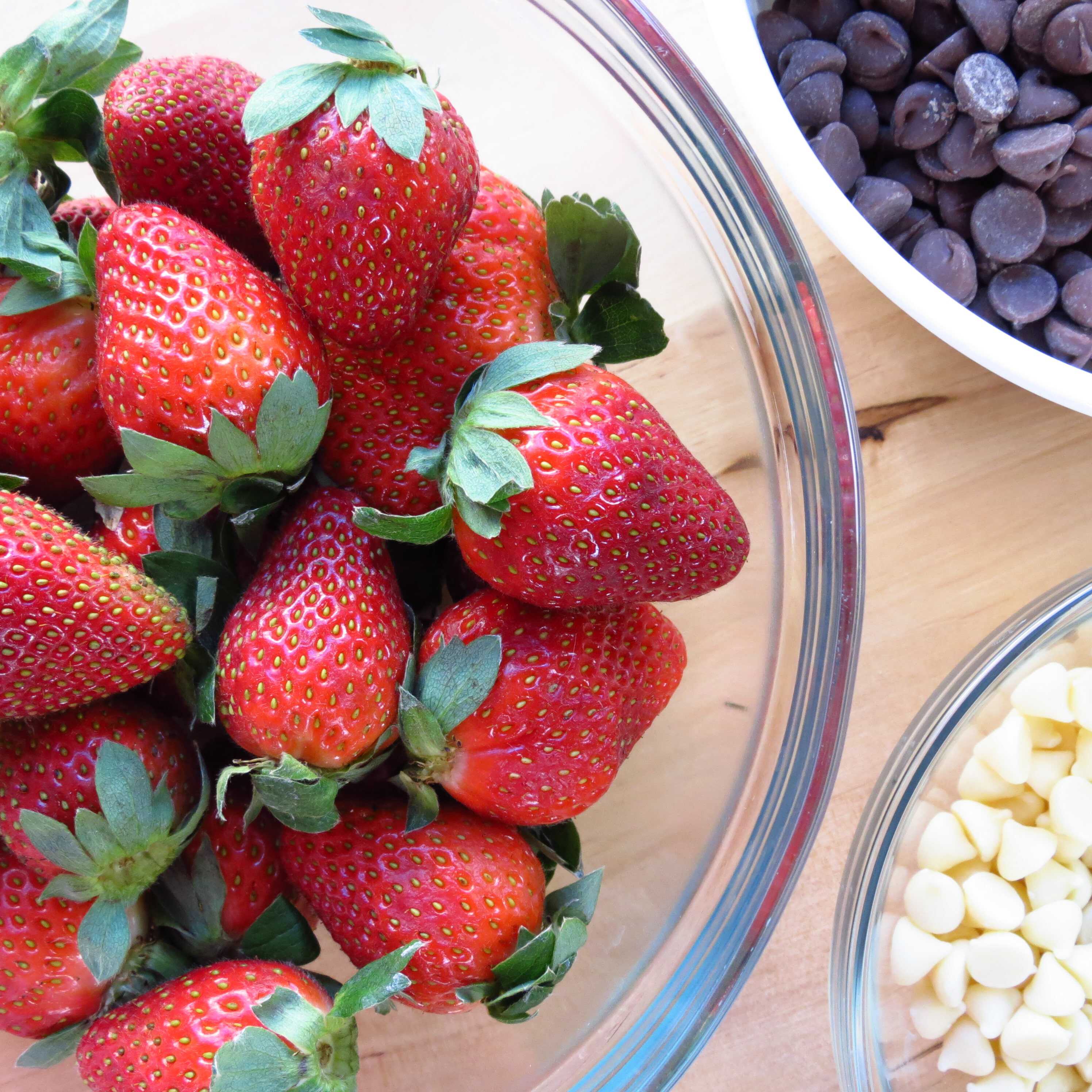 That's right. Easy peasy. Just a few things to keep in mind, and have some fun along the way!
When melting chocolate in microwave, do it at 50% power and in increments to avoid burning the chocolate. I grab a bag of milk chocolate chips or semi-sweet chocolate chips (about 11.5oz), pour it into a bowl, and microwave for 1 minute at 50% power. Remove, stir, bring it back to the microwave for 30 second at 50% power. Keep doing that (remove, stir, microwave for 30 seconds at 50% power) until chocolate is smooth and completely melted.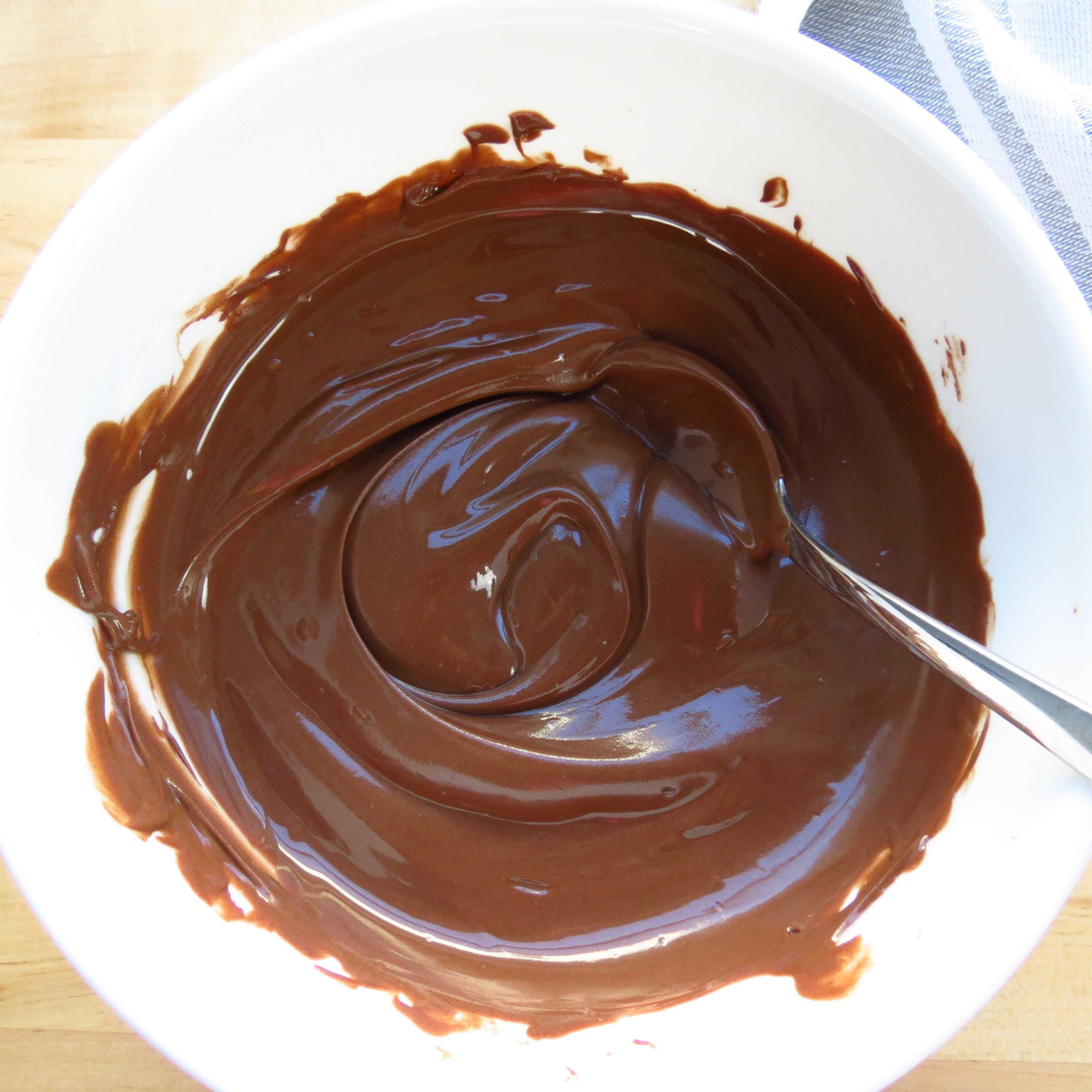 Ahhh Melted Chocolate… I can DRINK you.
And have a sugar high for the rest of the day. But I'll take it.
Keep strawberries in fridge until ready to use, and make sure the strawberries are dry before dipping them into the chocolate. Grab the leafy part of the strawberry (whatever that is called…) and sink those strawberries into the pool of heavenly chocolate.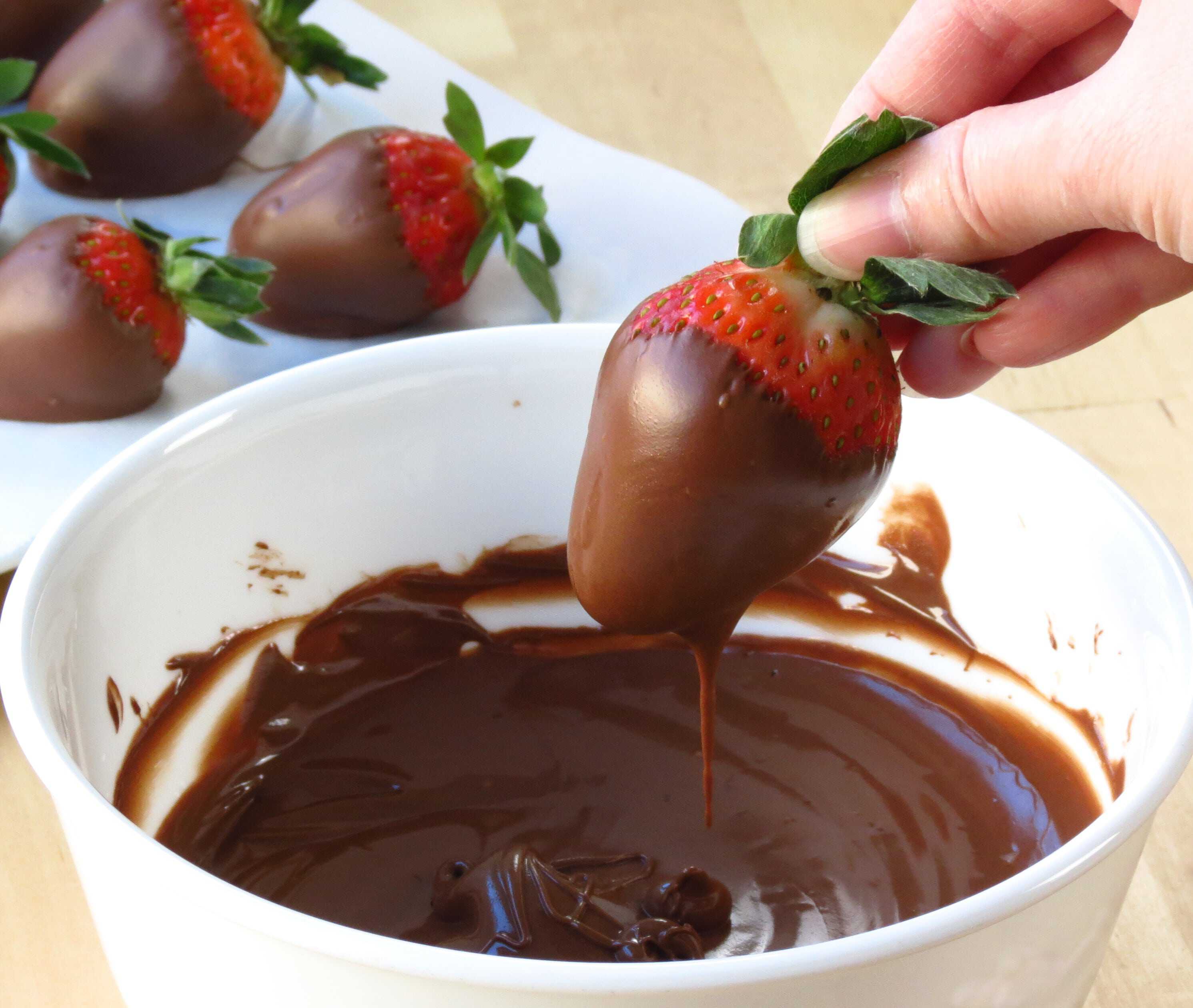 Place strawberry on a plate lined with parchment paper or wax paper. Then repeat until all strawberries are coated in delicious chocolaty goodness. Although completely optional, consume some of that melted chocolate along the way for your own pleasure and enjoyment. Amount of chocolate called for in this recipe is enough for stwaberry-dipping AND (small amount of) consumption. YESSSS.
Next, melt the white chocolate chips. To avoid burning, melt it at 50% power at 30 seconds increments. Then transfer into a zip lock bag and snip a very, very small opening on one of the corners of the bag. Start as small as possible. I keep this in mind every time I do this (because I'm klutzy at the core) : I can always snip a bigger opening if needed, but I cannot make it smaller.
Then gently squeeze out white chocolate and draw thin lines across the strawberries. Or draw your favorite shape, or flower, or cartoon. And if you are not feeling this squeezing and drawing thing, then skip it! This makes the strawberries pretty, but doesn't add much to the taste.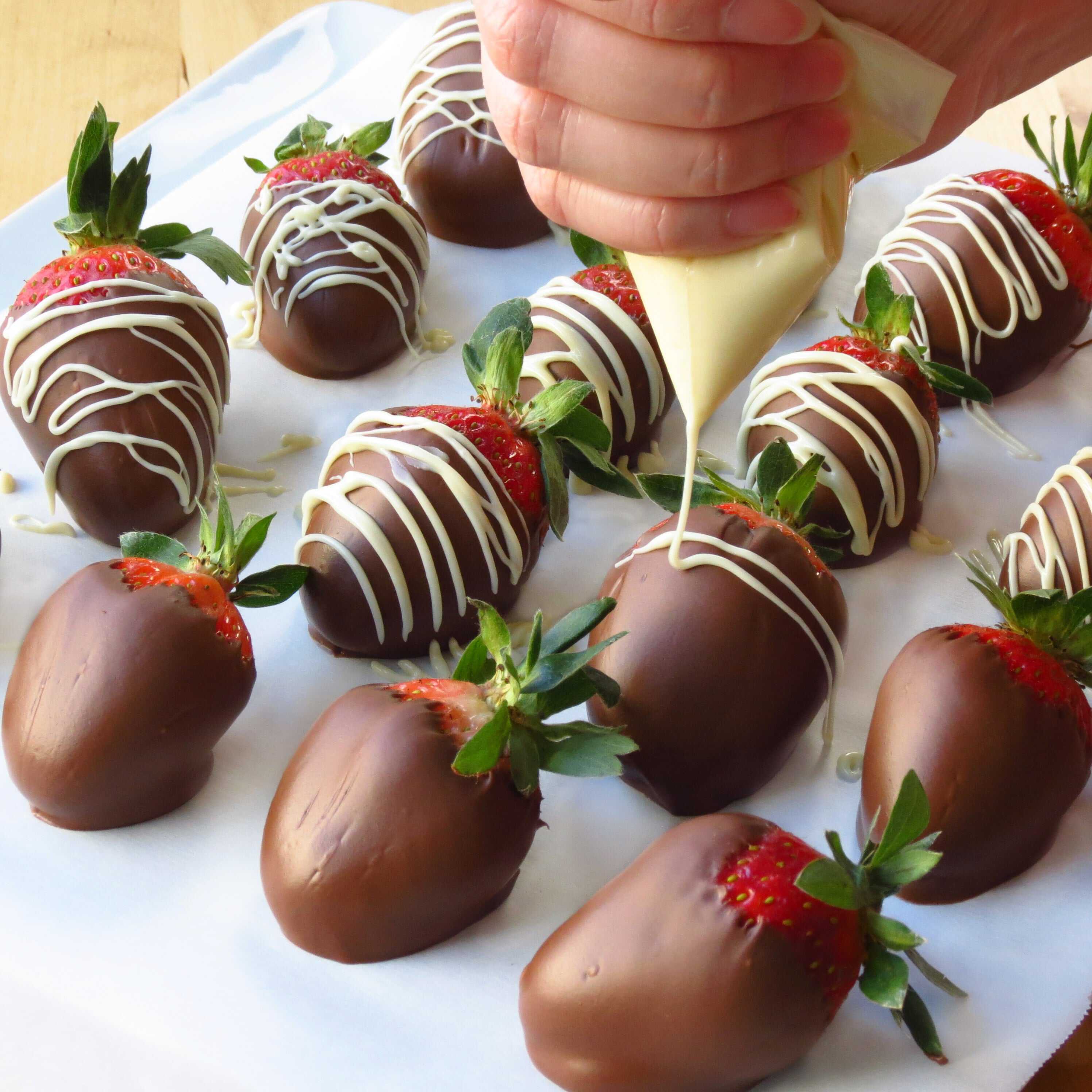 Bring strawberries to the fridge and refrigerate them for 30 minutes.
Ta-da!! Behold and be blown away by deliciousness.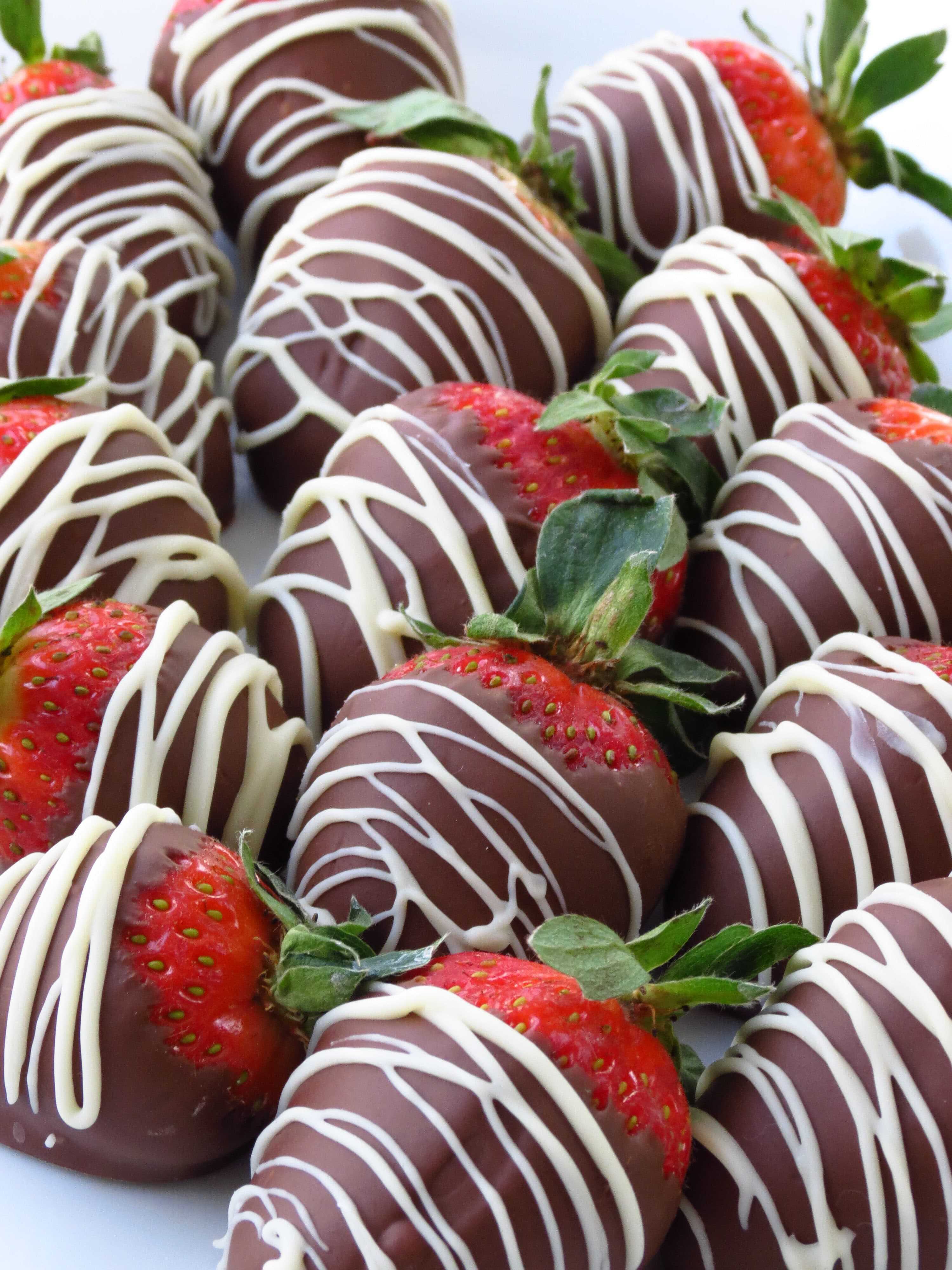 They make me feel so refined and elegant when I am eating them.
I bet the queen eats them. All the time.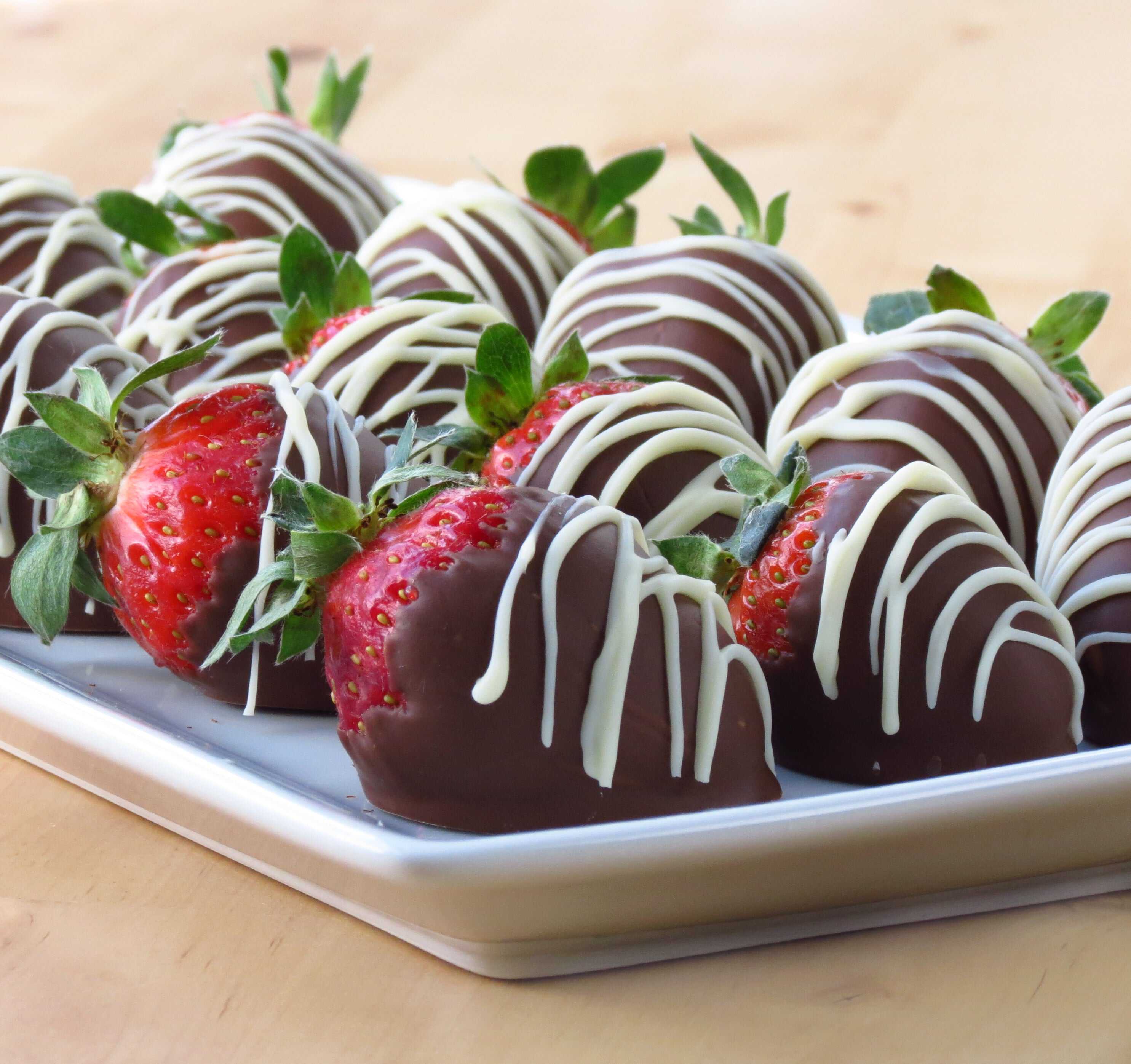 LOVE LOVE LOVE!
These are sooo decadently good. It's hard to just eat one. Make them. Eat them. Share them. Enjoy them! It is, after all, fruit with a little chocolate on them, right?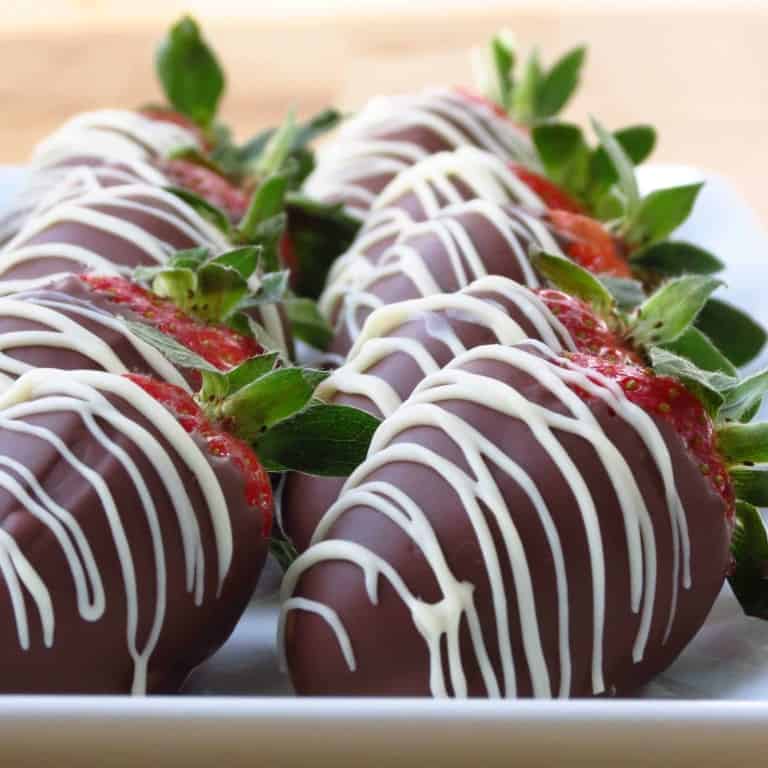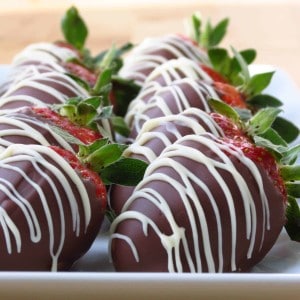 Chocolate Covered Strawberries
Decadently delicious! Strawberries dipped into chocolate is the perfect dessert for Valentine's Day, or ANY DAY! Only 3 ingredients, it is super easy to make at home!
Print
Pin
Rate
Ingredients
16

oz

strawberries

11.5

oz

milk or semi-sweet chocolate chips

4

oz

white chocolate chips
Instructions
Melt chocolate chips in the microwave on 50% power for 1 minute. Remove and stir.

Bring chocolate chips back to the microwave, melt on 50% power for 30 seconds. Remove and stir

Repeat step 2 until chocolate is smooth and completely melted.

Holding the leafy end of the strawberry, dip strawberry into melted chocolate. Then placed strawberry on a plate lined with parchment or wax paper. Repeat for all the strawberries. Ensure strawberries are dry and refrigerated (cold) prior to dipping.

Optional: Consume the rest of the chocolate 🙂

Melt white chocolate in the microwave on 50% power for 30 seconds. Remove and stir. Repeat until white chocolate is smooth and completely melted.

Bring white chocolate into a zip lock bag, and snip a VERY SMALL opening on one corner of the zip lock bag. Squeeze white chocolate out from the opening and draw thin horizontal lines (or anything else you want) on strawberries.

Refrigerate strawberries for 30 minutes.
Notes
If leftovers do exist, store in refridgerator!