These Snickerdoodle Bars are thick, soft, and chewy sweet buttery bars topped with cinnamon sugar dusting. They are kinda like snickerdoodle cookies but way easier to make and even tastier.
I wish you could taste these gooey glorious snickerdoodle cookie bars. They are always a huge hit whenever we make them and even non snickerdoodle lovers love this!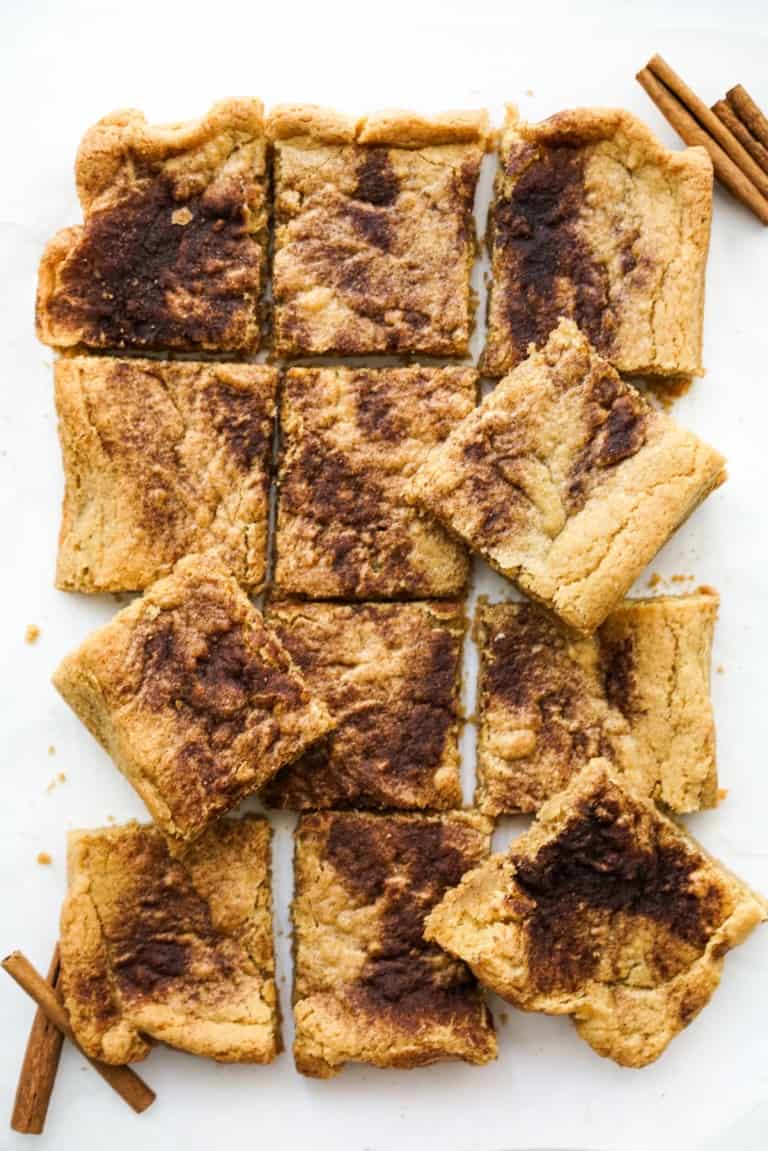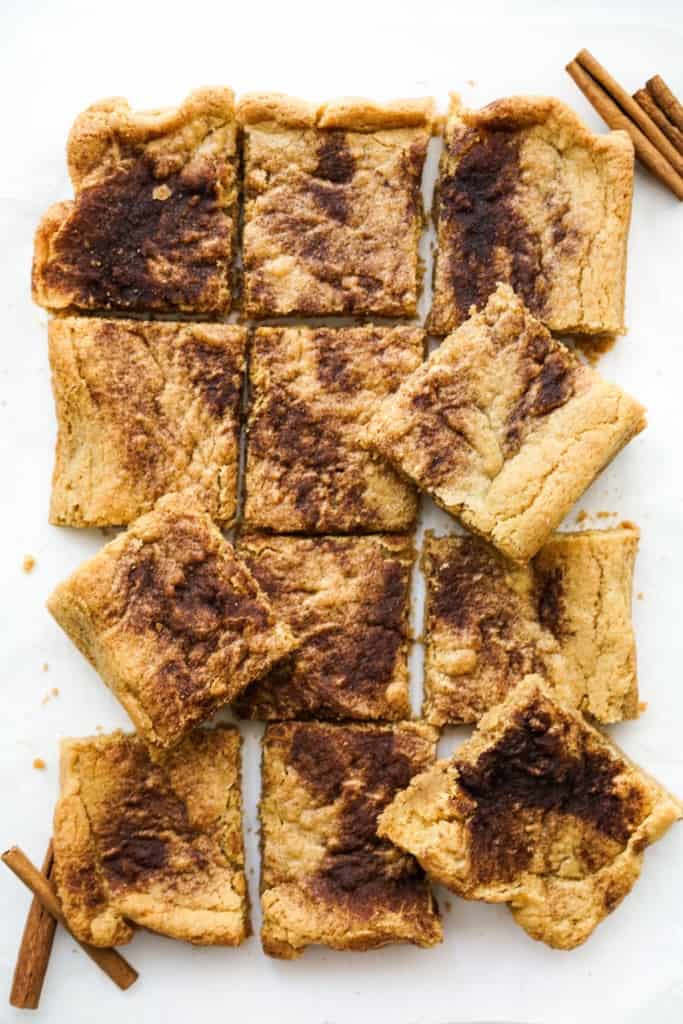 If you love these snickerdoodle bars, also check out some of my other cinnamon favorites such Cinnamon Bundt Cake, Cinnamon Raisin Rolls and Apple Cinnamon Bread.
Snickerdoodle Cookie Bars
Credit should be given where credit is due. These snickerdoodle bars are actually my husband's recipe.
Not being a big snickerdoodle fan, these snickerdoodle bars totally converted me into the world of snickerdoodle.
They are so good that whenever he makes them for friends and family, they are raved about it again and again.
People love these snickerdoodle bars so we knew we couldn't keep its glorious yumminess from you. We would not do that to you.
What I love about these snickerdoodle cookie bars is that it is thick, chewy, soft and buttery all at the same time.
Because they are in bar forms, snickerdoodle bars are much thicker and chewier than the cookies, which I think makes it so much more satisfying, especially if you love a chewy snickerdoodle cookie.
In addition to being delicious and addictive, what's awesome about snickerdoodle bars is that they are so much easier to make than cookies.
Just slab the dough onto a large rectangular baking dish and send it to bake in the oven. Then slice them into thick chunky squares when it is done.
Ingredients
Here are all the ingredients you will need to make snickerdoodle bars: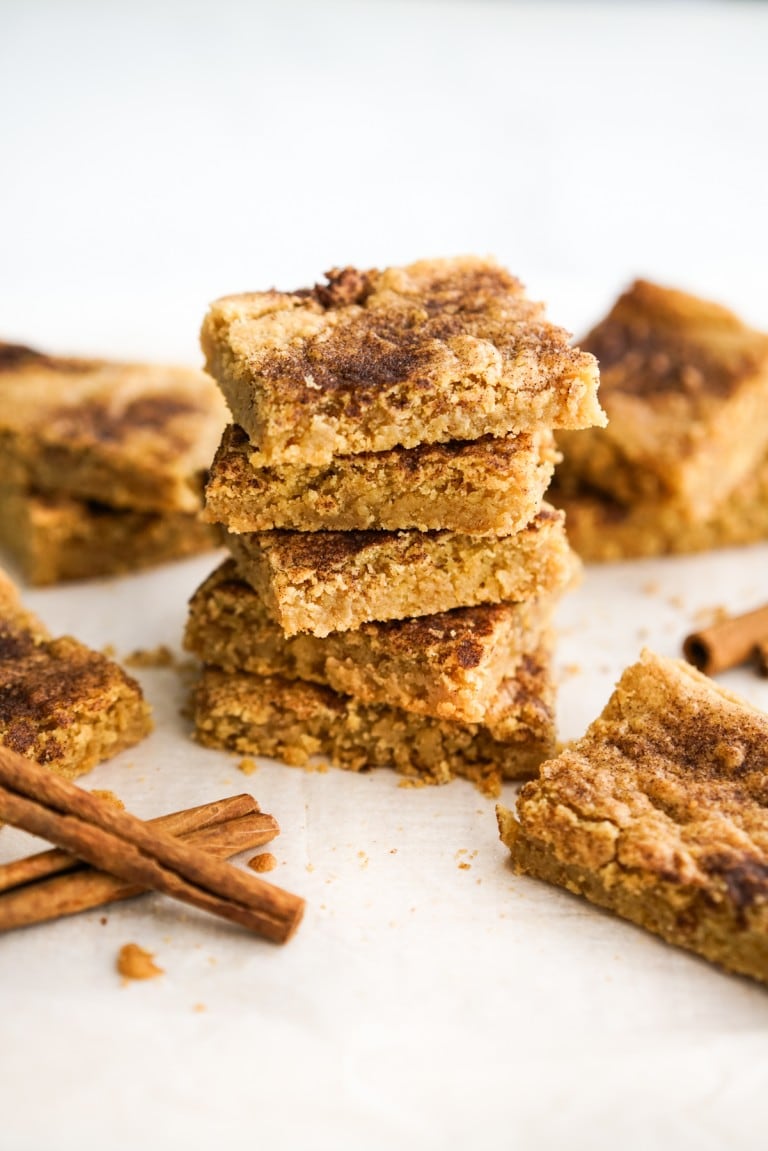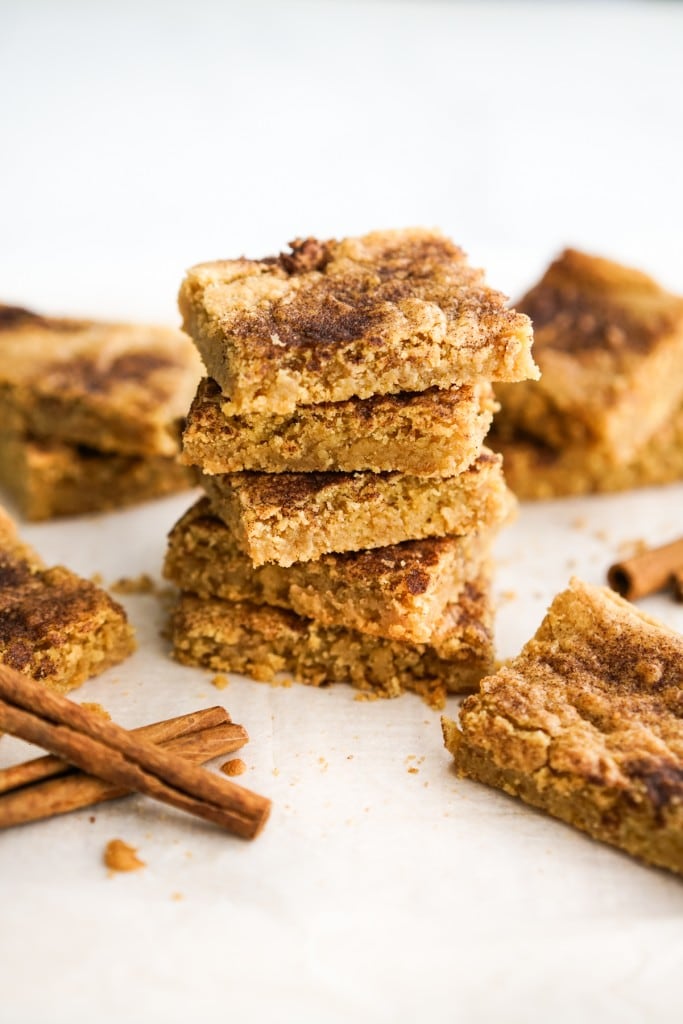 unsalted butter
brown sugar
granulateds sugar
all-purpose flour
baking powder
baking soda
cream of tartar – an important ingredient in making snickerdoodle bars or snickerdoodle cookies. They bring a slight tangy flavor and a chewy texture to these bars Do not skip this or substitute it with something else!
salt
eggs
vanilla extract – pure vanilla extract will yield the best taste
milk – any type of milk works just fine!
As for the toppings, here's what you need:
granulated sugar
ground cinnamon
How to make snickerdoodle bars
Next, let's walk through step-by-step how to make these delicious snickerdoodle bars. It's super easy and straight-forward!
Cream butter and both sugars: Make sure butter is softened and at room temperature, and mix butter together with brown sugar and granulated sugar
Combine dry ingredients: In a separate large bowl, bring together flour, baking powder, baking soda, cream of tartar and salt.
Bring together all the ingredients for dough: Beat eggs into butter/sugar mixture, then add in milk and vanilla extract. Whisk to combine. Then fold dry ingredients into the butter/sugar mixture – do it a little bit at a time.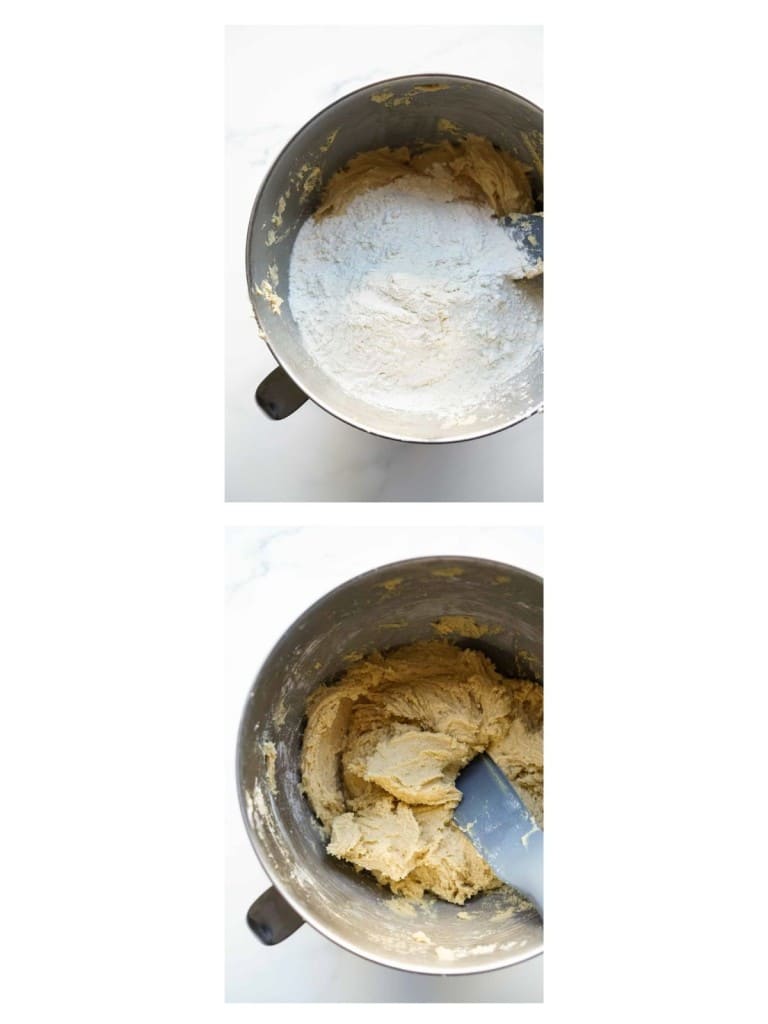 Place dough on baking dish: Line a 9'x13′ baking dish with parchment paper – you'll want to line it so you can easily remove the snickerdoodle bars after they are baked. Spread dough out on the dish.
Dough can be a little thick so use so use so arm strength to spread it out. It doesn't have to be complete even or perfect. Just make sure to spread it to the edges so you can a full rectangular shape.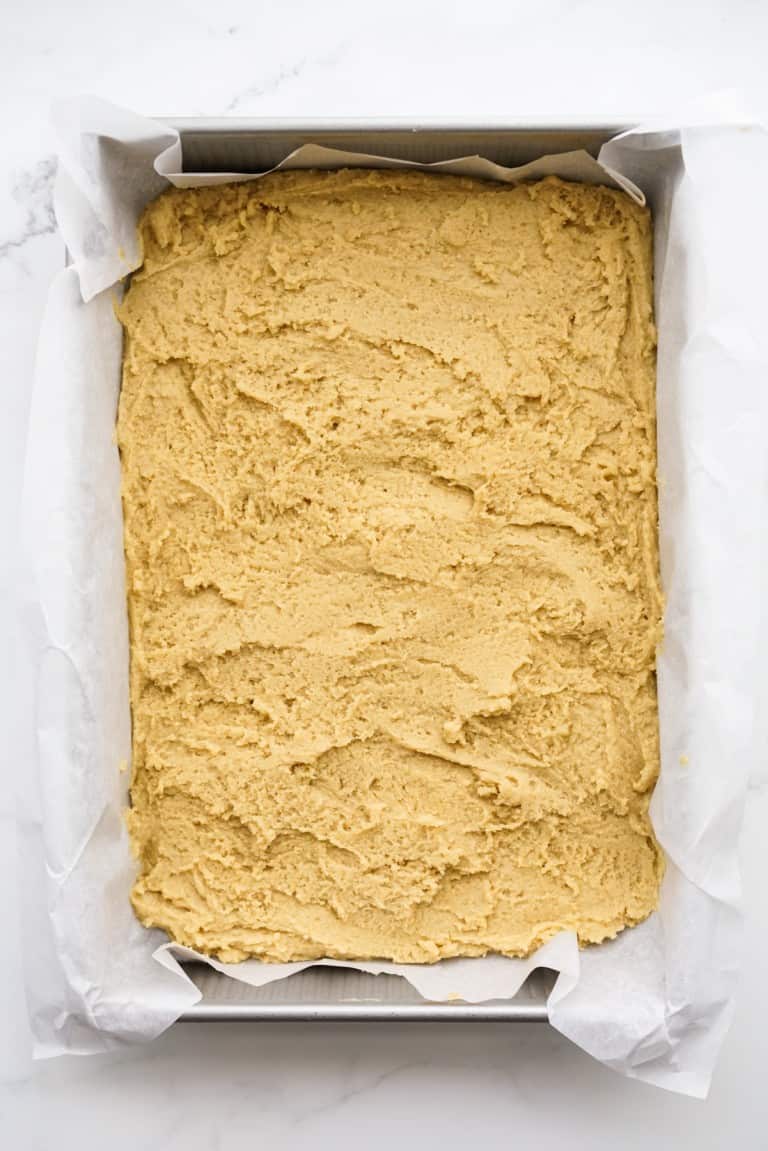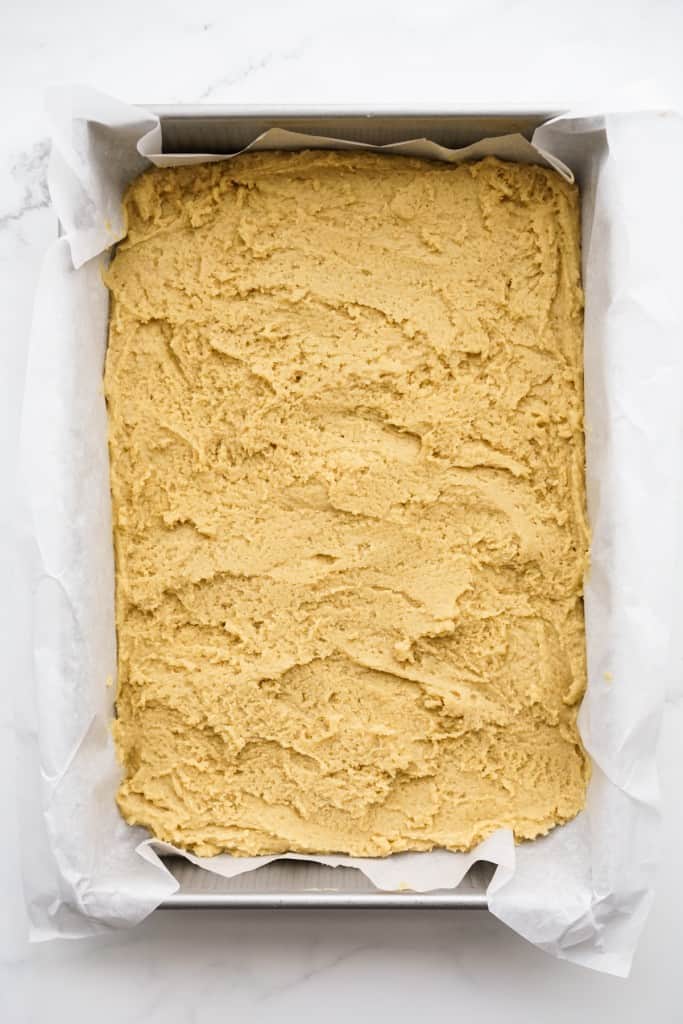 Sprinkle with cinnamon sugar: combine ground cinnamon and sugar mixture in a bowl, then sprinkle it on top of the snickerdoodle bar dough.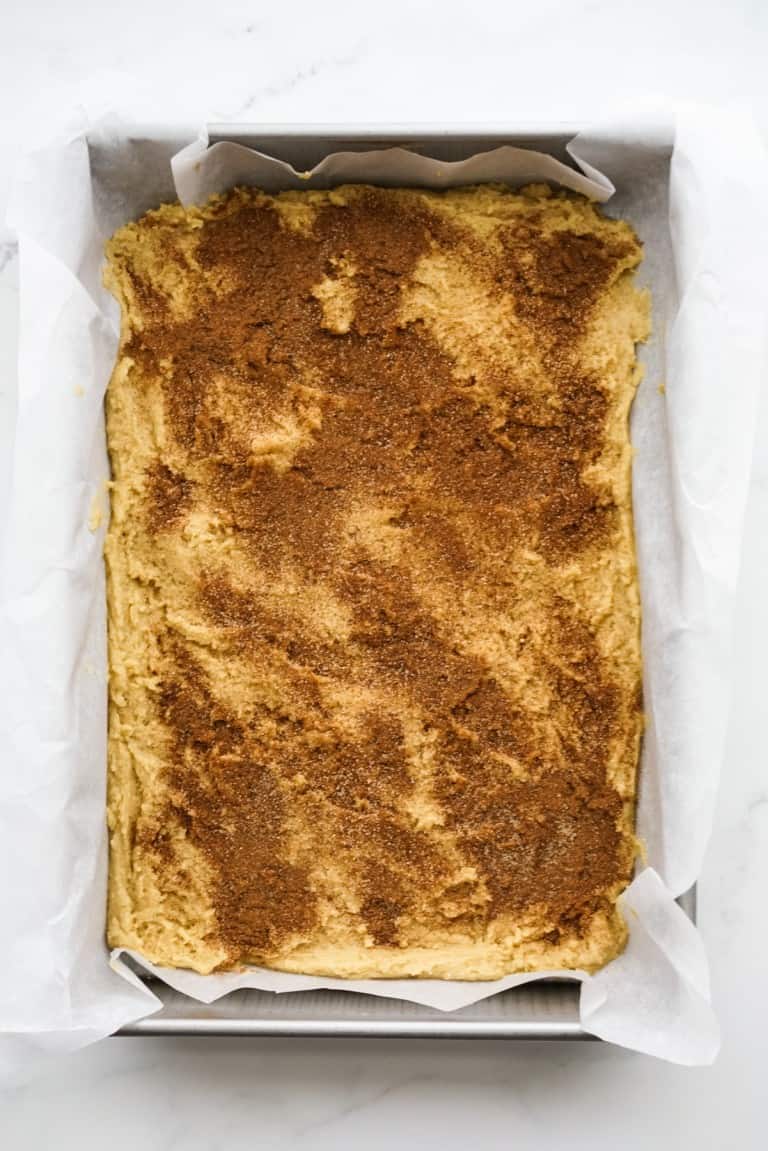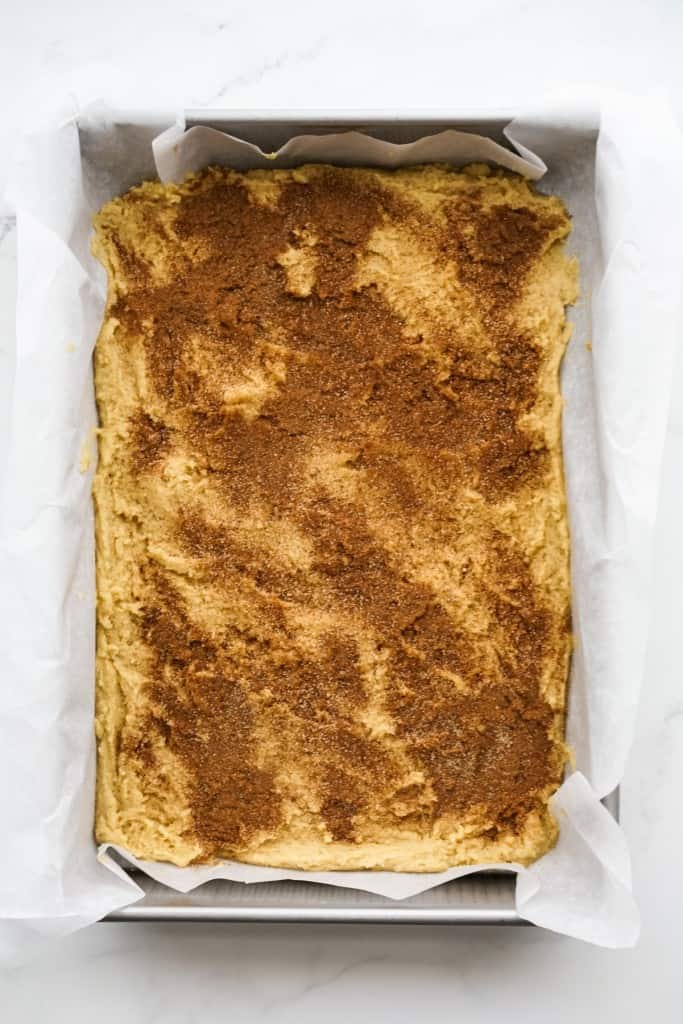 Bake: Bake for 25 minutes at 350℉.
Cool: When it is done, let it cool in the pan for 5-10 minutes before lifting it out of the pan.
Slice: Lift the whole bar out of the pan by lifting the sides of the parchment paper. Then slice bars into square pieces.
Savor every bite to the fullest: Take a big bite, serve with a cup of hot tea or coffee, and enjoy it to the fullest. Oh you will, I promise. It is SO good! 🙂
Serving
The best way to enjoy a snickerdoodle bar is warm fresh off the oven. They taste great in room temperature too, but there's nothing quite like warm and fresh snickerdoodle.
If you want to warm it up after it is cool, microwave for 10-15 seconds per cookie to warm it up slightly.
Storage Instructions
These snickerdoodle bars will stay fresh in an air tight container in room temperature for up to 4 days. After that, store in refrigerator. Consume as soon as possible for the best freshness.
You can freeze these snickerdoodle bars as well. Make sure they are completely cool before storing them in an airtight container, or wrap them in aluminum foil and plastic wrap. Freeze in freezer for up to 2 months.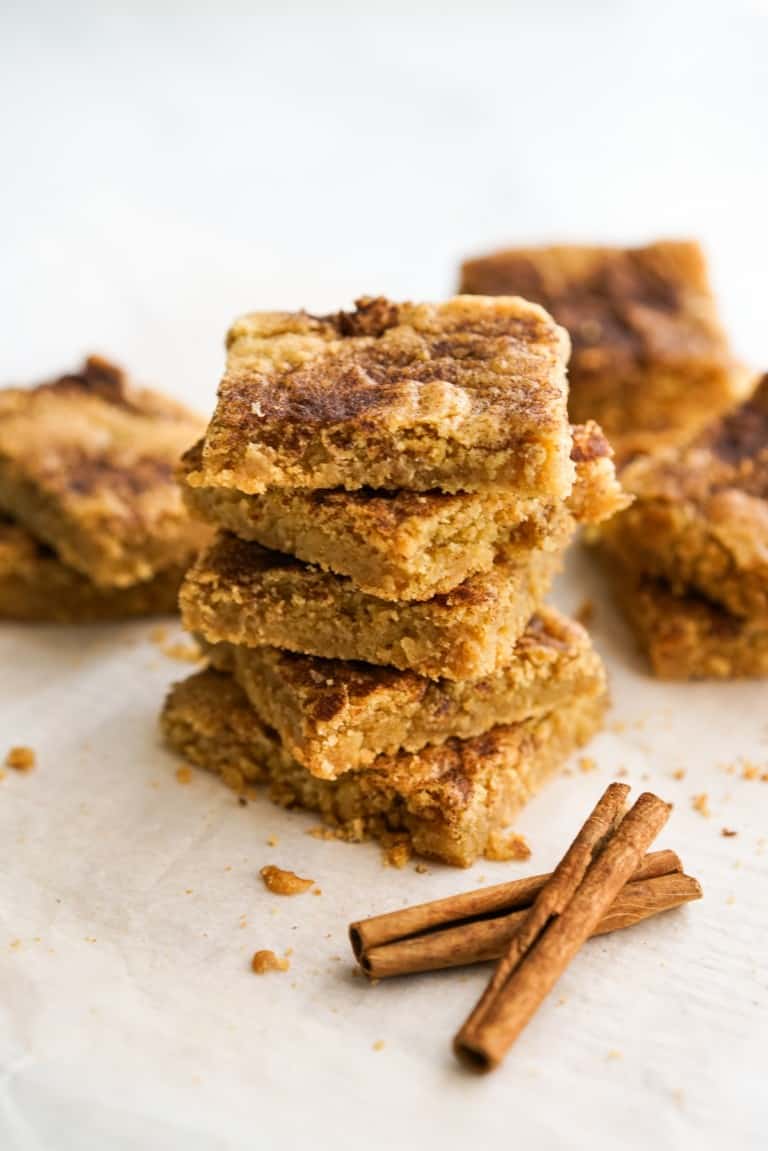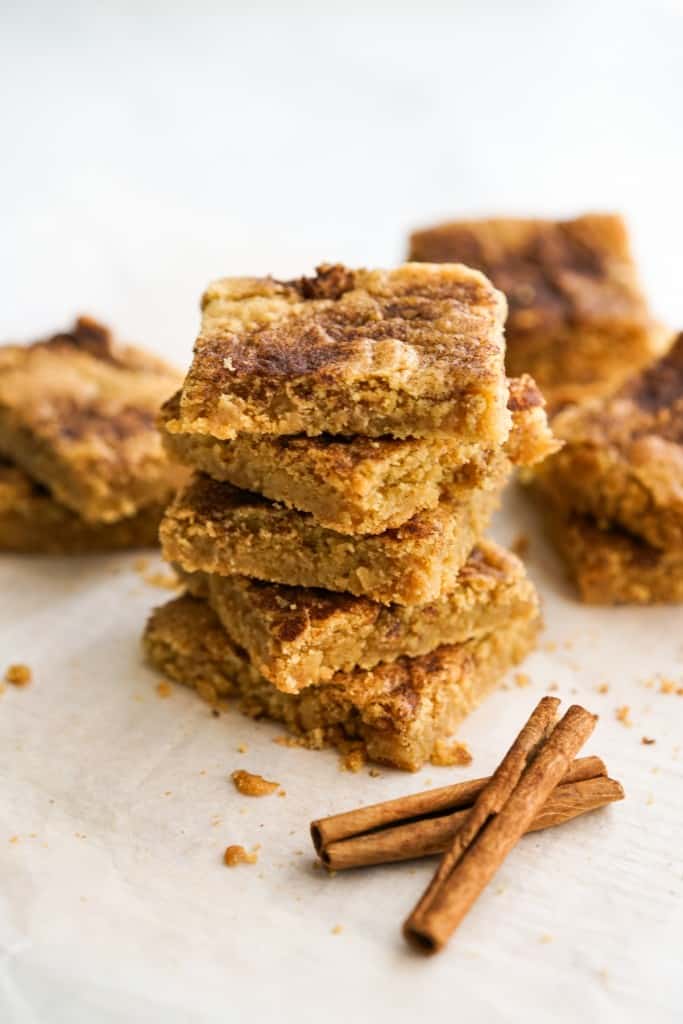 What are snickerdoodle bars? How are they different from snickerdoodle cookies?
They are very similar to snickerdoodle cookies but they are thicker and chewier. They are easily to make because you are basically spreading the cookies dough onto a large baking dish instead of creating individual cookies.
Why is cream of tartar used in snickerdoodles?
This is to bring a slight tanginess in flavor and a chewy texture to the cookies. This is an important ingredient that gives snickerdoodle its distinct flavor and texture. Do not skip it! 🙂
Why do my snickerdoodle come out hard?
Most likely you've over baked them. Make sure to remove them promptly from the oven and don't let them sit in the hot baking dish for too long as they will continue cooking. You can also reduce bake time in the future if your snickerdoodle bars come out hard.
Can I freeze them?
Yes! They freeze just dine. See more instructions on how to freeze them under 'Storage Instructions' above.
Frequently Asked Questions
DID YOU ENJOY THIS RECIPE? Please comment below and give us a 5-star rating! This will help others find this recipe on Google and Pinterest. We very much appreciate your help! 🤍
More Delicious Dessert Bars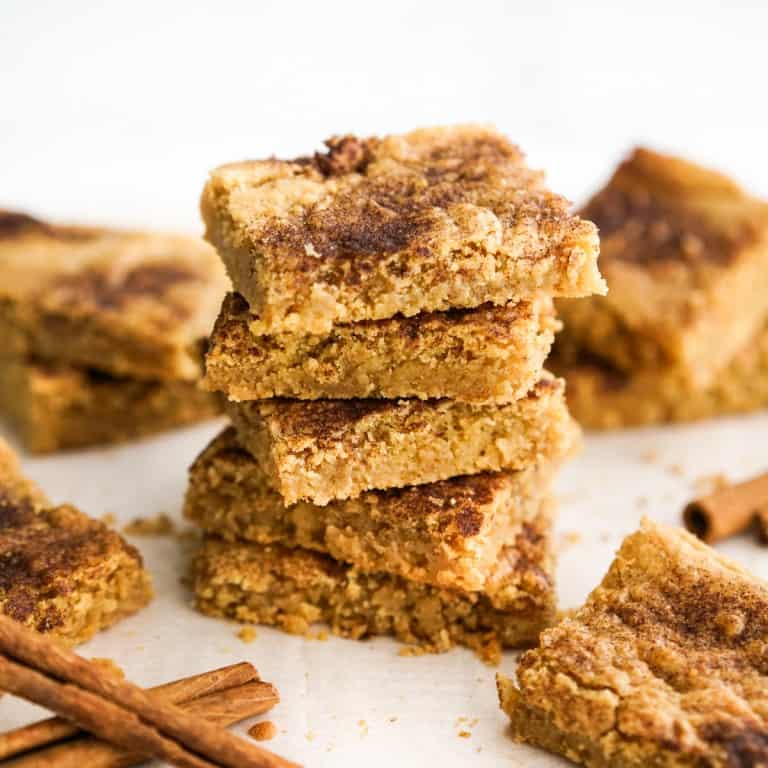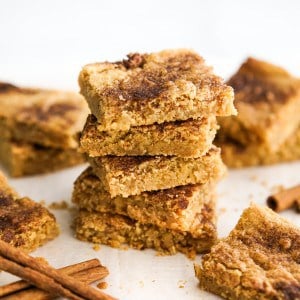 Snickerdoodle Bars
These snickerdoodle bars are basically snickerdoodle cookies in bar form. They are thick, chewy and buttery, topped with sprinkling of cinnamon sugar on top.
Print
Pin
Ingredients
Bars
1

cup

unsalted butter

Room Temperature

1/2

cup

brown sugar

1 1/2

cup

granulated sugar

2 1/2

cup

all-purpose flour

1 1/4

tsp

baking powder

1/2

tsp

baking soda

1/2

tsp

salt

1

tsp

cream of tartar

2

Large

eggs

1 1/2

tsp

vanilla extract

2

tsp

milk
Topping
1

tsp

ground cinnamon

1

tsp

granulated sugar
Instructions
Line 9×13 baking dish with parchment paper (important for cooling and cutting later)

Cream butter and both sugars (granulated sugar and brown sugar) with a mixer (standing or handheld) until completely smooth.

Mix flour, baking powder, baking soda, cream of tartar and salt into a separate bowl and set aside.

Scrape sides of the mixing bowl and then add 1 egg at a time to butter/sugar mixture while mixing on low.

Add vanilla extract and milk, and mix until fluffy.

Fold in dry ingredients with a spatula (adding a little bit at a time) until thoroughly combined.

Pour dough into parchment lined baking dish and use spatula to even out.

Mix topping cinnamon and sugar and sprinkle on top of batter

Bake for 25 minutes, or until done. Test for doneness by inserting a clean toothpick into the center – toothpick should come out clean if it is done.

Let snickerdoodle bar cool for 5-10 minutes in the baking dish, then lift the sides of the parchment paper to remove it and set aside. Let it sit and cool for another 5 minutes, then slice into smaller squares.
Nutrition
Calories:
378
kcal
|
Carbohydrates:
55
g
|
Protein:
4
g
|
Fat:
17
g
|
Saturated Fat:
10
g
|
Polyunsaturated Fat:
1
g
|
Monounsaturated Fat:
4
g
|
Trans Fat:
1
g
|
Cholesterol:
72
mg
|
Sodium:
204
mg
|
Potassium:
101
mg
|
Fiber:
1
g
|
Sugar:
34
g
|
Vitamin A:
520
IU
|
Vitamin C:
0.01
mg
|
Calcium:
48
mg
|
Iron:
2
mg