Bless you, White Peach Sangria 🧡. Summers will never be the same without you…
Prepare to fall in love with this concoction: white wine combined with a splash of brandy, along with club soda (bring on the fizz!), and lots of peach flavors in the form of peach nectar and fresh peaches.
White peach sangria a refreshing pool drink, summer drink, beach drink, weekend drink, weeknight drink…yes yes yes drink it anytime…It's 5 o'clock somewhere!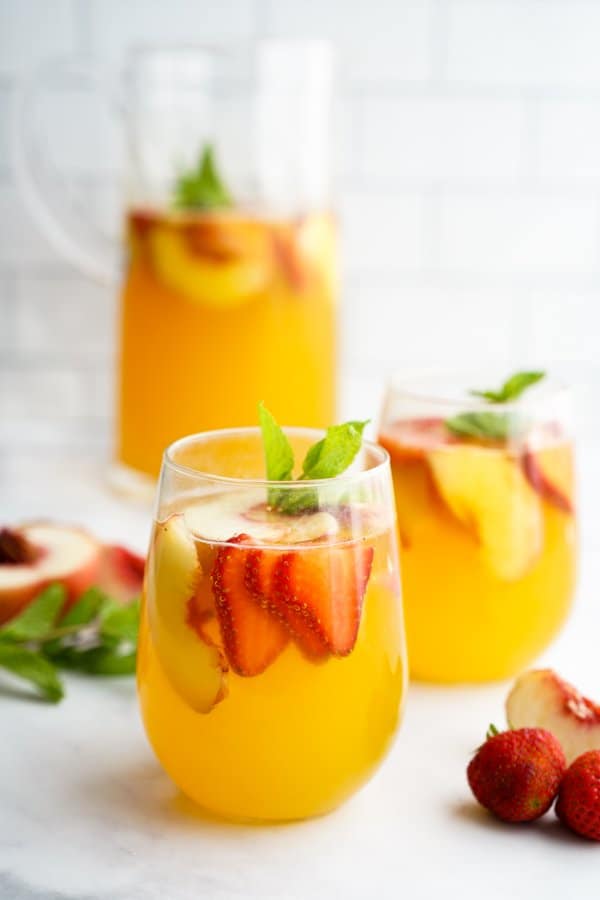 What is sangria?
Ahh white peach sangria, how I love thee…
Sangria is a popular alcoholic drink that originated from Spain and is popular in Spanish cuisine. It traditionally consists of red wine, some sort of fruit, and an additional spirit or two.
If you want a Fall take on Sangria, check out my Apple Cider Sangria.
This White Peach Sangria is a fun modern twist to the classic cocktail. We are keeping the wine and fruit and spirit combo, but instead of red white we are using white.
Since it is the summer, I thought something lighter and crisper like a peach sangria is slightly appropriate.
I'm always in the mood for peaches during the summer. They are sweet, juicy and I don't let a summer go by without indulging in summer peaches.
Which, by the way, have you had the peach and white wine combination of flavors? It is a dream I tell you.
In fact, go cut up some fresh summer peaches and sip on a glass of white wine on the side. So dang delicious. And it doesn't get more summer-y than that.
So you can only imagine how delicious this White Peach Sangria is when you have those juicy peaches soaked in that white wine, club soda, and brandy combination.
Omg so yum…🥰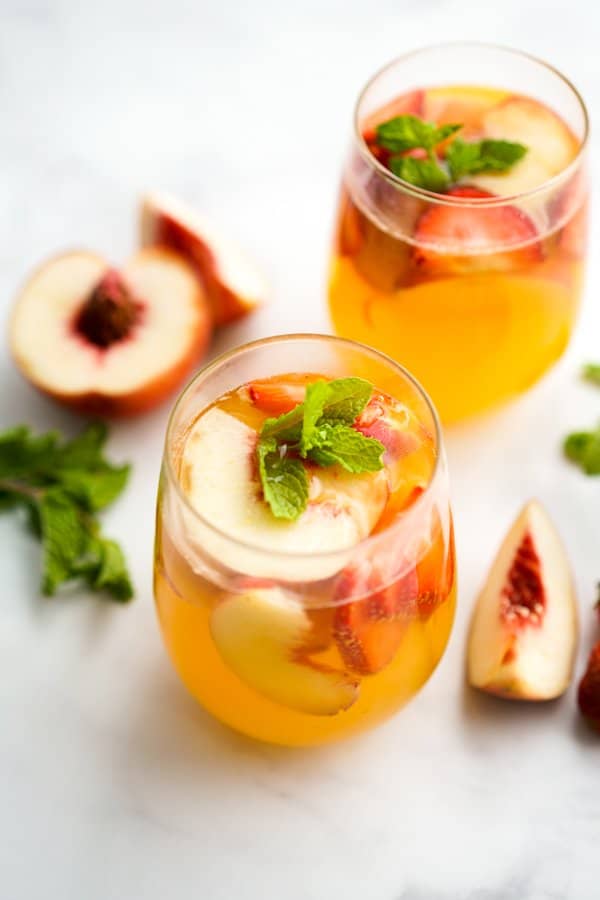 Ingredients for White Peach Sangria
I seriously need a drink as I stare at pictures of these glasses of peach sangria…
Don't let the fancy name and pictures fool you though, this beauty is so easy to make!
Totally doable at home, not to mention much cheaper. White peach sangria also makes such a fun and delicious party drink.
Here's what you need to make peach sangria:
Crisp white wine – I like to use Pinot Grigio when making white peach sangria. Because we are mixing it with juices and brandy, you don't have to splurge on expensive white wine for this. Buy something that is drinkable, but it doesn't have to be fancy. P/S: I use Trader Joe's $2.99 Pino Grigio on this and it is fabulous.
Brandy – again, you don't need anything fancy!
Club soda – this gives your white peach sangria a nice fizz. Basically, any unsweetened carbonated water would do.
Peach nectar or peach concentrate – I like to use nectar or concentrate instead of peach juice because its flavor is more intense but feel free to substitute it with peach juice if you can't find nectar or concentrate.
Syrup – equal parts sugar and hot water. Hot water is used to make sure sugar is completely dissolved. Don't worry, we are adding ice to peach sangria later on and will cool this baby down.
Fresh peaches and other fruits – other fruits such as strawberries, cherries, nectarines, lime, lemon….any summer fruits would be great in this lovely peach sangria.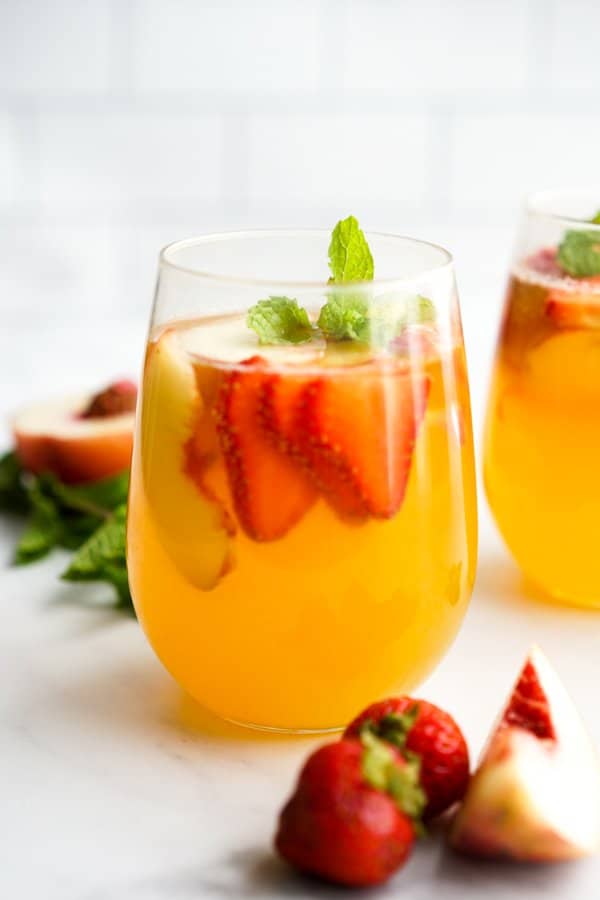 Other than the ingredients, you will need a large pitcher, a few glasses, and 10 minutes of your time! 🧡
That is all and your peach sangria dreams will come true…
When you are done, I highly recommend finding a nice, comfy spot, maybe by a pool, slow sip on your white peach sangria, and just indulge in a little rest and relation. Ahhh….
Tips and Tricks
A few things to take note when making white peach sangria:
Adjust the alcoholic content and sweetness to your preferences. The recipe suggest starting with 1/2 cup of syrup (1/4 cup of sugar + 1/4 cup of water). Taste after adding syrup and add more syrup if needed! Remember, you can always add more syrup but you can't take it out once it is added! 🙂
Refrigerate white wine, peach nectar, fruits, and club soda a day before making this so everything is nice and chilled.
Frequently Asked Questions
Can I add ice?
You can but it will also dilute the drink. I typically refrigerate the wine, club soda, peach nectar and fruits ahead of time so when I combine everything together it is nice and cold without needing the ice.
Can I use a different type of syrup to sweeten this?
Absolutely! Pure maple syrup or any other type of sweetener would work just fine. The peach nectar is also sweet so if you like a more peachy flavor you can add more peach nectar and reduce the syrup.
What other types of white wine to use?
I typically use Pinot Grigio, but you can also use other crisp, dry white wine such as Sauvignon Blanc, Riesling, or Chardonnay.
Does this keep well overnight?
It does but depending on how sealed the container or jug you store your drink in, the club soda may lose its fizz. I personally still think it tastes good but it will be less carbonated.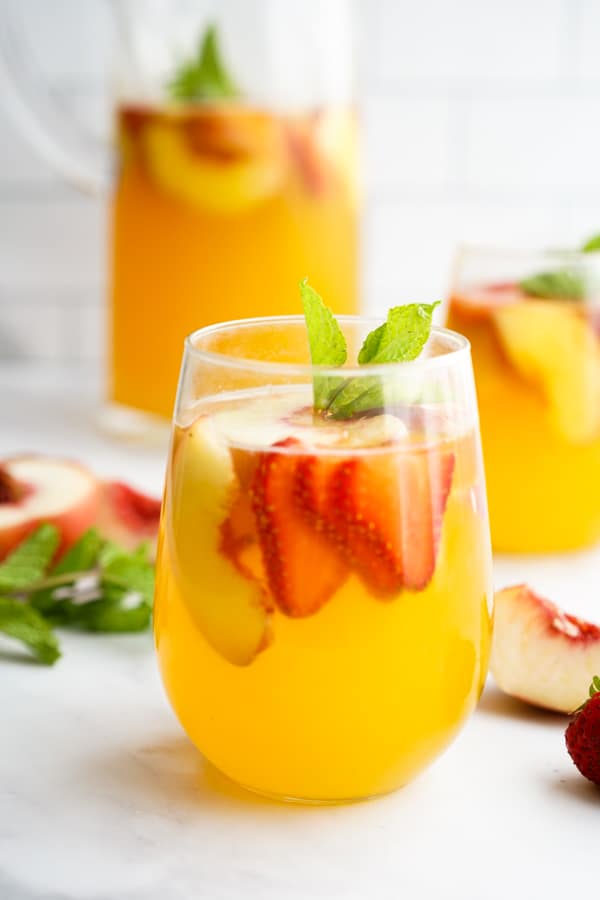 Other Fun Drinks
Looking for more refreshing summer beverages? Check these out!
DID YOU ENJOY THIS RECIPE? Please comment below and give us a 5-star rating! This will help others find this recipe on Google and Pinterest. We very much appreciate your help! 🤍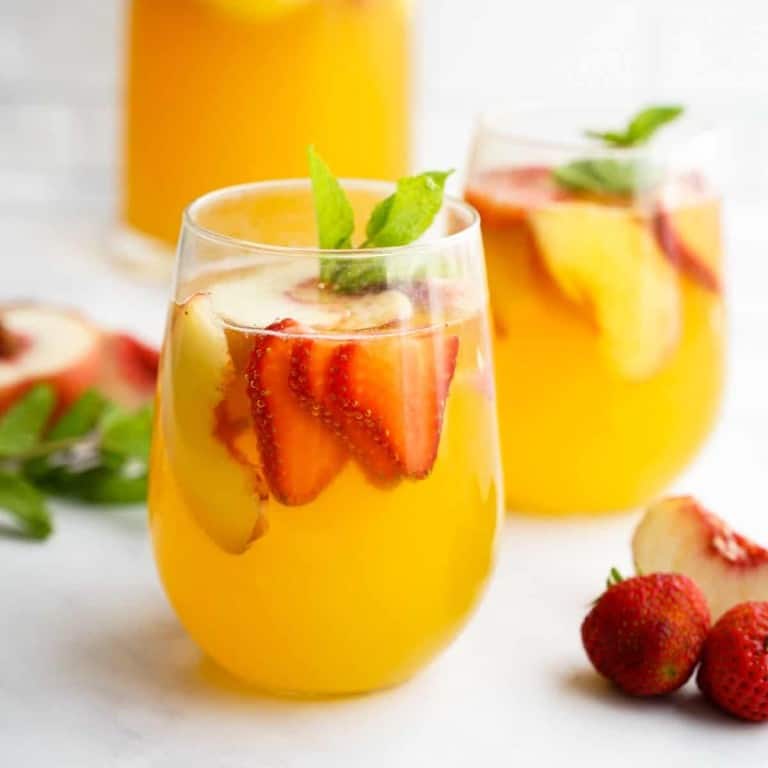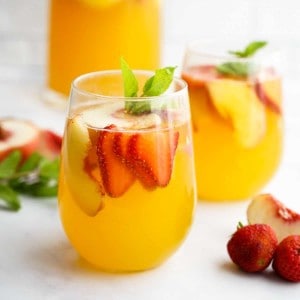 White Peach Sangria
Peach flavored white wine sangria combined with club soda and a splash of brandy. This refreshing fruity cocktail is perfect for the summer!
Print
Pin
Ingredients
1

bottle

Pinot Grigio

or other dry white wine (750ml)

2 1/2

cups

peach nectar or concentrate

2

cups

club soda

or other unsweetened carbonated water

1/4

cup

brandy

1/4

cup

granulated sugar

more if needed

1/4

cup

water

2-3

peaches

sliced

3-4

strawberries

sliced

a few

mint leaves

optional
Instructions
Refrigerate Pinot Grigio, peach nectar, club soda and fruits the day before.

In a large pitcher, combine Pinot Grigio, peach nectar, club soda, and brandy. Stir to mix well.

In a small glass combine 1/4 cup sugar and 1/4 cup hot water to make syrup. Add syrup to pitcher. Optional: make more syrup and add more to pitcher if drink is not sweet enough. Stir to mix well

Slice fruits and add to pitcher. Optional: garnish with mint leaves.
Nutrition
Calories:
177
kcal
|
Carbohydrates:
23
g
|
Protein:
1
g
|
Fat:
1
g
|
Saturated Fat:
1
g
|
Polyunsaturated Fat:
1
g
|
Monounsaturated Fat:
1
g
|
Sodium:
6
mg
|
Potassium:
110
mg
|
Fiber:
1
g
|
Sugar:
20
g
|
Vitamin A:
324
IU
|
Vitamin C:
9
mg
|
Calcium:
7
mg
|
Iron:
1
mg