This post may contain Amazon or other affiliate links. As an Amazon Associate I earn from qualifying purchases at no additional cost to you.
I have been making this cheesecake recipe for almost a decade. Because when you've got the best cheesecake recipe ever, what do you do? Simple: you STICK TO IT! There is no need to branch out; no need to search for something else. What's the saying? Why fix it when it is not broken?
Something along those lines. 😉
Introducing my go to cheesecake recipe, which in my humble opinion, is The Best Cheesecake Ever. Like really truly the best kind of the best.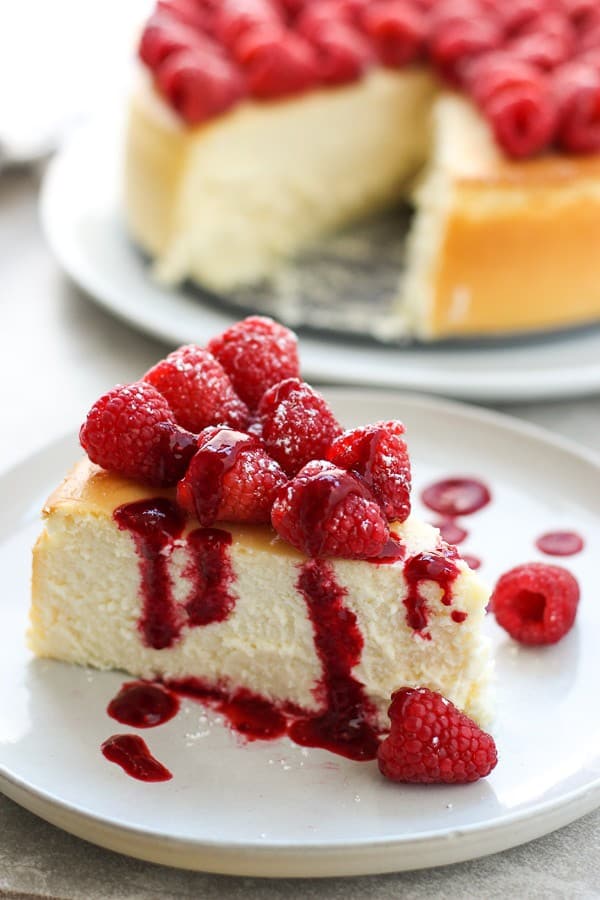 This cheesecake recipe is a family recipe of my good friend and former roommate, Diane! Diane used to make this all the time when we were roommates, and this recipe is what made me fall in love with cheesecakes. I have been using this recipe ever since whenever the cheesecake craving hits!
One of the things I love most about this cheesecake is that it has a rich flavor yet it is not overly heavy or dense. It is creamy, fairly light and slightly airy. It uses cream cheese, ricotta cheese, and sour cream. Incorporating the sour cream gives it a slight citrus-y flavor, making the flavor more well-rounded, and balances out the richness and the creaminess.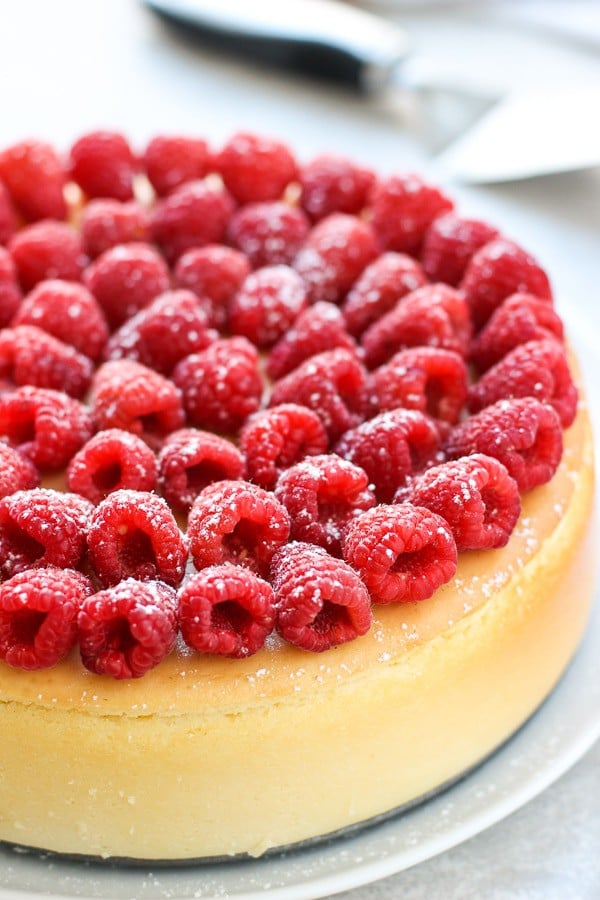 You probably notice by now, this cheesecake is also crustless! No graham cracker crust but as the sugar and butter (a whole stick of it in the cake mixture!) cooks and caramelizes, it creates this gorgeous, slightly browned texture that surrounds the outside of the cake. This creates what I consider a crust-like shell that is TO DIE FOR.
The honest truth is, that caramelized butter is probably my favorite thing about the cheesecake. It gives bring a ridiculously beautiful texture and taste to contrast that creamy richness of the cheesecake.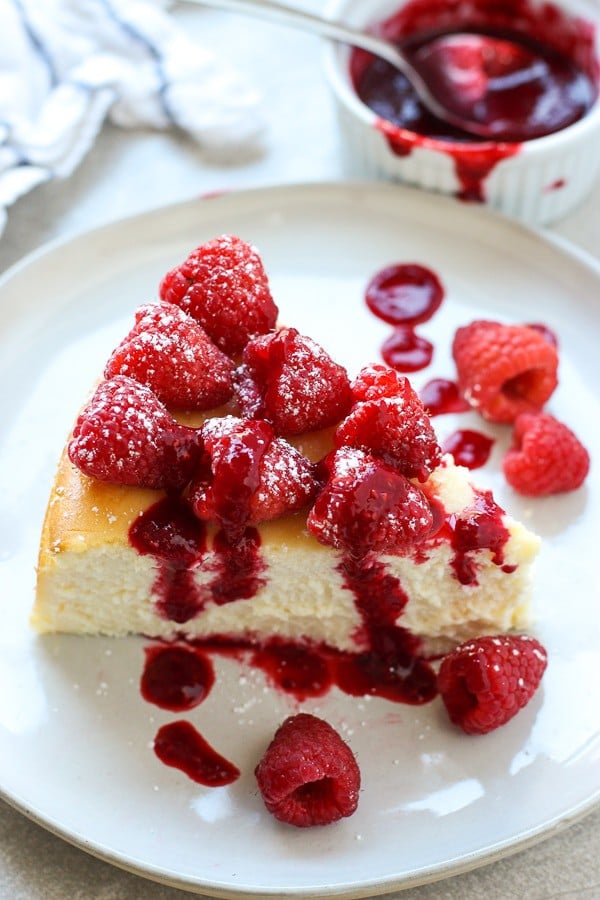 What you will need
This cheesecake recipe calls for simple ingredients, is fairly straight-forward, and requires some time and a little bit of planning in advance.
In other words, if your cheesecake cravings hit and you hope to have a homemade cheesecake in the next hour, you are kinda out of luck. It does take a few hours for the cheesecake to cool and refrigerate. But trust me, the patience IS ALL WORTH IT once you bite into this life-changing, as good as gold, the best ever cheesecake!
You will also need a 9-inch round spring foam pan – so that you will be able to release the sides once the cheesecake is done, instead of having to dig the cheesecake out from the pan (Yeah, don't do that…). These spring foam pans are fairly cheap and you can find them anywhere!
I highly recommend wrapping the spring foam pan with aluminum foil to prevent any leakage of liquid into the oven while it is baking.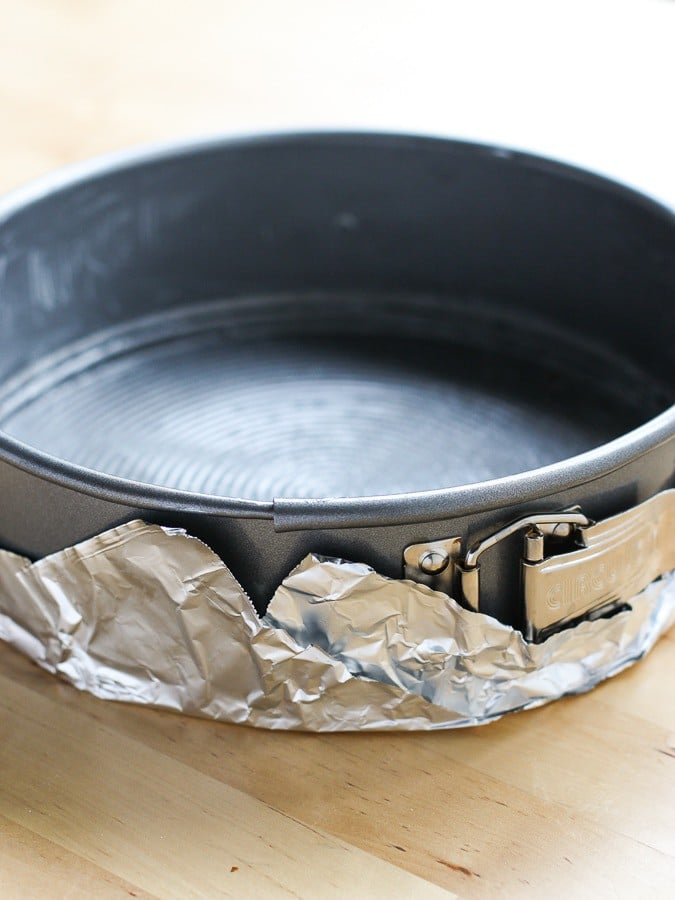 Tips for making cheesecake
Along the lines of patience, we want to combine the cheesecake ingredients in a large bowl and take the time to beat it up well so that the mixture achieves the perfect consistency.
To ensure the cheesecake texture comes out smooth, fluffy and creamy, use a stand mixture or a hand-held mixture, mix the cheesecake ingredients on medium high speed for 20 minutes. Yes, it is a little time consuming and a lot of beating. But again – WORTH IT! 😉
This is an important step so try not to skip it!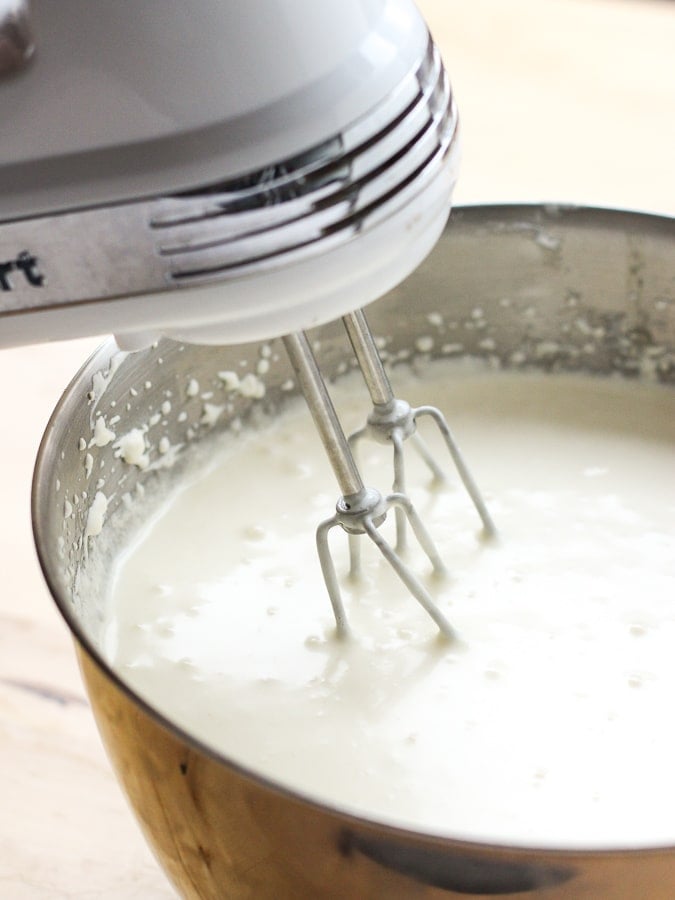 Another thing to mention is the cracking that will most likely happen on the cheesecake after it bakes. I will admit, I am not cheesecake expert, have made this multiple times, and it almost always crack slightly on top.
However, in my fervent research, I learned that cooling the cheesecake slowly (not dropping the temperature drastically while it cools), will lessen the cracking. That is also why the recipe calls to cool the cheesecake in the oven for two hours after baking.
Yes, you heard it right. Once the cheesecake is done baking, simple switch the oven off and leave the cheesecake in the oven for two more hours before refrigerating the cake!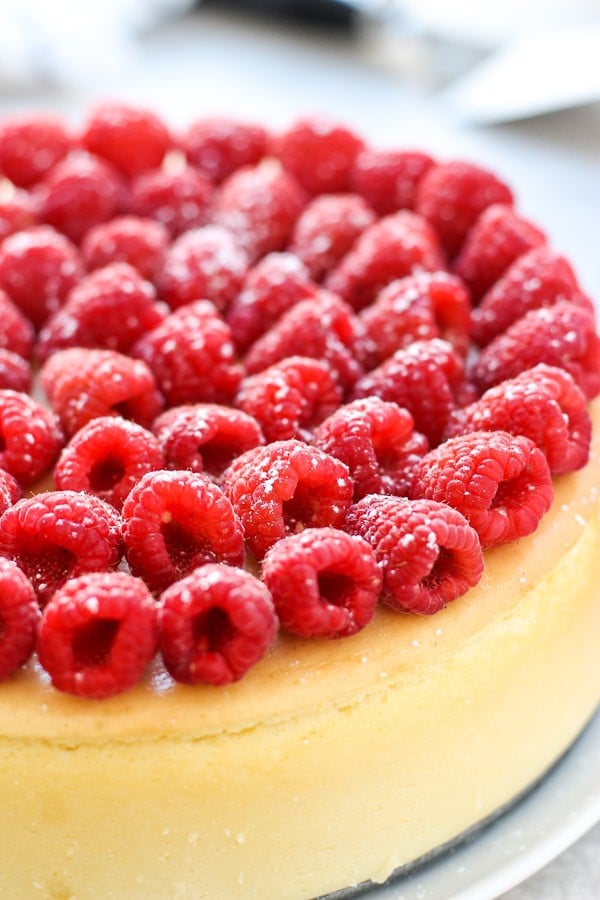 The toppings: Raspberries and raspberry sauce
The icing on the cake (no pun intended) for this cheesecake recipe is in fact the vibrant colored, slightly sour, softly sweet fresh raspberries and raspberry sauce.
If you are a cheesecake purist and don't do berries or toppings on your cheesecake because it will hinder your cheesecake experience, I actually kinda understand and see where you are coming from. Especially when this cheesecake is amazing enough to stand by itself!
However, if you want to bring another layer of texture and flavor to further enhance the cheesecake, top it with some fresh raspberries and make this incredible yet simple raspberry sauce recipe that goes perfectly with the cheesecake. It takes it OVER THE TOP.
Also, if you experience some cracking on the cheesecake (because we are all humans, and cracking the cheesecake just happens!), the raspberries are the perfect way to hide it! 😉
So topping or no topping? What say you??
Honestly, you cannot go wrong either way.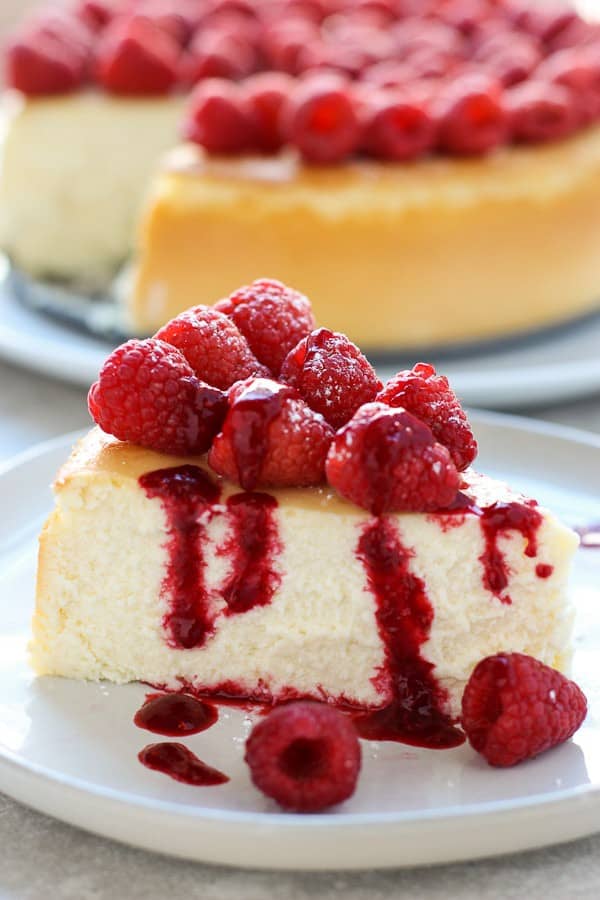 With the holidays coming up, this is the PERFECT holiday dessert! Make this for Thanksgiving, Christmas, New Years eve, holiday parties!
But seriously, you don't need a reason for wanting a cheesecake. If it is not the holiday season and you need some cheesecake in your life…I say make it anyway!! 🙂
Since we are in fact in November, a.k.a. holiday season, check out these other fun desserts to make this holiday!
If you make this recipe, PLEASE let me know how it goes in the comment box below, and share pictures of your creations on instagram by tagging #joyousapron! I WANNA SEE!! And while you are there, don't forget to follow me!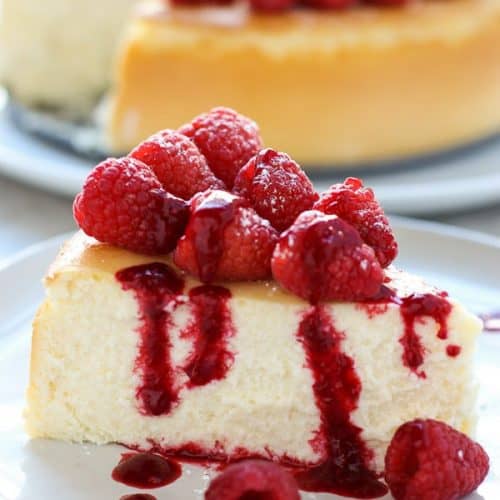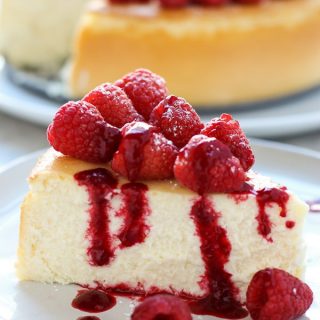 The Best Cheesecake Ever
The best basic cheesecake recipe! Rich, smooth, creamy and fluffy, this cheesecake recipe is yummy and perfect for parties, the holidays, or any day! Top with fresh raspberry and raspberry sauce for the ultimate cheesecake experience! Remember to give it time to cool and refrigerate.
Print
Pin
Ingredients
Cheesecake
16

oz

whole milk ricotta

16

oz

cream cheese

softened

16

oz

sour cream

2

cups

granulated sugar

4

eggs

1/2

cup

flour

1

tsp

pure vanilla extract

1/2

cup

unsalted butter

melted

1/2

tbsp

unsalted butter

melted
Toppings
1

cup

fresh raspberries

1/2

cup

raspberry sauce

1

tbsp

powdered sugar
Instructions
Pre-heat oven at 350 degrees F.

Bring whole milk ricotta, softened cream cheese, sour cream, sugar, eggs, flour, vanilla extract, 1/2 cup melted butter into a large bowl. Mix well and beat on medium high speed (using a hand-held mixture or standing mixture) for 20 minutes.

Butter spring foam pan with the other 1/2 tbsp of melted butter and wrap aluminum foil around the pan to prevent leakage.

Pour cheesecake mixture into spring foam pan. Bring to oven and bake for 1 hour.

Turn off oven and let cheesecake sit in oven for 2 hours. Do not open oven – we want to cool the cheesecake slowly.

Remove cheesecake from oven. Cheesecake might be slightly jiggly in the middle. Gently release the sides of the spring foam pan from cheesecake.

Refrigerate cheesecake in the fridge for another 4-5 hours, or overnight, until cheesecake is firm.

Optional: top cheesecake with fresh raspberries, then sprinkle raspberries with powdered sugar. Slice and drizzle with raspberry sauce.
Nutrition
Calories:
554
kcal
|
Carbohydrates:
52
g
|
Protein:
10
g
|
Fat:
35
g
|
Saturated Fat:
20
g
|
Polyunsaturated Fat:
2
g
|
Monounsaturated Fat:
9
g
|
Trans Fat:
1
g
|
Cholesterol:
157
mg
|
Sodium:
209
mg
|
Potassium:
197
mg
|
Fiber:
1
g
|
Sugar:
41
g
|
Vitamin A:
1247
IU
|
Vitamin C:
5
mg
|
Calcium:
172
mg
|
Iron:
1
mg