This post may contain Amazon or other affiliate links. As an Amazon Associate I earn from qualifying purchases at no additional cost to you.
The jury is in: This crumbly ground sausage + flaky puff pastry combo is a match made in heaven. I have consumed way too much of it, and am not sorry at all.
These Sausage and Cheese Puff Pastry Pockets knocked my socks off the first time I bit into it. It almost never happens, but this took ONE round of recipe testing, and viola, I loved it to pieces. Such a different process from that time it took me a month, and many, many, MANY dinners of Cheesy Tomato Chicken Spaghetti to get that one right.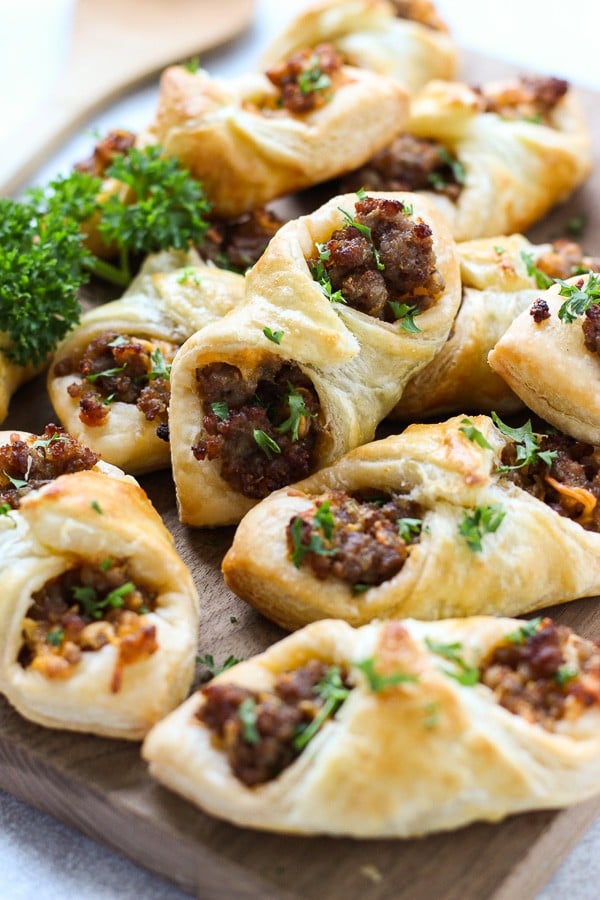 Okay, side note, but how is this happening – one more week and we say buh-bye to January?!? PLEASE TELL ME WHAT HAPPENED TO TIME?
It's happening folks. January 2019 is coming and going. However, the exciting thing about the end of January/early February season around here is that it is Super Bowl season, which automatically translate to "Hooray – time to make yummy game day foods!" to me.
Sausage and Cheese Puff Pastry Pockets are one of those fun game day food you bring to parties that people eat and grab seconds, and you will not have leftovers to bring home, and then a few others ask you how you made it.
That is when you tell them these things are six-ingredient easy and how they can make you look like a rock star in the kitchen without putting in much effort at all. But then again you can also not mention how easy it is and make them believe you slaved in the kitchen for hours to make this happen. Decision is completely yours.