Crescent Roll Breakfast Casserole
Watch out! This easy and delicious Crescent Roll Breakfast Casserole is about to make all your brunch dreams come true…right in the comforts of your own kitchen!
Crescent roll breakfast casserole combines buttery crescent rolls with crumbled sausage, eggs, and cheese, baked to perfection in a casserole. It takes about 10 minutes to prep it all and the oven does all the work. So simple yet so tasty!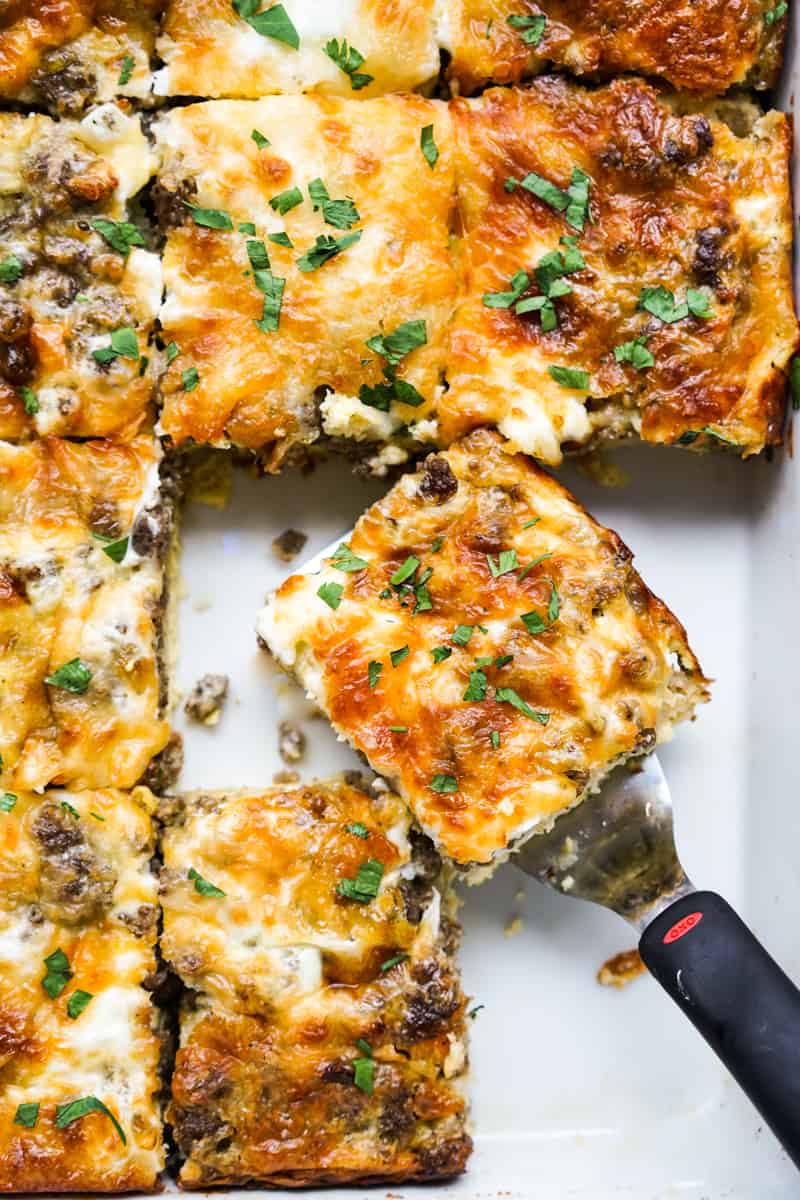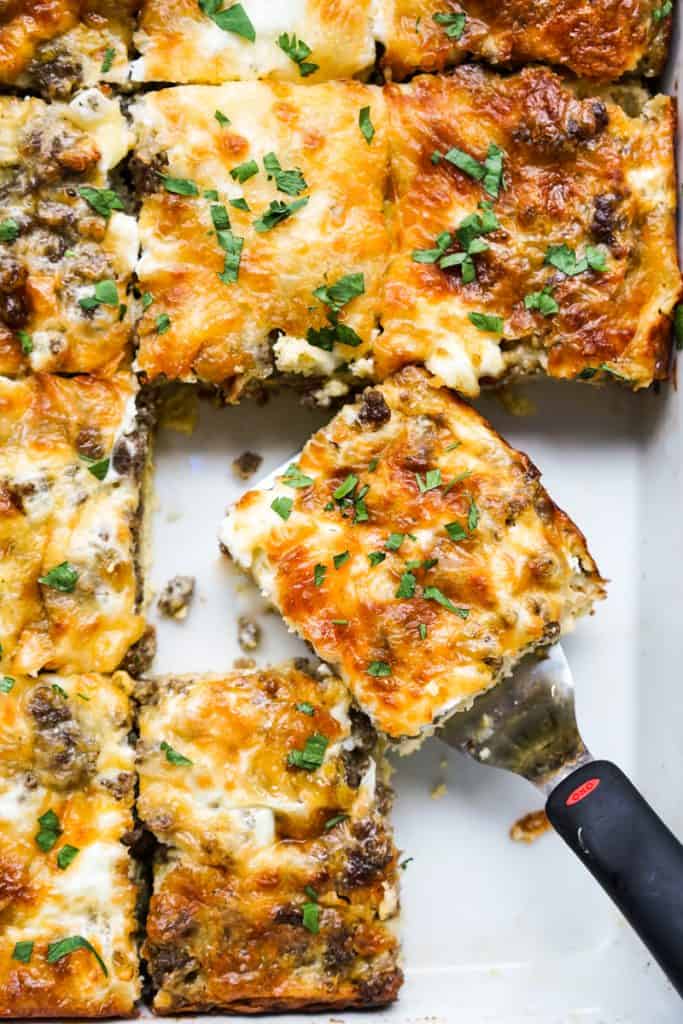 Love an easy and yummy breakfast casserole? Don't forget to also check out my Ham and Cheese Croissant Bake and Sausage Tater Tot Breakfast Casserole.
Breakfast Casserole with Crescent Rolls and Sausage
This Crescent Roll Breakfast Casserole recipe has quickly become a favorite for us. We love making it for breakfast during the weekends, and heat leftovers in the morning for a quick breakfast during the weekdays. It's really the perfect scenario.
When crescent roll breakfast casserole bakes, the crescent rolls puff up, and is spongy and fluffy after it soaks up the egg and milk mixture.
The layers of crescent rolls, eggs, sausage and cheese also merge together slightly but is still distinguishable, giving every bite a touch of crumbly, buttery, cheesy and crusty from the golden brown top.
Each bite of this crescent roll breakfast casserole is simply dazzling, and filled with amazing flavors and textures.
Here's all the deets about crescent roll breakfast casserole and why you need it in your life:
easy one-pan breakfast: all your eggs, carbs, and meats in one pan, and the combination is tastier than you can imagine!
10 minutes prep: crescent roll breakfast bake requires little prep time on your part. You can even wake up in the morning and put it together. I call it 'morning friendly' – it's easy to make even for those who are not 'morning people'! 🙂
short list of ingredients: it may look like a complicated casserole, but you are looking at only 8 simple ingredients, all of them pantry-friendly.
great for a large crowd: crescent roll breakfast casserole feeds 10-12, depending on how hungry your guests are. Perfect for weekend brunch, potlucks, breakfast get together's, when you have people over, and holiday brunch (Christmas, Easter, you name it!). It transports easily and can also stay in room temperature for a couple of hours without tasting weird.
reheats beautifully: Reheat in the microwave and it tastes just as good as fresh! To reheat a whole casserole, see reheating instructions in the 'Frequently Asked Questions' section.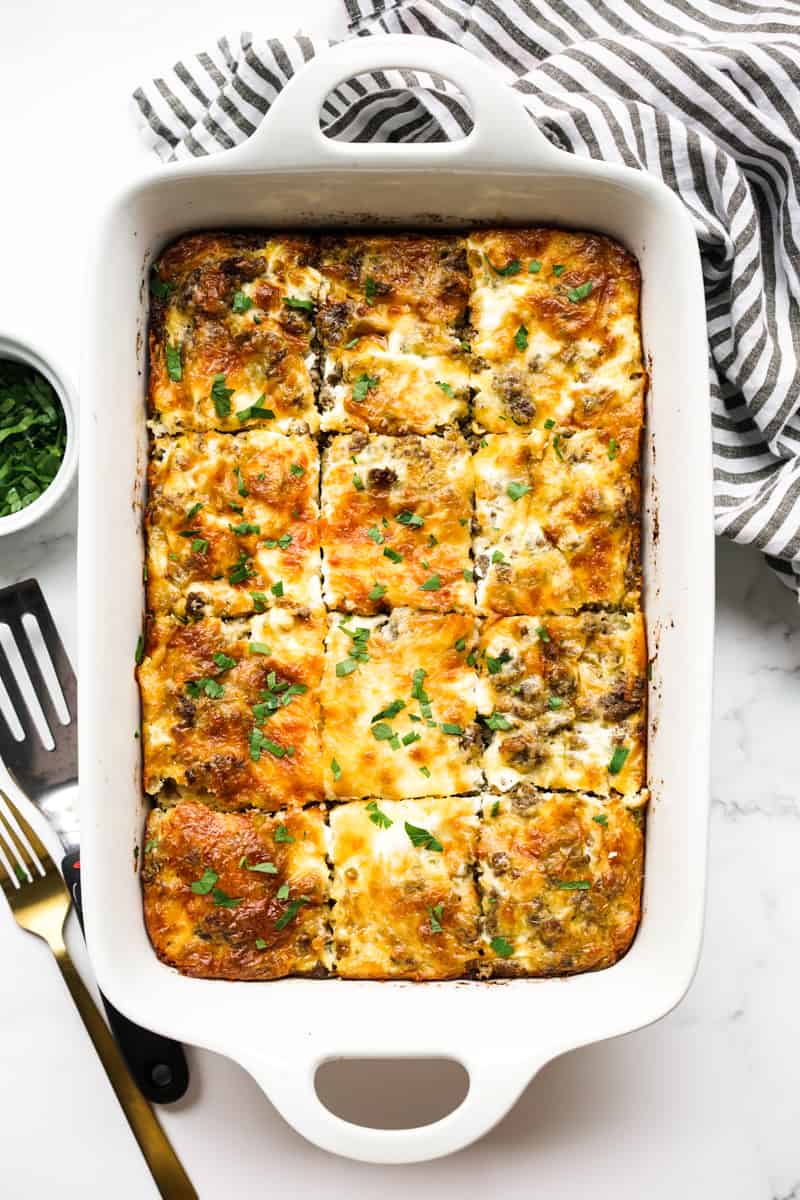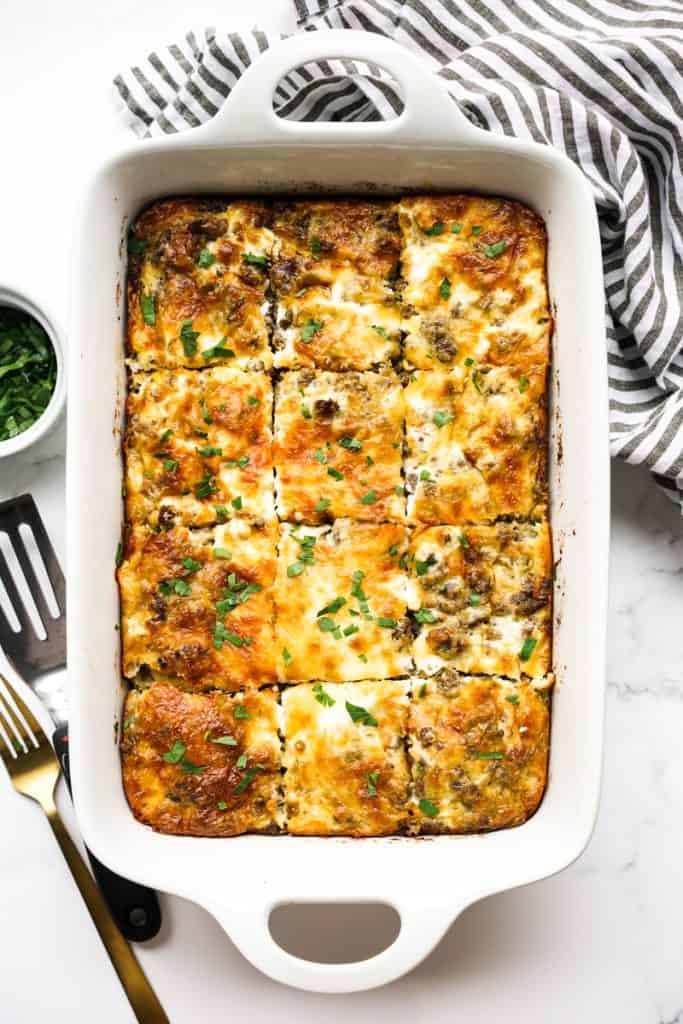 Ingredients
Made with simple and straight forward ingredients, sausage crescent roll breakfast casserole calls for these 8 pantry-friendly ingredients:
crescent rolls – comes in a tube and are unbaked but already rolled into a flat dough. I like the Pillsbury brand crescent rolls.
breakfast sausage – I use crumbled ground pork breakfast sausage. Sometimes they come in different flavors, and any of them work!
eggs
milk – I use 1% but you can use whole, 2% or fat free. If you like your egg layer creamier, use 2% or whole milk.
shredded cheese – you can use mozzarella, Colby jack, Monterey jack, cheddar, or a combination. Honestly, I typically use whatever soft shredded cheese I have at hand!
garlic powder – used to bring an additional dimension of flavor to the egg layer
salt
black pepper
How to make crescent roll sausage bake
I'm seriously excited to show you how easy crescent roll sausage casserole come together.
Whenever I make a recipe that is so simple yet incredibly tasty, I just get excited because that's what I'm all about: easy and delicious! And our sausage crescent roll breakfast casserole is just that.
Step 1: Sear crumbled sausage
First, we'll cook the raw sausage on the skillet, because it does need to be cooked before layering onto our crescent roll breakfast casserole.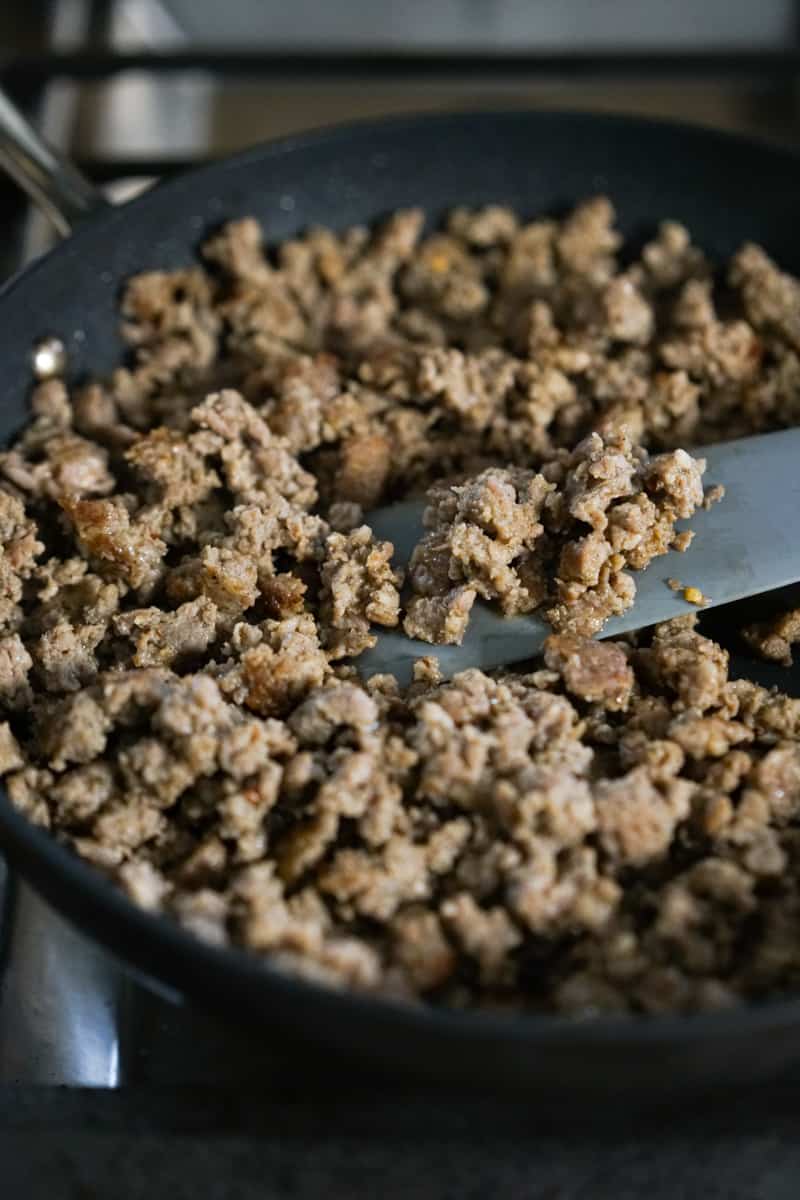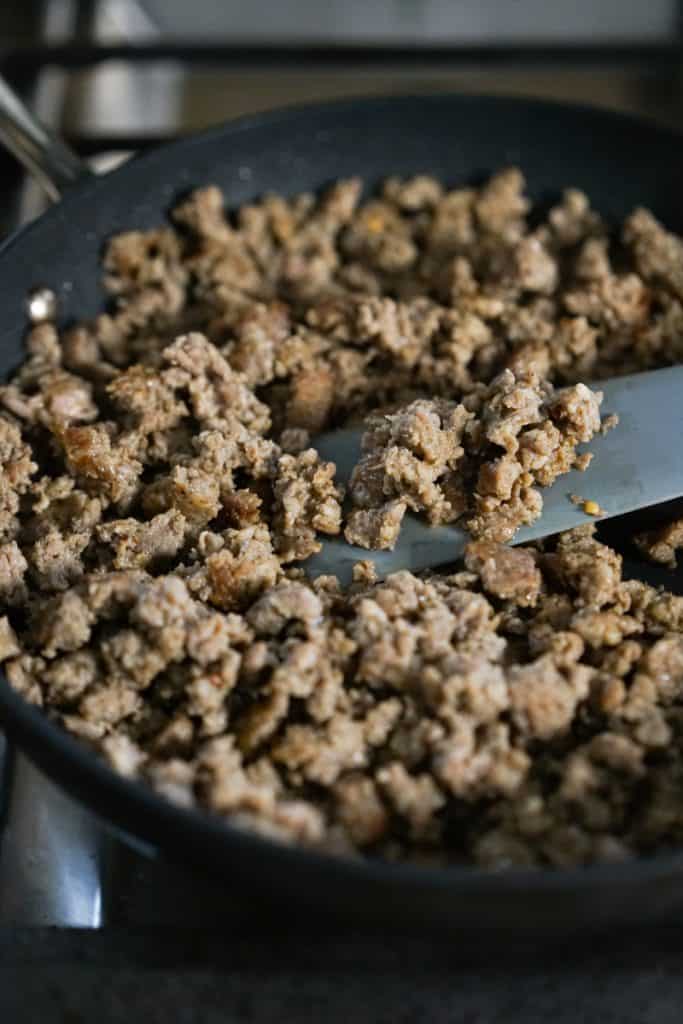 Step 2: Layer casserole
Before layering the casserole, let's bring together the egg mixture which will make up one of the layers in crescent roll breakfast casserole.
Bring together eggs along with milk, garlic powder salt and black pepper in a large mixing bowl. Whisk to combine.
And it's finally time to layer that crescent roll breakfast casserole!
Using a 9'x13′ rectangular casserole dish, grease the bottom with a cooking spray.
Then pile on the layers!
First layer (bottom): crescent rolls
Second layer: cooked crumbled sausage
Third layer: egg
Fourth layer (top) shredded cheese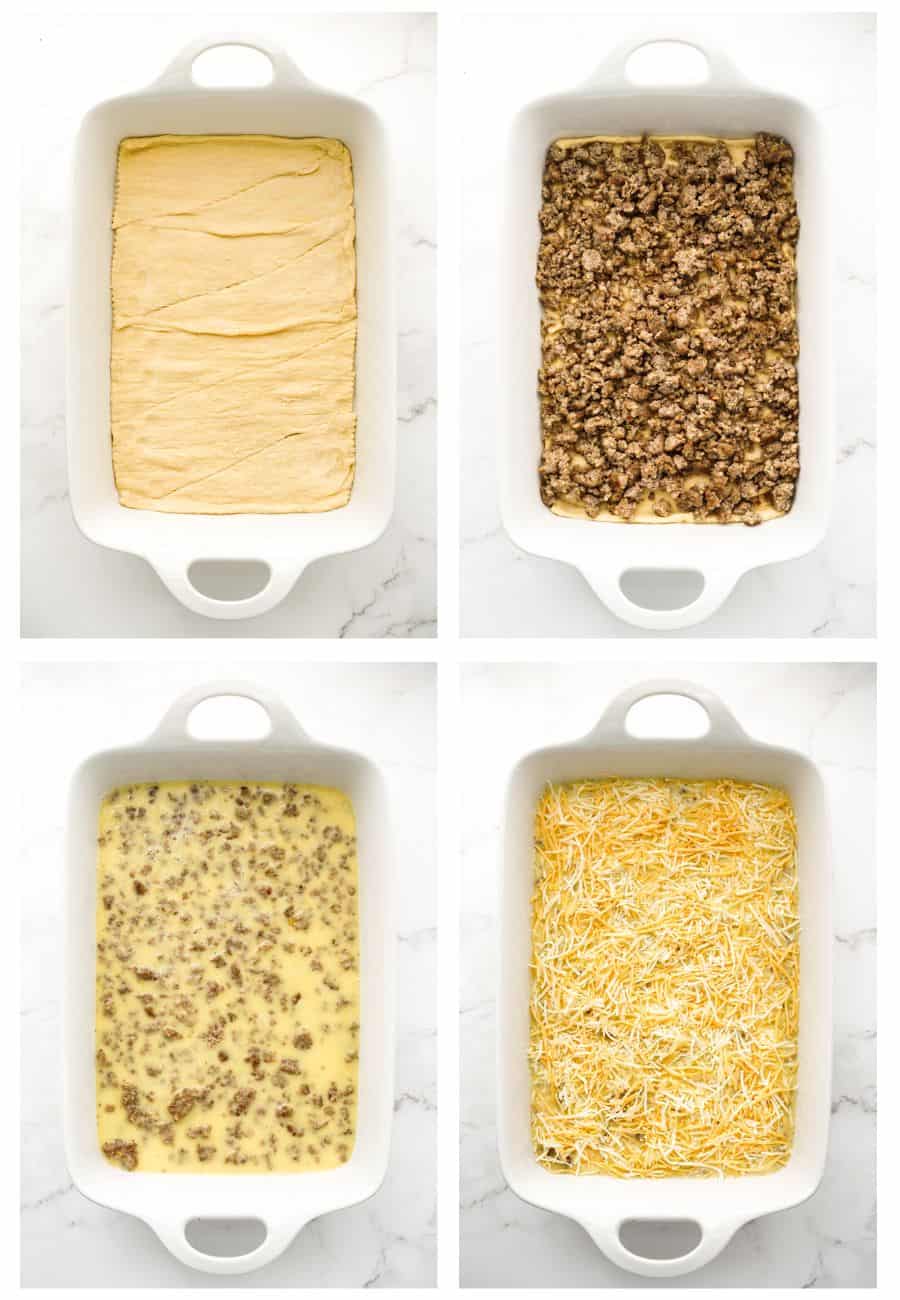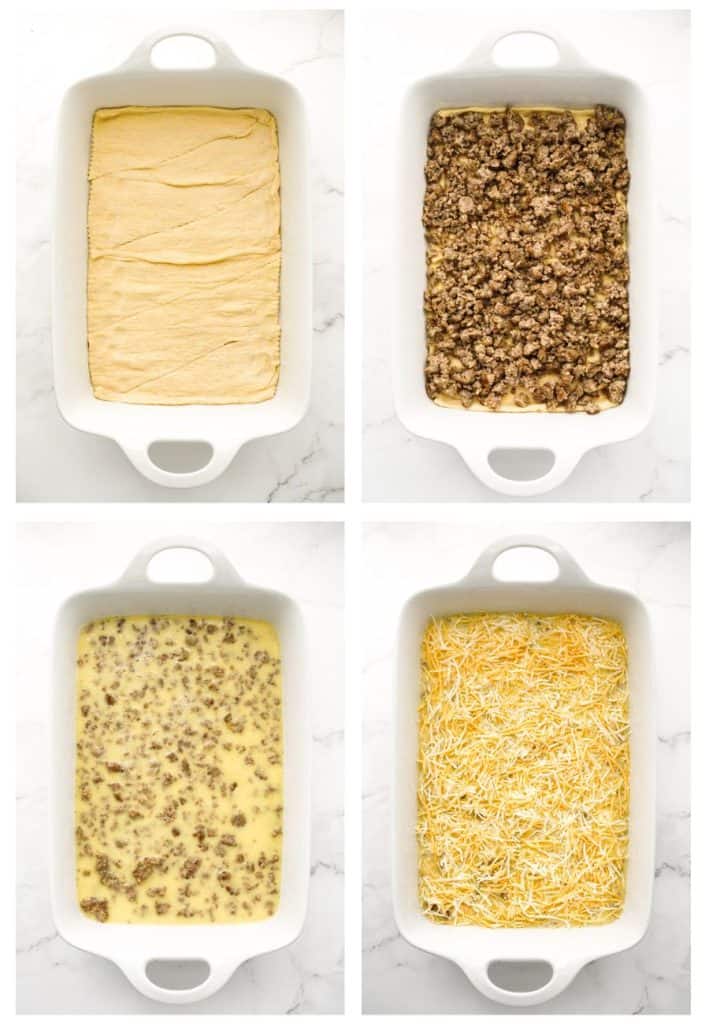 Step 3: Bake
Bake crescent roll breakfast casserole in the oven for 35 minutes at 375℉.
When breakfast casserole bake is done baking, pierce a toothpick into the center and it should come out clean. If not, bake casserole for a bit longer.
As long as eggs are no longer in liquid form, your breakfast bake should be ready.
At the end, the top of your crescent roll breakfast casserole should be nice and golden brown. And the insides should be soft and juicy.
Let it cool for a few minutes before cutting into to give the ingredients time to set nicely.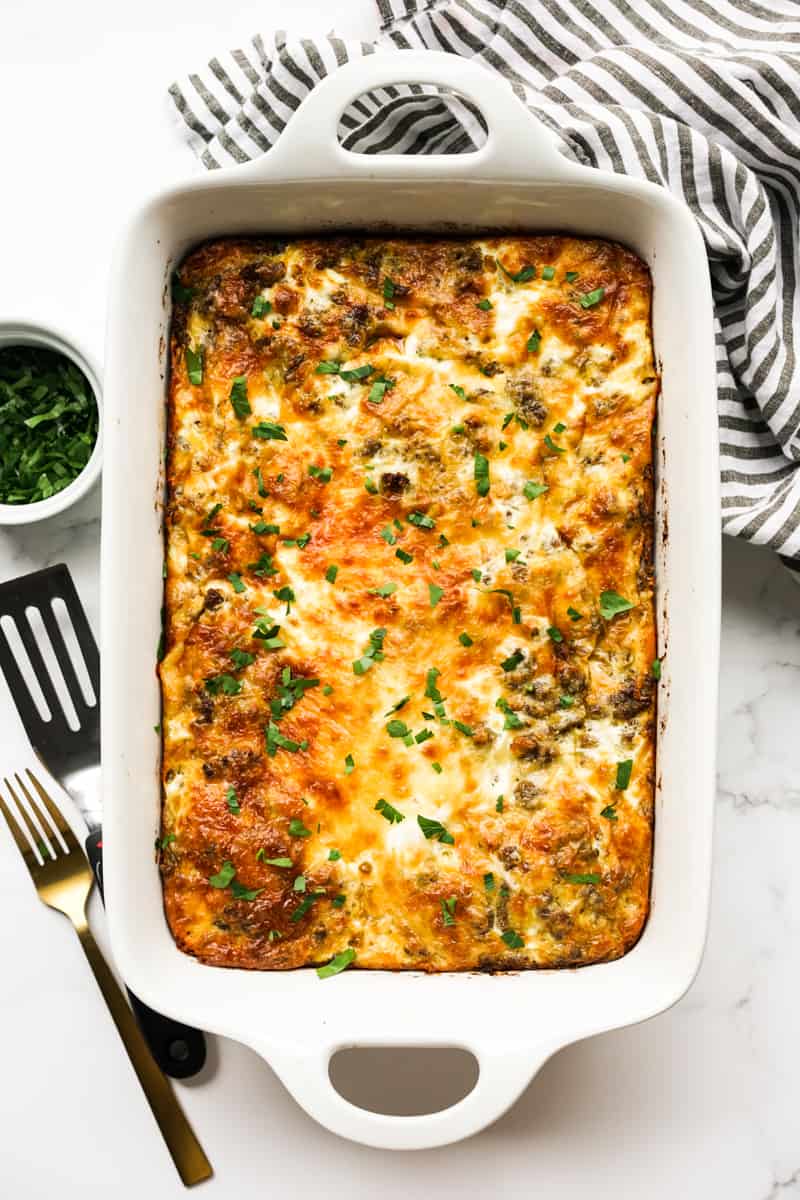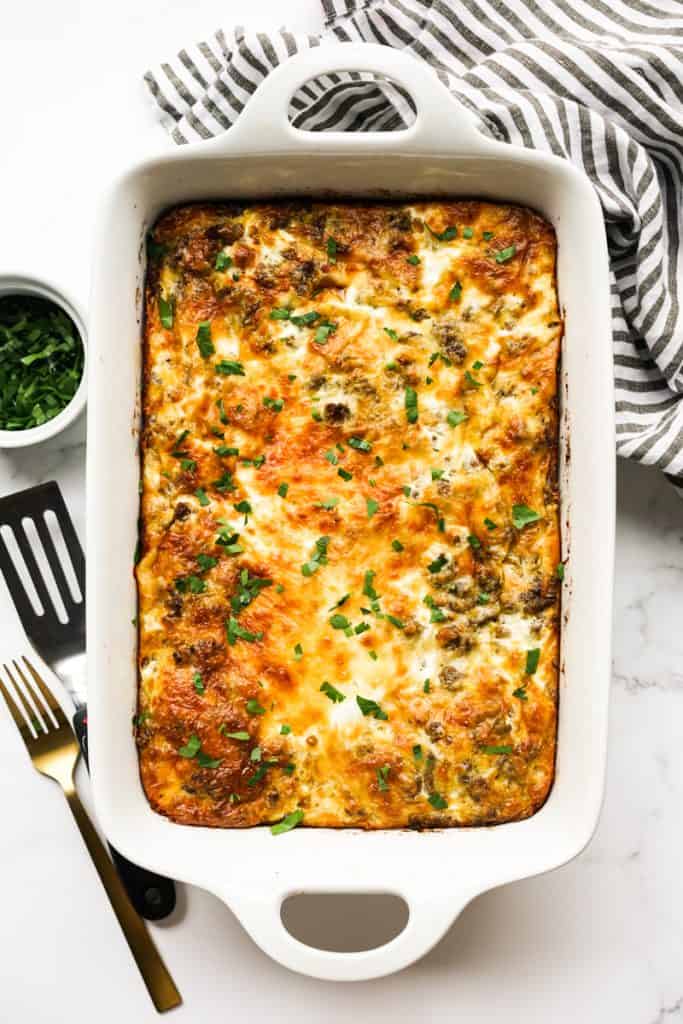 As you cut into your crescent roll breakfast casserole, you'll see layers of crescent rolls, eggs, crumbled pork sausage and cheese.
Crescent roll layer at the bottom is now fluffy, airy after absorbing some of the moisture from the egg mixture layer.
When you bite into it, the flavors of the eggs, sausage, cheese and buttery crescent rolls would have come together to bring you a mixture of savory, crumbly, gooey and a slightly crusty top.
Ahhh I love this so much!
Ways to Serve This
This makes the most perfect brunch in my opinion. Whenever I am serving this for brunch, I love to make some or all of the below to go with it: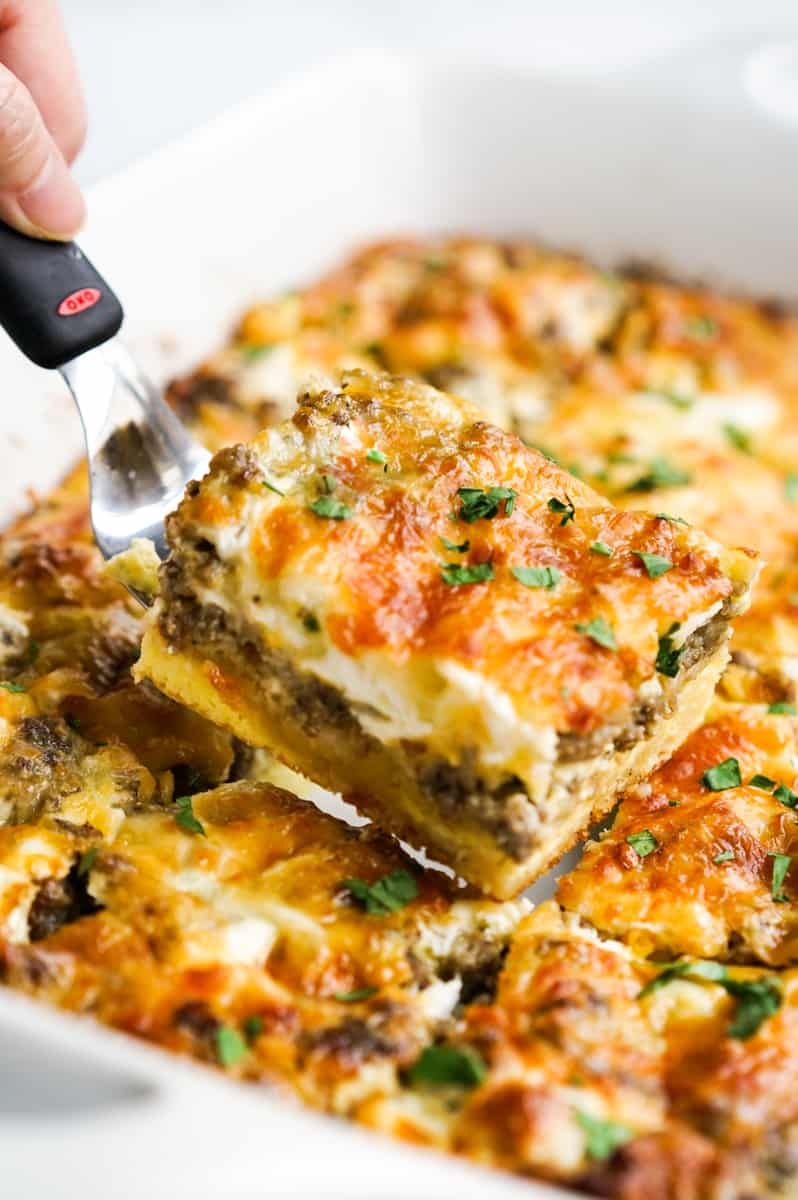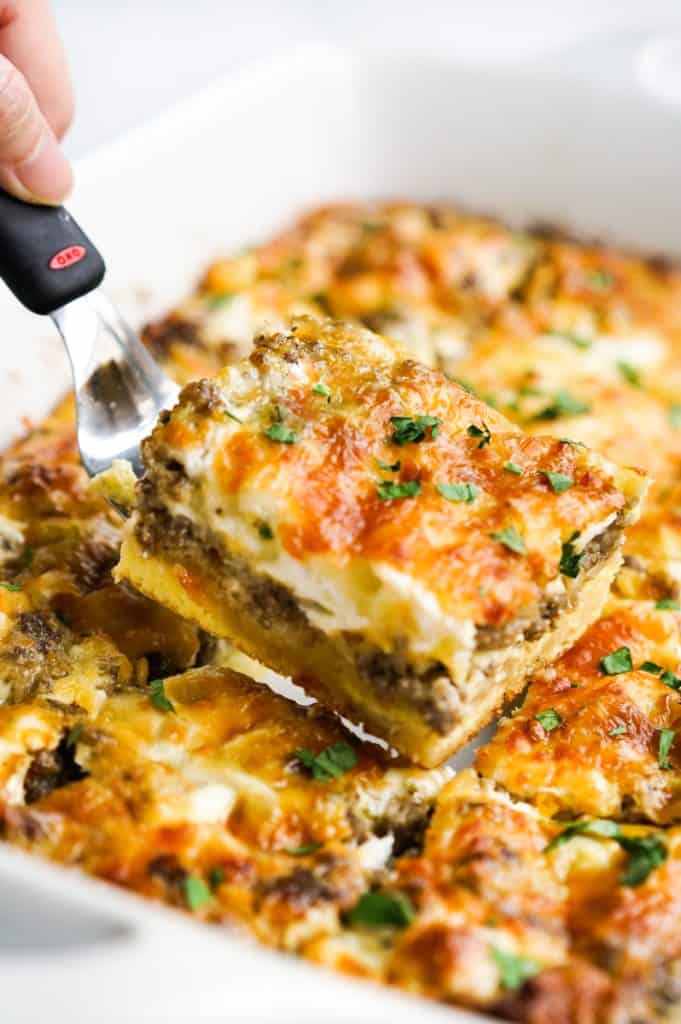 Frequently Asked Questions
Instead of sausage, what can I use?
You can use crumbled cooked bacon pieces, Canadian bacon or ham as well. If using Canadian bacon and ham, you do not have to cook those meats first, which will save even more time!
Why is my crescent roll breakfast casserole still gooey in the middle after 35 minutes?
Actual oven temperature can differ from what it is shown on the oven, and my oven is different from your oven, so cook times can vary. Try cooking for longer if needed.
The top of my casserole is browning before the insides are cooked, what do I do?
If the top is browning but the insides are still not cooked, consider covering your casserole dish with aluminum foil or move your oven racks lower.
How do I reheat this breakfast casserole?
If reheating the entire casserole, cover with aluminum foil and reheat in the oven for 20-30 minutes for 350℉ or until insides are warm. If reheating smaller pieces, I typically reheat in the microwave.
Can I freeze this?
Yes, this freeze well! Freeze in an airtight container, and bring to a complete defrost before reheating.
DID YOU ENJOY THIS RECIPE? Please comment below and give us a 5-star rating! This will help others find this recipe on Google and Pinterest. We very much appreciate your help! 🤍
More Delicious Breakfast and Brunch Recipes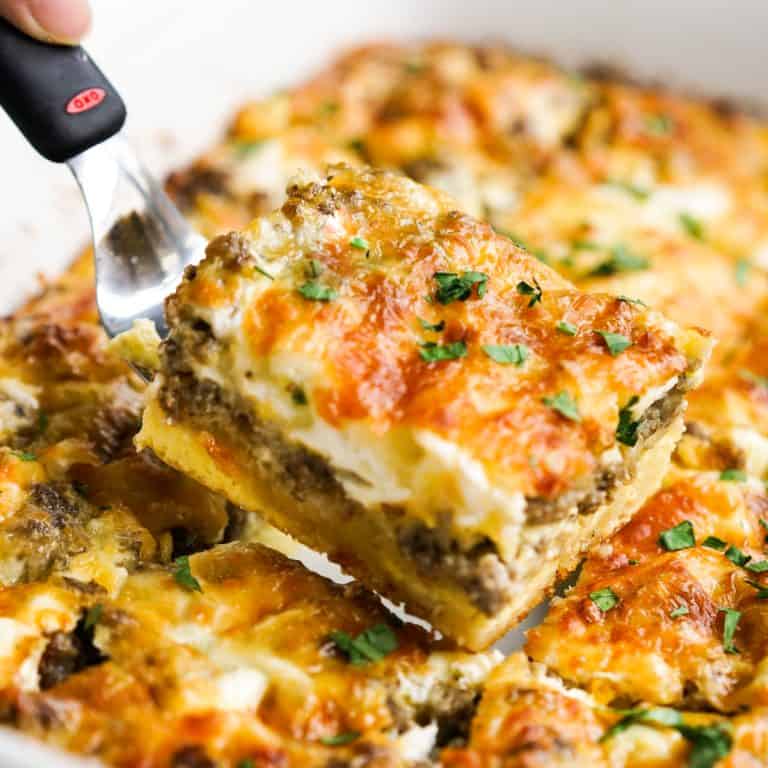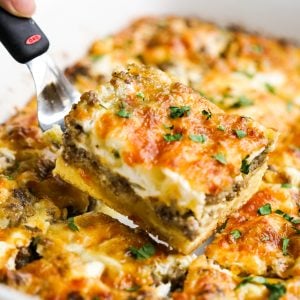 Crescent Roll Breakfast Casserole
This easy and yummy Crescent Roll Breakfast Casserole is oven baked along with layers of ground sausage, eggs and cheese. A yummy brunch recipe that is always a hit!
Print
Pin
Ingredients
8

oz

crescent roll

one tube

1

lbs

ground breakfast sausage

8

large eggs

1

cup

milk

1

tsp

garlic powder

1/2

tsp

salt

1/4

tsp

black pepper

2

cups

cheese

shredded mozzarella, Monterey jack, Colby jack, or cheddar

cooking oil spray
Instructions
Using a skillet, sear ground breakfast on the stovetop. Break sausage into small pieces. Once fully cooked, set aside.

In a large mixing bowl, whisk to combine eggs, milk, salt and black pepper.

Grease a 9'x13' casserole dish. Roll out crescent roll and place at the bottom of the dish.

Top crescent roll with ground sausage, then pour egg mixture over the sausage. Spread shredded cheese all over the top of the casserole.

Bake in the oven for 35 minutes.

Remove from the oven, and let it cool for 5 minutes. Slice and serve!
Nutrition
Calories:
315
kcal
|
Carbohydrates:
9
g
|
Protein:
15
g
|
Fat:
24
g
|
Saturated Fat:
10
g
|
Polyunsaturated Fat:
3
g
|
Monounsaturated Fat:
8
g
|
Trans Fat:
0.1
g
|
Cholesterol:
158
mg
|
Sodium:
658
mg
|
Potassium:
183
mg
|
Fiber:
0.03
g
|
Sugar:
3
g
|
Vitamin A:
409
IU
|
Vitamin C:
0.3
mg
|
Calcium:
178
mg
|
Iron:
1
mg