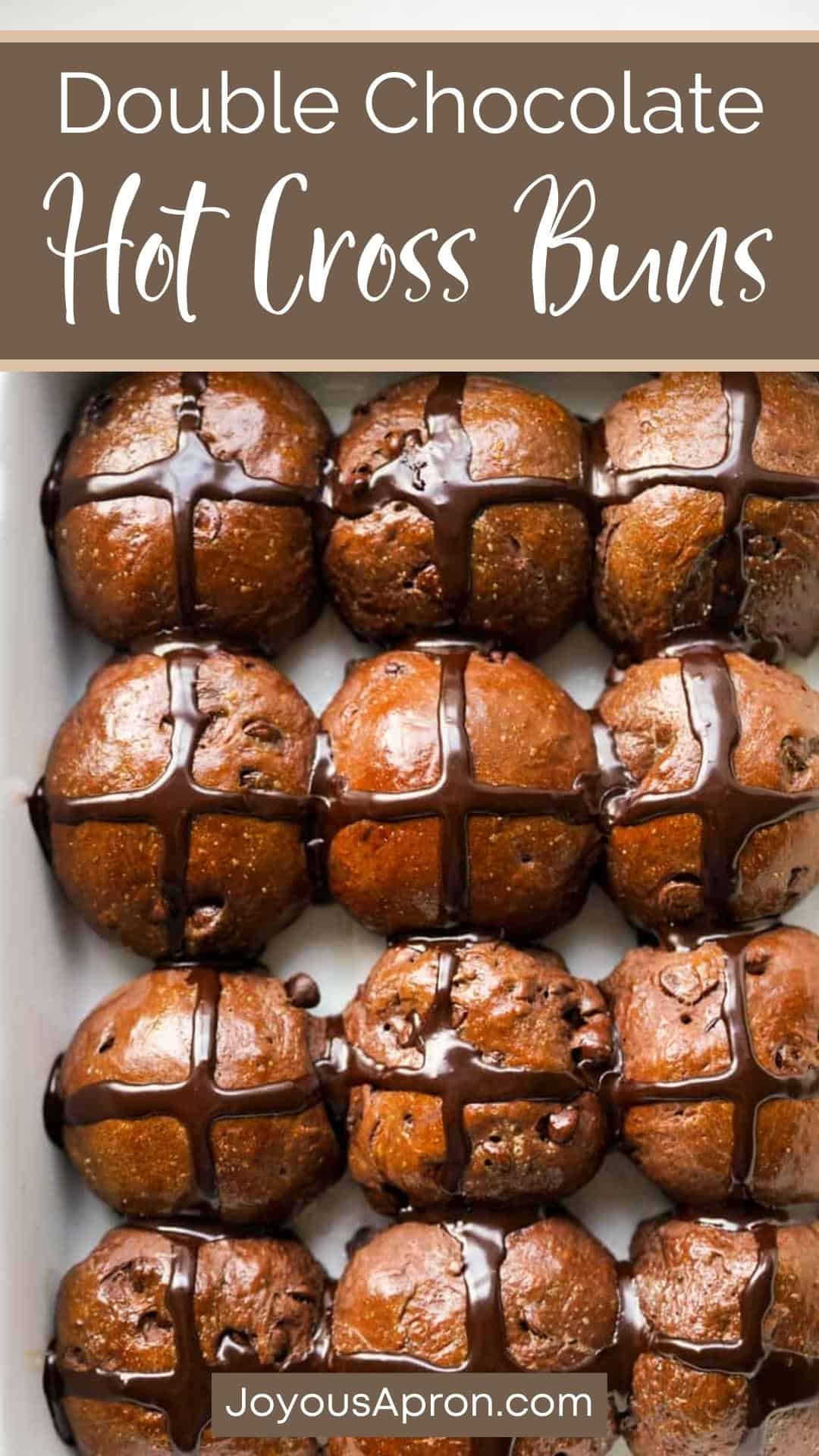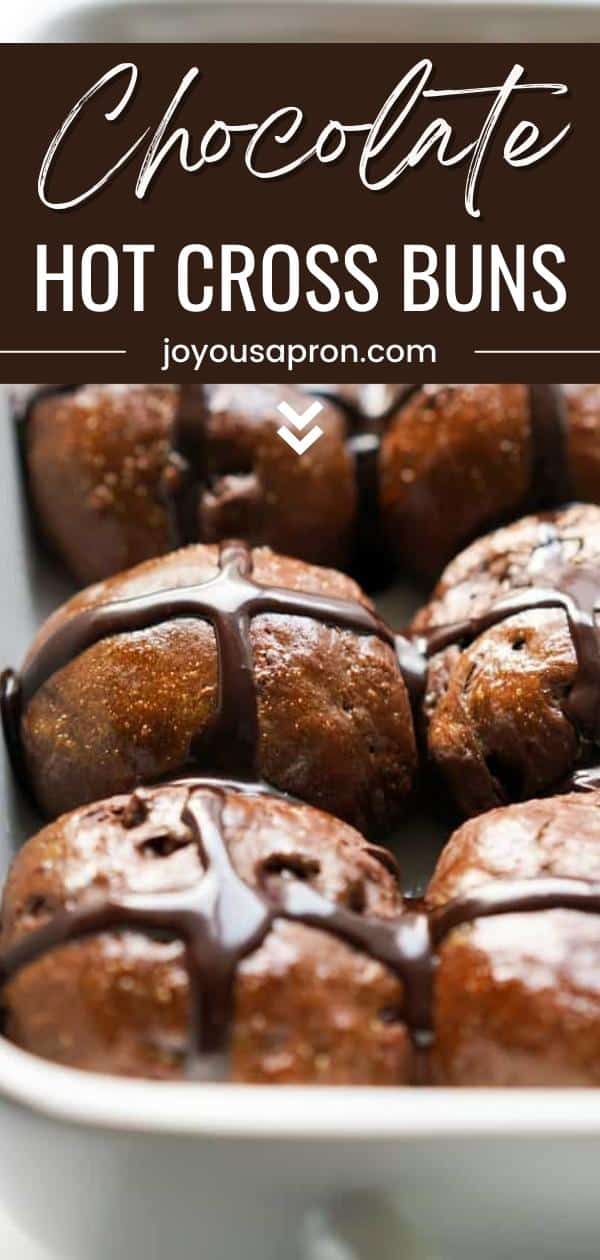 These Chocolate Hot Cross Buns are rich and decadent, loaded with chocolate chips, and the top is signed with a thick sweet icing cross. Taking the traditional spiced Easter hot cross buns to an even more exciting and yummy level!
Chocolate Hot Cross Buns maintain the same dense and rich texture as its more classic counterpart, are moist and soft, and has a hint of cinnamon in them.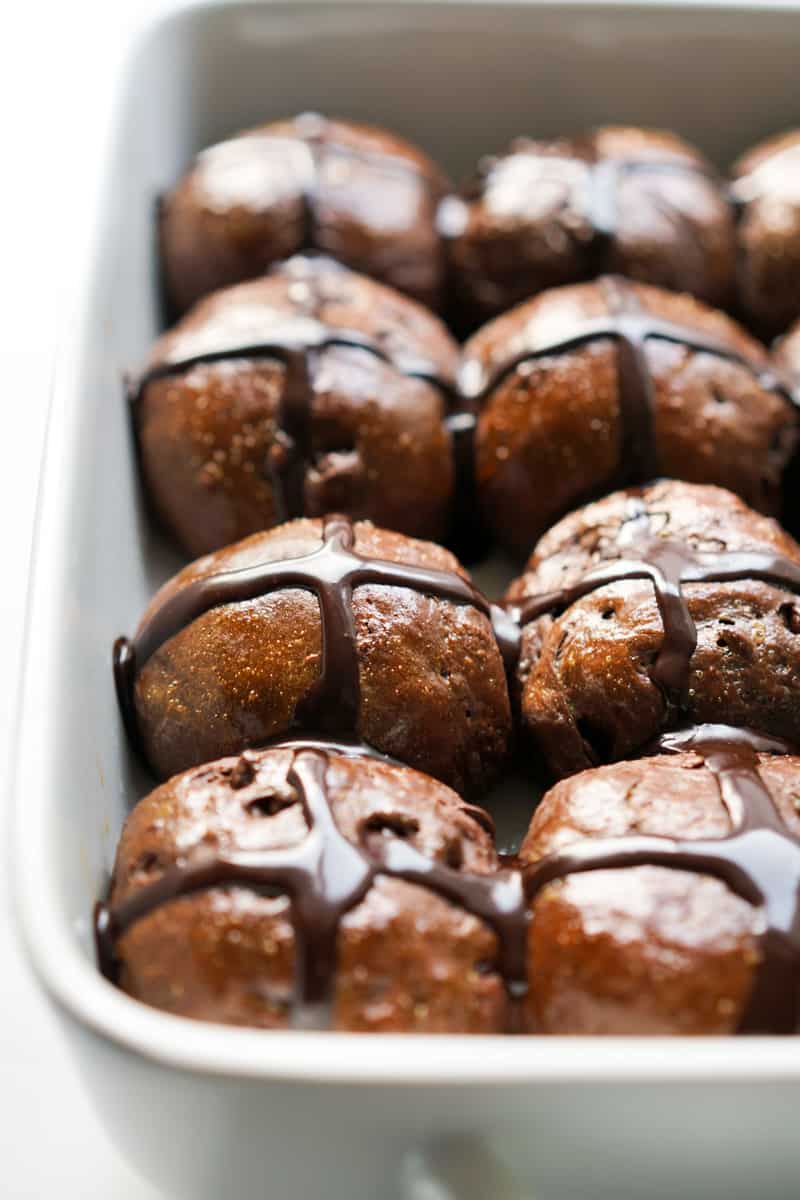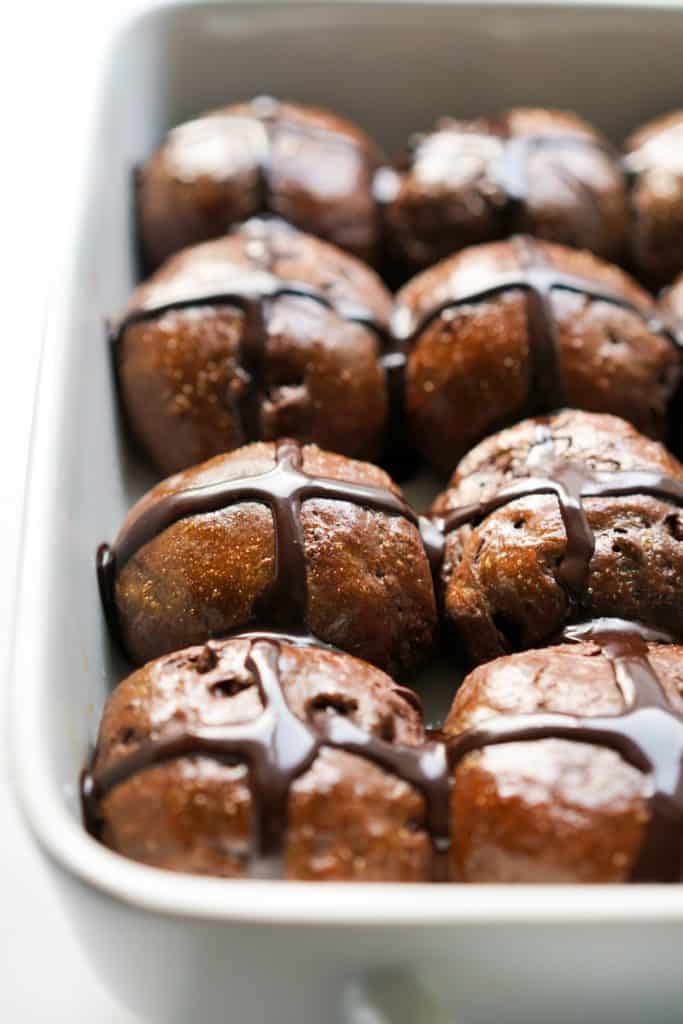 Looking for more fun bakes for Easter? Check out my Skillet Pineapple Upside Down Cake and Strawberry Shortcake Angel Food Cake recipes as well!
Chocolate Chocolate Chip Hot Cross Buns
As a chocolate lover, I was giddy excited at the thought of making chocolate hot cross buns, filled with rich chocolaty flavors and packed with chocolate chips.
Chocolate makes everything better, and it sure make these chocolate hot cross buns the best hot cross buns you'll ever tasted!
With Easter around the corner, I want to share a fun bake that comes from the childhood song 'Hot Cross Buns' that we all subconsciously know, and also symbolizes the celebration of the resurrection of Jesus Christ, the key foundation behind the Christian faith.
And I want to make it so delicious, so decadent, so chocolaty…because we love tasty foods here.
I started out wanting to make a simple chocolate flavored bread, and before I know it, it turned into an intense double chocolate hot cross bun. At this point it seriously tastes like dessert, and I am not sorry about it!
It is moist and soft, and every bite contains lots of gooey, warm melted chocolate chips.
You can serve with with some jam, butter, or honestly just eat it warm by itself (which is what we typically do).
Ingredients
My goal is to make an accessible chocolate hot cross buns recipe, without sacrificing taste. The ingredients called for are pantry-friendly, easy-to-find ingredients.
You will need two groups of ingredients, one for the yeast bread to make the buns, and one to make the crosses on top of the buns, which is basically a thick icing recipe.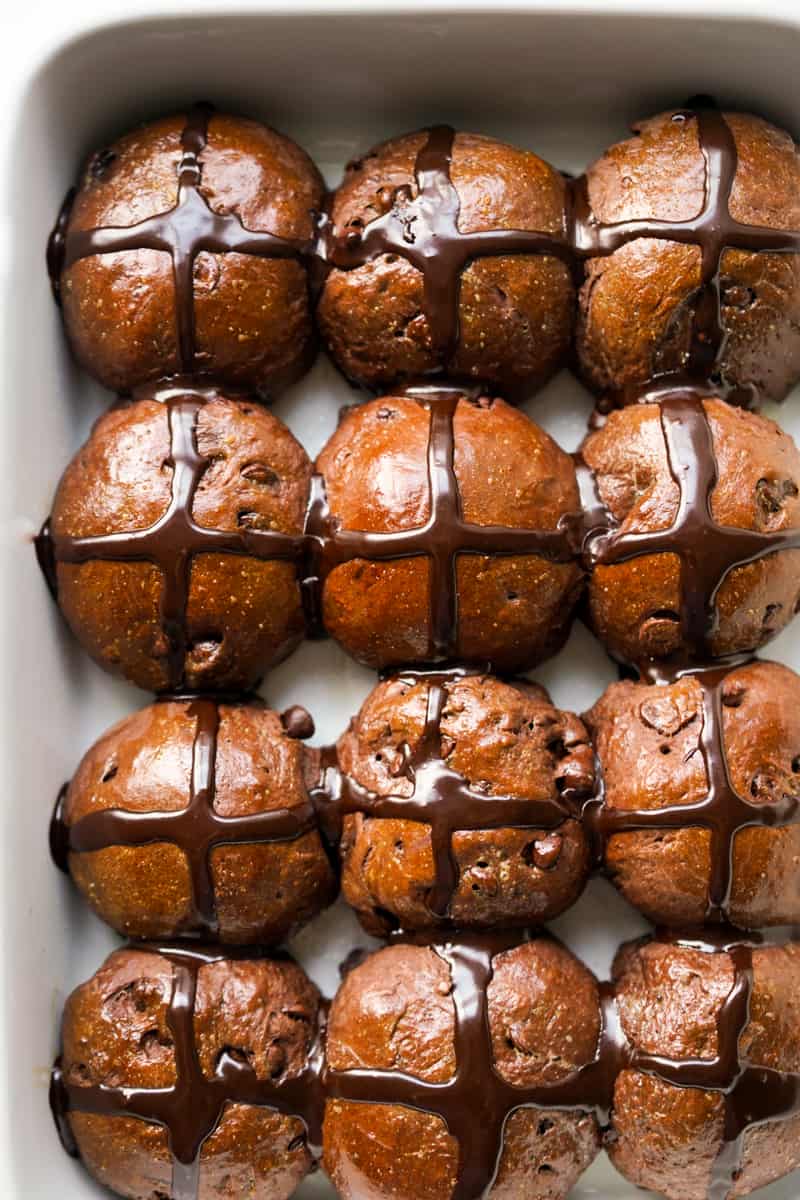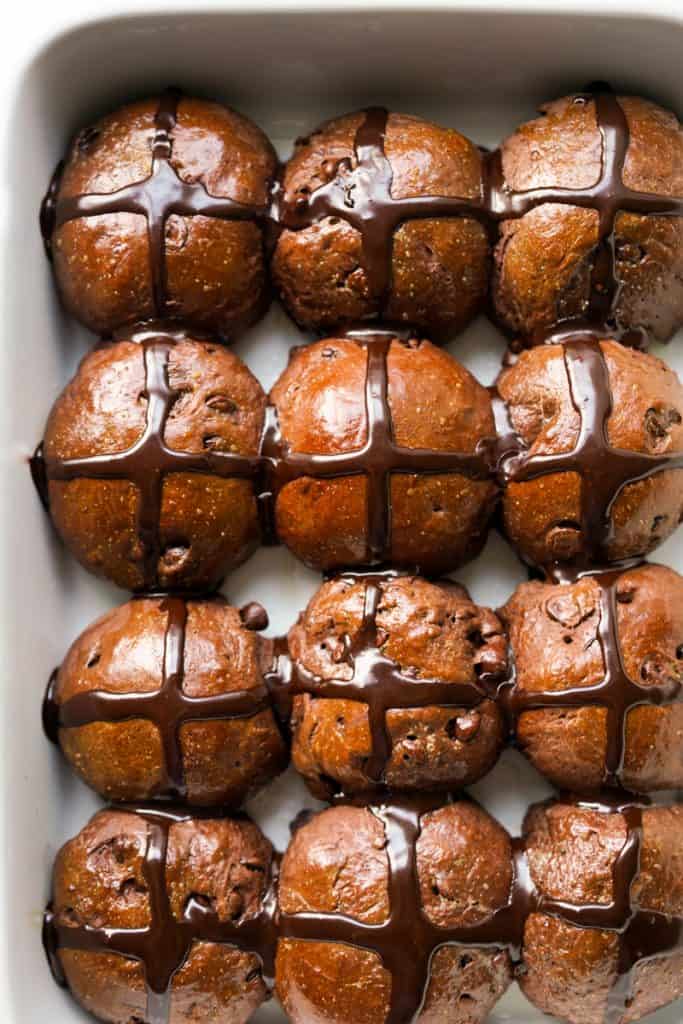 Ingredients for the bread:
Instant yeast – you can use active dry yeast as well, instant yeast is just a faster way to go about this. If using active dry yeast, let it sit in the warm milk a little longer so that it has time to rise.
Milk – I used 1%, you can also use 2% or whole milk or even fat free. Heat the milk to 95-110℉ in order to provide the yeast the best environment to activate. This is more important if using active dry yeast than instant yeast.
Granulated sugar
Vanilla extract
Egg
Melted unsalted butter – it's always better to used unsalted butter vs. salted butter for baking, so avoid the additional salt in salted butter.
Cinnamon powder – provided a hint of spice to the chocolate hot cross buns
Vanilla extract
All-purpose flour
Cocoa powder – this will be an unsweetened cocoa powder typically used for baking
Salt
Chocolate chips
Ingredients for the cross:
Powdered sugar
Cocoa powder
Milk
Vanilla extract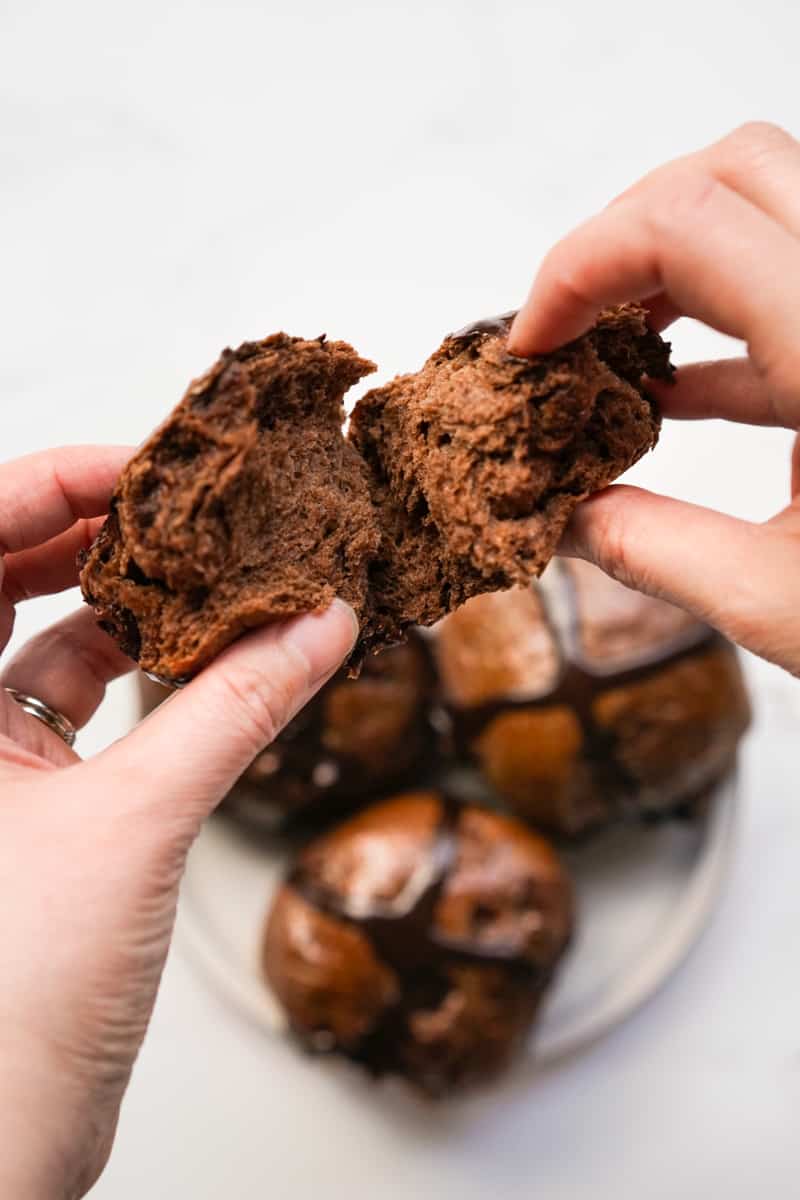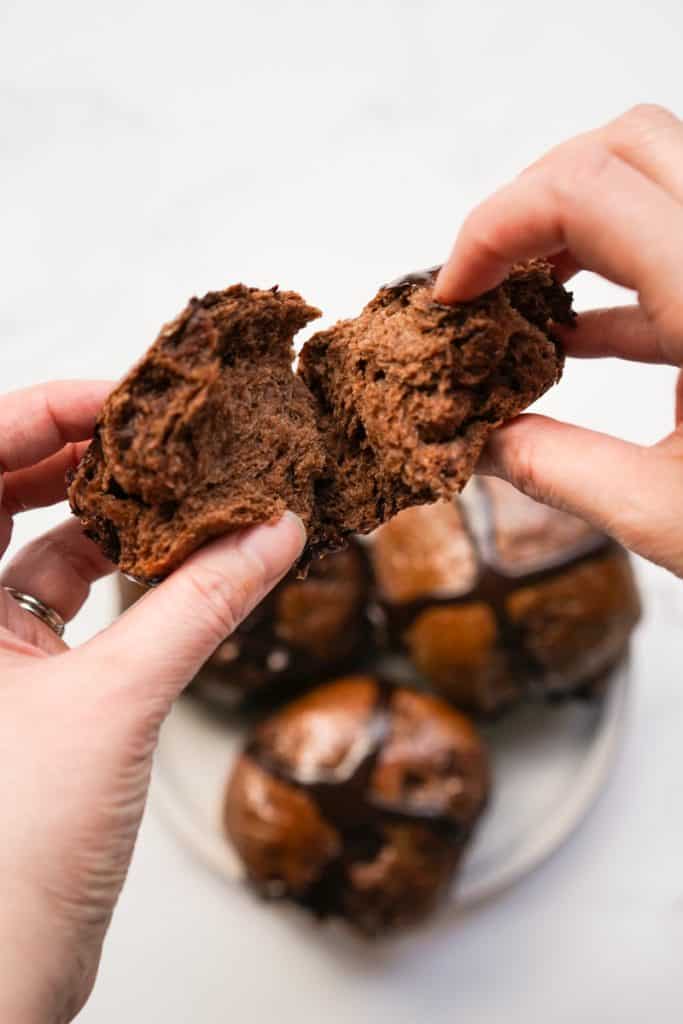 How to make chocolate hot cross buns
Making chocolate hot cross buns is very similar to making regular hot cross buns, just with an added chocolate component. Which is, in my opinion, makes them the best hot cross buns yet.
Making yeast breads
Our chocolate hot cross buns are considered yeast breads. Yeast breads may sound intimidating to make, but I promise you, it really is simple once you follow my steps and tips.
Being yeast breads, you will either need to knead the dough using a stand mixer with a dough hook, or knead it by hand.
Start by adding instant yeast, warm milk, sugar into the mixing bowl. If you are using active dry yeast, let it sit for a few minutes for the yeast to activate.
Then add vanilla extract, whisked egg, and melted butter.
Then we add the dry ingredients – flour, salt, cinnamon powder, and cocoa powder.
Using either your hands or the dough hook on a stand mixer, knead the dough.
Then fold in the chocolate chips and place the dough in a greased bowl. Cover with a clean towel and let it rise to about double its original size.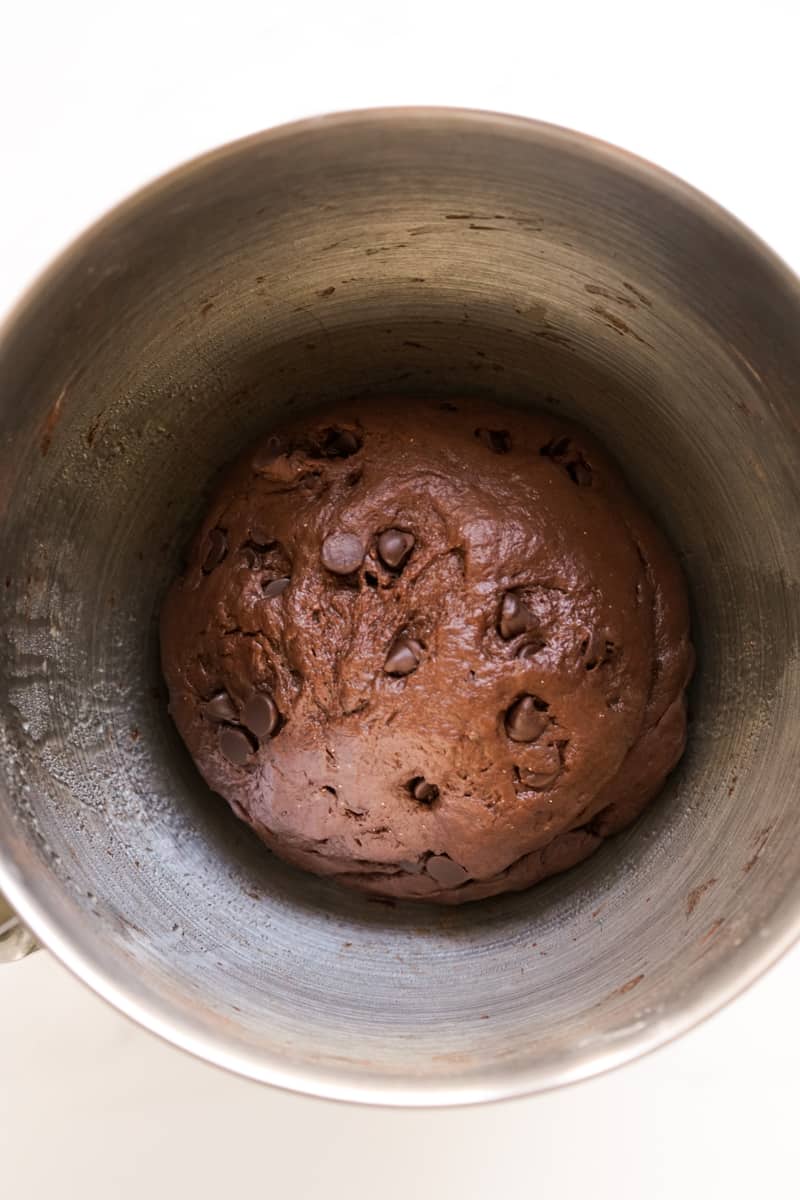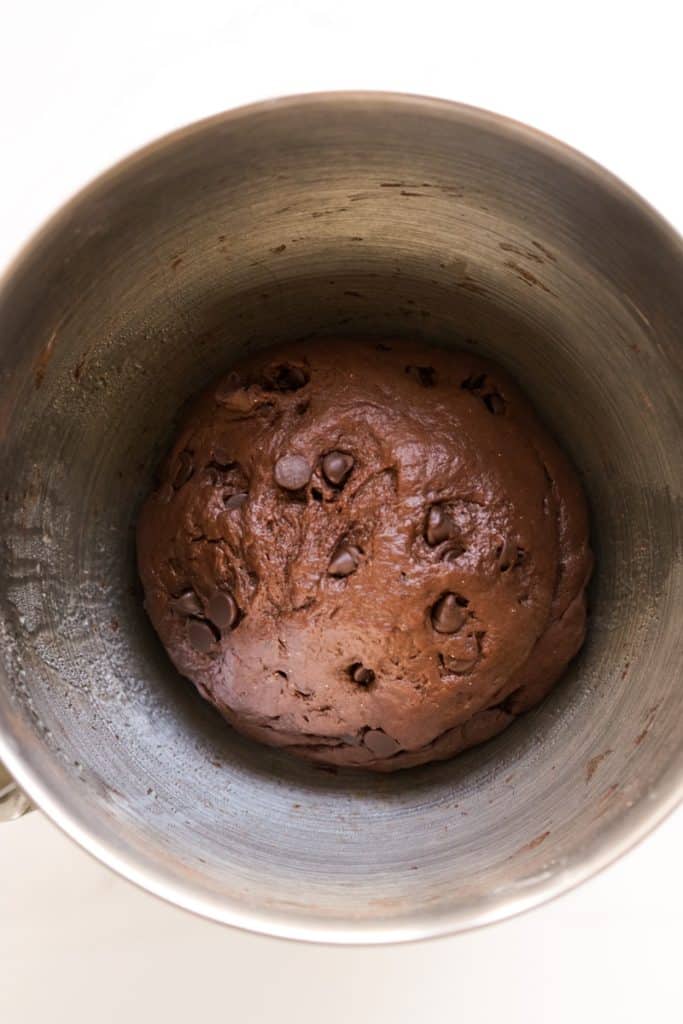 It should take about 1-2 hours for your dough to rise to about twice its original size.
Depending on the temperature in your home, humidity etc, you may need a longer or shorter rise time.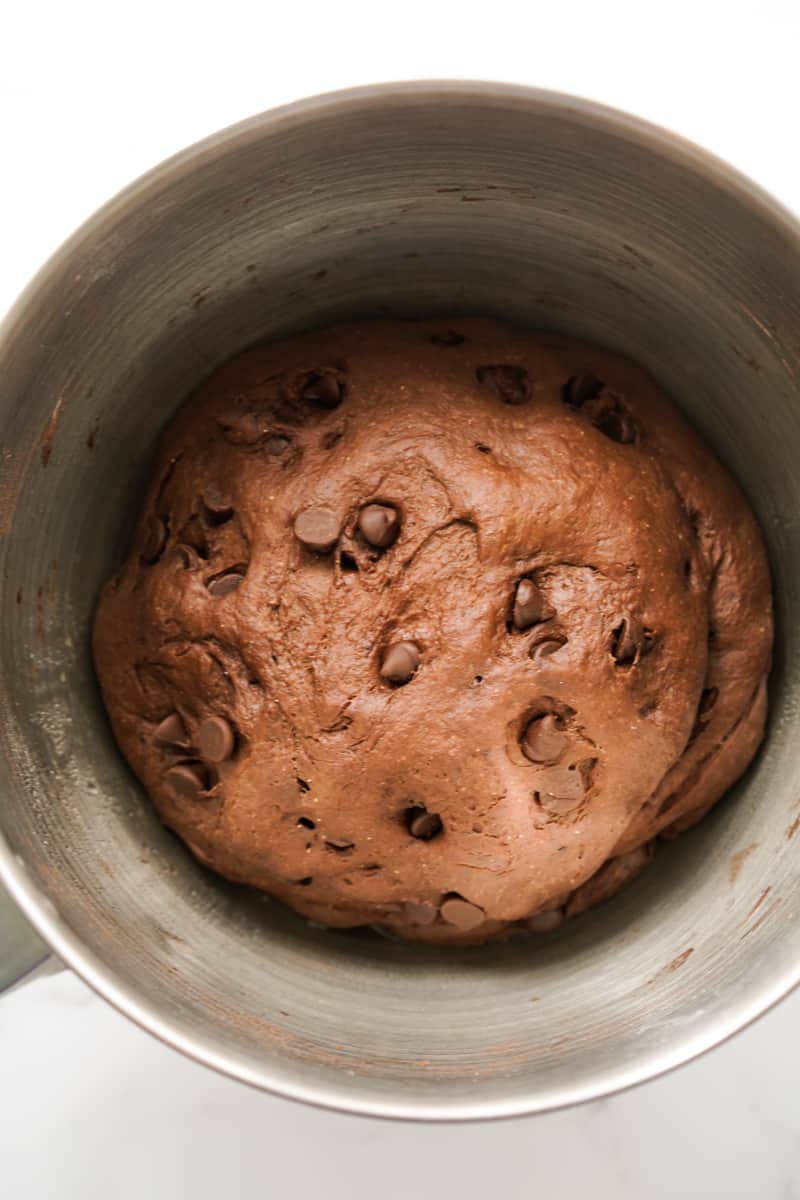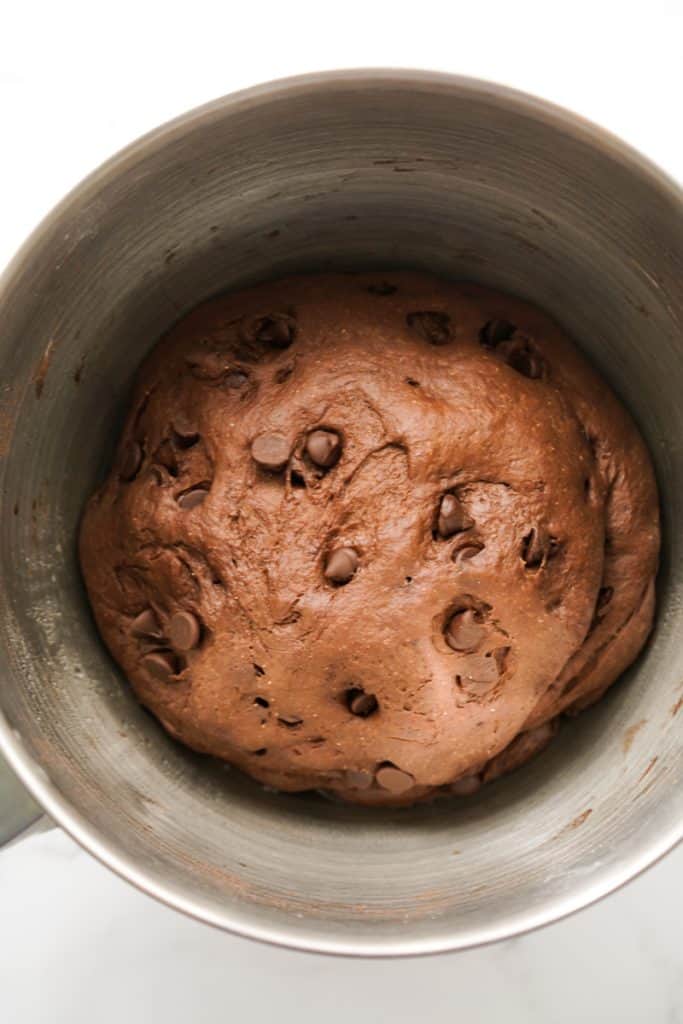 Punch the dough with your fist and watch it deflate slightly. Then remove dough and place it on a floured surface.
Next, we are going to divide the dough into 12 portions. I typically like to do it by slicing the dough into half, and then slice each of the halves into another halves, and then slice those out into three portions. I do this using a pastry cutter.
When you have 12 separate portion, roll them out into 12 balls. Try to keep them about the same size.
Place those 12 chocolate chocolate chip dough balls on a greased 9'x13′ baking dish.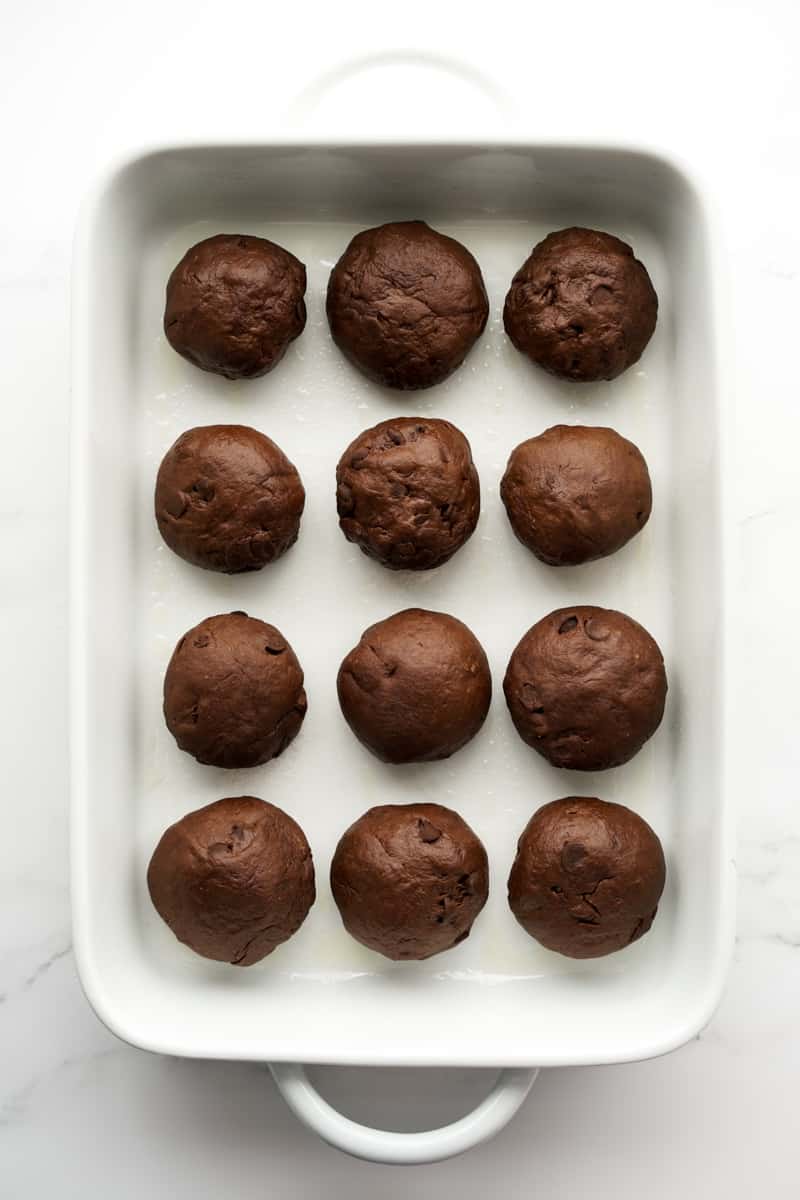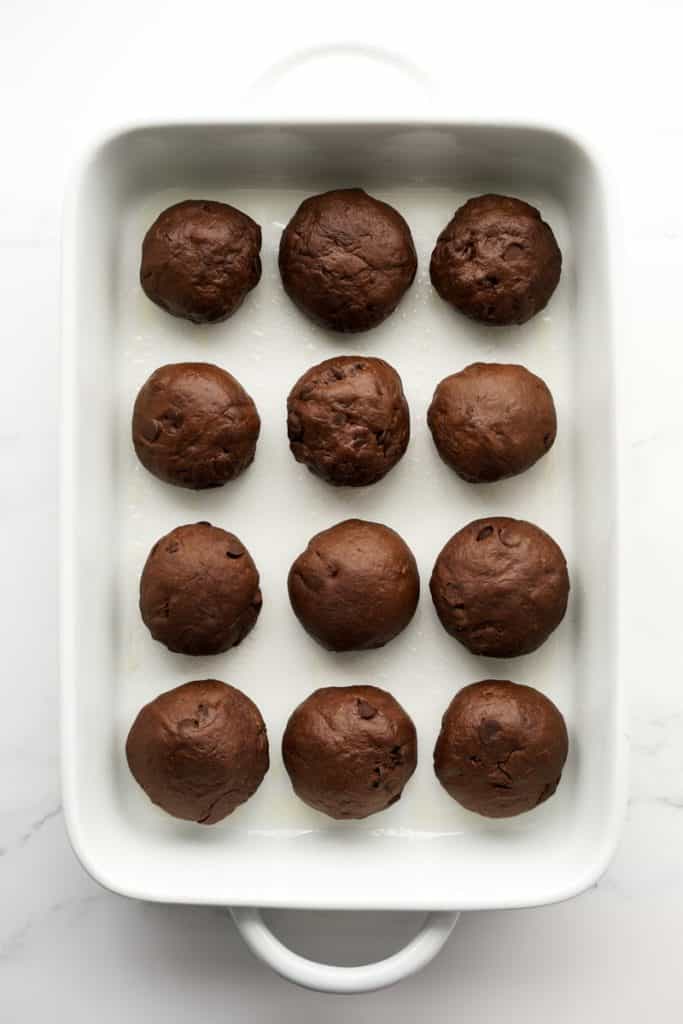 Cover with a towel and let it rise for another 1 hour.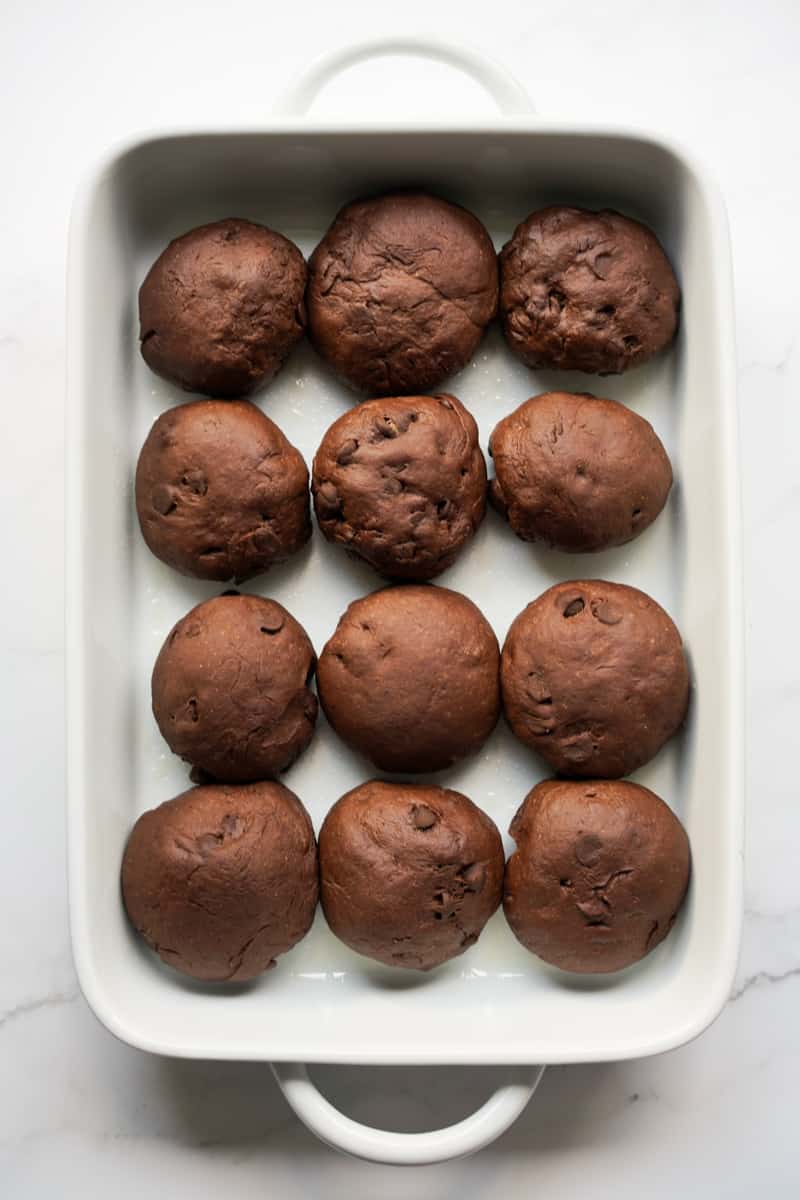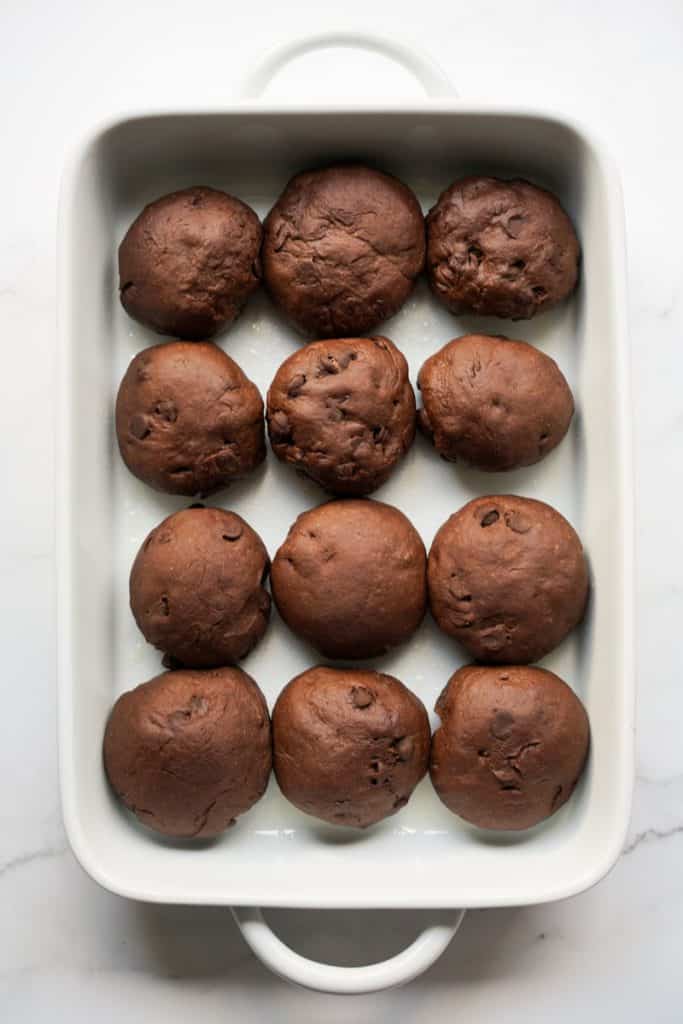 Top brush the buns with an egg wash, then bake in the oven at 350℉ for 25 minutes.
Making icing for the cross
For the crosses on our chocolate hot cross buns, we are going to draw it after our chocolate buns are baked and cool. Note: do not draw crosses on it right off the oven! The cross will melt and smear.
I am making a thick and rich chocolate icing and drawing them on top of the chocolate hot cross buns.
Sometimes the crosses are baked into the buns, but I kinda like sweet and creamy chocolate icing on top of the buns because it brings an added layer of sweetness and rich chocolate flavor to the chocolate buns.
I warned you I was in a chocolaty mood, and we are going all out on the chocolate on these chocolate hot cross buns!
While waiting for the chocolate buns to bake, whisk together powdered sugar, cocoa powder, vanilla extract and milk. The icing should be fairly thick so it may need a bit of wrist work to whisk it up. You can add an additional drip or two of milk but try not to overdo it because we don't want the crosses to be too runny.
To draw out crosses on top of the buns, you can use
my makeshift ziplock bag method where you snip one of the corner of a ziplock and push the icing through it to draw out the crosses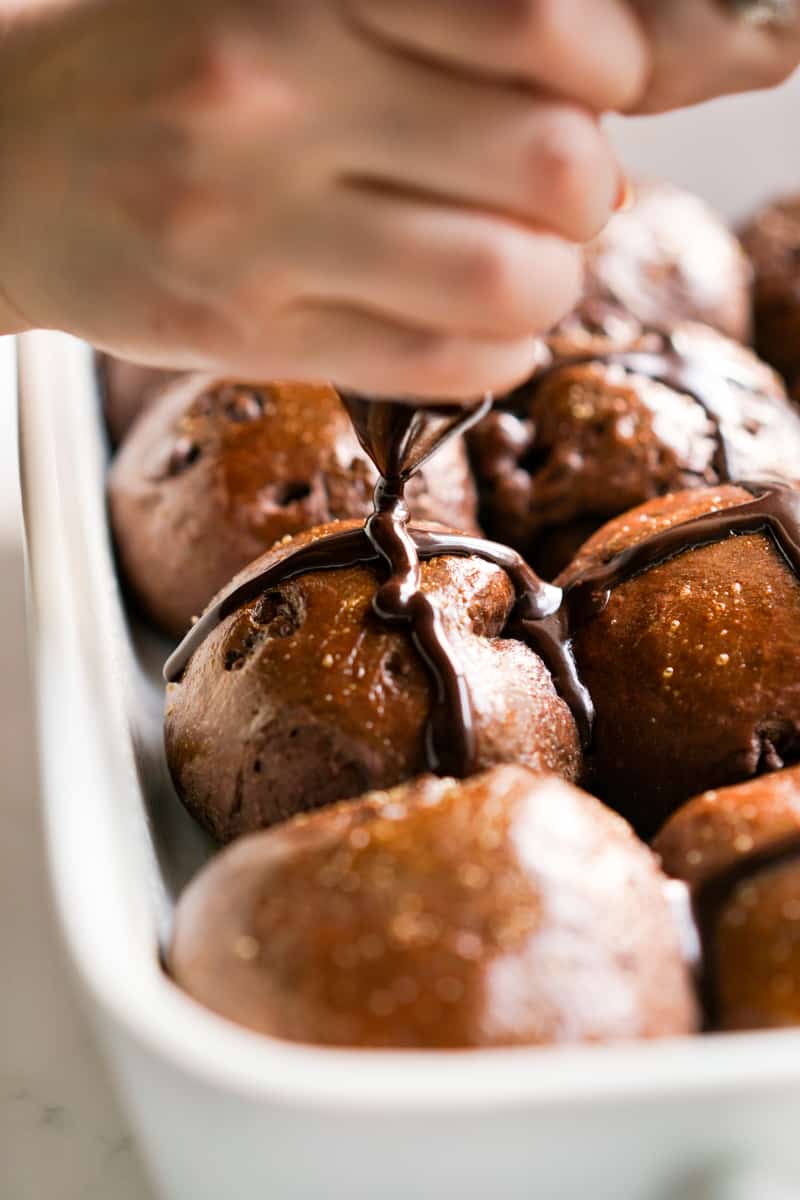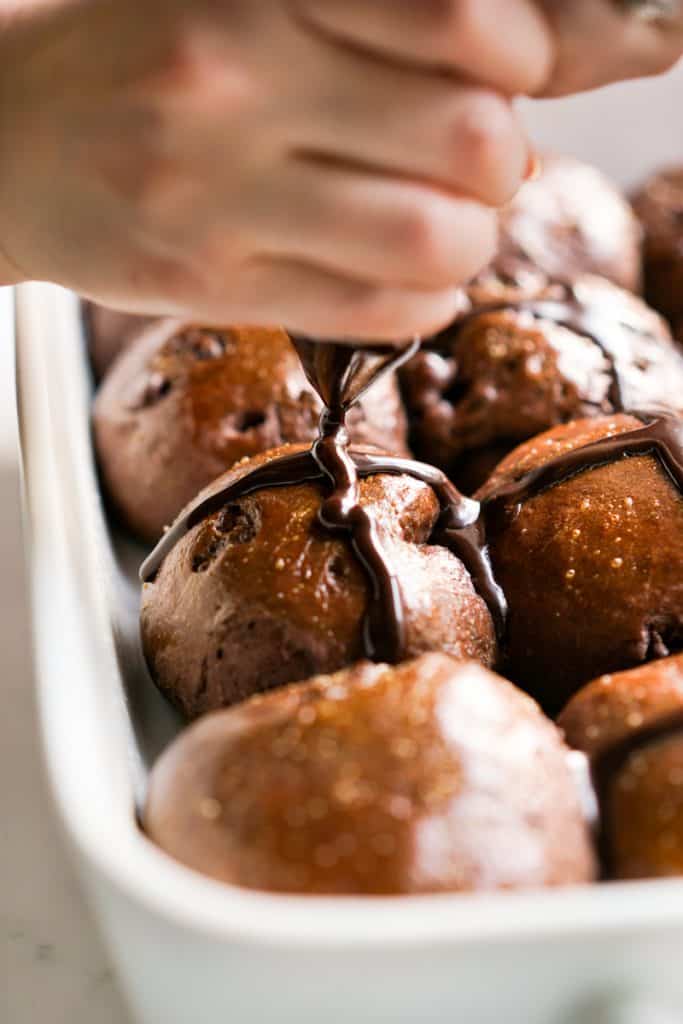 Let your chocolate hot cross buns sit for a few minutes so the icing sets before serving.
Serve your chocolate hot cross buns warm, in room temperature, with some jelly or butter, or by itself!
Such a delicious chocolaty treat for Easter Sunday!
Tips and tricks
A few things to note when making chocolate hot cross buns:
The ideal temperature to activate yeast is 100°–110°F, so warm your milk to that temperature when combining with yeast when preparing dough.
Measurements for bread-baking ingredients can vary base on the space you are in. When making the dough for the bread, adjust accordingly. Add more flour if you need your dough dryer, add more milk if you need your dough wetter. Dough should not stick to your fingers when you press on it, but it shouldn't be dry either.
Time needed for proofing your dough can also vary. You may need a longer time for your dough to rise to the right size. Adjust accordingly as well!
Make sure to grease your casserole dish before placing dough balls on it!
Wait until your chocolate buns come to a cool before drawing crosses on it.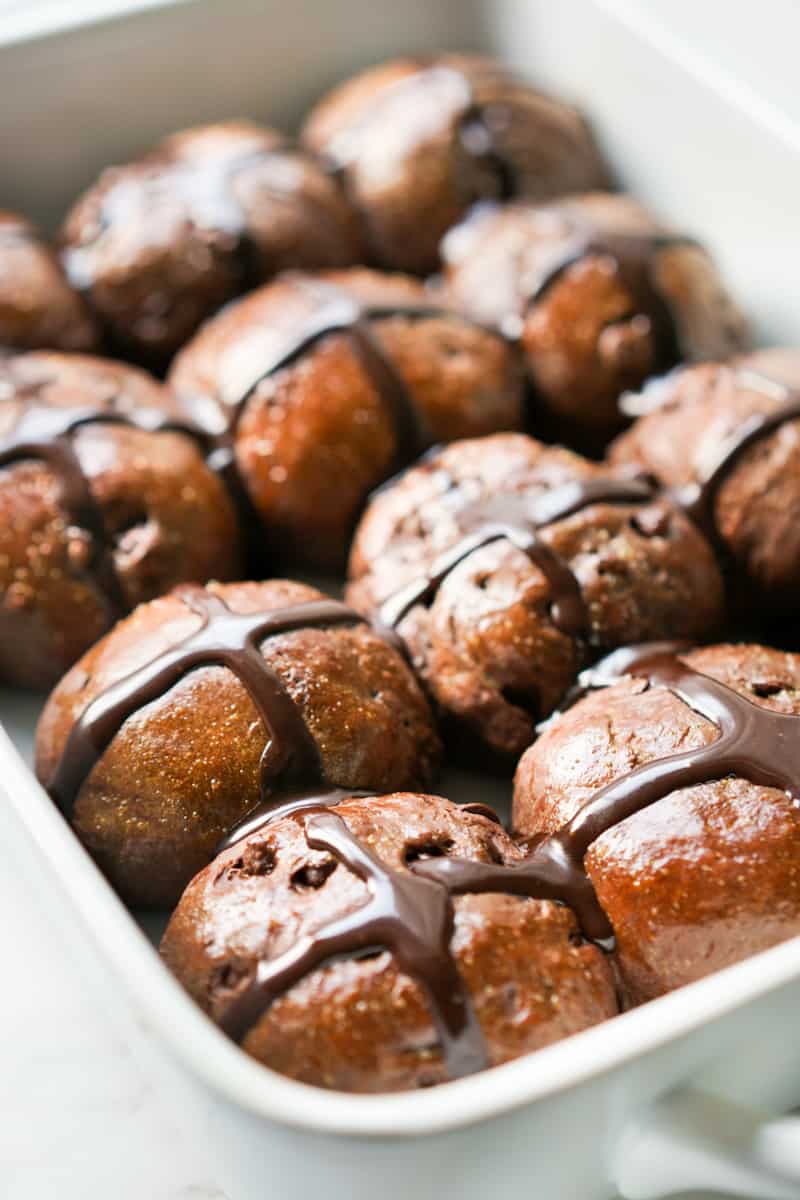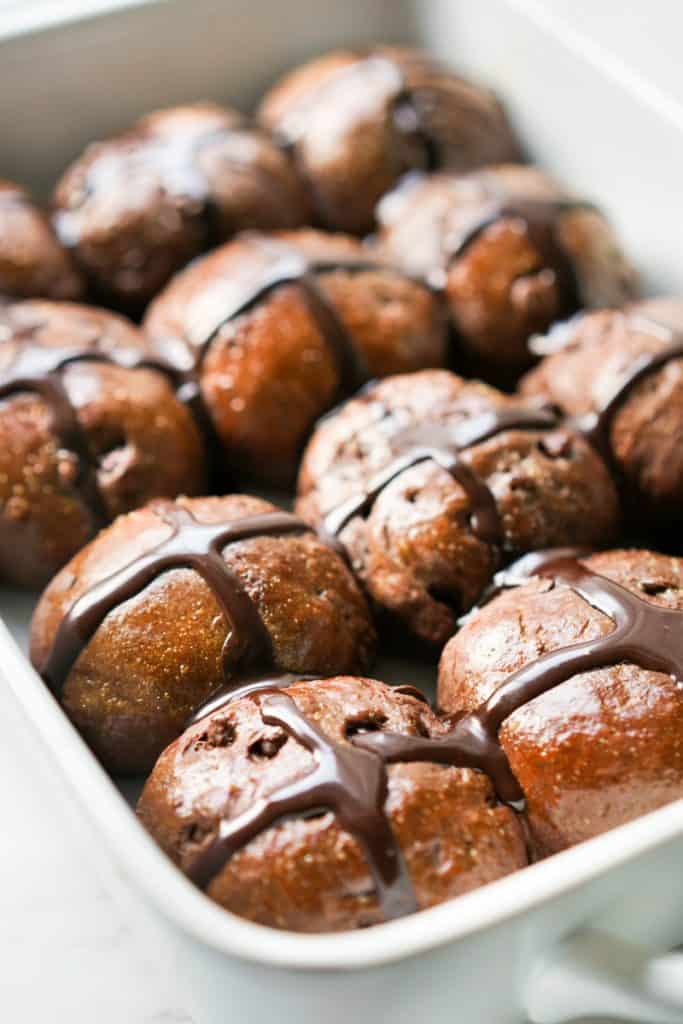 Frequently Asked Questions
How do I store chocolate hot cross buns?
You can leave them out for a few hours after baking. After that, store in an air tight container in the refrigerator for up to 7 days.
Can I draw crosses and then bake the hot cross buns in the oven?
You cannot do that with this icing because it will melt in the oven and the crosses will smear when expose to high heat.
Can I freeze this?
Yes, you should be able to. However, they taste best fresh.
More Bread Recipes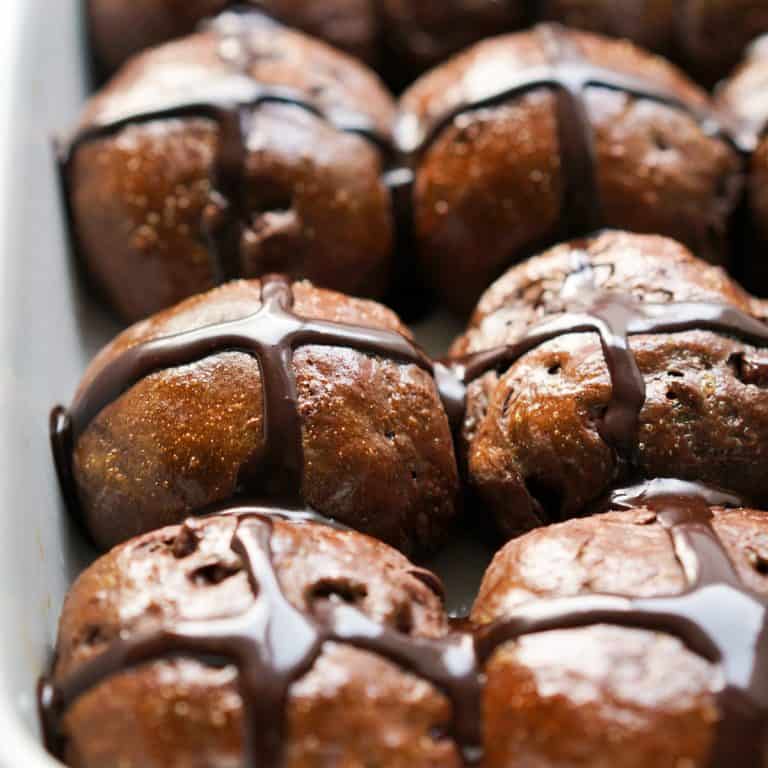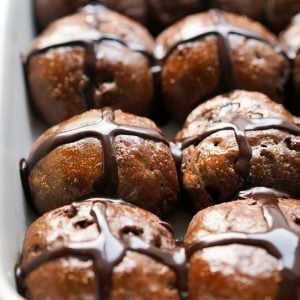 Chocolate Hot Cross Buns
Rich and decadent Chocolate Hot Cross Buns is loaded with chocolate flavors and chocolate chips. A unique twist to the Easter classic!
Print
Pin
Ingredients
2

tsp

instant yeast

1

cup

milk

warm (100°–110°F)

1/2

cup

granulated sugar

2

large eggs

6

tbsp

butter

melted

2

tsp

vanilla extract

3

cups

all-purpose flour

more if needed

1/3

cup

cocoa powder

1

tsp

ground cinnamon

1/2

tsp

salt

1

cup

semi sweet chocolate chips
Icing for cross
1

cup

powdered sugar

1/4

cup

cocoa powder

1/4

tsp

vanilla extract

2

tbsp

milk

more if needed
Instructions
In a large mixing bowl (bowl of the stand mixer), combine instant yeast, warm milk and sugar. Stir to combine and let it sit for a few minutes. Bubbles should appear at the surface. (See Note 1)

In a small bowl, whisk 1 egg (save the other egg for later), and pour into large mixing bowl with yeast mixture. Then add melted butter and vanilla extract to the large mixing bowl. Stir to combine.

Attach dough hook to stand mixer and place bowl on stand mixer. Add flour, cinnamon powder, cocoa powder and salt to mixture. Knead dough. (See Note 2)

Press a finger onto the dough to make a small indention, dough should not stick to finger, but it shouldn't be dry either. If it sticks to your finger, you want to add a little bit more flour. Do not add too much flour so that your dough isn't too dry.

Transfer dough to flat floured surface. Flatten it and sprinkle chocolate chips on dough. Knead dough to fold in chocolate chips.

Form dough into a large ball and place on a greased large mixing bowl. Cover and let it rise for 1-2 hours, or until dough doubles its original size.

Punch dough to release the air. Transfer dough to floured surface and slice dough into 12 equal pieces (start by slicing it into half, and slice each halves into halves…and keep going until you get 12 pieces)

Roll each piece into a small ball, and line them up on a greased 9'x13' baking dish.

Cover and let dough balls rise for 1 hour.

Crack and whisk the other egg into a small bowl, and brush the tops of the buns with egg wash.

Remove from oven and let the chocolate buns rest so that it comes to a complete cool (30 minutes to an hour).

Combine all the ingredients for the icing in a medium mixing bowl. Add additional few drops of milk at a time if needed – be careful not to add too much. If icing isn't thick, the crosses will smear.

Transfer icing into a piping tube (or a zip lock bag with one of the corners snipped), and draw crosses on top of the chocolate buns.
Notes
Note 1:

If using active dry yeast, let it sit for at 10-15 minutes.
Note 2: Instructions are written for kneading dough using a stand mixer with a dough hook. Kneading can be done by hand as well.
Nutrition
Calories:
365
kcal
|
Carbohydrates:
55
g
|
Protein:
8
g
|
Fat:
14
g
|
Saturated Fat:
8
g
|
Polyunsaturated Fat:
1
g
|
Monounsaturated Fat:
4
g
|
Trans Fat:
0.2
g
|
Cholesterol:
46
mg
|
Sodium:
68
mg
|
Potassium:
249
mg
|
Fiber:
4
g
|
Sugar:
25
g
|
Vitamin A:
260
IU
|
Vitamin C:
0.01
mg
|
Calcium:
56
mg
|
Iron:
3
mg