Cinnamon Rolls with Apple Pie Filling
I am living my best life over here indulging in these Cinnamon Rolls with Apple Pie Filling…and you should too. These warm, fluffy, soft cinnamon rolls are loaded with juicy apple slices, cinnamon brown sugar filling, topped with sticky sweet glaze.
It is exactly what the name says it is. Think of the best soft delicious cinnamon rolls stuffed with gooey apple pie filling. Cinnamon rolls meet apple pie. SUCH A DREAM.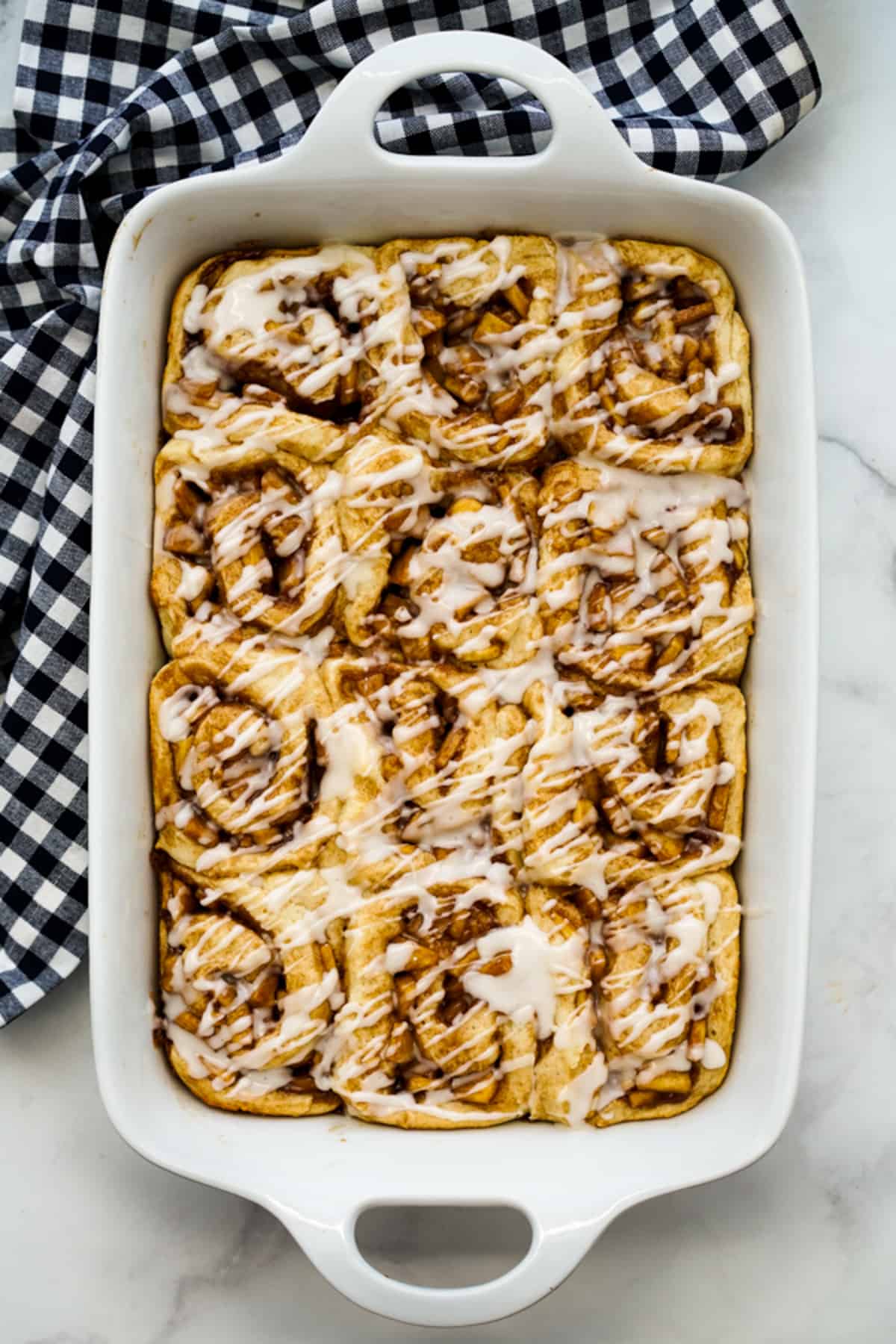 I'm convinced heaven is filled with these cinnamon rolls filled with apple pie filling. Just one after another dropping from the sky freely and endlessly…
You can eat them every moment every day and never gain an extra pound.
Apple Pie Filling Cinnamon Rolls
I love cinnamon rolls. Always have. Always will.
I didn't think it's possible, but I think I love these Cinnamon Rolls with Apple Pie Filling even more.
The gooey, sticky apple filling taste exactly like what it says it is: the caramel apple filling you find in an apple pie. Except that instead of being sandwiched between two pie crusts, it is now rolls into these soft, fluffy sweet bread rolls.
Recipe testing these Apple Pie Cinnamon Rolls were fun, but it took a whole lot of trails. The trickiest part for me was to perfect the consistency of the apple pie filling. We want the filling to be just thick enough yet not too watery. It should be rolled along with dough fairly easily, yet we do not want it too dry.
These cinnamon rolls with apple pie filling are made with my tried and true sweet rolls recipe with a slight tweak, very similar to the rolls from my Cinnamon Raisin Rolls recipe.
The bottom line is this. This is my favorite cinnamon rolls to date.
Cinnamon rolls with apple pie filling is indeed true gift to mankind…and beyond.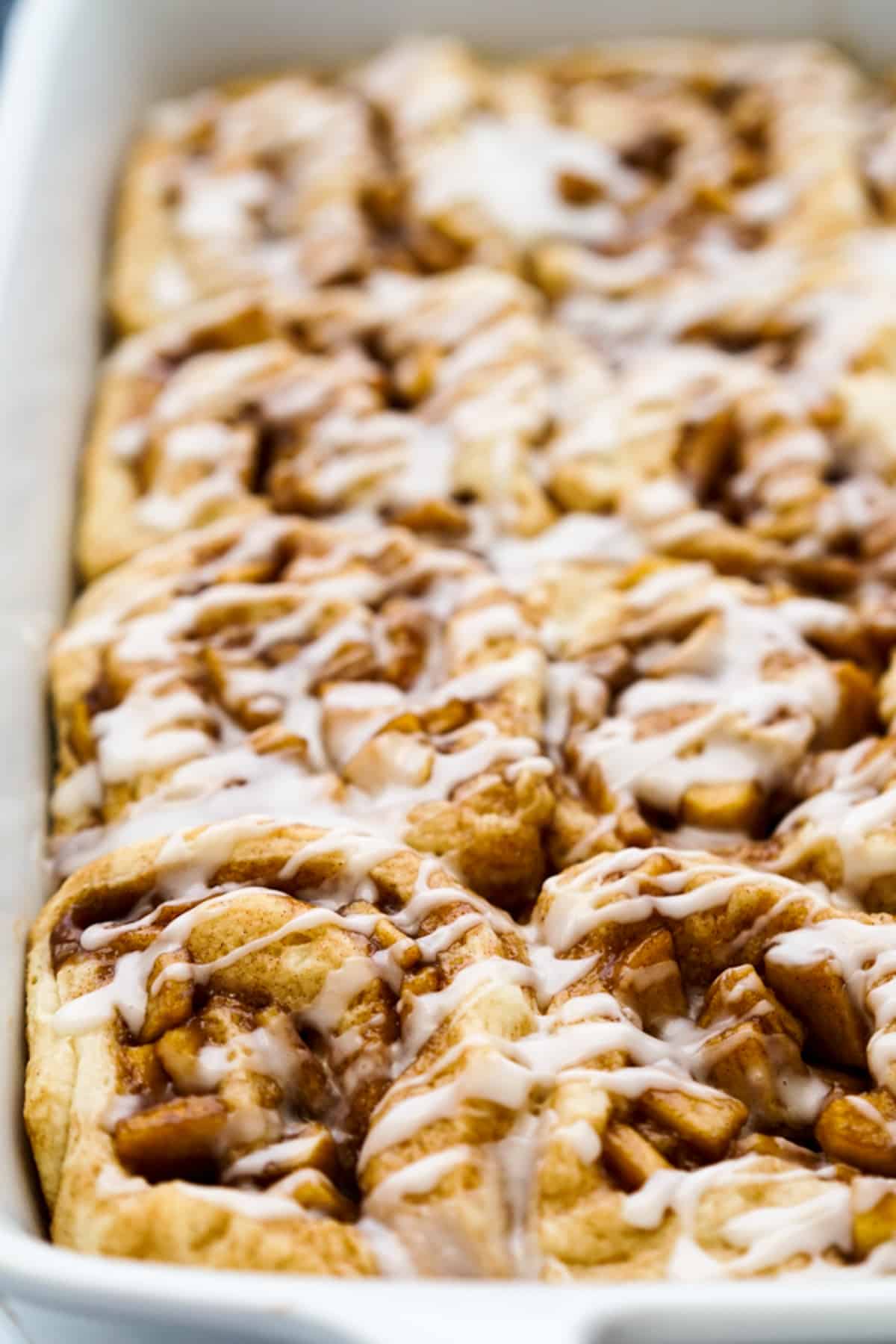 Ingredients
Here are the ingredients you will need to make apple pie filling cinnamon rolls:
Rolls
2% milk
unsalted butter
large egg
all purpose flour
sugar
salt
instant yeast
Apple Pie Filling
Apples – make sure they are in thinly sliced, smaller pieces so that they cook and soften easily.
Brown sugar
Ground cinnamon
Vanilla extract
Butter
All purpose flour – so that apple pie filling is nice and thick
A pinch of salt – to open up the flavors!
How to Make Cinnamon Roll with Apple Pie Filling
Make the yeast dough
To make these cinnamon rolls with apple pie filling, let's start with the dough. This is a sweet yeast bread roll that uses instant yeast.
Yeast sounds intimidating, but let me assure you, it really isn't! I used to be afraid of any recipe that calls for yeast and avoided them, but I quickly realize that with a little guidance and instructions, there's nothing to it!
I used my stand mixer and the dough hook to knead the dough (my stand mixer is my favorite kitchen equipment), but you can knead with your hands if you do not have a stand mixer.
Heat milk and butter to around 90-100℉ but stay below 100℉ to avoid killing the yeast (yeast will be added to this liquid later). Mix together milk and butter then beat up an egg and add it to the mixture.
Ideally, let egg sit out from the refrigerator for a little while before using it. Eggs shouldn't be too cold because when cold eggs meets the warm liquid it may turned into scrambled instead of being incorporated into the warm liquid.
Once the wet mixture is combined, add in dry ingredients (flour, sugar, salt, and instant yeast) and knead the dough using the stand mixer or hands.
Then let cinnamon roll dough rise for an hour and it should be almost double in size!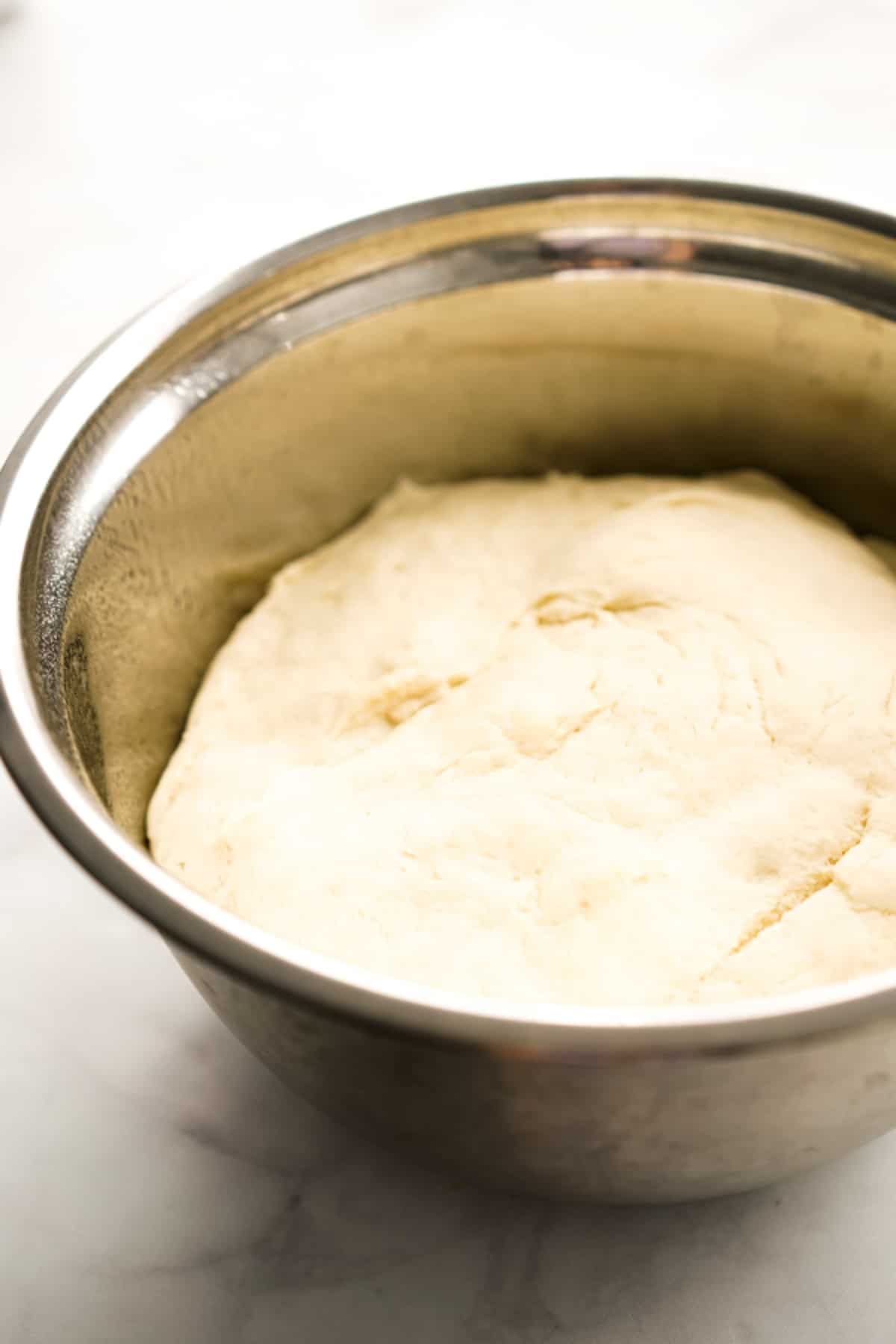 Punch the dough with fist to release air inside it.
Then remove dough from bowl and roll it out on a floured surface using a rolling pin into a ~15″x12″ rectangle.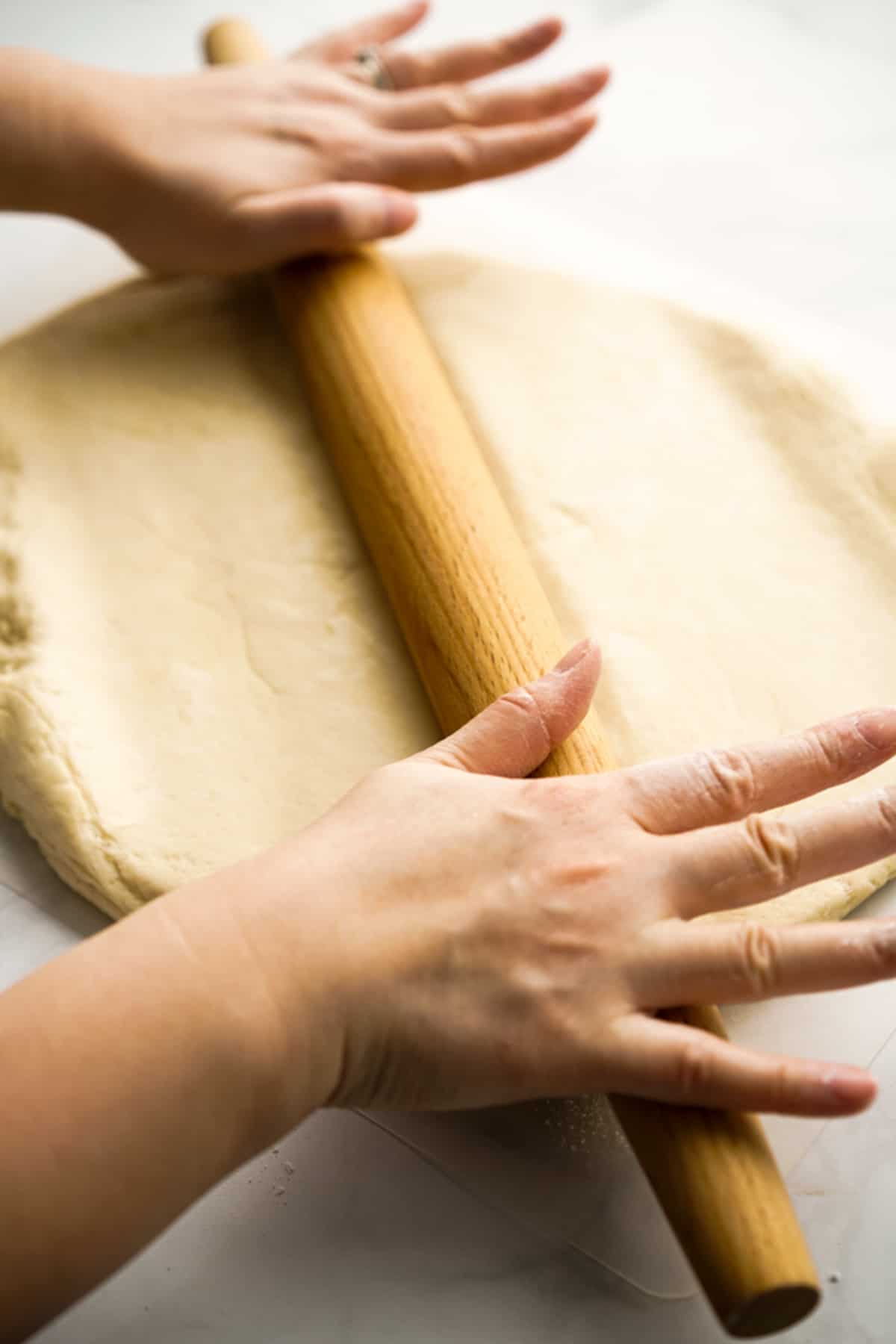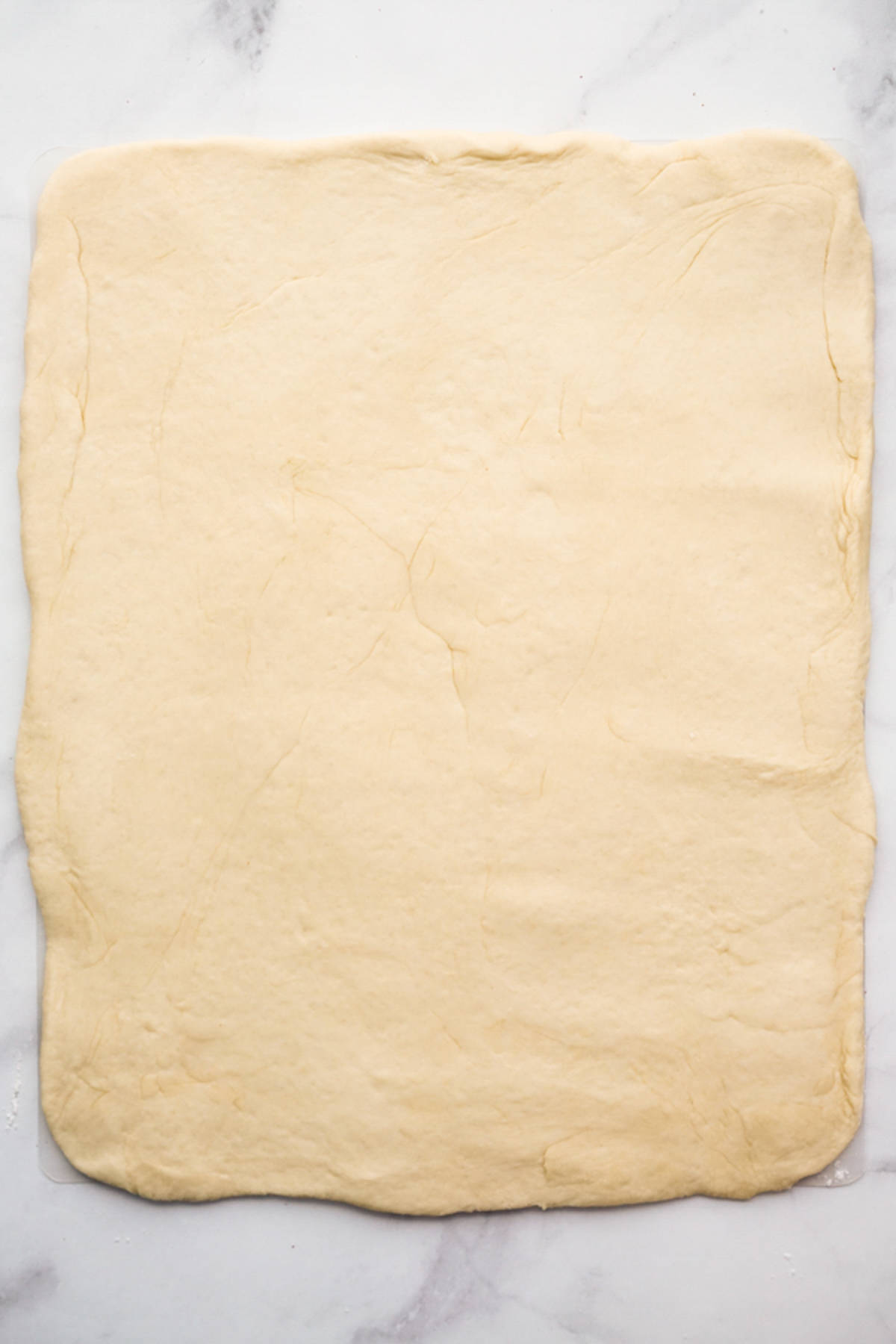 Apple Pie Filling
We can't have Apple Pie Cinnamon Rolls without the apple pie filling! And who am I kidding, it's definitely my favorite part.
I typically start cooking the apple pie filling once I let the dough rise. I like to get started as soon as possible because the apple pie filling needs time to cool before rolling them into the rolls to avoid turning your Cinnamon Rolls with Apple Pie Filling into a gooey hot (pun intended) mess.
To make the apple pie filling, melt butter in a put, and then bring together apple slices, brown sugar, cinnamon, vanilla extract, flour and a pinch of salt. Boil until it thickens. Whisk/stir continuously.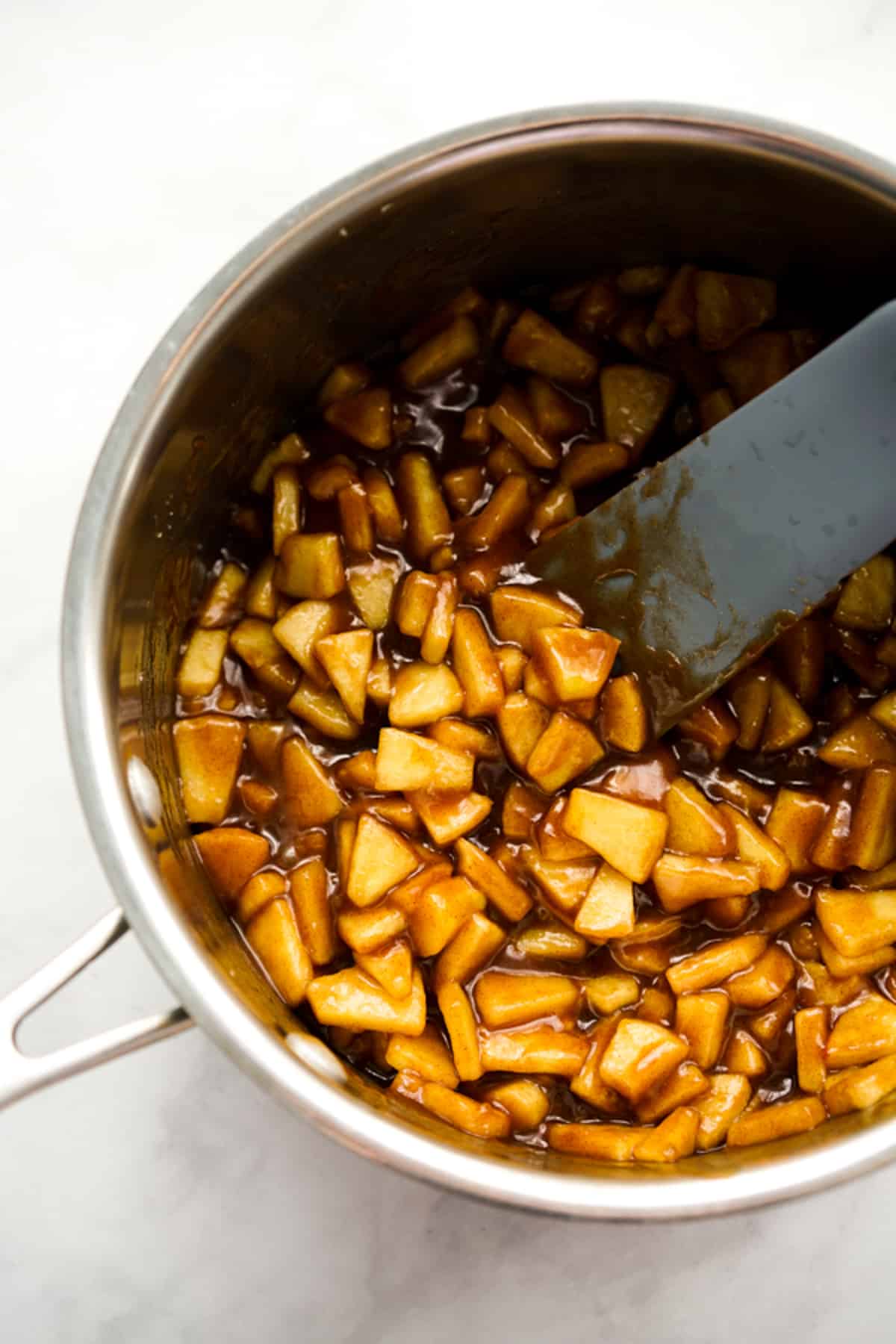 Transfer the apple pie filling into a bowl and let it cool until the dough is risen and ready.
Then spread apple pie filling onto the rolled out dough.
I like to leave a 1-inch frame around the dough without filing so that it won't spill out when rolling the dough.
And here begins the rolling of our Cinnamon Rolls with Apple Pie Filling.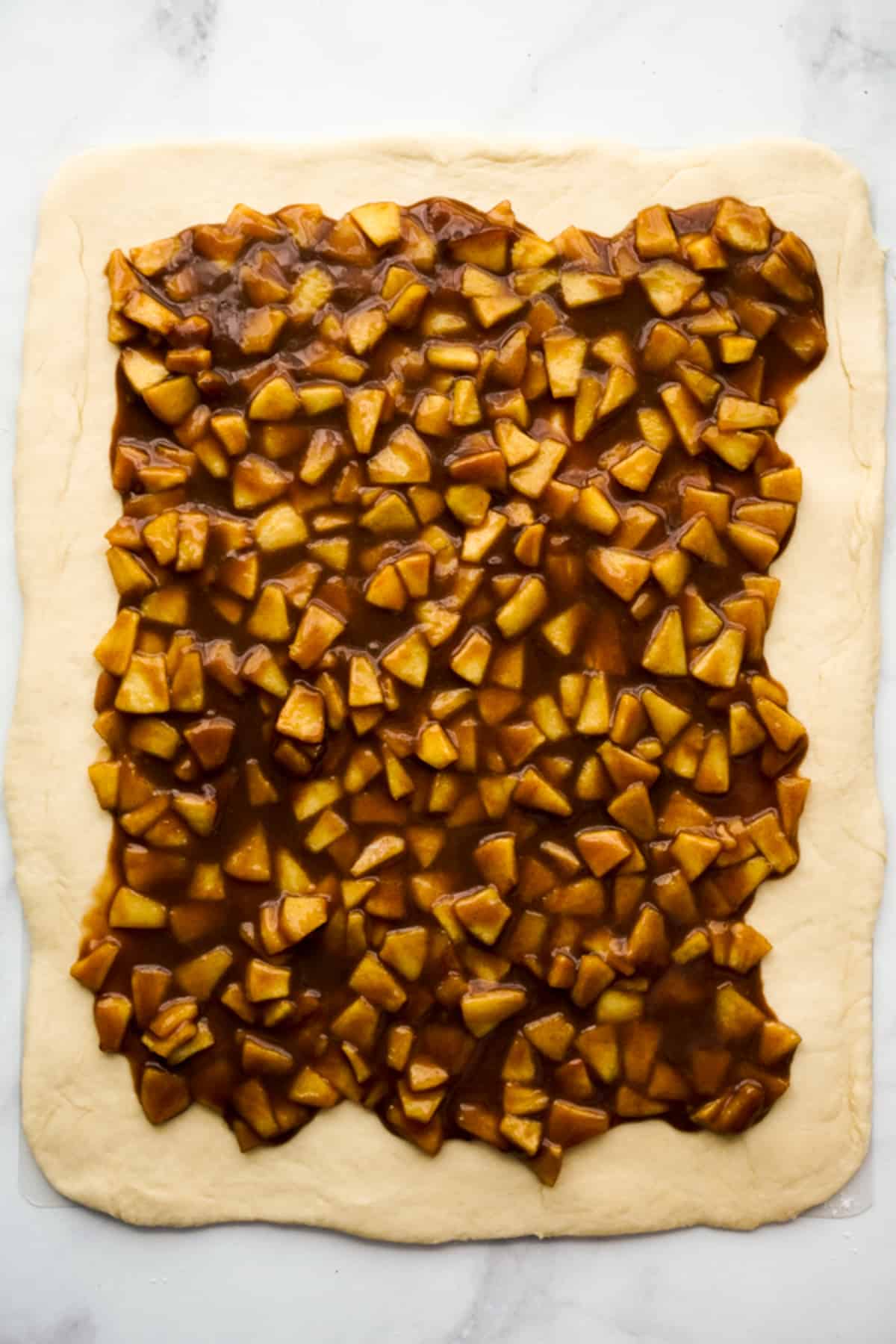 And it's also the trickiest and messiest part in the making of our beloved Cinnamon Rolls with Apple Pie Filling…but I say just embrace the mess! Because it's truly worth it.
Gently roll the dough into a tube from the long side.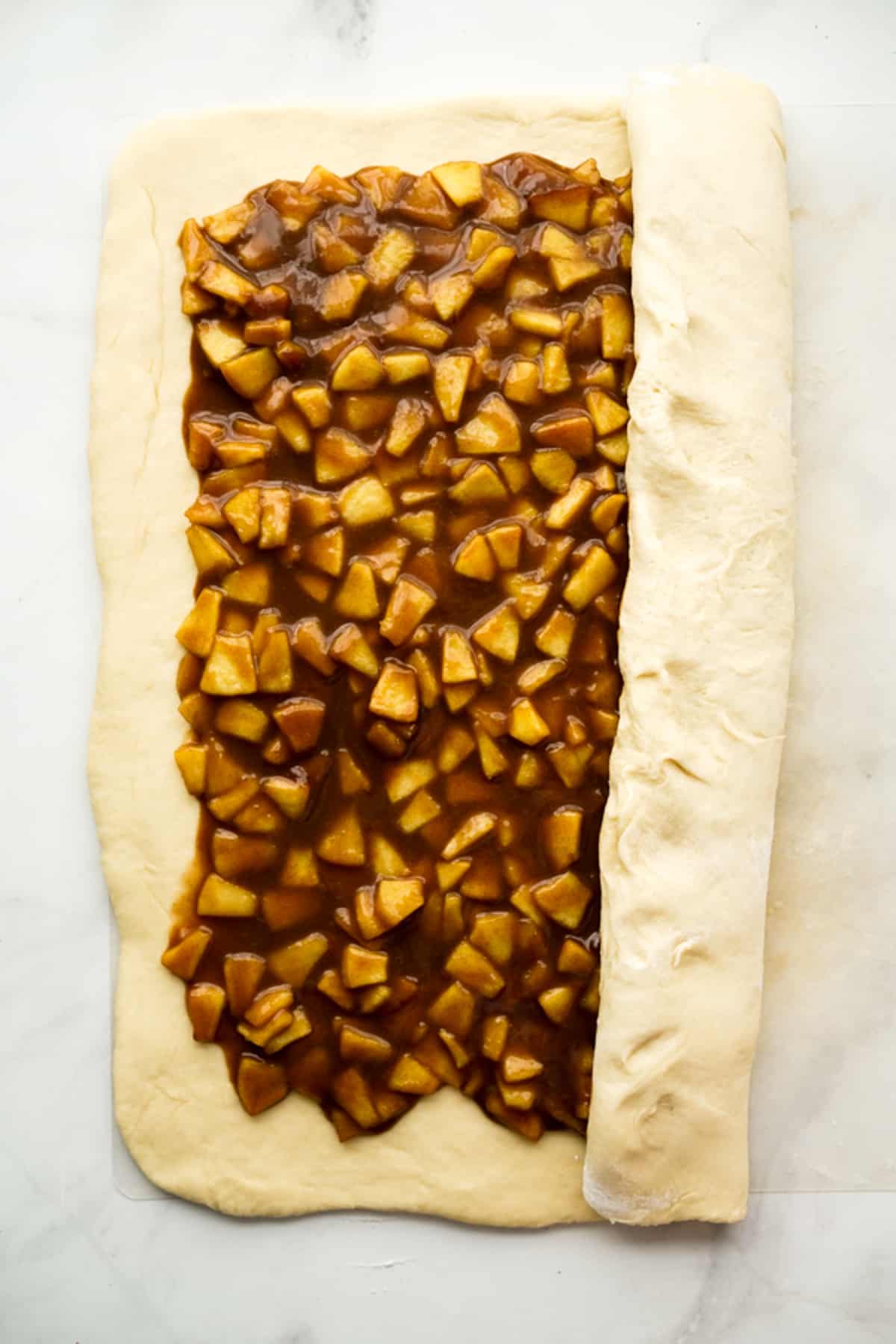 The dough is soft (that is why the rolls are moist and soft), the center will be slightly pudgier than the side, and that is okay!
When rolling it might be slightly jiggly and some filling will ooze out, and that is okay too!
I like to cut both ends because the ends have less apple pie filling and are much smaller in size.
After cutting both ends, I slice the large tube into 12 individual cinnamon rolls stuffed with apple pie filling.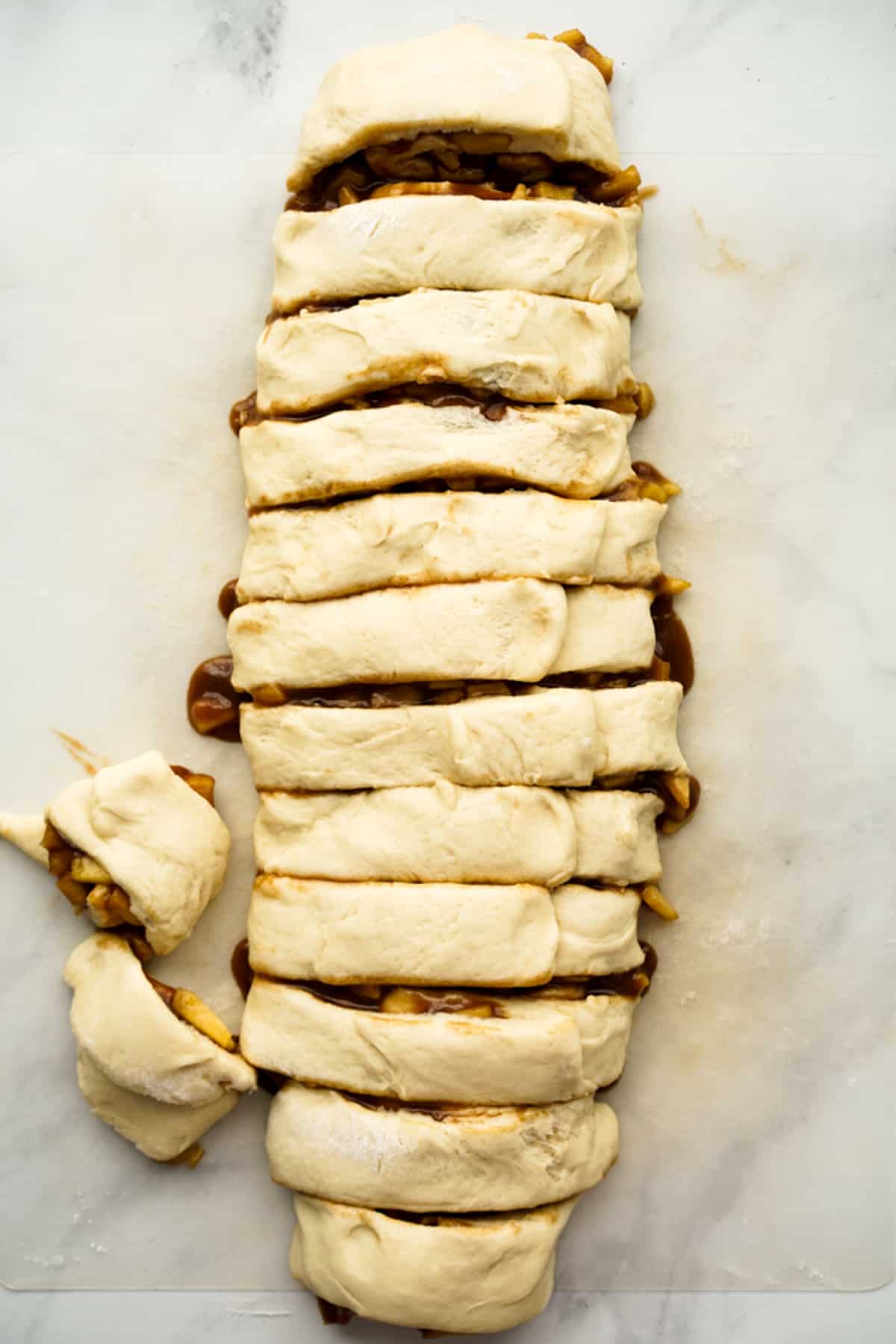 Next, transfer these rolls into a greased 9′ x 13′ rectangular baking dish.
The transferring process can be a messy one too but that is (also) totally okay!
(See a theme here: embrace the mess!)
Once all the rolls are transferred over, let the rolls rise for 30 minutes.
Once the rolls rise and bake, it will look all nice and much more like actual cinnamon rolls 🙂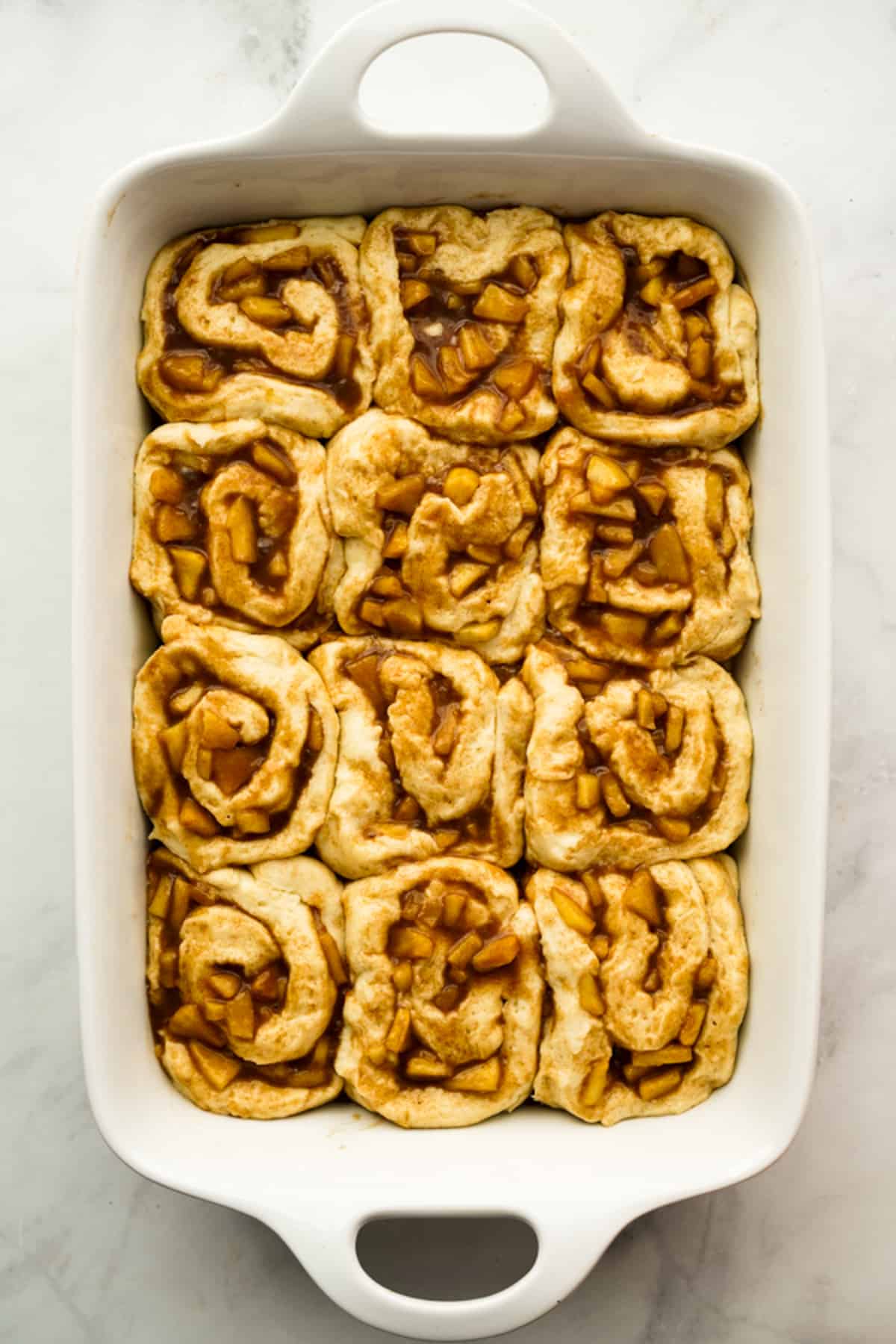 Bake for 22-25 minutes and then drizzle with my easy and delicious sweet glaze or icing!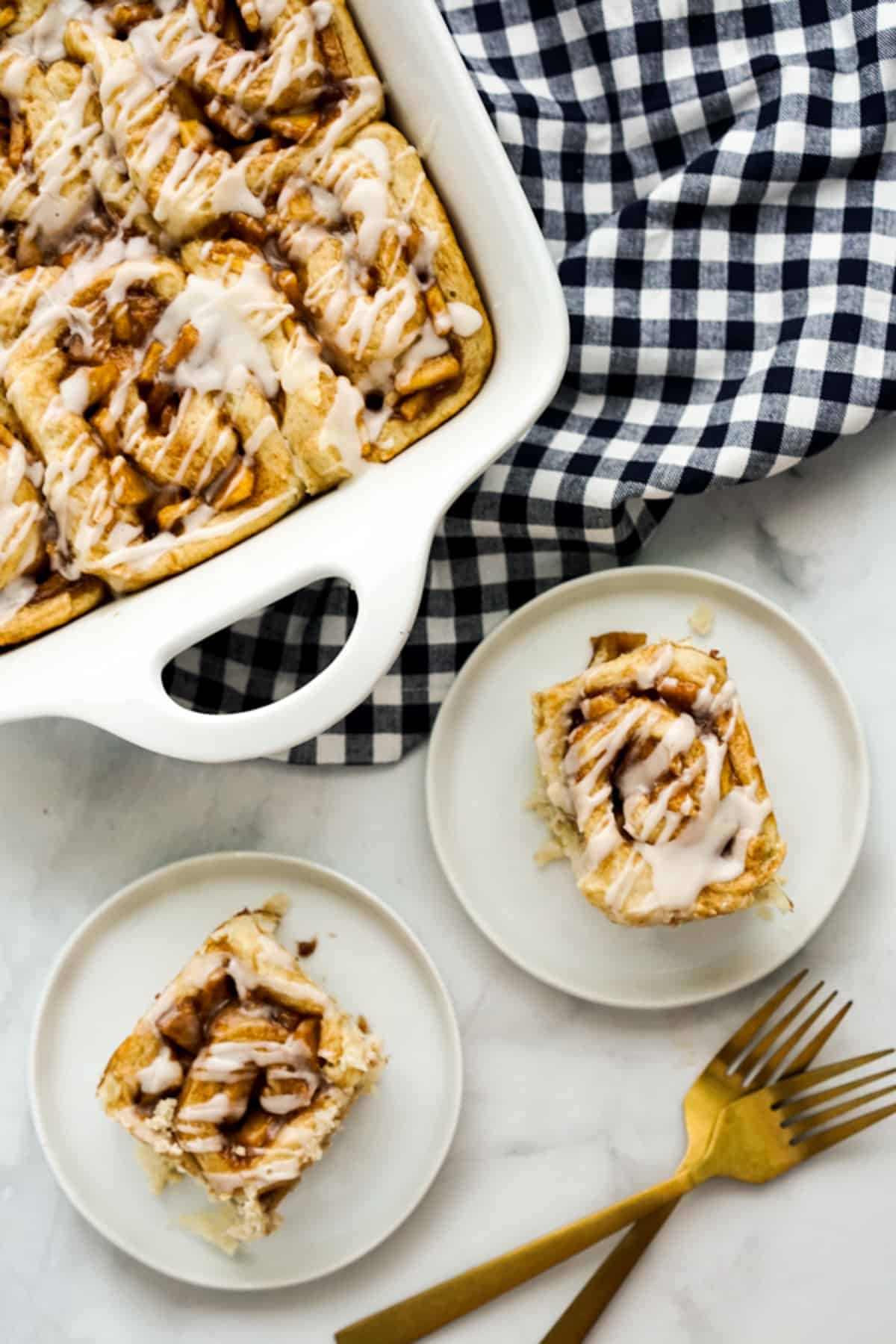 Tips and Tricks
I know the process is a tad long but I promise you it is so worth it!
Highlighting a few tricks to make making Cinnamon Rolls with Apple Pie Filling easier and more seamless:
When making the dough, keep temperature of the wet ingredients (milk, butter and egg mixture) below 100℉ to preserve the effectiveness of the yeast. At the same time, if the wet ingredients are too cold, yeast will not activate. That is why we recommend heating milk and butter to 90-100℉ . A meat thermometer will be helpful to get the right temperature.
Eggs used for the dough should not be too cold when incorporated into the warm milk and butter mixture because it may produced scrambled egg pieces.
Dough should be sticky to the fingers but avoid adding too much flour because that will dry our the dough and cinnamon rolls will be less soft and moist. Flour needed will vary – my recommendation is to start with 3 3/4 cups and then add 1 tbsp more if the dough is still super sticky (big clumps sticking to fingers).
Make sure dough is rising in a fairly warm spot. During the winter when our house tends to be cooler, I place it on a spot where there is sunlight, close to a heater or in a warmer room.
Apples should be cut into smaller, thinly sliced pieces so that they can be cooked/baked quickly, this way they will be soft and juicy and no longer crunchy.
When spreading apple pie filling onto flattened dough, leave a 1-inch frame around the dough where there is no apple pie filling. Doing this will prevent less filling from spilling out of the dough when rolling the dough into a tube.
A serrated knife is what I find works best to cut the tube of dough into small cinnamon roll pieces.
When making the glaze/icing, adjust the consistency accordingly by adding more powdered sugar to thicken glaze and more milk to thin out glaze.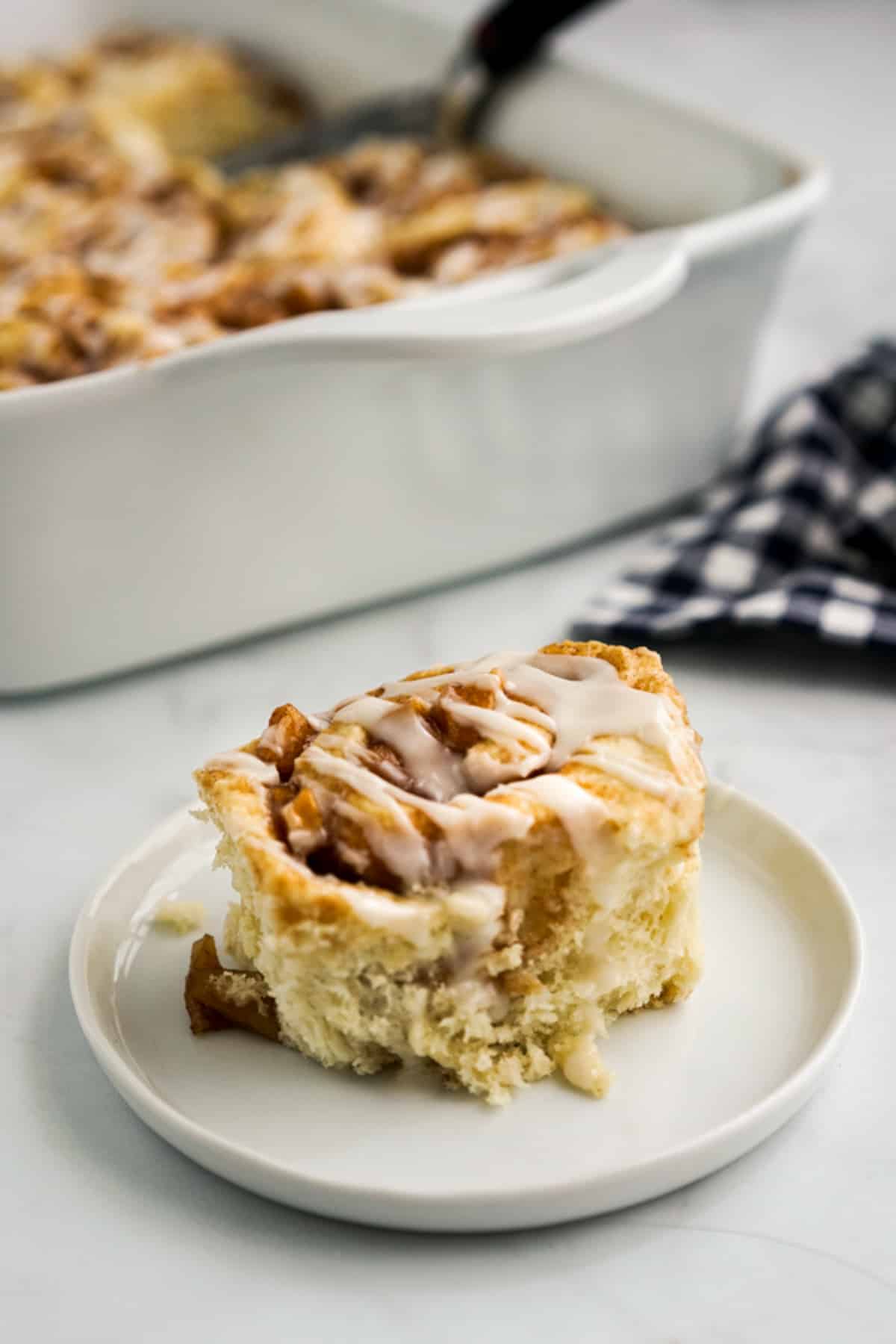 And here's the delightful end product: warm, fresh-out-of-the-oven homemade Cinnamon Rolls with apple pie filling. Your kitchen smelling like cinnamon, apples and all things Fall. SO DREAMY.
Serve this for brunch on weekend, holidays, potlucks, family get-togethers. It's always a hit at our household!
I have so much faith in you! ❤️
Make Ahead and Storage
Cinnamon Rolls with Apple Pie Filling can be made ahead and stored in an air tight container in room temperature for up to a day. After that, I recommend storing in the refrigerator.
It can be reheated in the microwave. Drizzle the top with a few drops of water if it has been in the fridge for a while and have dried out.
If you want to assemble Apple Pie Cinnamon Rolls and store without baking, you can freeze them after placing the cinnamon rolls stuffed with apple pie filling on the casserole.
When ready to bake, refrigerate overnight so that it is completely defrosted, then let it sit in room temperature for 30 minutes before baking.
DID YOU ENJOY THIS RECIPE? Please comment below and give us a 5-star rating! This will help others find this recipe on Google and Pinterest. We very much appreciate your help! 🤍
More Sweet Breakfast Recipe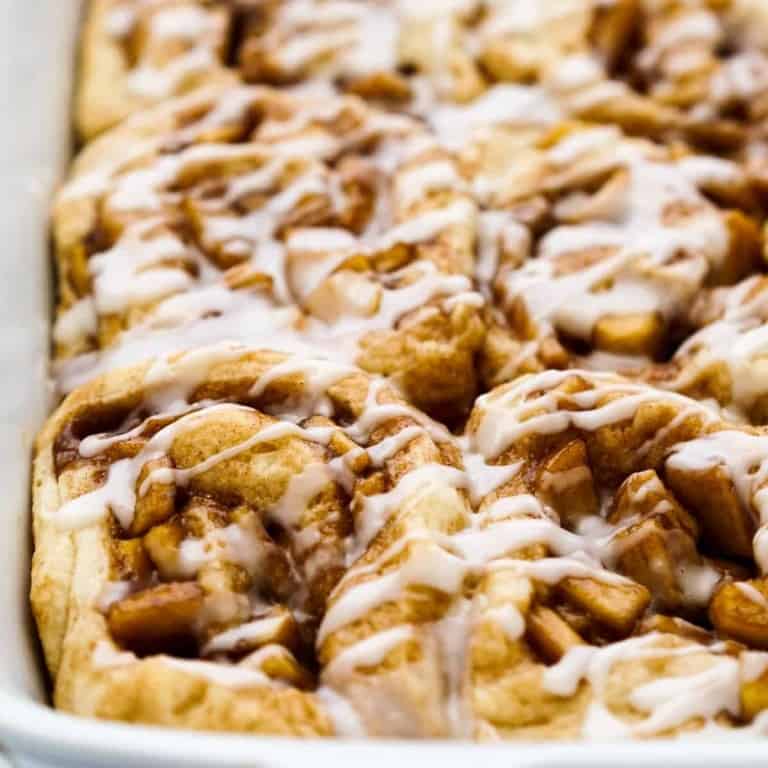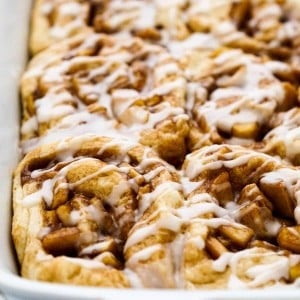 Cinnamon Rolls with Apple Pie
Next-level Cinnamon Rolls! Soft and fluffy rolls filled with apple pie filling, topped with a sticky sweet glaze. Perfect for holiday brunch and breakfast!
Print
Pin
Ingredients
Dough
1

cup

2% milk

6

tbsp

unsalted butter

melted

1

large egg

room temperature

3 3/4

cup

all purpose flour

more if needed

3

tbsp

sugar

1/2

tsp

salt

1

tbsp

instant yeast

butter

for greasing the bowl
Apple Pie Filling
1

tbsp

butter

4

cups

apples

thinly sliced, ~3-4 apples

3/4

cup

brown sugar

2

tsp

ground cinnamon

1/2

tsp

vanilla extract

3

tbsp

all purpose flour

a

pinch of

salt
Glaze/ Icing
2/3

cup

powdered sugar

1

tbsp

2% milk

1/4

tsp

vanilla extract
Instructions
To Make Dough
Warm milk to 90-100 degree F. Melt butter to 90-100 degree F. Crack and beat up a room temperature egg. Combine milk, butter and egg into a bowl or a standing mixer.

Add dry ingredients to mixture: flour, sugar, salt, and yeast. Use a dough hook to mix the dough if using a standing mixer. Or knead the dough with hand.

Dough should not be sticky, but it shouldn't be very dry either. When touch with fingers, a large clump of dough should not stick to fingers. Start with 3 3/4 cup flour and add more if dough is sticky. A lot of factors (humidity, temperature, size of egg etc) can make the dough more or less wet, so the amount of flour needed may differ slightly.

Lightly butter large bowl (bowl must be twice or three times larger than dough) and bring dough to bowl. Cover with cloth, and let it rise for an hour, preferably in a warm spot.

Dough should rise to twice its original size.

When dough has risen, punch the ball with your fist to release the air. Flour a clean surface, then use a rolling pin to flatten out dough into a 15″x12″ rectangle.
To make apple pie filling
Melt butter in a medium pot under medium heat. Once butter is melted, add apples, brown sugar, cinnamon, vanilla extract, flour and a pinch of salt. Bring heat to medium high and stir continuously. Use a whisk to whisk and remove clumps from the mixture if needed.

Once mixture comes to a boil and has thickened, remove from heat promptly by transferring to a separate bowl (so that mixture does not continue cooking) and set aside.

Cool mixture so that it is not boiling hot (slightly warm or room temperature is fine) when added to the dough. (See Note 1)
To make Apple Pie Cinnamon Rolls
Spread apple pie filling evenly onto the flattened dough. Leave a 1-inch frame around the dough where there is no apple pie filling. Doing this will prevent less filling from spilling out of the dough when rolling the dough.

Gently roll dough from the long side into a long tube.

Using a serrated knife, cut off the ends and then cut tube into 12 cinnamon rolls. Each roll will be about an inch thick.

Place rolls onto a 9″x13″ casserole dish lined with parchment paper, or greased with butter. Rolls may be soft and apple pie filling may ooze out while transferring the rolls. A little messy is ok and expected! 🙂

Cover casserole dish with a towel and let rolls rise again for 30 minutes.

Preheat oven to 350 degrees F.

Remove towel. Cinnamon raisin rolls should be slightly bigger in size. Bake in oven for 22-25 minutes.

While rolls are baking, make the glaze by combining all the ingredients under "Icing/glaze" using a hand mixture or a whisk. Add more powdered sugar to make thicken the glaze and add more milk to thin out the glaze based on your preference.

When rolls are done, let it cool for 10 minutes. Drizzle glaze onto the rolls.
Notes
Note 1: To ensure that apple pie filling has time to cool, make filling immediately after placing the dough to rise. This way there is time for the filling to cool while the dough rises.
Nutrition
Calories:
337
kcal
|
Carbohydrates:
62
g
|
Protein:
6
g
|
Fat:
8
g
|
Saturated Fat:
5
g
|
Polyunsaturated Fat:
1
g
|
Monounsaturated Fat:
2
g
|
Trans Fat:
1
g
|
Cholesterol:
33
mg
|
Sodium:
127
mg
|
Potassium:
148
mg
|
Fiber:
2
g
|
Sugar:
28
g
|
Vitamin A:
269
IU
|
Vitamin C:
2
mg
|
Calcium:
53
mg
|
Iron:
2
mg