This post may contain Amazon or other affiliate links. As an Amazon Associate I earn from qualifying purchases at no additional cost to you.
Everyone needs these Homemade Cinnamon Raisin Rolls in their lives. I was once a break-and-bake slash store-bought cinnamon roll kinda girl. Then these homemade cinnamon rolls filled with juicy raisins roll (*ahem* pun intended) into my life, turned it upside down, and showed me the real magic of cinnamon rolls…and I was enlightened.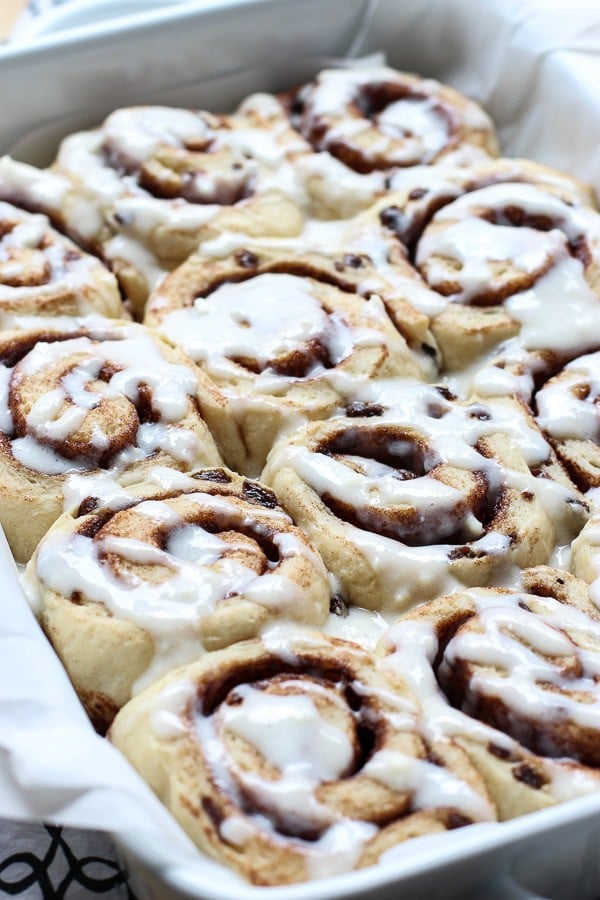 Baking with Yeast
Are you afraid of yeast? Is yeast the thing that is stopping you from taking a plunge at homemade Cinnamon Raisin Rolls?
There is no fear in yeast, my friend! I am in the business of helping you LET GO of your fear of yeast! Trust me, it is a freeing experience. One that will lead you to bread-bake your heart out and never look at store-bought rolls the same way again, because OMG there is nothing like freshly made bread.
First thing first though. Let's take a second and pay tribute to this warm and soft rolls stuffed with cinnamon, raisin, brown sugar and buttery loveliness. It is a gorgeous and beautiful and life-giving. Then we drizzle that sticky sweet glaze onto it like we mean business.
DON'T WAKE ME UP FROM THIS DREAM.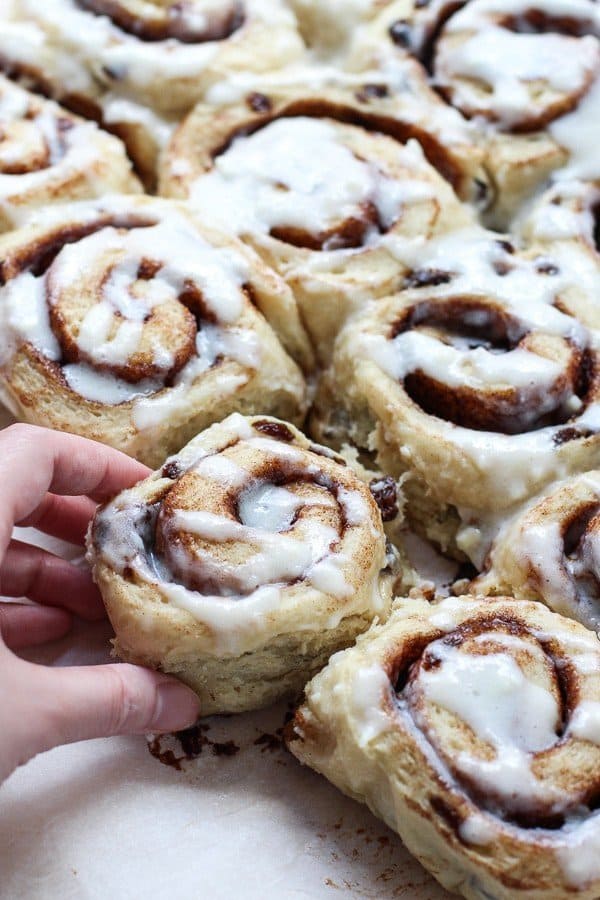 I did not start making my own yeast bread until almost a year ago. I started making all different types of bread, sometimes baking with a recipe, sometimes creating my own recipes, in the efforts to teach myself the ins and outs of breading making.
I knew I want to incorporate bread recipes into this blog (simply because I have a deep, profound love for bread), but I want to be so familiar with it and can tackle different types of yeast breads before sharing a bread recipe with you.
Yeast was intimidating, but only at the mention of it. When I started working with it, I realize it truly was pretty straightforward.
How to make Cinnamon Raisin Rolls
Yeast comes in a few forms, and for this recipe we are using instant yeast. When using instant yeast, you just add it into the dough mixture. Then, when combining the other ingredients to make the dough, make sure the wet ingredients are warm.
Bring the egg out to room temperature for an hour or so prior to baking, warm the milk and melt butter so it is 90-100 degrees F. Keeping the liquid warm will help activate the yeast.
The dry ingredients should not be cold either, but they are typically not cold (since we don't refrigerate flour, sugar etc).
You can make the dough with a standing mixer (use a dough hook) or knead the dough by hand. The former is definitely easier, but the latter is totally doable. Make the dough and then let it sit for an hour with a towel over it. It should rise to about double its original size.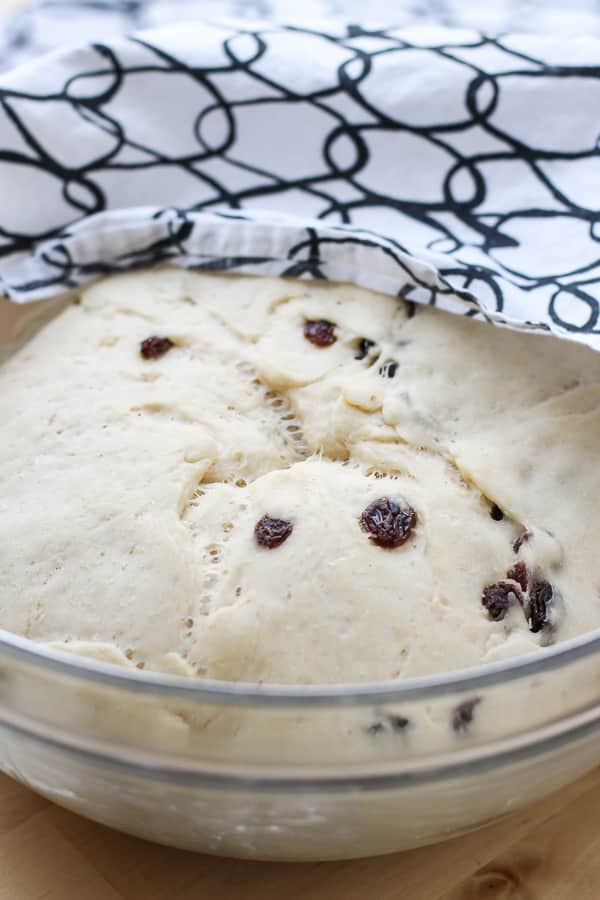 When it comes to how we navigate yeast, this is really it. Just throw yeast into dough and provide the perfect setting (warm liquids) to let it do the rising.
Once the dough is risen, use a rolling pin and roll the dough into a ~15″ x 12″ rectangle, then spread the cinnamon brown sugar topping evenly on the dough.
When doing this, use soften butter, but not melted (liquid-y) butter when creating the cinnamon brown sugar topping. This will make rolling the dough into a tube a lot easier and less messy!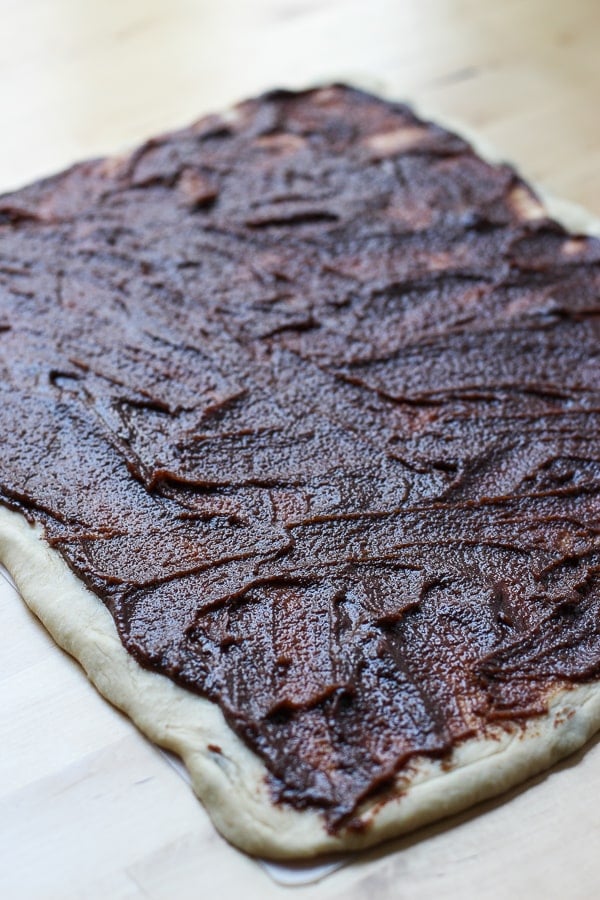 Roll the dough from the long side until it becomes a long tube, then use a serrated knife to cut out 12 pieces of cinnamon rolls.
Bring all 12 rolls onto a 9″ x 13″ casserole dish lined with parchment paper. If you are not using parchment paper, grease the pan with butter or vegetable oil.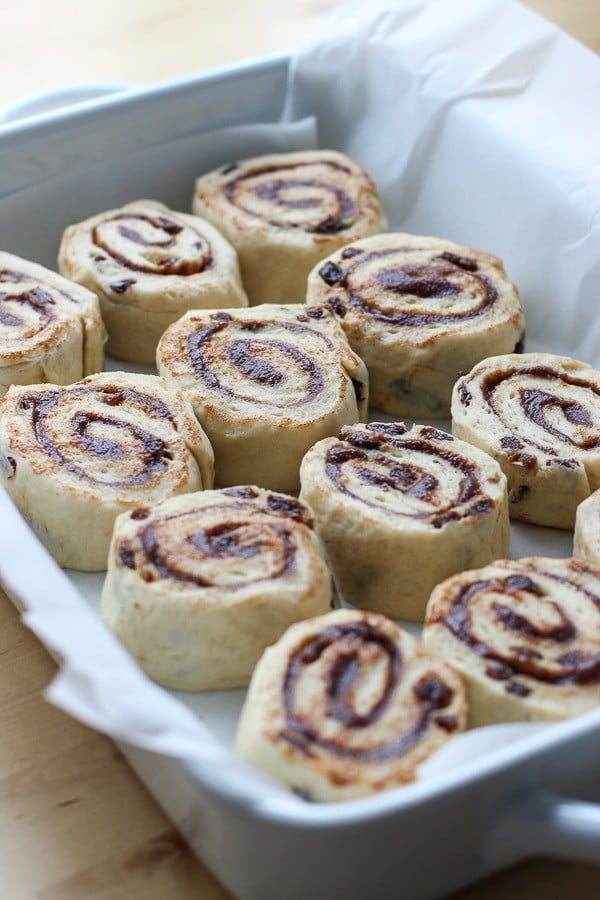 Then cover the casserole dish with a cloth, and let it rise again for 30-40 minutes.
Bake that baby (not literal, of course) in the oven, and when it is done, your kitchen will smell like warm bread and your soul is comforted.
Remember let the rolls for cool for 10-15 minutes, and drizzle that heavenly icing onto the rolls.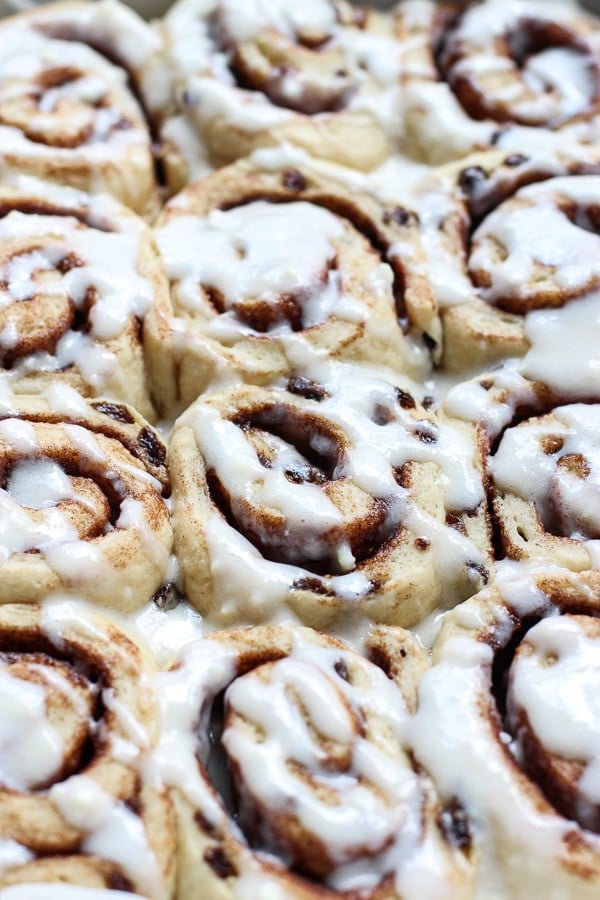 Oh my my my. I can taste it on my tongue. Warm, sweet, cinnamon bread, with a few raisin suprises in every bite, topped with this creamy glaze that is sweet enough but not so crazy sweet you don't taste the cinnamon.
How to make this ahead of time
To make this the night before, make to the point where you cut out the dough and put the 12 rolls into the casserole. Instead of letting it rise again, bring them to the refridgerator.
In the morning, bring the casserole out from the fridge and let it cool to room temperature before popping them into the oven.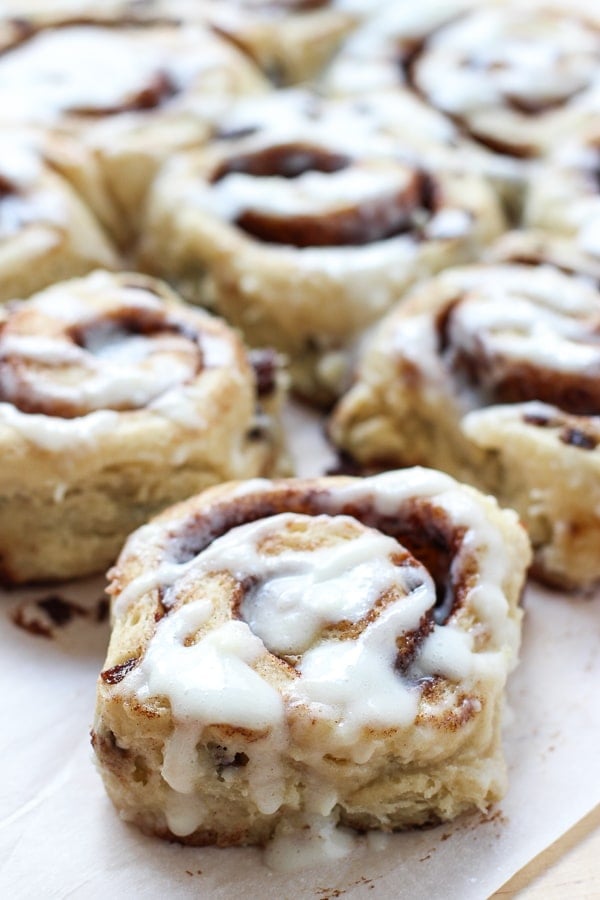 YUM YUM YUM!
Happiness in the morning (or any time of the day!) is what these Cinnamon Raisin Rolls bring. Enjoy!
Other Bread Recipes!
If you make this recipe, comment below and let me know what you think! Also, don't forget to take a picture and tag me on Instagram, because I WANNA SEE!!