This post may contain Amazon or other affiliate links. As an Amazon Associate I earn from qualifying purchases at no additional cost to you.
Good morning and pass that Berry Banana Chia Smoothie!
These days, that's how I feel on many weekday mornings.
I just want to drink my breakfast. No chewing, no silverware needed. Just drink it.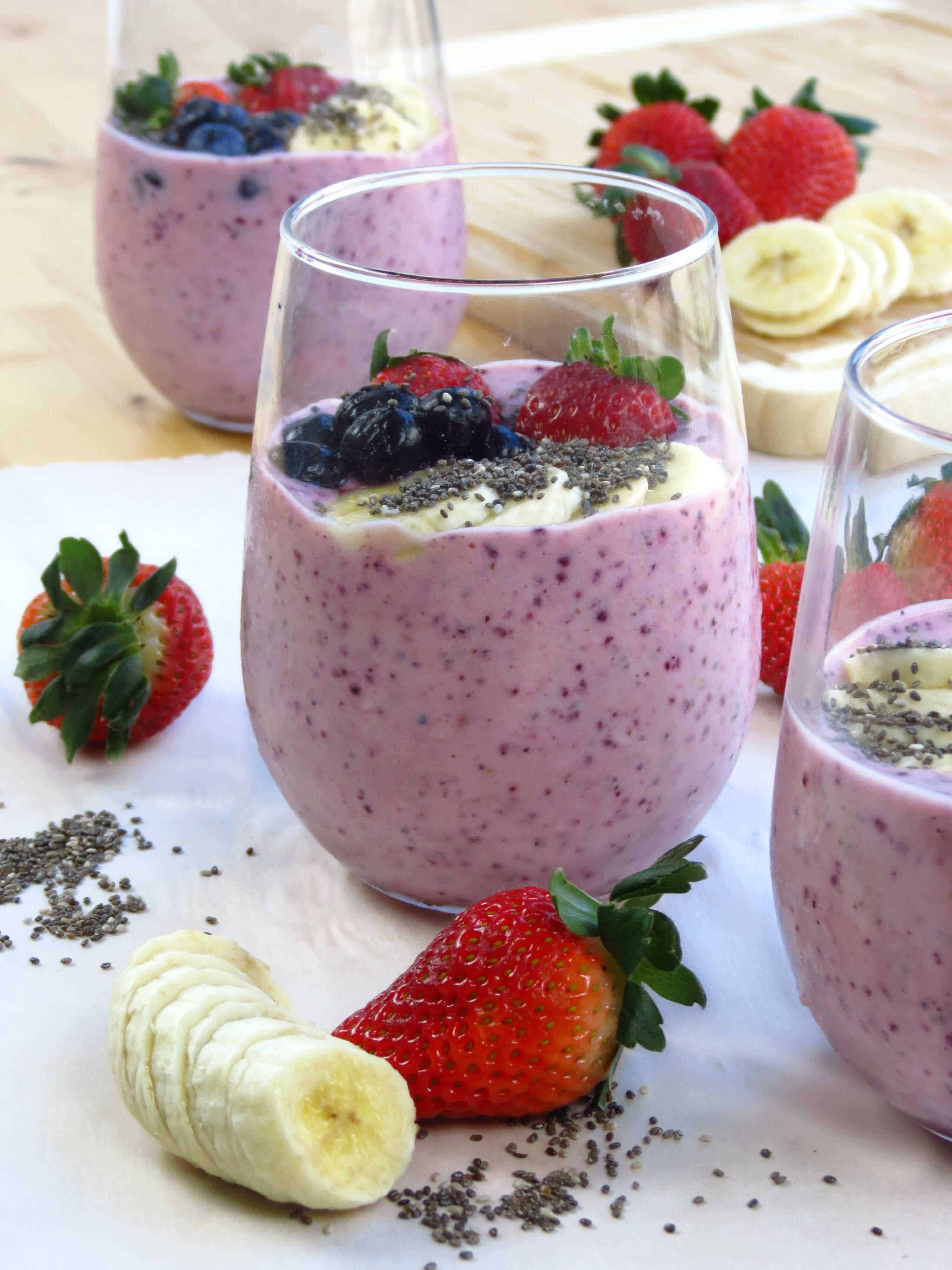 You know those super busy hectic mornings? Or those morning after you had a big juicy steak dinner the night before, and can still feel the steak in your belly?
Those mornings. Those are my drink-my-breakfast mornings. Ones where Breakfast Tacos (even though delicious!) would have been a tad bit much.
For years, for my drink-my-breakfast mornings, I turned to my trusty Berry Banana Chia Smoothie. This has been my go-to smoothie for the longest time. It's a gem.
Packed full of nutrients, it fills you up without feeling yucky, and also happens to be DELISH.
You will be back for more before you know it.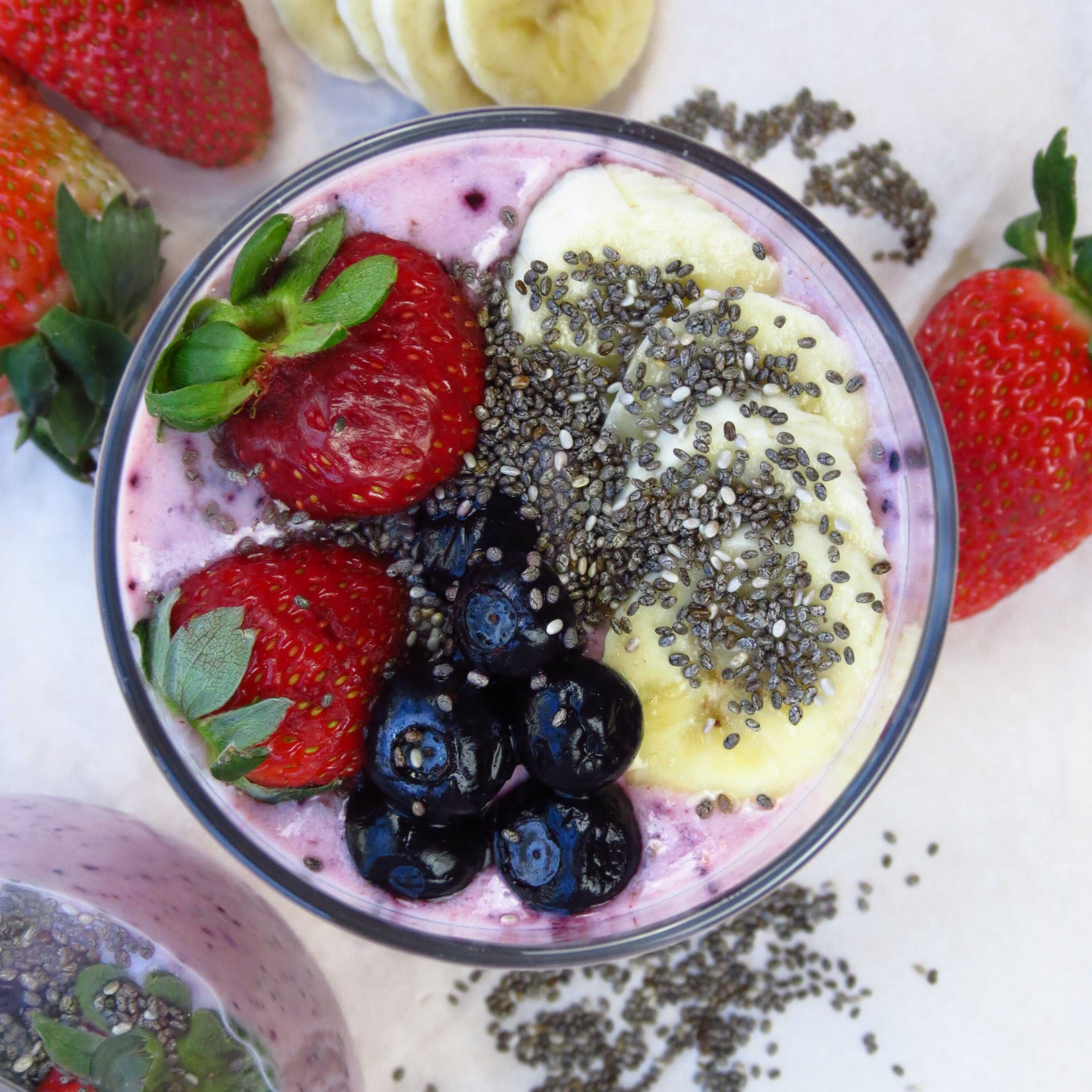 What is in Berry Banana Chia Smoothie?
Fruits. Lots of fruits and packed with Vitamin C. I use strawberries, blueberries and bananas. It will be just as delicious with other berries such as raspberries, blackberries etc. Tip: Use frozen berries (or freeze them! I often freeze a bag of fruits in my fridge for times like these) to create a crushed ice texture without adding ice. I typically don't freeze bananas. You can if you want to, but I like to keep it soft so that it is easier to blend.
Vanilla yogurt and milk. I like to mix milk into this because it adds liquid to the mixture. With the amount of frozen fruits, yogurt itself is typically not liquidy enough for my blender to comfortably blend everything smoothly. Besides, more calcium? Yes, please!
Honey. My favorite sweetener for smoothies, and oh-so-good. Omit it if you are trying to cut down on the sugar content.
Chia Seeds. This superfood is densely packed with nutrients. A little goes a long way since it is rich in fiber, omega-3, protein, antioxidants, vitamins and minerals. Super healthy ingredient that keeps you full. WIN-WIN.
FILL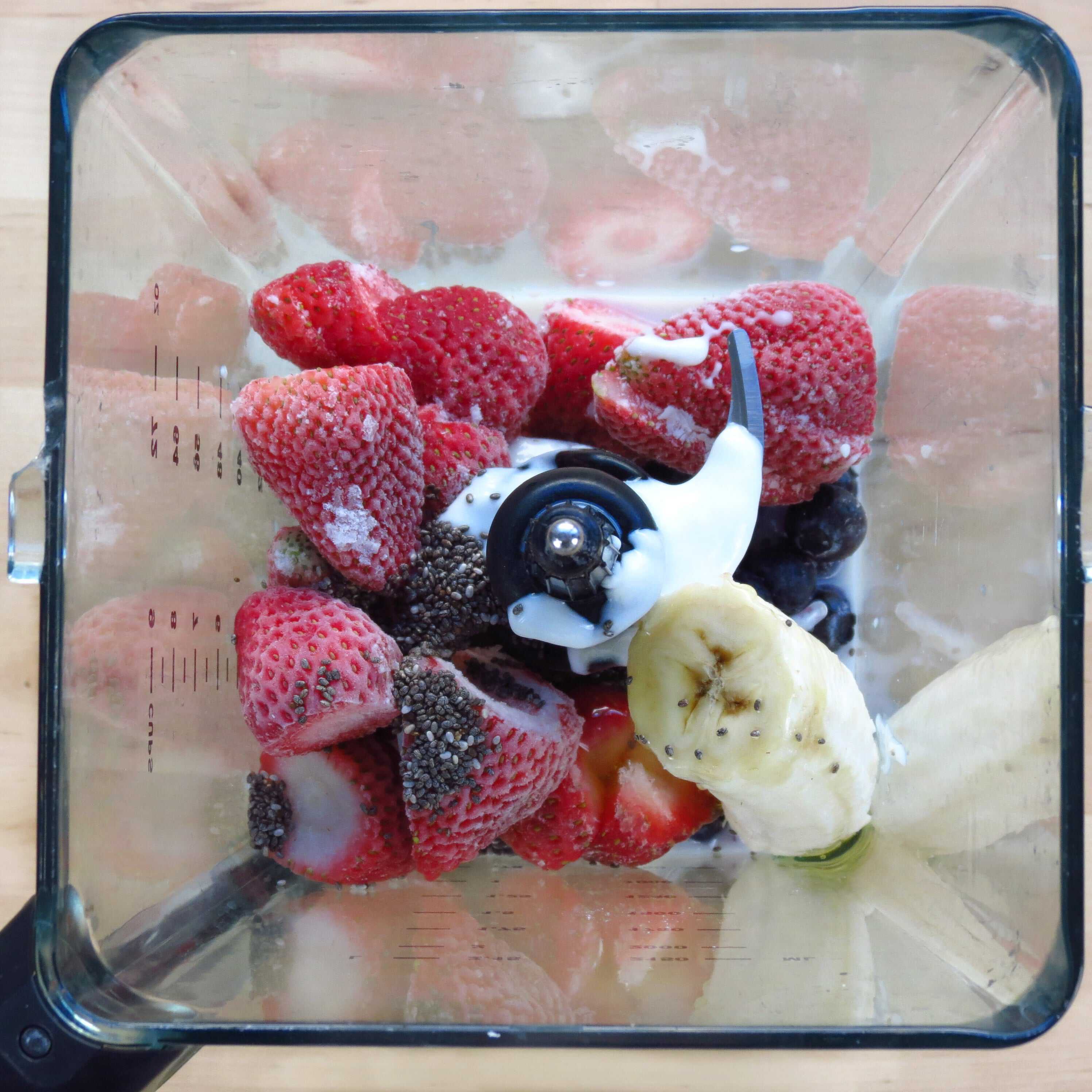 And BLEND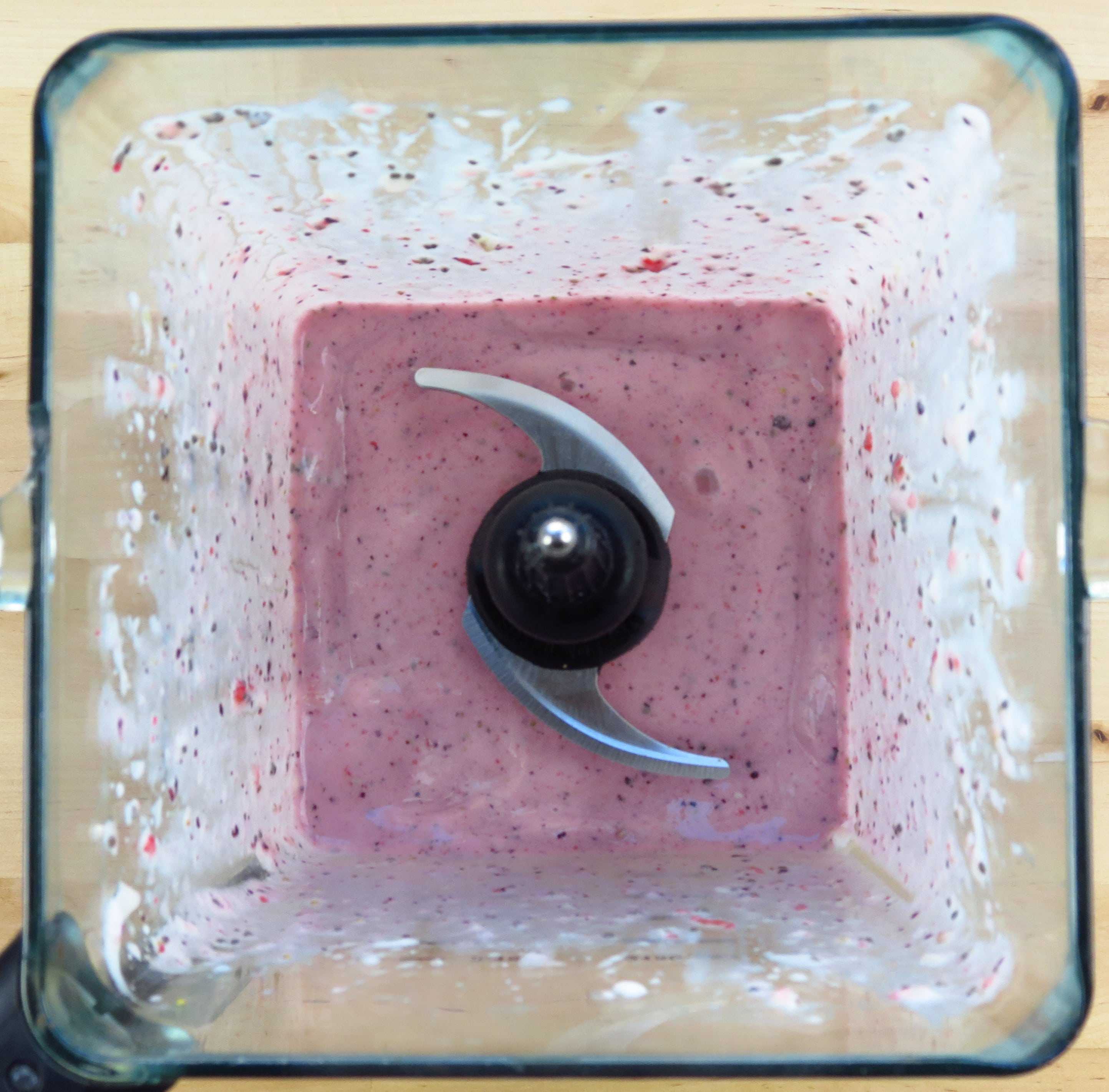 I use one of my favorite kitchen gadgets – the Ninja Mega Kitchen System to make this smoothie. It is a blender, but also has a single serve cup where you blend everything in that single serve cup, and then drink directly from the cup, or put a lid on it and take it wherever.
No transferring of liquid. No pouring. How awesome is that? And how LAZY am I?? This recipe is for two, so just cut it in half if using the single serve cup.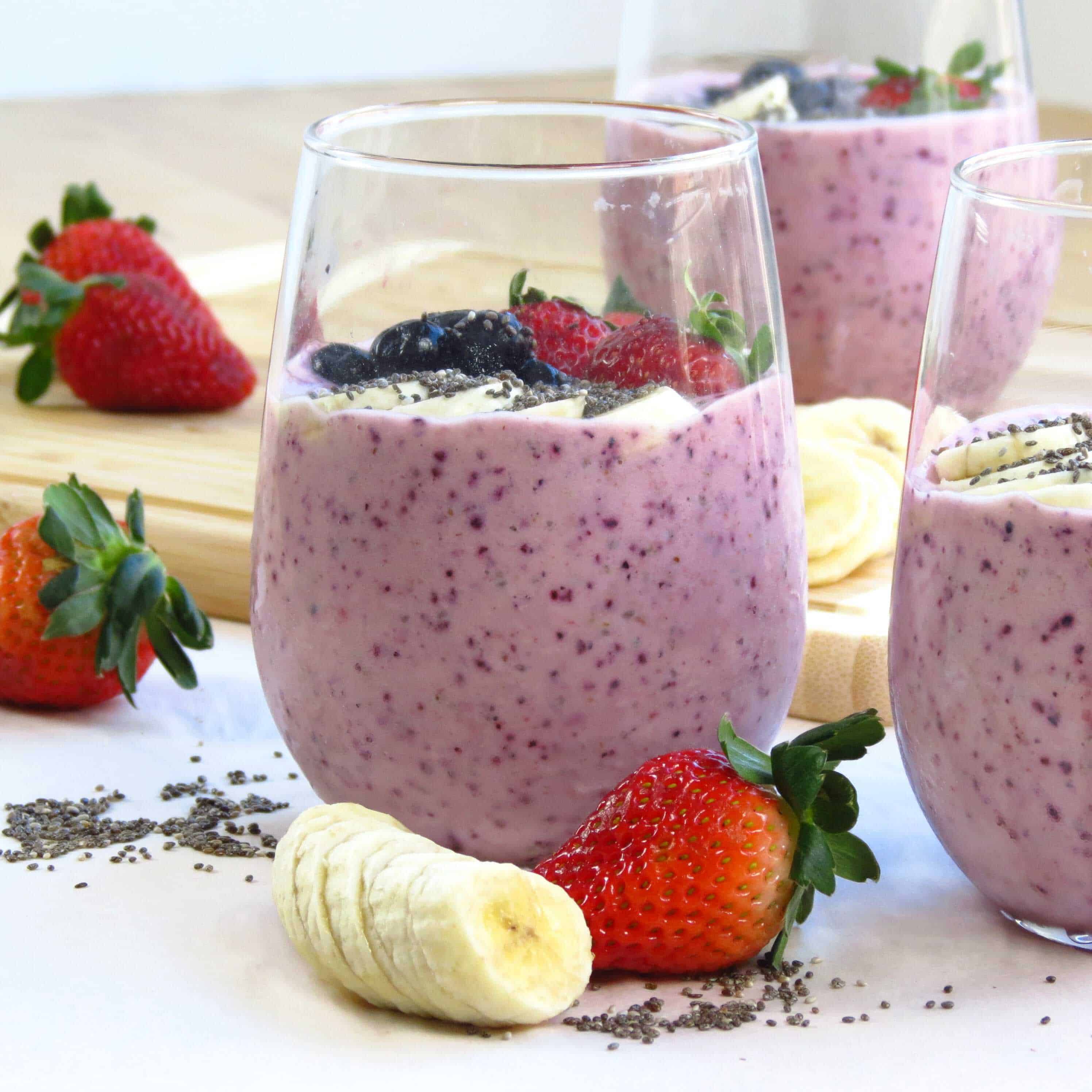 As they say, breakfast is the most important deal of the day. Make that meal healthy, delicious and easy to make.
Blend and drink up! Enjoy!
Other healthy breakfast recipes!
If you make this recipe, comment below and let me know what you think! Also, don't forget to take a picture and tag me on Instagram, because I WANNA SEE!!