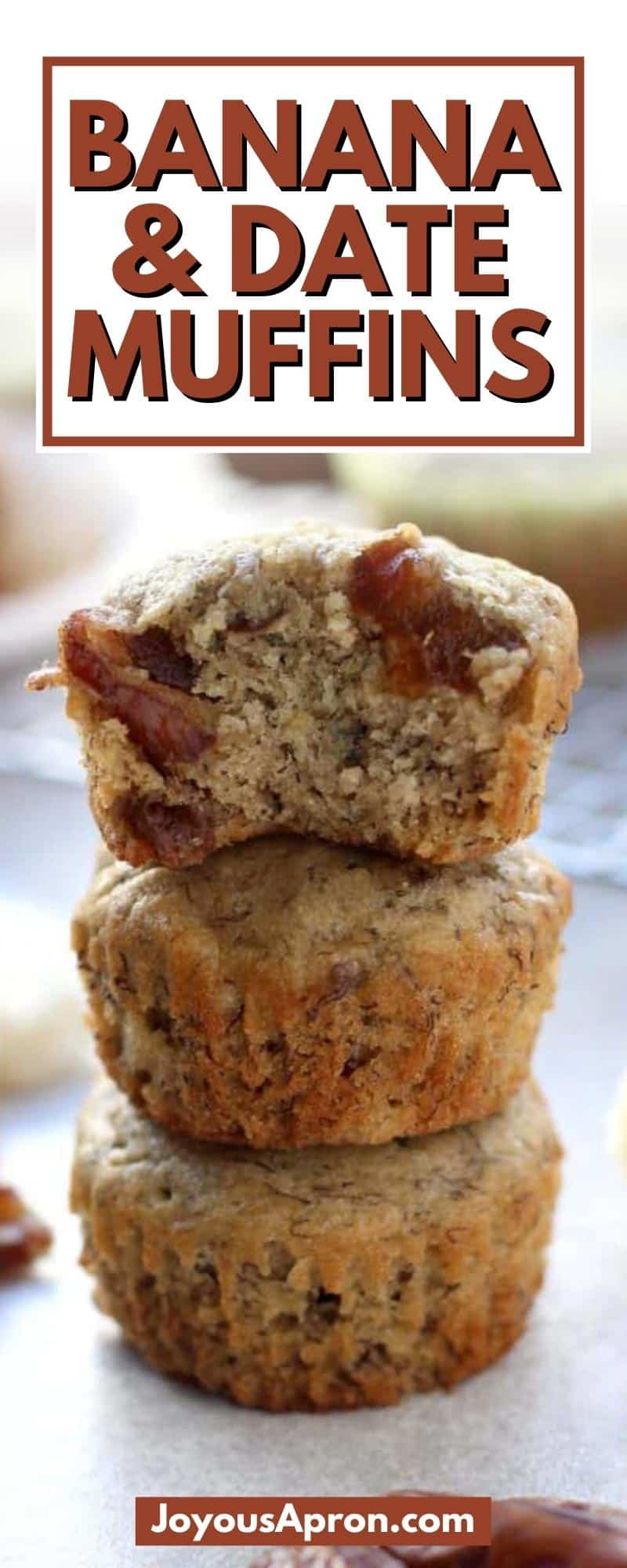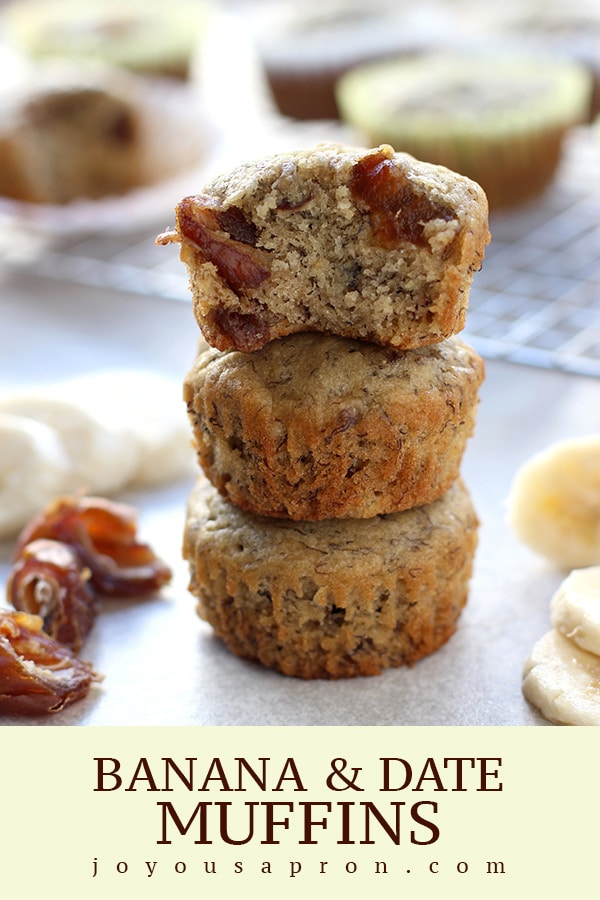 OMG. Banana and Date Muffins – my new favorite breakfast/snack/healthy-ish dessert. Ultra moist, fluffy, great flavors, and the perfect combination of bananas and dates.
Say hello to banana bread's super cool cousin, who is about to take us on a whole new level of YUM.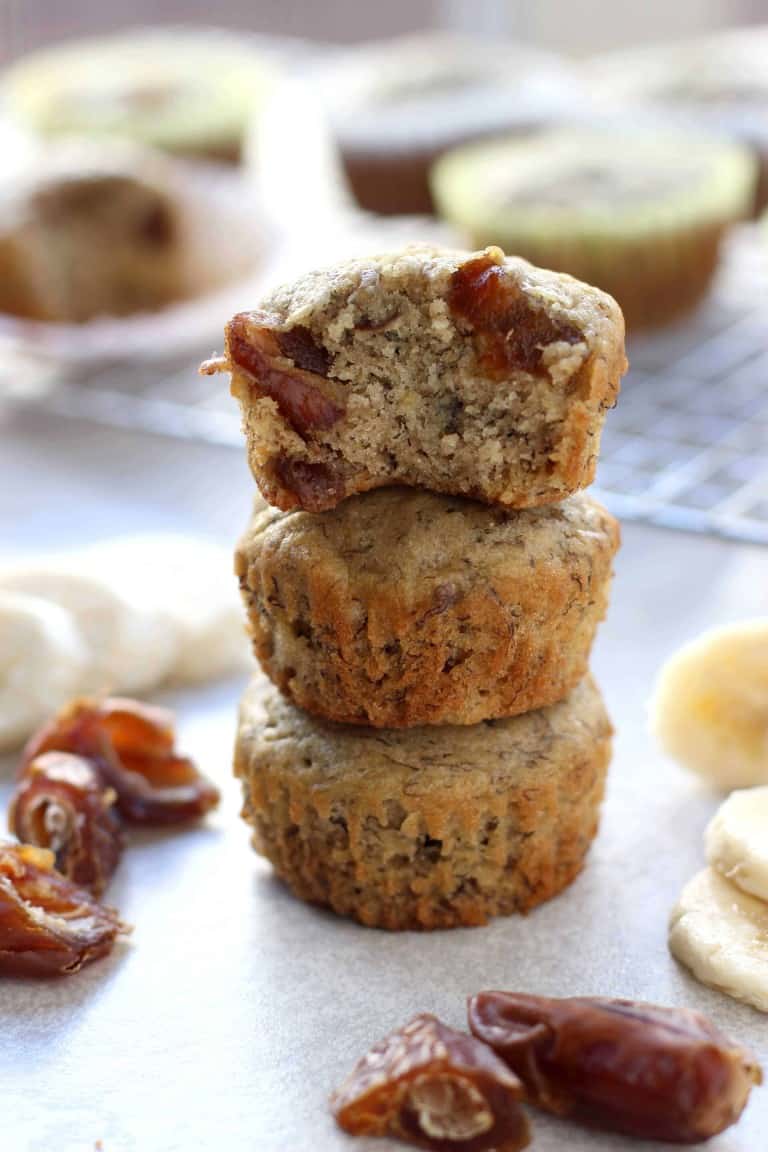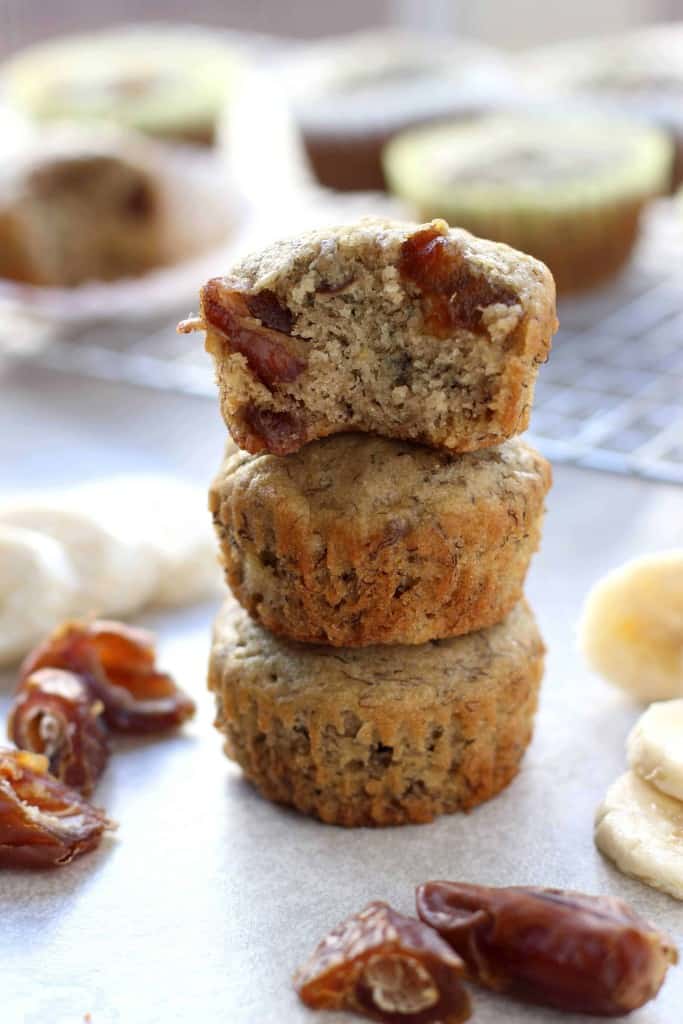 I wanted to create a breakfast item or snack that we can grab and go during busy mornings, but is also super delicious, so you actually LOVE your breakfast.
I mean, who can relate to dreading breakfast and eating breakfast just because we have to. I KNOW I CAN.
Well, make this the night before and say goodbye to dreading the most important meal of the day! 😉
Love breakfast muffins and breads? Check out my Strawberry Banana Bread and Pumpkin Banana Muffin recipes as well!
Ingredients
Here's what you need to make these delicious Banana Date Muffins!
Banana – use over ripped bananas
Dates – if you are lazy like me, pitted dates are the easiest because the pits are already removed!
Coconut oil
Egg
Sugar
Vanilla Extract
All purpose flour
Baking soda
Salt
One of my favorite things about it is that it uses coconut oil, instead of vegetable oil or butter.
Coconut oil has a subtle sweet "coconut-y" smell and flavor that pairs extremely well with bananas and dates, thus adding a gorgeous dimension of flavor to the muffins. WINNING.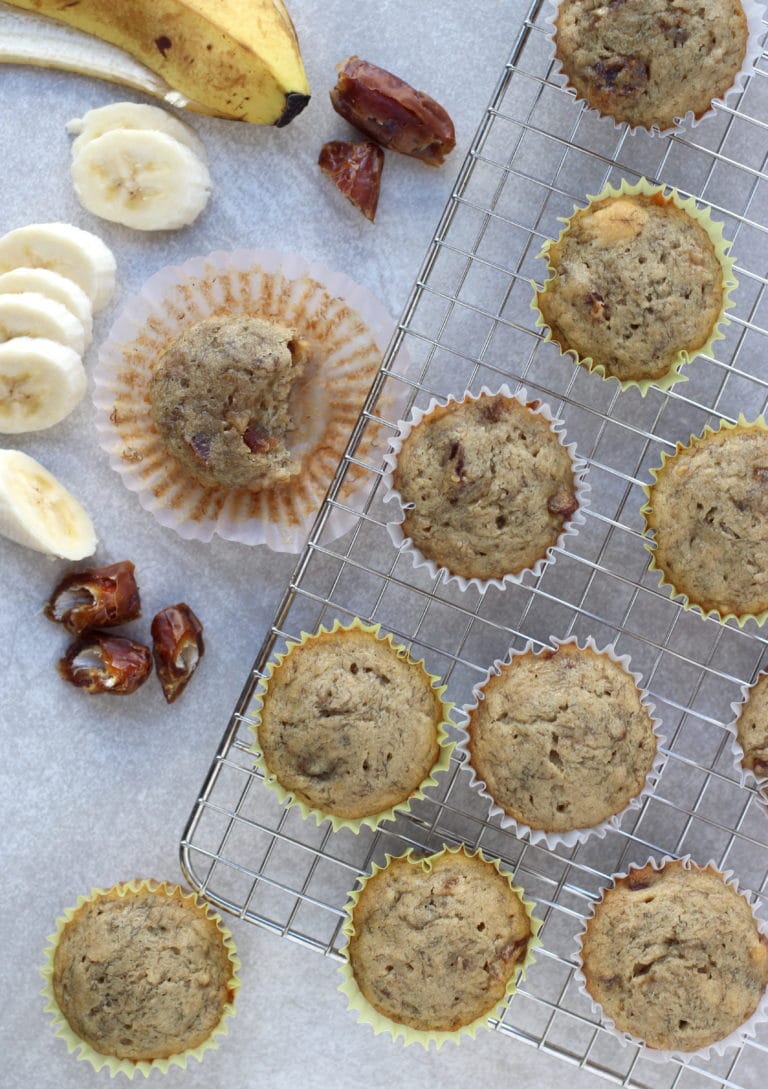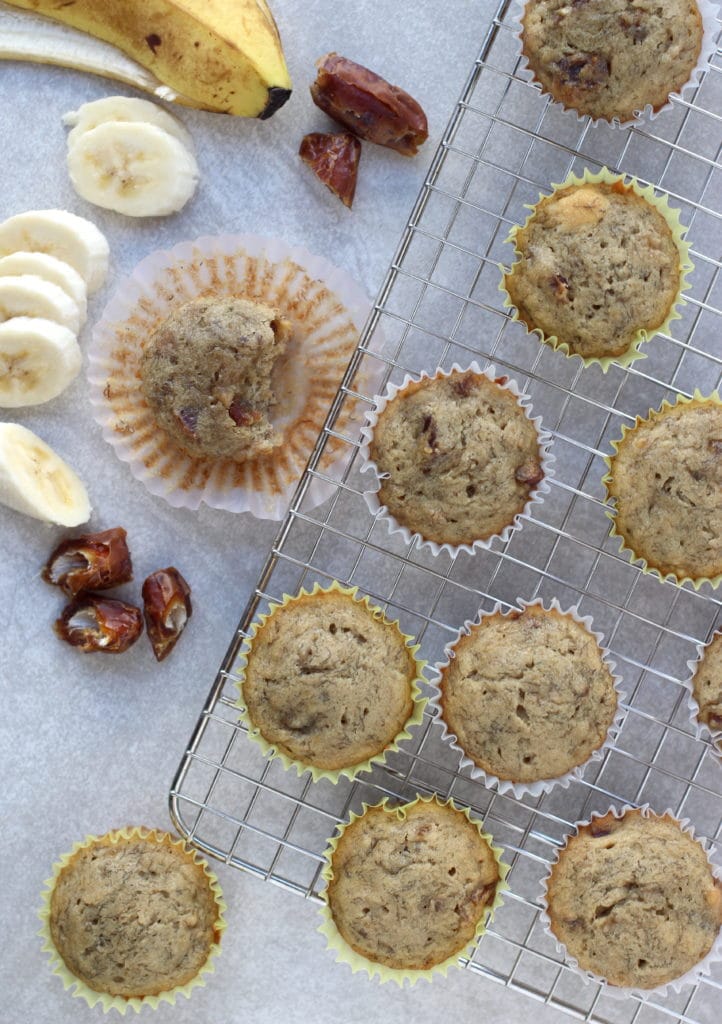 How to make Banana Date Muffins
This recipe I am sharing yields about 10-12 muffins, but feel free to double or even triple it.
Because if you have a house full of people, it will be gone before you know it, my friend.
Start with mixing together the wet ingredients – meshed-up very ripe banana (the riper the better!), 1 egg, sugar, vanilla extract, and of course, coconut oil. Whisk or use a spatula to mix well.
Then add the dry ingredients – flour, baking soda and salt. Mix it up again so that everything combines well.
Cut dates into small pieces and add them into the mixture. Mix to combine again.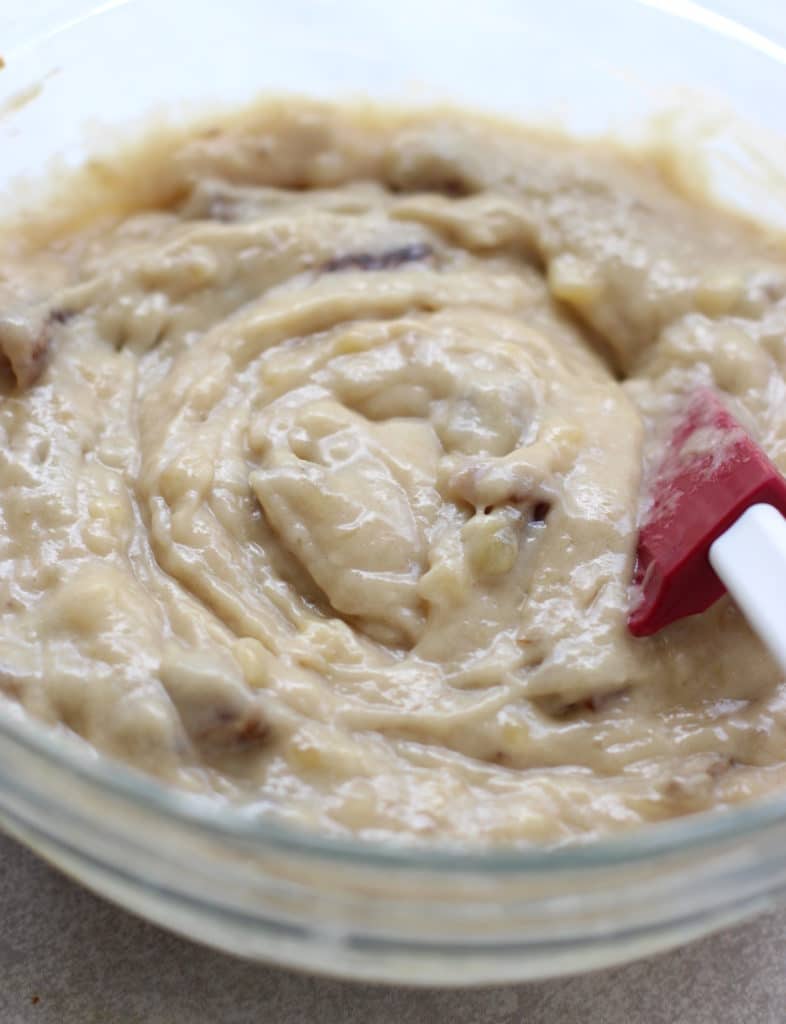 Then grab a muffin tin and line with muffin/cupcake paper cups, then fill each cup to about ~2/3 full.
No need to fill it up completely as muffins will rise and expand in the oven.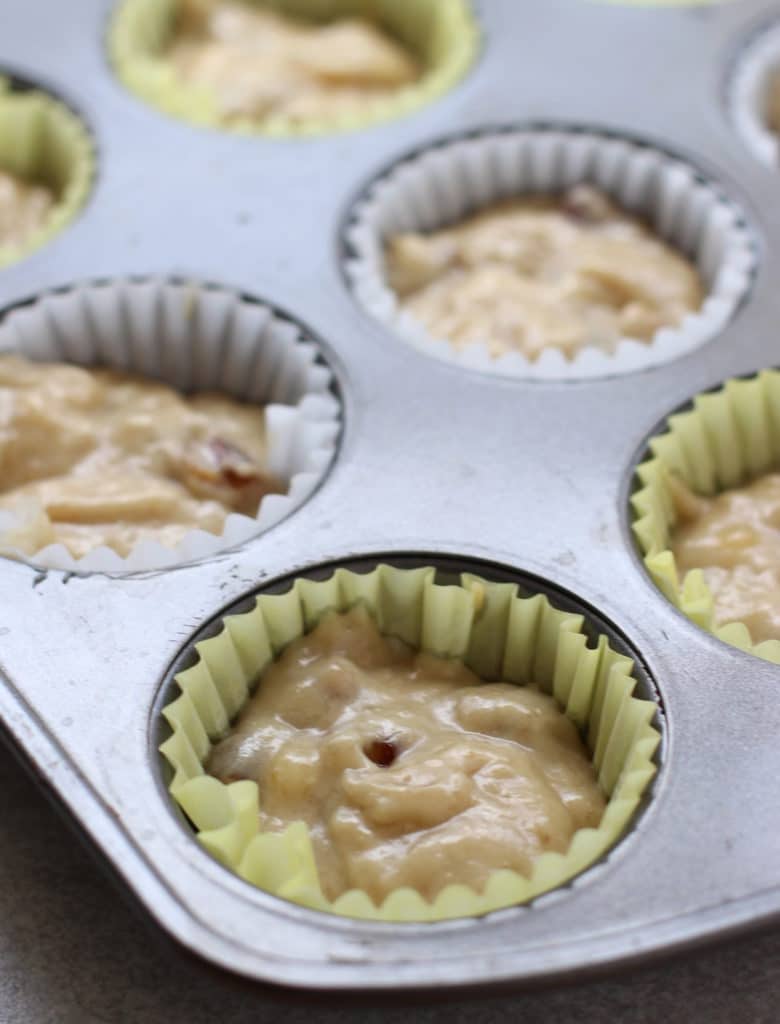 Bake in the oven for 18 minutes at 350 degrees F.
Check for doneness by inserting a toothpick into the center of the muffin. If it comes out clean, muffin is done! If it does not come out clean, bring it back into the oven to cook for another minute or so.
Gently remove muffins from muffin tin and cool on a cooling rack for 10 minutes.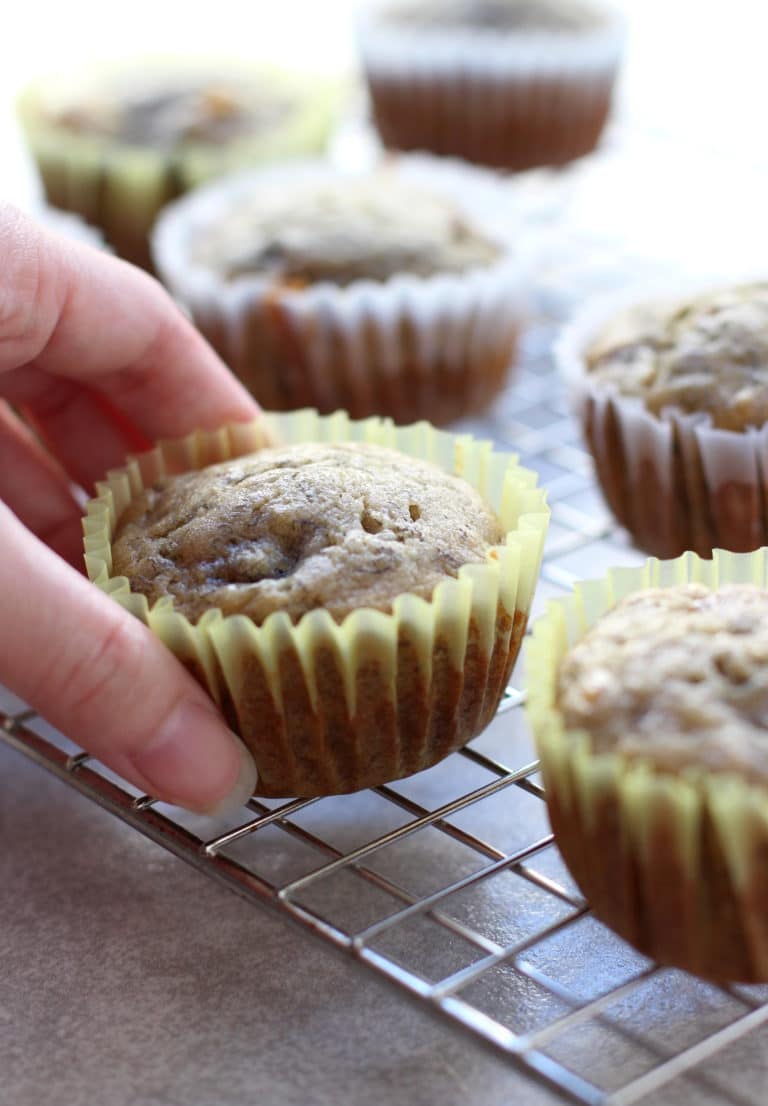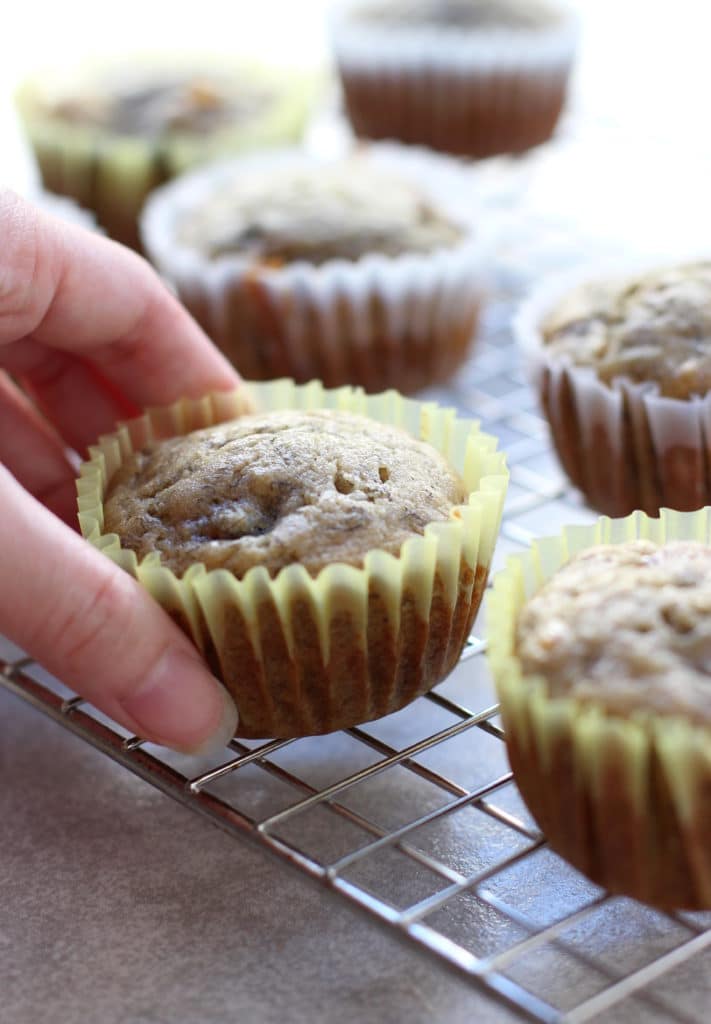 These little things are SO GOOD!! I devoured them. Trust me when I say we had A LOT of them prior to that devouring act.
The muffin is moist and melts in your mouth. I adore the banana flavor and love encountering little chunks of bananas that wasn't completely meshed up in the banana-meshing process.
And those dates. HOW CAN I LOVE THEM MORE.
They truly are amazing little things to bake – they turn into this gooey, warm, sweet and soft things that are like little surprises in every bite.
Also, not to mention, they are filled with lots of vitamins and minerals that are good for our bodies. Yum AND nutritious.
Hello, MY KINDA INGREDIENT!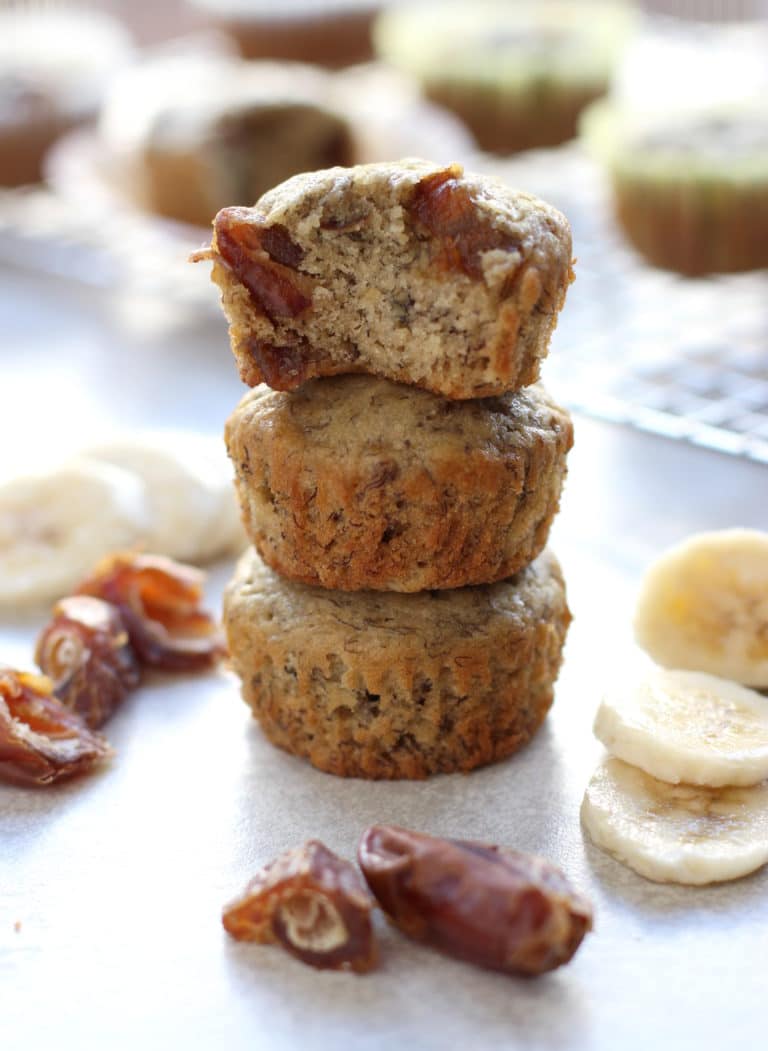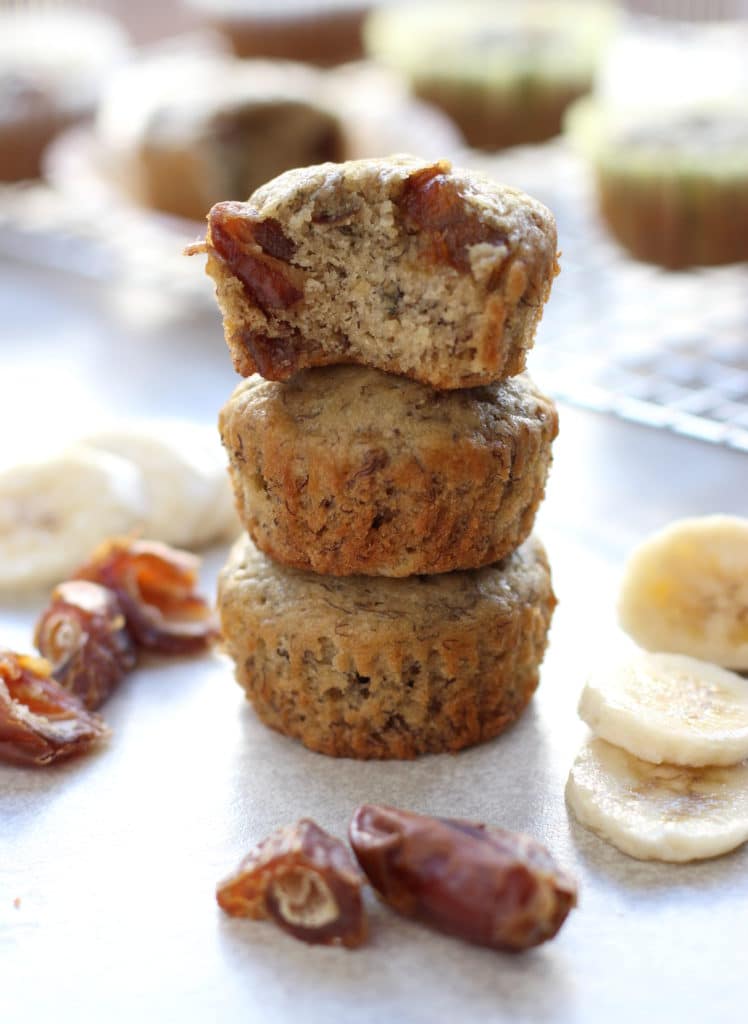 These muffins keep extremely well. I typically don't put it into the fridge the first day of storing, but do so after that, although they typically do not last that long…
These have made me, and my tastebuds, extremely satisfied. Try it because I think you will love it too!
Other breakfast items you will love
Some of my other all-time favorites are on the blog!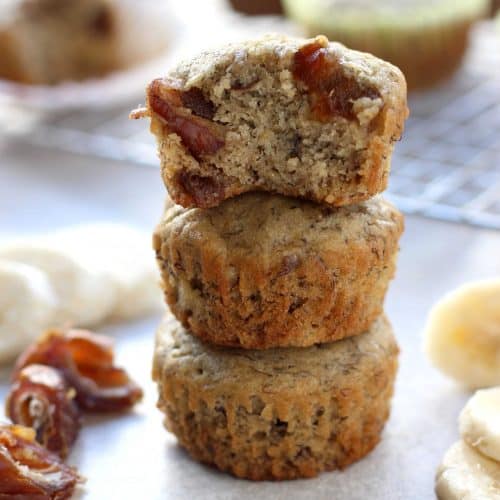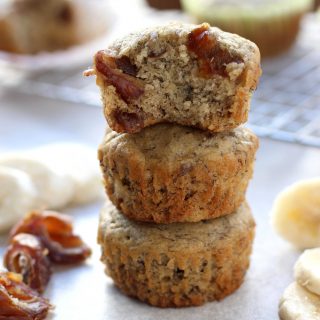 Banana and Date Muffins
Baked with coconut oil, these ultra moist and super fluffy banana muffins are filled with lots of gooey, warm, sweet dates. 30 minutes from start to finish! So easy and super delicious. The perfect breakfast, snack, healthy-ish dessert!
Print
Pin
Ingredients
2/3

cup

very ripe banana

2-3 bananas, mashed

1/4

cup

coconut oil

1

egg

1/3

cup

sugar

1/2

tsp

vanilla extract

1

cup

all-purpose flour

1/2

tsp

baking soda

1/4

tsp

salt

3/4

cup

pitted dates

chopped
Instructions
Pre-heat oven to 350 degrees F

In a medium bowl, mix together wet ingredients – meshed-up very ripe bananas, coconut oil, egg, sugar, and vanilla extract.

Add flour, baking soda and salt to the bowl. Mix well.

Fold chopped-up dates into the mixture.

Line muffin tin with muffin/cupcake paper cups. Fill 2/3 of each muffin cup with mixture. This recipe yields 10-12 muffins.

Bake muffin for 18 minutes. Insert a toothpick into the middle of one of the muffins. Muffin is done if toothpick comes out clean. If not, bake for another minute or so.

Remove muffin from muffin tin and let it cool on cooling rack for 10 minutes.
Nutrition
Calories:
165
kcal
|
Carbohydrates:
27
g
|
Protein:
2
g
|
Fat:
6
g
|
Saturated Fat:
5
g
|
Polyunsaturated Fat:
1
g
|
Monounsaturated Fat:
1
g
|
Trans Fat:
1
g
|
Cholesterol:
16
mg
|
Sodium:
120
mg
|
Potassium:
132
mg
|
Fiber:
1
g
|
Sugar:
15
g
|
Vitamin A:
47
IU
|
Vitamin C:
1
mg
|
Calcium:
12
mg
|
Iron:
1
mg