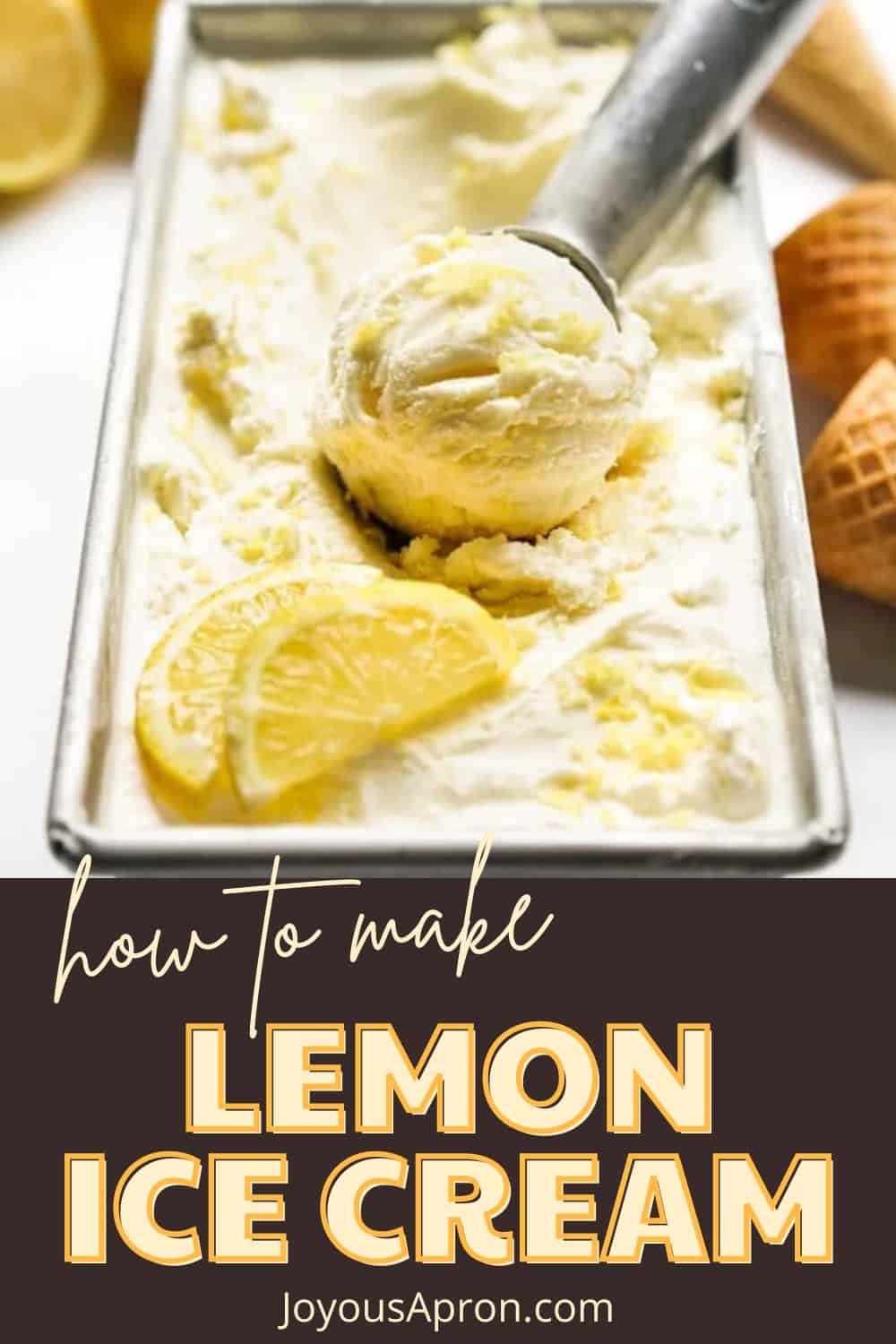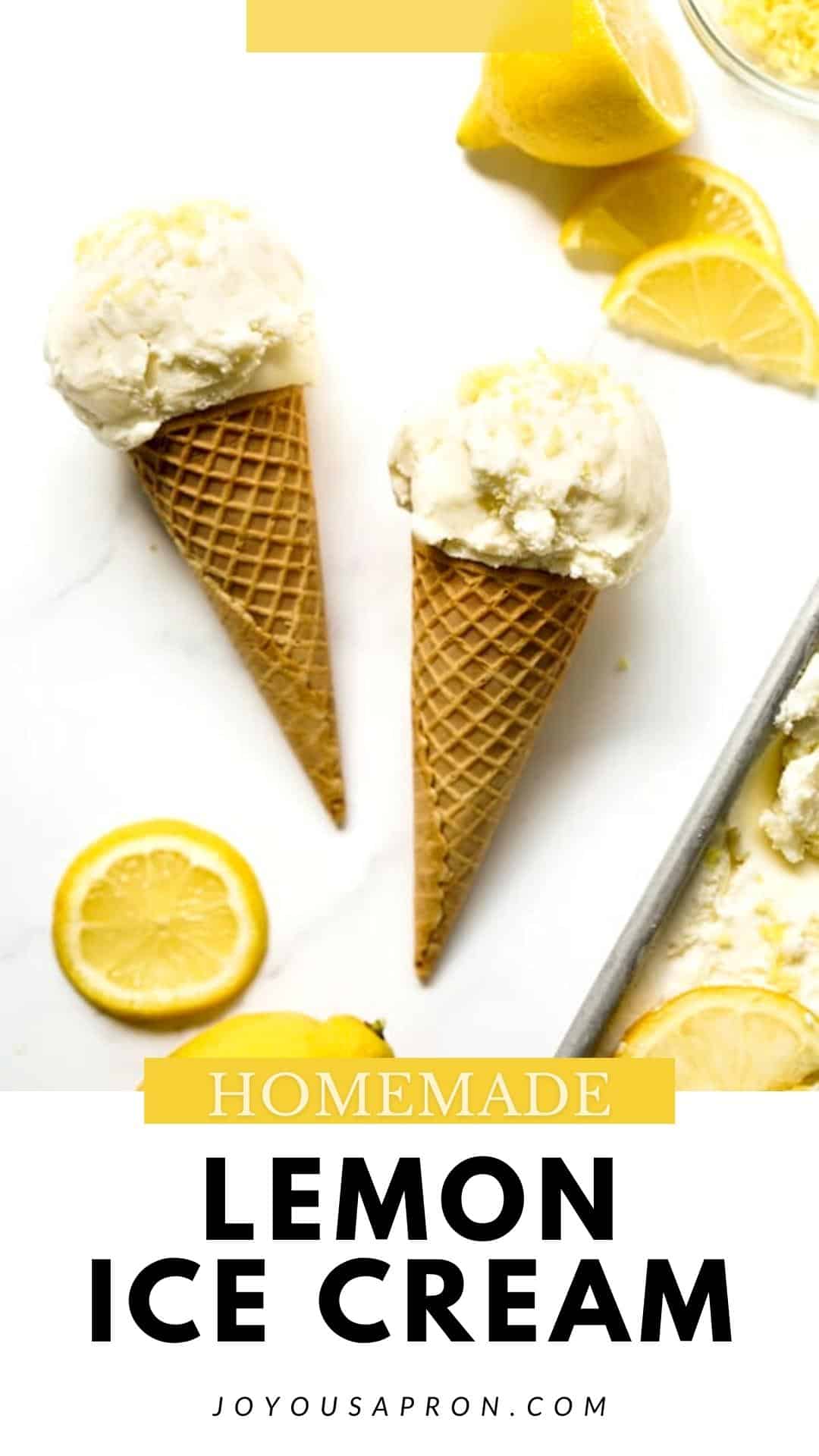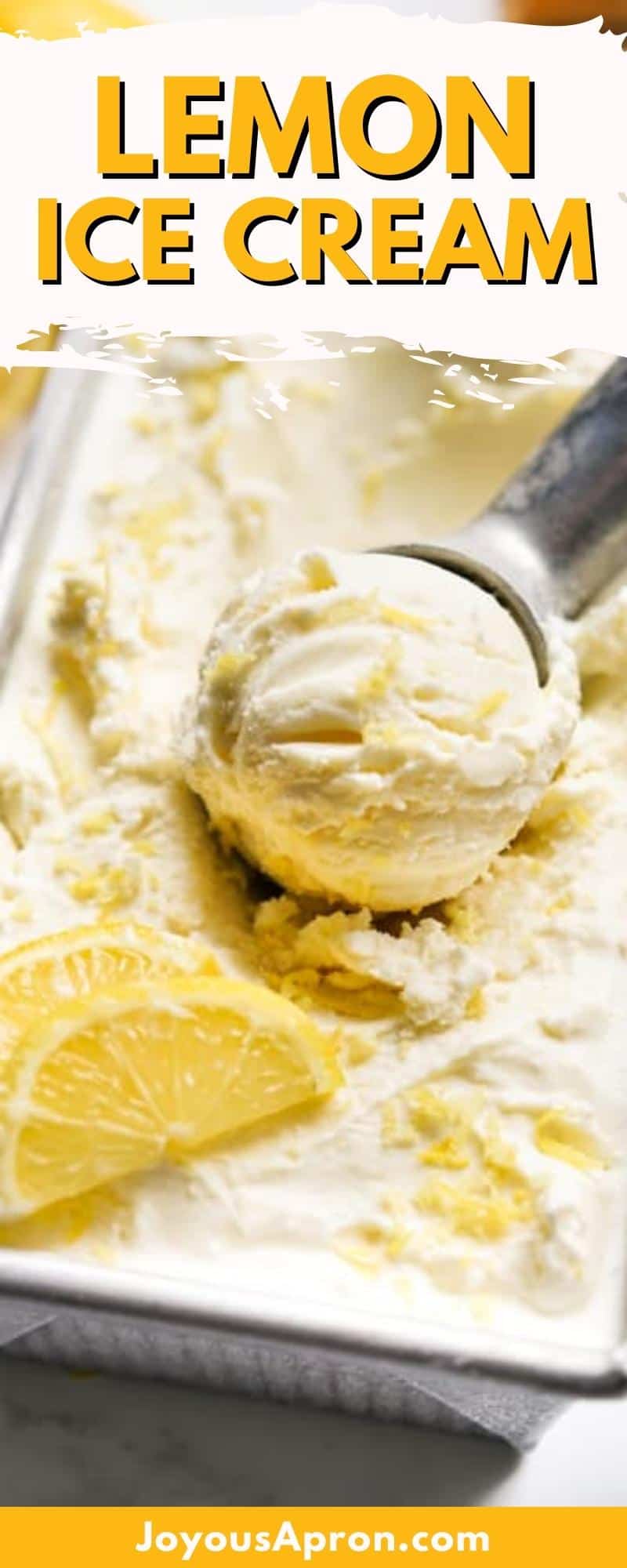 This Homemade Lemon Ice Cream is made with fresh lemons, infused with delicious lemon flavors, and is smooth, creamy and such a refreshing dessert!
It is made with only 4 simple ingredients, yet it is flavor-bursting and oh-so-delicious!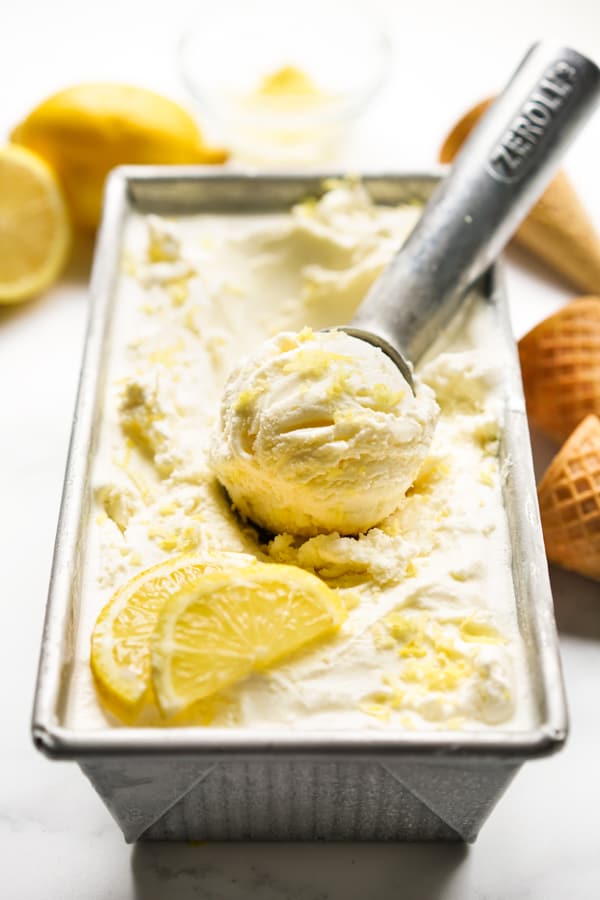 Just like my Cookies and Cream Ice Cream and S'mores Ice Cream, (or any ice cream really, but these are my tried and true homemade favorites), this Lemon Ice Cream is my summer time necessity, summer time survival guide, summer time MUST HAVE.
When you are hot and sweaty and air conditioning alone cannot cool you down, grab a spoon and dig into it. It is tasty, refreshing, and the PERFECT summer time pick-me-up!
A few things you need to know about this Fresh Lemon Ice Cream:
it's fairly light, almost a cross between sorbet and ice cream. If you were to draw a line and on one end is sorbet and the other is ice cream. This would be somewhere in the middle, but leaning towards the ice cream side. My husband thinks it also tastes a little bit like a lemon cream pie.
not too sweet, but sweet enough! The sweetness doesn't overpower the lemon flavors
it is made with fresh lemons, so expect real, truly lemon-y flavors!
you'll need an ice cream maker to make this
Equipment
I make this Lemon Ice Cream in my Cuisinart 2-quart Ice Cream Maker (affiliate link) that I have a rather strong fondness towards.
This recipe fits a 2-quart maker perfectly. If your ice cream maker is smaller than 2-quart you should consider cutting the recipe in half.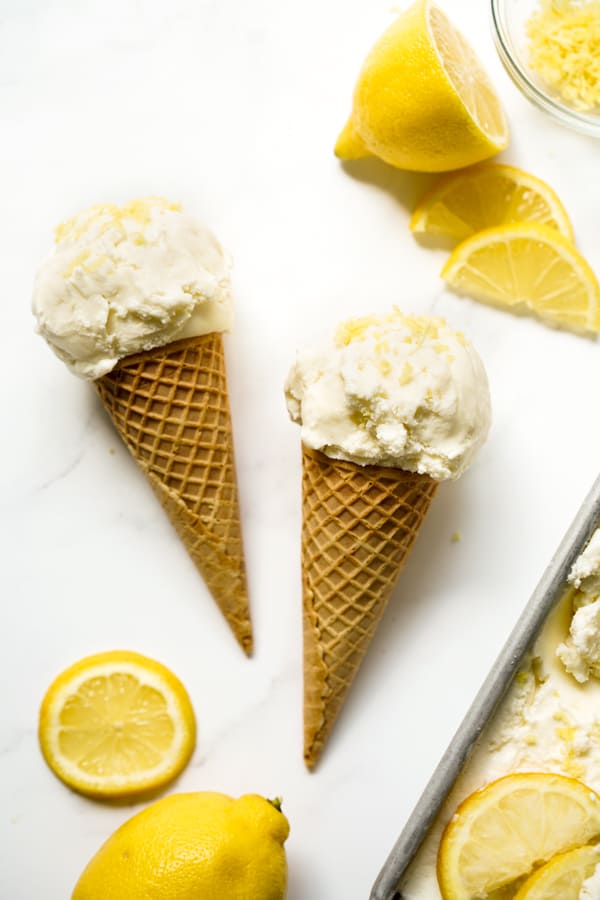 Ingredients
When I created this recipe, I wanted to keep the ingredient list short and simple.
Every ingredient plays an important role in bringing great flavors and textures to this Lemon Ice Cream, and they are easy to work with.
Here's the four (YES, ONLY FOUR!) ingredients you will need:
Heavy cream
Milk – my secret for the lightness lies using a lot less heavy cream and more milk. I would recommend using 2% milk or whole milk.
Lemons – the star ingredient! We will use both the lemon juice and the zest
Condensed milk – no sugar needed, condensed milk gives this a creamy delicious flavor along with the sweetness. It's also easier to work with because you don't have to heat to dissolve condensed milk to incorporate into the mixture.
And if you noticed, no eggs are required. To keep it light, we will not be using eggs. Egg tend to bring a more custard-like texture in ice cream.
It is also SO MUCH EASIER when you are not dealing with cooking eggs in cream and trying to prevent it from turning into scramble eggs.
And YES. If you catch where I am heading. NO COOKING REQUIRED. Just mix everything together…and wait patiently!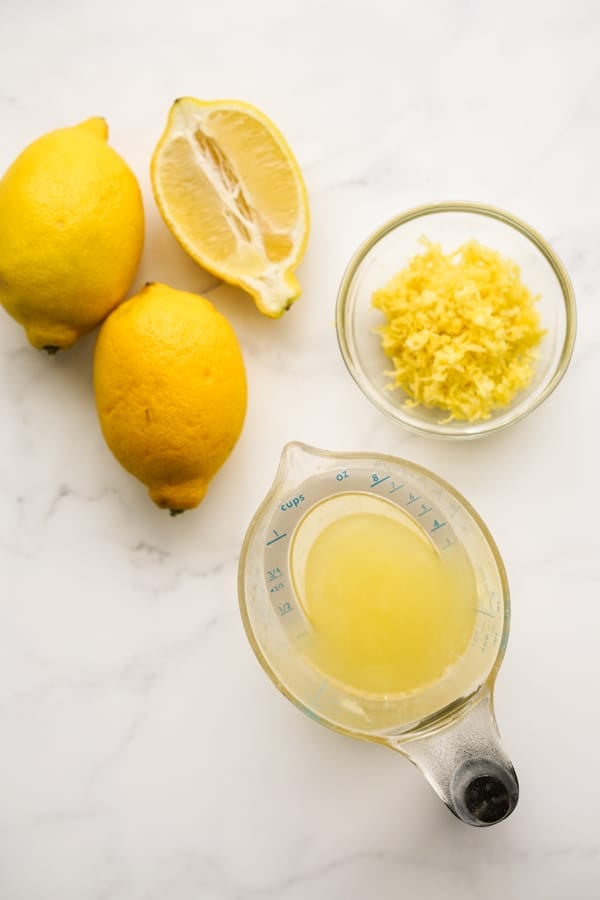 How to Make Lemon Ice Cream
Step 1: Freeze ice cream bucket ahead of time
Whenever you are making ice cream, always remember to ice cream bucket in the ice cream maker at least 24 hours ahead of time.
Step 2: Bring together lemon ice cream mixture
When bucket is frozen and ready to be used, let's start making the Lemon Ice Cream by zesting and juicing those fresh lemons.
I like to zest them first and then juice them – it can be hard to zest them once lemons are no longer firm and juicy.
In a large bowl, bring together heavy cream, milk, condensed milk, and freshly squeezed lemon juice and lemon zest. Stir to combine.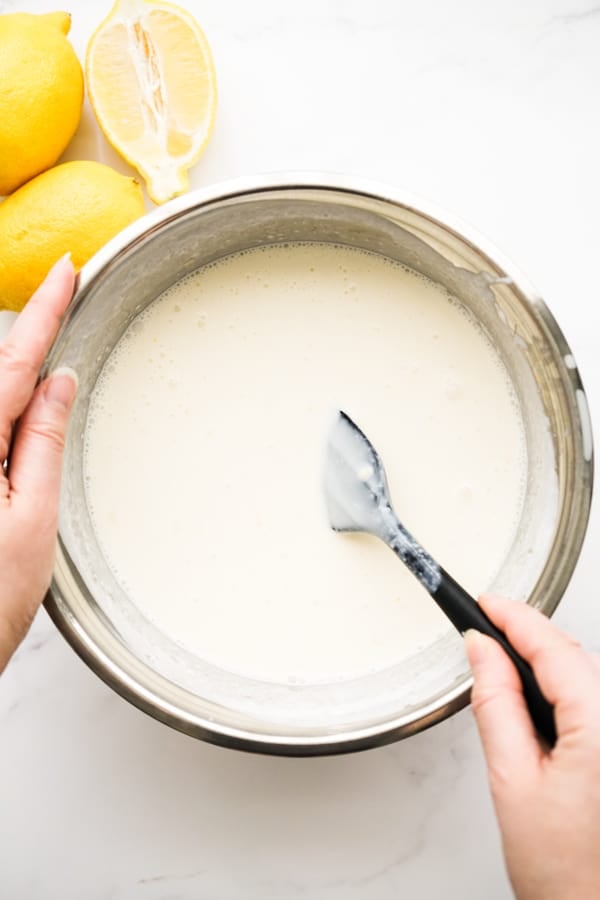 Step 3: Refrigerate mixture
Refrigerate mixture for 30-60 minutes so lemon ice cream mixture is cold. Keeping it cold will make it easier to churn the ice cream in Step 4.
Step 4: Churn ice cream
Follow ice cream maker instruction manual to churn the ice cream.
You will typically need to turn on the ice cream maker, then place frozen bucket and the churning fixtures on the ice cream maker.
Then you will add cold mixture into the bucket and let it churn for 30-45 minutes, or until ice cream has thickened.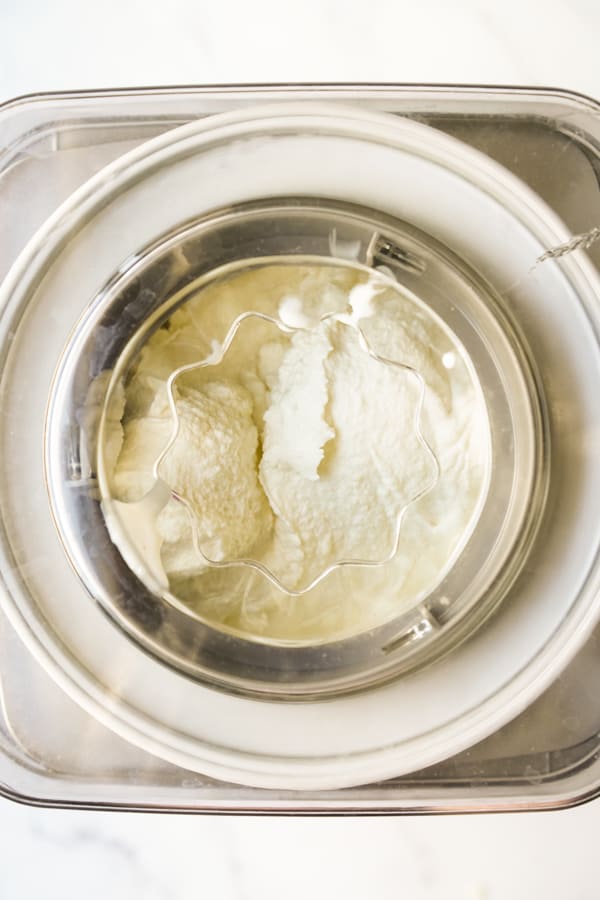 Step 5: Transfer and Freeze
Once you are done churning the ice cream, transfer Lemon Ice Cream to a container.
At this point, Lemon Ice Cream will still be soft, but it will be thicker compared to its consistency prior to churning.
Freeze ice cream for 5-6 hours, or overnight, so that it hardens and resembles the ice cream we all know and love
Step 6: Serve!
I like to add some additional lemon peel to ice cream to give it even more lemon flavors.
Because yes, I love my lemons!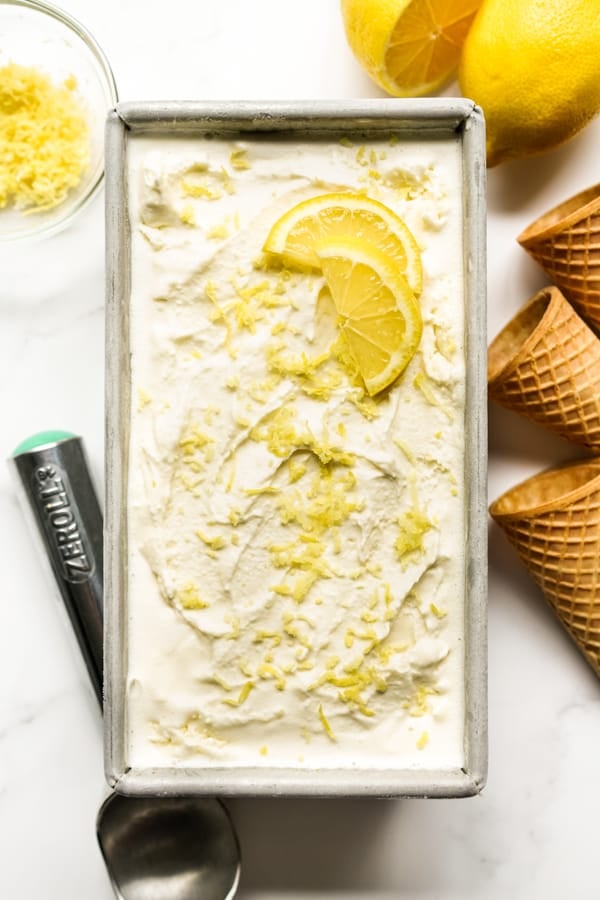 Serve them in a cone, in a cup…or simple eating them straight out from the container!
So dang YUMMY!
Ice Cream can sometimes sound like an intimating task to take one, but it really is pretty straight forward. It does require some preparation ahead of time, and a little bit of wait time and patience.
But this Lemon Ice Cream also calls for simple, straight-forward ingredients, which really makes it fairly easy once you get the hang of it!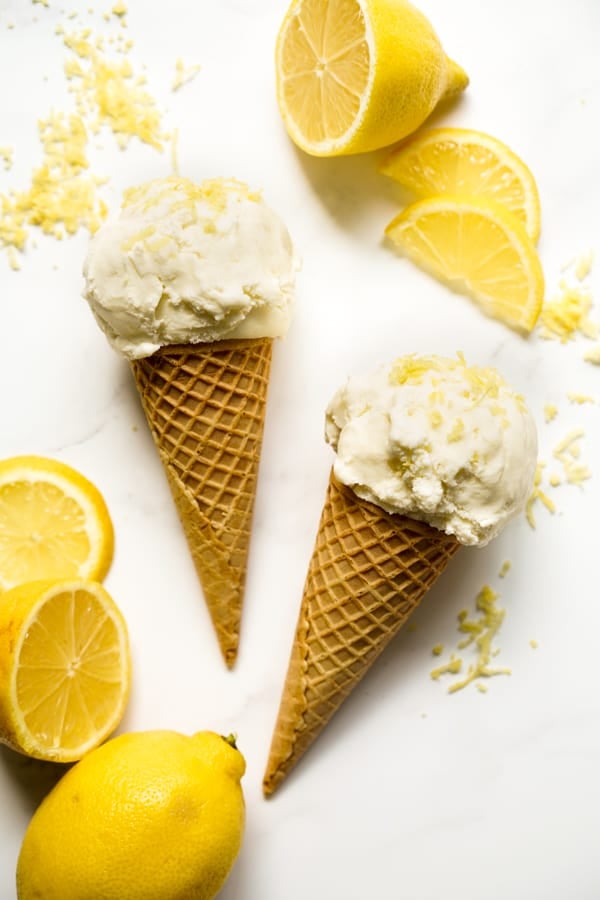 Recipe Notes
A few things to keep in mind!
Freeze ice cream bucket at least 24 hours prior to churning the ice cream.
Make sure Lemon Ice Cream mixture is cold (refrigerate it for 30-60 minutes prior) when pouring it into the bucket/ice cream maker to churn.
Frequently Asked Questions
Can I make ahead the ice cream mixture?
Yes! Make ahead, store in an airtight container, and refrigerate mixture for up to 3 days. You can also freeze it if you want to keep it longer.
How do I make this more sweet/ less sweet?
Add more condensed milk if you like Lemon Ice Cream sweeter. Use less condensed milk and/or more lemon zest if you like it less sweet.
Can I make this without an ice cream maker?
You can but the consistency will be different and it will not taste like traditional ice cream.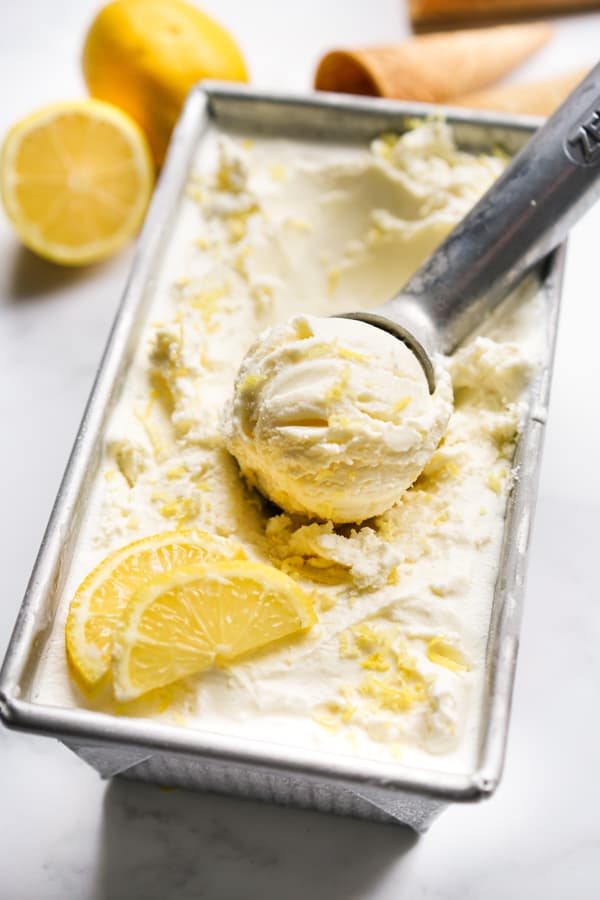 Other Fruit Recipes!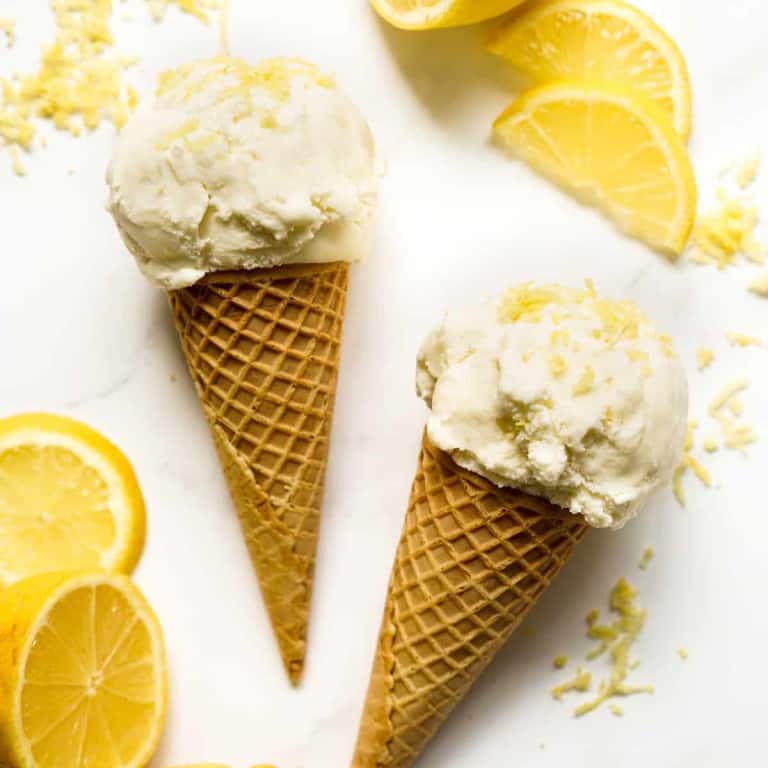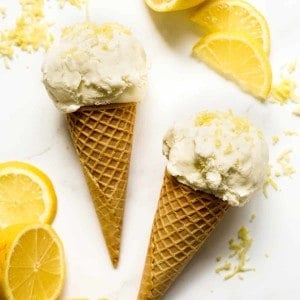 Lemon Ice Cream
Light and refreshing, this lemon ice cream requires no cooking and is addictively good! The perfect summer time dessert that will cool you off and leave you wanting more, and more!
Print
Pin
Ingredients
1

cup

heavy cream

2

cups

2% milk

14

oz

condense milk

1/4 cup + 2 tbsp

freshly squeezed lemon juice

1 1/2

tbsp

lemon zest
Instructions
Freeze ice cream bucket at least 24 hours prior.

Combine all the ingredients in a large bowl and mix well. Refrgerate for 30-60 minutes until mixture is cold.

Pour mixture into a 2-quart ice cream maker. Churn according to manufacturer's instructions, or until mixture is smooth and thickened.

Transfer to a container, freeze for 4-5 hours, or overnight.
Notes
This post was originally published on June 218 and was updated with new photographs to improve user experience on April 2022.
Nutrition
Calories:
392
kcal
|
Carbohydrates:
42
g
|
Protein:
9
g
|
Fat:
22
g
|
Saturated Fat:
14
g
|
Polyunsaturated Fat:
1
g
|
Monounsaturated Fat:
6
g
|
Trans Fat:
1
g
|
Cholesterol:
83
mg
|
Sodium:
136
mg
|
Potassium:
399
mg
|
Fiber:
1
g
|
Sugar:
40
g
|
Vitamin A:
841
IU
|
Vitamin C:
8
mg
|
Calcium:
311
mg
|
Iron:
1
mg