This is an easy and delicious Smoked Salmon Pasta recipe where linguini pasta is tossed in a light creamy lemon sauce, combined with chunks of smoked salmon, capers and parsley.
Smoked salmon pasta makes for a quick 30-minute meal that is satisfying, flavorful, and yummy. If you are a fan of salmon, I just know you are going to love this pasta recipe!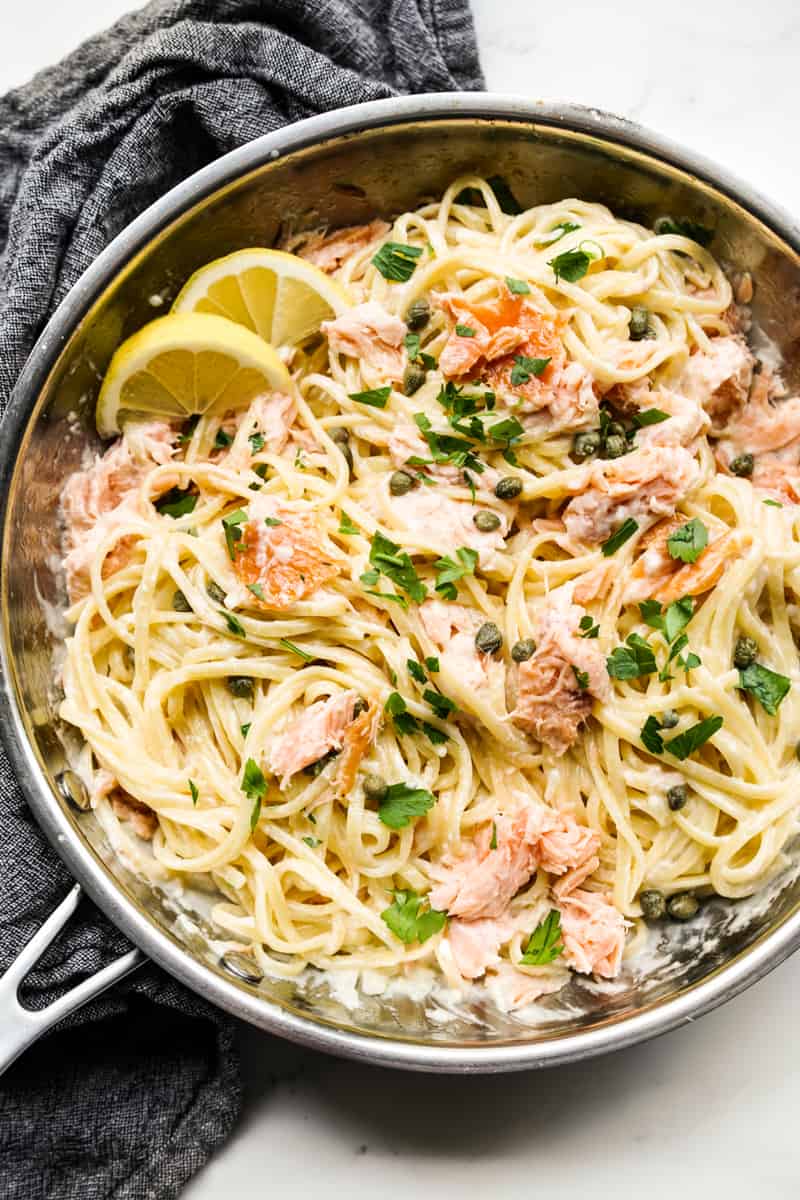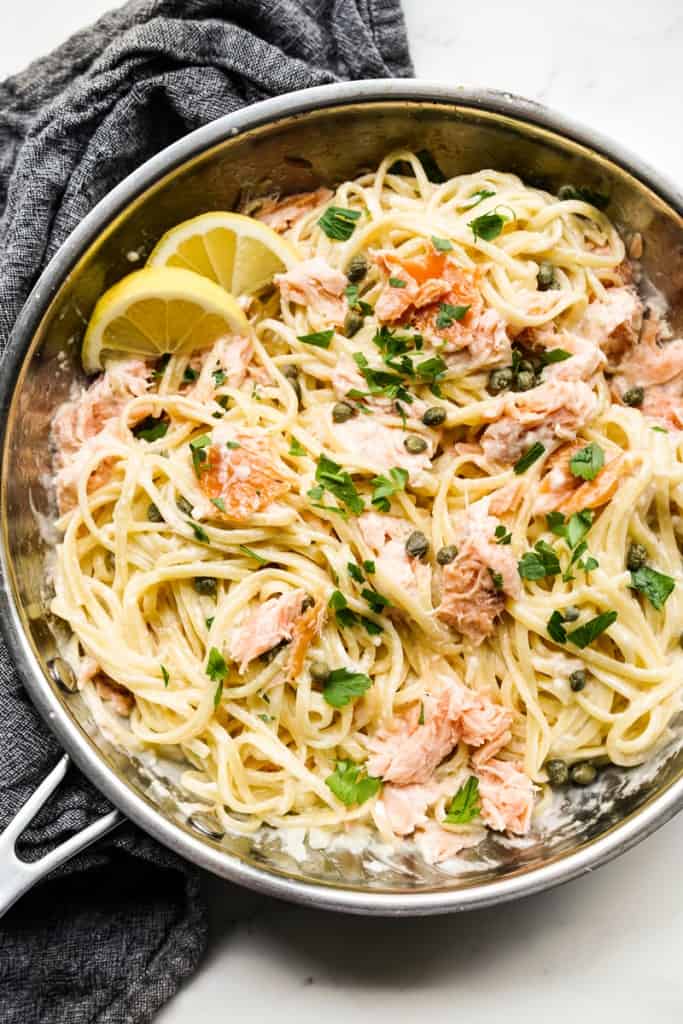 We love a good pasta around here, and if you do too, don't forget to also check out some of our other favorites: Creamy Lemon Chicken Pasta, Roasted Tomato Pasta with Basil and Parmesan, and Cajun Sausage Alfredo Pasta.
Easy Smoked Salmon Pasta Recipe
This tasty smoked salmon pasta recipe is truly for all my smoked salmon and salmon fans out there.
We eat salmon often, and this is one way we really enjoy out salmon. To keep this quick and simple for weeknight dinners, I typically use store-bought smoked salmon to make my smoked salmon pasta.
Costco sells some delicious cooked smoked salmon that are fresh, flavorful and super tasty, and they make a fantastic EASY smoked salmon pasta.
You can, however, smoked your own salmon if you'd like. It'll take much longer, but it is very rewarding and tasty. Definitely give this smoked salmon recipe a try if you are in the mood to make smoked salmon from scratch!
By using already smoked salmon, you can make this under 30-minutes and present a tasty and somewhat gourmet dinner.
Our version of smoked salmon pasta combines linguini pasta is a lemon cream sauce that is light and not overly heavy, with juicy, flavorful smoked salmon pieces and capers tossed alongside it as well. It has a combination of smoky, tangy and creamy flavors…and it's simply fabulous.
Ingredients
Here are the ingredients you will need to make smoked salmon pasta. It's a short and simple list, and the ingredients are easy to find: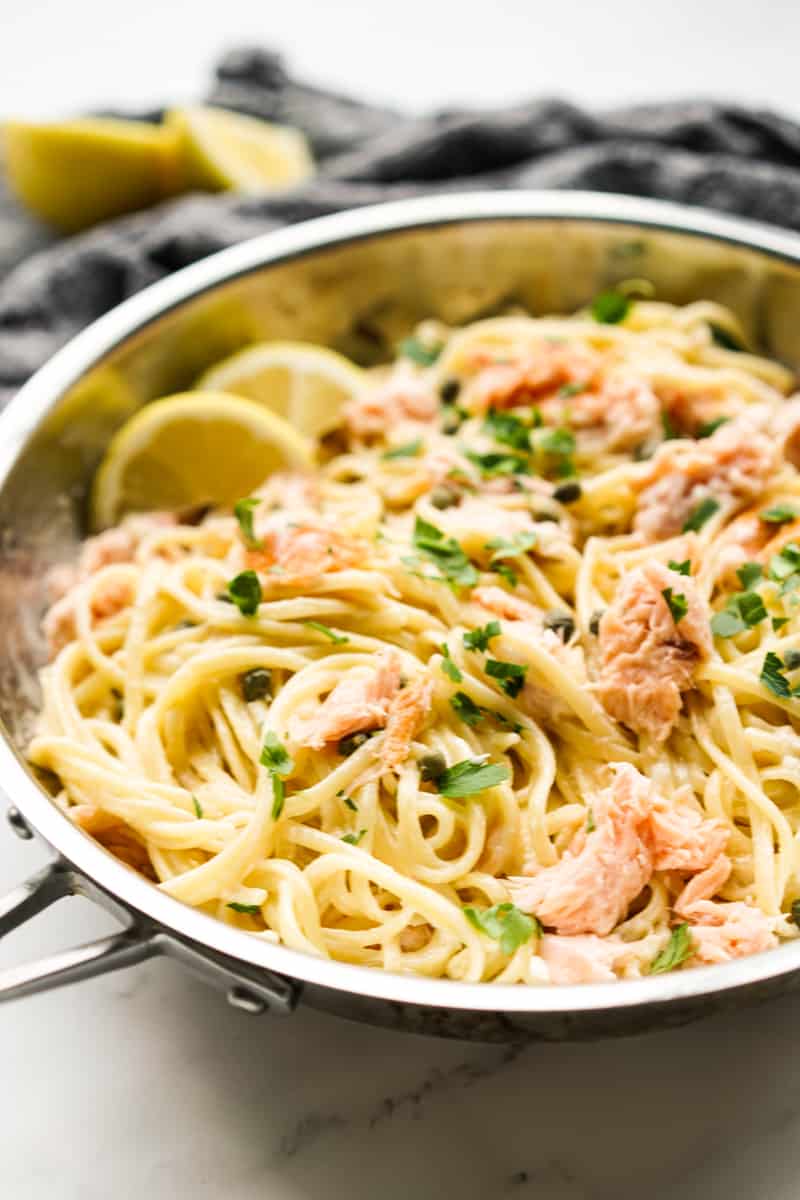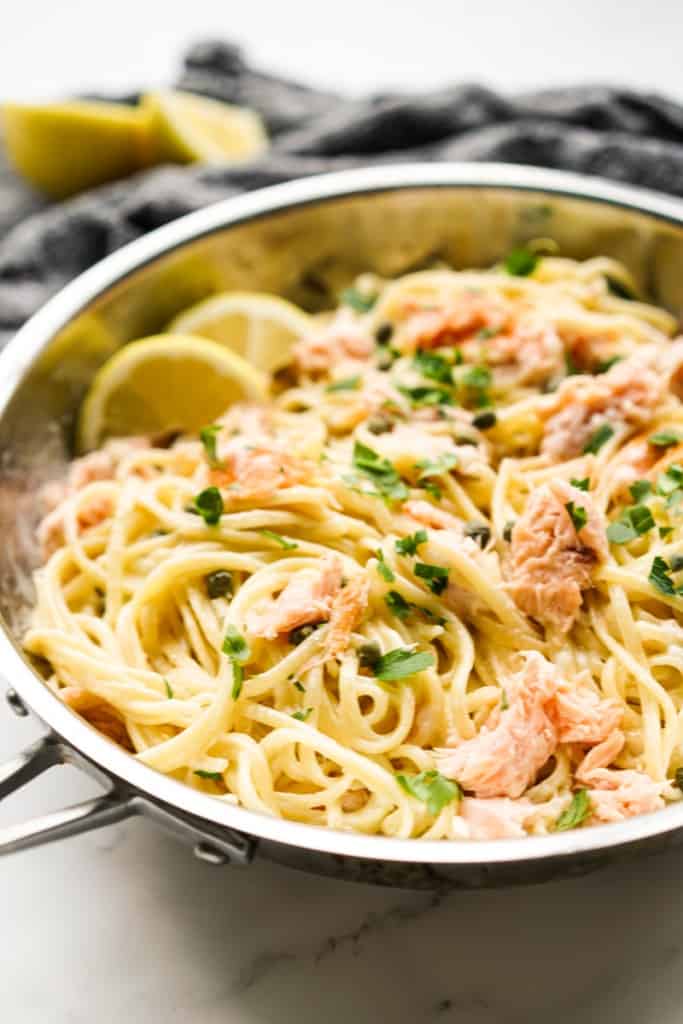 smoked salmon – get store-bought smoked salmon (I like to get mine from Costco – fresh and budget-friendly!) or if you are up for it, make your own! I like this straightforward and tasty smoked salmon recipe.
linguini – other pasta such as spaghetti, angel hair, bucatini that are long and thin works as well.
salted butter
garlic cloves – use fresh garlic for best flavor, and chop/mince them into small pieces to get optimal flavors. Avoid substituting with garlic powder.
heavy cream – for a lighter sauce, half and half (which is half cream, half whole milk) can be used.
pasta water – this is water the pasta is cooked in that has starch in it, and it will help moisten and thicken the pasta sauce.
lemon juice – freshly squeeze juice from fresh lemons works the best
capers – drain moisture from the bottle and use just the capers.
salt – this will help open up the flavors in the sauce. Reduce if salmon is already super salty – adjust accordingly to taste.
How to make pasta with smoked salmon
Let's make this delicious creamy smoked salmon pasta! As far as kitchen appliances, all you need is a large pot for boiling the pasta, and a large saucepan or skillet for making the sauce and tossing pasta in it later.
Step 1: Boil pasta in water
Bring water to boil in a large pot, then add your linguini pasta. Cook until al dante, following package instructions.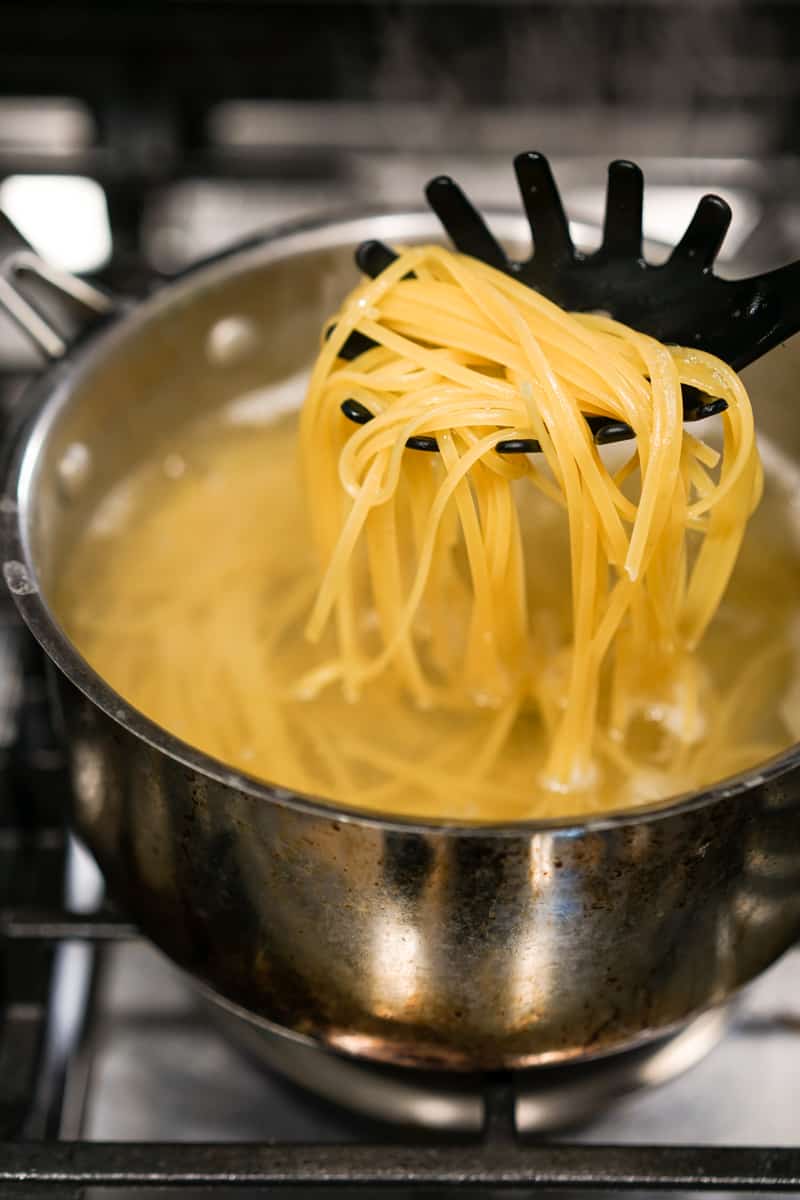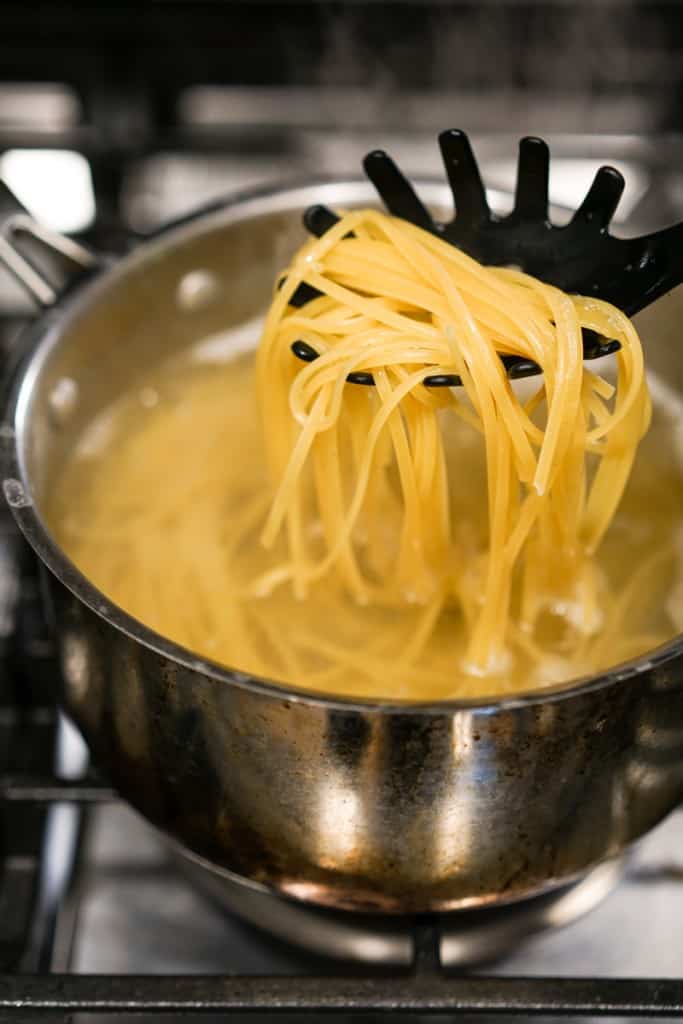 When pasta is done, drain water and set pasta aside. When draining pasta water, reserve and set aside about 1/4 cup of pasta water to add to the cream sauce later.
Step 2: Make Creamy Pasta Sauce
While linguini pasta cooks, I typically simultaneously make the sauce for our creamy smoked salmon pasta to save time.
You can wait until the pasta finishes before making the sauce if that sounds like too much multitasking. Remember to save some pasta water for the sauce and do not discard all of it!
To make the creamy sauce, first heat a large skillet/saucepan and add butter.
Once butter is melted, add chopped garlic and saute until fragrant.
Next, add heavy cream, and bring to a boil.
Once heavy cream comes to a boil, add lemon juice, pasta water, and salt to taste (adjust accordingly). Stir continuously and bring to boil.
At this point, sauce should be slightly thickened. Turn the heat off immediately, if not pasta sauce will over thicken and turn into a paste.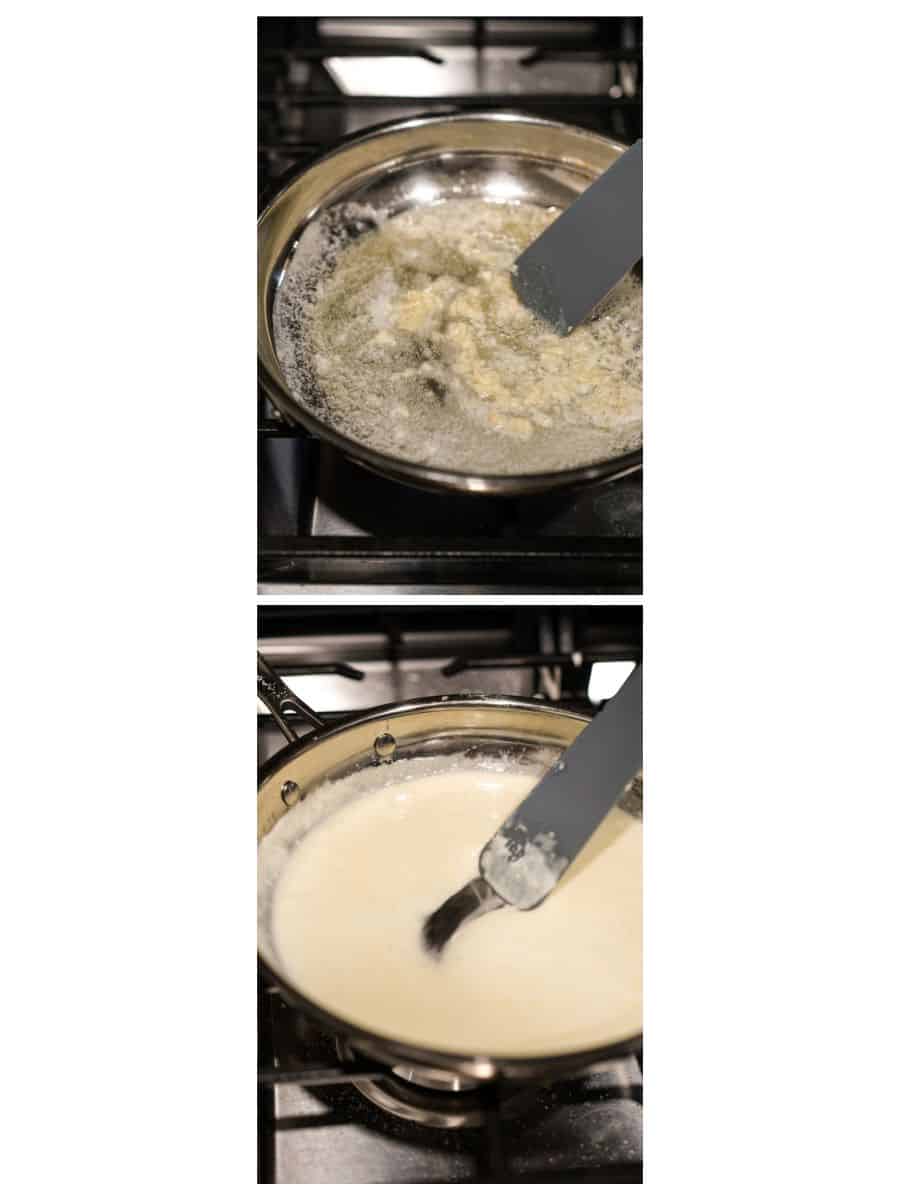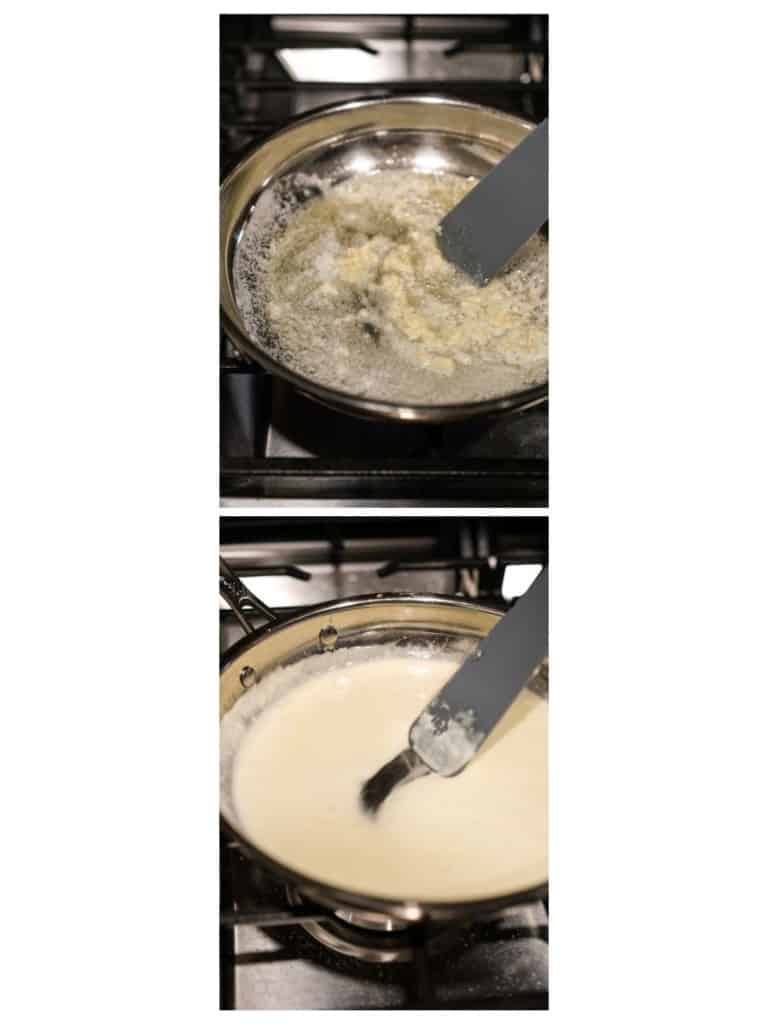 Add pasta into the cream sauce and use a pair of tongs to toss pasta in sauce.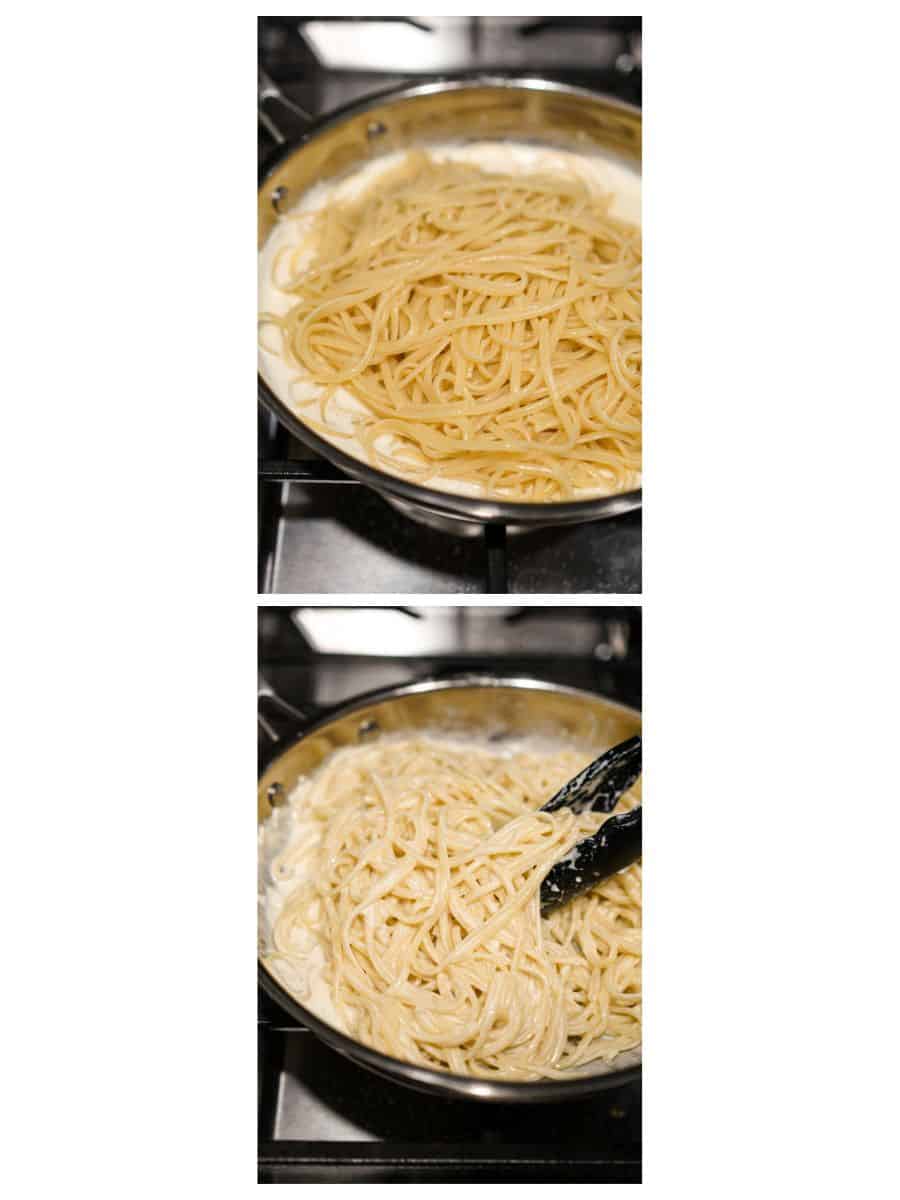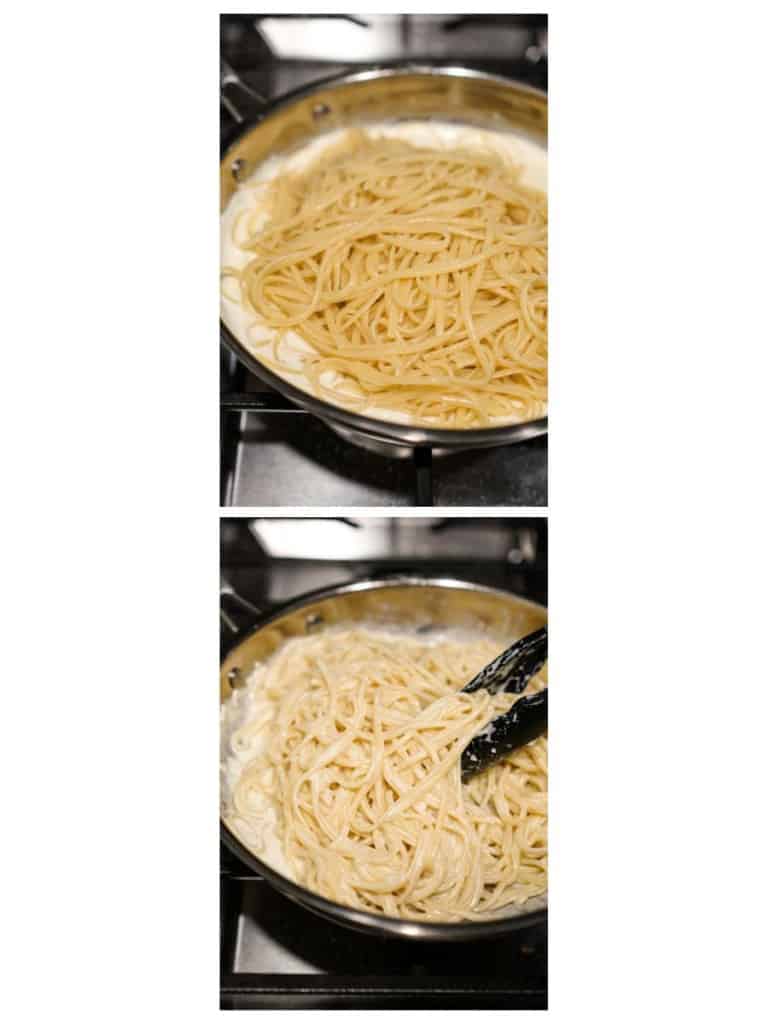 Use a fork to flake and cut salmon into smaller pieces, then add them to the pasta.
Next, add capers to the pasta.
Use a pair of tongs to toss pasta along with salmon pieces and capers.
Lastly, garnish with parsley (although not required) and serve!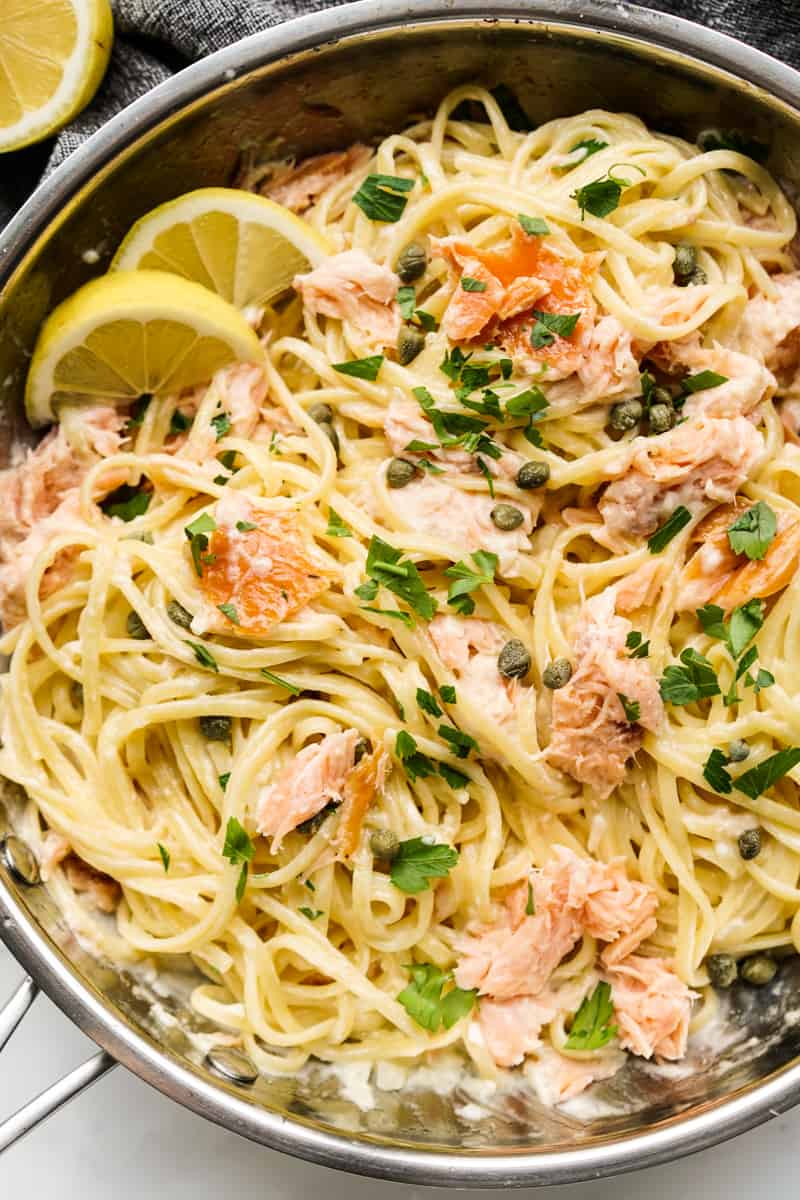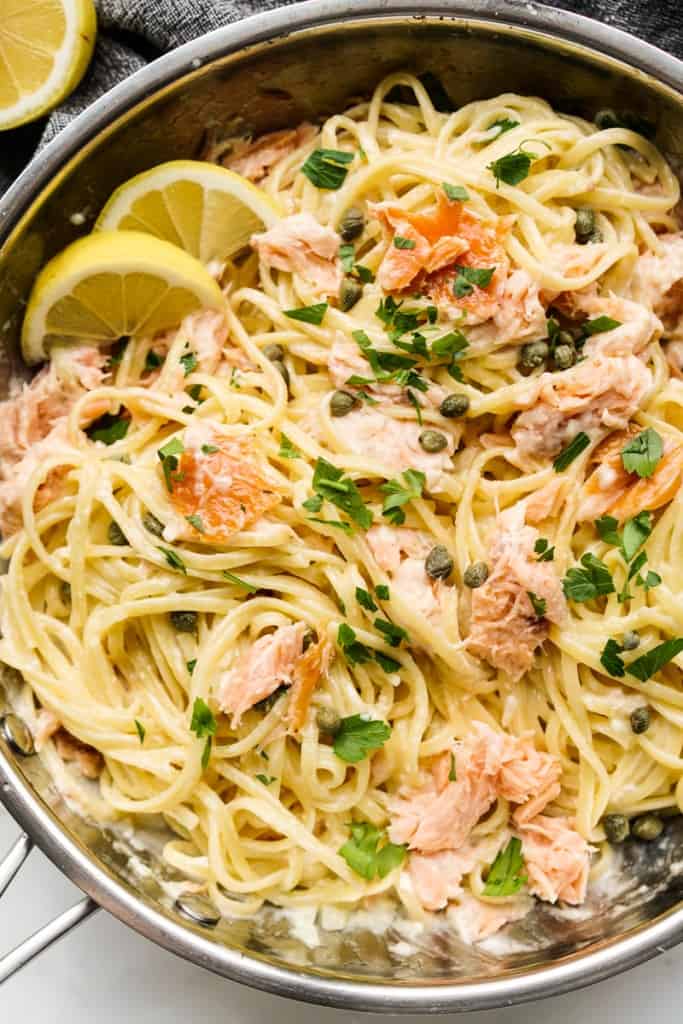 Variations and Subsitution
This creamy smoked salmon pasta recipe is incredibly versatile. There are so many ways to tweak this recipe to make it your own or to use up what you have in the fridge. Here are some other ways I make this:
Use a different type of pasta. Long pasta such as spaghetti, bucatini, angel hair works really well, but you can also use any pasta you have one hand.
Add veggies, such as peas, spinach, kale or red bell peppers.
Add parmesan cheese at the end if you like an extra dimension of flavor.
Reheating Instructions
To reheat smoked salmon pasta, simple drizzle a few drops of water or milk onto pasta and reheat in the microwave.
When reheated, smoked salmon pasta will not be as creamy as it was, and will be slightly dryer.
Frequently Asked Question
Can I use raw salmon?
Yes! You can use sushi grade raw salmon instead of smoked salmon. If serving with raw salmon, add salmon on top of pasta when serving instead of tossing salmon in the pasta in the skillet itself.
Can I use milk or half and half instead of heavy cream?
Yes. However, pasta sauce will be less creamy and more watery if using milk or half and half.
What is the best way to reheat pasta?
Please see 'reheating instructions' above for more information.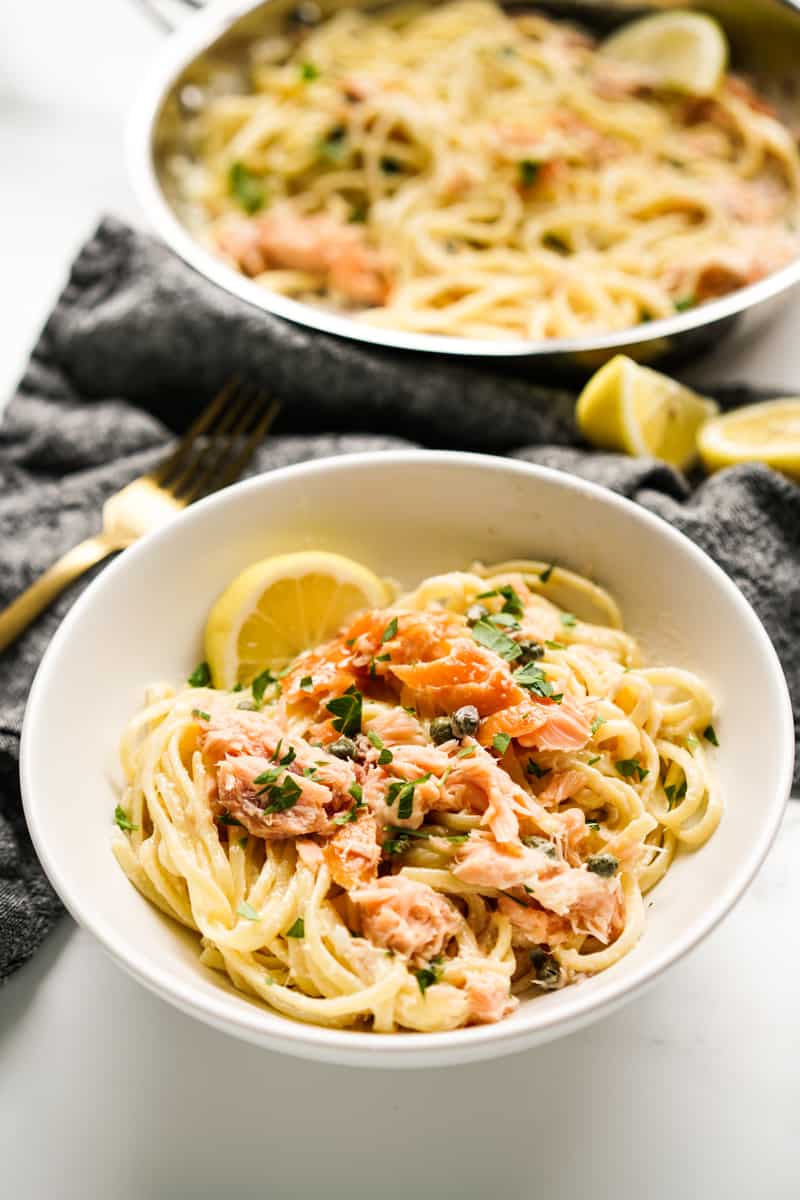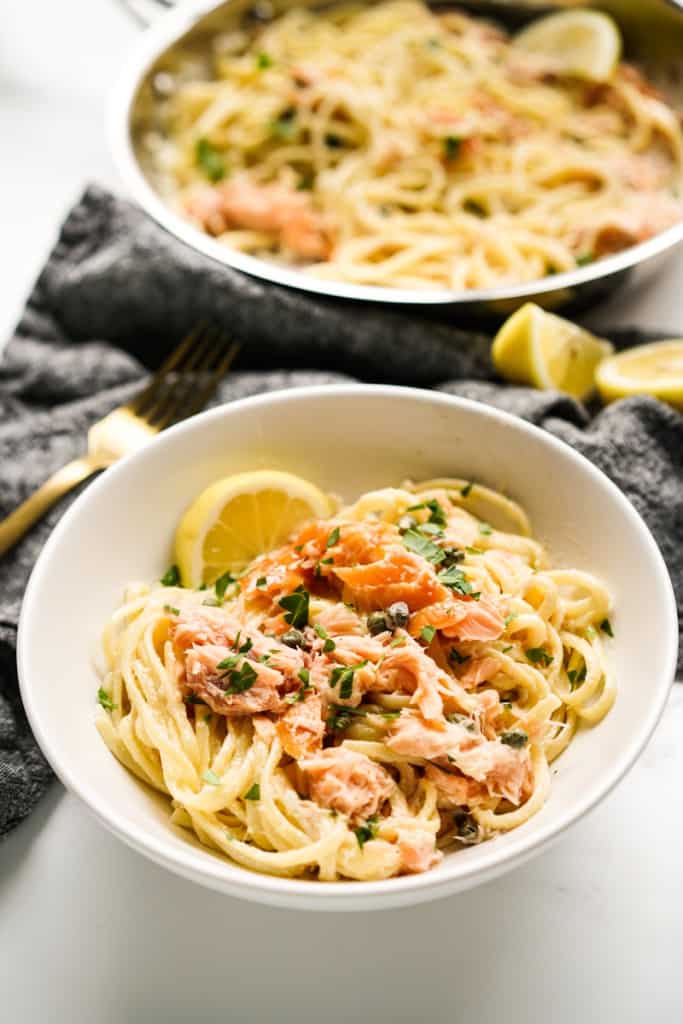 I hope you enjoy this lovely smoked salmon pasta as much as I do! I adore the light creamy sauce the pasta is tossed in, that flavor-packed smoky salmon, along with the bite of tanginess from the capers.
DID YOU ENJOY THIS RECIPE? Please comment below and give us a 5-star rating! This will help others find this recipe on Google and Pinterest. We very much appreciate your help! 🤍
More Pasta and Noodle Recipes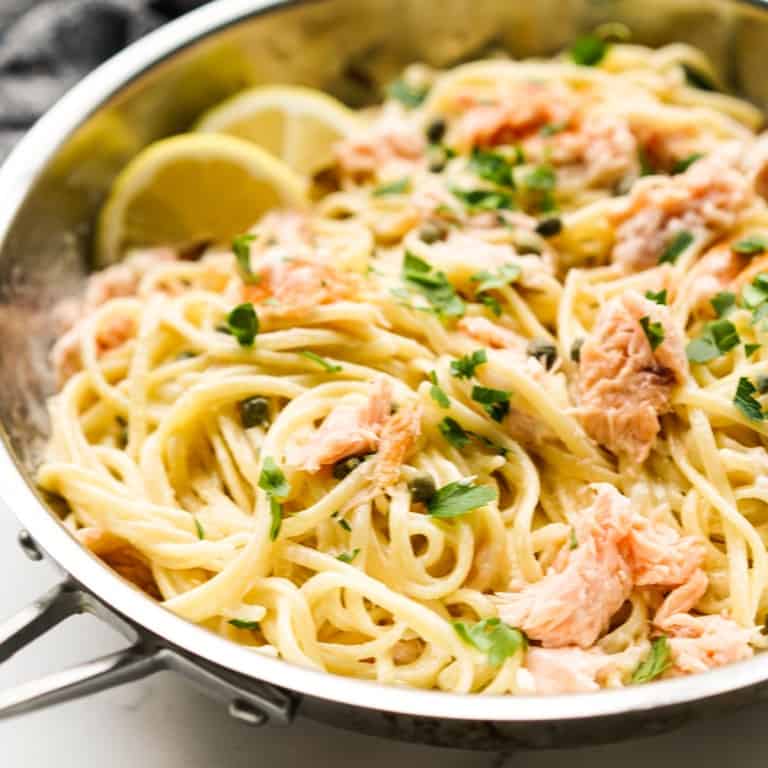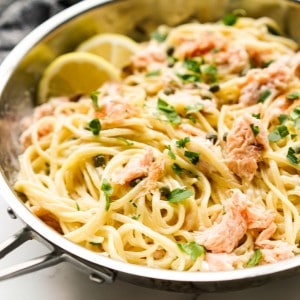 Smoked Salmon Pasta
Delicious linguini pasta recipe with smoked salmon tossed with capers in a tangy lemon cream sauce. This easy pasta dish is ready under 30 minutes and makes a delicious quick dinner.
Print
Pin
Ingredients
1

lbs

linguini pasta

3-4

tbsp

pasta water

more if needed

4

tbsp

salted butter

6-8

cloves

garlic

chopped

1

cup

heavy cream

1/4

cup

lemon juice

2

tsp

salt

or to taste

1

lbs

smoked salmon

2

tbsp

capers

drained

1

tbsp

parsley

chopped, optional
Instructions
In a large pot, bring water to boil. Add linguini pasta, cook using package instructions. When pasta is done, reserve 1/4 cup of pasta water. Drain the rest of the water, and set pasta aside.

In a large saucepan or skillet (see Note 1), melt butter under medium heat. Add garlic, saute for 30 seconds until fragrant (do not brown garlic), then add heavy cream.

Bring heavy cream to a boil. Add lemon juice and 3-4 tbsp of reserved pasta water.

Bring to a boil again. At this point, sauce should be slightly thickened. Add salt, stir, and turn off heat.

Add pasta to cream sauce, and toss pasta in sauce.

Use a fork to break smoked salmon into smaller pieces. Add smoked salmon and capers to pasta. Toss to combine.

Optional: Garnish with parsley. Serve and enjoy!
Notes
Note 1: Make sure skillet or saucepan is large enough to accommodate all the sauce and the pasta. Pasta will be tossed in sauce in the skillet/saucepan at the end.
Nutrition
Calories:
578
kcal
|
Carbohydrates:
59
g
|
Protein:
25
g
|
Fat:
26
g
|
Saturated Fat:
15
g
|
Polyunsaturated Fat:
2
g
|
Monounsaturated Fat:
7
g
|
Trans Fat:
0.3
g
|
Cholesterol:
82
mg
|
Sodium:
1518
mg
|
Potassium:
368
mg
|
Fiber:
3
g
|
Sugar:
3
g
|
Vitamin A:
943
IU
|
Vitamin C:
6
mg
|
Calcium:
61
mg
|
Iron:
2
mg