Instant Pot Chicken Tortilla Soup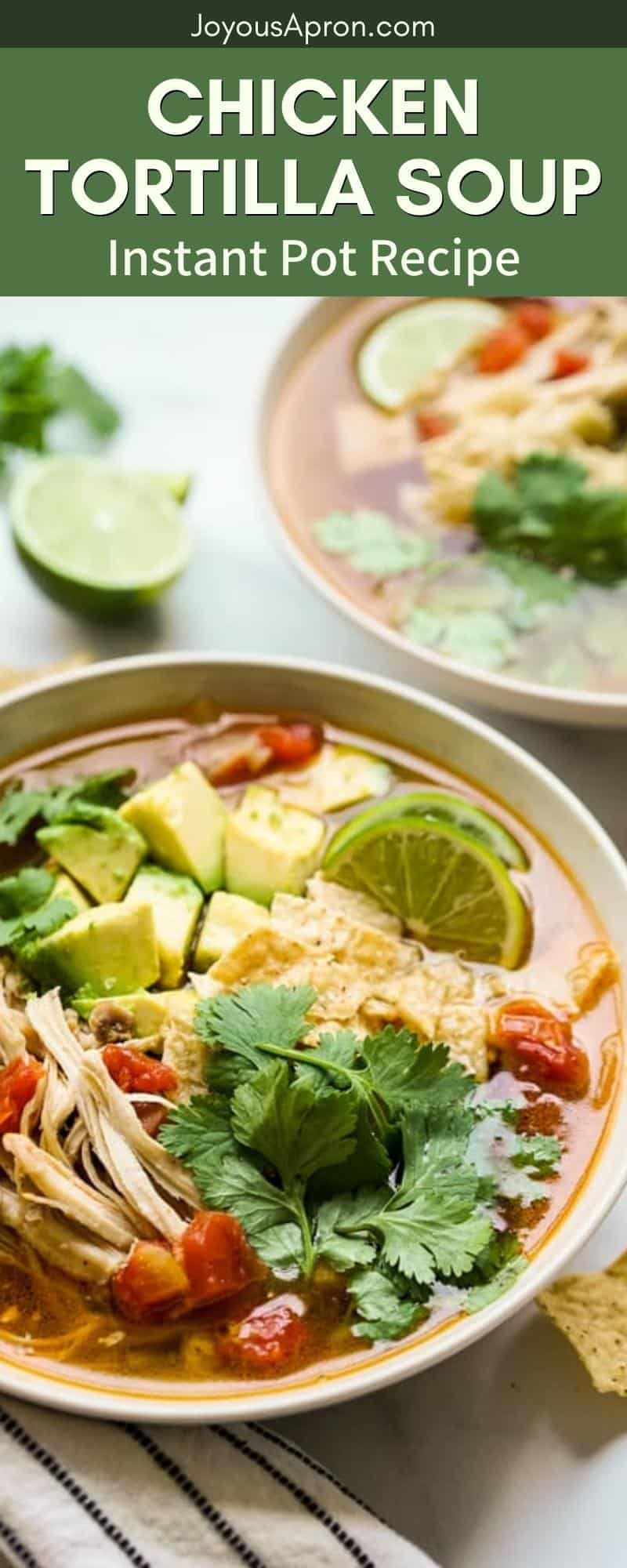 The BEST, most flavorful, and easiest Chicken Tortilla Soup recipe made possible with an Instant Pot or pressure cooker.
Filled with shredded chicken, tomatoes, avocados, cilantro, the broth is light, with a slight kick (make it mild if you prefer less spicy), and so flavorful you won't believe it takes only about 30 minutes to make this.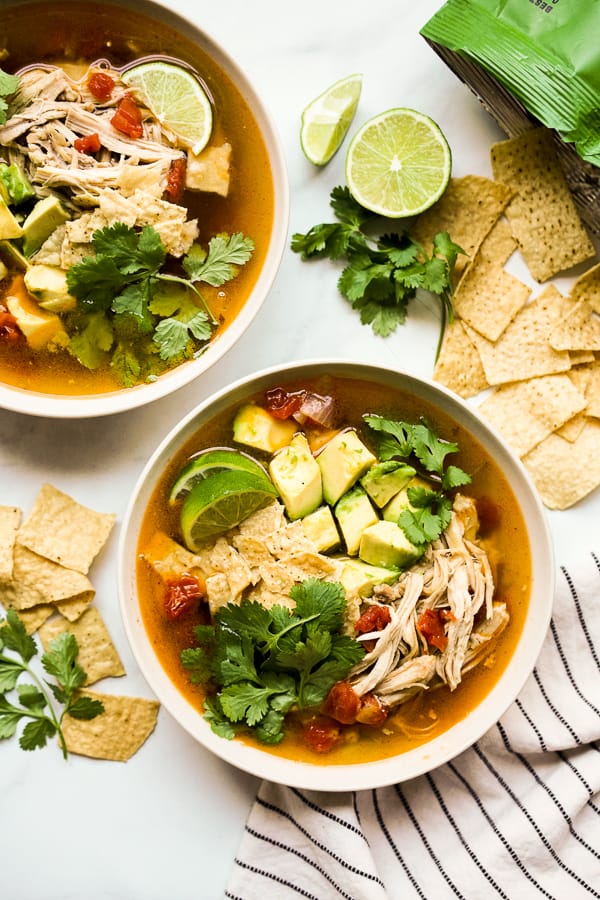 We are obsessed with this yummy bowl of goodness. It's so cozy, so comforting, so delicious…like a warm hug. 🙂
How this came about
Many years ago I was having some major stomach issues and had to be on a soup diet for an extended period of time.
I couldn't eat anything greasy; dairy did not sit well with me; foods with super high fiber content irritated me. Light soups were one of the only things that I was able to eat without a problem.
Chicken Noodle Soup was one of the things that I could safely eat and I got to a point where I was so tired of it. One fine day, I stumbled upon this hole-in-the-wall Mexican restaurant that serves Chicken Tortilla Soup with the most flavorful tasting broth.
I grew up eating my grandma's homemade soups where she makes her broth from scratch and boil them for 18 hours to bring out the deepest flavors.
One bite of the Chicken Tortilla soup I knew how it was made, because it felt way too familiar: Slow cooking chicken and bones for a very long period of time.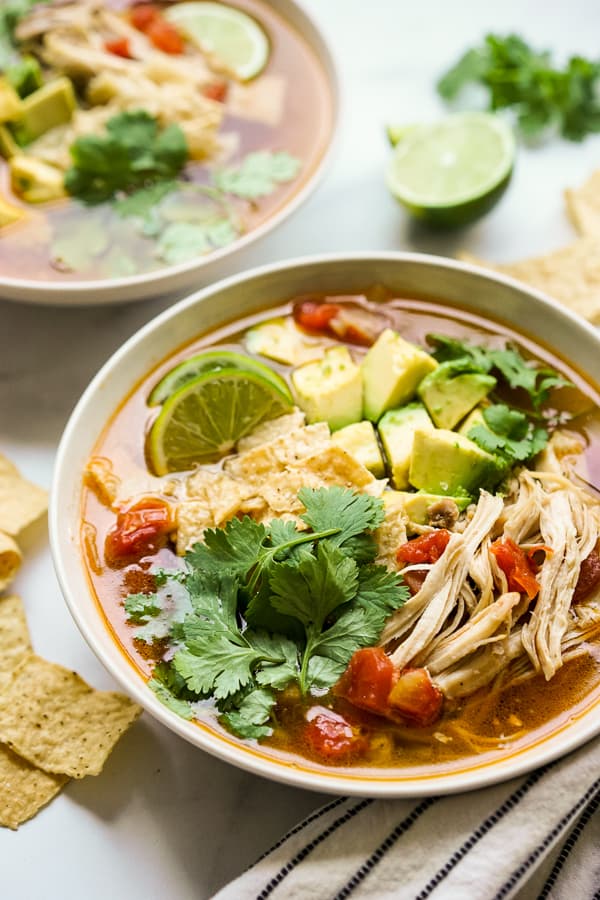 Never did I thought recreating the Chicken Tortilla Soup from scratch at home was possible until the Instant Pot made its way into my life.
The Instant Pot has the ability to cut the broth-making process to such a short time while creating the most flavorful broths ever. I am still dumbfounded every time I use it.
This is not an authentic Chicken Tortilla Soup but it is my take of it after having it for months from that hole-in-the-wall Mexican place.
But rest assure, it is crazy delicious. You won't see anything on this blog that I do not love and approve 101%. 😉
Hello Instant Pot Chicken Tortilla Soup!
We have been eating this meal a lot throughout the Fall and winter. My husband and I have declared this the best Chicken Tortilla Soup everrrr.
Yes we like it quite a bit.
When we say quite a bit, we actually mean A WHOLE LOT.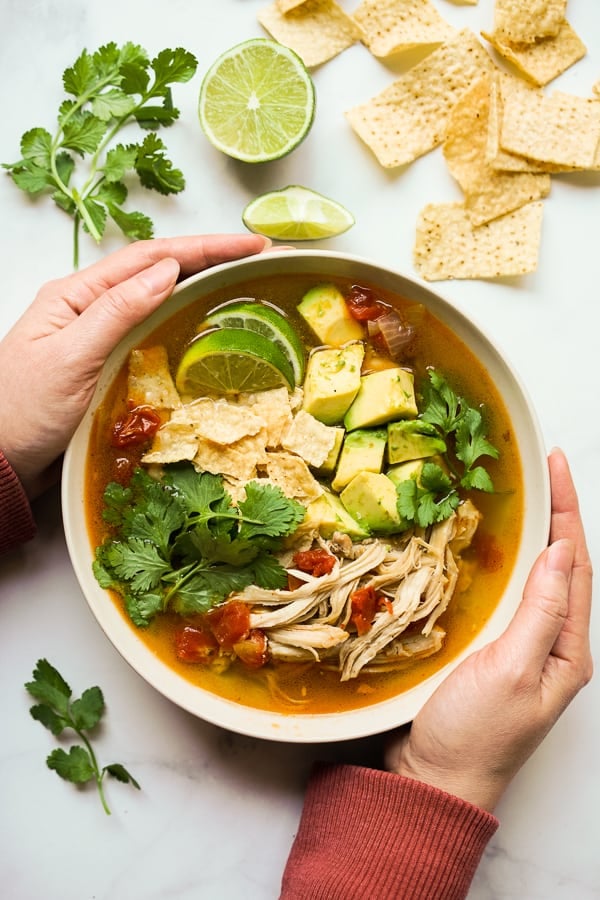 And I'll tell you why:
It's super simple. I know we have covered this (like 98 times) but I cannot believe something so simple to make can be so tasty.
It's light and healthy. A warm bowl of hot soup filled with chicken, creamy avocados and lots of good, wholesome stuff. As long as you watch the amount of tortilla chips, I call this a healthy meal! 🙂
Oh-so-amazing flavors! Like blow-your-mind kinda good. TRUST ME.
Keeps well as leftovers. Add garnishes only when ready to eat. It even freezes well.
Tips and Tricks
This is a fairly simple recipe that requires simple ingredients. However, here are a few quick tips to note to take this recipe from good to great!
Use chicken thighs (or dark meat chicken) for more flavor. White meat chicken could work in a pinch, but the soup will not be as flavorful!
Sauté onions beforehand to add even more delicious flavors to the soup.
Sear chicken thighs beforehand as well for the same reason. This will also give flavor to the chicken itself as we coat it with salt and pepper before searing.
This recipe is considered medium spicy, if you like it less spicy, omit cayenne powder and use mild Rotel (canned tomatoes and green chilies).
Garnishes are a must! It adds lots of flavors to the soup! P/S: Don't forget the lime – it opens up the flavors a lot!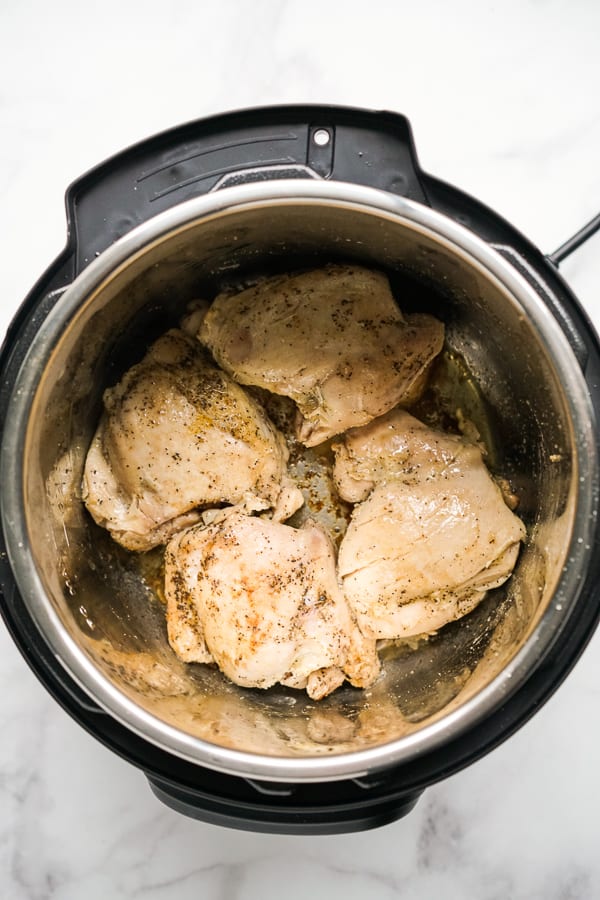 Garnishes
Speaking of garnish, it really deserves its own section, because IT IS THAT IMPORTANT. Here are some of the garnishes that I love to add to this soup!
Lime juice (a must!)
Cilantro
Avocado
Pico de Gallo
Tortilla chips
Tortillas (cut into strips)
Cheese
When saving the soup as leftovers, store the garnishes separately. When ready to eat, add to soup after heating it up.
Can you make this without an Instant Pot
This recipe can be made with an Instant Pot or any pressure cooker. Pressure cooking the broth with chicken thighs is the secret to creating a deep flavored soup. You won't look at canned broth the same way again!
You can use a slow cooker or even the stove top to cook this but it is hard to achieve the depth of flavor you get using an Instant Pot or pressure cooker.
If I have to pick between stove top or slow cooker, a slow cooker would create a more flavorful product than cooking this on the stove top.
If using the slow cooker, sear chicken and onions first as per the instructions and then add everything to slow cooker except for the garnishes into slow cooker. Cook on low for 8-10 hours.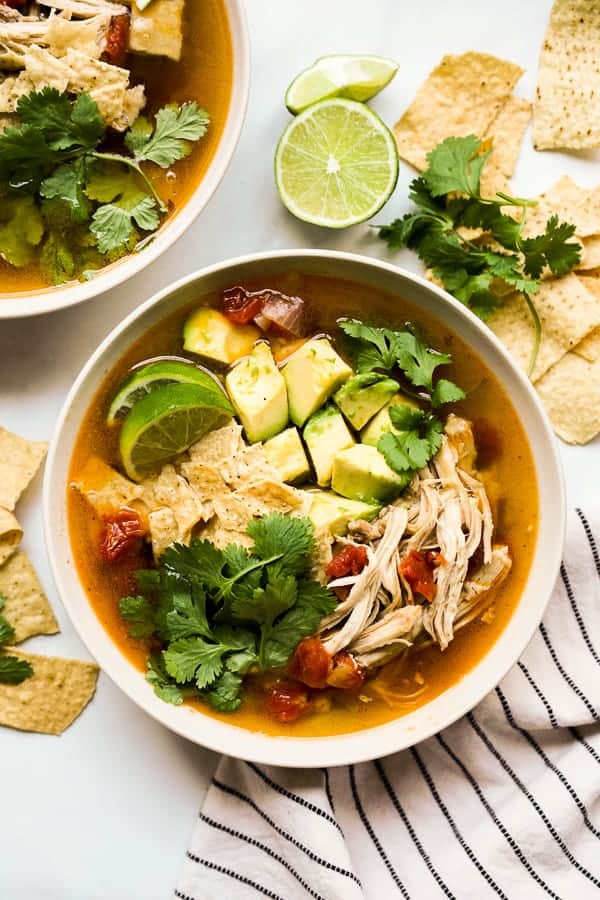 Writing about this is making me crave for another bowl.
It's the perfect comfort food for the Fall and winter, friends! I have made this many many times this month and we are still not tired of it! And that says a lot. I get tired of food pretty easily. 😉
That deep flavored, zesty, slightly spicy chicken broth with a hint of tomato flavor, paired with shredded chicken, creamy avocado and a fresh burst of cilantro in every bite. OMG yum!!
GIVE IT A TRY!!! You need this goodness in your life!
DID YOU ENJOY THIS RECIPE? Please comment below and give us a 5-star rating! This will help others find this recipe on Google and Pinterest. We very much appreciate your help! 🤍
Other Soup Recipes
Other Instant Pot Recipes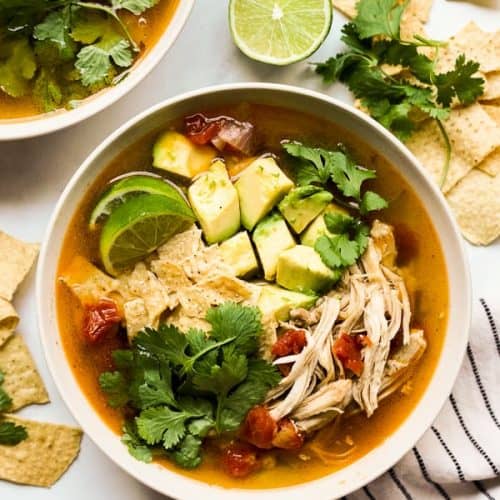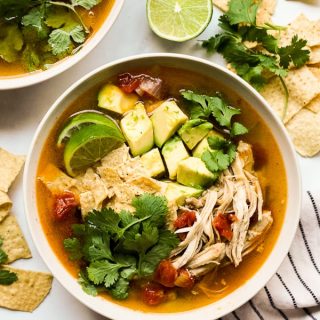 Instant Pot Chicken Tortilla Soup
Light, zesty, flavorful chicken based soup combined with tomatoes, shredded chicken, avocado, cilantro and lime for a warm and comforting meal!
Print
Pin
Ingredients
2

lbs

boneless skinless chicken thighs

1/2

large white onion

slice

salt

black pepper

3

large garlic cloves

10

oz

canned Rotel (tomatoes and green chilies)

7

cups

chicken broth

1

bay leaf

1/2

tsp

ground cumin

1/2

tsp

chili powder

1/4

tsp

cayenne powder

optional

olive oil/vegetable oil
Garnishes
1-2

limes

cilantro

2

large avocados

tortilla chips
Instructions
Slice white onion; remove access fat from chicken thighs. Sprinkle chicken thighs with salt and black pepper on both sides generously.

Set Instant Pot to "Saute" setting. Add vegetable oil and briefly sear chicken on one side, the turn and briefly sear on the other side. No need to completely cook chicken. Do not overlap chicken – cook in two batches if needed.

Remove chicken. Add more vegetable oil/ olive oil to Instant Pot and saute sliced onions until they are brown and softened.

Add chicken back to Instant Pot. Then add garlic, chicken broth, Rotel (drained), bay leaf, cumin, chili powder and cayenne (omit if you want the soup mild).

Close lid. Pressure cook on high for 15 minutes. Make sure steam release valve is in "sealing" position. Instant Pot will take a few minutes to build pressure before the 15 minute timer starts.

Once done, release steam and open lid when ready.

Shred chicken. Optional: Add salt to taste to open up the flavors of the soup.

Garnish with lime (Squeeze lime to add lime juice to soup), sliced avocados, chopped cilantro, tortilla chips or other garnishes as desired. Serve and enjoy!
Nutrition
Calories:
560
kcal
|
Carbohydrates:
27
g
|
Protein:
50
g
|
Fat:
30
g
|
Saturated Fat:
5
g
|
Polyunsaturated Fat:
6
g
|
Monounsaturated Fat:
15
g
|
Trans Fat:
1
g
|
Cholesterol:
215
mg
|
Sodium:
1933
mg
|
Potassium:
1594
mg
|
Fiber:
9
g
|
Sugar:
3
g
|
Vitamin A:
432
IU
|
Vitamin C:
52
mg
|
Calcium:
121
mg
|
Iron:
5
mg