Greek Cucumber Salad is a zesty, light and flavorful side dish bursting with freshness! Perfect for your next cookout or picnic, or dinner any day!
It takes 15 minutes to make (just be ready to chop up a bunch of veggies) and is incredibly yummy!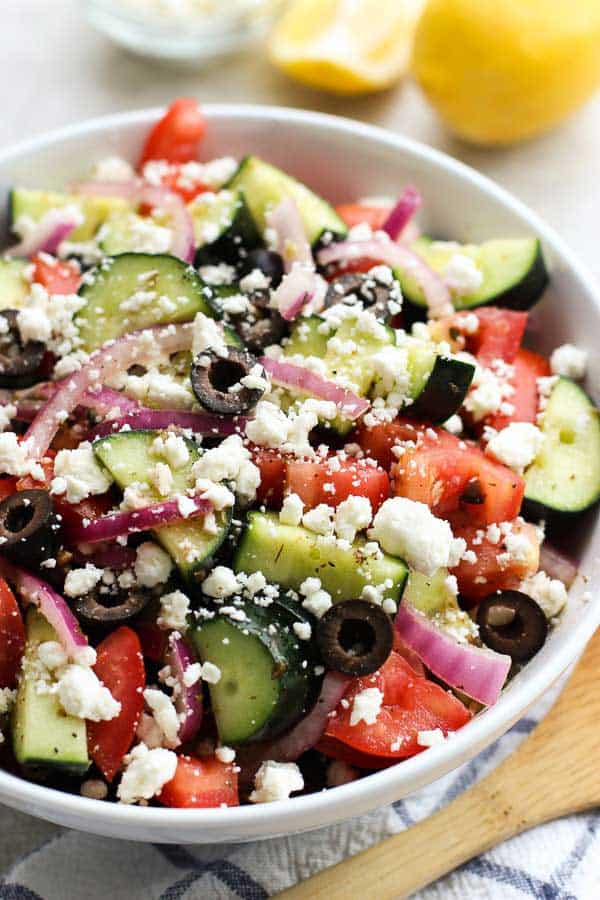 I first had Greek Cucumber Salad at a mediterranean restaurant and it came as a side to grilled meats and rice. I loved it so much I started putting together this at home.
This Greek cucumber salad is Greek-inspired and I cannot claim authenticity, but I will claim deliciousness!
If you love fresh and light recipes as much as I do, also check out some of my other favorites while you are here: Lemon Garlic Parmesan Pasta, Chipotle Corn Salsa, Strawberry Bacon Spinach Salad and Light Raisin Coleslaw.
Greek Cucumber Salad
Greek Cucumber Salad is perfect for the summer. We eat this non-stop once the weather turns warmer.
I know summer officially starts at June 21 or something like that. But let's be real here. School is out, Memorial Day has come and gone, and in Austin, Texas we got out first 100-degree weather day a few days ago.
I'll eat Greek Cucumber Salad any time of the year, but there's something about the zest, lightness and freshness of this dish that makes me associate this with the summer.
Besides, it's the perfect unique SUMMER bbq and cookout side dish.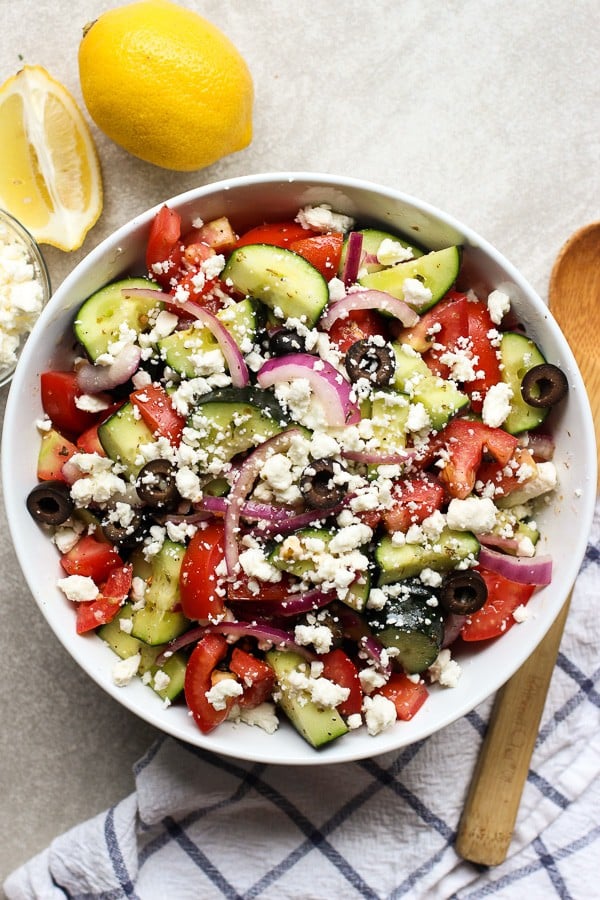 SO MANY reasons why we love this lovely Greek cucumber salad!
It's healthy, fresh and light! All while being fabulously yummy.
No cooking required. A.k.a no turning on that hot oven when it is already so hot outside!
It's packed with gorgeous flavors and great textures! The crunchy veggies combined with juicy sweet summer tomatoes tossed in a tangy, zesty Greek Lemon Vinaigrette is to die for. And that crumbled feta to top it off. THAT crumbled feta. OMG YES PLEASE.
If you are taking Greek Cucumber Salad to a picnic or cookout or party, you can set it out in room temperature for hours and it will still taste yummy. WINNING.
Ingredients
Here are the fresh produce you will need to make Greek Cucumber Salad:
cucumbers
tomatoes
red onions
feta cheese
black olives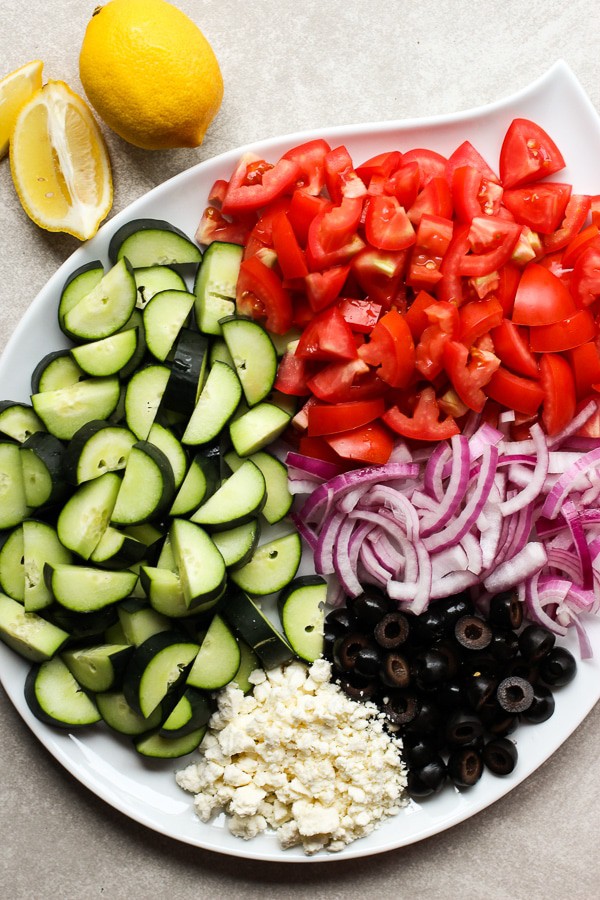 As for the homemade lemon vinaigrette dressing that binds the Greek Cucumber Salad together, these are the ingredients you will need:
olive oil
lemon juice – juiced from fresh lemons
dried oregano
maple syrup – use pure maple syrup if possible
garlic – fresh garlic, not powdered
salt and black pepper
How to make Greek Cucumber Salad
Just a couple of steps and oh so easy! You'll be devouring your Greek Cucumber Salad before you know!
Step 1: Chop up a bunch of veggies
Step 2: Make the dressing
Step 3: Combine and toss
Or you can choose to be like me and start dipping veggies into the dressing after Step 2. I feel no shame in that.
You can also chop up the veggies, make the dressing ahead of time and refrigerate them separately until you are ready to combine everything to make your Greek Cucumber Salad.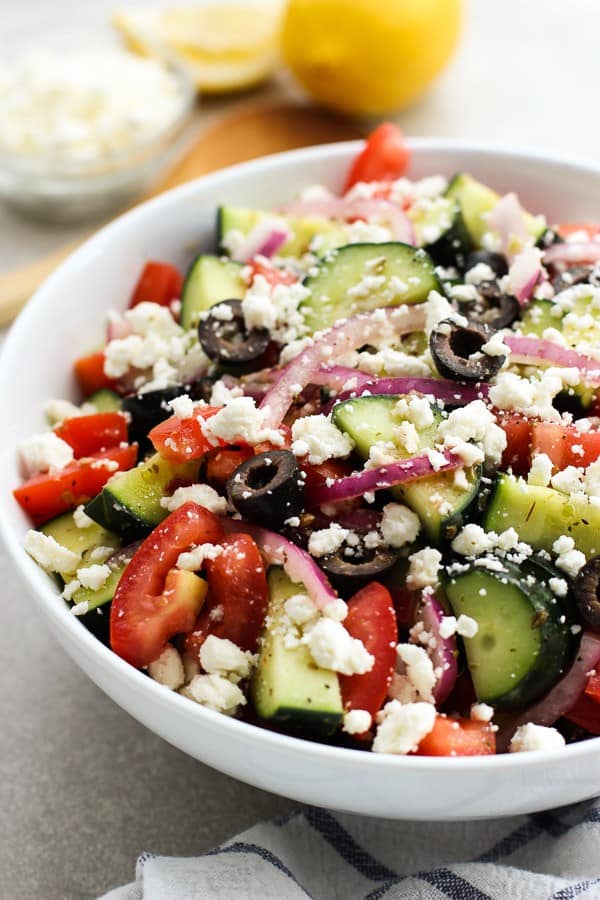 Lemon Vinaigrette Dressing
The dressing for our Greek cucumber salad is a simple lemon vinaigrette dressing.
It is consisted of lemon juice, olive oil, oregano, minced garlic, salt, pepper, and a tiny bit of maple syrup. Just mix everything up! No blender needed.
I highly recommend juicing lemon juice from fresh lemons and using fresh garlic.
If you don't have maple syrup in the house, you can substitute it with honey or sugar. Make sure sugar is completely dissolved when you mix it into the dressing.
I like using 100% pure maple syrup but the others types of maple syrup would work as well. Use what you have at hand!
How to serve Greek Cucumber Salad
Greek Cucumber Salad goes well with any form of protein, but I especially love it with grilled meats.
We also love making Greek Cucumber Salad as a side dish for cookouts and bbq's because it can be served cold or in room temperature, and sits out for a couple of hours really well.
Check out some of my favorite grilled meats on the blog!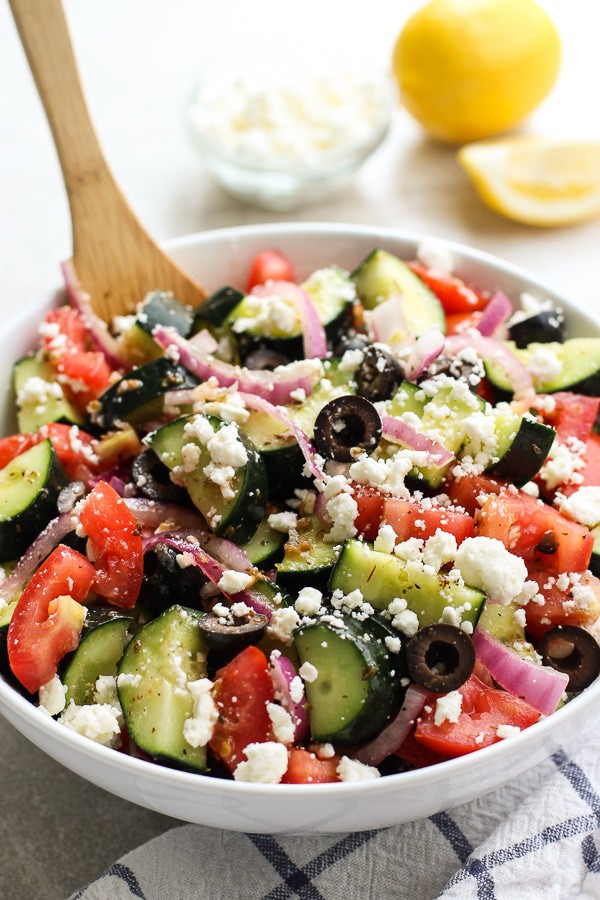 Storage Tips
When it comes to storing Greek Cucumber Salad, the best way to store it is to store the dressing separate from the produce. Make sure to store everything in a sealed container in the refrigerator.
If you've already mixed the dressing into the Greek Cucumber Salad, keep it stored in a sealed container in the refrigerator for up 24 hours. Consume as soon as you can if not it will get soggy.
Variations and Substitution
There are so many ways to make this, so feel free to add and substitute ingredients.
Here are other produce that would work great in this salad:
lettuce
bell peppers
grape tomatoes
more olives – try other types of olives
avocado – great way to bring some protein into the dish!
As for the dressing, here are a few other ideas on how to make it:
use apple cider vinegar instead of lemon juice
add more herbs in addition to oregano – thyme, parsley would work great in it as well
reduce or increase the amount of maple syrup if you like it more or less sweet
use honey or granulated sugar in place of maple syrup
DID YOU ENJOY THIS RECIPE? Please comment below and give us a 5-star rating! This will help others find this recipe on Google and Pinterest. We very much appreciate your help! 🤍
Other yummy summer sides!
Here are other light and fresh summer sides!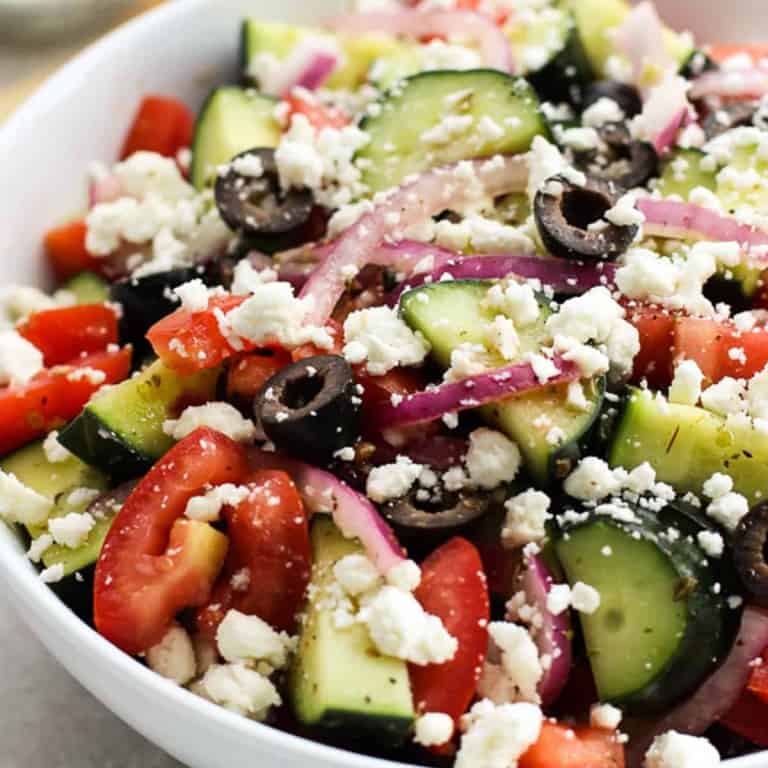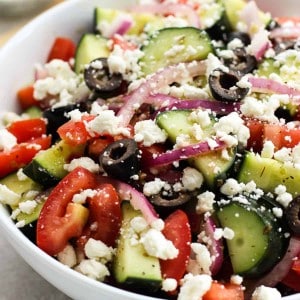 Greek Cucumber Salad
A healthy, refreshing and yummy side dish! Cucumbers, tomatoes, red onions, black olives, and feta tossed in a zesty homemade Greek Lemon Vinaigrette dressing.
Print
Pin
Ingredients
2

cucumbers

4

roma tomatoes

~1

cup

sliced red onions

1/2

cup

crumbled feta

1/2

cup

canned/bottled black olives

drained
Greek Lemon Vinaigrette
1/4

cup

olive oil

1/4

cup

lemon juice

juiced from fresh lemon

2

tsp

dried oregano

2

tsp

pure maple syrup

or honey, sugar

2

cloves

garlic

minced

1/2

tsp

salt

1/4

tsp

black pepper
Instructions
In a small bow, combine all vinaigrette ingredients and mix well.

Slice cucumbers, tomatoes and red onions. Drain black olives and slice them in halves. Add everything into a large bowl (a bowl large enough to toss everything easily).

Drizzle with vinaigrette and toss to combine. Sprinkle with crumble feta.
Nutrition
Calories:
171
kcal
|
Carbohydrates:
10
g
|
Protein:
3
g
|
Fat:
14
g
|
Saturated Fat:
3
g
|
Cholesterol:
11
mg
|
Sodium:
514
mg
|
Potassium:
300
mg
|
Fiber:
2
g
|
Sugar:
6
g
|
Vitamin A:
525
IU
|
Vitamin C:
15
mg
|
Calcium:
107
mg
|
Iron:
1
mg