Strawberry Sugar Cookies with Nutella Icing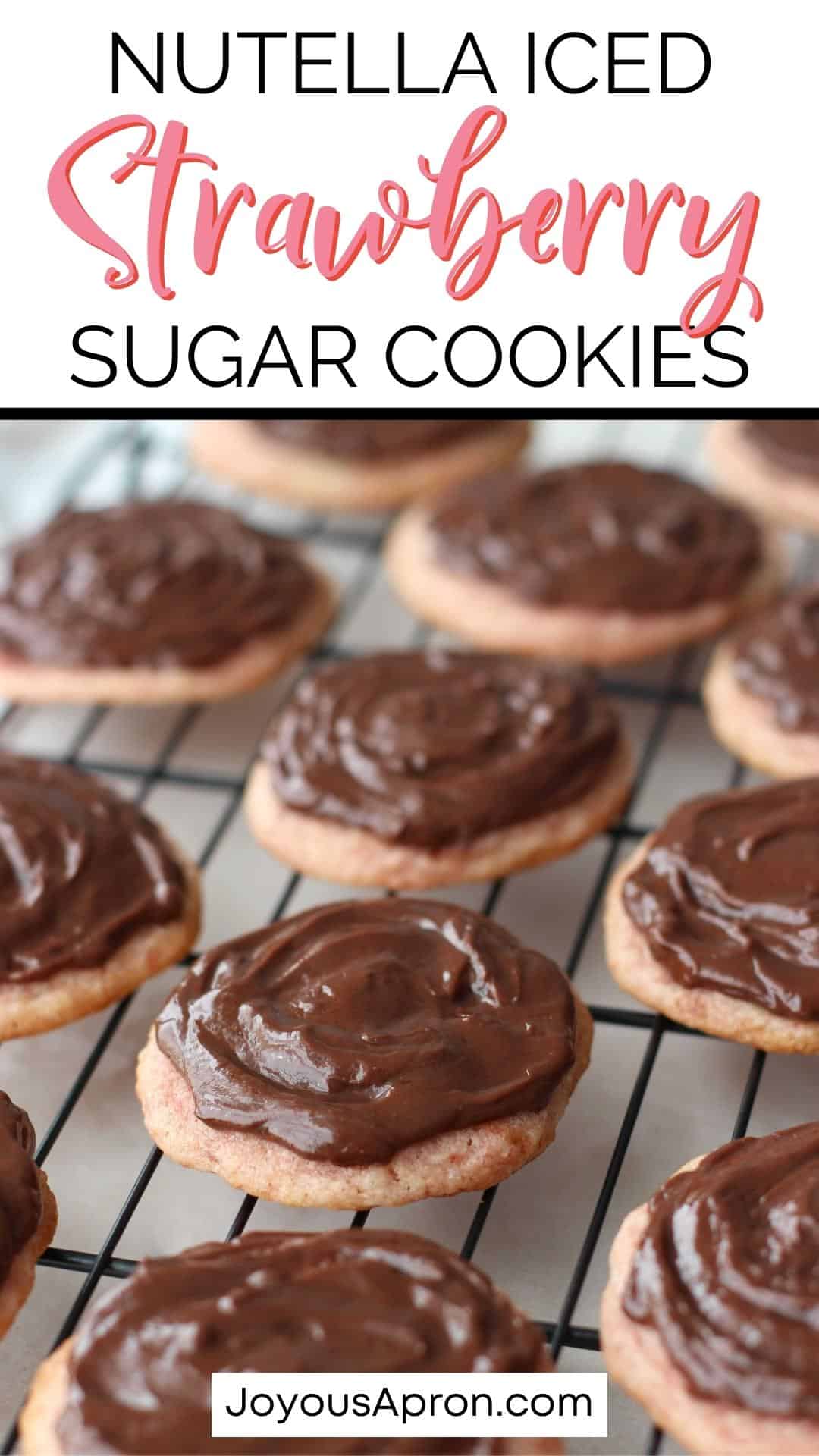 I have been a strawberry and Nutella fan for as long as I can remember. Whether it is dipping strawberries into Nutella, topping crepes with strawberry and Nutella, a strawberry Nutella cake, ice cream (had it for the first time at a local ice cream place – delish!), strawberry and Nutella is a match made in foodie heaven.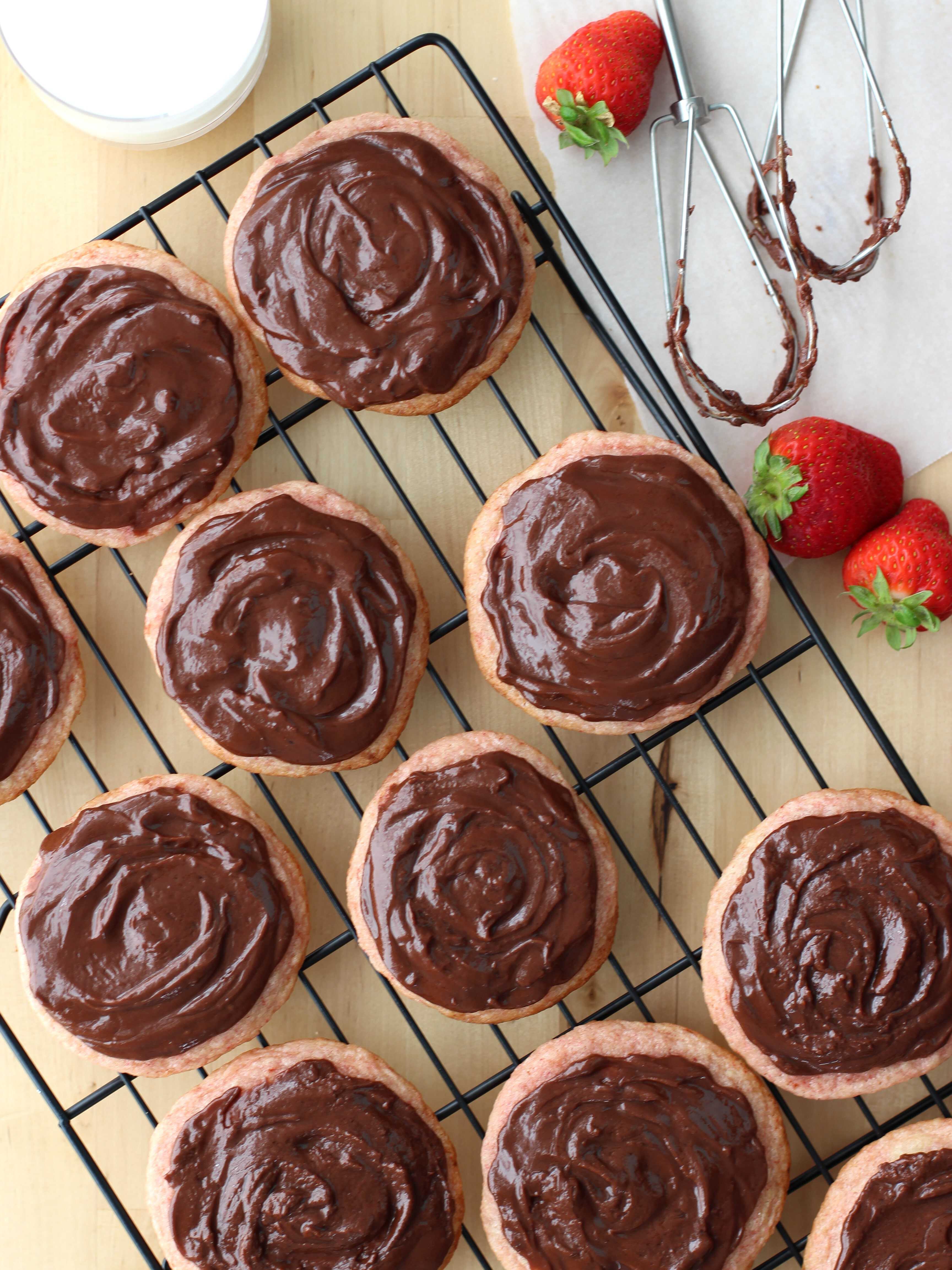 Being a fan of this combination, Strawberry Sugar Cookies with Nutella Icing is a natural next step in my strawberry and Nutella craze.
I mean, cookies are an essential part of a person's sweet-intake, especially if you live in the United States. There was no stopping this – it was only a matter of time.

There is something very lovely and elegant about a soft strawberry flavored sugar cookie generously smothered with rich, velvety layer of Nutella icing. Unique, fun, and with a feminine twist. And my belly loves it, probably a little too much.
Make this any day of the year, but make this especially for bridal showers, baby showers, birthday parties, summer cookouts, get-togethers with girlfriends. Special occasions essential! A regular cookie is great (I don't judge a cookie), but it's a tad fancier cookie – and it looks like you put in a bit more effort. 😉
Also, it's pink… Every girl needs a pink cookie every now and then in her life. And we all know real men aren't afraid of pink. 😉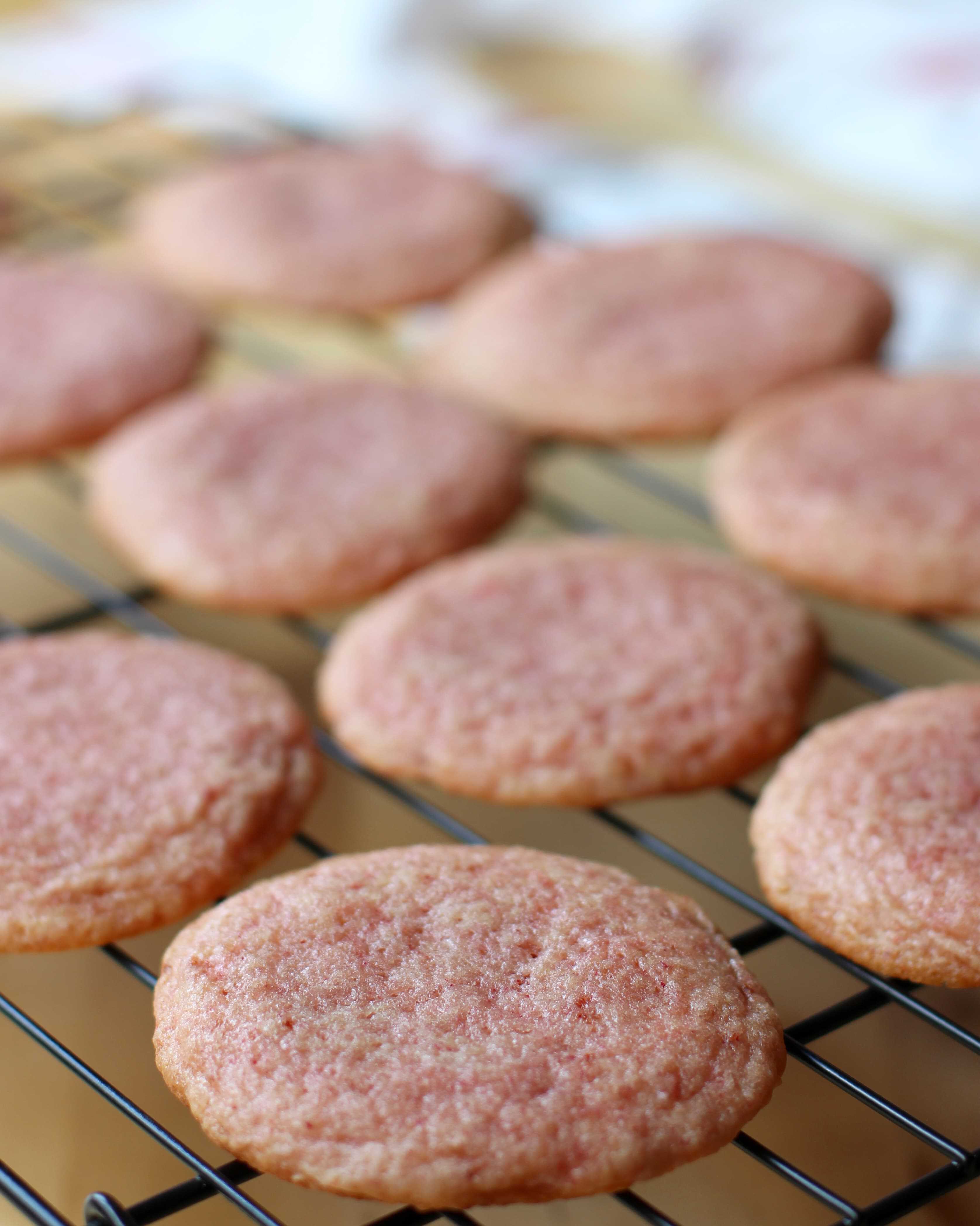 To get the strawberry flavor for the cookie, I use the Simply Good Strawberry Jello mix by Jell-O. This is the jello mix that has no artificial flavors, dyes or preservatives, a better alternative than the classic jello mix. I highly recommend this as it has more natural strawberry flavors.
I also like to refrigerate the cookie dough for 30-60 minutes prior to forming the cookie dough into balls and baking them. This gives volume to the cookie after it bakes (so that cookie is not flat), but this step is completely optional.
While the cookie is baking, I start whipping together the Nutella icing.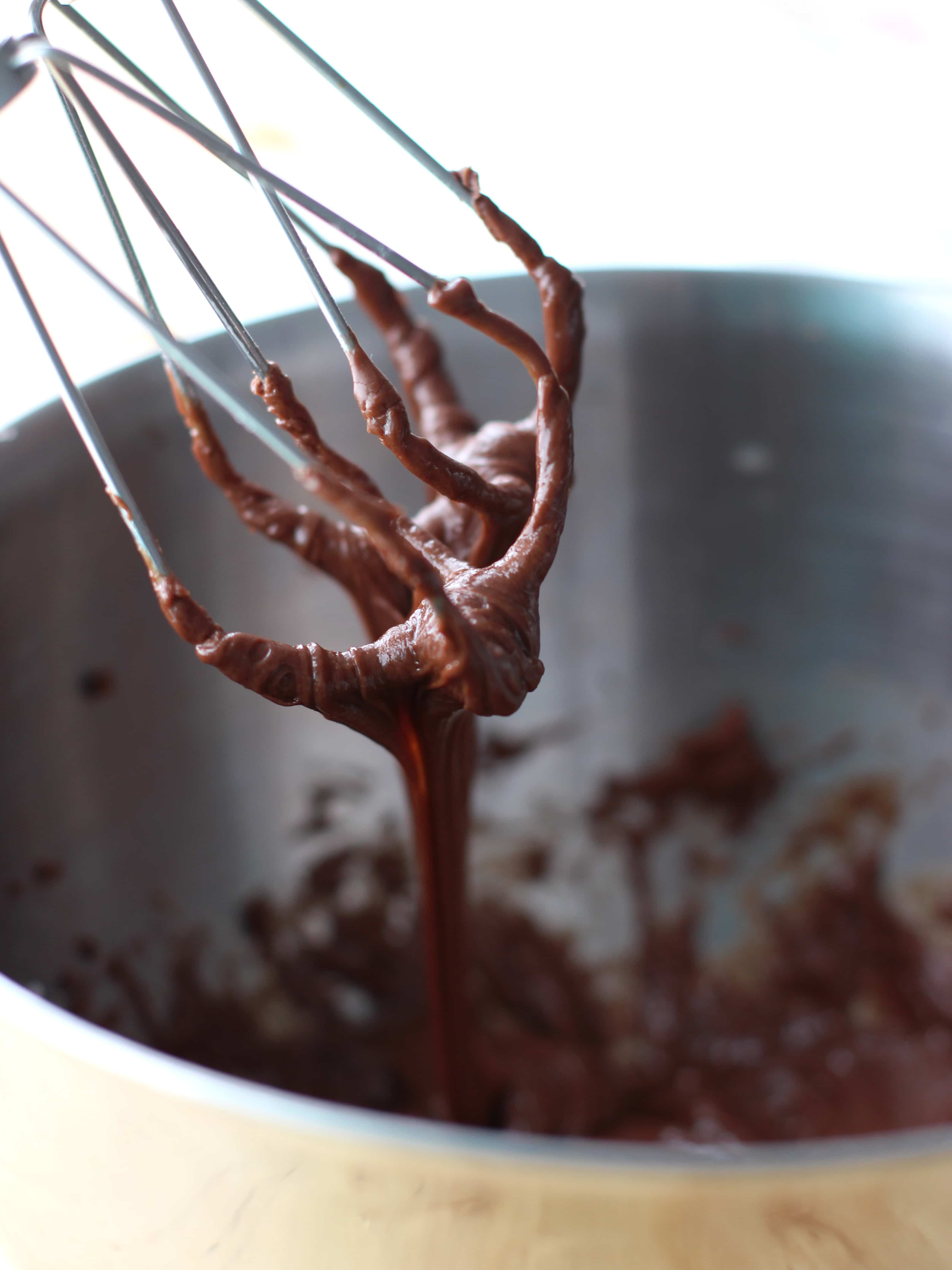 Let's be real here, who can resist THAT?
At this point, I was licking Nutella off my mixer. Some call that addiction problems, and I will readily admit I have them.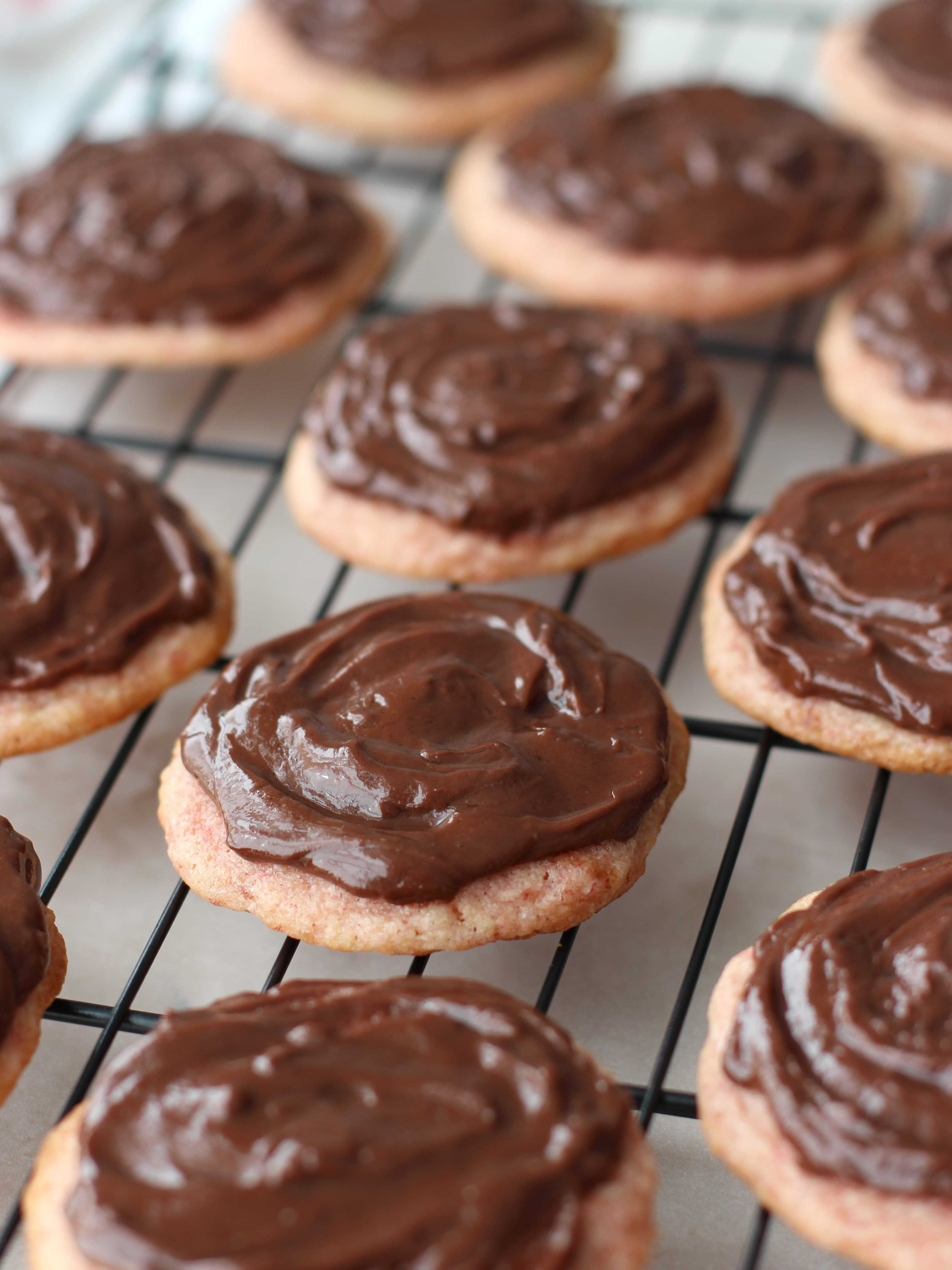 Let the cookies cool on the cooking rack for 20-30 minutes, then spread the lovely Nutella icing on the cookies.
Be sure to spread it generously as a nice, thick layer of Nutella icing is quite necessary. I promise you your day will be better because of it.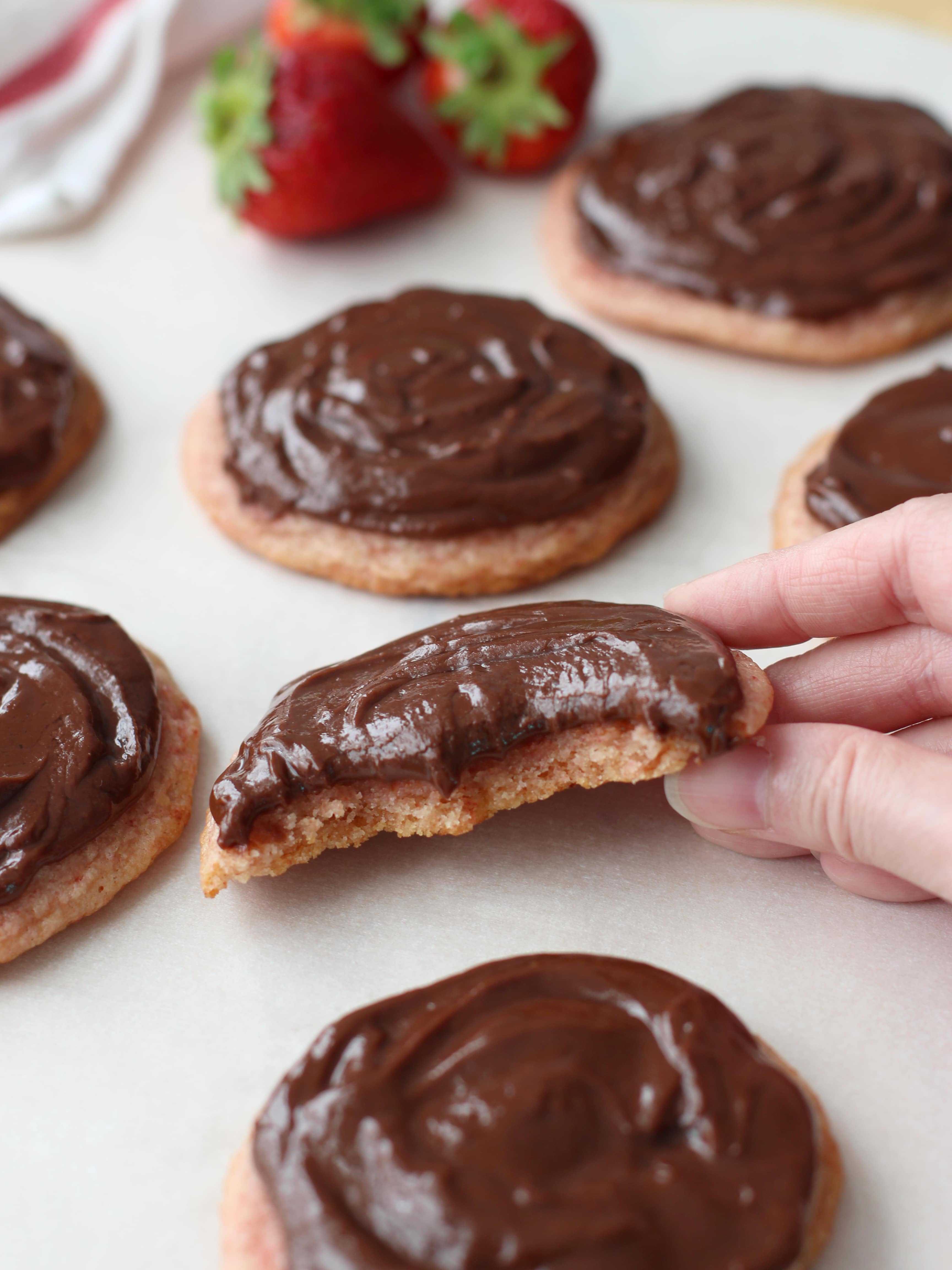 Then feel free to take bites and indulge in your creation while you put these things together.
You made these cookies, you put in the hard work, there's no rule that says you can eat on it while you make it. Pamper yourself, my friends. PAMPER.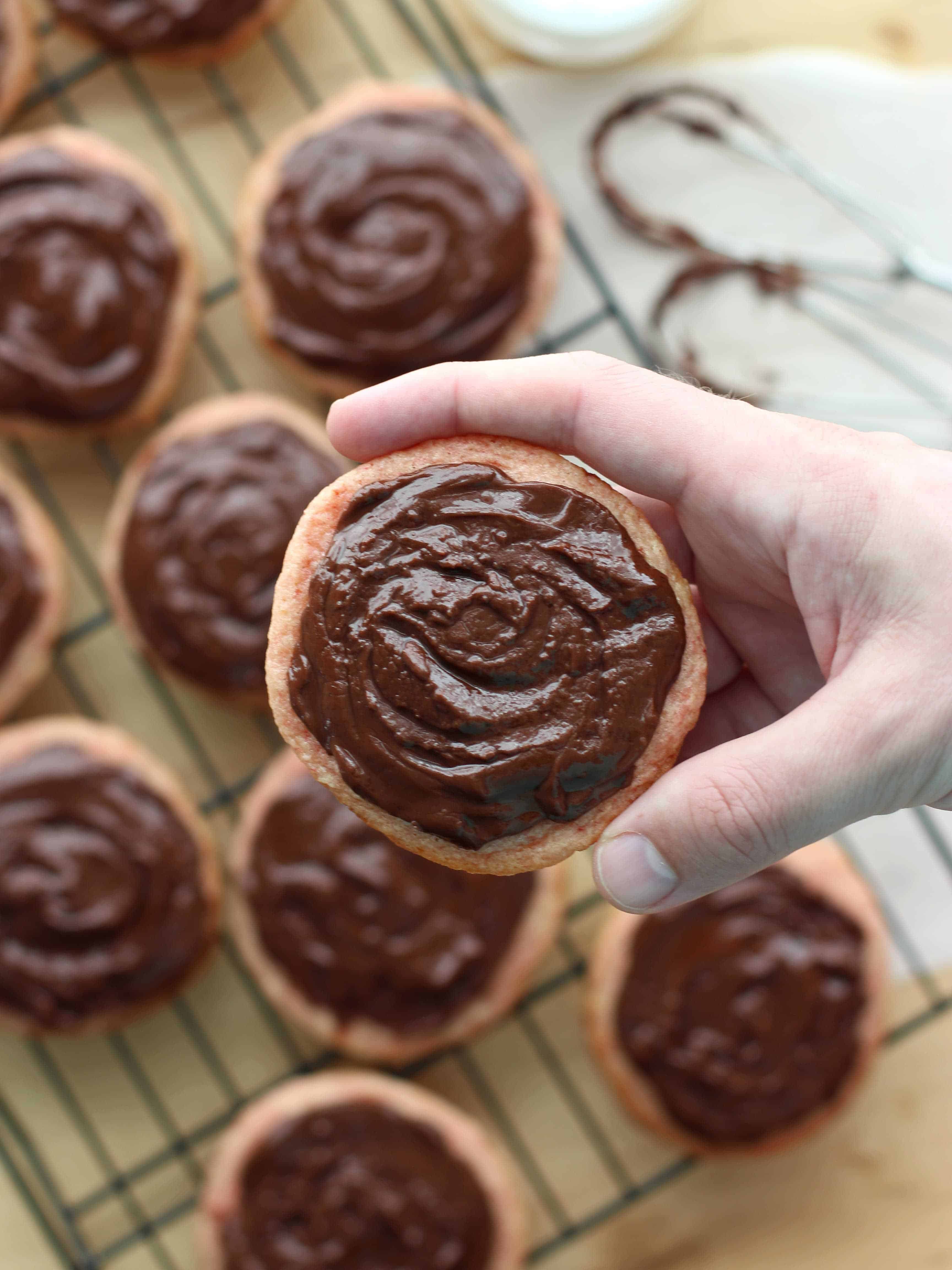 If you are wondering whose hand that is, that's my sweet husband hand-modeling my cookies. 🙂 This could possibly be the 38th shot we took of this pose. He truly is the best.
One of my other favorite strawberry and Nutella combinations is in the form of crepes. Check out this delicious Strawberry Banana Nutella Crepes recipe. There is an obvious theme here in what I like…
In all seriousness, these cookies are seriously legit. If you give it a try please let me know how it turns out in the comments below. I would love to hear from you!
Have fun making these! And even more fun consuming them! 🙂
DID YOU ENJOY THIS RECIPE? Please comment below and give us a 5-star rating! This will help others find this recipe on Google and Pinterest. We very much appreciate your help! 🤍
More Strawberry Desserts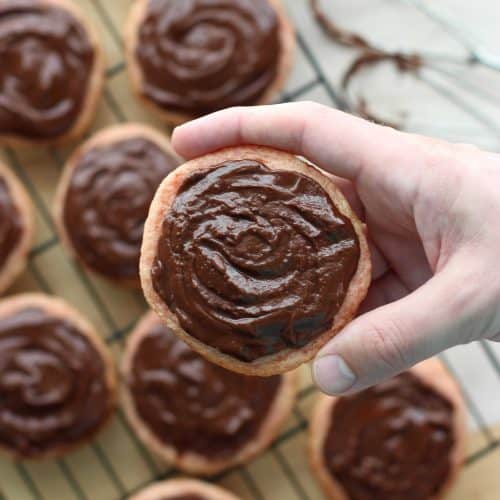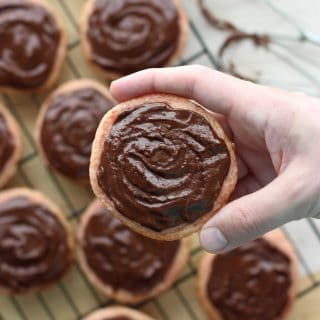 Strawberry Sugar Cookies with Nutella Icing
Strawberry-flavored sugar cookies generously smothered with a rich, velvety layer of Nutella icing. The perfect dessert for any day, or special occasions such as showers, birthdays and parties.
Print
Pin
Ingredients
1/2

cup

sugar

1/2

cup

unsalted butter (1 stick)

softened

1

egg

1

tsp

vanilla extract

1

cup

all-purpose flour

1/4

tsp

baking powder

1/4

tsp

baking soda

1/4

tsp

salt

4

tbsp

Simply Good Strawberry Jello Mix
Nutella Icing
1/2

cup

Nutella

1/4

cup

confectioner sugar

2

tbsp

2% milk

1/4

tsp

vanilla extract
Instructions
Pre-heat oven at 350 degree F.

Combine wet ingredients – sugar, unsalted butter, egg and vanilla extract, in a medium bowl.

Add flour, baking powder, baking soda, salt and jello mix to the wet mixture and mix well.

Place dough mixture in refrigerator for 30-60 minutes (optional).

Roll dough into 1 1/2-inch balls and place on cookie sheet lined with parchment paper. Dough mixture should yield roughly a dozen cookies. Bake for 10 minutes.

Cool cookies for ~20 minutes on a cooling rack.

Make Nutella icing by combining and mixing well all the Nutella icing ingredients.

Spread about a tablespoon of Nutella icing on each cookie. Serve and enjoy!
Nutrition
Calories:
232
kcal
|
Carbohydrates:
29
g
|
Protein:
3
g
|
Fat:
12
g
|
Saturated Fat:
9
g
|
Polyunsaturated Fat:
1
g
|
Monounsaturated Fat:
2
g
|
Trans Fat:
1
g
|
Cholesterol:
34
mg
|
Sodium:
104
mg
|
Potassium:
74
mg
|
Fiber:
1
g
|
Sugar:
20
g
|
Vitamin A:
259
IU
|
Vitamin C:
1
mg
|
Calcium:
28
mg
|
Iron:
1
mg