Baked Cream Cheese Wontons
Baked Cream Cheese Wontons, aka Baked Cream Cheese Rangoons – a fun and tasty appetizer found in Chinese and Asian restaurants everywhere. Even though they are baked, wontons skin is actually crispy, and wrapped around cream cheese seasoned with green onions and onions.
Don't forget to dip these wontons in the sweet and tangy Sweet Chili Sauce – what I consider the best sauce ever for Cream Cheese Wontons, and an absolute MUST.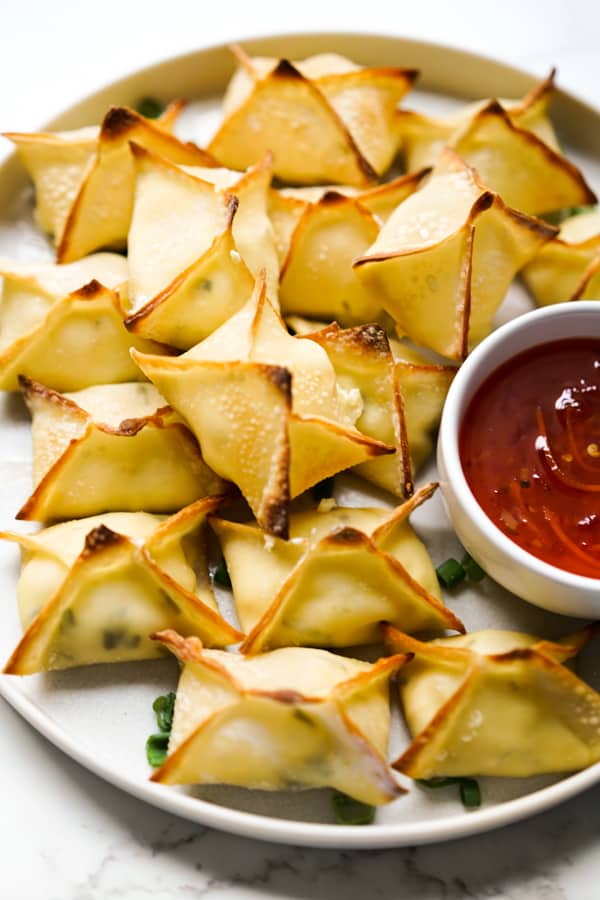 Crispy and Easy Baked Cream Cheese Wontons
Sometimes called Crab Rangoons (when imitation crabs are added to the cream cheese filling), Cream Cheese Wontons are typically deep-fried and served in Panda Express, Pei Wei, PF Changs, and many Chinese restaurants across the United States.
It's one of my favorite things to order at restaurants but when making at home, I just don't want to go through the hassle of deep frying them.
Also, let's be real here, deep-frying isn't exactly the healthiest way to make food (even though it is ridiculously delicious).
That's why I started making these Baked Cream Cheese Wontons.
That's right. Baked, not fried, but guess what, it's just as crispy and delicious. Not to mentioned, much easier to make and don't even get me started on how much easier it is on the cleanup afterwards.
Since my baked version is just as delicious as the deep fried ones, I seriously have just been making these whenever I'm craving them. I don't even get them at restaurants as much anymore!
If you would like a twist to the classic Cream Cheese Rangoons, check out these fun Creole Cream Cheese Wonton Cups!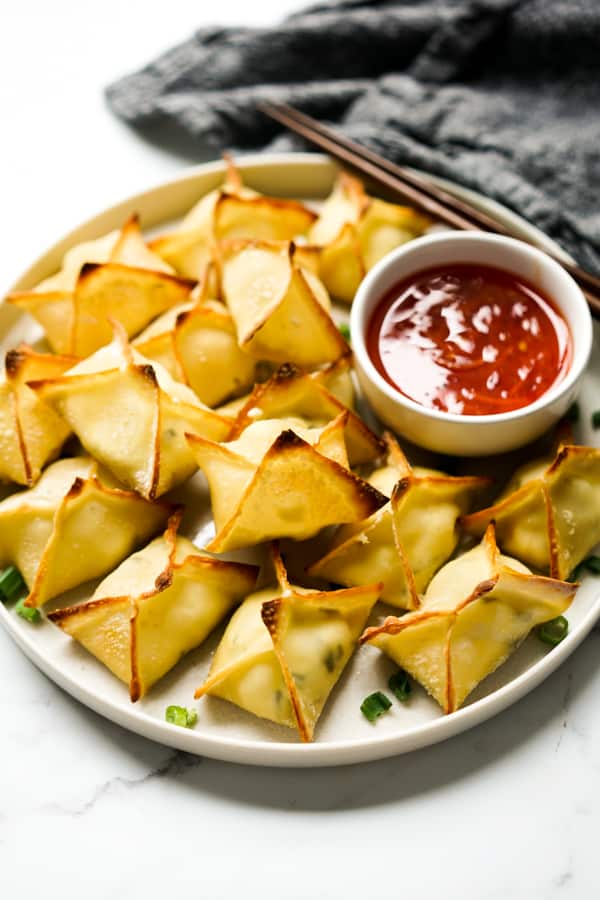 Confession: I grew up eating traditional wontons stuffed with ground pork, shrimp, chives etc. For the longest time, The idea of stuffing cream cheese into wontons was just way outside my wheelhouse.
In my mind, you spread cream cheese on bagels. End of story.
But then, one fateful day, I finally gave in, and I am humbled to say, the rest is history. I was so wrong about Cream Cheese Wontons, and have been pretty much addicted to them ever since.
Ingredients
Made with minimal, pantry-friendly, easy-to-find ingredients, you don't even need a trip to the Asian grocery store to secure all the ingredients!
Cream Cheese – the main ingredient! It is (duh), after all, a baked wontons with cream cheese recipe. Make sure to softened (leave out in room temperature for a few hours) before use.
Wonton wrappers – these are typically square wrappers found in the refrigerated section in most mainstream grocery store. In my experience, it's usually by the tofu and vegetables. If you can get square ones, get those, but if not, we can cut the rectangular shaped wrapper into a square. Avoid round dumpling wrappers.
Green onions – chopped finely
Onions – use white, sweet or yellow onions. Also chop finely
Granulated sugar – just a little bit to give it some sweetness
Cooking oil – or cooking oil spray. This is important because it will help crisp up the oven baked wontons.
Egg – this is to create an egg wash to seal the wontons.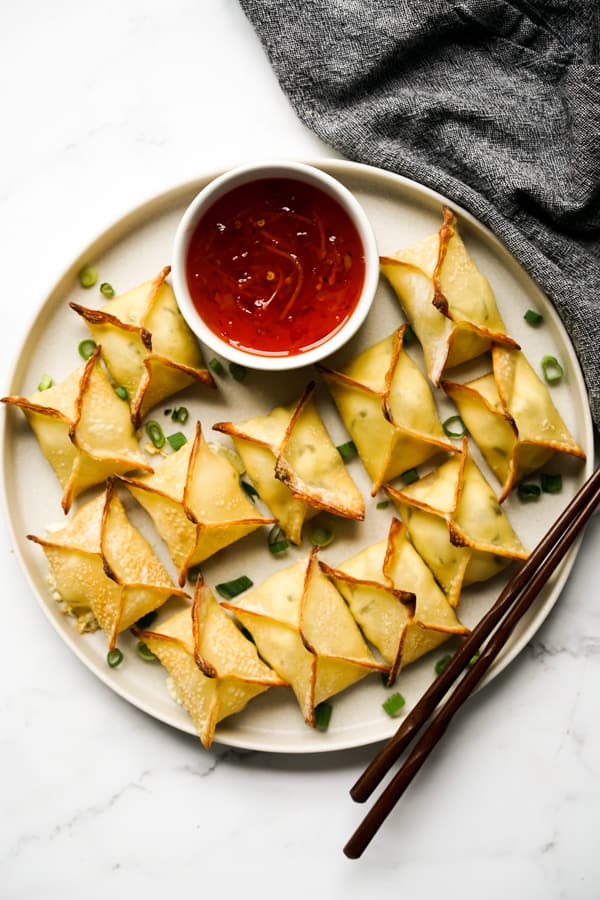 How to make Baked Cream Cheese Wontons
Step 1: Make Cream Cheese Filling
Start with a softened cream cheese block.
I defrost my cream cheese in the microwave if I don't get the it out of the fridge earlier that day, or when it is a cold wintery day and the house is just cold. Like now.
Add chopped green onions, finely minced sweet onions, salt and sugar.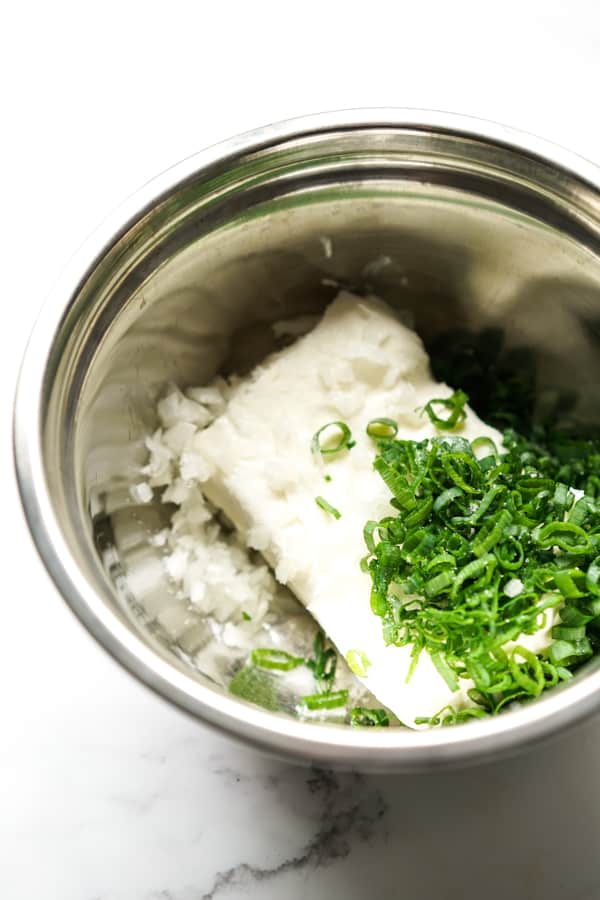 Give it a good stir to combine all ingredients.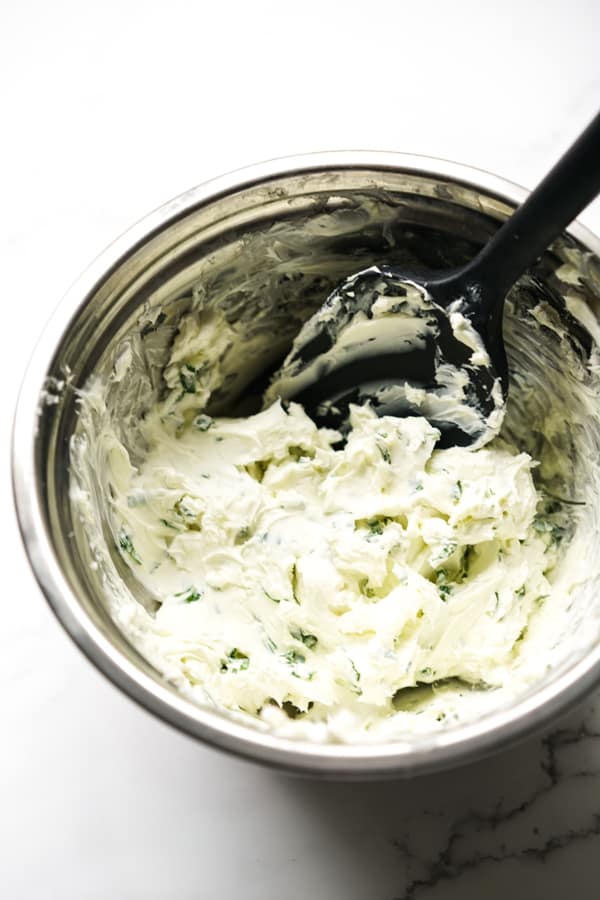 Step 2: Wrapping the Cream Cheese Rangoons
Crack an egg into a small bowl and whisk egg mixture. The egg mixture is the glue that holds the wonton together.
The assembling of the wontons is actually pretty therapeutic. Mindless. Automatic. I also included instructional pictures in the recipe cards below. You're welcome!
Scoop one teaspoon of cream cheese filling onto the middle of a square wonton wrapper. If your wonton wrapper is not a square, cut it into the shape of a square. It's the easiest shape to handle.
Using a brush or your finger, dap egg mixture along all four sides of the wonton wrapper.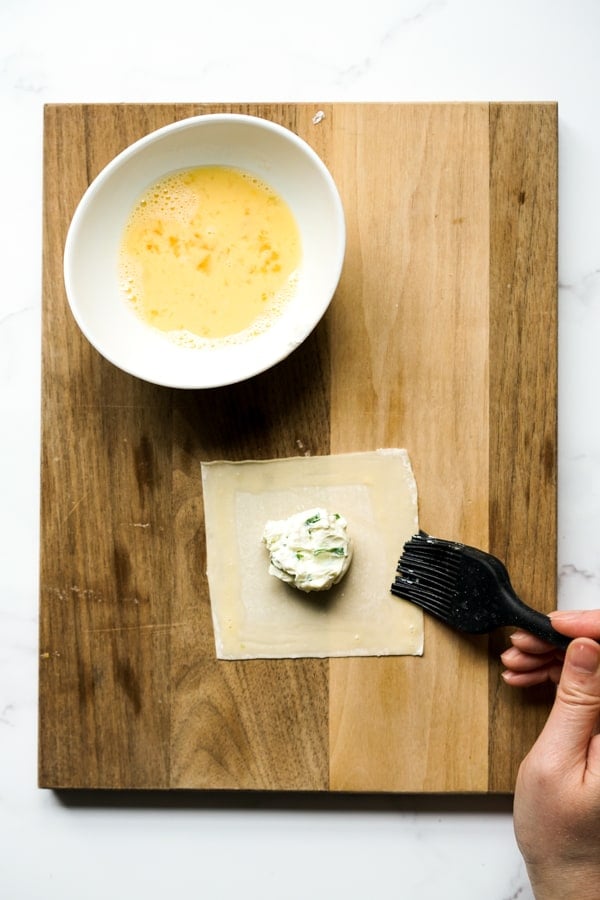 Take two opposite ends of the wrapper and bring to the middle. Seal the wrapper close by pressing the top together.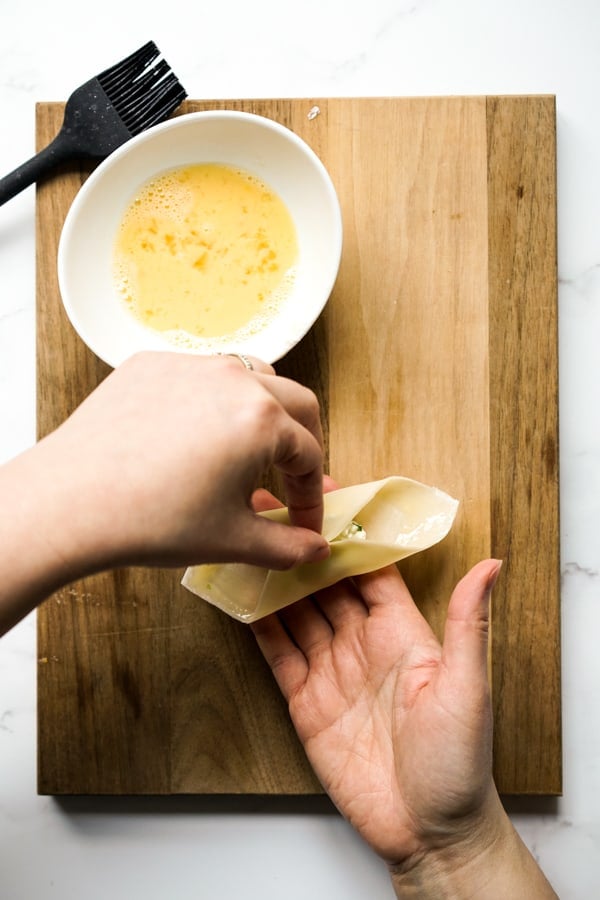 Then take the other two opposite end and bring to the middle.
Seal the wrapper close by pressing the sides of the wrapper onto each other. Make sure to seal it tightly if not the mixture will leak when baking.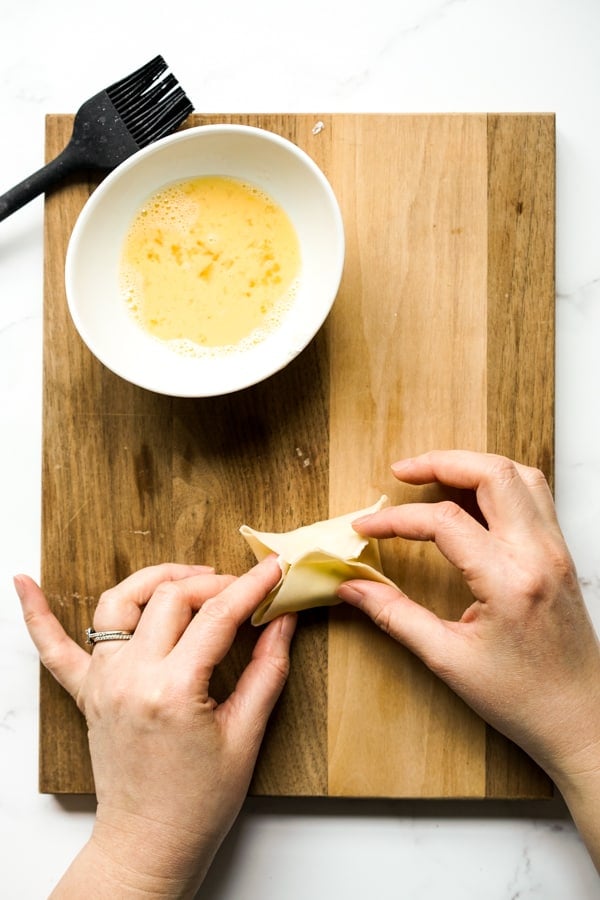 Then just hit repeat and keep on doing this until you run out of cream cheese filling. It should yield 15-18 wontons.
Using a vegetable oil spray, generously spray vegetable oil on all sides, including the bottom of the wonton.
If you do not have a spray, brush oil all over the wonton.
Line wontons up on a baking sheet lined with parchment paper to ensure more even baking and easier clean up.
You can also use aluminum foil, or place it directly on the baking sheet.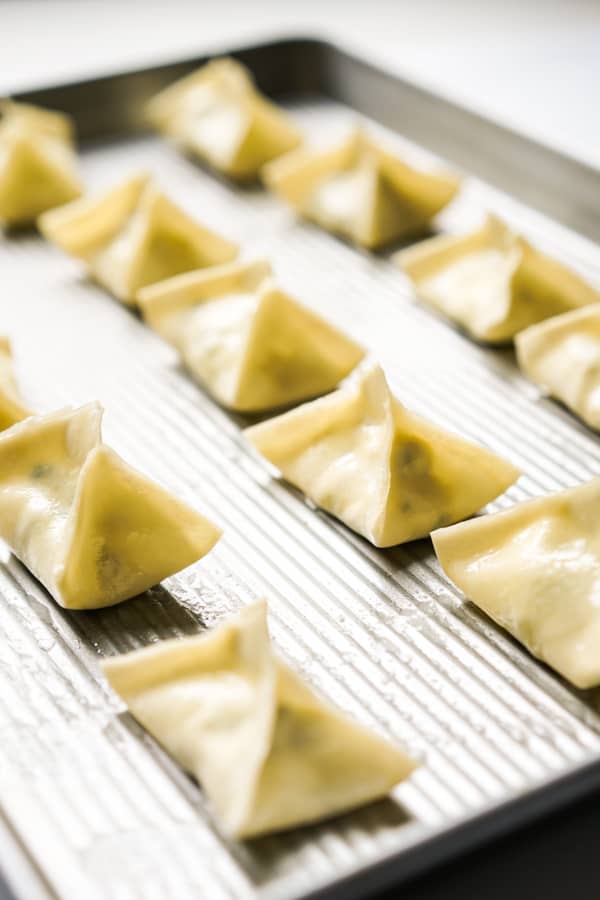 Step 3: Bake
Bake in oven at 400 degrees for 7-9 minutes, or until wontons turn golden brown.
Be careful – they do crisp up fast, especially if your oven heats up well.
And that's all there is to it! Baked Cream Cheese Wontons are much easier to make than you would think!
Step 4: Serve with Dipping Sauce
What is better than Baked Cream Cheese Wonton? Baked Cream Cheese Wontons with an out-of-control dipping sauce.
That's right. Dipping sauce is da bomb, I tell you.
There are many different sauces used as a dipping sauce for Cream Cheese Wontons…
My personal favorite? It's this Thai Sweet Chili Sauce. And I highly recommend not going without it!
It is a sweet, tangy, just slightly spicy, busting with flavors, and is widely used as a condiment in Thai food.
But really, for your own sake, use it on anything really 🙂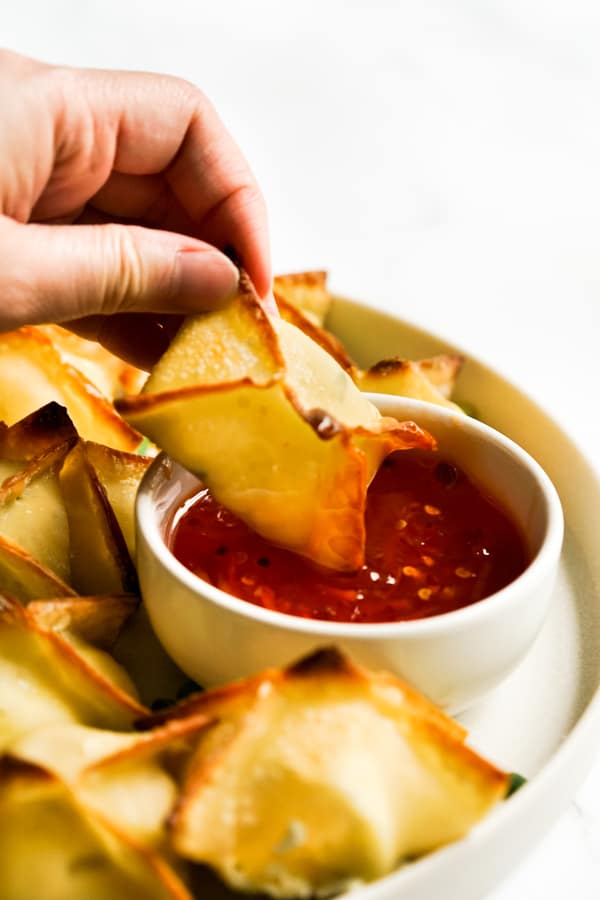 Pei Wei serves Thai Sweet Chili Sauce as a dipping sauce for their version of Cream Cheese Wontons. That's how I got onto the Thai Sweet Chili Sauce + Baked Cream Cheese Rangoons train.
You should be able to find Thai Sweet Chili Sauce in most mainstream grocery store in the US in the Asian aisle. Trader Joe's carries a fantastic one in its store brand too.
How to serve these wontons
Serve these as an appetizer to your favorite Chinese/Asian dishes! Here are some of my favorites:
In fact, we are having all these leftover baked wontons with cream cheese for dinner tonight along with a stir fry. Yum!
These also make great party food and finger food – for game day, for cookouts, as snacks or munchies before a dinner party… trust me, everyone will love them!
Frequently Asked Questions
How do I cook this in the air fryer?
Air fry at 350℉ for 5-7 minutes. Avoid overlapping or overcrowding wontons in the air fryer, and air fry in multiple batches if needed.
How do I make the wontons crispier?
1) spray or brush more oil onto the wontons
2) move oven rack to a higher position so that it is closer to the heat source
Why does the cream cheese leak out of the wontons?
There could be multiple reasons that caused this:
1) wontons are overstuffed
2) wontons are not sealed tightly
3) there could be rips in the wontons skin
What other ingredients can I add to the cream cheese mixture?
I wanted to share a very simple Cream Cheese Wonton recipe with a basic cream cheese filling. Crab meat, salmon, jalapeños, sriracha (or other spicy sauce), garlic are tasty add-ons!
Can I make this ahead of time and bake it later ?
Absolutely! You can make it and then store the unbaked wontons by freezing them or refrigerating them. If refrigerating them, consume within 2 days. When ready to bake, make sure it is completely defrosted before baking.
DID YOU ENJOY THIS RECIPE? Please comment below and give us a 5-star rating! This will help others find this recipe on Google and Pinterest. We very much appreciate your help! 🤍
Other Asian/Asian Inspired Appetizers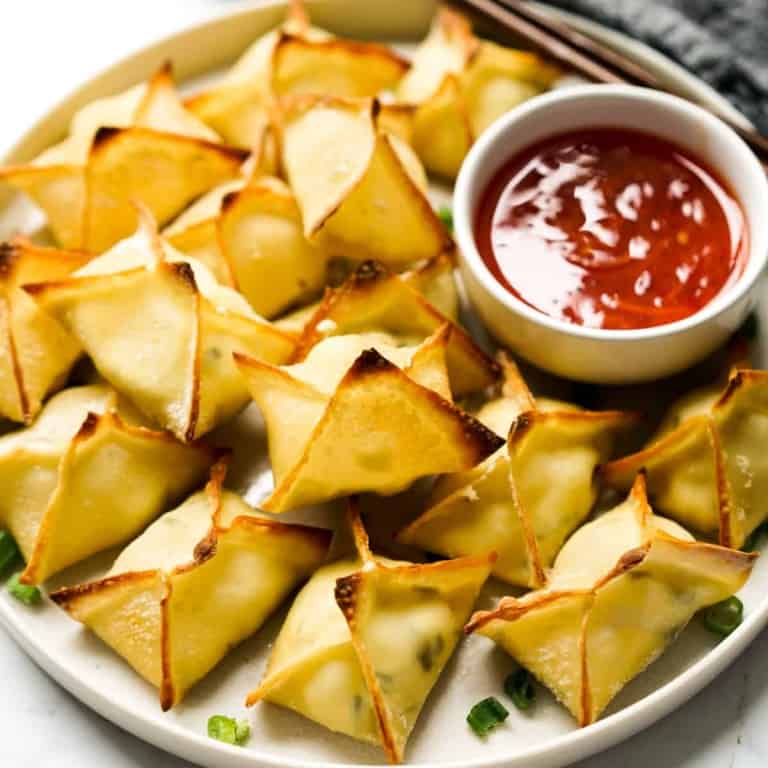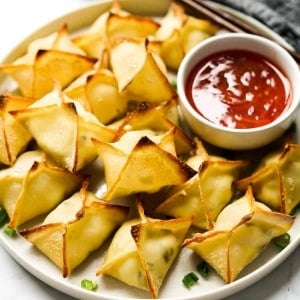 Baked Cream Cheese Wontons
These baked wontons with cream cheese is a classic Chinese American appetizer. Crispy wonton skin wrapped around gooey seasoned cream cheese, dipped in a sweet tangy sauce.
Print
Pin
Ingredients
8

oz

cream cheese

softened

20

wonton wrappers

3

tbsp

chopped green onions

1

tbsp

minced sweet onions

1

tsp

sugar

1/4

tsp

salt

vegetable oil

1

egg

3

tbsp

Thai sweet chili sauce
Instructions
In a large bowl, combine and mix well softened cream cheese with chopped green onions, minced sweet onions, sugar and salt.

Crack an egg into a small bowl and whisk it. Set aside.

To wrap the wonton, spoon ~ 1 tablespoon of cream cheese mixture onto the middle of a wonton wrapper. Do not overfill.

Using a brush or finger, brush all four sides of the wonton wrapper with egg mixture.

Pick up two opposite corners and press them to each other, then pick up the other two opposite corners to the middle and press the sides together to seal and close the seams.

Repeat Step 3-5 until all the cream cheese mixture are gone. This recipe should yield 15-18 wontons.

When all the wontons are wrapped, pre-heat oven to 400°F. Brush or spray vegetable oil all over wontons, then line them up onto a baking sheet lined with parchment paper or aluminum foil.

Bring wontons into oven and bake for 7-8 minutes. Remove from oven and let them cool for 10 minutes.

Serve with Thai sweet chili sauce and enjoy!
Notes
Air fryer Instructions: Instead of baking the wontons, air fry at 350

°F for 5-7 minutes. Make sure to space out wontons and do not overlap and overcrowd them in the air fryer.
Nutrition
Calories:
102
kcal
|
Carbohydrates:
9
g
|
Protein:
2
g
|
Fat:
7
g
|
Saturated Fat:
3
g
|
Polyunsaturated Fat:
1
g
|
Monounsaturated Fat:
2
g
|
Trans Fat:
1
g
|
Cholesterol:
28
mg
|
Sodium:
183
mg
|
Potassium:
37
mg
|
Fiber:
1
g
|
Sugar:
2
g
|
Vitamin A:
232
IU
|
Vitamin C:
1
mg
|
Calcium:
22
mg
|
Iron:
1
mg