When apple pie meets apple tart, this rustic Easy Apple Cinnamon Galette is birthed.
And the world is a better (and yummier) place because of it.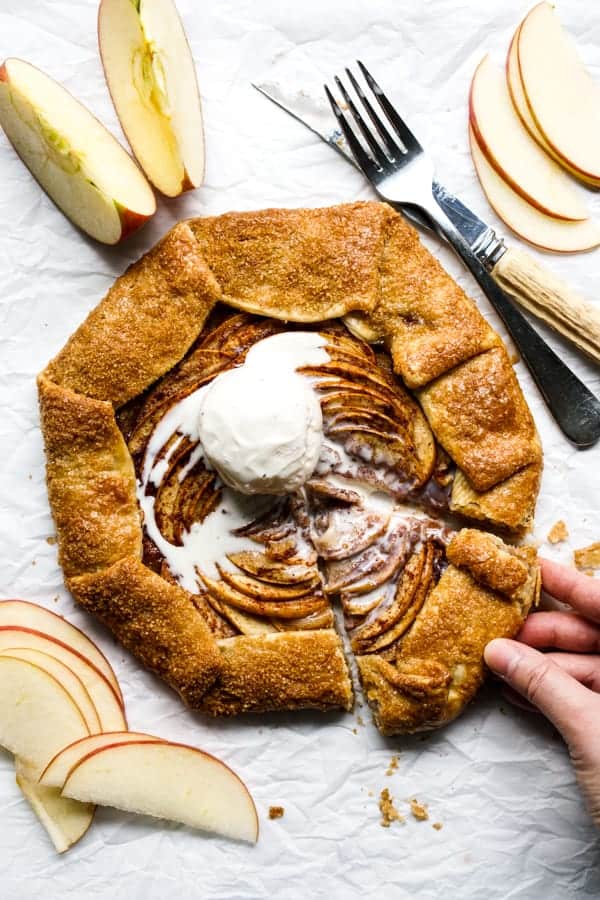 Sweet apple slices that are semi tender and semi crunchy, covered in cinnamon brown sugar, wrapped in flaky, buttery pie crust pastry with a sugar topping.
Serve warm and hot off the oven, and topped with creamy vanilla ice cream.
It tastes every bit as dreamy as it looks.
And bonus: it's so darn easy to make you won't believe it.
Apple Cinnamon Galette: a Fall Lovers' Dessert
Who else is excited about colder weather, apple season, and being able to snuggle under lots of blankets without sweating like a pig?
I love the colder weather.
Correction: I live for the colder weather.
Notice I said 'colder', not 'cold'. I tap off at like 20℉. Anything below that is not exactly bearable and enjoyable for me. Long gone are the days where I would put on Long Johns and brisk walk across campus to go to class when it is below zero ℉.
Brrr. Just thinking about it is making me shiver.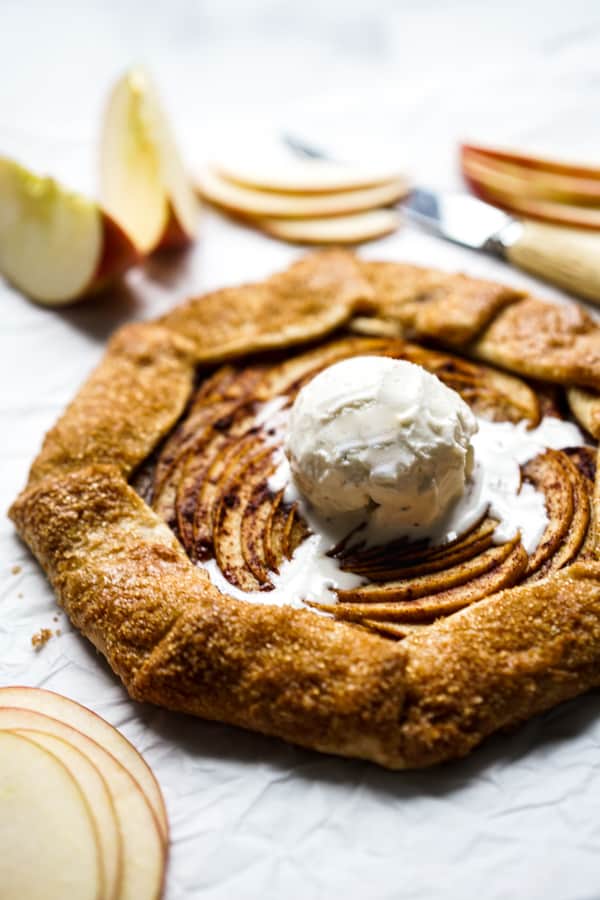 I used to live in the midwest but my old body would not be able to handle that anymore.
One of the many things my years in the midwest instilled in me is a love for Fall foods and desserts. Apples, pumpkins, pecans, maple, cinnamon and all the gorgeous Fall flavors.
Baking with apples quickly became a Fall tradition and one of my favorite Fall activities.
When apples are baked, the flavors, textures and scent change. It becomes soft, sweet and produce that gorgeous fragrant that we have commonly associate with Fall today. It's like a whole new fruit is birthed.
This Cinnamon Apple Galette recipe is a celebration of Fall and beginning of apple-baking season.
It's a simple and yummy way to kick off the autumn, make your house smell like Fall, and get excited everyone about the new season.
What is Apple Galette?
Apple Galette is sometimes referred to as Apple Crostata. It's a genius way of cutting short the apple pie making process because instead of filling pie crust with apples and sealing it, you will be wrapping the apples with pie crust.
It's a lot more low maintenance, less attention to details is needed, and the none-neatness actually makes it look rustic and cool.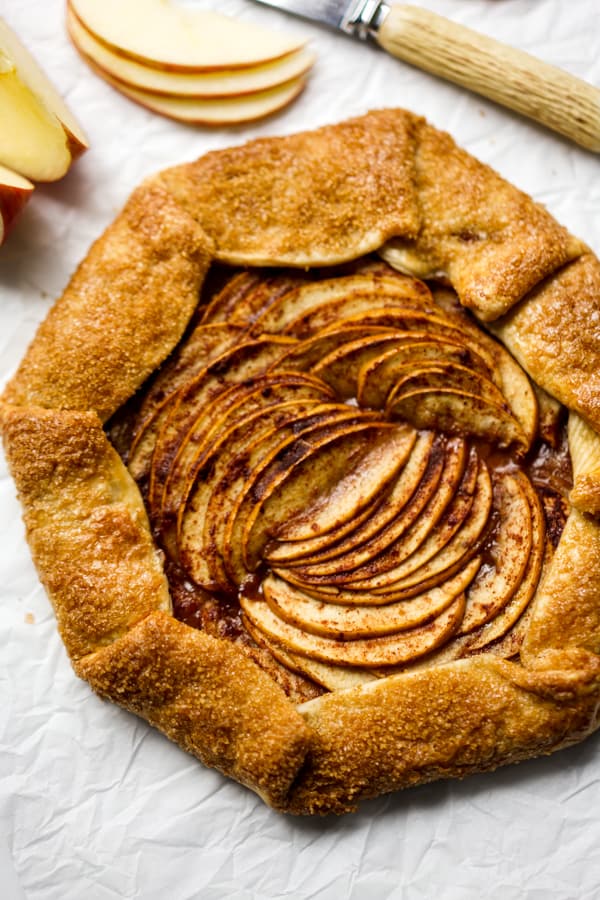 I shared this Blueberry Galette recipe last summer and many of you have made it and love it.
When I described the Blueberry Galette, I compared the taste to Blueberry Pie, but this Apple Galette actually taste more like a cross between an apple tart and an apple pie.
The filling in an apple pie is soft and much more liquid-y than the filling in this Apple Galette. Packed with lots of cinnamon brown sugar flavor, the apples in this galette dessert are soft but still retain a tad bit of crunch.
It really is the perfect bite.
Let's make it!
To make this process quick and simple, we are using an unbaked pie crust dough, and I typically use Pillsbury.
Homemade pie crusts are amazing and if you have the time, totally make it from scratch. But if you don't, there is no shame is procuring a dough from the store and using those.
You can find pretty delicious pie crusts that taste almost like homemade. And I'll be honest, most of the time, I buy pie crusts because I just do not have the time (or energy) to make it from scratch.
I wanted to share a galette recipe that is easy to make, and this is one short cut to make your galette dreams come true (quickly).
Let's get started. And I typically start by making the apple filling.
Slice apples into thin slices and combine it with brown sugar, lemon juice, flour, maple syrup and ground cinnamon in a large bowl.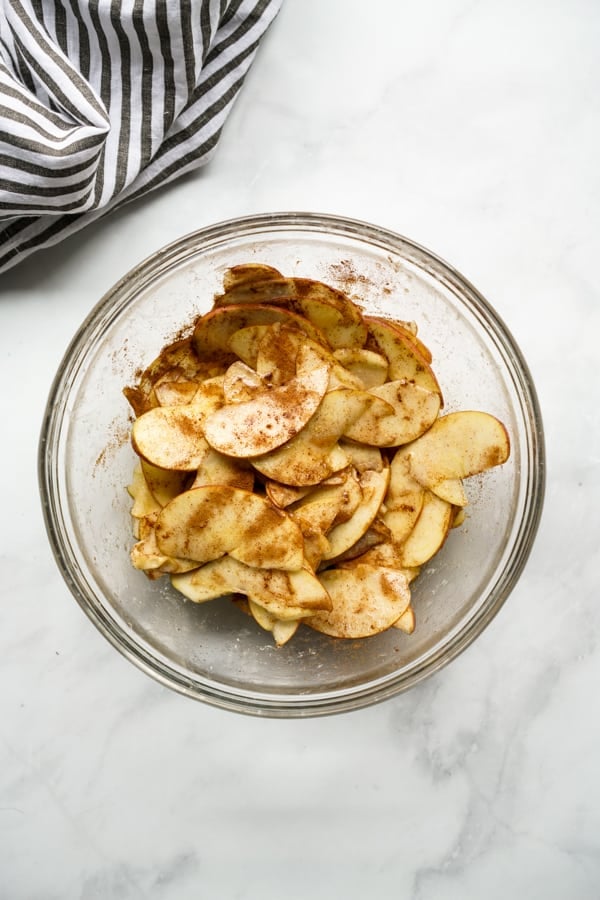 Toss it evenly, and use fingers to make sure all the apple slices are coated in the mixture so that it bakes evenly.
Next, add apple mixture to rolled out pie crust, leaving about 1 1/2inch of pie crust to be folded over.
Get artistic and make a pretty flower-like design with the apples or just throw them together randomly. Whatever works better for you. Make sure to overlap the apple slices a little bit so you can pack more of them in the galette.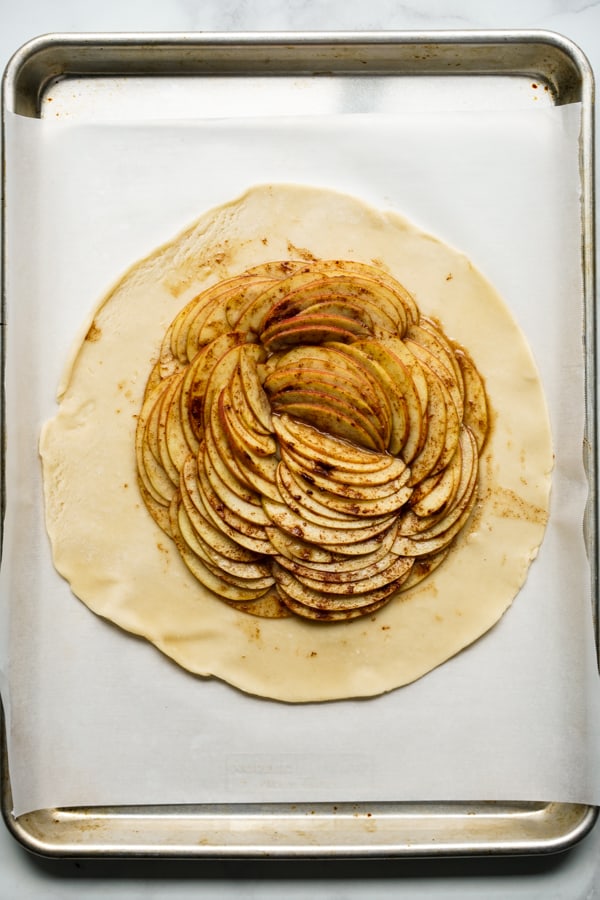 After folding over, drizzle leftover juice from the apple mixture onto the apple slices so that the extra moisture will help soften the apples when they bake.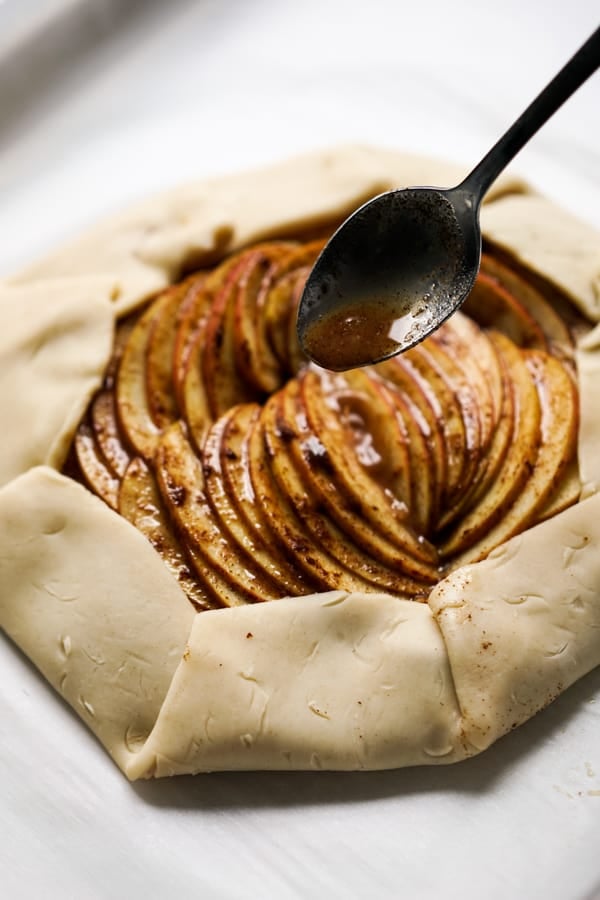 Then brush egg wash onto the folded-over crust, and sprinkle with coarse sugar for extra sweetness on the crust!
Bake and wait patiently while the gorgeous aroma of apples and cinnamon fills your kitchen.
When it is done, as much as you might be tempted to dig in immediately, let the galette sit for a few minutes before cutting into it and serving it with vanilla ice cream.
Then dig in. Indulge. Savor every bite. Saving the best part for last.
Tips and Tricks
When making the apple filling, slice apples into thin slices around the same size so they bake easily and evenly, and make sure all slices are evenly coated in mixture. Use fingers to coat and mix apple slices to enable a more uniform coating.
Overlap apple slices slightly on top of each other as you fill the galette. Avoid dumping the whole bowl of sliced apples onto the crust because we will be using the liquid from the apple mixture to drizzle onto the top of the galette.
Place pie crust on baking sheet lined with parchment paper before filling it with apple mixture. It is very hard to transfer galette to the appropriate baking sheet once filled.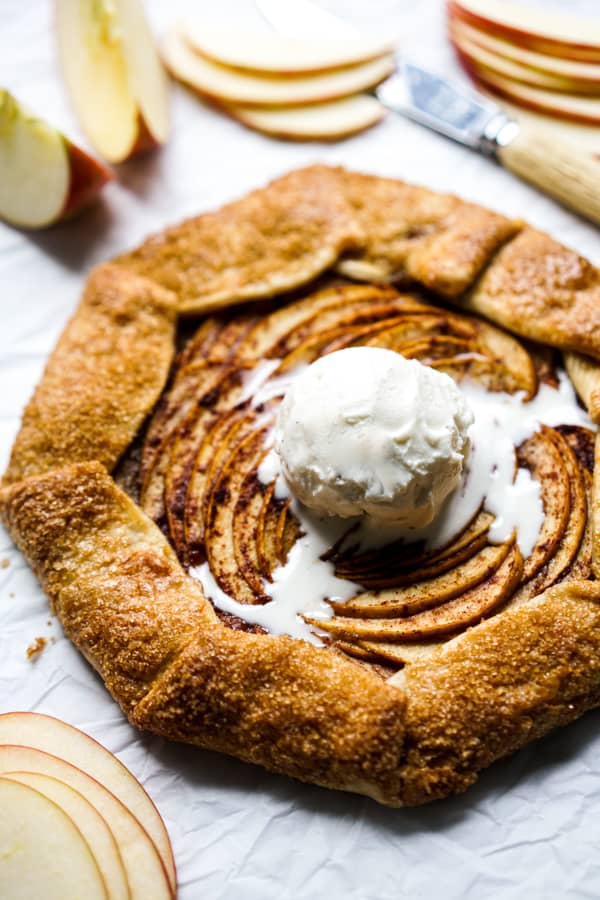 And there you go.
A simple, easy, yet oh-so-classy dessert that always makes me feel all elegant and sophisticated.
Dedicated to all of my peeps out there who love a good, solid apple dessert. Who gets excited when Fall comes around because you know you will be baking with apples all season long.
You are my people. And this is for you. 🧡
More Apple Desserts!
Can't get enough of apples? Here are more delicious apple desserts!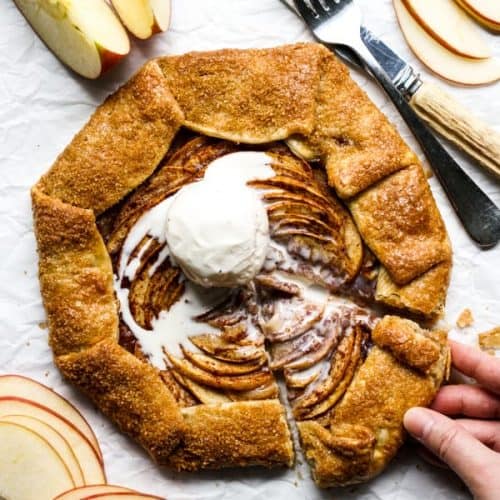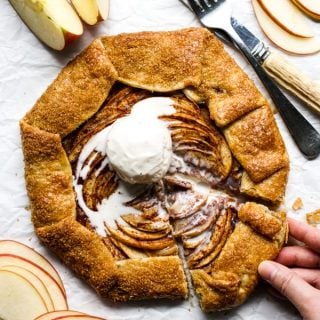 Apple Cinnamon Galette
An easy and rustic apple galette filled with cinnamon and brown sugar. A cross between apple pie and apple tart. A quick and yummy dessert recipe!
Print
Pin
Ingredients
1

pie crust

unbaked

1

large apple

or two small/medium apples

3

tbsp

brown sugar

1

tbsp

lemon juice

1

tbsp

pure maple syrup

1

tbsp

all purpose flour

1

tsp

ground cinnamon

1

large egg

1-2

tbsp

coarse sugar

vanilla ice cream

for serving
Instructions
Slice apple(s) into thin slices

In a large bowl, combine sliced apples, brown sugar, lemon juice, pure maple syrup, all purpose flour, and ground cinnamon. Mix well to evenly coat apples. Use hands to coat evenly if needed.

Roll out pie crust on a baking sheet lined with parchment paper. Place sliced apples (overlap and pack them!) onto the middle of the pie crust, leaving ~1 1/2 inch all around to fold over. Overlap the apple slices a little bit so you can pack in more of them. Do not dump the whole bowl of sliced apples onto the crust because we will be using the liquid from the apple mixture to drizzle onto the top of the galette.

Once apples are arranged onto the crust, fold over the sides of the pie crust. Drizzle leftover liquid from apple mixture to the top of the sliced apples.

Whisk an egg in a small bowl. Using a brush, brush the folded-over sides with egg wash. Then sprinkle with coarse sugar.

Bake for 40 minutes, or until crust is golden brown and apples are slightly tender. Apples will not be completely soft, but partially tender and partially crunchy.

Let galette sit for 10 minutes. Serve with vanilla ice cream and enjoy!
Nutrition
Calories:
293
kcal
|
Carbohydrates:
40
g
|
Protein:
4
g
|
Fat:
13
g
|
Saturated Fat:
6
g
|
Cholesterol:
47
mg
|
Sodium:
164
mg
|
Potassium:
173
mg
|
Fiber:
2
g
|
Sugar:
22
g
|
Vitamin A:
241
IU
|
Vitamin C:
3
mg
|
Calcium:
81
mg
|
Iron:
1
mg