Pineapple Orange Coconut Rum Cocktail
This Pineapple and Orange Coconut Rum Cocktail is three-ingredient easy, so refreshing, and such a treat for the summer!
You guys. Every time I drink this Coconut Rum Punch, it transports me to my virtual beach, a.k.a my happy place.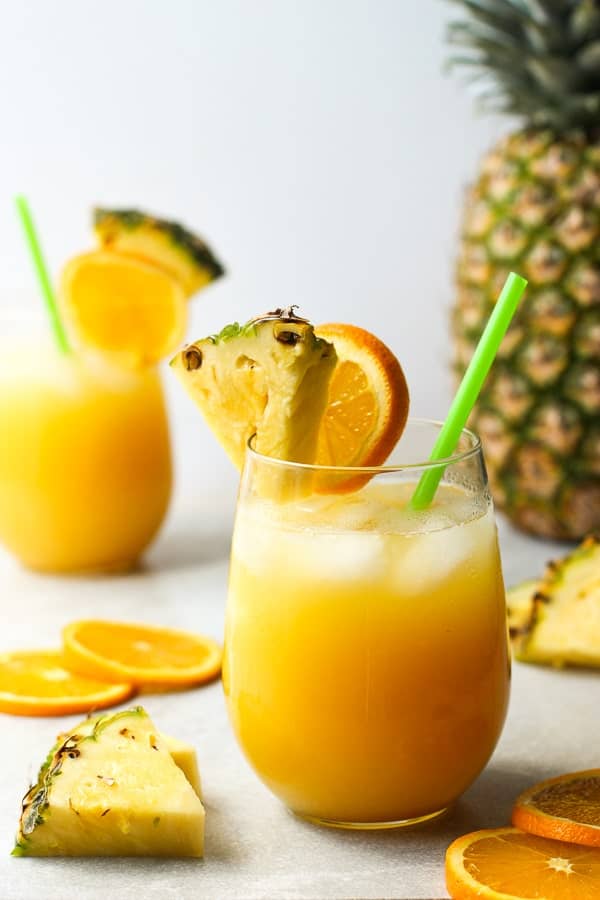 I can smell the ocean, feel the sand between my toes. I swear I can feel that ocean breeze in my hair, and my heart is just happy.
What can I say, this Coconut Rum Cocktail is just a happy happy drink.
The Coconut Rum Cocktail Magic
As the weather gets warmer, I crave for this refreshing Coconut Rum Cocktail that combines coconut rum, pineapple juice, orange juice and ice.
All of my favorite tropical flavors in one!
I also like to cut up fresh slices of pineapple and orange and stick it to the rim of the glass of my coconut rum cocktails, and pretend like I'm on a beach or by the pool.
There's something about tropical, citrusy flavors that just do it for me, and that quick spike of rum seal the deal. The combination of pineapple, orange and coconut is one that is truly out-of-this-world delicious.
Yep, it's pretty much a spiked fruit punch, thus sometimes called Coconut Rum Punch.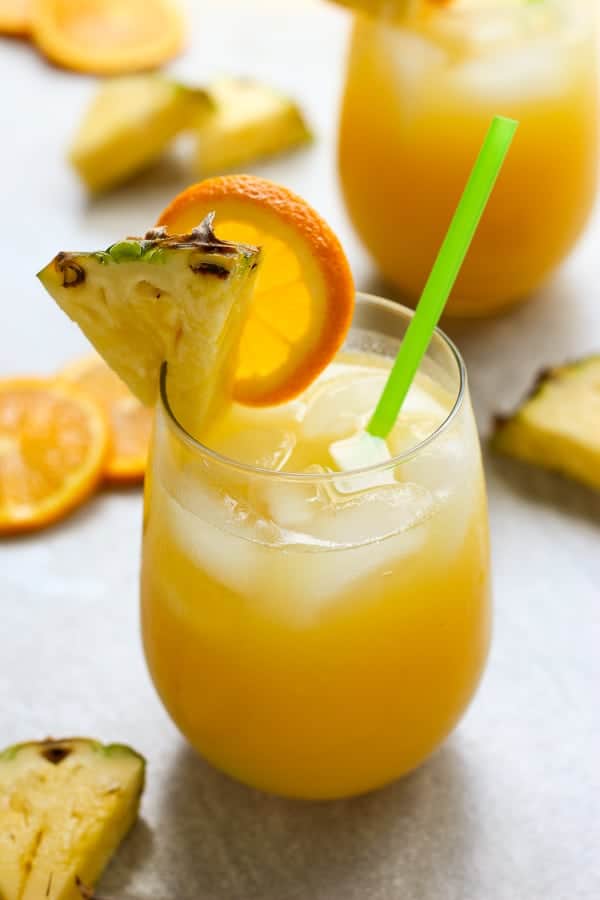 Ingredients
The simplicity of this lovely tropical coconut rum cocktail will blow your mind.
Only three ingredients, and three ingredient only. Before you know it, your Pineapple Orange Coconut Rum Cocktail dreams are coming true.
Coconut rum – I have always used Malibu Coconut Rum (see picture below), but others work as well.
Orange juice
Pineapple juice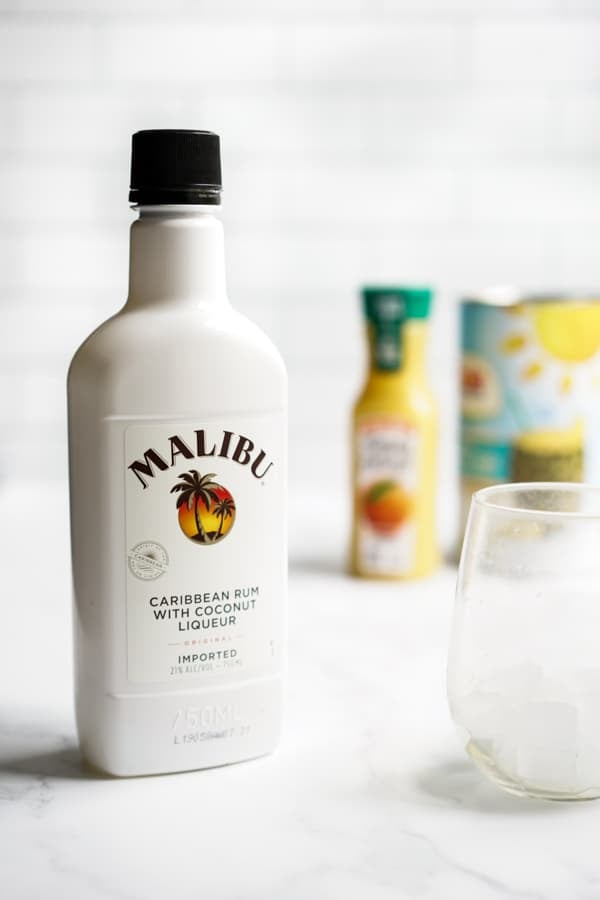 How to make Coconut Rum Cocktail
Make this delicious coconut rum cocktail in a jug, or just mix it together in a glass!
Here's the basic rule of thumb when it comes to making coconut rum punch: Equal parts of orange juice and pineapple juice, and coconut rum to taste seal the deal. You usually need less coconut rum than you do orange juice/pineapple juice.
If you are making coconut rum cocktail in a jug, I usually do 4 cups of pineapple juice and orange juice each, add about 1-1 1/2 cups of coconut (taste and adjust accordingly), then add ice.
If you are making it in a glass, add 1/2 cup of pineapple juice and orange juice each, then add a splash of coconut rum.
Mix it all up, kick back, relax, and sip on this lovely drink and pretend you are on the beach.
I also highly recommend cutting up slices of oranges and pineapple, adding it to the rim of the glass, or throw it into the coconut rum cocktail itself.
I love biting into the juicy pieces of pineapples and oranges as I sip on this magical Cocktail Rum Cocktail.
Yum!!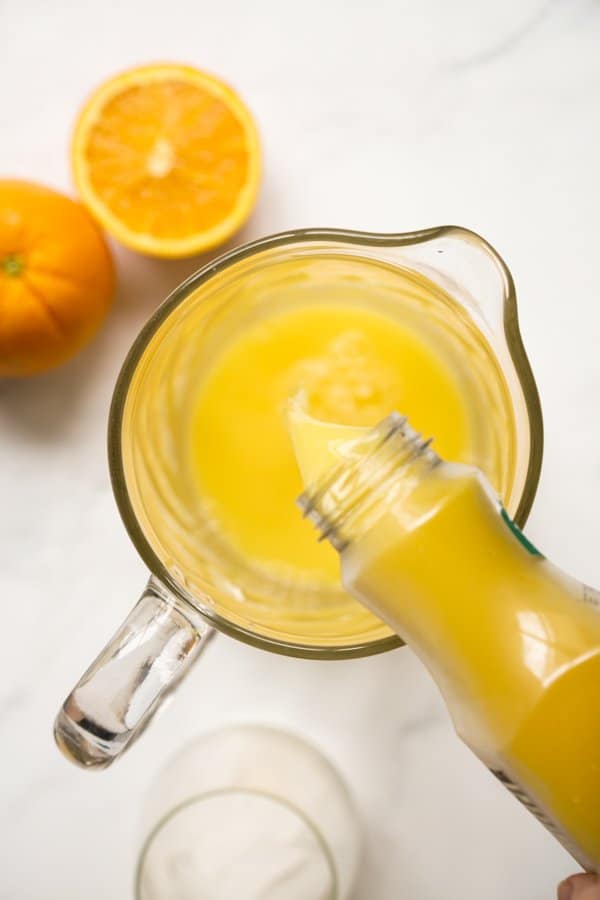 Variations
There are so many ways to make this delicious drink! Here are other yummy ingredients to add to your coconut rum cocktail:
sparkling water or club soda
lime juice or limes
lemon juice or lemons
mango juice or mangoes
cherries
Frequently Asked Questions
What are other ingredients that I can add to this?
– Grenadine is a type of syrup that is bright red in color which adds a nice color to it if you'd like.
– add club soda to give it extra fizziness
– add cherries or other fruits for decorations!
Can I make this ahead?
Absolutely! Make ahead and store it in the refrigerator to keep it chill until ready to serve. I would only add the ice when ready to serve.
Can I use regular rum?
Yes! It does not have the coconut flavor so if you still want the coconut flavor, consider adding some coconut cream to the mixture if you are using regular rum.
Can I not add ice?
You can choose not to add ice and chill the orange juice, pineapple juice and coconut rum a few hours before mixing it together so that your cocktail will still be nice and cold. Not adding ice will make it less diluted as well – I can see some people preferring that!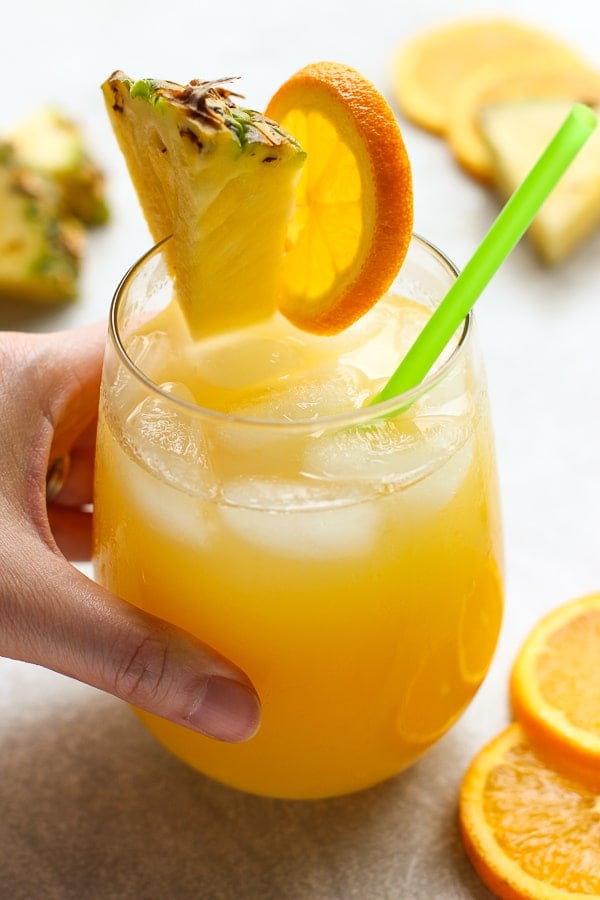 Trust me when I say you are going to LOVE this.
It's my favorite summer drink! Pool days and beach days just aren't completely without a glass (or two) of Coconut Rum Cocktail!
DID YOU ENJOY THIS RECIPE? Please comment below and give us a 5-star rating! This will help others find this recipe on Google and Pinterest. We very much appreciate your help! 🤍
Serve this Cocktail With….
There's nothing like a good cocktail with some solid finger food and appetizers. These will go well with this Pineapple Orange Cocktail Rum Punch!
Other Delicious Cocktails!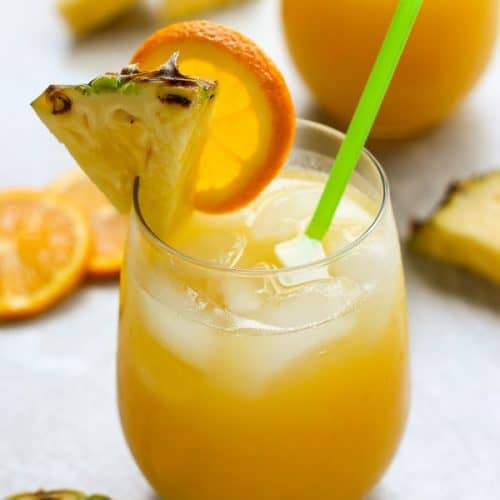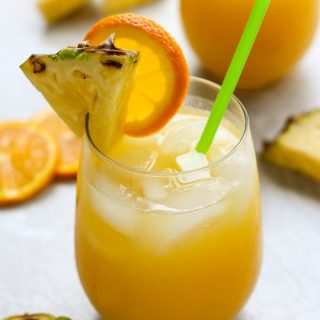 Pineapple and Orange Coconut Rum Cocktail
Three ingredients only! A refreshing, delicious and easy-to-make coconut rum cocktail loaded with tropical flavors! Perfect for the summer!
Print
Pin
Ingredients
4

cups

orange juice

4

cups

pineapple juice

1 – 1 1/2

cup

coconut rum

ice cubes

Slices of fruits for garnish/decoration

optional
Instructions
Mix orange juice, pineapple juice and coconut rum in a pitcher. Add more coconut rum if you like it more boozy.

Pour into glasses and serve! Add fruits to the side of glasses if desire.
Notes
Instructions for making in a glass: add 1/2 cup of orange juice, 1/2 cup of pineapple juice, a splash or two of coconut rum to taste. Add ice and stir to combine.
Nutrition
Calories:
389
kcal
|
Carbohydrates:
37
g
|
Protein:
2
g
|
Fat:
1
g
|
Saturated Fat:
1
g
|
Polyunsaturated Fat:
1
g
|
Monounsaturated Fat:
1
g
|
Sodium:
6
mg
|
Potassium:
537
mg
|
Fiber:
1
g
|
Sugar:
30
g
|
Vitamin A:
339
IU
|
Vitamin C:
98
mg
|
Calcium:
39
mg
|
Iron:
1
mg