Easy Mixed Vegetable Rice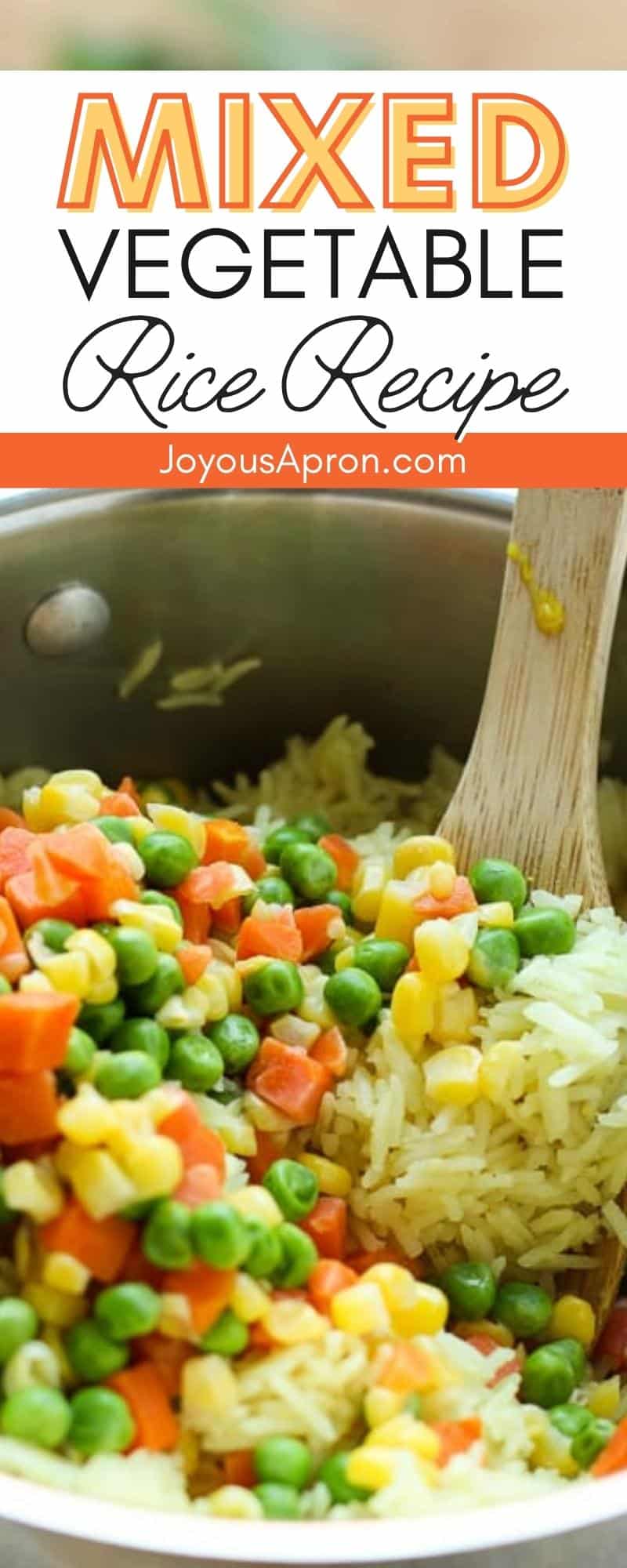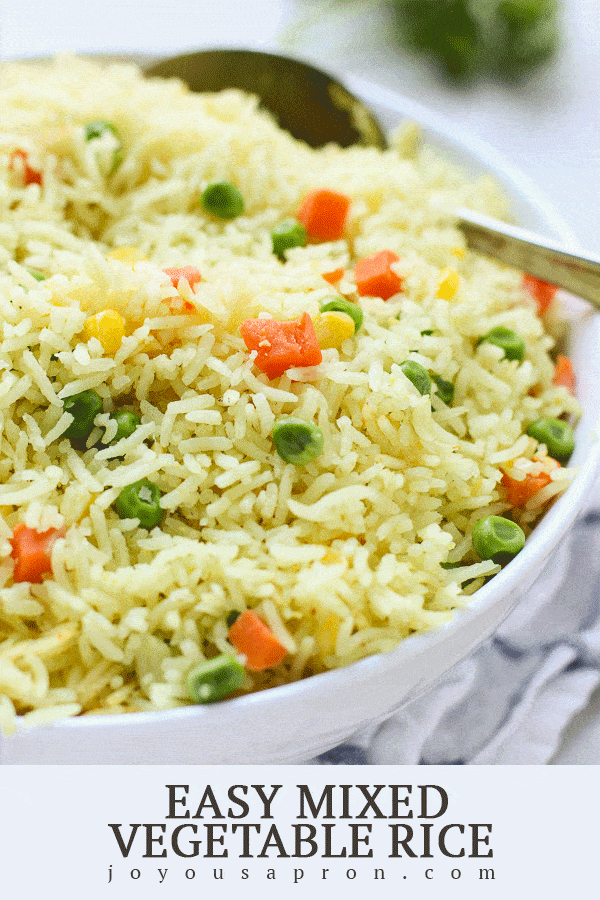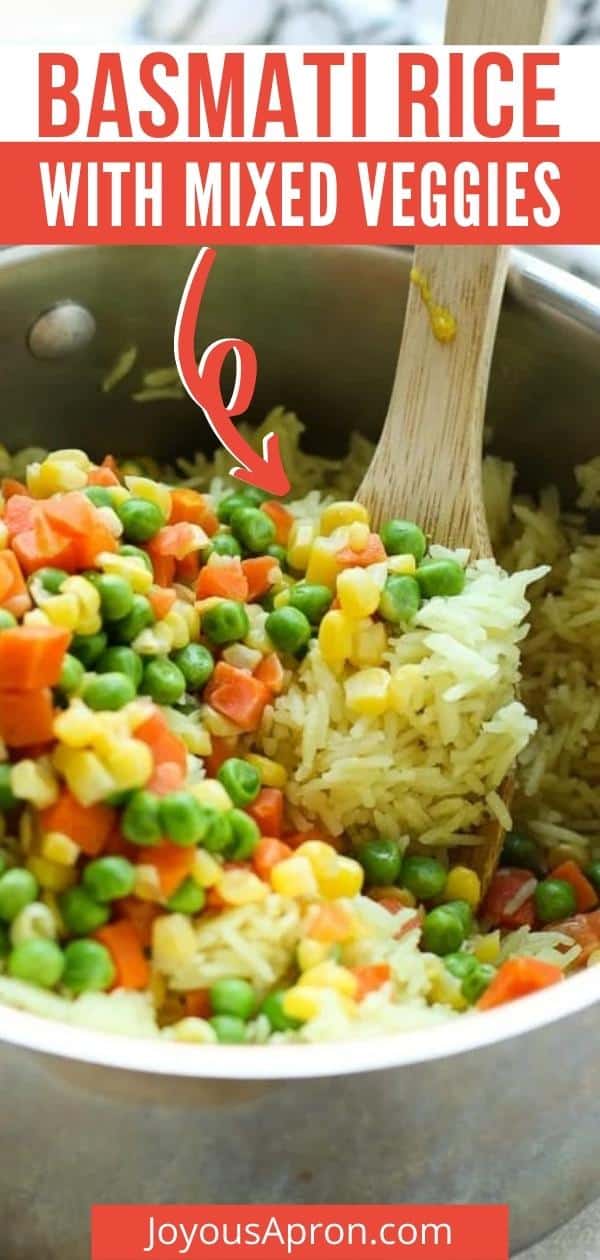 This Easy Mixed Vegetable Rice is my newest obsession. I know what you are thinking – strange, weird, just a little a bit out there.
But this fluffy seasoned rice pilaf tossed with mixed vegetables is so yummy, so simple, and so perfect on EVERYTHING. It's a wonderful rice side dish that your whole family will love!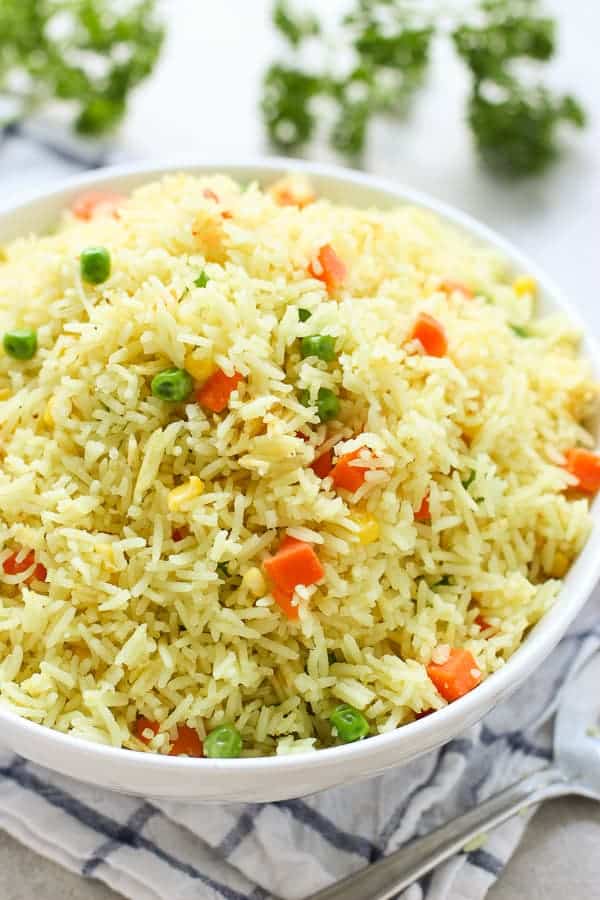 Looking for more rice recipes? Check out these other favorites on the blog! Steak Fried Rice, Instant Pot Mexican Rice, and One Pan Baked Lemon Chicken and Rice.
Vegetable Rice…made easy!
I made a large batch, like ultra large batch, of this Easy Mixed Vegetable Rice the other night, and it has been the side dish that went with ALL THE THINGS we ate since then.
Salmon, chicken, pork, beef, a bunch of random veggies, inside a taco (that's my husband's new thing), by itself for lunch when there's nothing else to eat (me this afternoon).
This Vegetable Rice recipe seriously goes with EVERYTHING.
It's a simple rice side dish that you need in your hip pockets because it also happens to be very flavorful and very delicious.
The funny thing is I made this rice pilaf with vegetable dish totally on accident. I wanted some fluffy rice to go with the baked salmon I was making for dinner one evening. If you have been following my insta-stories on Instagram, you might recall 😉 .
I saw rice in the pantry, and also one of my favorite seasoning in the world – Better than Bouillon, Roasted Chicken Based. And we were out of veggies – except for a bag of frozen mixed veggies in the fridge.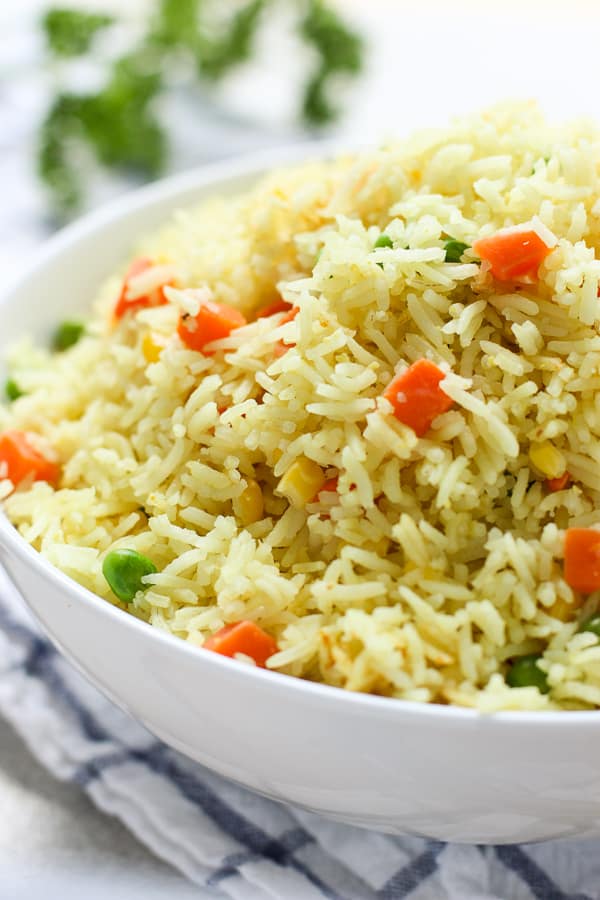 At that fateful moment, this Easy Mixed Vegetable Rice came into existence.
Ingredients for Easy Mixed Vegetable Rice
Mixed Vegetable Rice is a super simple recipe that calls for a short list of pantry-friendly ingredients. 5 ingredients, to be exact:
Rice – my favorite rice to use for this recipe is basmati rice. Basmati rice is commonly used in Indian and Mediterranean cooking, and is fragrant and has a light and fluffy texture. I highly recommend using that for this recipe. Other rice such as long grain, jasmine etc works as well, I just prefer basmati. Do not use minute rice or already-cooked rice for this recipe.
Chicken bouillon – this is responsible for seasoning the Vegetable Rice and giving it plenty of flavor. My only advice is to use good quality chicken bouillon because it will make such a difference to the flavor of your dish! If you are trying to figure out what are good bullion's to use, I highly recommend the Better than Bouillon Roasted Chicken Based (which is what I use here) or Trader Joe's Chicken Flavor Bouillon concentrate.
Mixed vegetables – grab a bag of frozen vegetables! They usually consist of peas, carrots, corn and green beans already chopped into small pieces. That's the easiest, quickest way to go about this recipe.
Garlic – Use fresh garlic for the best flavor. Avoid substituting with garlic powder.
Cooking oil – your favorite cooking oil – vegetable oil, avocado oil, olive oil…whatever you have at hand works!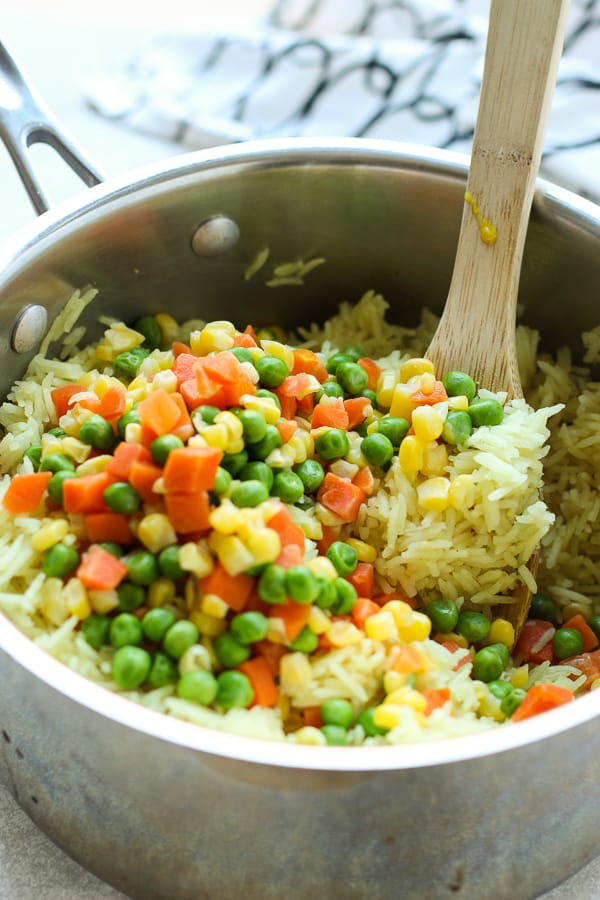 How to make Vegetable Rice
I'm going to walk you through how to make this easy Vegetable Rice recipe.
All you need is a medium pot with a lid (to cover the rice while it cooks), and it takes no more than 25 minutes from start to finish.
Start by heating pot with cooking oil and searing minced garlic and rice in the pot.
Once garlic is fragrant, add water and chicken bouillon to the pot.
Keep in mind that different chicken bouillon will be different in terms of its salt levels, flavor etc. I am recommending 2 tablespoons of the Better than Bouillon Roasted Chicken Based for this recipe, but adjust accordingly if you are using another chicken bouillon. Or if you prefer it less or more salty.
Give rice a stir and let it come to a boil. Then immediately lower heat to medium low and cover with lid.
Cook rice pilaf for 15-17 minutes. I like to check at the 15 minute mark.
Once it's done, add in defrosted mixed vegetables (I usually microwave it briefly) and give rice and vegetables a stir. Mixed vegetables is a great add in to the rice because mixed vegetables = easy peasy.
It's a super easy ingredient, and it is after all, vegetables, which always makes me feel like I am putting good stuff in my tummy. Even if it is a few sprinkle of it over a large bed of rice.
Fluff Mixed Vegetable Rice and remove from heat promptly.
And that's it! Serve rice and vegetables with your favorite protein, or enjoy it on its own!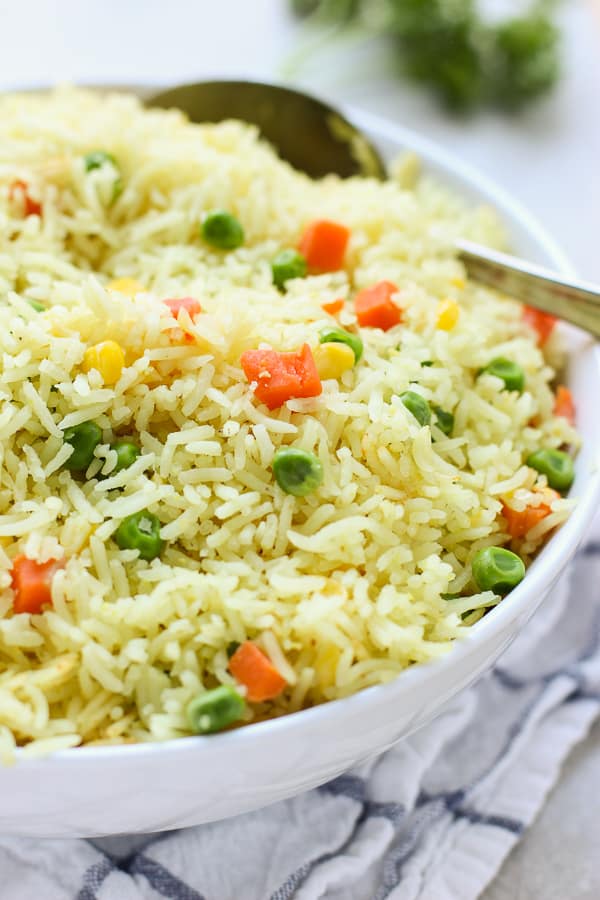 Incredibly flavorful, great textures, this Easy Mixed Vegetable Rice side is perfect side for any meal! It also keeps really well, and seriously, it goes with everything! Except maybe ice cream. 😉
Storage and Reheating
Mixed Vegetable Rice stores and reheats incredible well.
Keep it in an air tight container in the refrigerator and you can store it for up to 7 days.
When ready to reheat, simply reheat in microwave, and it tastes just like it was freshly made!
Frequently Asked Questions
How do I avoid browning the bottom of the pot after covering and cooking vegetable rice?
Make sure to cook rice covered on medium low (or even low) heat. Check at the 15-minute mark, fluff rice and remove from heat promptly once rice is soft.
Can I use raw veggies instead of frozen veggies?
If you are using raw veggies, make sure to cut it into small pieces and add along with rice, and cover to cook both rice and vegetables. If you are using more than 1 cup of raw veggies, you will want to add more water.
Can I use chicken broth instead of chicken bouillon?
I personally don't like to do that because chicken broth itself doesn't give the rice enough flavor. Chicken bouillon is more concentrate and will season the Mixed Vegetable Rice better.
My rice is too salty – what should I do differently?
You might want to reduce the amount of chicken bouillon used. My suggestion is 2 tbsp of Better than Bouillon Chicken Bouillon, however all chicken bouillon has different salt levels so you will have to adjust accordingly. Note: I adjusted the recommended amount of Chicken Bouillon to 2 tbsp from my original suggestion of 3 tbsp after retesting this recipe based on feedback.
DID YOU ENJOY THIS RECIPE? Please comment below and give us a 5-star rating! This will help others find this recipe on Google and Pinterest. We very much appreciate your help! 🤍
Other Rice Dishes
More Yummy Sides
Because why not?!? 😀 Happy cooking, all!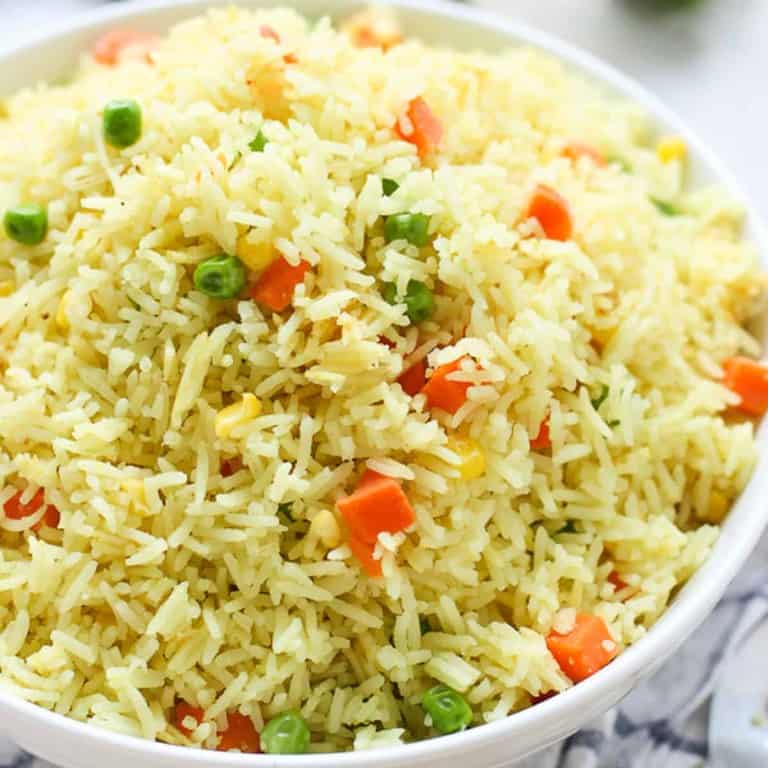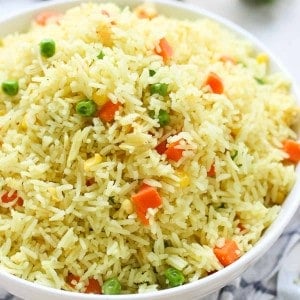 Easy Mixed Vegetable Rice
A basic but crazy flavorful rice pilaf and vegetable side dish! Basmati rice cooked in garlic and chicken bouillon, and tossed with mixed vegetables. Goes well with just about any protein or eat it by itself!
Print
Pin
Ingredients
2

cups

basmati rice

2 1/2

cups

water

2

tbsp

Chicken Bouillon (Better Than Bouillon, Roasted Chicken Base)

2-3

cloves

garlic

minced

2

cups

frozen mixed vegetable

1

tbsp

olive oil
Instructions
In a large pot, add olive oil and minced garlic and cook under medium heat till fragrant (this goes quick!). Do not brown or burn garlic.

Add rice to pot. Stir and cook for a minute. Then add water and chicken bouillon. Stir to combine. Bring to medium high heat and to a boil.

Once the water boils, lower to medium low heat, cover pot (make sure it is fairly tight), and cook for 15-17 minutes.

Bring frozen mixed vegetable to bowl. Microwave for 20-30 seconds, or until vegetable is soft (do not overcook). Drain access water.

Once rice is cooked, remove cover and use spatula to stir and fluff rice. Add mixed vegetable to rice. Stir and combine.
Notes
To continue to improve upon this recipe, this recipe was retested and updated on Sep 1, 2022 based on reader feedback. We reduced the amount of chicken bouillon to 2 tbsp for a less salty vegetable rice. If you love the older version, it called for 3 tbsp of chicken bouillon – everything else should stay the same!
Nutrition
Calories:
215
kcal
|
Carbohydrates:
43
g
|
Protein:
5
g
|
Fat:
2
g
|
Saturated Fat:
0.4
g
|
Polyunsaturated Fat:
0.4
g
|
Monounsaturated Fat:
1
g
|
Sodium:
42
mg
|
Potassium:
153
mg
|
Fiber:
2
g
|
Sugar:
0.1
g
|
Vitamin A:
2311
IU
|
Vitamin C:
5
mg
|
Calcium:
28
mg
|
Iron:
1
mg