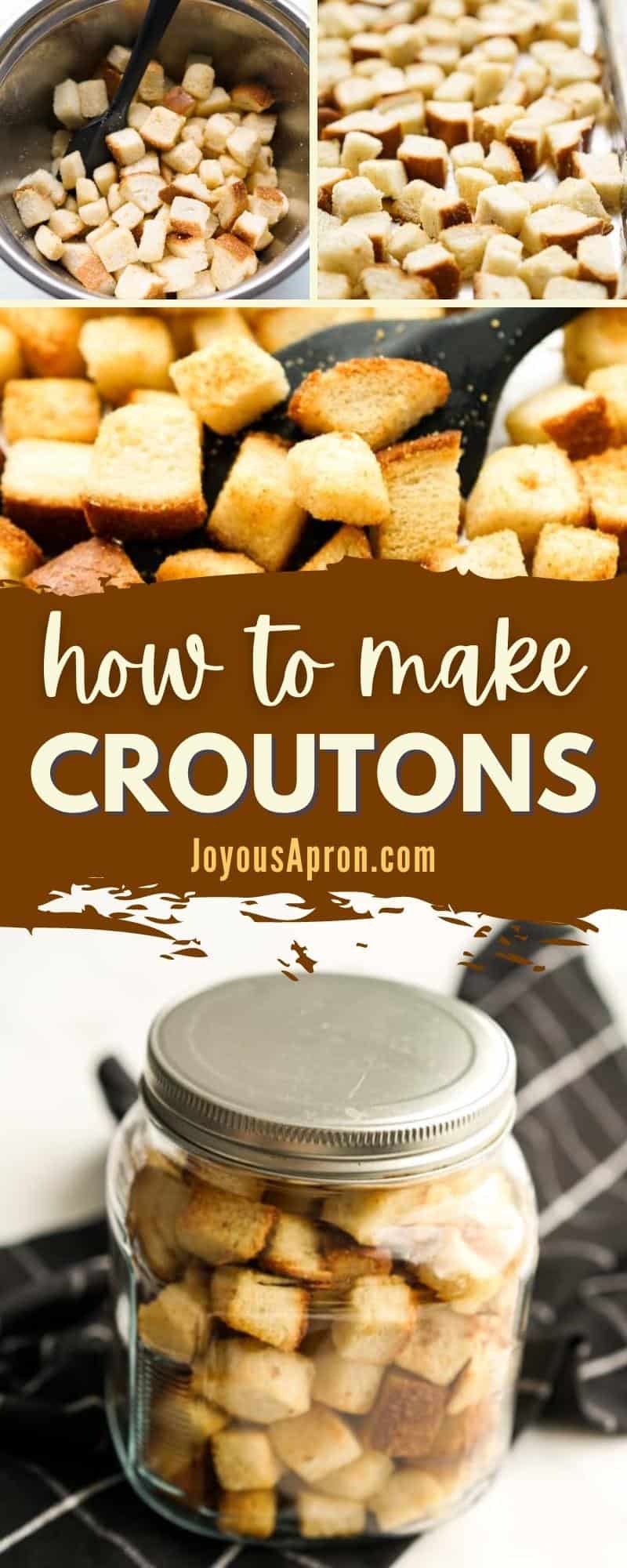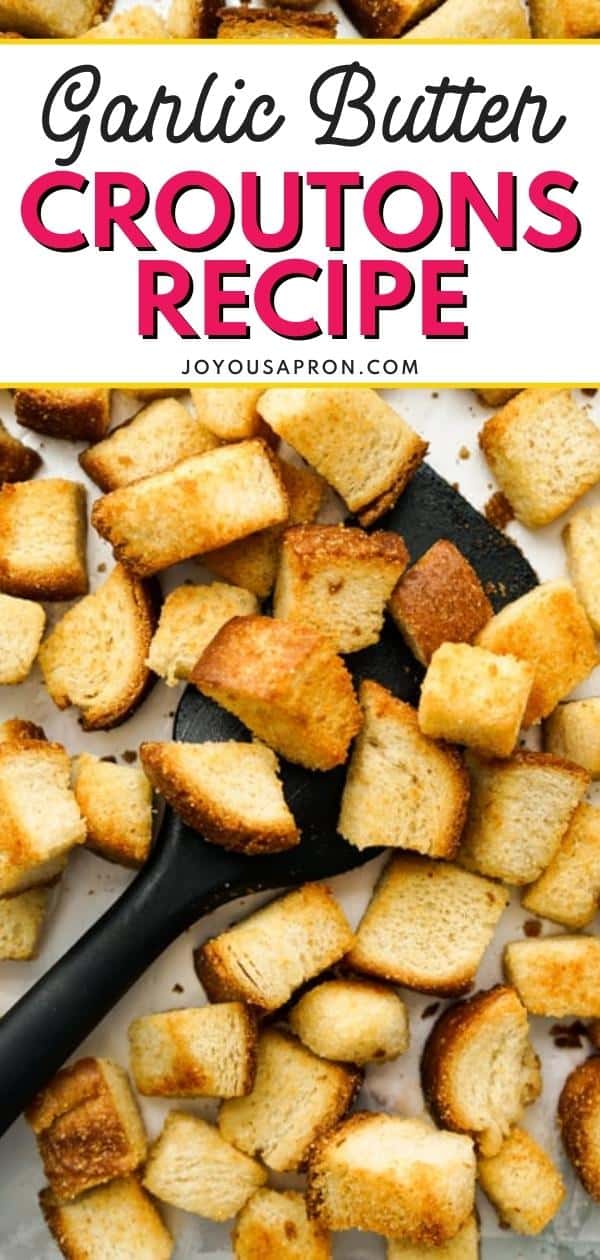 Have leftover dry bread lying around? Don't throw them away…because they are perfect for Homemade Croutons! If you want to know how to make croutons, this post will guide you through the short list of ingredients you will need, plus step-by-step instructions on how to go about it!
These Garlic Butter Croutons that we are about to make are crunchy, flavorful, and so dang addictive! I seriously cannot get enough of it!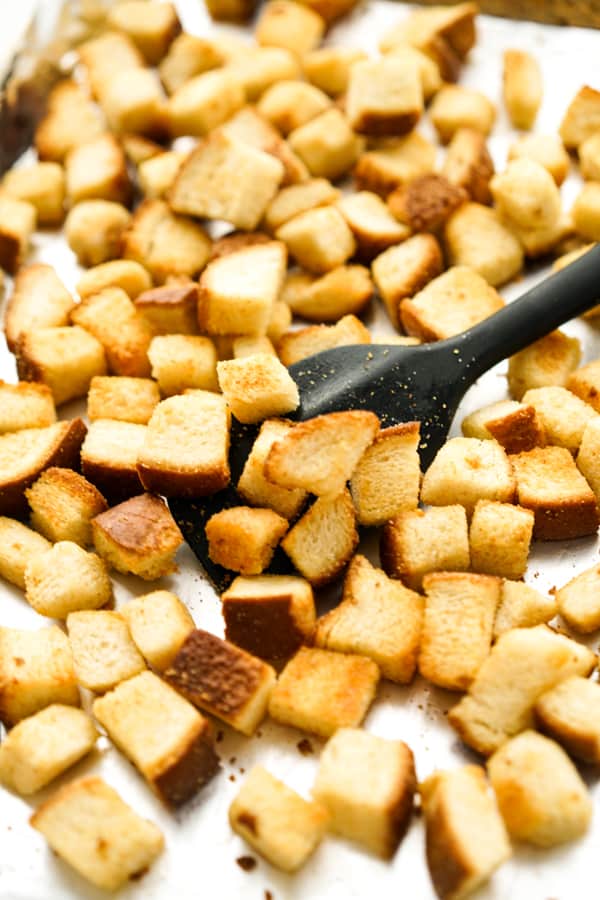 Easy Crouton Recipe
I love making homemade croutons and have a big jar of it on my kitchen counter not just for salads and soups, but also for snacking purposes as well.
It's really toasted bread with lots of butter and garlic. That magical trio. HOW CAN YOU GO WRONG.
You can add lots of other herbs and seasoning to it, but I find that you really don't need it. It's so tasty with just a few simple ingredients.
That's why it's so easy to make Homemade Croutons – it really doesn't need much to turn out fantastic.
When I make homemade croutons, I'll make a big batch of it so I can store the rest of it away in an airtight container for whenever I need them.
They are great to have on hand, and so much better than store-bought.
Ingredient Notes
To make Homemade Croutons, you will need these 5 simple ingredients: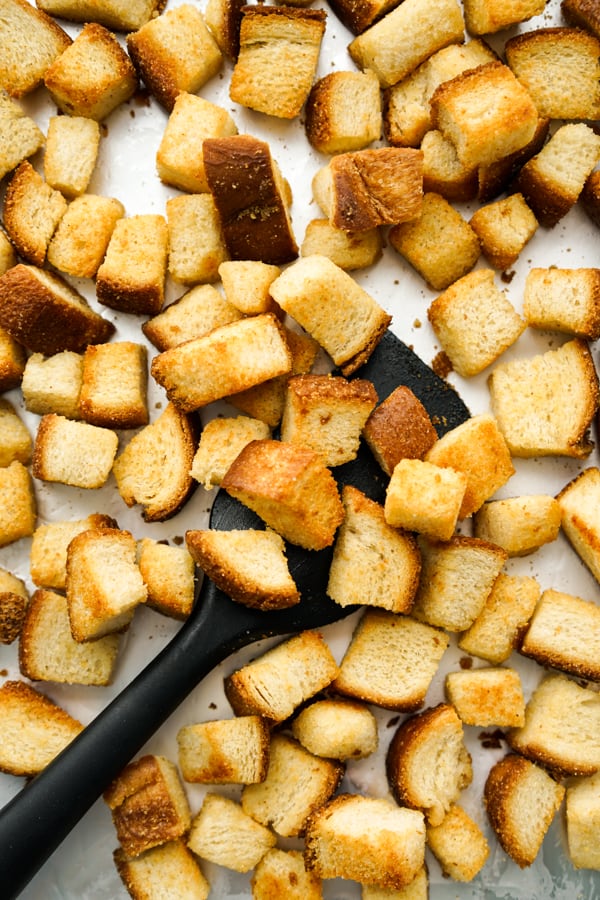 Bread – cut into cubes. You want you use dryer, older bread. And that is not limited to white sandwich bread, you can use french bread, ciabatta bread, wheat bread, dinner rolls etc.
Salted butter – for best tastes and results, use real butter. Not margarine, not I Can't Believe it's Not Butter®, not light butter. But REAL butter, people. REAL butter.
Olive oil – I like the combo of olive oil and salted butter as the 'grease' for croutons. Olive oil has a neutral taste but is needed to toast up the bread in the oven.
Garlic powder
Salt
How to make croutons from bread
I'm going to show you how to make a simple Garlic Butter Crouton recipe, and then after that I will give you ways you can add on and modify your crouton recipe if you want to make it fancier.
Step 1: Prepare Bread Cubes
For best results, you will want to use dry, kinda stale bread for this.
Side note: When I say old, i mean pre-molding bread. If you see those green and black spots on your bread, they probably have expired their use even as croutons 🙁
First, slice bread into cube pieces.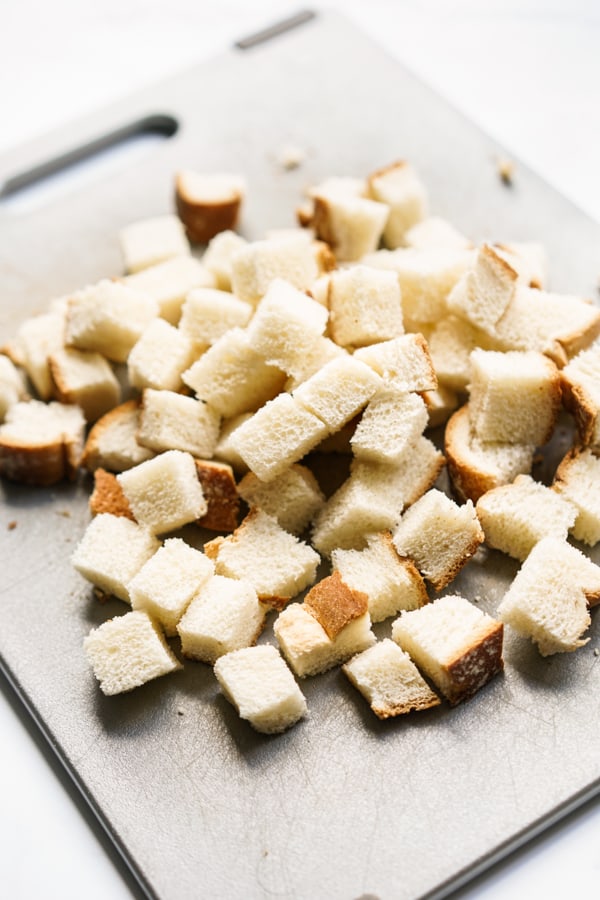 Add bread to a large mixing bowl, and drizzle butter, olive oil, garlic powder and salt.
Give it a toss using a pair of tongs of a slim spatula, avoid squishing the bread too much.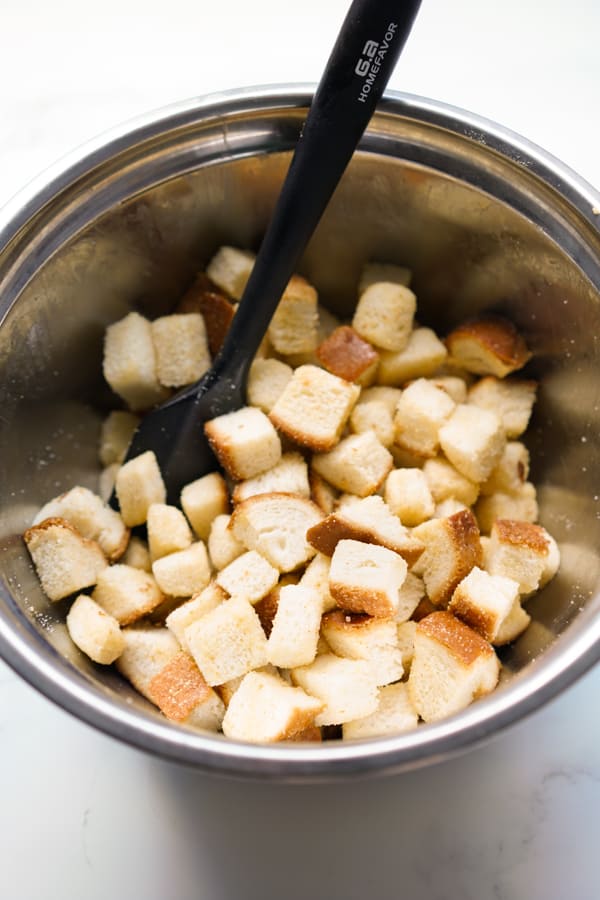 Step 2: Bake
Spread cubed bread infused with buttery goodness on a pan lined with aluminum foil.
In our household, aluminum foil is a clean-up saving grace.
I line them on all my pans prior to baking so that I have less dishes to wash! 😉 It's pretty fantastic.
These unbaked homemade croutons can be slightly crowded and touch each other on the pan, but make sure to not overlap one on top of the other.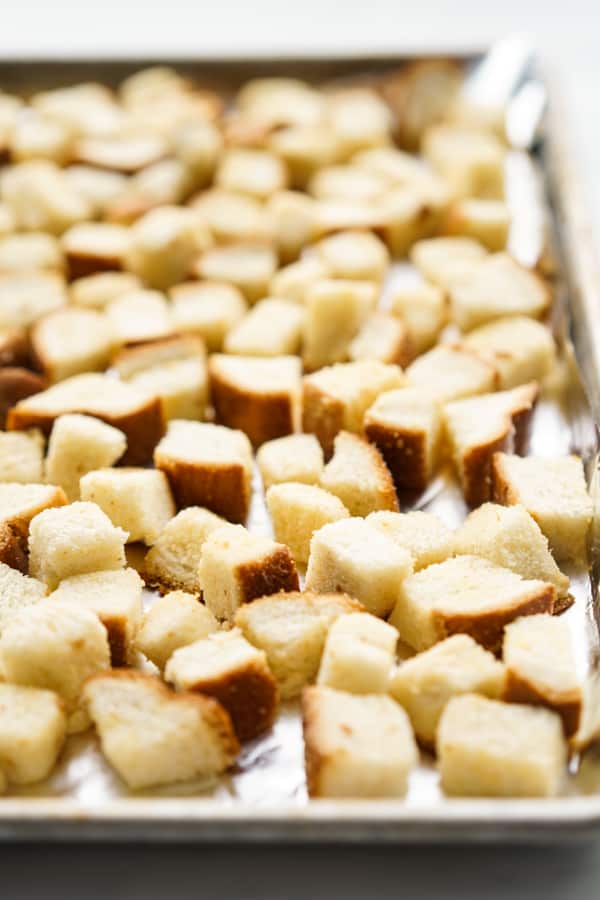 Bake it at 350℉ for 10-15 minutes. I used super dry (almost hard) bread this time around and I only need about 12 minutes in the oven.
If you have less dry bread, you might need 15 minutes or more. The longer bread is in the oven, the more it will dry up. But also watch and lower heat if bread is burning but is not super crunchy yet.
Remove from the oven when croutons are done.
Homemade Croutons should be slightly brown on the edges, and are crispy and crunchy when you bite into them.
They are also incredibly buttery, garlicky and DELICIOUS.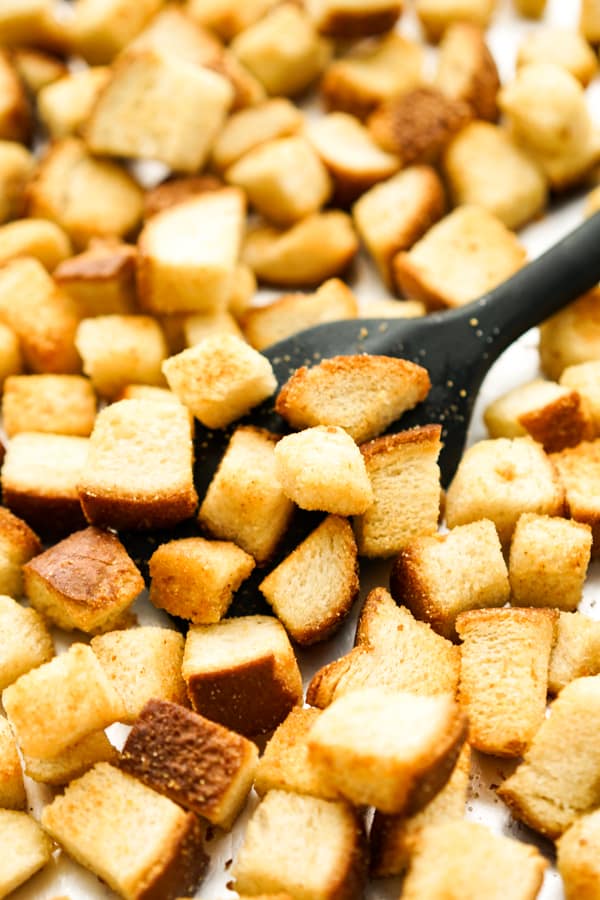 Make sure to let it rest for about 30 minutes or until it cools before transferring them to an air tight container. If it's still warm, condensation will occur in the container and turn the croutons soggy (even if it's air tight).
But let me tell you, whenever I make these Homemade Croutons, a fair amount is gone by the time it rest for 30 minutes.
I have a serious thing for the combination of butter and garlic, and these little crispy croutons are just so good once you have one it's hard to stop.
Storage Notes
These croutons need to be completely cool before storing in an airtight container.
If container isn't air tight, croutons will become soft and soggy after a day or so.
When storing in air tight container, Homemade Croutons should be good for at least 1 week.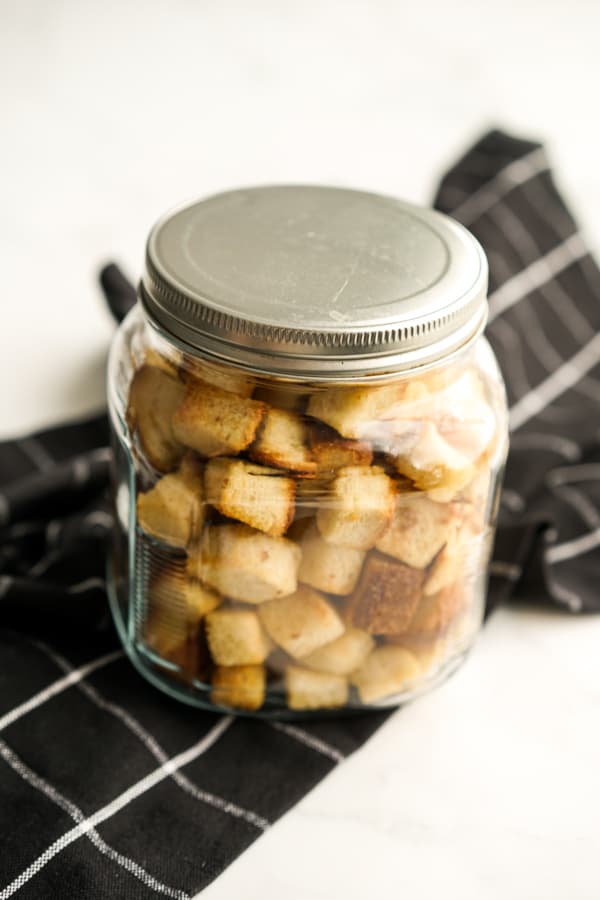 Variations and Substitution
In this post, I'm showing you how to make croutons in the most basic, simple way.
If you want to make your homemade croutons fancier, here are some yummy seasonings and spices you can add to it:
Parsley
Italian Seasoning
Oregano
Onion powder
Parmesan cheese
Black pepper
If you want to make it healthier, here are some ways to do so:
Substitute butter with olive oil. In other words, you'll only be using olive oil and no butter at all
Use wheat bread, high-fiber bread or gluten free bread instead of white bread
Reduce sodium content (butter, salt)
Or share with us and let me know other ways you've made your homemade croutons in the comments below! 🙂
Ways to Serve It
Homemade croutons are the perfect add-ons to soups and salads, and here are some of my favorites to go with it:
DID YOU ENJOY THIS RECIPE? Please comment below and give us a 5-star rating! This will help others find this recipe on Google and Pinterest. We very much appreciate your help! 🤍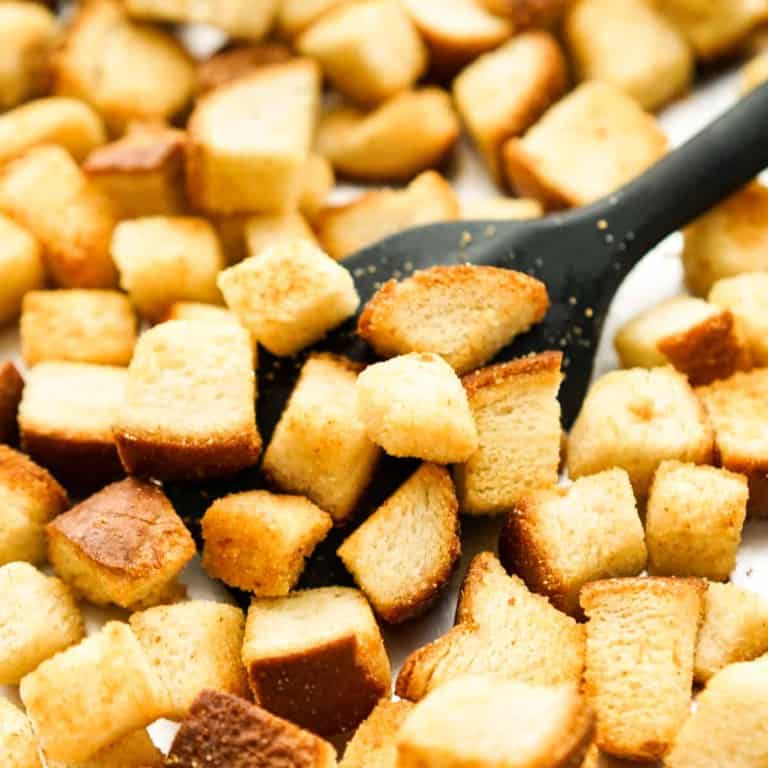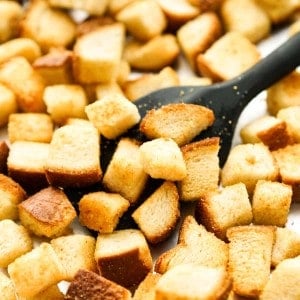 Homemade Croutons
Learn how to make croutons from scratch! These garlic butter homemade croutons are perfect as toppings for salads and soups, or to be enjoyed on its own. Easy to make – only 5 ingredients!
Print
Pin
Ingredients
6

cups

bread

cubed

3

tbsp

salted butter

melted

1

tbsp

olive oil

1

tbsp

garlic powder

1/2

tsp

salt
Instructions
Preheat oven at 350o

F

degrees

Cube dry bread and transfer to a large mixing bowl.

Melt salted butter and sprinkle butter and olive oil over cubed bread in mixing bowl. Add garlic powder and salt. Mix well using a pair of tongs or spatula.

Transfer items in mixing bowl to baking sheet lined with aluminum foil. Spread cubed bread out evenly – do not overlap.

Bake in oven for 10-15 minutes. Cool for 30 minutes.

Serve with salads or soups, or store in air tight container .
Notes
The dryer the bread the less cook time is needed in the oven
Nutrition
Calories:
217
kcal
|
Carbohydrates:
34
g
|
Protein:
8
g
|
Fat:
6
g
|
Saturated Fat:
2
g
|
Polyunsaturated Fat:
1
g
|
Monounsaturated Fat:
1
g
|
Trans Fat:
0.1
g
|
Cholesterol:
5
mg
|
Sodium:
408
mg
|
Potassium:
105
mg
|
Fiber:
3
g
|
Sugar:
4
g
|
Vitamin A:
54
IU
|
Vitamin C:
0.1
mg
|
Calcium:
90
mg
|
Iron:
3
mg