Banana Chocolate Chip Cookies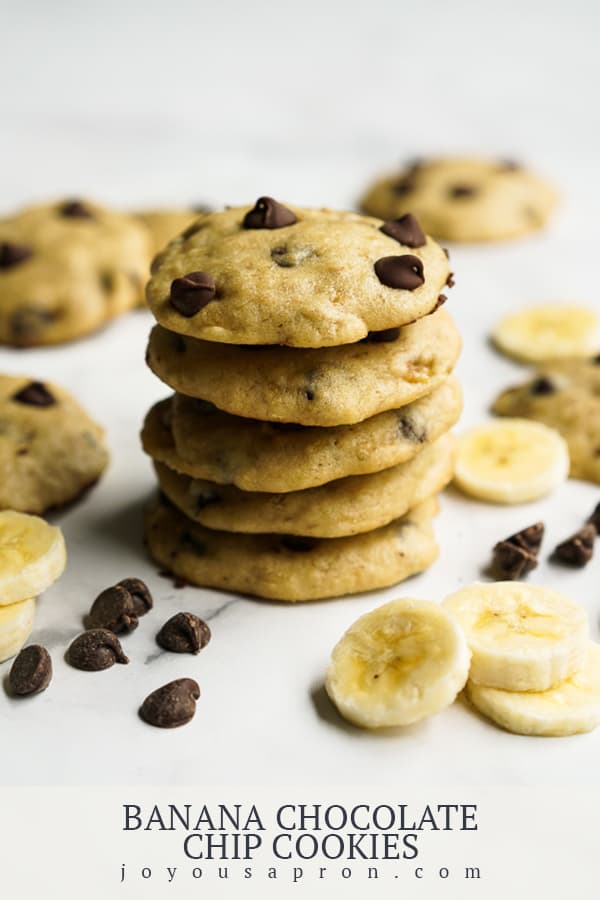 Okay people, brace yourself for these yummy Banana Chocolate Chip Cookies! If you are asking what is this banana cookie business…think banana bread meets chocolate chip cookies…the best of both worlds all wrap up in a warm gooey cookie.
And it is one fine package!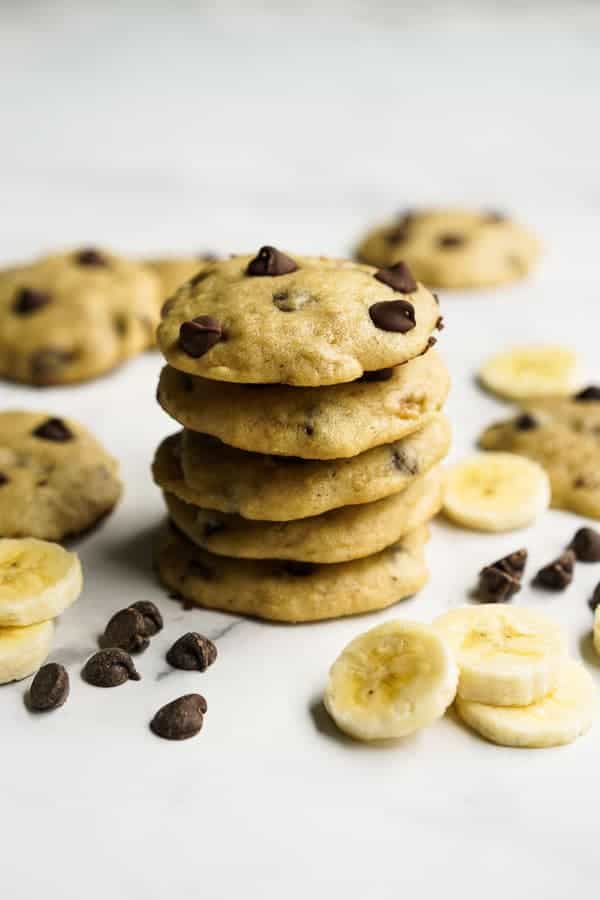 We love cookies a whole lot around here! Some of our reader favorites include this Strawberry Thumbprint Cookies, White Chocolate Raspberry Cookies, and Chocolate Marshmallow Cookies.
So of course I'm gonna turn my love of chocolate and banana into something cookie related. Duh.
When Banana Bread meets Chocolate Chip Cookies
So what exactly are Banana Chocolate Chip Cookies?
Here's the deal: the texture is a cross between spongy quick bread and a perfectly soft cookie. The dough is made with both flour and mashed bananas. And yes, we loaded it generously with a whole lot of chocolate chips.
Because we want to and we can and we love chocolate chips with our whole hearts.
I typically make banana chocolate chip cookies for dessert or when I need a sweet treat, but I say it is totally acceptable for breakfast, brunch, snack, lunch… really just about anytime! 🙂
And of course, just like any other baked goods that calls for bananas, banana chocolate chip cookiesare also the perfect thing to bake when you are trying to use up leftover bananas.
In fact, when it comes to this, the more ripe the bananas, the more flavor and sweetness they will contribute to the cookies.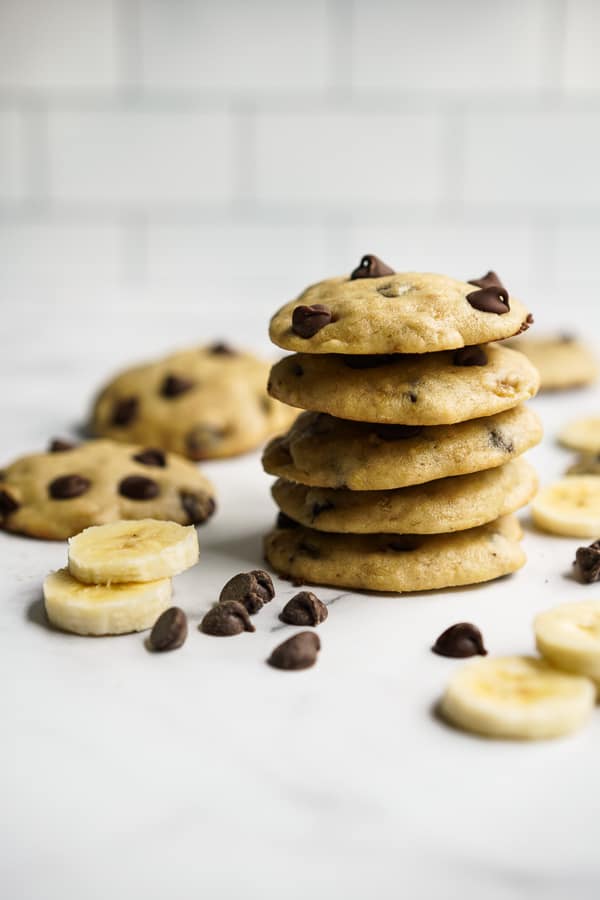 When bananas start turning brown, it's always my cue to turn them into these yummy banana chocolate chip cookies…or my Banana and Date Muffins. Which, by the way, are equally yummy and I also love them to pieces.
In fact, I often let bananas go brown on purpose just to give myself the excuse to turn them into some of these treats.
Any excuses to make me more banana chocolate chip cookies!
How to Make Banana Chocolate Chip Cookies
The good news is, not only is it delicious, banana chocolate chip cookies call for pantry-friendly ingredients and are SUPER easy to make!
Here's what you need:
Bananas – use overripe bananas. Green or yellow bananas doesn't give it enough flavor or sweetness.
chocolate chips – I like to use semi-sweet chocolate chips for this recipe.
all-purpose flour
baking soda – used a rising agent for the cookies
baking powder – also used a rising agent for the cookies
granulated sugar
brown sugar
unsalted butter – softened is preferred. To softened, place butter in room temperature 1-2 hours before making. If butter is fully melted, cookies will be flat. Avoid using salted butter since we are adding salt to the cookies. If using salted butter, omit salt.
vanilla extract – pure vanilla extract produces the best flavor for your cookies.
egg
salt – omit this if using salted butter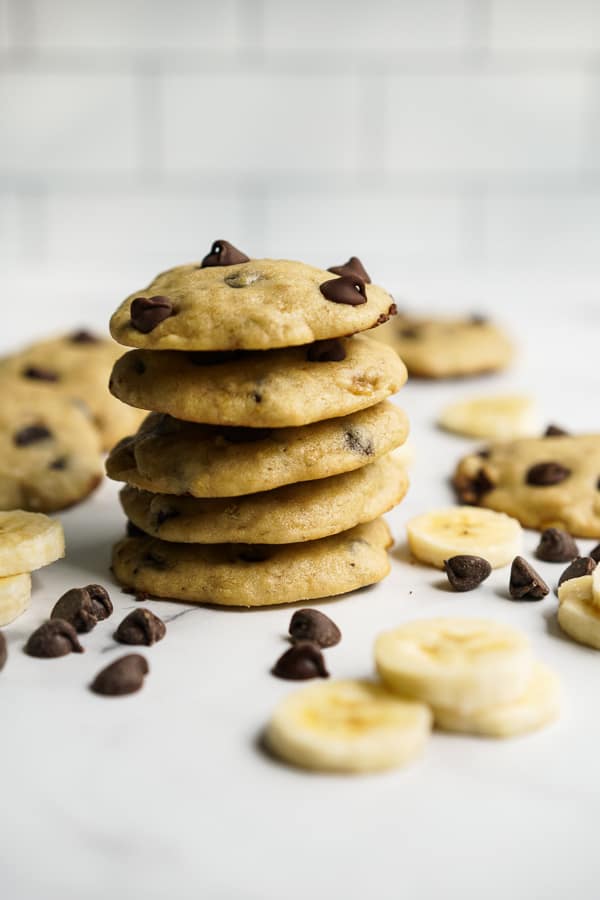 It's the same process as baking chocolate chip cookies but with the extra step of mashing up the bananas. Mashed bananas are incorporated into the dough itself.
I don't know about you but I love baking with bananas. It gives baked goods a nice texture while providing natural sweetness.
And here's a high level summary of what is involved when it comes to baking these Banana Chocolate Chip Cookies:
Mix the dry ingredients
Mix the wet ingredients
Combine dry + wet ingredients
Drop spoonfuls of cookie dough onto cookie sheet.
Bake!
Super simple, and a fun and delicious twist to traditional chocolate chip cookies!
These Banana Chocolate Chip Cookies are on the softer side, nice and chewy, filled with incredible banana flavors and oh yes, LOADED with chocolate chips.
We aren't stingy with the chocolate chips around here!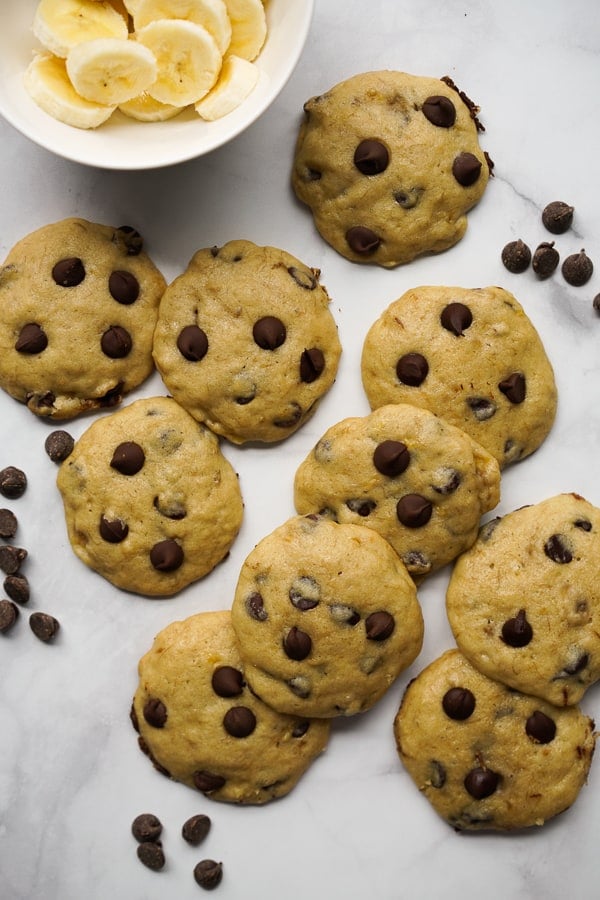 Tips and Tricks
A few secrets to making Banana Chocolate Chip Cookies:
Use overripe bananas for the best tasting cookies!
Place cookie dough on cookie/baking sheet lined with parchment paper or baking mats for easier cleanup! It's seriously a game changer!
Once cookies are baked, let it sit on the cookie/baking sheet for just 1-2 minutes and then remove promptly onto a baking rack to cool. Do not leave cookies sitting on hot baking sheet for a long time, as doing so will overcook the cookies.
Banana Chocolate Chip Cookies will be slightly soft when it comes out of the oven but will slowly solidify. You want the cookies to be slightly soft when it comes out of the oven to get the perfectly soft cookies at the end!
Storage and Reheating
I store my Banana Chocolate Chip Cookies in an airtight container room temperature for 2-3 days, and in the refrigerator for up to 7 days if I want them to last longer. Although they get consumed pretty fast and don't last very long in our household!
When I am ready to eat them, I always heat them in the microwave for 10 seconds or so to get them warm and soft!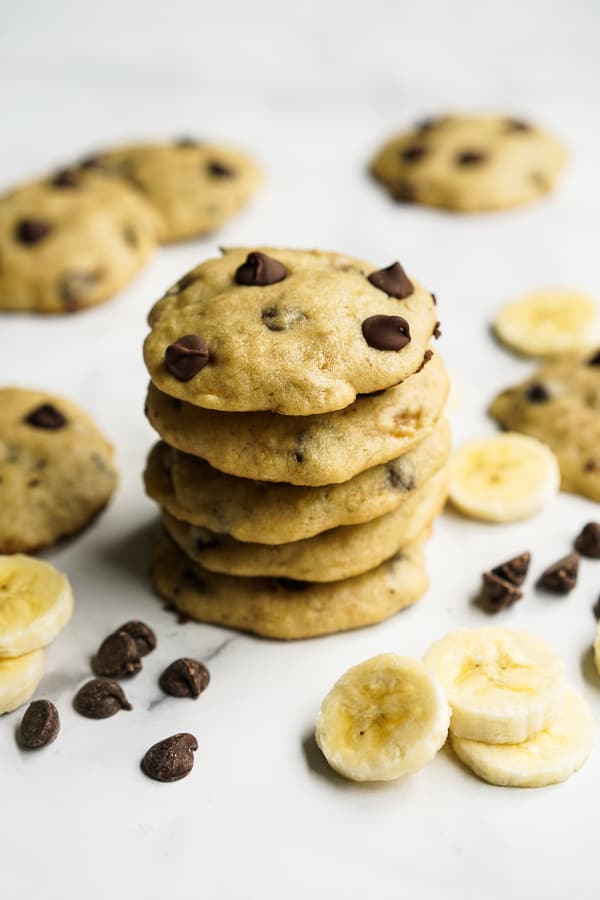 These chocolate chip banana cookies are such a light and yummy sweet treat! A fun twist to the traditional chocolate chip cookies…especially when you have bananas sitting around!
Happy baking, foodies! Until next time! 🙂
Other Banana and/or Chocolate Desserts!
Other Cookie Recipes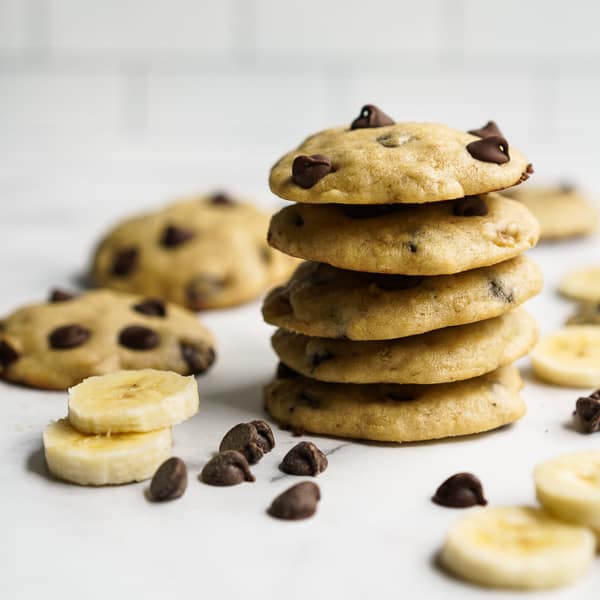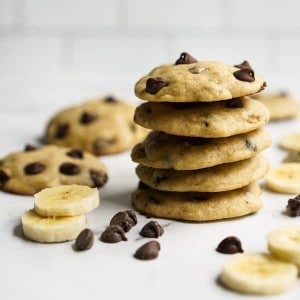 Banana Chocolate Chip Cookies
A yummy and easy dessert and sweet treat! Soft banana flavored cookies filled with lots of gooey chocolate chips…a fun twist to traditional chocolate chip cookies!
Print
Pin
Ingredients
1 1/4

cup

all-purpose flour

1/4

tsp

baking soda

1

tsp

baking powder

1/2

tsp

salt

1/4

cup

granulated sugar

1/4

cup

brown sugar

1/3

cup

unsalted butter

softened

1/2

tsp

vanilla extract

1

large egg

3/4

cup

mashed overripe bananas

~2 bananas

1

cup

chocolate chips
Instructions
Pre-heat oven to 350 degrees.

In a medium bowl, combine dry ingredients – flour, baking soda, baking powder, and salt.

Mash bananas in a small bowl. Set aside.

In a large bowl, combine wet ingredients – granulated sugar, brown sugar, softened unsalted butter, vanilla extract, egg, and mashed bananas.

Add dry ingredients into wet ingredients. Use a spatula to mix well and combine. Fold in chocolate chips.

Drop large spoonfuls of dough onto baking/cookie sheet lined with parchment paper or baking mat. Note: consistency of dough is slightly more runny than regular chocolate chip cookie dough.

Remove baking/cookie sheet from oven and let cookies sit for 1-2 minutes (not more than that!), then transfer them to baking rack to cool for 5 minutes.
Nutrition
Calories:
132
kcal
|
Carbohydrates:
19
g
|
Protein:
2
g
|
Fat:
5
g
|
Saturated Fat:
3
g
|
Cholesterol:
18
mg
|
Sodium:
104
mg
|
Potassium:
45
mg
|
Fiber:
1
g
|
Sugar:
12
g
|
Vitamin A:
132
IU
|
Vitamin C:
1
mg
|
Calcium:
28
mg
|
Iron:
1
mg