This delicious Peach Crisp is an easy dessert recipe where soft and warm peaches are baked with a cinnamon brown sugar oats streusel topping, and then topped with vanilla ice cream.
During the summer, I love a good peach dessert and there's nothing quite like this yummy bowl of peach cisp with oats crumble and vanilla ice cream.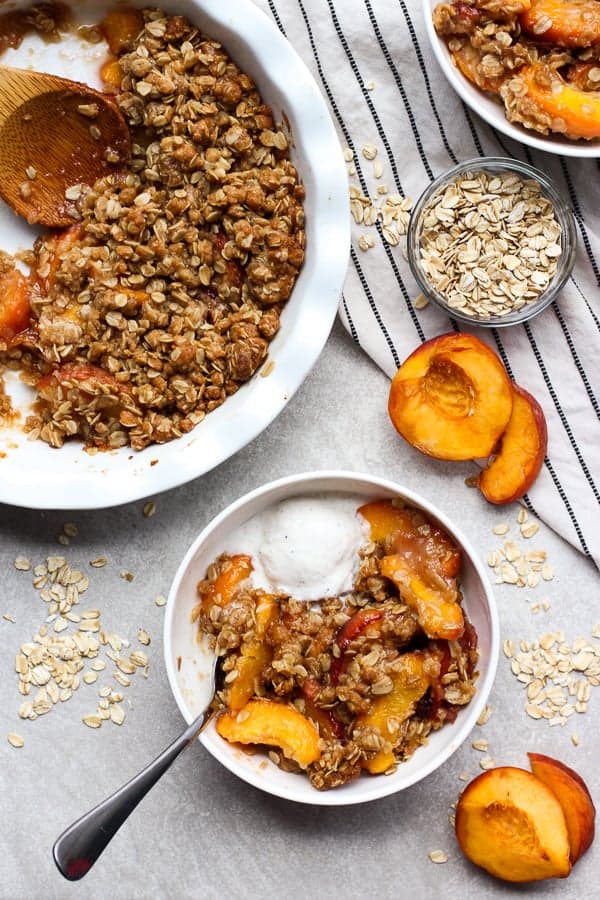 If you love this peach crisp recipe, don't forget to also check out a very similar recipe, apple crisp with oats.
Peach Crisp with Oats
Our peach crisp with oats recipe is like an easier, lighter, healthier, and just as delicious version of peach pie, because:
Making a pie from scratch can be hard. On the other hand, crisps are so much easier and definitely less time consuming.
Crisp uses oats to form its crusty top. Oats = healthy. Therefore, I like to think peach crisp with oats is also somewhat healthy. If you disagree, just don't say anything and let me linger in my ignorance. 🙂
Sometimes called peach crumble, peach crisp is typically made with peaches seasoned with cinnamon and brown sugar, along with a crunchy crust which we are making with flour, butter, and oats.
You can make the crumble with just flour and butter, but I am a big fan of peach crisp with oats because oats bring an added layer of texture which makes the streusel topping crispier when baked.
My take on ice-cream or no ice-cream on Peach Crisps? ALA MODE ALL THE WAY is my life goal.
Summers are the best time to make peach crumble. With peaches being in season, they are fresh and heavenly sweet and incredible.
Cooking them only heightens the sweetness and brings out the gorgeous peachy flavor we all know and love.
You can use canned peaches to make this peach crumble with oats, but fresh peaches will always taste the best.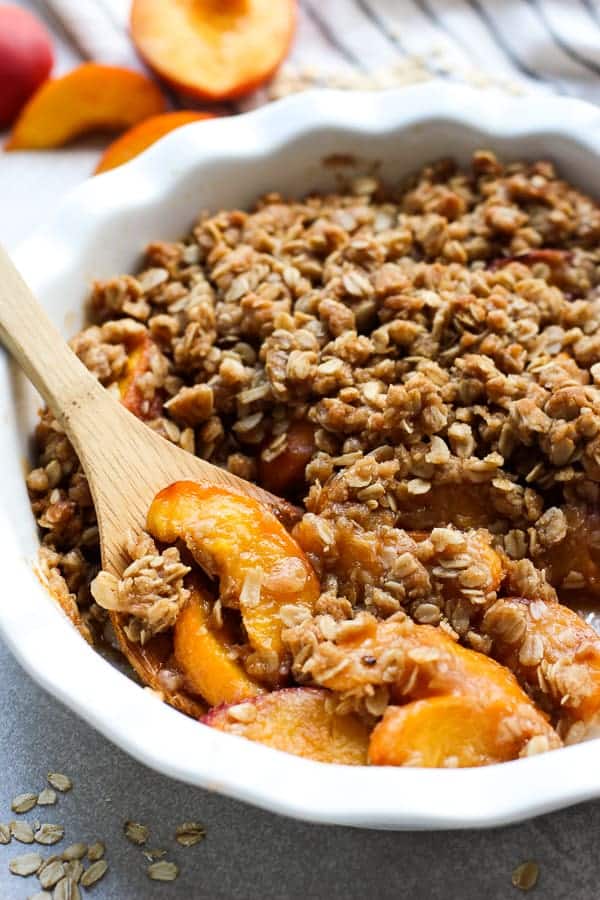 Peach Crumble Ingredients
Let's talk about a few key ingredients that makes up this peach crisp or peach crumble with oats recipe:
Peaches – fresh, canned or frozen can be used. If using canned, make sure to drain access liquid. As for fresh peaches, bring it to a defrost and pat to remove access liquid as well.
Oats – Either traditional or rolled oats can be used. Oats is an important ingredients to make a crunchy streusel topping.
Vanilla extract – just a tiny drop of this will give your peach mixture plenty of flavors.
Brown sugar – light or dark brown sugar works just fine. Avoid substituting with granulated sugar.
Unsalted butter – I prefer using unsalted butter to salted butter to avoid bringing in more salt than what is needed. In a pinch, salted butter can be used and salt should be omitted when making the oat crumble topping.
All-purpose flour
Granulated sugar
How to make Peach Crisp
When I started learning how to cook, peach crumble with oats was one of the first desserts I learned to make because it was so easy while producing the most delicious dessert. And I am also obsessed with any form of peach desserts.
In other words, this is totally a beginner-friendly recipe.
To make it, start by washing and peeling 5-7 peaches. If you are in a hurry or don't want to mess with peeling, skip it! (Yep, you heard it right)
I personally like peeled peach better in my baked peach crisp with oats, but I've also done it plenty of time without peeling the peaches and I still cleaned up that pan.
Next, cut peaches into cubes, and toss them in a little bit of flour, sugar and pure vanilla extract. Place the peaches on a 9″ pie pan.
As for the oats crumb topping. In a large bowl, mix together oats, flour, brown sugar, cinnamon, salt, and softened unsalted butter.
Mix well and leave mixture in refrigerator for 30 minutes.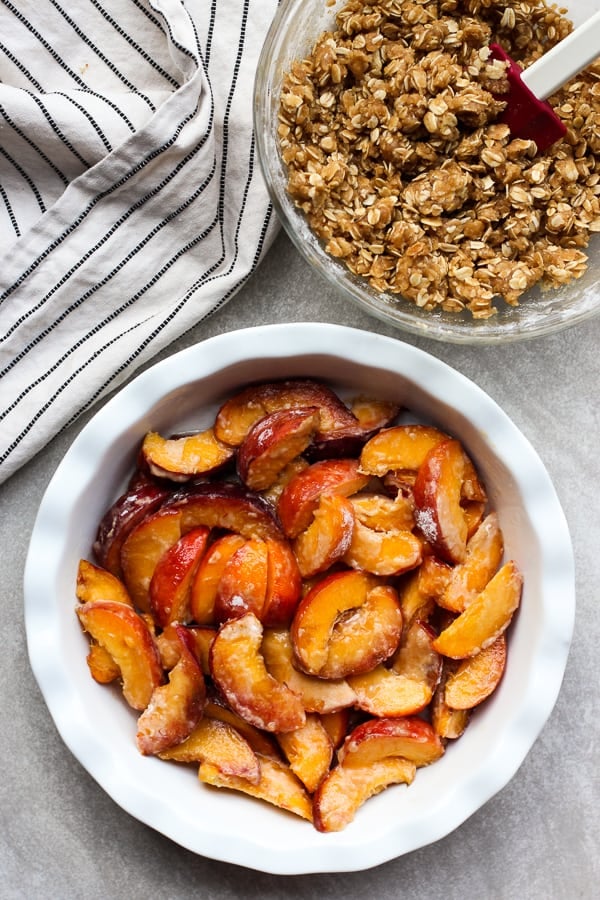 Refrigerating the oats crumble is optional. I like to do so because I like it when the oats crumble harden slightly, so I can break it up into pieces of the crumbles when topping onto the peach mixture.
Layer the peach filing with oats crumble and then into the oven it goes! 350℉ for 40-45 minutes.
When it is done, the peaches will be nice, soft, and peachy sweet. The oats topping will be sweet, crispy and slightly crunchy when you bite into it.
Together, peach crisp with oats is the perfect combination of flavor and texture.
And then of course, this is a must if you ask me – top with VANILLA ICE-CREAM.
It seals the deal and takes the peach crisp to the next level. Like a super-high, better-than-anything kinda level. A level of superior taste and beauty. You get the idea.
Okay, that's it. I'm SURRENDERING. I'm just surrendering to the gloriousness that is peach crumble with oats.
One bite is all it takes, but one can hardly stop at just one bite…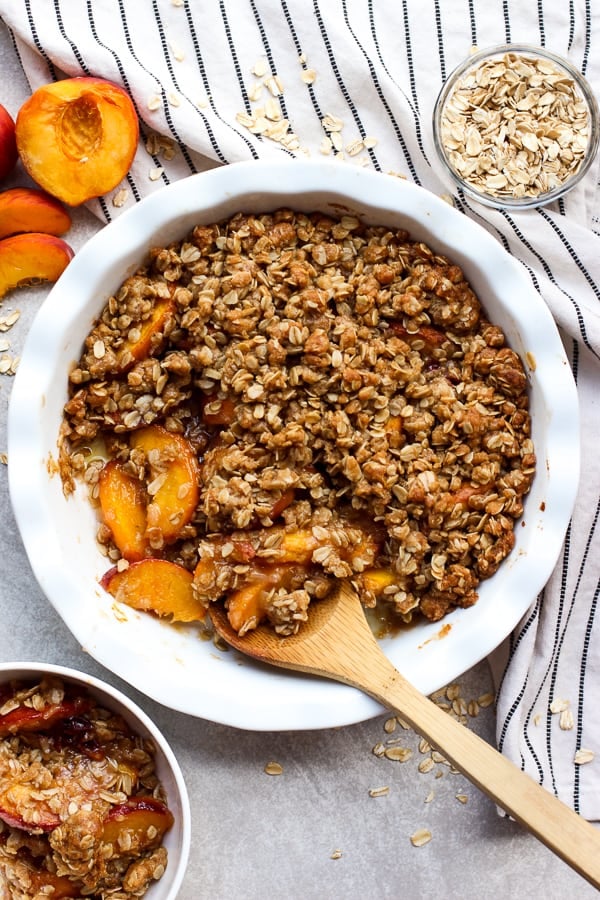 Using canned or frozen peaches
Fresh peaches can be hard to find year round, so you can definitely use canned peaches or frozen peaches if fresh peaches are not in season and cannot be found.
When using canned peaches, drain the syrup/juice in the can and follow the same steps!
As for frozen peaches, make sure it is thawed before baking them. When they are fully defrosted, pat dry with paper towel to remove access moisture before using them.
Nothing really beats fresh peaches in your peach crisp with oats, but truly, I rather have some Peach Crisp in my life with canned peaches then no Peach Crisp in my life at all.
Reheating Instructions
You can make ahead peach crisp and store wrapped in cling wrap in the refrigerator for up to 3 days. To reheat, remove cling wrap and bake for 350℉ for 20-25 minutes. If top is browning, cover with aluminum foil halfway through baking.
Frequently Asked Questions
How do I bake this in a square casserole instead of a pie pan?
This peach crisp recipe bakes well using the exact recipe in a in a 9″ square pan.
Can I freeze peach crisp?
Yes! You can freeze both baked and unbaked peach crisp.
If freezing baked peach crisp, make sure it cools completely before wrapping it in plastic cling wrap and then aluminum foil. Freeze for up to 2 months.
If freezing unbaked peach crisp, right before baking, wrap in plastic cling wrap and aluminum foil, and freeze for up to 2 months.
Bring to a complete defrost before reheating using reheating instructions above.
How do I make this healthier?
To make this a lower calorie dessert, substitute vanilla ice cream with whipped cream, or just omit it completely.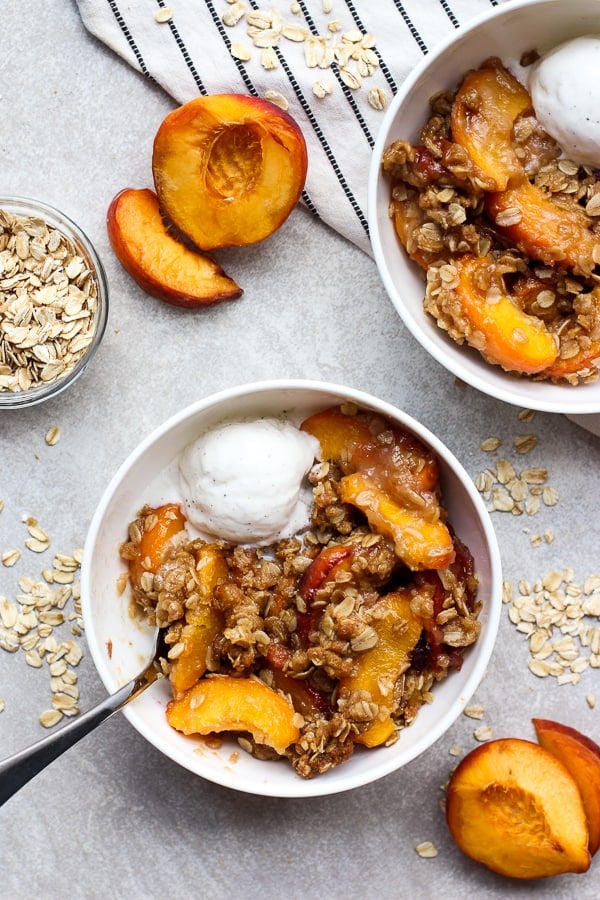 DID YOU ENJOY THIS RECIPE? Please comment below and give us a 5-star rating! This will help others find this recipe on Google and Pinterest. We very much appreciate your help! 🤍
Other Fruit Recipes
That being said, we have lots of fruit recipes on the blog. They are amazing and you need to CHECK THEM OUT!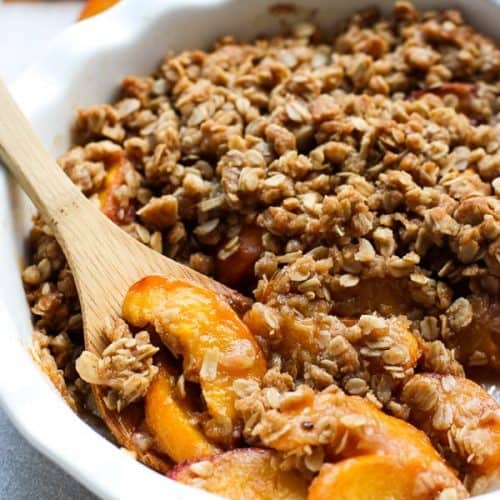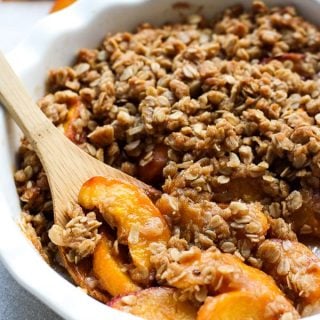 Easy Peach Crisp
A super easy Peach Crisp recipe that is YUM to the max! Sweet and soft peaches topped with a crispy, brown sugar and cinnamon filled crumble, then served with vanilla ice cream. So delicious!
Print
Pin
Ingredients
Peach filling
5-7

Fresh yellow or white peaches

2

tbsp

all-purpose flour

2

tbsp

sugar

1/2

tsp

pure vanilla extract
Crumble
1/2

cup

all purpose flour

2/3

cup

brown sugar

1/2

tsp

cinnamon

1/4

tsp

salt

1/2

cup

unsalted butter

softened

1

cup

old-fashion oats
Other
6

scoops

vanilla ice cream
Instructions
Pre-heat oven to 350 degrees F

Peel (optional) and cut peaches into cubes. In a large bowl, combine cubed peaches with all other ingredients under "peach filing". Mix well and pour into a 9″ pie pan or 9″ square pan.

In a medium bowl, combine all 'crumble' ingredients. Mix well to combine.

Optional: Refrigerate crumble for 30 minutes. Mix well again.

Layer crumble onto peach filing. Bake for 40-45 minutes.

Remove from oven and serve with vanilla ice cream. Enjoy!
Nutrition
Calories:
529
kcal
|
Carbohydrates:
75
g
|
Protein:
7
g
|
Fat:
24
g
|
Saturated Fat:
14
g
|
Polyunsaturated Fat:
1
g
|
Monounsaturated Fat:
6
g
|
Trans Fat:
1
g
|
Cholesterol:
70
mg
|
Sodium:
160
mg
|
Potassium:
470
mg
|
Fiber:
4
g
|
Sugar:
52
g
|
Vitamin A:
1159
IU
|
Vitamin C:
9
mg
|
Calcium:
128
mg
|
Iron:
2
mg