This post may contain Amazon or other affiliate links. As an Amazon Associate I earn from qualifying purchases at no additional cost to you.
Lately I've been on a granola-making kick. I used to buy granola all the time. We eat it on yogurt, as cereal, snack on it, and snack on it some more. One day, I had one of those ah-ha moments – granola is basically baked oats, and I should be able to easily recreate this at home. I ALWAYS have oats in my pantry – and better still, when I make it I can adjust the level of sweetness, add ingredients I love into it, and not overpay for baked oats! I was giddy with excitement.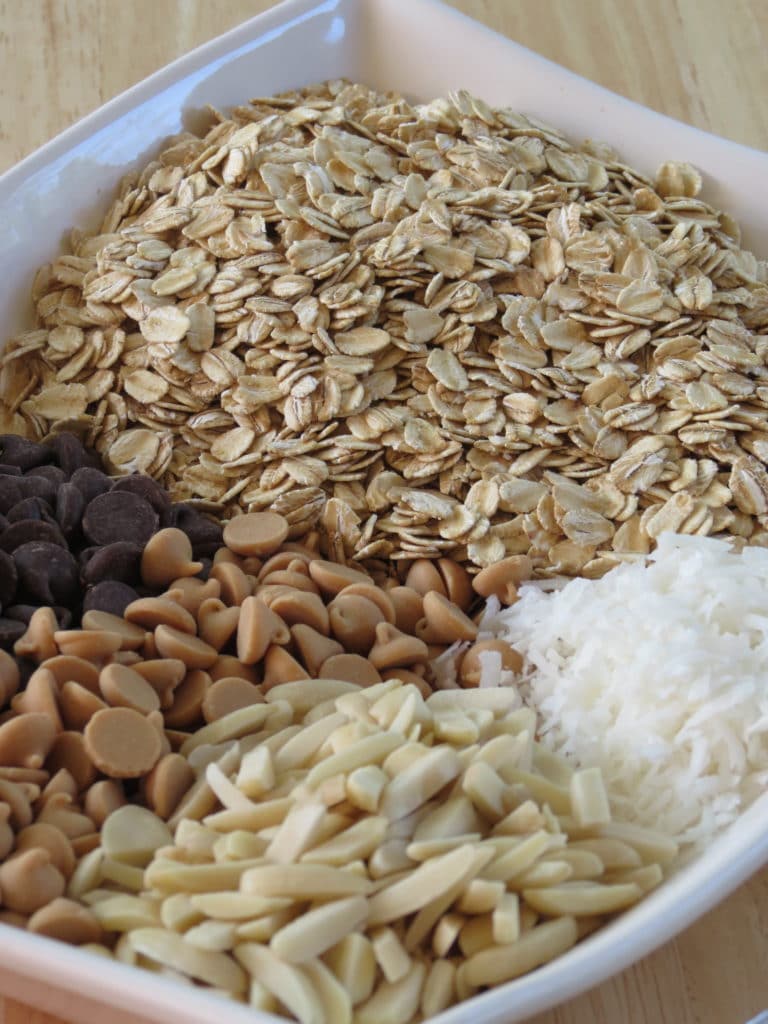 This granola recipe I am sharing contains oats, slivered almonds, shredded unsweetened coconut, peanut butter chips, and chocolate chips. The flavors and texture of each of these items are unique and compliments each other so well. I literally smelled each bag of ingredients as I opened it, and munched on them non-stop while prepping and photographing.
To bind all the ingredients together, use 100% pure maple syrup, brown sugar and vegetable oil. 100% pure maple syrup is more expensive than regular maple syrup, but it does make such a difference in this recipe. If you decide on regular maple syrup, it will be a lot more sugary than 100% pure maple syrup, so reduce the amount of brown sugar accordingly.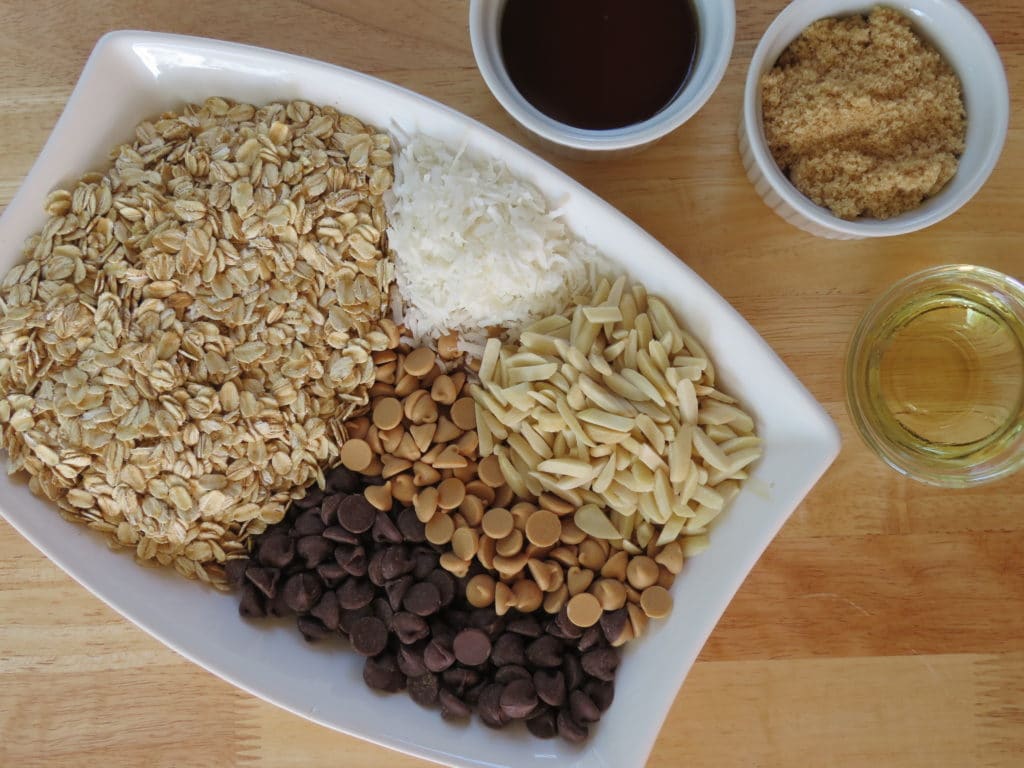 Put all the ingredients, except for chocolate and peanut butter chips, in a large mixing bowl.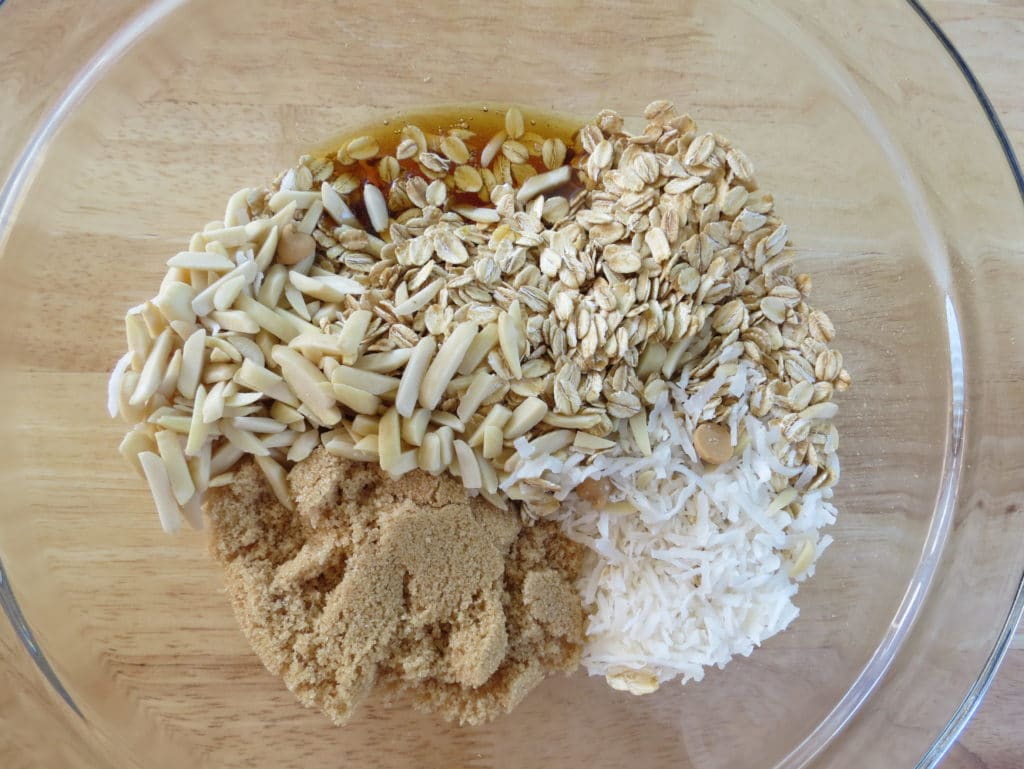 Give the ingredients a nice, good stir and then spread them out on a lined cookie sheet pan. I typically line it with aluminium foil or parchment paper for easy clean up.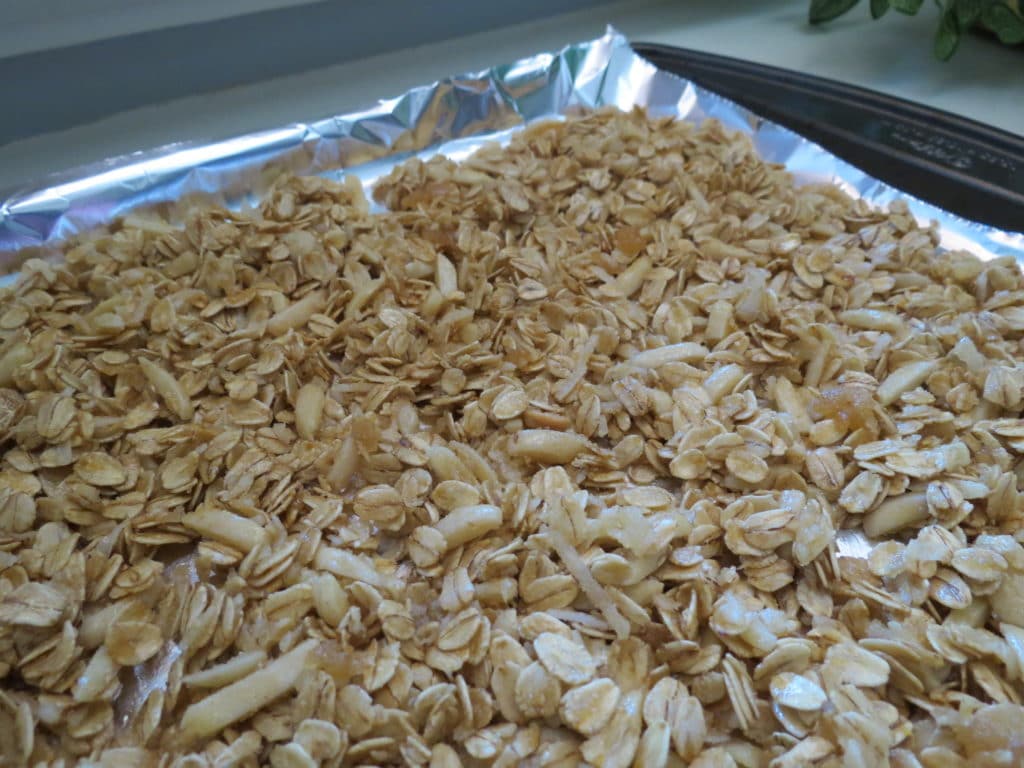 At this point I was licking the spoon I used to mix up the ingredients. It had the glorious combination of brown sugar and maple syrup stuck on it.
After this, send the pan into the oven. We want to bake this slow under a low heat, so that we do not burn the granola. After multiple trials, I like setting the oven at 300°F and keeping the granola mixture in there for 20 minutes. Then take it out, give it a stir, spread it out again, and put it back in the oven for 15 minutes. When it is ready, it has a nice tint of slight golden brown, some of the granola will be in clusters, bounded together by the heavenly combination of maple syrup and brown sugar. And it will be slightly cripsy.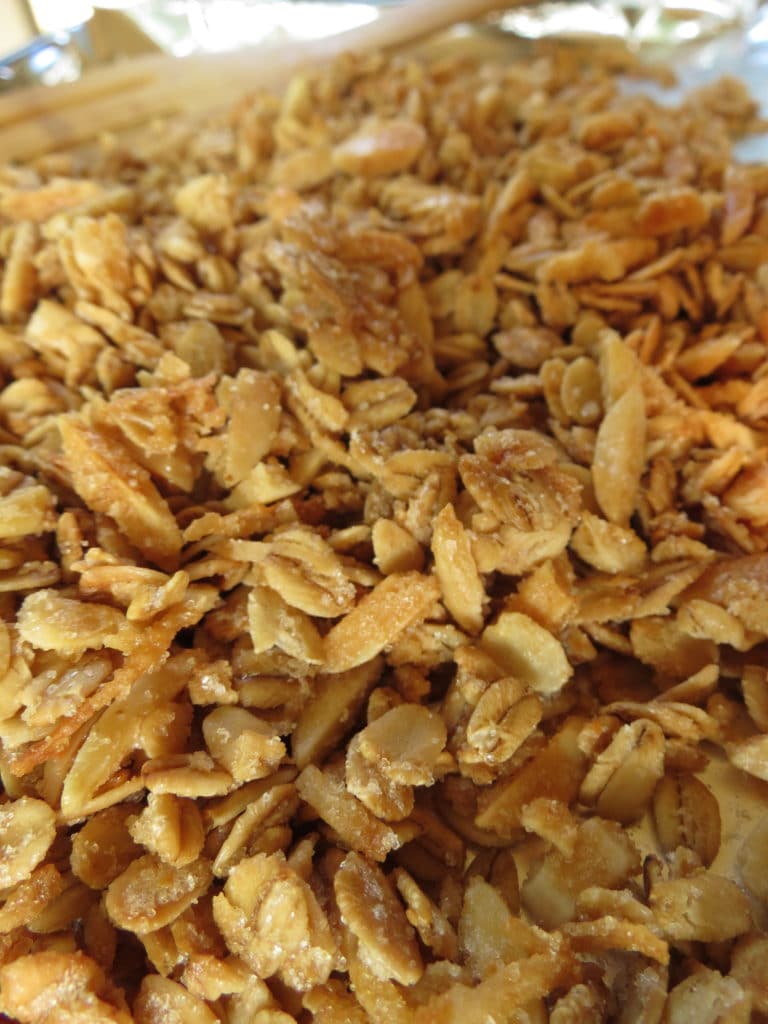 We still have the chocolate and peanut butter chips to add to it. But you don't want to mix it in while it is warm, because you don't want to make granola in chocolate and peanut butter sauce 🙂 Let the granola cool for an hour or so, and then add the chocolate and peanut butter chips into the mixture.
Ta-da!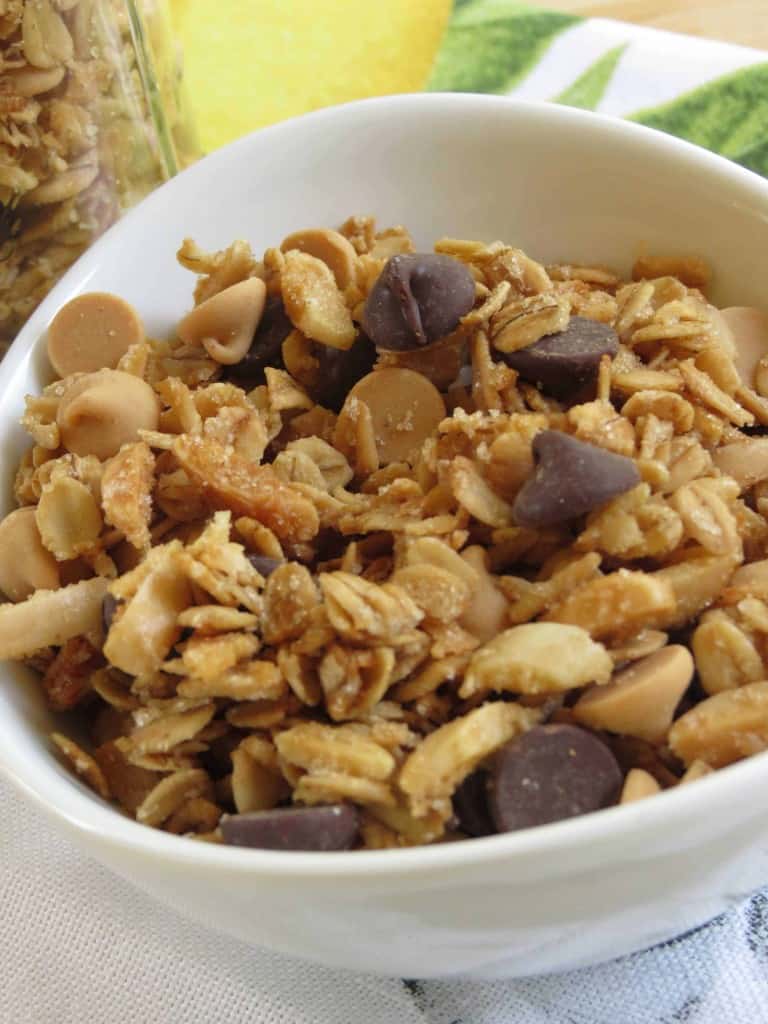 Seal in an air tight container for storage. The truth is, I don't eat granola for breakfast, my husband does. As for me, I eat it while I work in front of the computer throughout the day. It's like munching on granola bars without the bars, and my new-found substitute for candy.