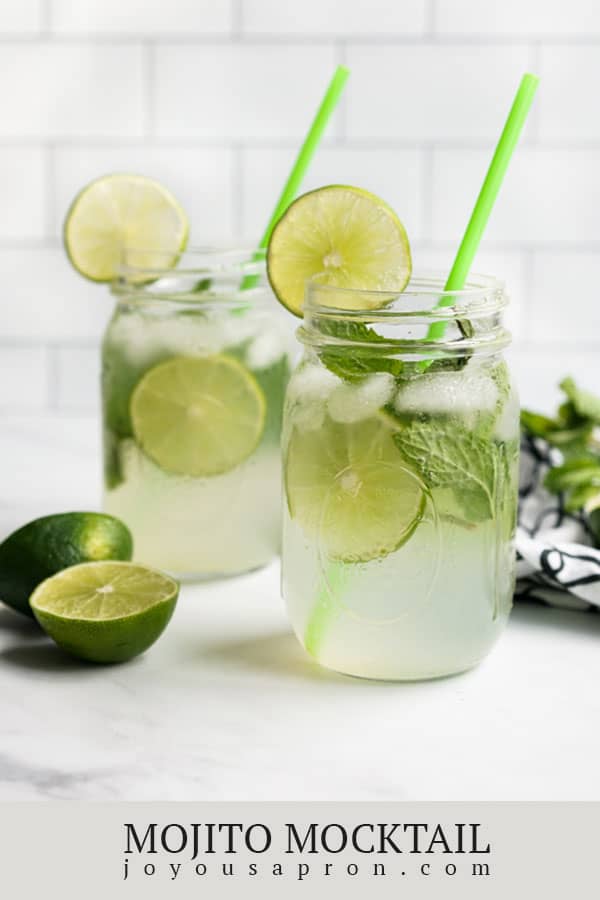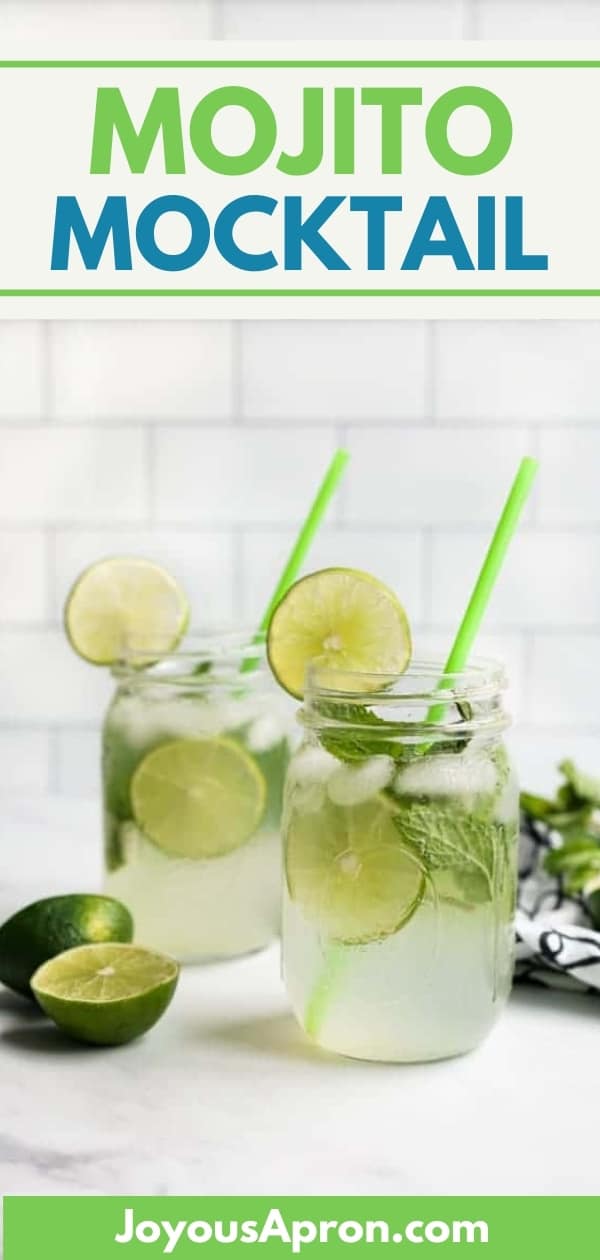 Refreshing and absolutely delightful, Mojito Mocktail, or also known as Virgin Mojito, is the perfect beverage to sip and enjoy on a warm summer day whether you are sitting by the poolside or lounging on your back porch or pairing it with your favorite summer meal.
Recipe for this mojito mocktail is available both by the glass and in a jug. Although we highly recommend making it in the jug because you seriously will need more than a glass of this!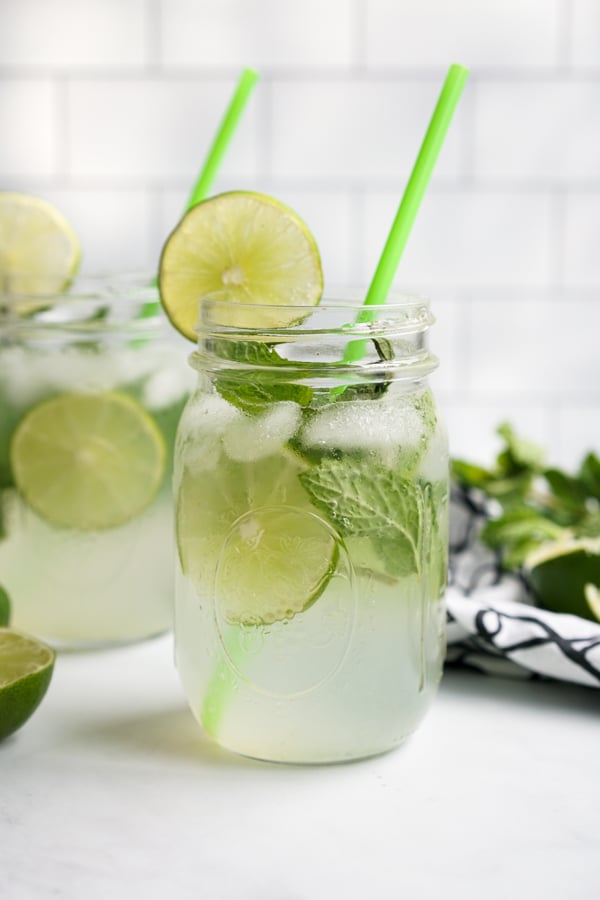 Love a refreshing drink for the summer? We do too! Check out our other favorites: Pineapple Orange Coconut Rum Cocktail, Watermelon Slush and Peach Sangria!
A Virgin Mojito Recipe
When life gives you limes….make Mojito Mocktails!
Mojito Mocktail is a bright and refreshing non-alcoholic version of the famous beverage, Mojito. It is fizzy, citrusy, sweetened, and loaded with fresh lime and mint leaves for a bright and vibrant taste.
If you are looking to avoid the booze and want something super refreshing, this virgin mojito is perfect for you.
Mojito mocktail is made with sparkling water so you will have that bubbly fizz to substitute the buzzy alcoholic taste. It's so bubbly good you won't even realize there is no alcohol in it!
In fact, because there's no alcoholic content, you can drink up as much as you want, whenever you want!
Hosting a summer cookout or party? Make a whole lot of mojito mocktail and it can be enjoyed by adults and kids alike.
Stuck at home and want to cool down on a hot summer day, but don't really need the buzz? You know you want this happy fizzy mojito mocktail in your life!
It is so refreshing and so tasty, mojito mocktail has officially become my summer drink of choice.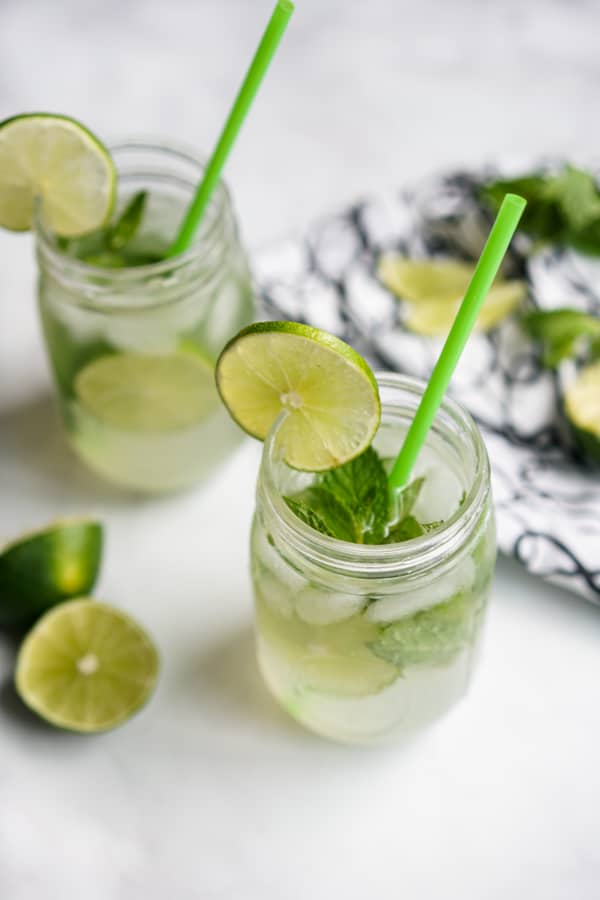 How to make Mojito Mocktail
Here are the ingredients you need to make these mojito mocktail, or virgin mojito:
Lime juice – freshly squeezed from a bunch of fresh limes
Club soda(unsweetened) – this is responsible for bringing the fizzy taste! Sparkling water, tonic water, seltzer water, and other carbonated water can be used as well. Avoid sweetened carbonated water. Because it is unsweetened, we will be sweetening our mojito mocktails with granulated sugar
Mint leaves – adds a layer of brightness and freshness to these virgin mojitos.
Granulated sugar
Warm water – warm water instead of cold water so that sugar dissolves easily.
Ice cubes
How to make Mojito Mocktail
Mojito mocktails are super easy to make. It might sound all fancy, but don't let it fool you!
First, let's make the syrup by dissolve sugar in warm water. Give it a good stir until sugar dissolves completely.
Once you've gotten your syrup ready, bring the rest of the virgin mojito ingredients to the syrup. Add the lime juice and club soda, and mix everything together.
Then add fresh mint leaves to your mojito mocktail. Using a wooden spoon, gently press on mint leaves to release its beautiful minty flavors into the drink. Then add ice cubes and serve.
And there you have it, a lovely and refreshing mojito mocktail. There's really not much to this!
Tips and Tricks
A few things to note when making virgin mojitos:
Taste the end product and adjust accordingly to your liking. Want it sweeter? Add more sugar! Want it zestier? Add more lime juice! Want more sparkling goodness? Add more sparkling water!
Because Mojito Mocktails are made with sparkling water, when you leave it in the fridge overnight or for a long period of time, Mojito Mocktail will no longer be fizzy. If you want to make ahead, you can combine all ingredients except for sparkling water and ice, and only add sparkling water and ice when ready to serve.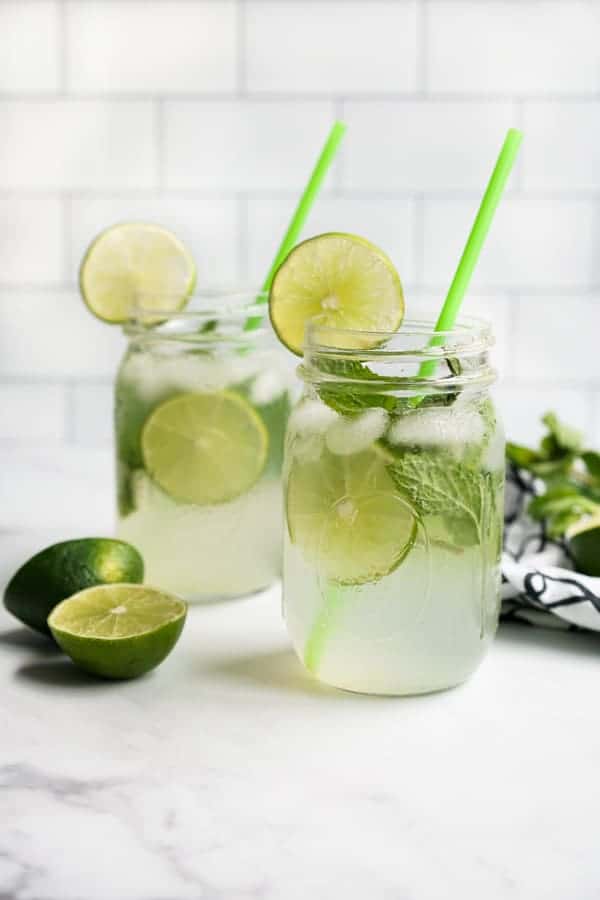 There's something beautiful about the pairing of lime and mint leaves. It leaves that fresh fresh fresh feeling you want to feel when it is crazy hot outside.
As we head into the Texas summer, I will be chugging this non-alcoholic virgin mojito like nobody's business!
I absolutely love how refreshing and light this is, and it's filled with fruity goodness and a good dose of vitamin C so it's yummy, fun and (fairly) good for you, right right?! 😉
Okay, all this talk about this virgin mojito is making me THIRSTY. Time for me to grab my drink and DRINK UP!
Cheers! 🙂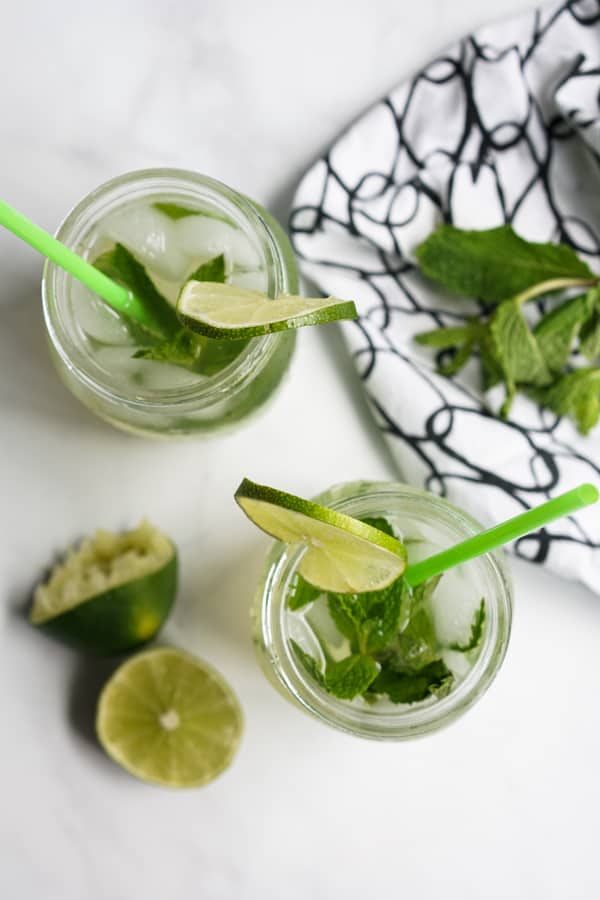 Frequently Asked Questions
How can I make ahead?
You can combine all the ingredients except the sparkling water and ice cubes ahead of time. Store in refrigerator, then add sparkling water and ice cubes when ready to serve.
Can I use other carbonated water?
Absolutely! Sparkling water, tonic water, seltzer water can be used as well. Avoid using sweetened carbonated water.
DID YOU ENJOY THIS RECIPE? Please comment below and give us a 5-star rating! This will help others find this recipe on Google and Pinterest. We very much appreciate your help! 🤍
Other drink recipes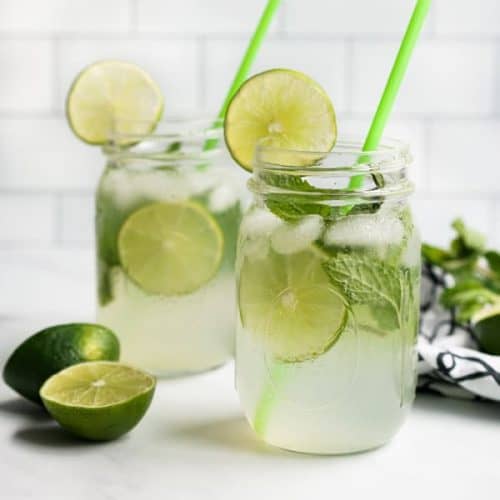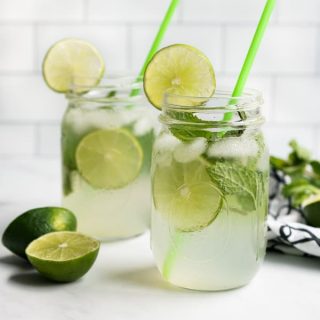 Mojito Mocktail
A virgin mojito recipe! Light and refreshing, this mojito mocktail drink is fizzy, refreshing and made with lime juice, carbonated water, fresh mint leaves. No alcoholic content.
Print
Pin
Ingredients
1/4 + 1/8

cup

granulated sugar

2/3

cup

warm water

1/4 + 1/8

cup

lime juice

3

cups

club soda

unsweetened

a handful

fresh mint leaves

2

cups

ice

a few

slices

lime
Instructions
In a small glass, combine granulated sugar and warm water. Stir to completely dissolve sugar.

In a jug, combine sugar + water mixture, lime juice and club soda. Add mint leaves into jug. Press mint leaves with wooden spoon to release its flavors into the water.

Add ice and slices of lime into the jug. Stir.
Notes
Measurements for single serving:
1 tbsp sugar
2 tbsp warm water
1 tbsp lime juice
1/2 cup sparkling water
a few fresh mint leaves
one slice of lime
1/2 cup ice
Nutrition
Calories:
81
kcal
|
Carbohydrates:
22
g
|
Protein:
1
g
|
Fat:
1
g
|
Saturated Fat:
1
g
|
Sodium:
44
mg
|
Potassium:
27
mg
|
Fiber:
1
g
|
Sugar:
19
g
|
Vitamin A:
42
IU
|
Vitamin C:
9
mg
|
Calcium:
16
mg
|
Iron:
1
mg