Ahh, Watermelon Slush…summer in beverage form!
What we have here: frozen watermelon drink combined with a hint of fresh lime juice, infused with the natural sweetness from watermelon. You can add syrup to it, but depending on how ripe and sweet your watermelon is, you may not even need it!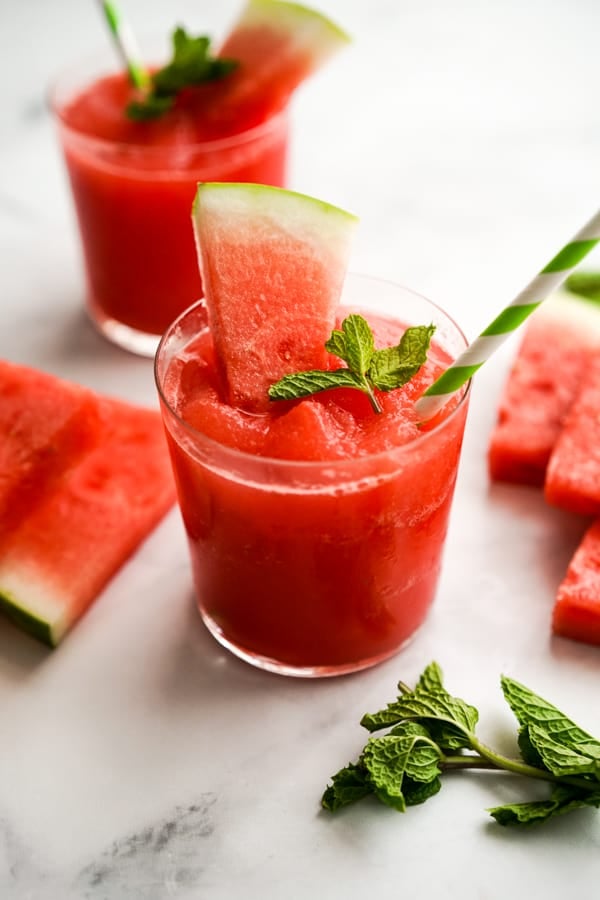 We are in the peak of summer over here. At the same time, we are holding our breaths because we haven't had our first 100℉ weather day yet…
But 100℉ or 97℉, it is still hot hot hot here in Texas. And we don't know summer any differently around here.
I don't know how I've overlooked Watermelon Slush or just the fruit watermelon in general, but let it be known that summer of 2021 was when I fell in love with watermelons.
Here's what I discovered: in-season watermelon tastes crazy sweet and is totally different from out-of-season watermelon, which was sadly what I had all my life prior to summer 2021 so I carelessly deemed it not worthy.
So if you are reading this in the summer time frame, I highly recommend running (not walking) to your nearest grocery store, pick up a watermelon, and make yourself one of these Watermelon Slush yummies. It is not to be missed.
Summer watermelon is OG of all watermelons.
Ingredients for Watermelon Slush
Are you ready for the most refreshing, thirst-quenching beverage?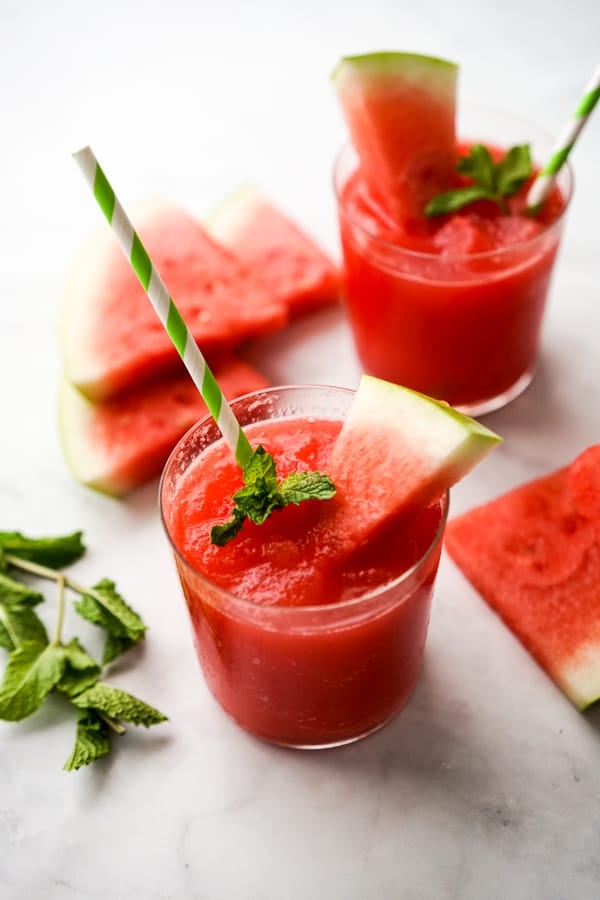 You will need a blender for this, and then gather up these ingredients:
Frozen watermelon – you will need to freeze cubed watermelon in the freezer. More on how to do that below.
Lime – nothing like a zesty lime to open up the flavors! If in a pinch, lemon works as well.
Simple syrup – equal parts sugar and hot water mixed together.
Cold water
How to Make It
You will want to plan ahead for this because I like to cut a ripe watermelon into cubes and freeze it in the freezer 24 hours before I need to use it.
When storing in the freezer, make sure the watermelon cubes are not touching each other so that they freeze individually. Line a large dish/cookie sheet/tray with wax paper before placing watermelon cubes on it.
Then layer it using wax paper so you can stack layers upon layers of frozen watermelon cubes.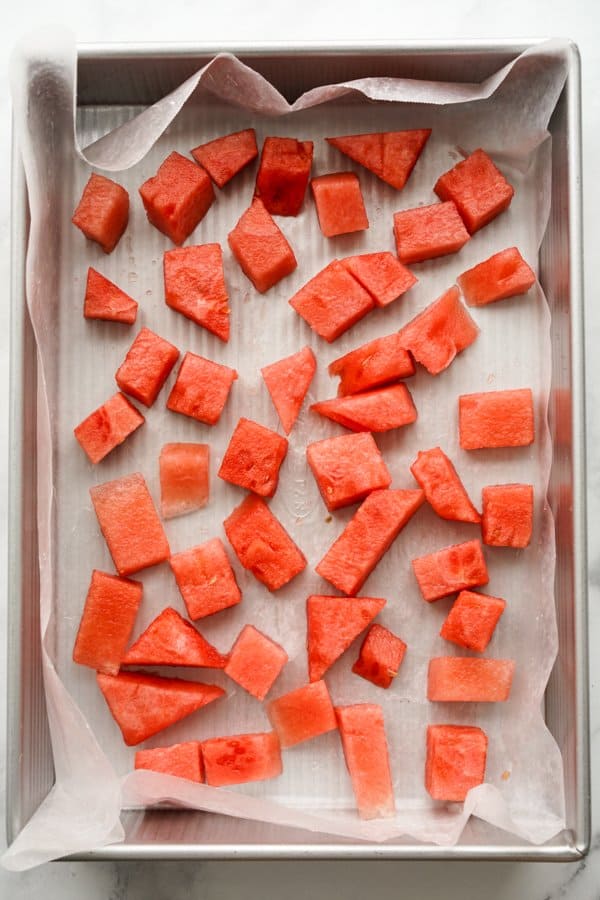 When watermelon cubes are frozen, simply add them, along with the rest of the ingredients into the blender and blend.
Add more water, or stop to stir, or both, at any point if blender is stuck.
Garnish with watermelon slices and mint leaves. Then serve immediately because 1) we don't want the ice to melt, 2) why wait!?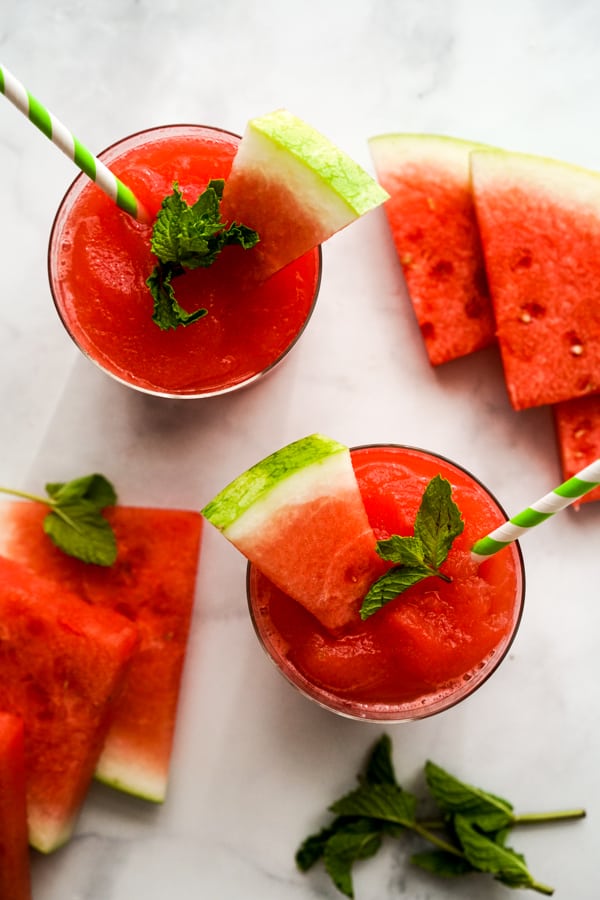 Tips and Tricks
A couple of noteworthy items:
Depending on how sweet the watermelon is, you may add more syrup to taste. Add more during blending or after.
Add more water if it is hard to blend the mixture. Depending on your blender, it may get stuck if there's not enough water. Stirring will also help un-stuck the blender.
Consume immediately! If not, you are looking at watermelon juice…which is still yummy, but it's no watermelon-slush yummy.
Frequently Asked Questions
How do I turn this into a cocktail? What alcohol can I add to this?
This makes a delicious cocktail! Simply add a splash of vodka, rum or tequila into the mixture and blend it up!
What can I use instead of syrup?
You can also use maple syrup, honey, or Splenda.
Can I store this in the freezer?
The texture will be different (it'll be hard to drink as a liquid) so I would not recommend it. Serving it immediately is the best!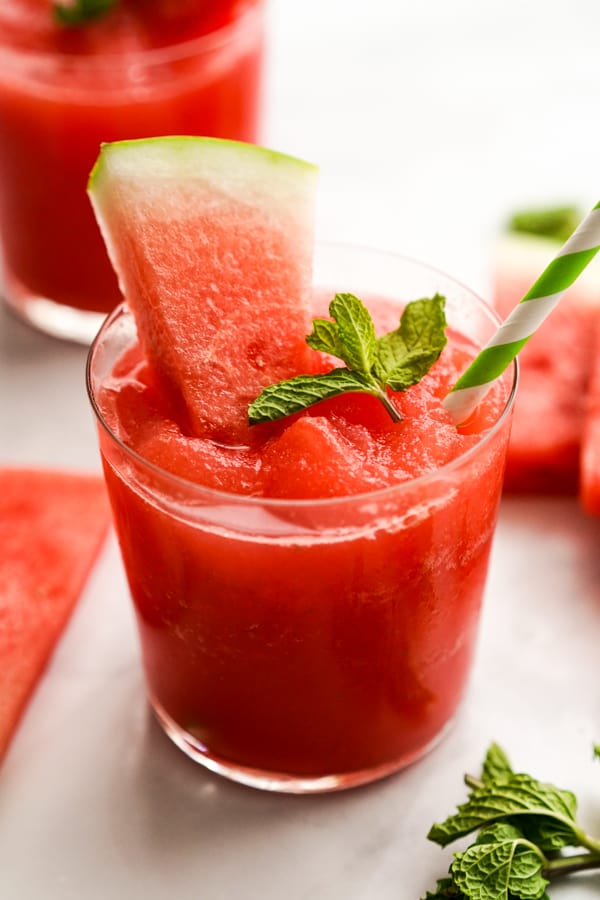 Other Drinks Recipes
DID YOU ENJOY THIS RECIPE? Please comment below and give us a 5-star rating! This will help others find this recipe on Google and Pinterest. We very much appreciate your help! 🤍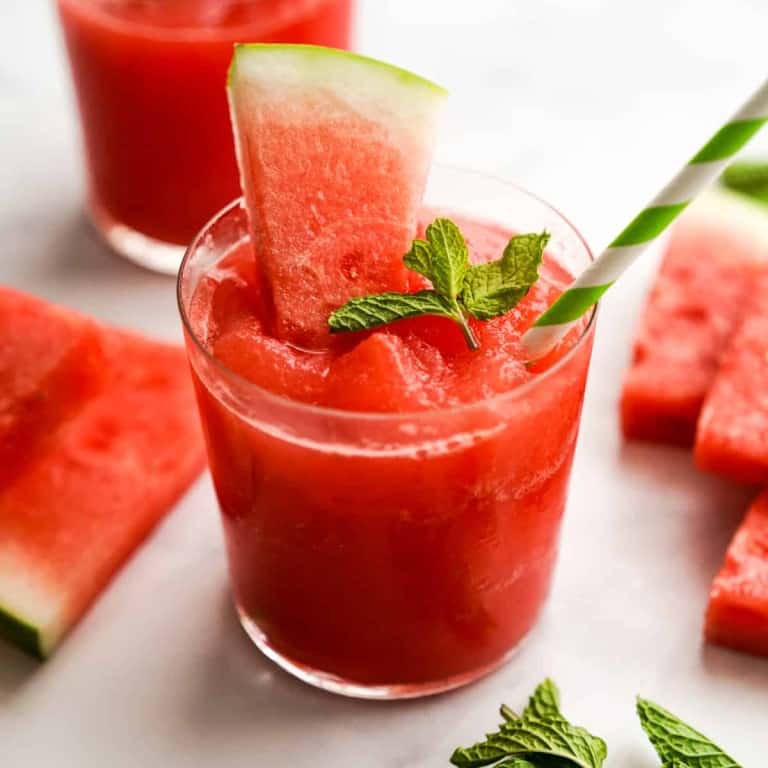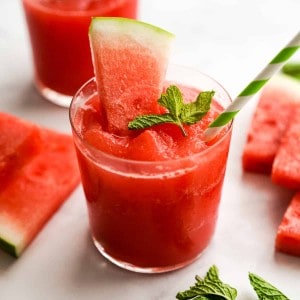 Watermelon Slush
This easy homemade frozen watermelon beverage made with fresh watermelon is perfect for the summer! So refreshing and delicious.
Print
Pin
Ingredients
6

cups

watermelon

cubed, frozen

1

lime

juiced

2

cups

cold water

more if needed
Syrup
1/4

cup

hot water

1/4

cup

granulated sugar
Garnish
a few

watermelon

small slices

mint leaves
Instructions
Cube watermelon and freeze overnight. Make sure watermelon cubes are not stuck together when frozen.

Make syrup mixture by combining hot water and granulated sugar. Stir until sugar is dissolved. Tip: use microwave to heat water.

In a blender combine watermelon cubes, syrup, lime juice and cold water. Blend. Add more water or pause to stir if blender gets stuck.

Taste and add more syrup if needed. If watermelon is very ripe and sweet, you can omit the sugar, blend, taste, and add sugar if it isn't sweet enough.

Garnish with mint and watermelon slices. Serve and enjoy!
Nutrition
Calories:
82
kcal
|
Carbohydrates:
21
g
|
Protein:
1
g
|
Fat:
1
g
|
Saturated Fat:
1
g
|
Polyunsaturated Fat:
1
g
|
Monounsaturated Fat:
1
g
|
Sodium:
2
mg
|
Potassium:
183
mg
|
Fiber:
1
g
|
Sugar:
18
g
|
Vitamin A:
876
IU
|
Vitamin C:
16
mg
|
Calcium:
14
mg
|
Iron:
1
mg