Greetings to all my fellow apple cider lovers! May I present to you Apple Cider Sangria, where we take the classic Fall drink to a whole new level by adding a splash (or two, or three…) of white wine and brandy to our beloved apple cider…
Apple cider may be delicious served warm in a mug, but it's even better when you add a little bit of alcohol, fruits and turn it into a Fall cocktail! TRUST ME.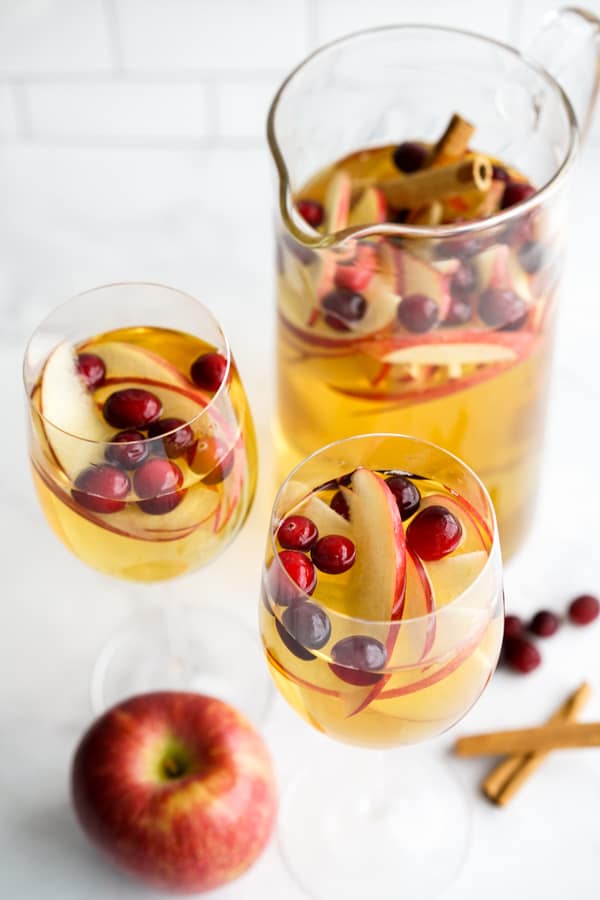 During the summer I went on and on about this delightful White Peach Sangria. Well, autumn is here and this Apple Cider Sangria has quickly become my new it's-5-o'clock drink…
It's refreshing, fizzy, with the fragrance of apples, cinnamon and all things Fall.
Apple Cider Sangria…a Fall Cocktail
We combine some of our favorite autumn inspired ingredients to bring together this delightful Apple Cider Sangria:
apple cider – well duh…
apple – slice it thinly and add to the drink for that nice crunch. Also, these apple slices taste even better after it sits in the cocktail for a while…
cranberries – I typically use frozen but fresh works just fine
cinnamon sticks – as the cinnamon sticks soak in the Apple Cider Sangria, they bring a hint of cinnamon flavor that compliments the drink very well
white wine – important ingredient! It is after all, a sangria 🙂
club soda – gives the cocktail additional carbonation and fizz. Yum!
brandy – I love the taste of brandy in my sangrias!

The result is a lovely and delicious drink.
Yummy to the tastebuds and also pretty to look at without much effort on your part. It looks way more fancy than it really is.
Which means, not a lot of work is required, but it will make you looking like a sangria connoisseur.
Perfect for Fall, holiday parties, family get-togethers…
But if you think I'm waiting till the holiday to enjoy this lovely Apple Cider Sangria, you are so very wrong. 😉
Making Apple Cider Sangria + A Few Tips
You can definitely bring your Apple Cider Sangria together last minute right before you want to drink it or before your guests arrive, but I highly recommend chilling all the liquid ingredients ahead of time.
Chill apple cider, white wine, club soda and brandy in the refrigerate the night before or at least 12 hours before so that it is nice and cold when you are ready to combine everything.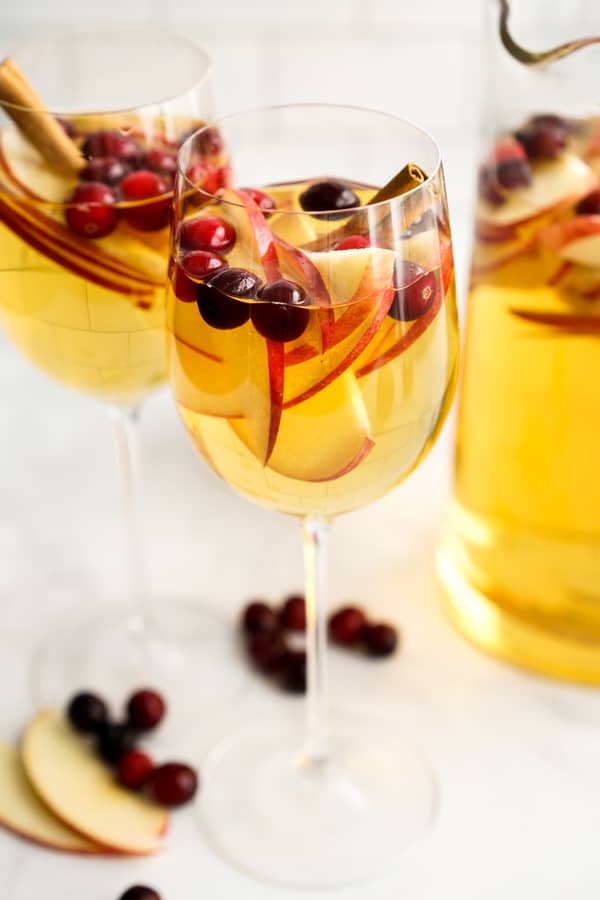 When you bring everything together after it has been refrigerated, you won't need as much or any ice at all. Ice will dilute the Apple Cider Sangria and make the drink less concentrated.
Combine all the liquid ingredients in a large jug and then add apples, cranberries, cinnamon stick and a few cubes of ice (optional).
Use a long wooden spoon to stir everything up and then serve it!
A few other things to note when putting together this Fall Apple Cider Sangria:
Apples can be sliced thinly or in cubes. Just make sure it's in bite-size so it's easier to consume.
Adding cubes of ice will help keep the drink chilled and cold longer, but it does dilute it slightly.
Using frozen cranberries (instead of fresh) is a way to chill the drink further without adding more water. They will pretty much act as 'ice'.
Let the cinnamon sticks sit in the drink before serving – this will add more cinnamon flavors in the sangria.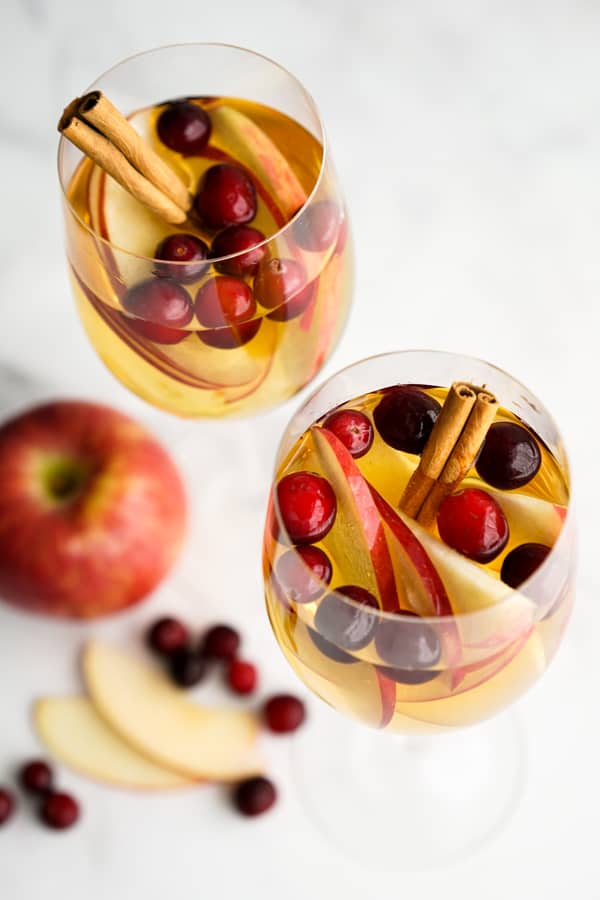 Variations and Substitution
There are so many way to make this Apple Cider Sangria your own! Here are some ideas:
Play around with the fruits added to the drink. Grapes, pomegranates, pears, oranges, lemons are also good adds.
Herbs such as mint leaves will bring a nice fresh taste to it as well.
Instead of brandy, vodka or triple sec can be used as well.
Use star anise in addition to cinnamon stick to bring another layer of Fall flavors to the cocktail.
Frequently Asked Questions
Can I make ahead Apple Cider Sangria?
Yes you can make this 24 hours ahead of time. However, do not add club soda into the drink until ready to serve. If club soda is added ahead of time, it will lose its fizziness.
What are best white wines to use for sangria?
I like Pino Grigio, Sauvignon Blanc, and Riesling.
What do I do to make this less/more alcoholic?
To make this less alcoholic, add more apple cider. And do the reverse (less apple cider) if you want a stronger sangria. I find that it's easiest to use up the whole bottle of wine as it is called for, and just adjust the amount of apple cider.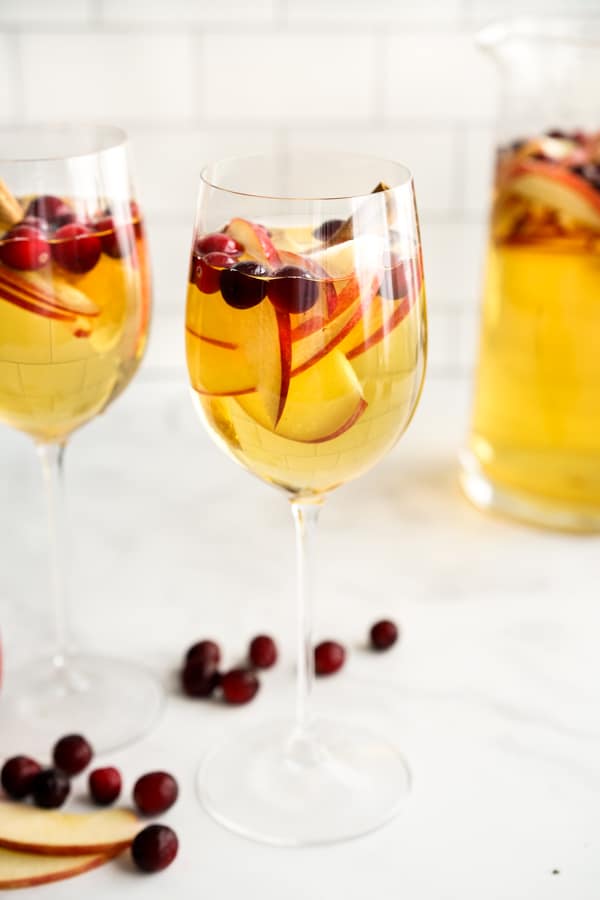 10/10 recommend this fantastic apple cider sangria!
Now excuse me while I go pour myself my (ahem) second glass. CHEERS. ❤️
More Cocktails!
DID YOU ENJOY THIS RECIPE? Please comment below and give us a 5-star rating! This will help others find this recipe on Google and Pinterest. We very much appreciate your help! 🤍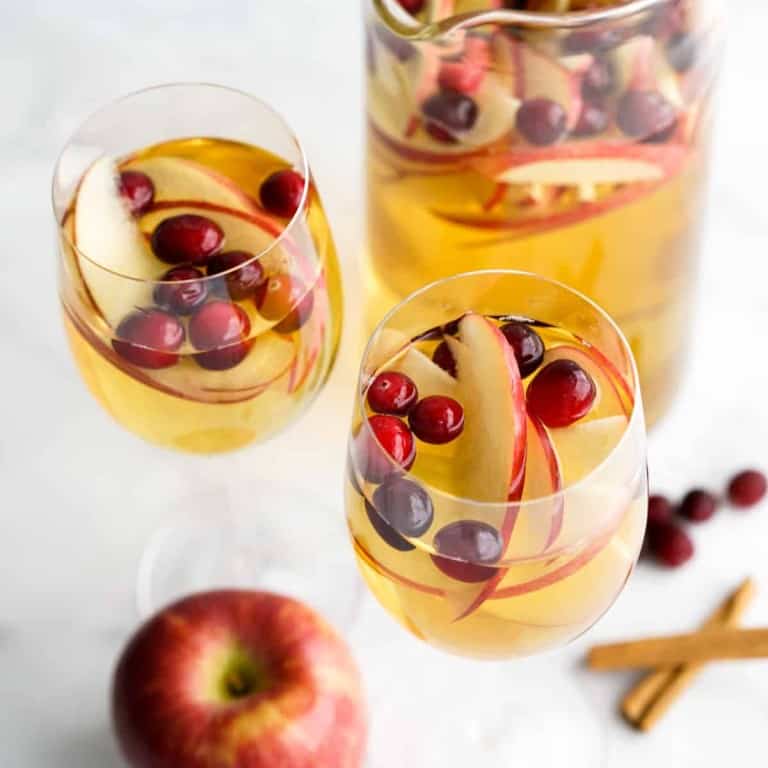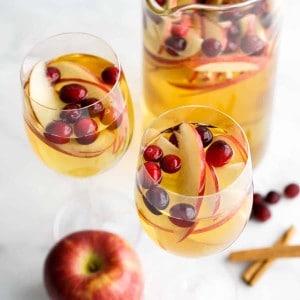 Apple Cider Sangria
A Fall and holiday inspired sangria! This cocktail combines apple cider, white wine, a splash of brandy, club soda, apples, cranberries and cinnamon.
Print
Pin
Ingredients
3

cups

apple cider

chilled

1

bottle

white wine

chilled

1 1/2

cup

club soda

unsweetened, chilled

1/4

cup

brandy

chilled

1

apple

sliced

1/2

cup

frozen cranberries

or fresh

2

cinnamon sticks

1

cup

ice cubes

optional
Instructions
In a large jug, combine all the liquid ingredients – apple cider, white wine, club soda, and brandy. Mix using a long wooden spoon.

Add ice cubes (optional), apple slices, cranberries, and cinnamon sticks. Give it another stir.

Optional: let sangria sit in the refrigerator for 15 minutes to release the cinnamon flavor and chill it further. Serve and enjoy!
Nutrition
Calories:
179
kcal
|
Carbohydrates:
24
g
|
Protein:
1
g
|
Fat:
1
g
|
Saturated Fat:
1
g
|
Polyunsaturated Fat:
1
g
|
Monounsaturated Fat:
1
g
|
Sodium:
20
mg
|
Potassium:
192
mg
|
Fiber:
1
g
|
Sugar:
18
g
|
Vitamin A:
21
IU
|
Vitamin C:
9
mg
|
Calcium:
30
mg
|
Iron:
1
mg