This post may contain Amazon or other affiliate links. As an Amazon Associate I earn from qualifying purchases at no additional cost to you.
Bacon Deviled Eggs. Not your typical deviled eggs. Because yes, bacon makes everything special. But it's not just all about the bacon. This is a perfectly seasoned deviled eggs recipe, filled with lots of yummy spices and goodies. The perfect appetizer for parties, showers, or, coming up so very soon…your Easter meal!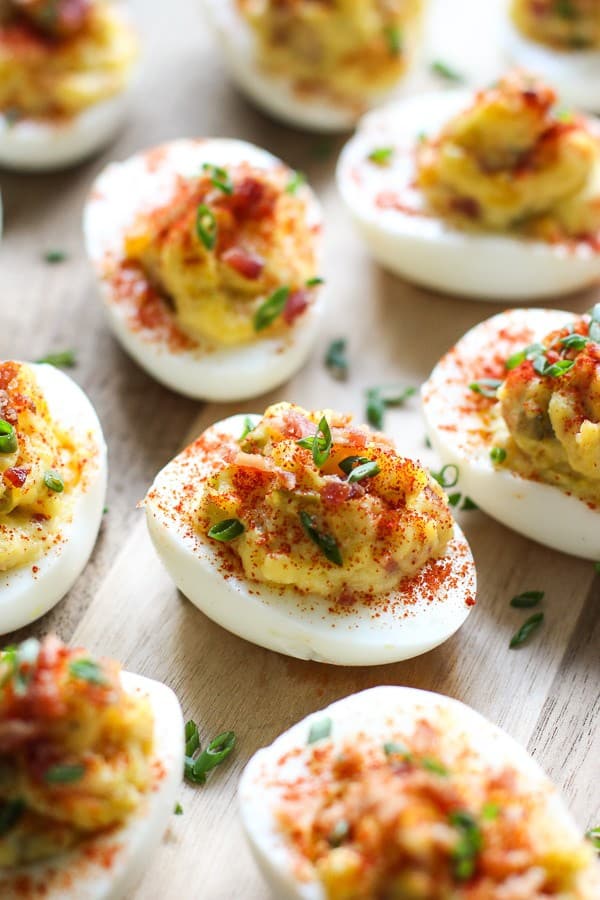 The story behind Bacon Deviled Eggs
Let me be real here.
As a food blogger, I know there are certain recipes that have been created many, many, many times, swimming out there in the wild wild west of the internet world. Deviled Eggs is certainly one of them.
So here's the dilemma. I love Deviled Eggs so much I wanted badly to share my tried and true Deviled Eggs recipe with you. I wanted to brag about it, tell you how obsessed I am with it, show you have to make it, etc etc. You know, the things I do over here all the time. Ha 😉 . But I wasn't sure if the world needs another Deviled Eggs recipe, you know?
Then one day I happened to have leftover bacon from a weekend brunch, and I was putting together some Deviled Eggs later that day. Call it fate, call it the perfect storm, but Bacon Deviled Eggs happened. I knew right there and then, the world needs this. You may not need another Deviled Eggs recipe, but gosh, you need this Bacon Deviled Eggs recipe!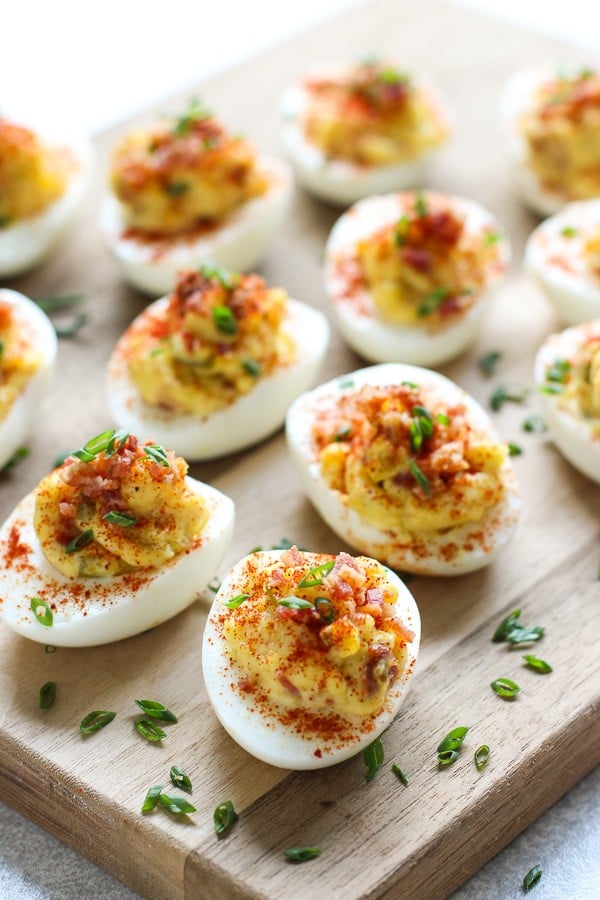 So thank you thank you, bacon. You made this make so much more sense.
How long to boil hard boiled eggs?
Ready to make the recipe? The first thing to do is to boil the eggs. To make hard boiled eggs, you will need to boil the eggs for 9-10 minutes.
Always bring the water to a boil in a pot first before gentle submerging the eggs into boiling water and boil for 9-10 minutes. I also recommend using a spoon to gently bring the egg into boiling water. This will prevent the eggs from hitting the bottom of the pot and cracking open.
Hard boil eggs means the yolk will no longer be gooey and runny.

How to make Bacon Deviled Eggs
After the eggs are boiled, slice the eggs into half and dig out the yolks.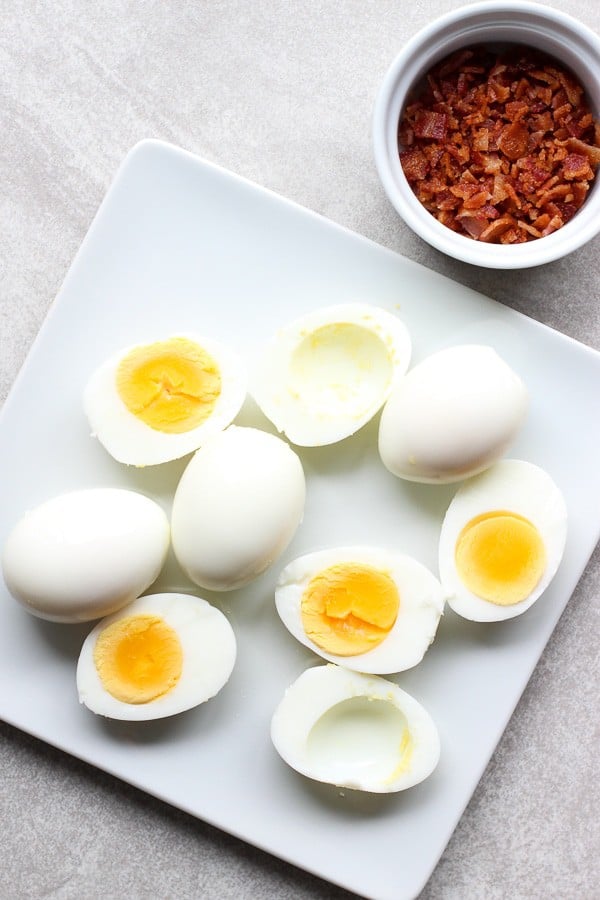 As we mentioned, bacon is a key ingredient. You can use store-bought bacon bits, or bake/panfry your bacon and then cutting them into pieces. There is nothing like making your bacon fresh, but the store bough bacon bits can be used if you are in a pinch.
If you are baking bacon, preheat oven to 425 degrees F. Then bake for 14-18 minutes. Check at the 14 minute mark because ovens, thickeness of bacon are different. From there, you can determine if you need to cook the bacon for a longer time.
Smash yolk with a fork to remove all the clumps. Then combine yolk, bacon bits, mayonnaise, sweet pickled relish, yellow mustard, salt and pepper.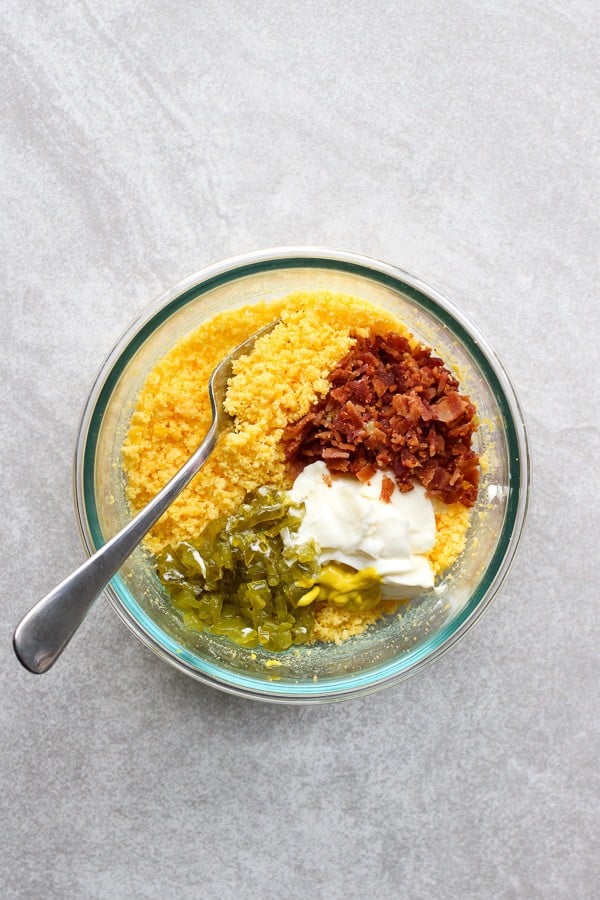 Once the yolk mixture is combined, you can scoop them back into the eggs that are halved. Or if you want to be a tad bit fancier, cut the corner of a zip lock bag and push the yolk mixture through the hole in the zip lock bag into the egg.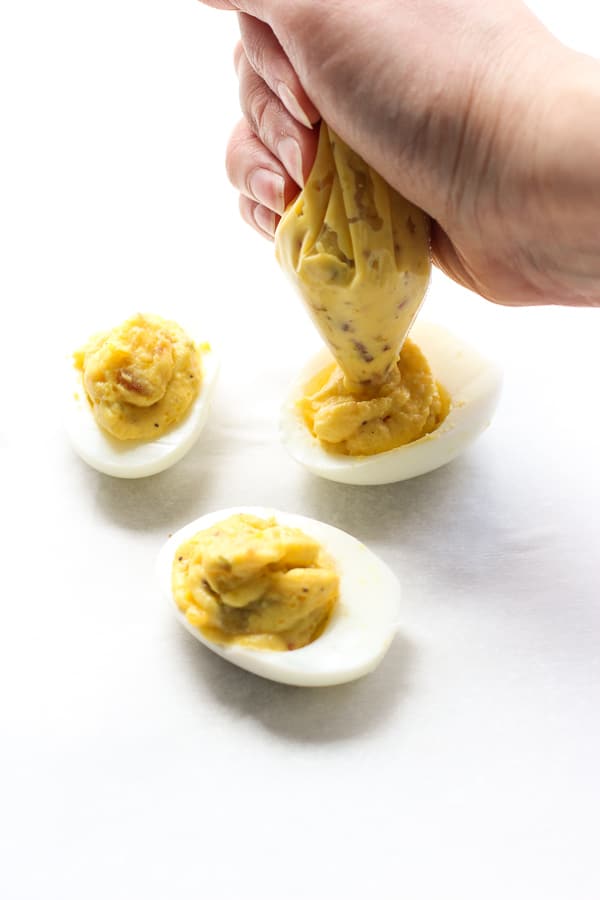 Last, but certainly not the least, garnish with smoked paprika, chives and more bacon bits.
Tips for making Deviled Eggs
If you want to speed up the cooling process of the boiled eggs, run it under cold water or submerge eggs in cold water.
Cooled eggs are a lot easier to peel. They are stiffer and the egg whites don't break apart as easily when you peel them. Consider boiling the eggs ahead of time and letting them cool in the refrigerator.
Can you make ahead Deviled Eggs?
Yes! You can definitely do that.
The beauty of this dish is that you can make it ahead of time! Which is one of the reasons why it makes a great party dish. Make it ahead of time, leave it in the refridgerator, and serve it whenever you are ready.
It also does not need to be heated up and can be left in room temperature for a while. Another reason for being a great party dish.
Make ahead Deviled Eggs up to 1-2 days. I like to leave the garnishes out and only add that when I am serving, but you can go ahead and add the garnishes if you'd like. Chives, smoked paprika, and yes…more bacon. 🙂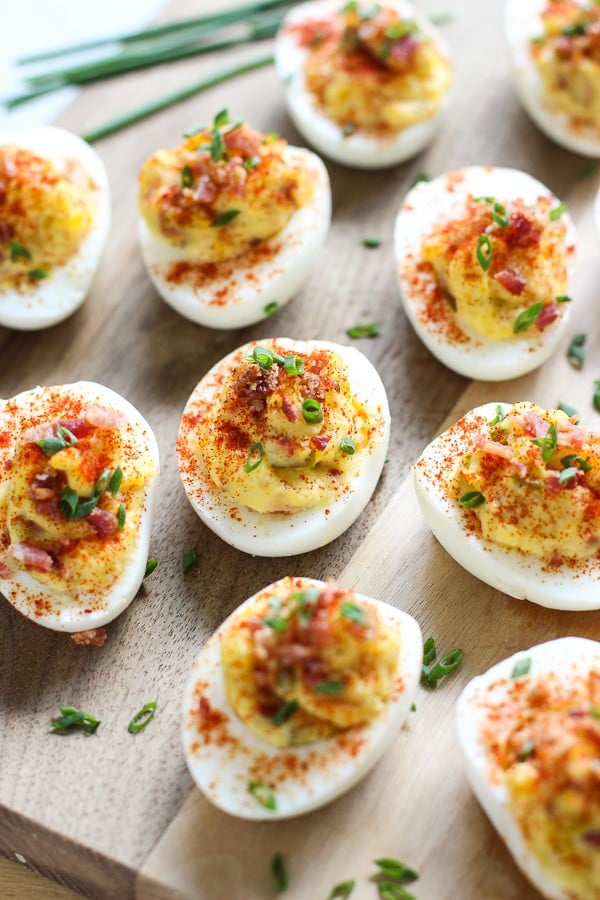 Bacon Deviled Eggs…one of those easy, yummy and budget-friendly appetizer that is sure to please a crowd! I hope you give this a try!
Other fun appetizers on the blog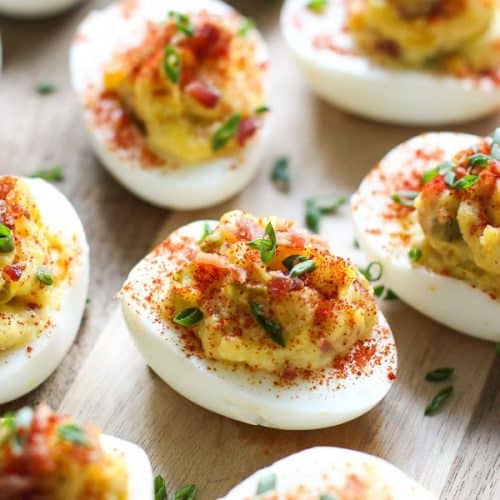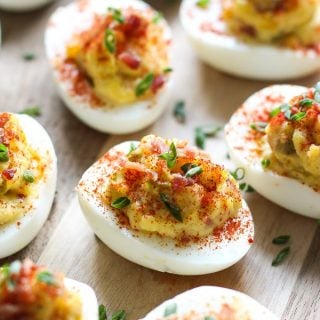 Bacon Deviled Eggs
A fun, simple and budget-friendly appetizer that you can make ahead of time! This Deviled Eggs recipe is delicious, flavorful and yes, it has bacon in it! Perfect party dish for showers, gatherings, and Easter!
Print
Pin
Ingredients
6

large eggs

2

tbsp

mayonnaise

2

tbsp

sweet pickled relish

2-3

tbsp

bacon bits

plus more for garnish

1/4

tsp

yellow mustard

salt

to taste

black pepper

to taste

smoked paptrika

garnish

chives (sliced)

garnish
Instructions
If you are making the bacon, preheat oven at 425 degrees and cook bacon in the oven for 14-18 minutes. Check at the 14 minute mark to see if you need to cook bacon further. When bacon is done, chop bacon into bacon bits.

Bring water to boil in a pot. Once water is boiling, gently submerge eggs into water (use a spoon to bring each egg into water). Cook eggs for 9-10 minutes. Drain hot water, and fill pot with cold water for a couple of minutes to cool the eggs. Drain cold water. (See Note 1)

Peel the egg shell from the eggs. Cut eggs into half.

Remove yolk and bring yolk to a bowl. Smash egg yolk to remove all the clumps. Then add mayonnaise, sweet pickled relish, bacon bits, yellow mustard, and salt and pepper. Combine well.

Slit a small slit on the corner of a zip lock bag. Add yolk mixture to zip lock bag. Push mixture out through the hole in zip lock bag into egg. Alternatively, you can scoop mixture directly onto egg using a small spoon.

Garnish with smoked paprika, additional bacon bits and chives.
Notes
Note 1: You can do this step ahead of time and let the eggs cool further, which will ease the process of peeling the egg shell and cutting the eggs into half.