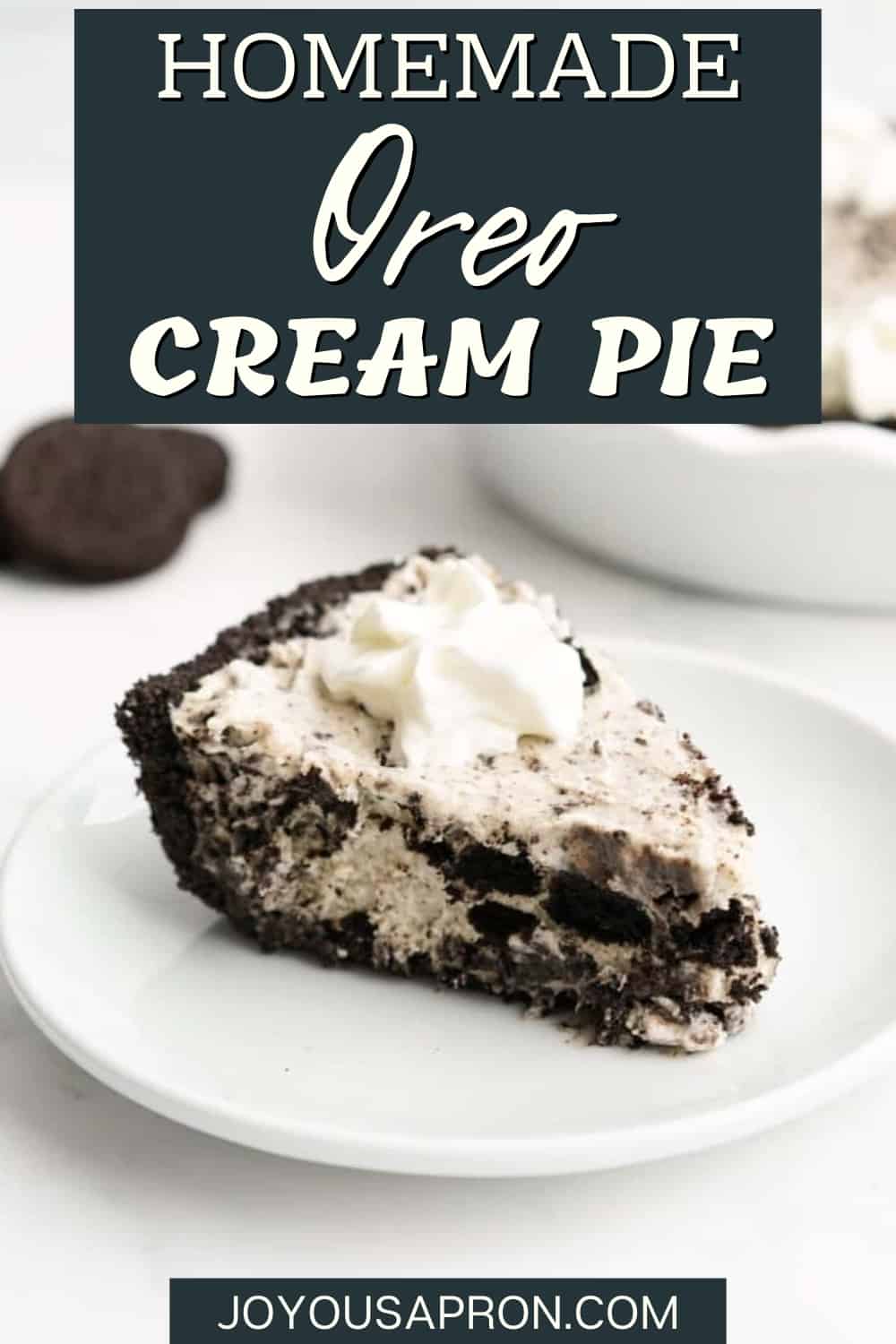 This delicious Oreo Cream Pie, also known as Cookies and Cream Pie, features a crumbly Oreo crust and and a rich and creamy cookies and cream filling.
We are so in love this Oreo cream pie recipe – it's a fun dessert that is easy to make and so delicious, and always a big hit!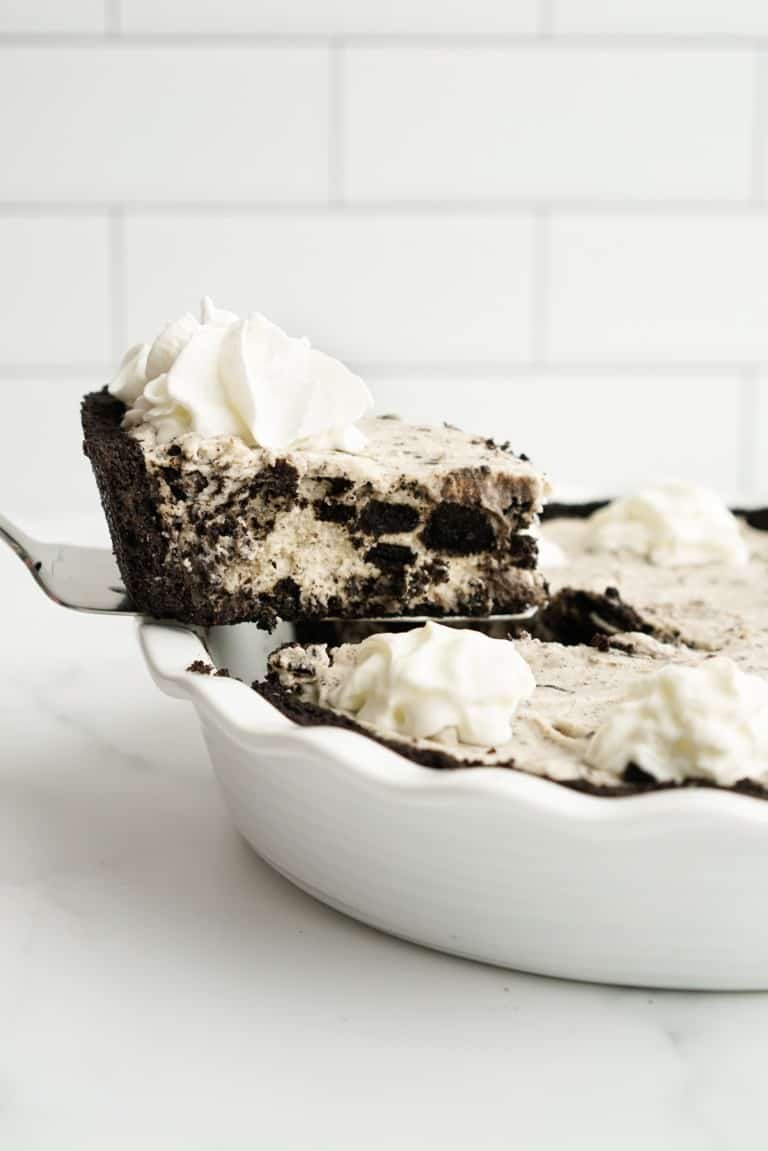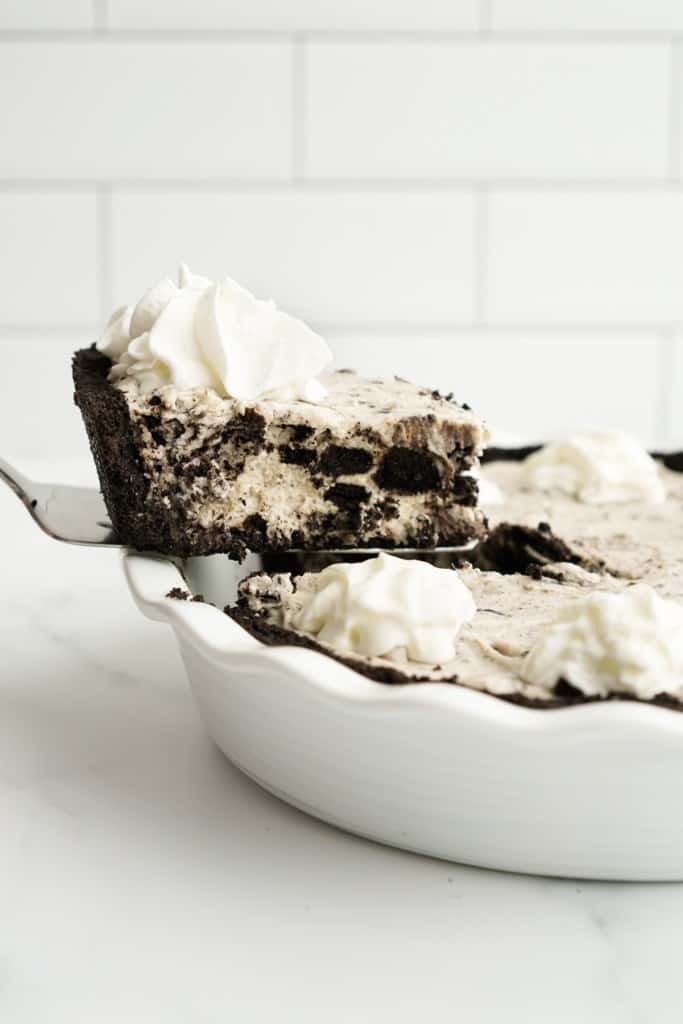 If you love this Oreo Cream Pie recipe you will also love these other Oreo favorites on the blog: No Bake Oreo Truffles, The Best Cookies and Cream Ice Cream, and No-Bake Chocolate Tart.
The Best Oreo Cream Pie
I can shamelessly brag about this Oreo Cream Pie and not feel like I'm tooting my own horn because this is actually my husband's Oreo cream pie recipe.
Whenever he makes it for friends and family, he get rave reviews like, "this is the best Oreo cream pie I've ever tasted", or "I don't typically even like Oreo pies but this is amazing!".
With feedback like that, I knew I had to share this Oreo cream pie recipe with you.
YOU ARE WELCOME.
I'm even going to share the secret behind why this cookies and cream pie is far superior compared to all other cookies and cream pie in the land.
The secret is in the filling, and the fillling is pure gold because:
1. That rich and creamy filling not only has actual chunks of Oreo pieces in, in addition just crushed up Oreos, so you can actually bite into and taste actual Oreo cookie and Oreo cookie filling in it. It might sound like a small detail, but it is important and life-changing!
2. There's melted milk chocolate in that cream filling. Melted white chocolate brings an added dimension of flavor to it and makes it the tastiest filling ever!
So there you go, I spilled the secrets and I know you will love this decadent Oreo cream pie. So buckle your seat belts, and let's dive into it!
Ingredients
Let's talk about the ingredients that make up this Oreo cream pie, breaking them into two important sections – the filling and pie crust.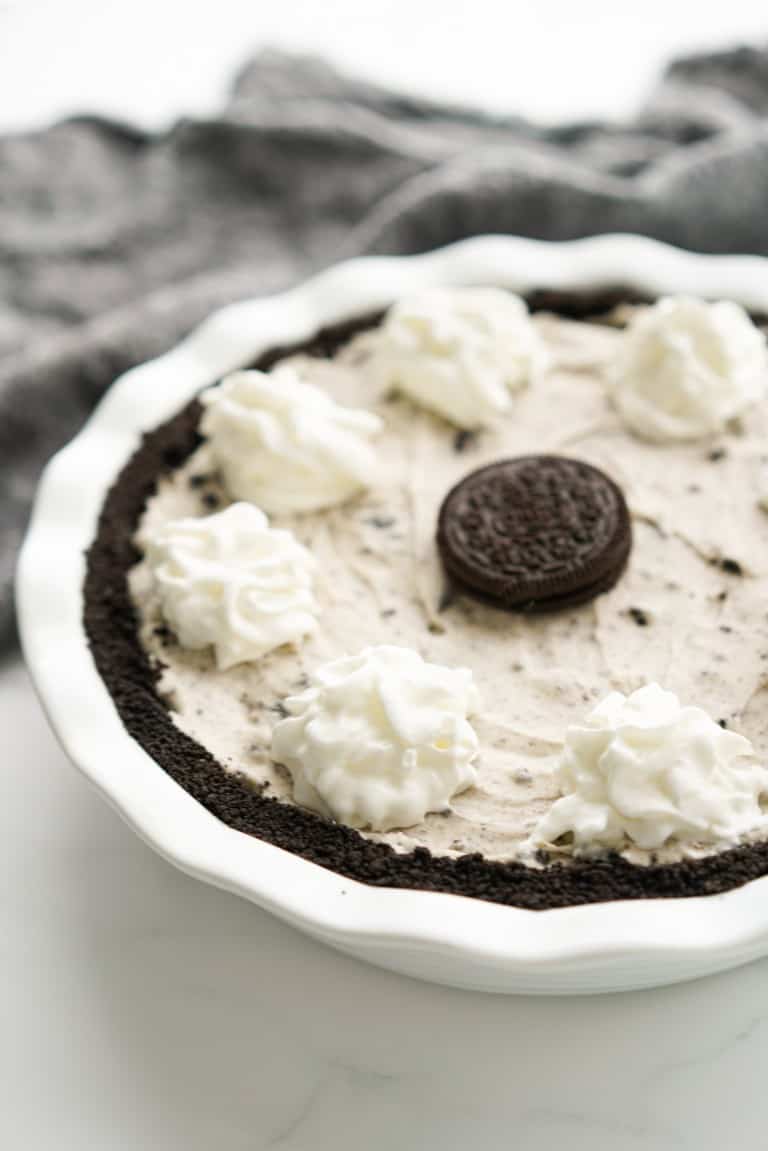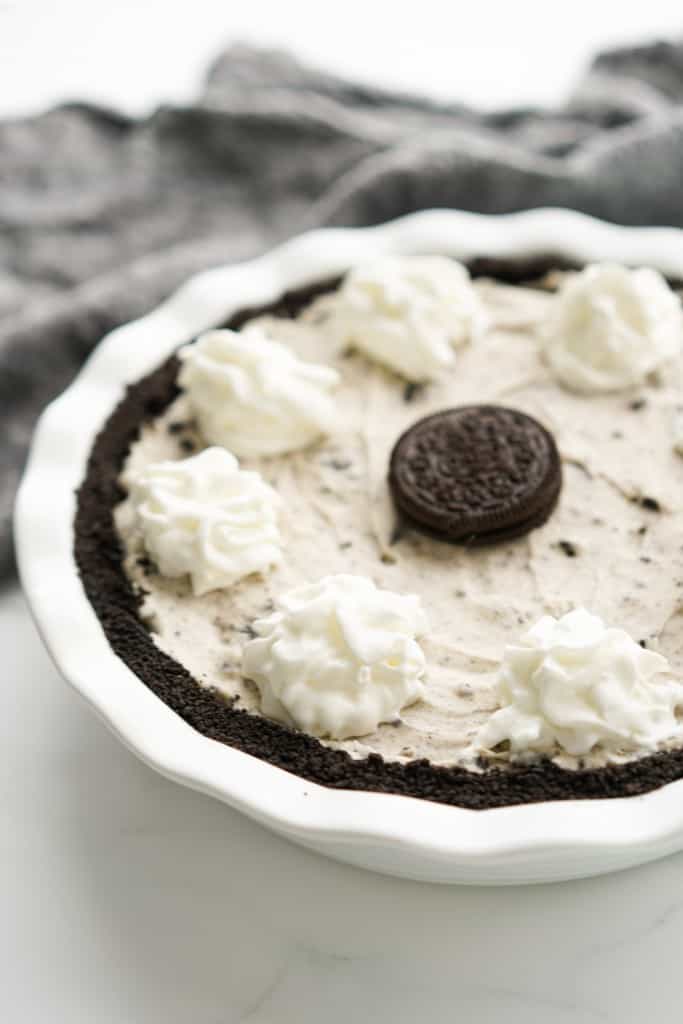 Crust
The crust is made with two simple ingredients below. However, if you want to shortcut this further, brought a store-bought Oreo crust!
Oreo cookies – using both the chocolate cookies and the filling inside
Unsalted butter – I recommend using unsalted to avoid adding unnecessary salt to the crust mixture.
Oreo Filling
cream cheese – make sure it is softened before mixing. Bring it to rest in room temperature at 2-3 hours beforehand.
heavy cream – cream with ~36% fat content. Also called heavy whipping cream. Avoid substituting with half and half – they are not as rich and creamy.
vanilla extract
powdered sugar – or confectionary sugar. If you want to make it yourself (or need twho find substitution), check this out.
unsalted butter
white chocolate – I get the baking white chocolate that comes in bar form
Oreo cookies – the classic American cookie that never go out of style. Get the regular kind (not double stuffed etc).
salt – I know this is a dessert recipe but salt a must to open up the flavors!
whipped cream – if you are really ambitious and want to go all the way, homemade whipped cream is in fact the best!
How to make Oreo Cream Pie
Oreo Crust
The first thing I do is make that crumbly and delicious Oreo crust.
In a food processor, crush 22 Oreos cookies (cookies with filling inside) along with melted butter.
When you are done, the Oreo cookie crumbs should be very fine. It only take a few seconds to get it nice and crumbly.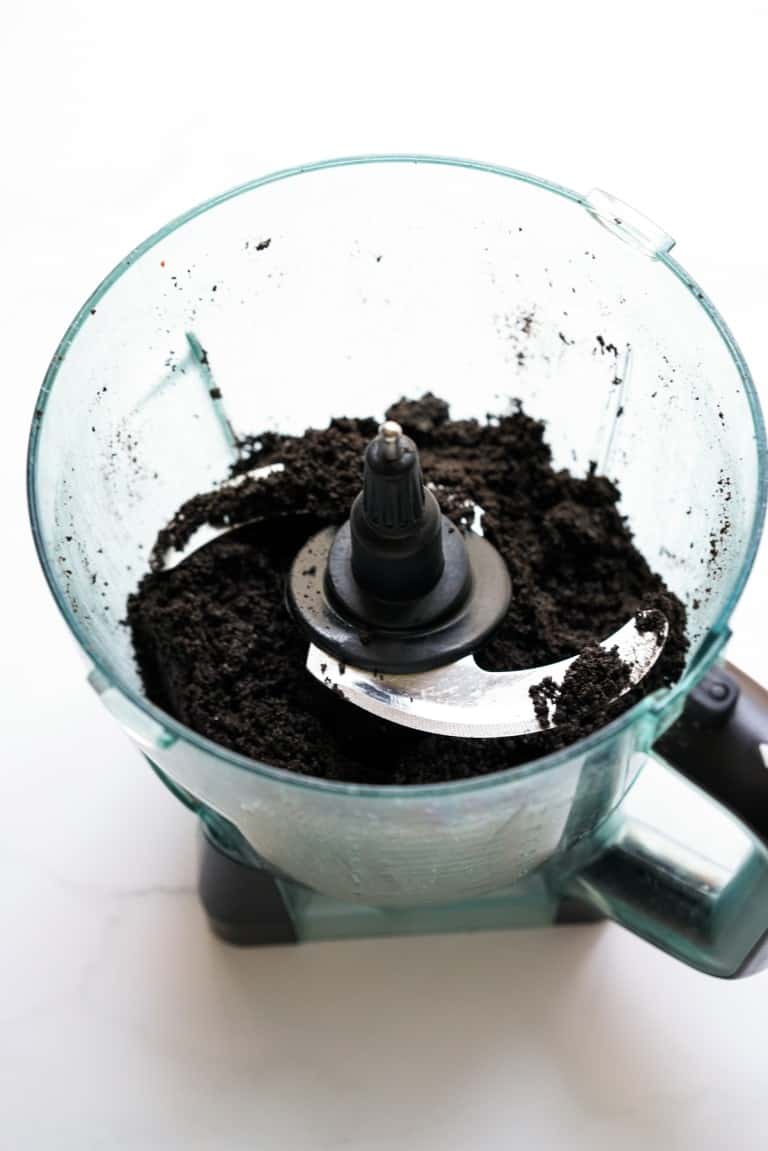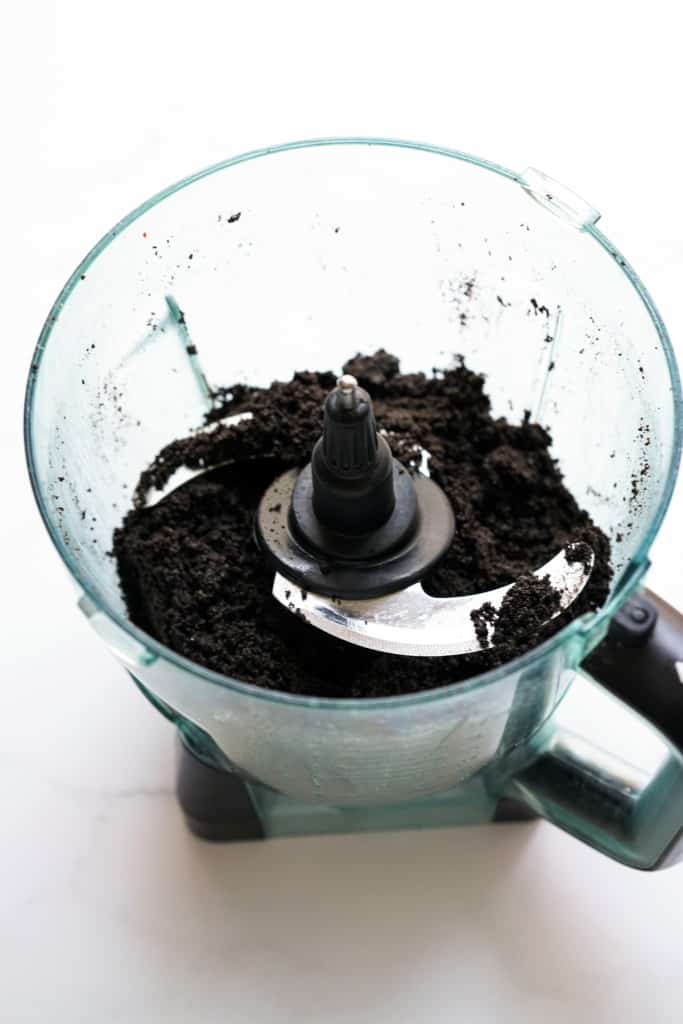 Transfer cookie crumbs into a 9″ pie pan.
Then press cookie crumbs to form a layer of crust at the bottom and on the sides of the pie pan. Use a spoon to shape the sides.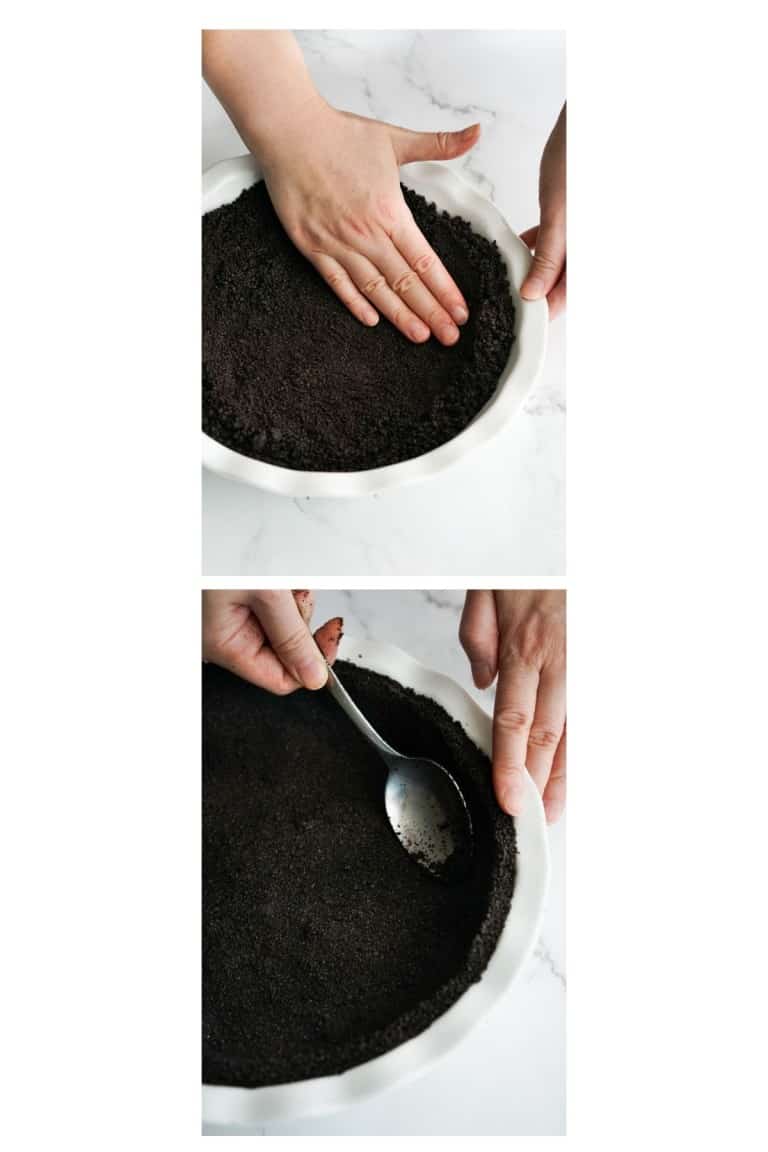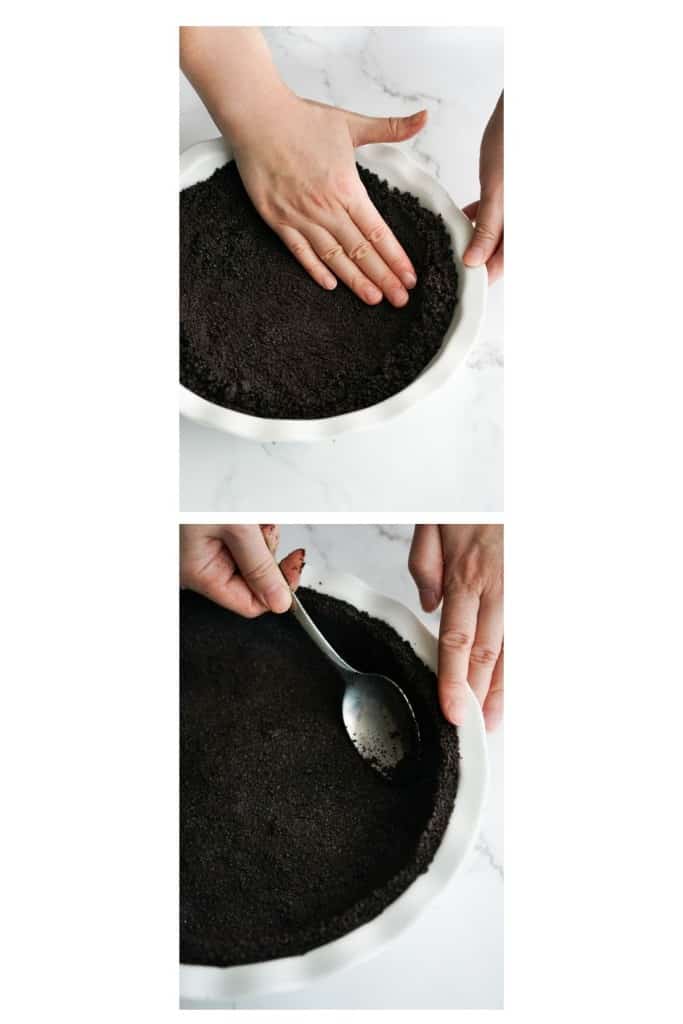 When the crust is done, sent it to the oven to bake at 350℉ for 5-6 minutes. Then set it aside to cool.
Oreo Cream Filling
Our Oreo cream filling is the star of this Oreo cream pie recipe.
The filling is rich, creamy with chunks of Oreos in every bite…so yum! And I'm going to show you how to make it!
Let's stat by working on the Oreo cookies. Separate them into two bathches – a batch of 10, and another batch of 4-6.
We will first chop the 10 Oreos into smaller pieces. And then place the other 4-6 Oreos in a ziplock bag and smash them until they are fine.
In a large mixing bowl, add whipping cream, vanilla extract, and granulated sugar. Beat using an electric mixer until stiff peaks are formed.
In a microwave safe bowl, melt white chocolate in microwave (at 50% power and stir every 30 seconds until white chocolate is fully melted).
Add softened cream cheese, butter, salt into the melted white chocolate. Blend until completely smooth.
Add cream cheese/white chocolate mixture and both sets of Oreos into the whipped cream mixture. Fold it slowly to avoid squishing out the air bubbles so that mixture remains fluffy. Do not over mix.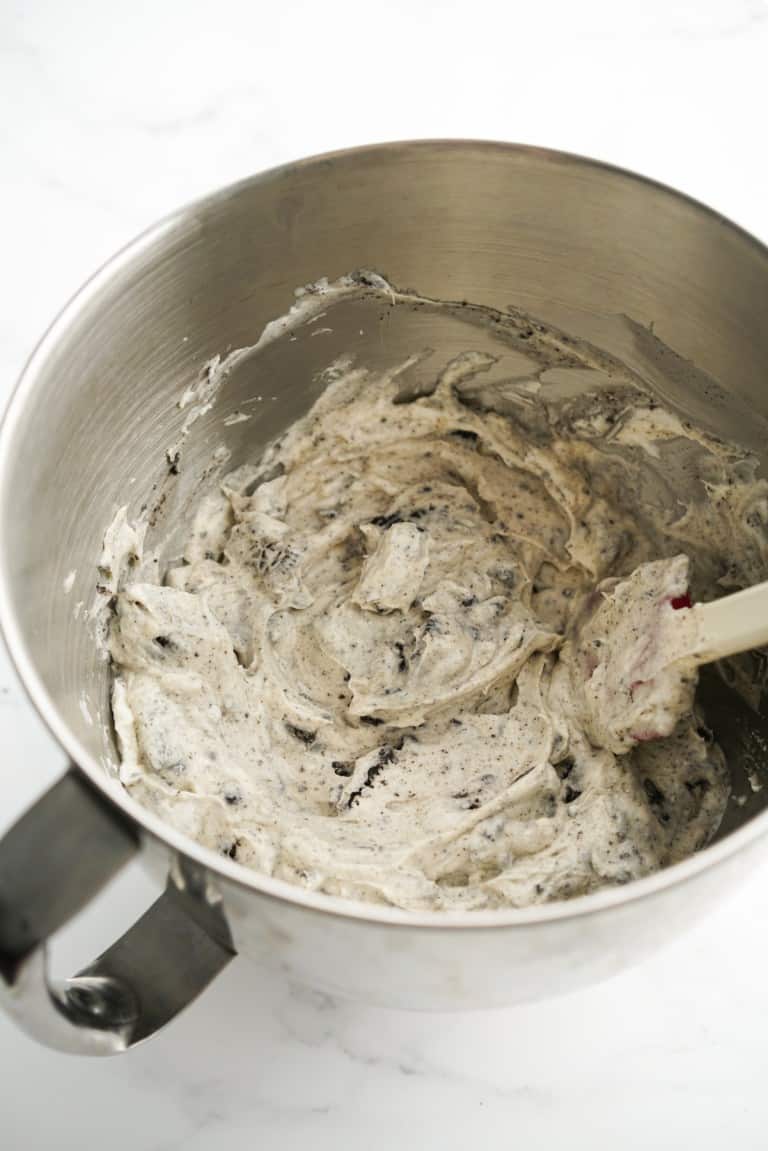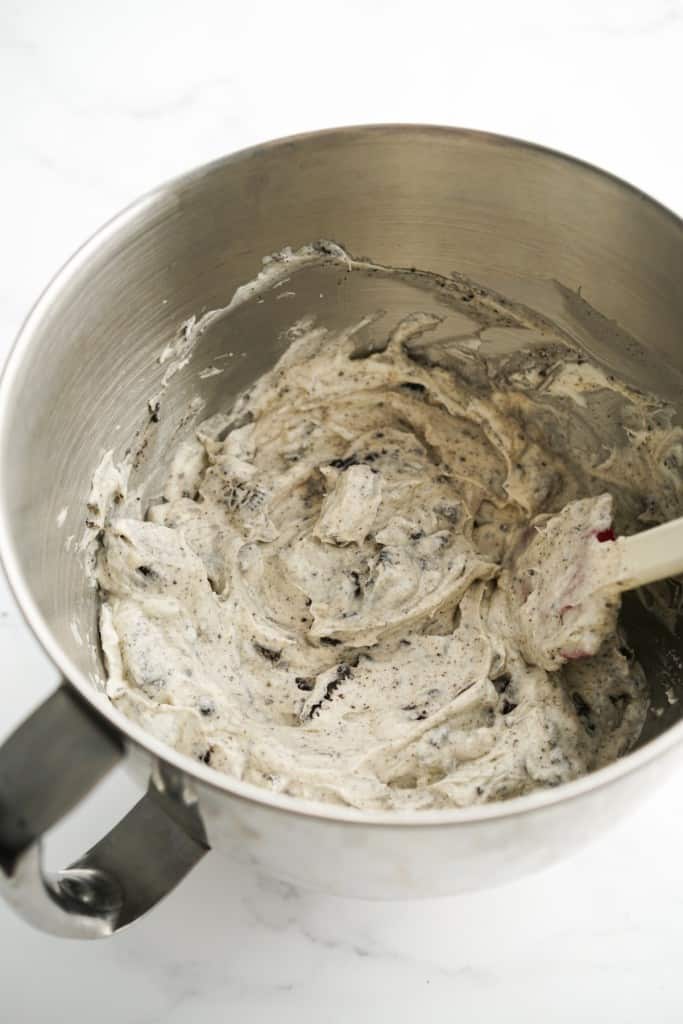 Assemble and Bake
Once filling is ready, add it to the Oreo crust.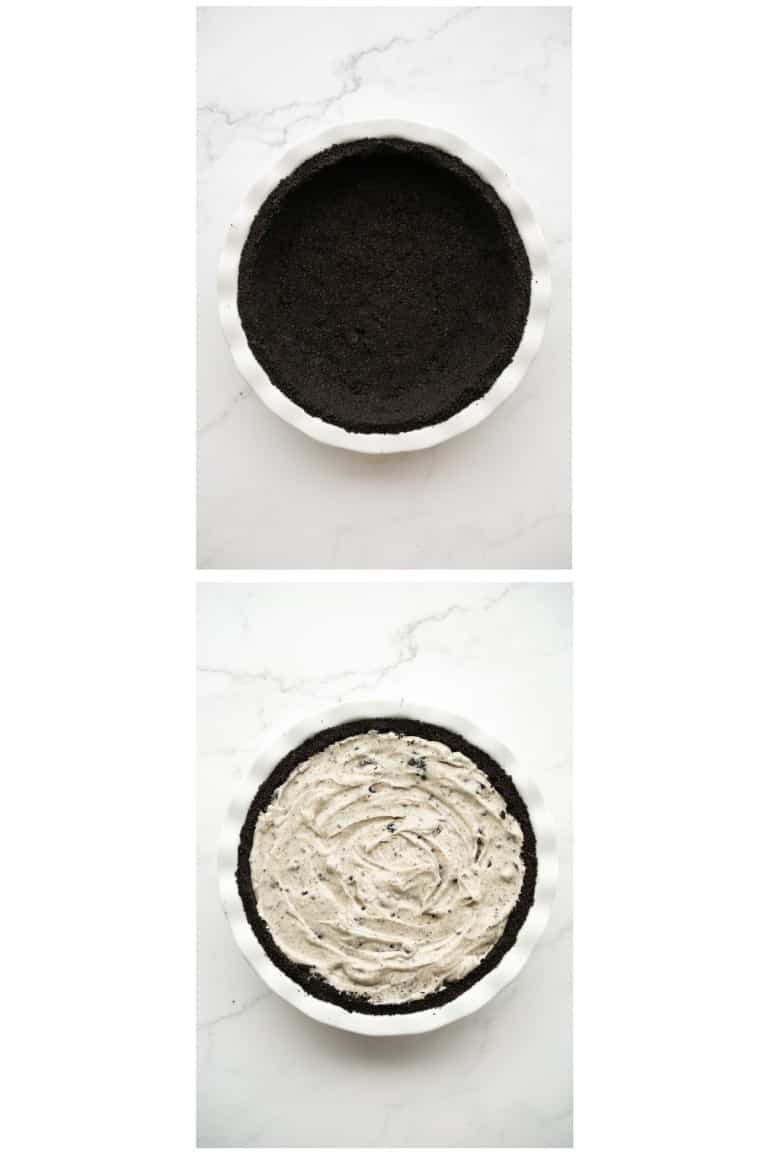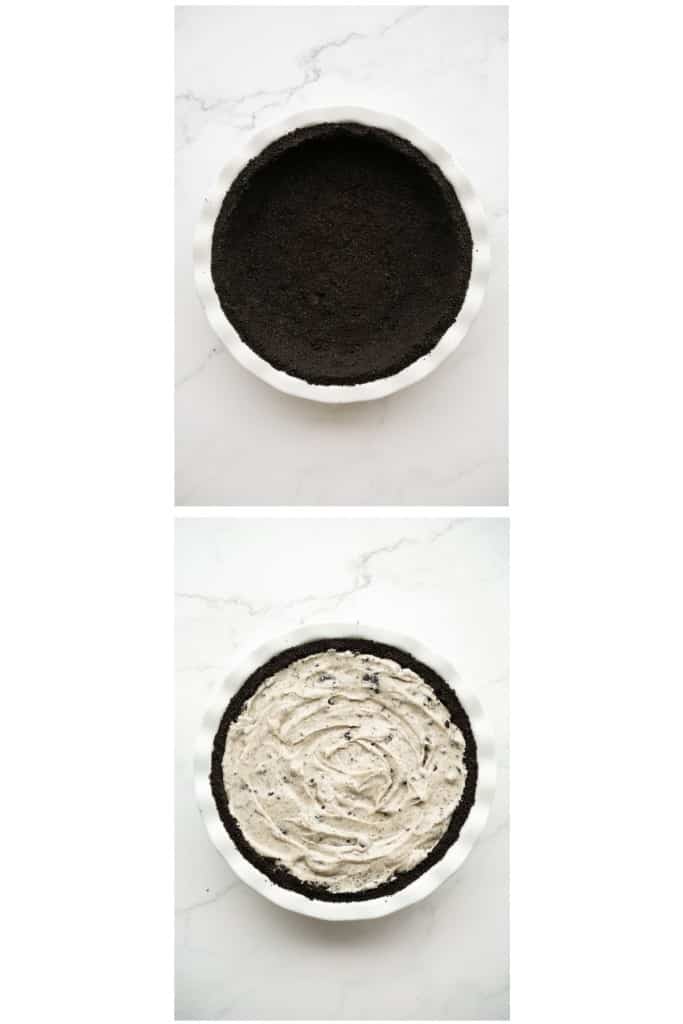 Then send the Oreo cream pie into the refrigerator and let it chill and set for at least 6 hours in the frige.
When it is done, Oreo cream pie should be cold and harden, and the texture shouldn't be runny but closer to ice cream that has been sat out for a few minutes. It is fairly solid but also not hard to cut into.
When ready to serve, top with whipped cream or cool whip.
Ta-da! Our amazing Oreo cream pie, or cookies and cream pie, or whatever you want to call it! 🙂
Just know this – the cream filling is luxurious and creamy, loaded with chunks of Oreos, and pairs perfectly with a crumbly sweet cookies and cream crust.
It is truly heavenly.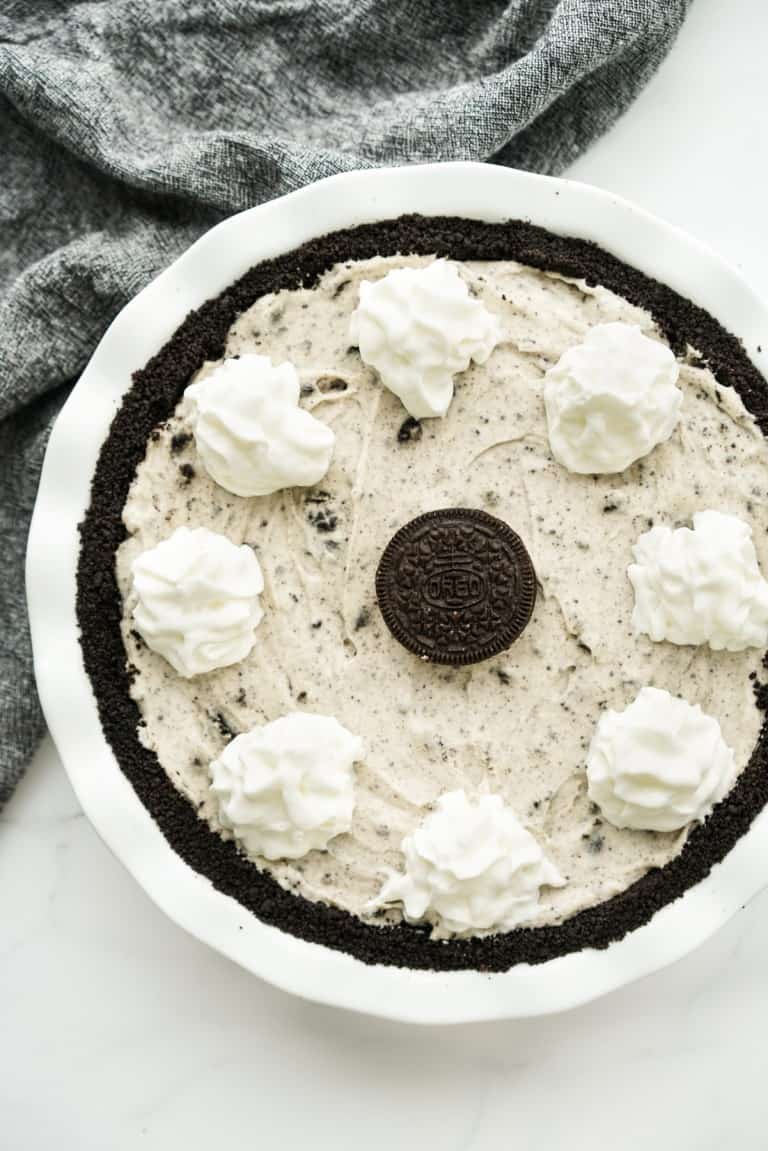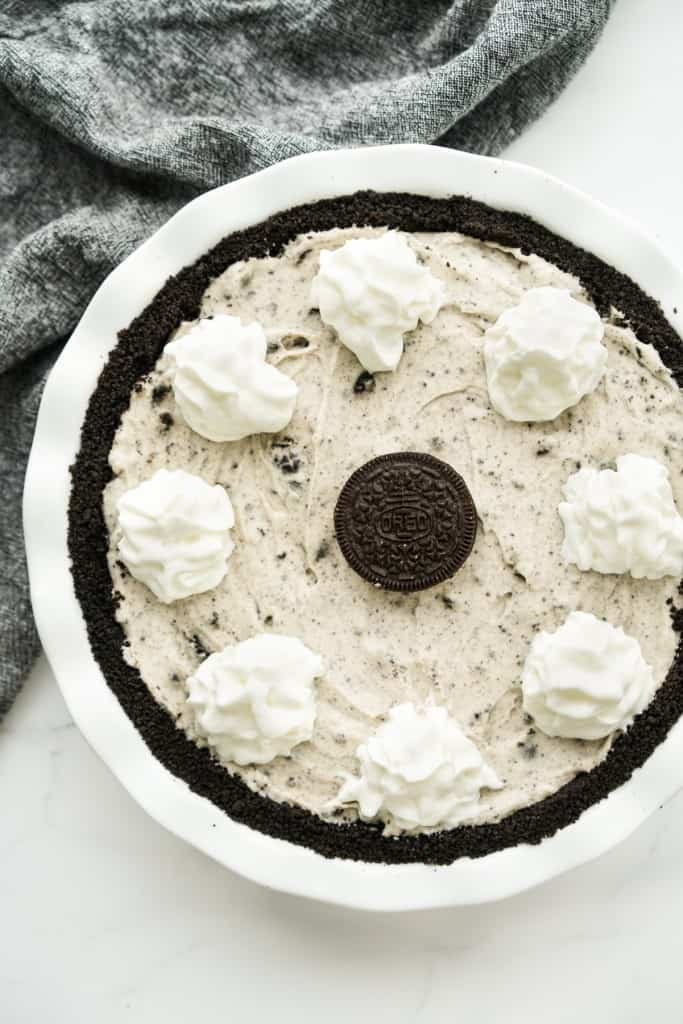 Tips and Tricks
A few things to take note when making cookies and cream Oreo Pie:
Make sure cream cheese and butter are softened before attempting to mix it. Bring it out a to set in room temperature beforehand, or microwave to defrost it.
If you like a crispier Oreo crust, bake it for a few minutes longer.
Prepare two sets of Oreo for the Oreo cream filling so that you get a mixture of texture for the Oreos and also to maintain a cleaner white filling with distinct Oreo chunks.
Fold the mixture slowly when combining cream cheese mixture + Oreos into whipping cream mixture to maintain a fluffy texture. Do NOT overmix.
Frequently Asked Questions
How do I make my Oreo crust extra crispy?
For it for an extra minute or two.
Can you freeze instead of refrigerating the Oreo Cream Pie?
Yes you can but the crust would be much harder. If you freeze it, I suggest not adding whipped cream on top before freezing, and also leaving it in room temperature for an hour before serving so the crust will not be as hard.
Can I use sore-bought Oreo cookie crust?
Yes! That makes the process much faster, and I do that when I don't have time to make my own Oreo crust.
How do I store Oreo cream pie?
Store oreo Cream pie covered in the refrigerator and consume within 5 days.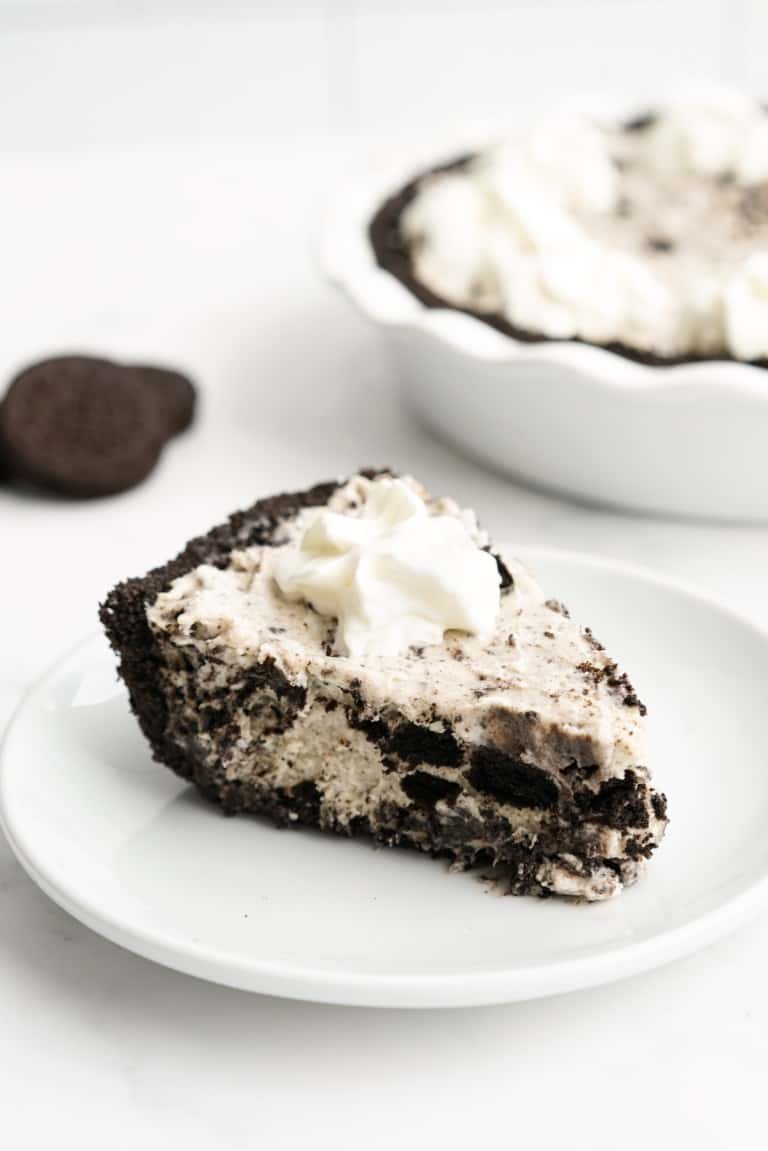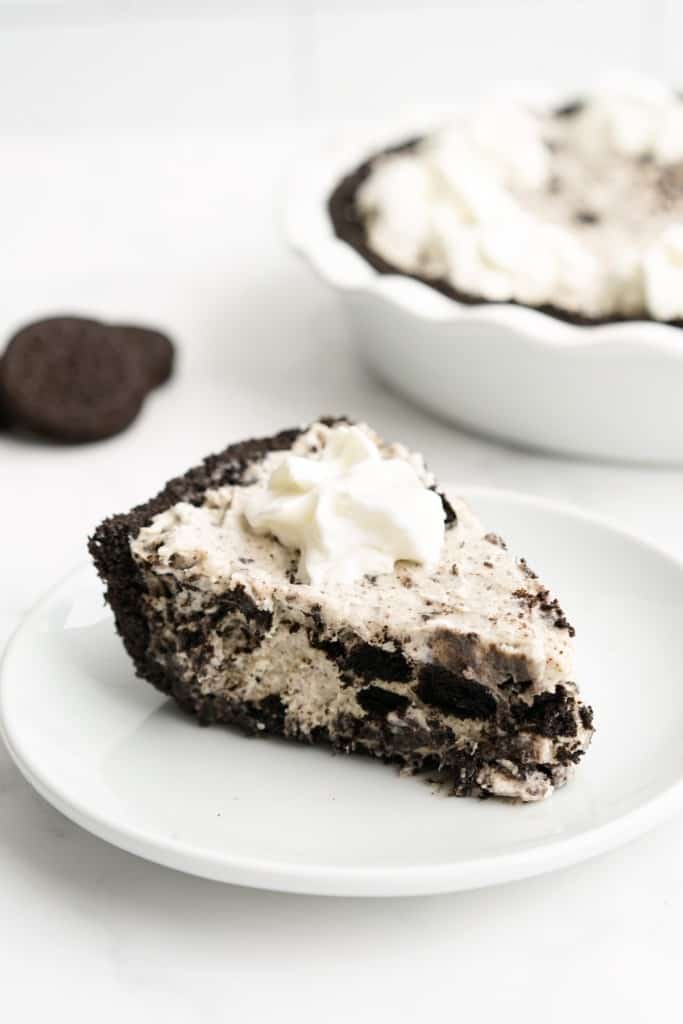 DID YOU ENJOY THIS RECIPE? Please comment below and give us a 5-star rating! This will help others find this recipe on Google and Pinterest. We very much appreciate your help! 🤍
More Dessert Recipes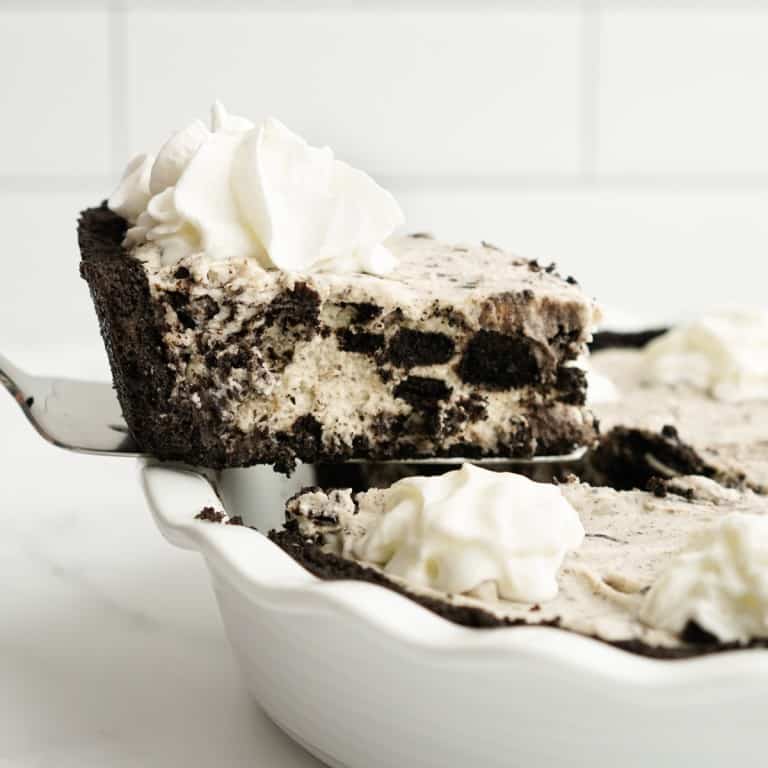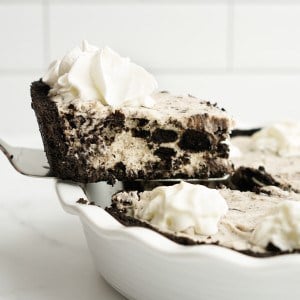 Oreo Cream Pie
A delicious and easy pie recipe! A crumbly Oreo based crust is topped with rich and creamy Oreo cream filling. Serve with whipped cream.
Print
Pin
Ingredients
Crust
1/4

cup

butter

melted

22

Oreos
Filling
8

oz

cream cheese

softened

1

cup

heavy cream

1

tsp

vanilla extract

3/4

cup

powdered/confectioner's sugar

2

tbsp

unsalted butter

softened

1/4

tsp

salt

4

oz

white chocolate

melted

14-16

Oreos

1

cup

whipped cream
Instructions
Crust
Add 22 Oreos and melted butter to food processor, crush until fine.

Bring Oreo and butter crumb mixture into 9-inch standard pie pan and spread it out.

Use hands to press crumbs into a firm crust, taking care to spread up the sides of the pie pan (a spoon might be helpful here)

Bake crust in the oven for 5-6 minutes.

Bring crust to rest and allow to cool completely – at least 30 minutes.
Filling
Chop 10 Oreos into pieces

Place 4-6 Oreos in a baggie and crush them.

Pour whipping cream, vanilla extract, and granulated sugar into a mixing bowl and beat until stiff peaks are formed.

Melt white chocolate in microwave (at 50% power and stir every 30 seconds until chocolate is fully melted) in a microwave safe bowl.

Blend cream cheese, butter, salt into the melted white chocolate until completely smooth.

Fold cream cheese and chocolate mixture and both sets of Oreos slowly into whipped cream. Fold it slowly to avoid squishing out the air bubbles so that mixture comes out fluffy.

Evenly spread filling into pie crust.

Cover with aluminum foil or plastic wrap and refrigerate for a minimum of 6 hours in fridge.

Top oreo cream pie with whipped cream. Serve and enjoy!
Notes
For a quicker method, use store-bought Oreo crust.
To make crust crispier, bake for an extra minute or two.
Nutrition
Calories:
624
kcal
|
Carbohydrates:
62
g
|
Protein:
7
g
|
Fat:
46
g
|
Saturated Fat:
25
g
|
Polyunsaturated Fat:
3
g
|
Monounsaturated Fat:
14
g
|
Trans Fat:
0.4
g
|
Cholesterol:
94
mg
|
Sodium:
439
mg
|
Potassium:
247
mg
|
Fiber:
2
g
|
Sugar:
33
g
|
Vitamin A:
1140
IU
|
Vitamin C:
0.3
mg
|
Calcium:
97
mg
|
Iron:
7
mg