This post may contain Amazon or other affiliate links. As an Amazon Associate I earn from qualifying purchases at no additional cost to you.
Feast your eyes (and mouth) on this moist and crumbly Cinnamon Bundt Cake with lovely cinnamon swirls and a sugary caramelized crust, and finished with velvety cream cheese icing.
If this is a dream, please don't wake me up…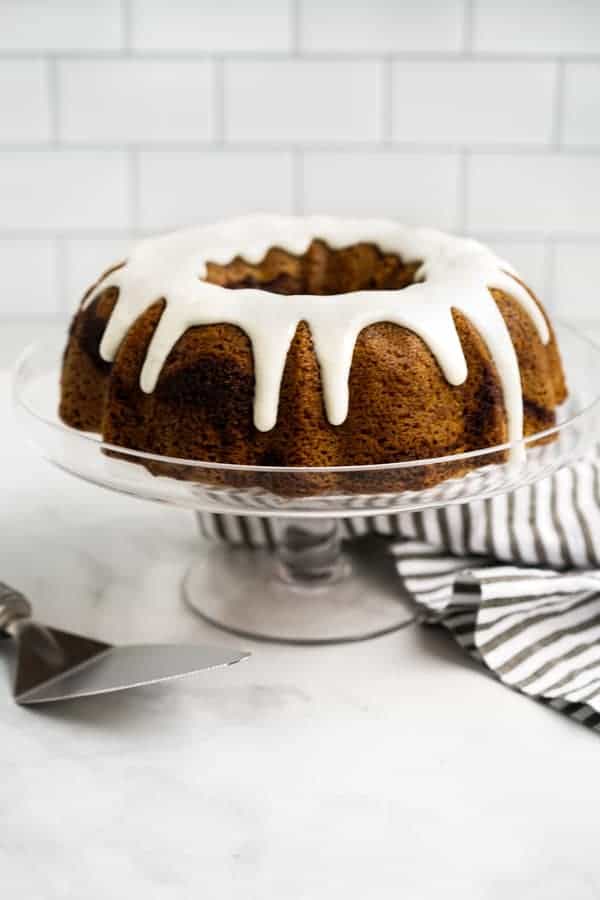 Some call it sour cream coffee cake because sour cream is used in the recipe. It is also what contributes to the moist texture.
As for the "coffee" part…there's actually no coffee in it, but it is commonly served with coffee. Initially I thought the name sounded misleading, but the sweetness from the cake truly pairs like a dream with the slight bitterness from the coffee.
Here's a simple truth: we are kinda obsessed with this Cinnamon Swirl Bundt Cake. Or Coffee Cake. Or Sour Cream Coffee Cake. Or whatever you call it.
And because it's Fall, and we have been in the mood for cinnamon everything, we have been baking this delicious cake, filling the house with aroma of cinnamon…and inhaling it when it comes out of the oven.
That is when I knew I had to share this with you.
Because everyone needs that delicious cinnamon goodness in their lives.
It's dessert. It's breakfast. It's the 3 o'clock afternoon snack that you didn't know you needed.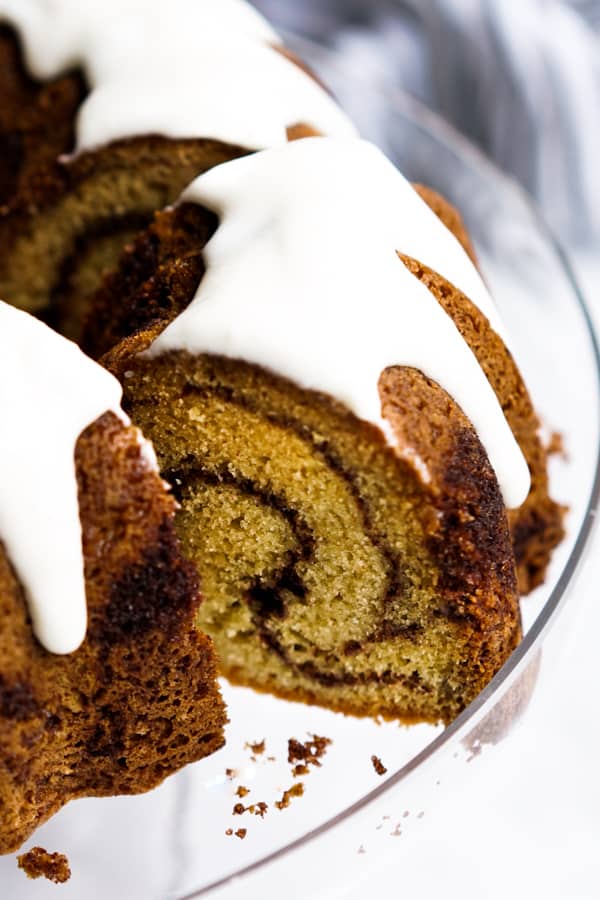 But you must be warned: this thing is dangerous. And addictive. And hard to to put down.
At the same time, you need to indulge. Because life is short. And this Cinnamon Bundt Cake is worth every calorie.
Oh, the dilemma…
Let's Make Cinnamon Swirl Bundt Cake!
You know I try to keep things simple and yummy around here.
And this is no exception.
This is a delicious cake that anyone can make. Yes, I'm talking about you as well!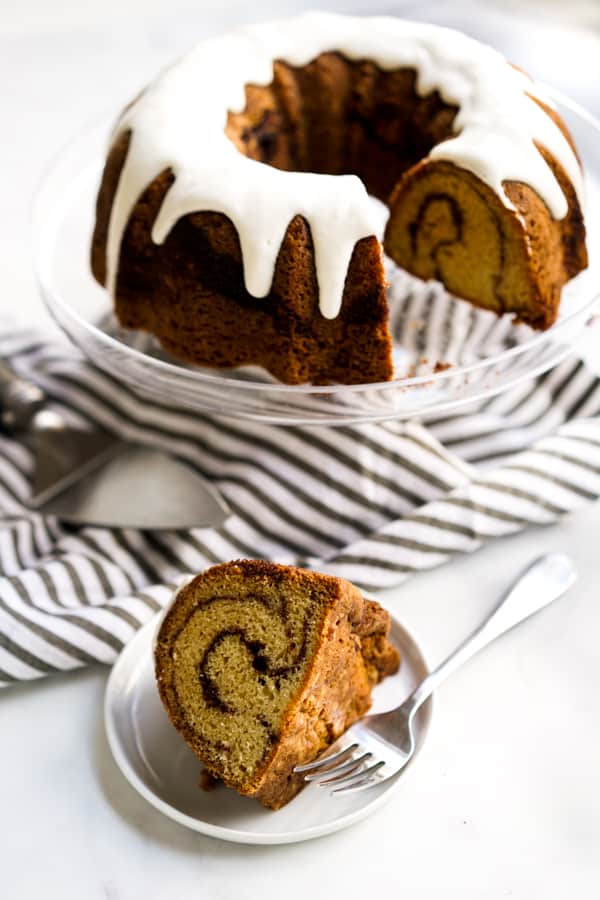 It may look all elegant and fancy, but there are just three simple parts to this (and you can do it!!):
Cake mixture
Cinnamon Mixture
Icing
And you will need these kitchen tools:
Bring 1/3 of the cake mixture to the bottom of the bundt pan, and then sprinkle with 1/2 of the cinnamon sugar.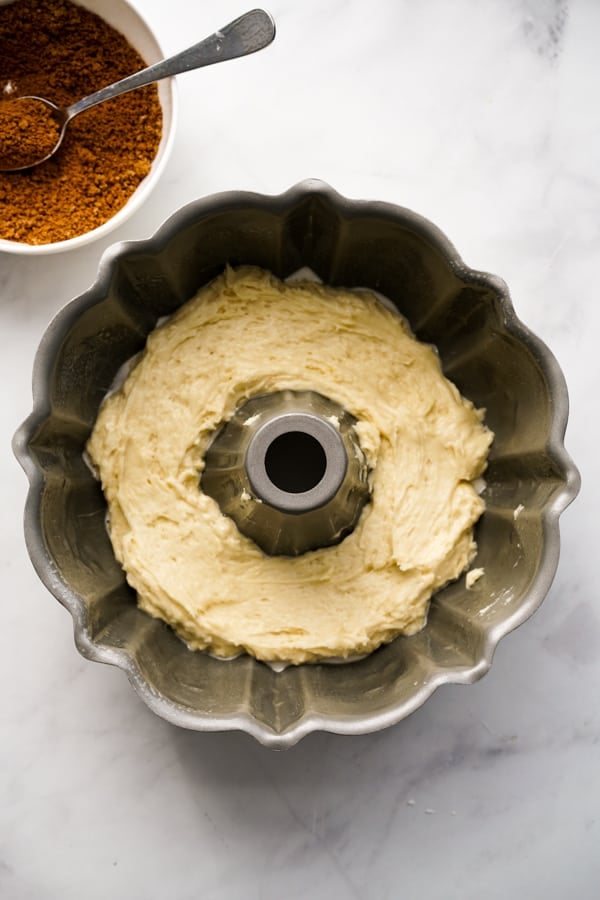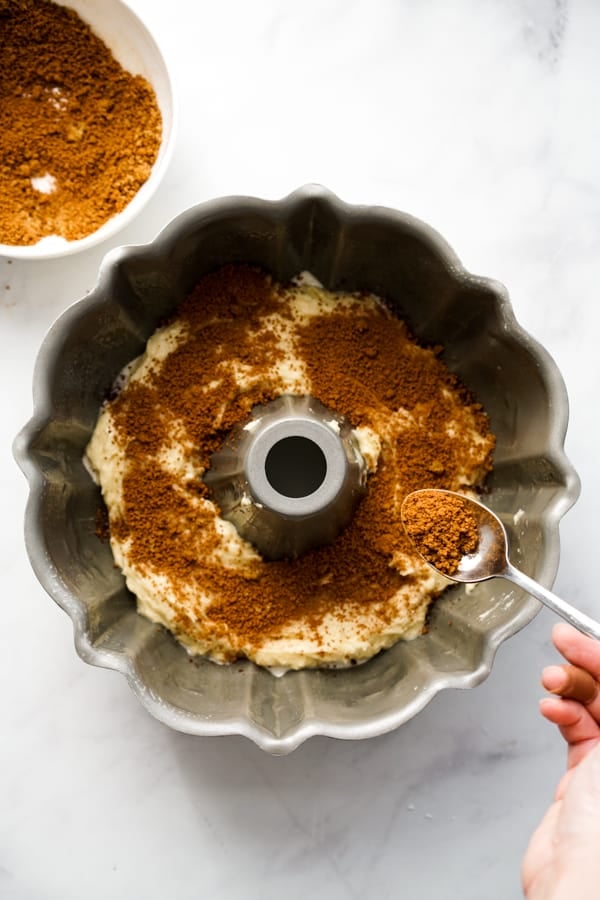 Then just keep alternating the layers!
Here are the layers (starting from the bottom to the top):
Cake mixture (bottom)
Cinnamon mixture
Cake mixture
Cinnamon mixture
Cake mixture (top)
And I've got some good news: the layers doesn't have to be perfect.
If you end up doing less layers or more, that is okay! In addition, they don't even have to be spread evenly. Just make sure the top layer is slightly even and you are good to go.
When the cake rises it will create its own unique "design" with the layers you created (whether even or uneven). Think of this as an artistic adventure. 😉
Bake the bundt cake and then make sure to let it cool completely before icing the cake.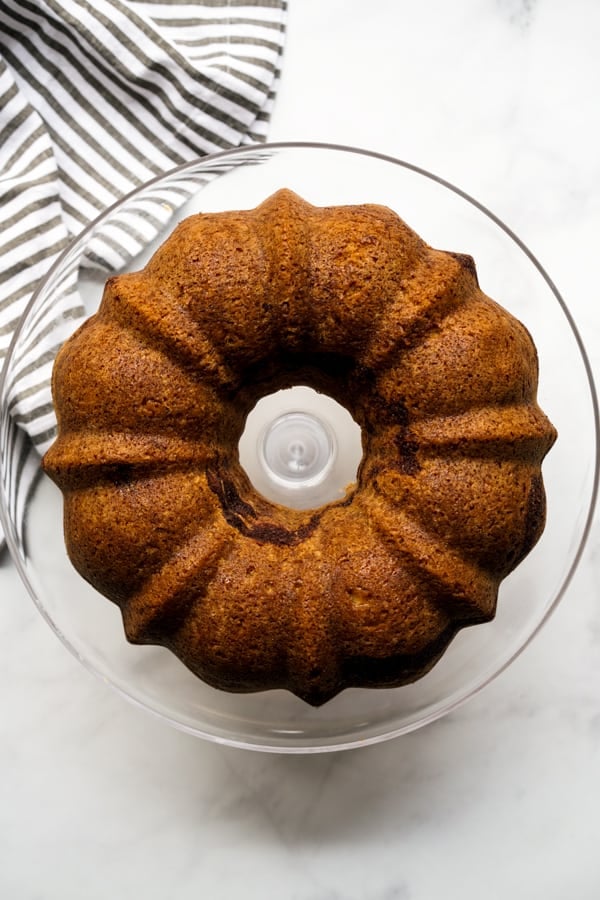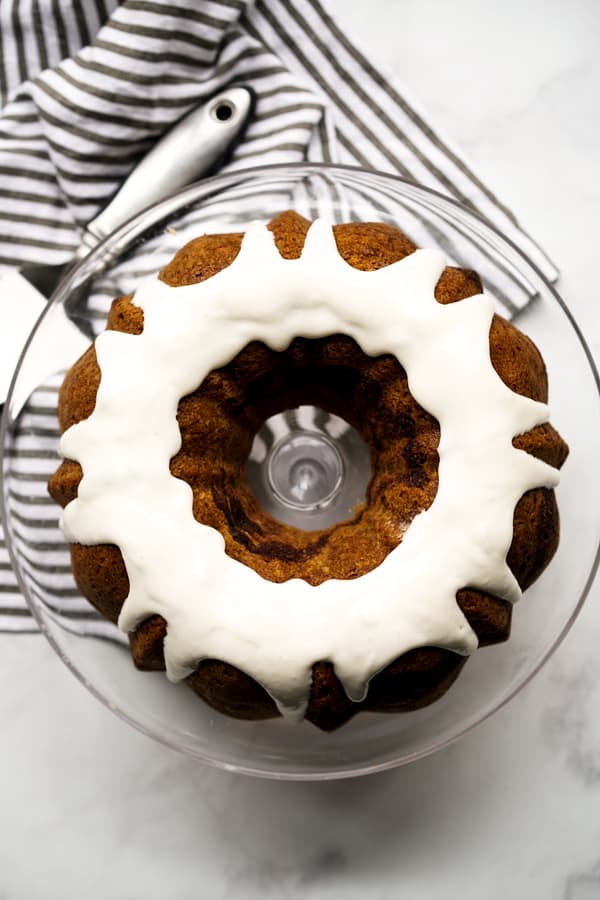 Last, but certainly not the least…savor every single bite.
It is soft and moist on the inside, with little cinnamon brown sugar surprises in every bite. On the outside, there is a crusty caramelized sugary crust, adding some nice textures to the cake. I will fight for that crust – it's my favorite part.
Then the icing brings a creamy and silky layer to each bite.
I was very generous with the icing portions so feel free to indulge as you bake. Lick it off the spatula. Add some extra icing to each bite as necessary. Highly recommend using the icing freely as desired.
And yes, you are welcome. ❤️
Tips and Tricks
Greasing. Grease bundt pan (super important!) to avoid cake being stuck to pan
Checking for doneness. When cake is done, insert a toothpick and if it comes out clean, cake it done
Cooling. Let cake sit for 20 minutes before tapping the all sides of the bundt pan with the back of a spoon to loosen bundt cake from pan and gently invert it onto a cooling rack. Cool cake on cooling rack completely before adding icing to avoid runny icing.
Icing. If you prefer thinner icing, use more milk. If you prefer the icing thicker, reduce the amount of milk. Always start with less milk and then adjust accordingly. Remember: you can always add more but you can't take it out!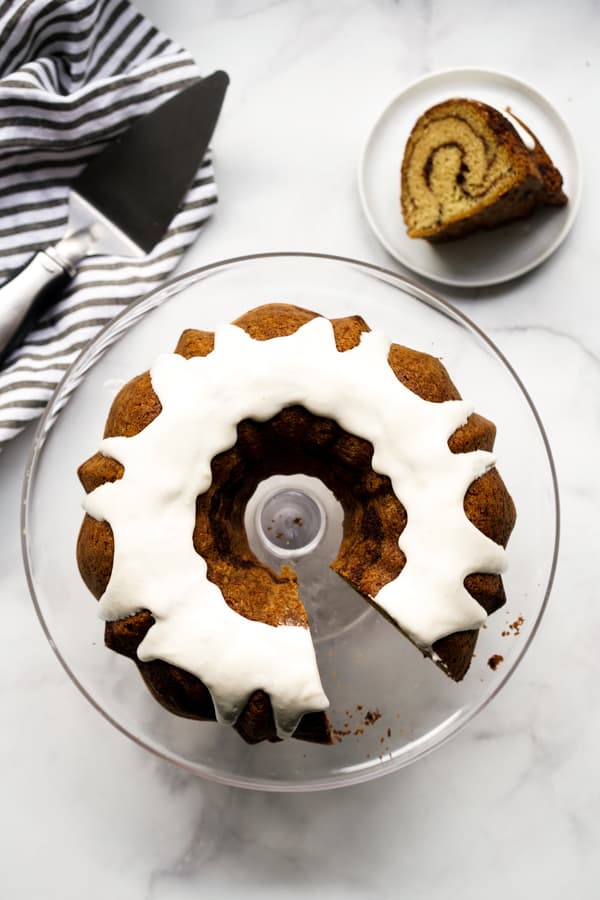 Common Questions
Do you have to refrigerate Cinnamon Bundt Cake?
I would definitely refrigerate it because the cream cheese in the icing will need to be refrigerated!
How do you release Bundt Cake out of the Bundt Pan?
Make sure bundt pan is well greased. Using a cooking oil spray and generously spray the inside thoroughly before adding cake mixture to bundt pan. This will make getting the cake out a lot easier.
When cake is done baking, let it sit for 20 minutes. Do not remove when it is fresh off the oven, but also do not let it sit for too long.
When ready to remove the bundt cake, tap all over the outside of the bundt pan to loosen the cake. Place a plate or cooling rack on top of the bundt pan opening, then gentle flip it over. Use oven mitts if pan is hot to the touch.
Other Yummy Cake Desserts!