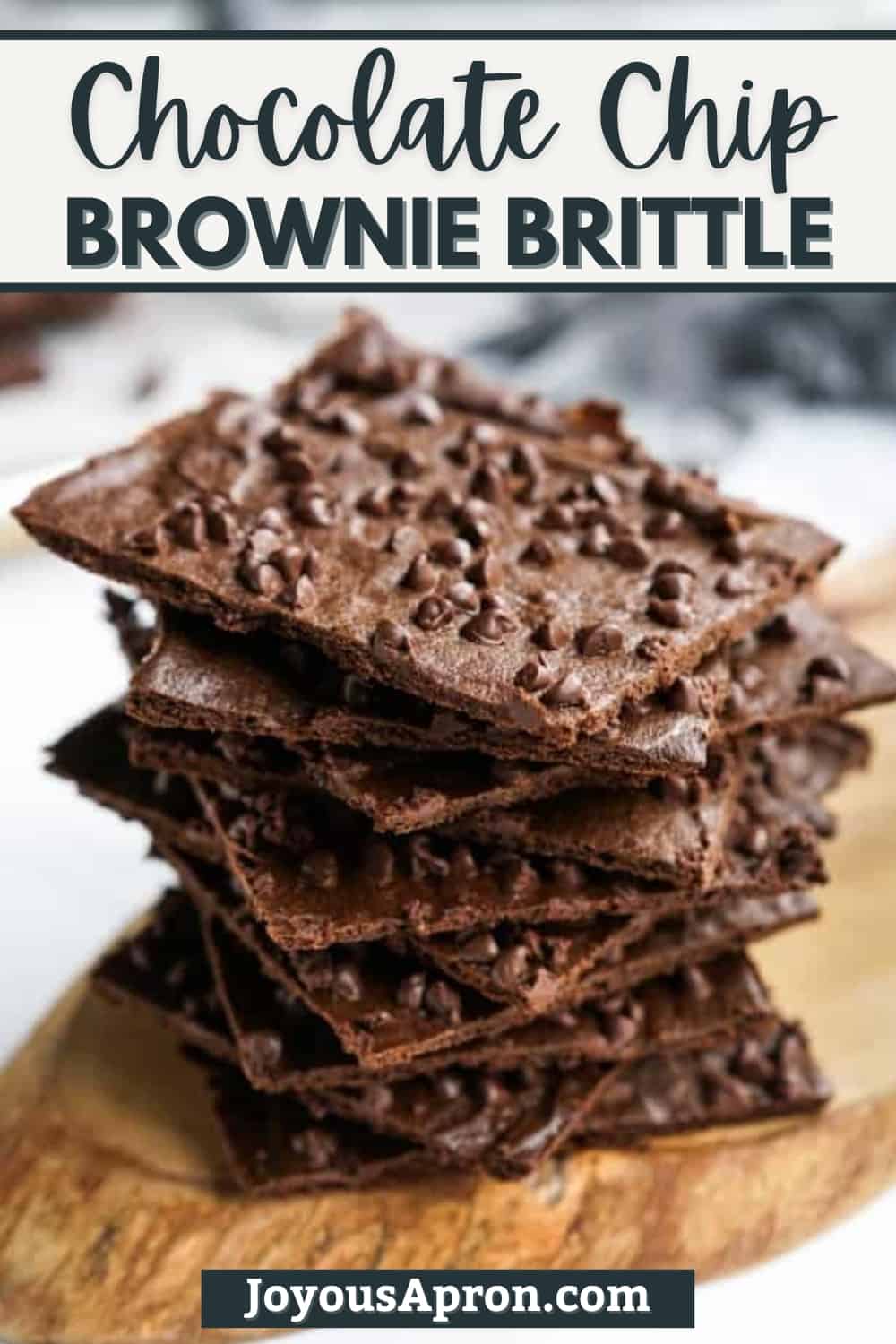 Chocolate Chip Brownie Brittle makes the best snack and dessert! These brownie crisp or brownie barks are made with rich chocolate flavors, are thin and crispy, and topped with lots of mini chocolate chips.
My homemade brownie brittle recipe is inspired by Sheila G's popular brownie brittle snack. They taste like a crunchy bites of brownies, or rather, the edges of brownies. And now we are going to make them at home and enjoy them fresh off the oven!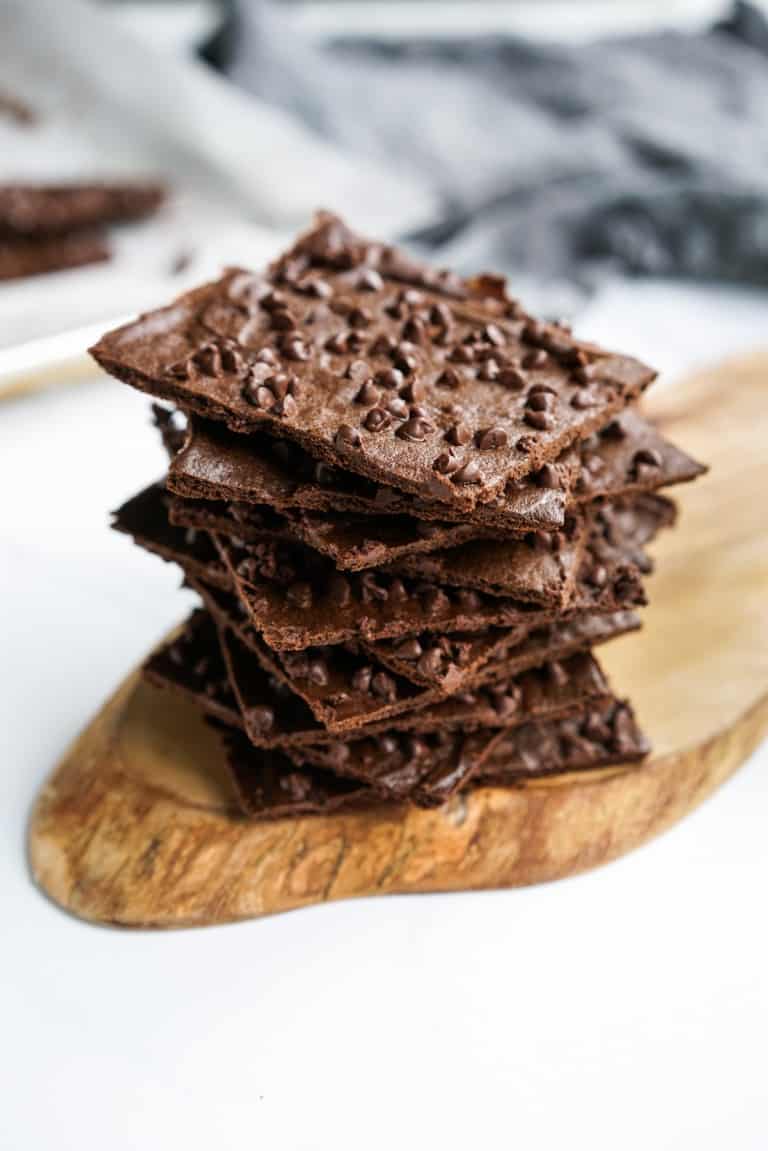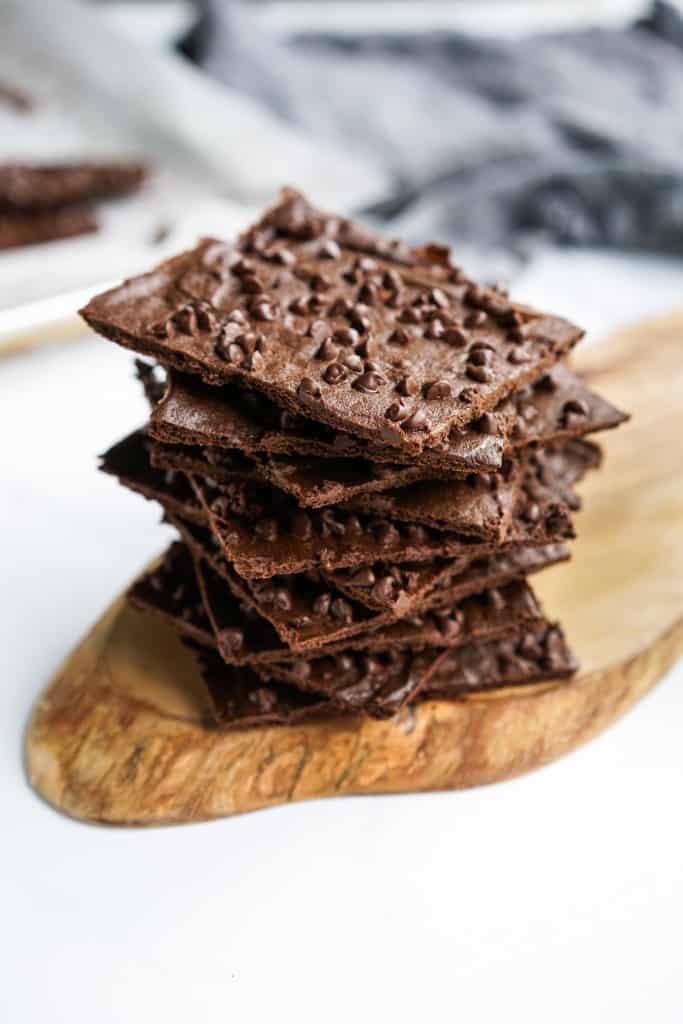 We love a good sweet snack around here, and if that's you as well, also check out No Bake Oreo Truffles, No Bake Almond Butter Energy Balls and Chocolate Dipped Shortbread Cookies.
Homemade Brownie Brittle Recipe
The inspiration for this homemade brownie brittle recipe is the famous Sheila G's Brownie Brittle with Chocolate Chips. They are the most delicious little bites of brownies that are crunchy and thin yet rich and decadent.
It's such a great lower calorie snack and treat – think of it as only eating bites of a brownie, and not the whole piece! Dedicated to the times when you really want a sweet treat, but really don't need a whole lot of sweets in your life…
These homemade brownie brittle taste like the crispy edges of chocolate brownies, but if you want it slightly less crispy and softer in the center, you can bake it for a few minutes less.
Using cocoa powder, chocolate chips and baking chocolate, these brownie brittles are loaded with rich chocolate flavors. So if you love chocolate, you will love this!
One of the many things I love about brownie brittle is that it is so easy to make. It calls for simple ingredients and the steps are straight forward.
It takes only about 20 minutes to bake and before you know it, you'll be woofing down one brownie brittle after another.
Ingredients
Here are the ingredients needed to make chocolate brownie brittle: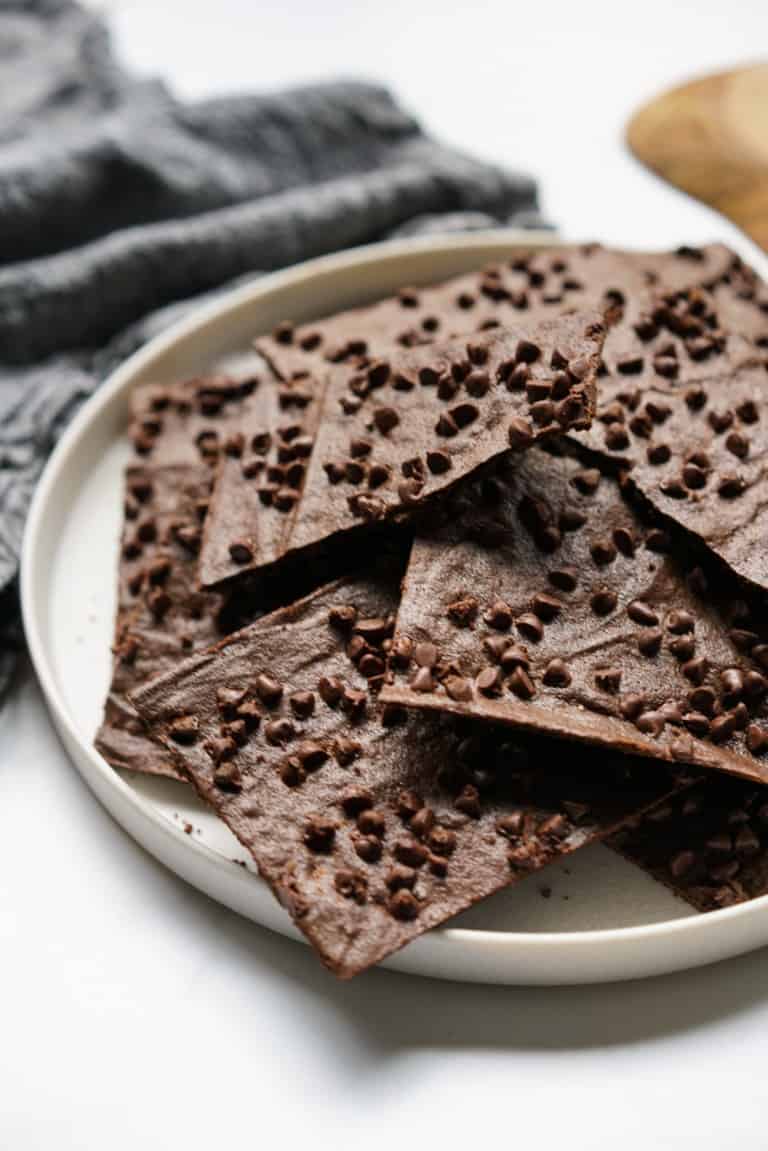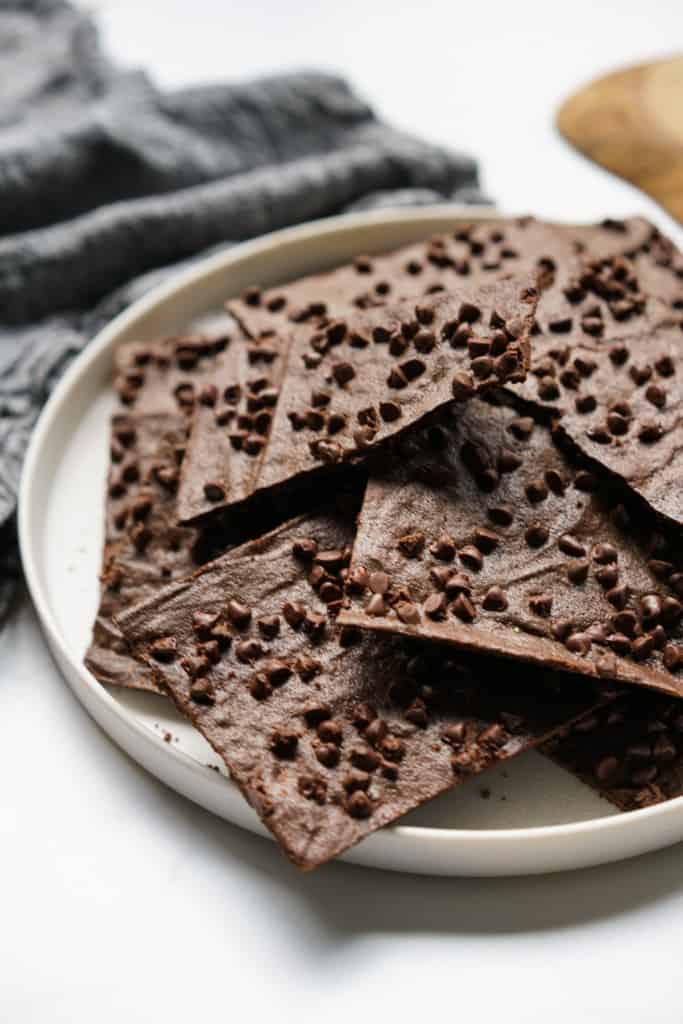 baking chocolate – comes in blocks or chips, usually containing high cocoa content and low sugar content to enable bakers to control the amount of sugar in their baking.
cocoa powder – use unsweetened cocoa powder – also to control the amount of sugar in the brownie bark recipe
mini chocolate chips – avoid using regular size chocolate chips – they are too big for this recipe
vegetable oil – or another neutral oil such as canola oil
egg whites – Egg whites will be beaten until light and fluffy. Using only egg whites so that the dough is fluffier. Learn how to separate egg whites here.
vanilla extract – pure vanilla extract tastes the best!
unsalted butter – avoid using salted butter to avoid adding extra salt to the dough.
baking soda – use as a rising agent. Even though these brownie crisps are fairly flat, there is still a bit of rising needed so that the dough isn't too dense.
all-purpose flour
granulated sugar
What you need
In terms of kitchen equipment, here's what you will need to bake brownie brittle:
half sheet ridged baking pan – they typically measure 13'x18′ and fits perfectly in most standard size ovens in the United States. This is the perfect size for the amount of batter this recipe makes.
parchment paper – this is used to lift up the baked brownie crisp from the pan. It is almost impossible to get the brownie barks out without this.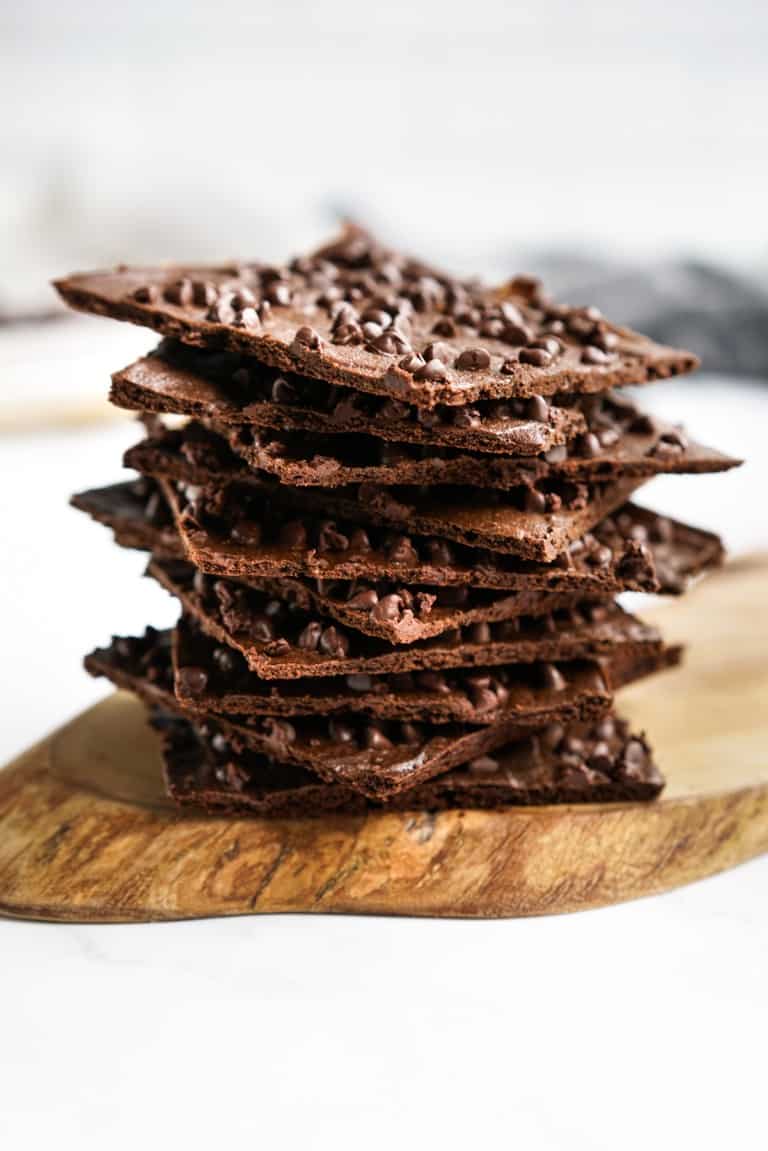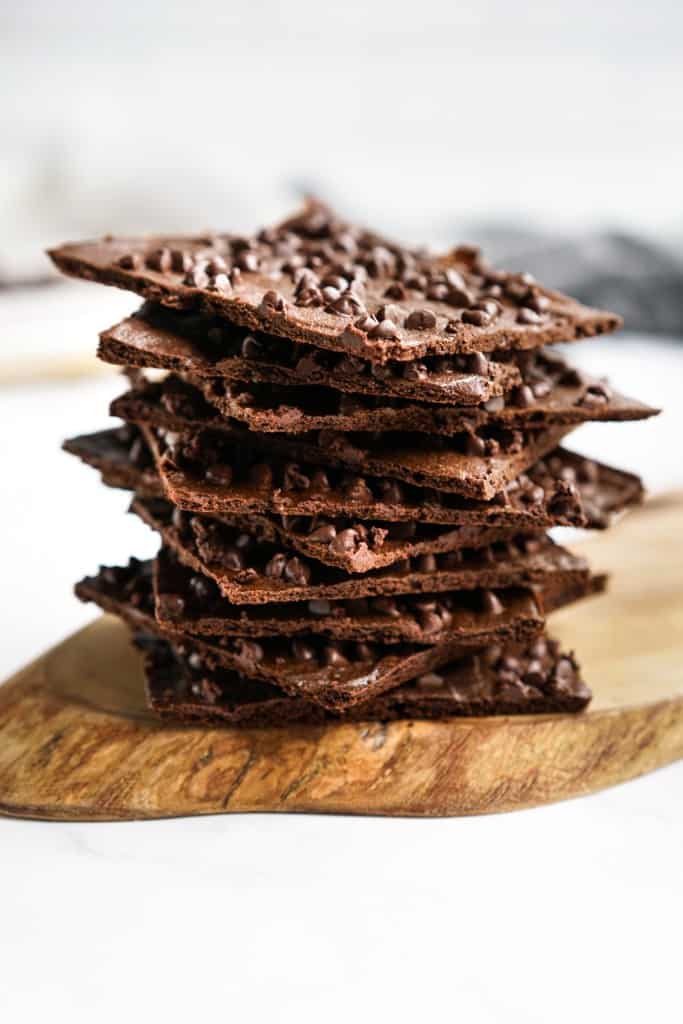 How to make brownie brittle
Okay, it's time…let's make some homemade brownie brittle!
Start by lining a half sheet (13×18) ridged baking pan with parchment paper. This is absolutely required for the brownie brittle with bake to the sheet so that you can remove it easily.
To make the mixture, you'll want to first melt the chocolate with butter. You can do that using a double broiler method, or simply melt it slowly in the microwave by heating it on 50% power and stirring every 30 seconds.
Once chocolate is melted and mixed with butter, add vegetable oil to the mixture.
Next, in a separate bowl, separate egg white and beat egg whites with an electric mixer until light and fluffy (see photograph below). Then add sugar and vanilla extract to egg white mixture.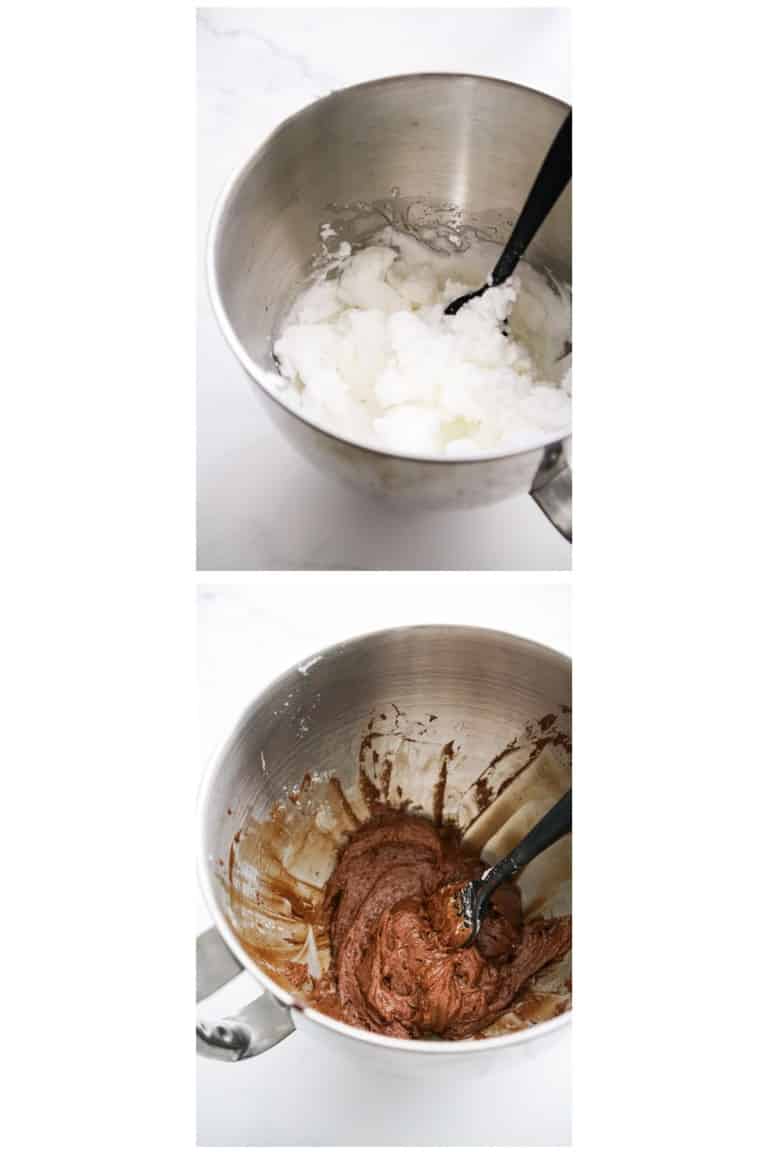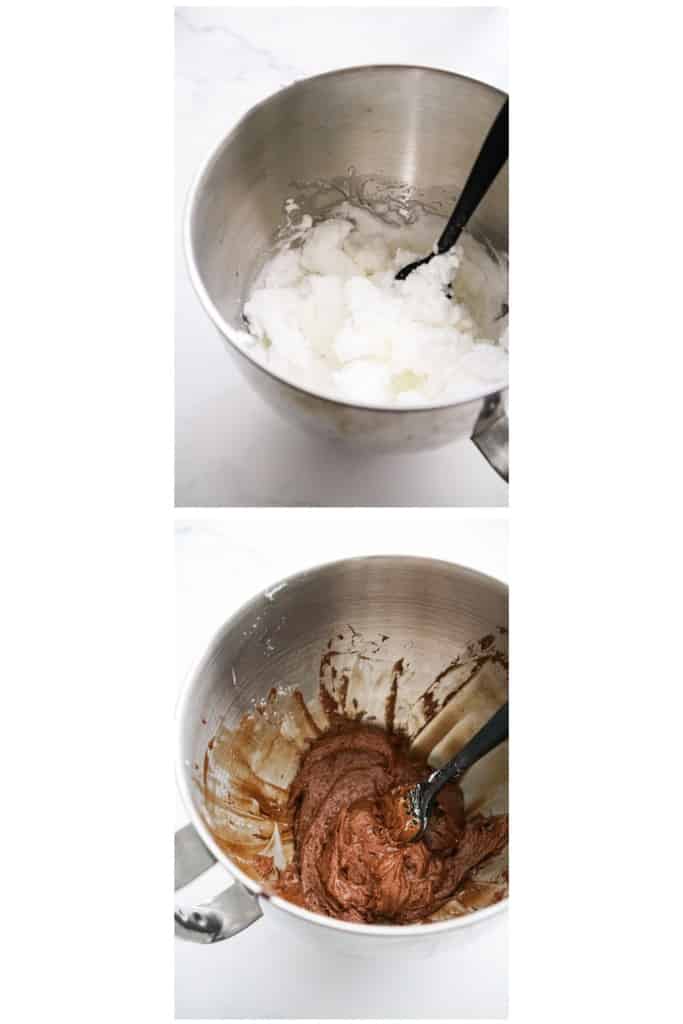 Add chocolate mixture into egg white mixture, followed by flour, baking soda and salt. Use spatula to fold everything to combine.
This is the dough for brownie brittle. The first thing you'll probably notice is how little it actually is. That is because we are forming a thin layer and not that much dough is needed. I promise you this will be plenty – we want our brownie crisps thin and crispy!
Pour mixture onto the center of baking pan lined with parchment paper. Then use spread out the mixture.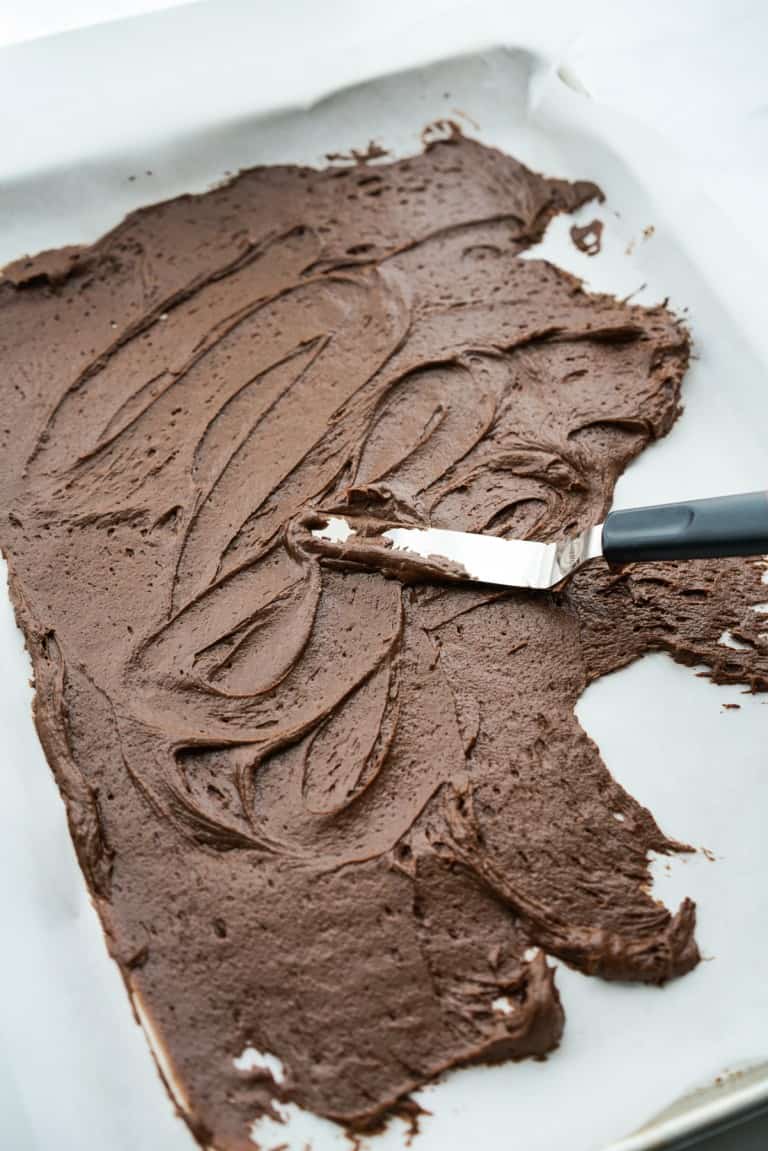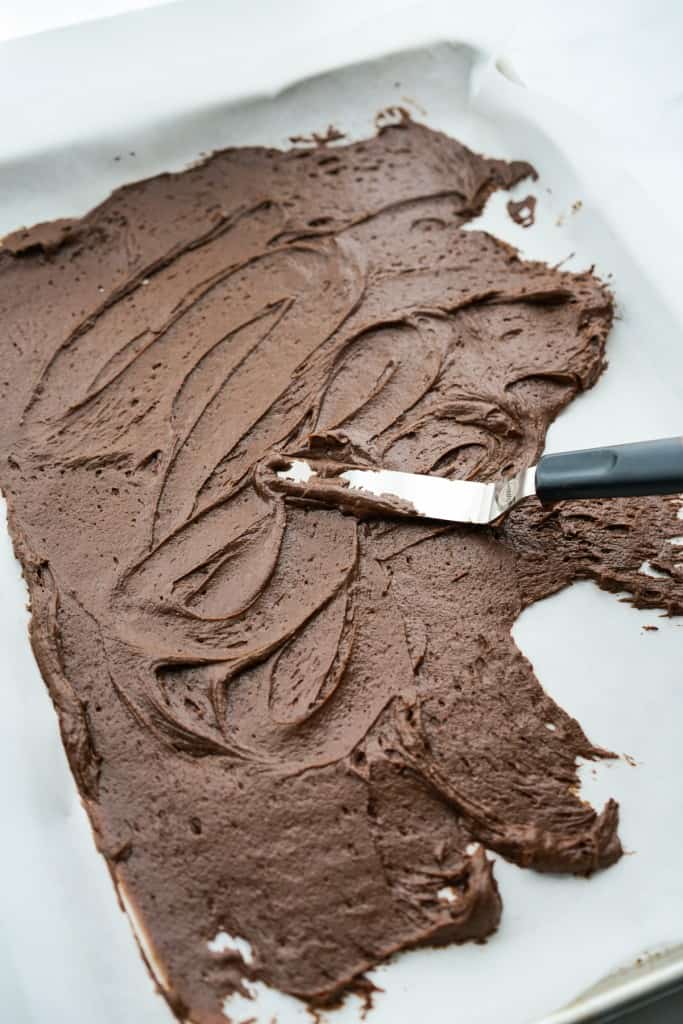 You'll want to spread mixture as thin as possible, without showing the sheet beneath.
When it is done, sprinkle the top with mini chocolate chips.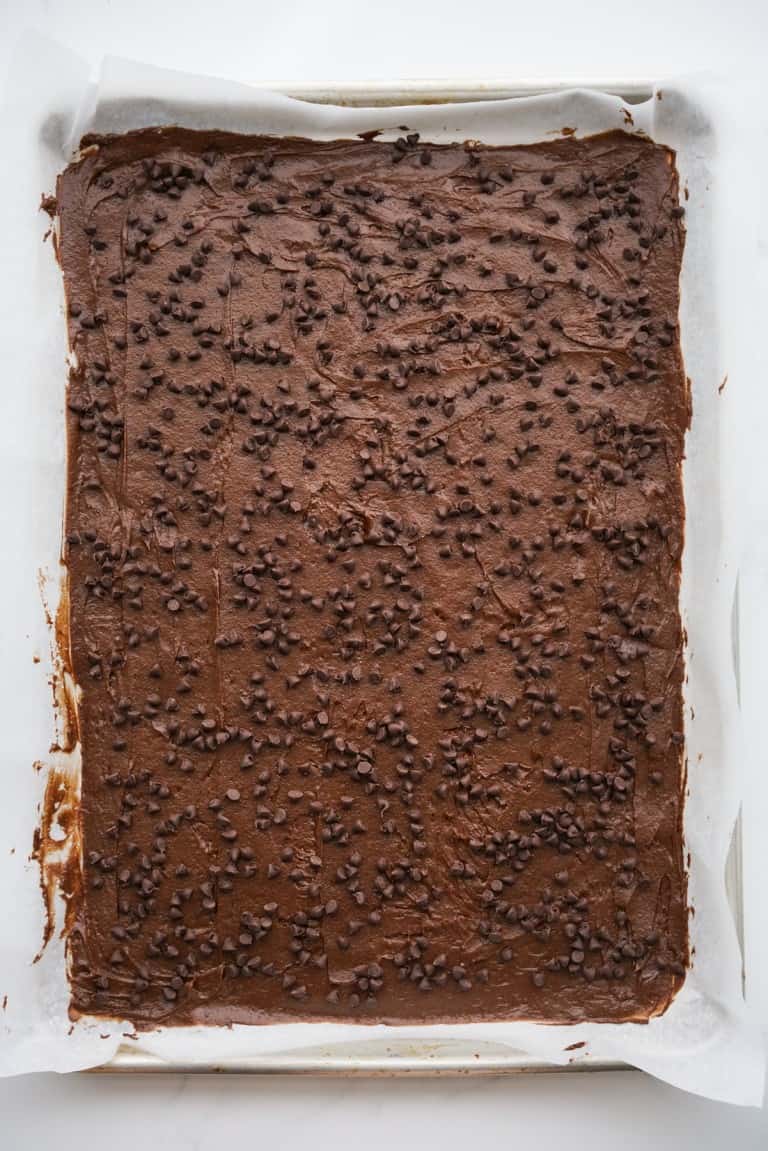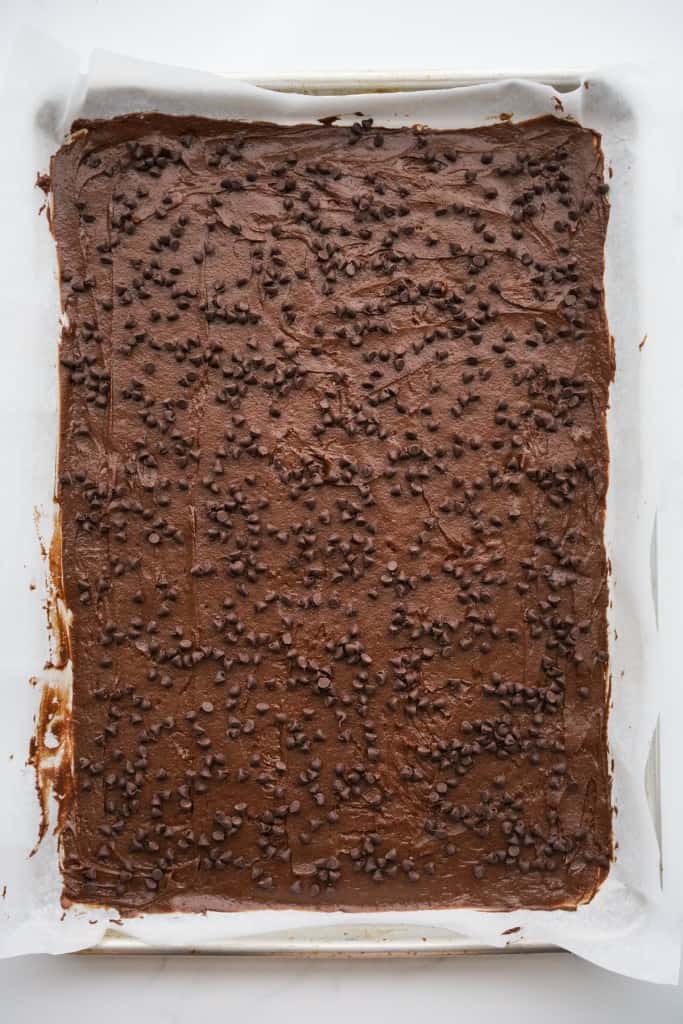 Bake in the oven at 325℉ for 20 minutes. Bake for longer if you like your brownie brittle extra crispy, and for less time if you like them slightly chewy in the center.
When chocolate chip brownie brittle is done, remove from oven and immediate using a sharp knife to gently score it (see picture below). This is to make it easier to break brownie brittle into clean square pieces once they cool.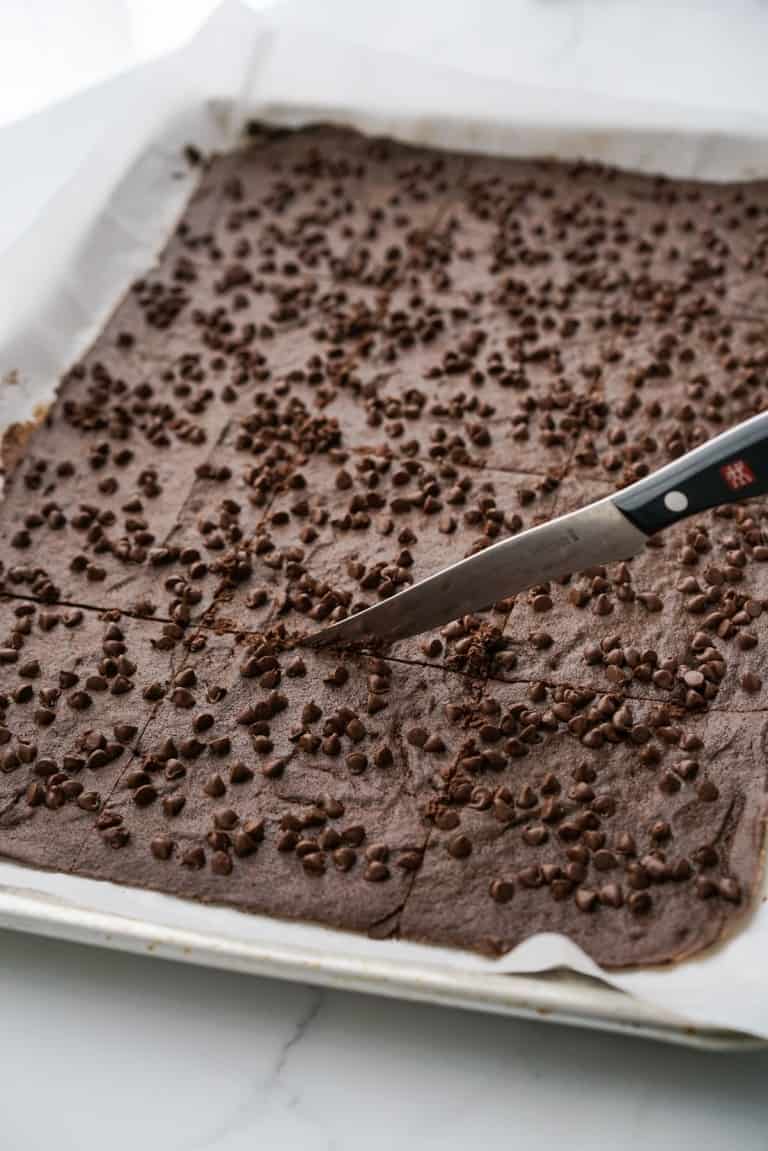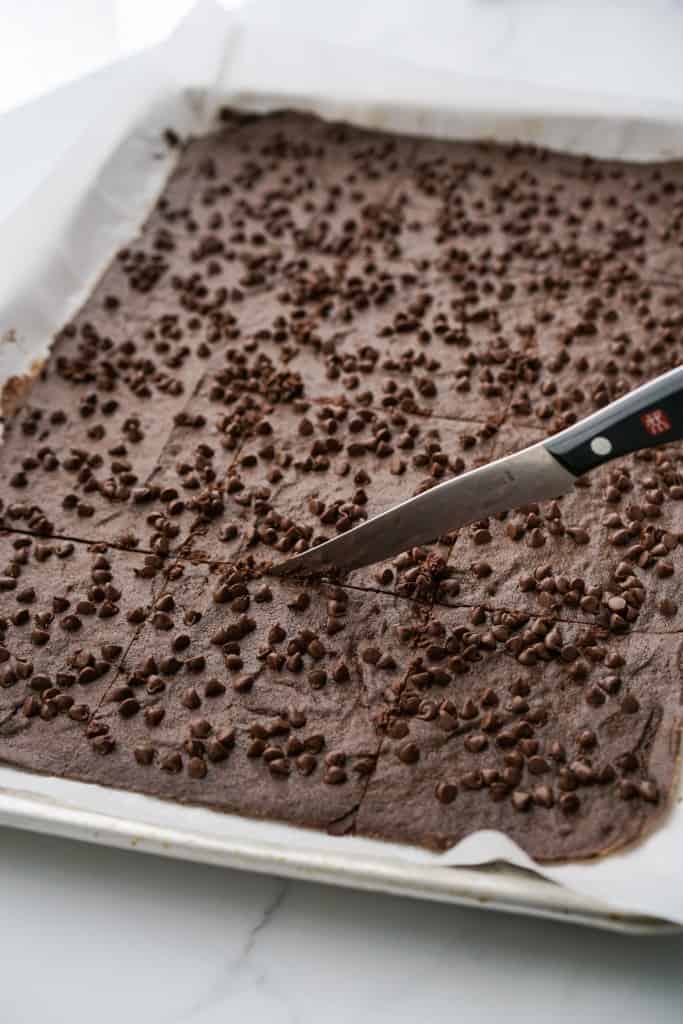 Let brownie brittle cool for 20-30 minutes.
Then break into into smaller pieces and enjoy!
These crispy bites of brownies are crunchy, thin and packed with rich chocolate flavors. They are also light and airy, which makes them a good alternative to high calorie sweet treats for those trying to find a healthier option!
Gosh I love these delicious brownie crisps!! Kinda obsessed!
Tips and Tricks
A few things to note while making brownie brittle:
line baking pan with parchment paper – if not it is very hard to remove thin crispy brownie brittle from baking pan.
beat egg whites until light and fluffy – this will make the texture of the brownie crisp airy and light without being overly dense.
score brownie brittle once it is hot off the oven – this will help break them into clean squares easily once they cool.
Storage
Store brownie brittle in air-tight container in room temperature. For best taste, consume within 3 days.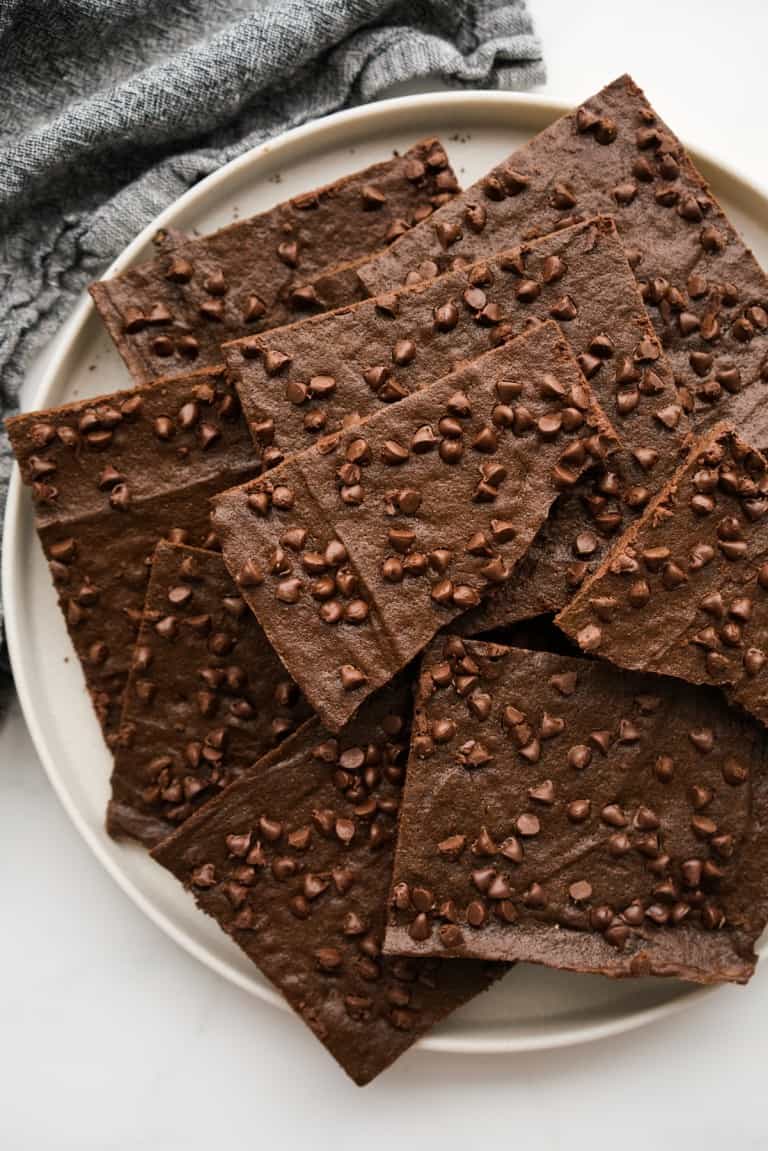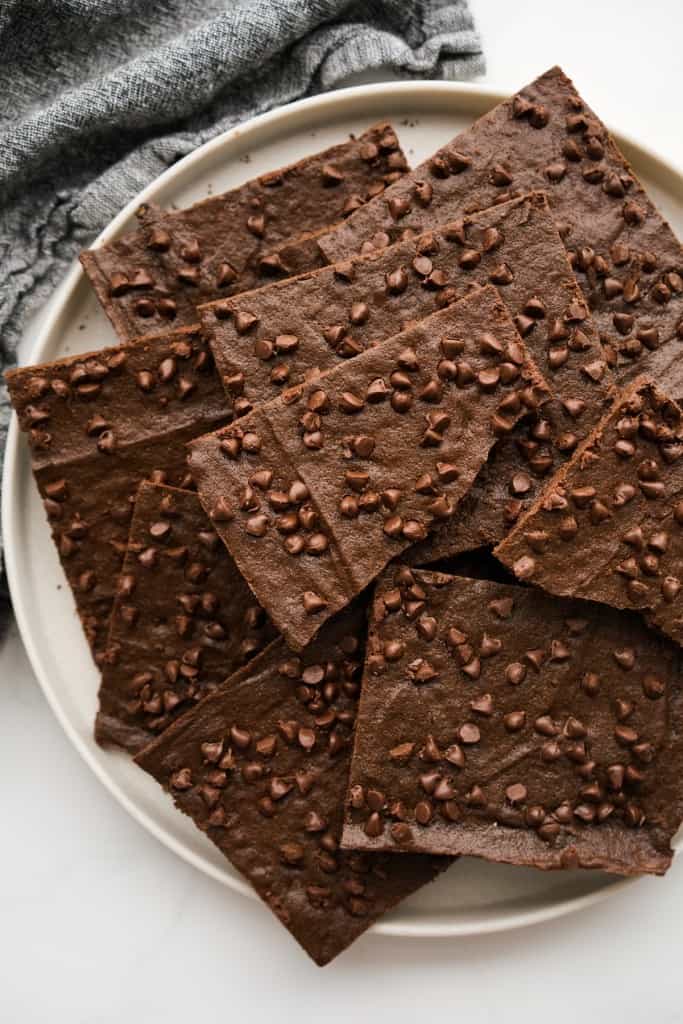 Frequently Asked Questions
How do I make it crispier or more chewy?
To make it crispier, bake for 1-2 minutes longer; to make the center chewy, bake for 1-2 less than recommended time. Keep in mind that the edges will almost always be crispy.
Can I freeze the batter, or the final product?
You can freeze the batter but I would avoid freezing the baked brownie brittle.
DID YOU ENJOY THIS RECIPE? Please comment below and give us a 5-star rating! This will help others find this recipe on Google and Pinterest. We very much appreciate your help! 🤍
More Dessert Recipes
Some of our other favorites include: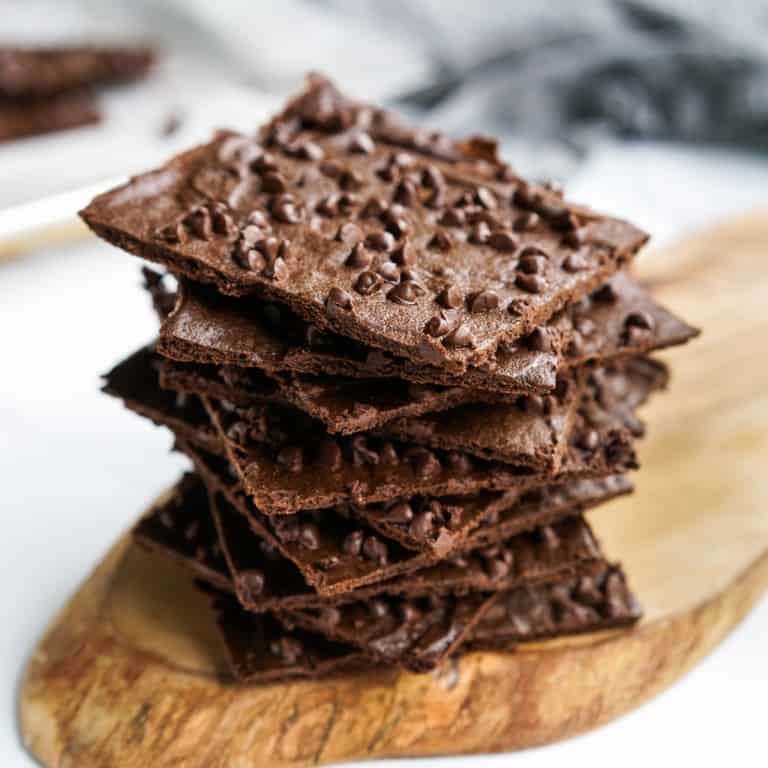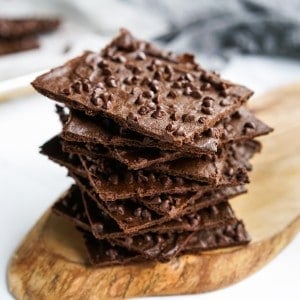 Homemade Brownie Brittle
These crispy bites of brownies are intensely rich in chocolate and topped with chocolate chips. Brownie brittles makes the best snack and dessert!
Print
Pin
Ingredients
2

tbsp

unsalted butter

2

tbsp

vegetable oil

1

oz

baking chocolate

1/4

cup

cocoa powder

unsweetened

2

egg whites

1

tsp

vanilla extract

1/2

tsp

salt

1/4

tsp

baking soda

1/2

cup

all-purpose flour

2/3

cup

granulated sugar

1/2

cup

mini chocolate chips
Instructions
Preheat over to 325 degrees

Line a half sheet (13×18) ridged baking sheet with parchment paper. This is absolutely required for the brownie brittle with bake to the sheet and you won't be able to cut it or remove it!

In a microwave safe bowl, melt the chocolate and butter (consider lowering microwave power to 50% and checking every 30 seconds to avoid burning chocolate)

Add vegetable oil to butter/chocolate and stir

Mix cocoa powder into the butter/chocolate and mix thoroughly with a wisk or fork

In a separate mixing bowl, separate egg whites and beat with a mixer until light and fluffy

Add vanilla and sugar to egg whites and beat until thoroughly combined

Pour butter/chocolate mix into egg white mixture and combine thoroughly.

Add flour, salt, and baking soda to egg white mixture. Fold with spatula to combine.

Spread mixture as thin as possible (without showing the sheet beneath) on the lined baking sheet

Sprinkle mini chocolate chips on top.

Bak for 20 minutes (more if you would like crunchy brittle)

Score with a knife when hot to allow for breaking

Let cool completely (approx 20-30 minutes)
Nutrition
Calories:
175
kcal
|
Carbohydrates:
22
g
|
Protein:
2
g
|
Fat:
10
g
|
Saturated Fat:
5
g
|
Polyunsaturated Fat:
2
g
|
Monounsaturated Fat:
3
g
|
Trans Fat:
0.1
g
|
Cholesterol:
6
mg
|
Sodium:
130
mg
|
Potassium:
118
mg
|
Fiber:
2
g
|
Sugar:
15
g
|
Vitamin A:
63
IU
|
Calcium:
13
mg
|
Iron:
2
mg