Italian Ricotta Cheesecake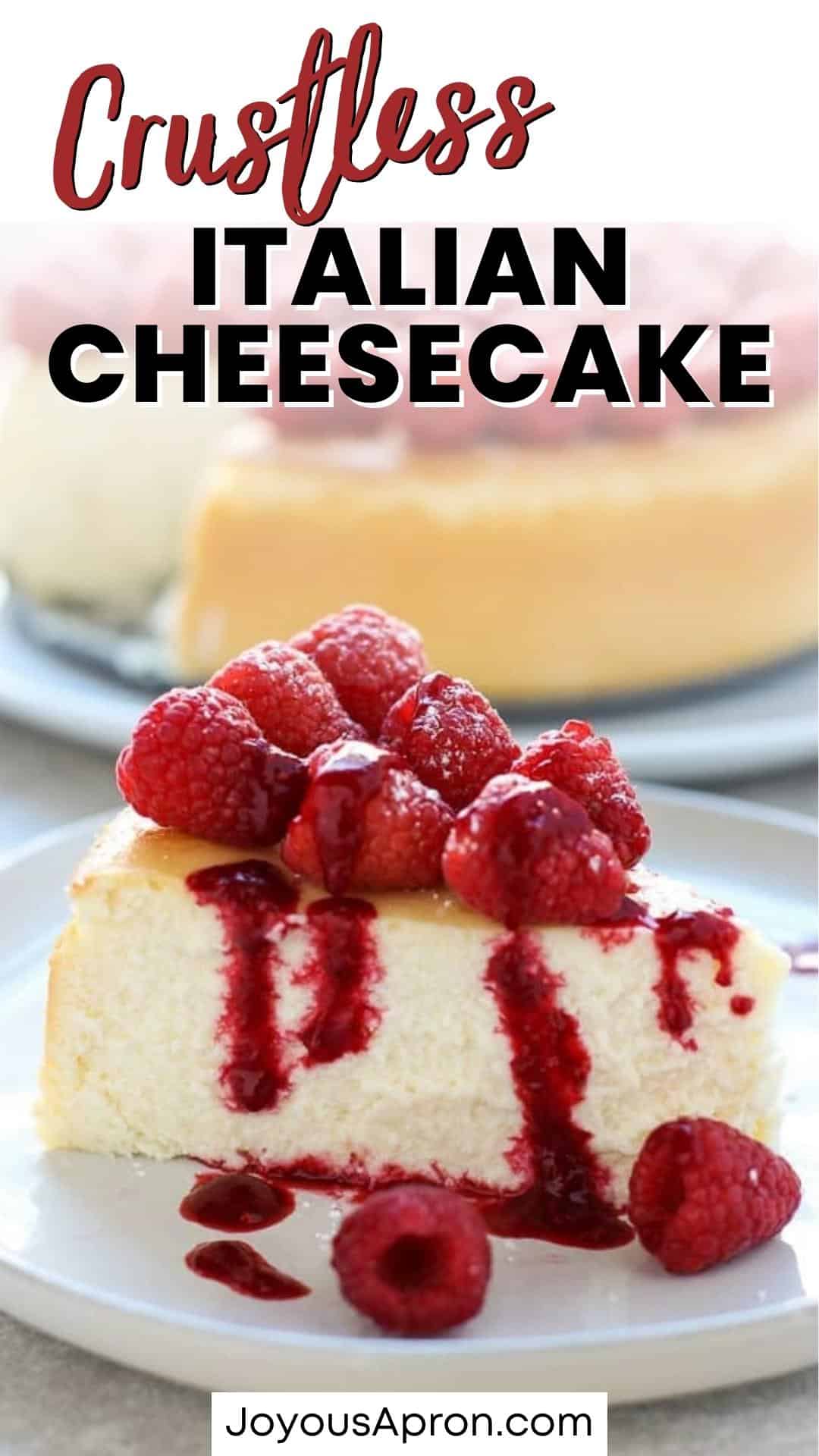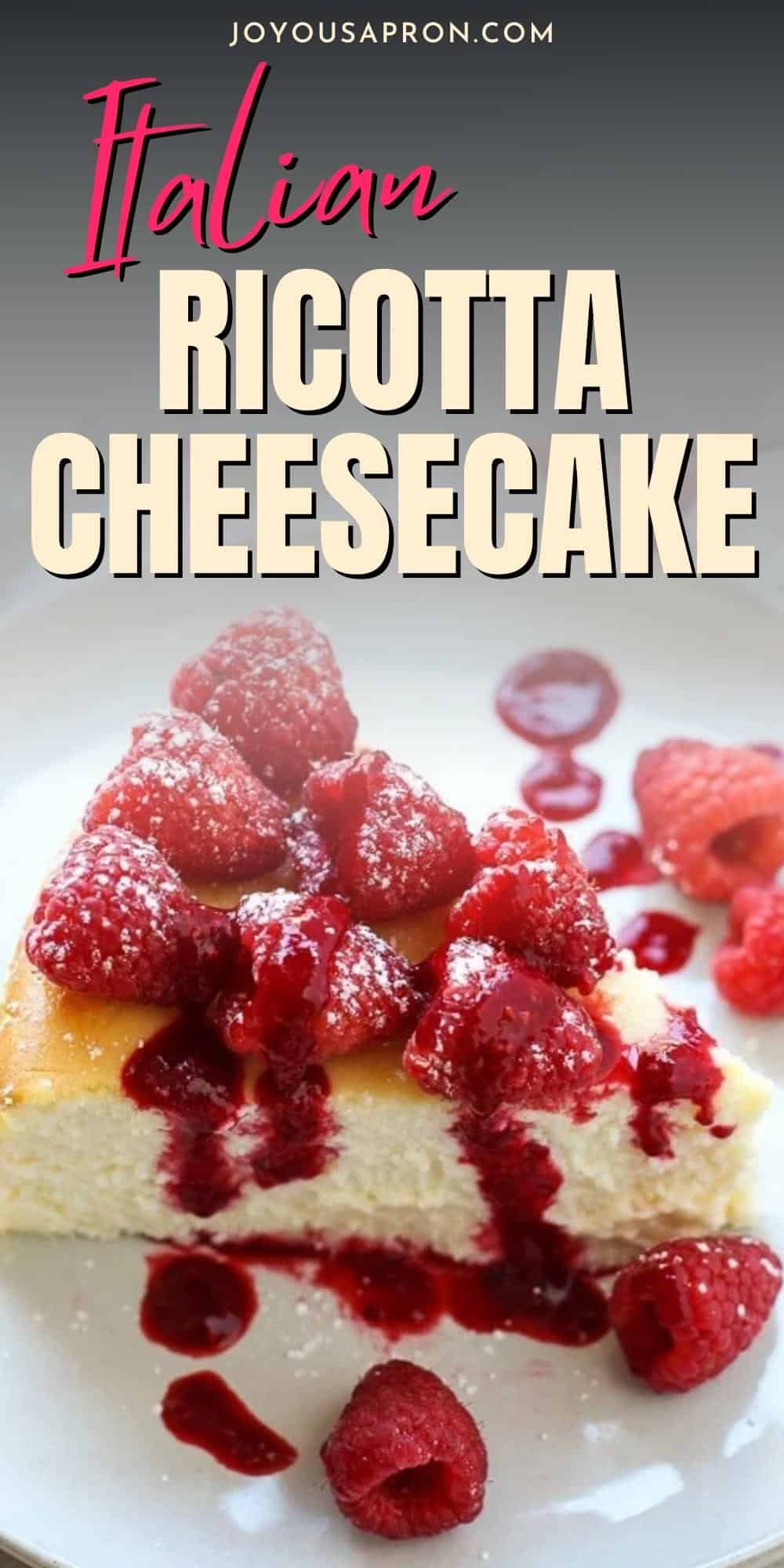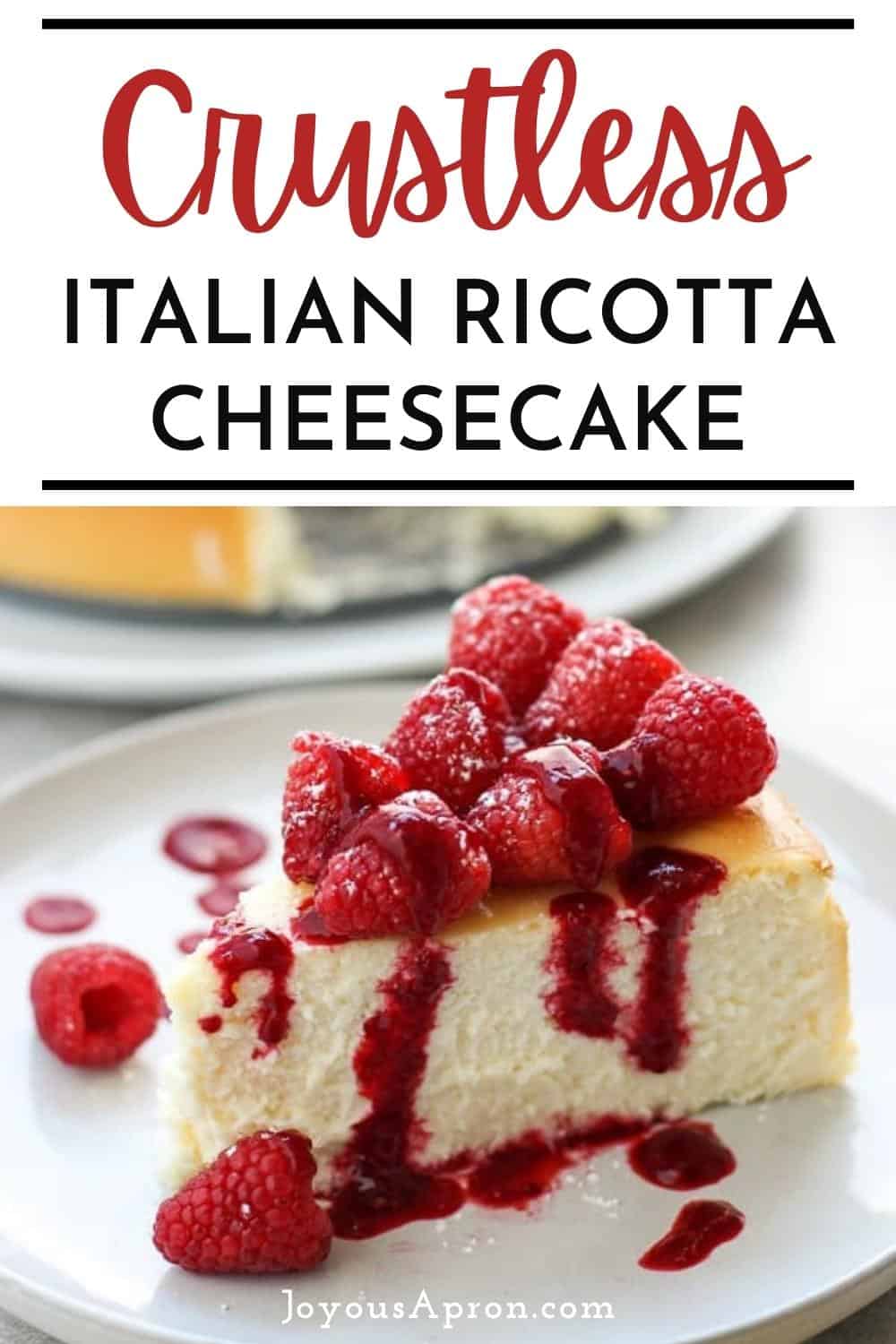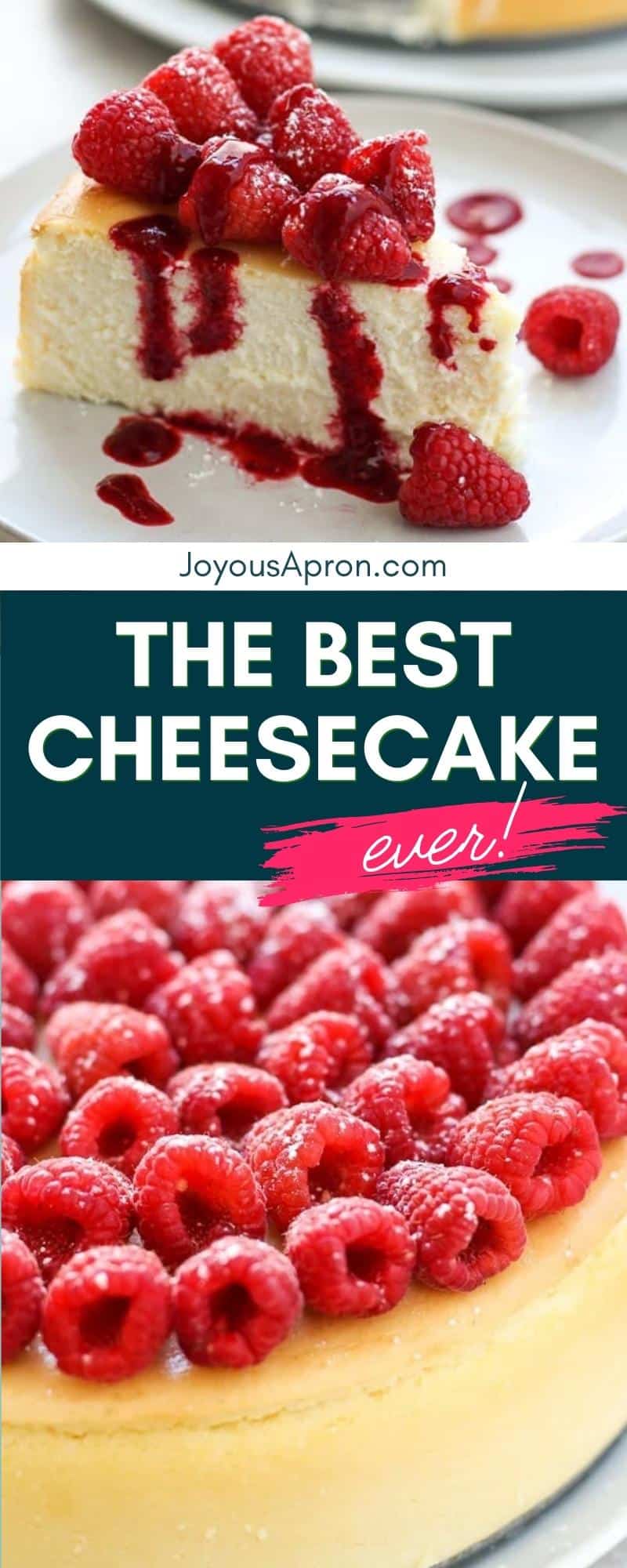 This decadent crustless Italian cheesecake is light and fluffy, made with ricotta cheese and cream cheese, is without a crust but instead surrounded by a sweet caramelized shell from baking in the oven.
Introducing my go to cheesecake recipe, this lovely Italian Ricotta Cheesecake, which in my humble opinion, is the best cheesecake ever. Like really truly the best kind of the best.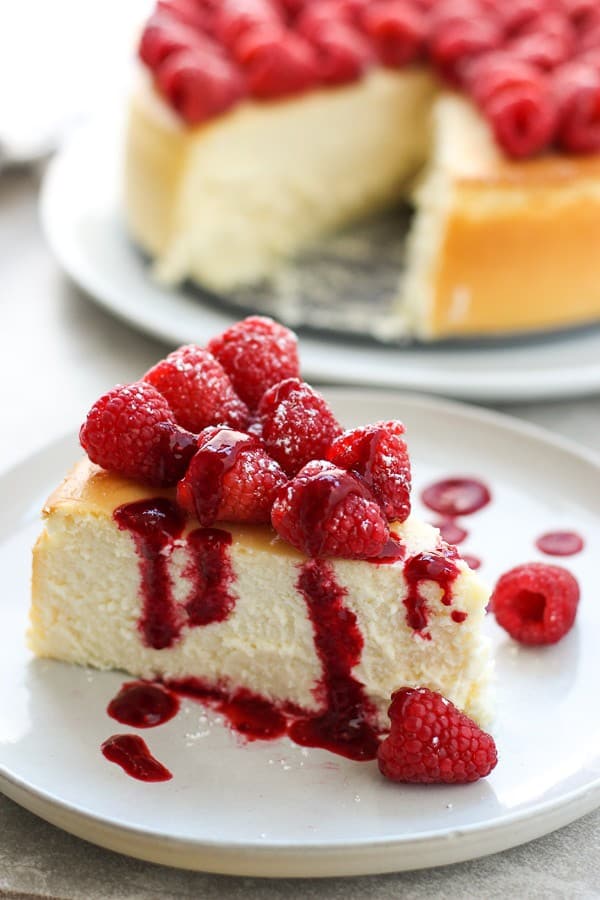 What is Italian Cheesecake
This crustless Italian cheesecake is a recipe from my dear friend Diane, who got it from her Italian family. Diane used to make this all the time when we were roommates, and this ricotta cheesecake recipe is what made me fall in love with cheesecakes.
This has been my go-to cheesecake recipe ever since whenever the cheesecake craving hits!
Key marks of this delicious Italian cheesecake:
It is crustless, which is typical of traditional Italian cheesecake. There is no graham cracker crust, but instead is surrounded by a caramelized layer formed after sugar and butter is baked in the oven. That sweet browned caramelized layer is my favorite part of this cheesecake – it brings a ridiculously beautiful texture and taste to contrast that creamy richness of the Italian cheesecake. And let's be honest here, because it's a crustless cheesecake, it's one less thing to make!
Uses ricotta cheese so it has a rich flavor yet it is not overly heavy or dense. It is creamy, fairly light and slightly airy.
Incorporating sour cream gives it a slight citrus-y flavor, making the flavor more well-rounded, and balances out the richness and the creaminess.
Served with berries on top to balance out the rich and creamy ricotta cheesecake. You can serve it plain without the berries if you prefer, it is up to you.
There are so many versions of what you would call an Italian cheesecake, and this is one of them. Think of this as my take on Italian cheesecake, with notes and components from it, but it is not necessarily fully authentic.
Italian cheesecakes are usually lighter, fluffier, and ricotta is involved compared to a New York Cheesecake, which is creamier and denser.
That lighter texture and the use of ricotta is what made me fall in love with Italian Cheesecake. And this crustless Italian ricotta cheesecake definitely pays tribute to that.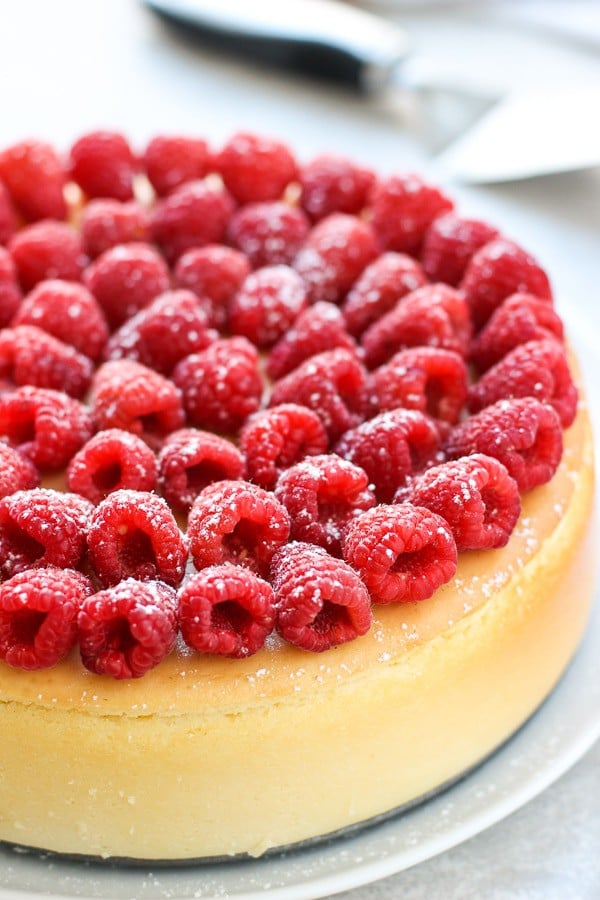 What you will need
My Italian ricotta cheesecake recipe calls for pantry-friendly, and a fairly shortlist of ingredients. And since it is crustless, I honestly think that makes it even more straight-forward!
Here are the ingredients you will need:
whole milk ricotta – you can use skim or non-fat ricotta but I think whole milk ricotta tastes better because it's creamier.
cream cheese – yes! we are using both ricotta and cream cheese! Make sure to leave it out so it's softened a few hours before use
sour cream
granulated sugar
eggs
all-purpose flour
pure vanilla extract
unsalted butter
In terms of kitchen tools, you will also need a 9-inch round springform pan – so that you will be able to release the sides once the cheesecake is done, instead of having to dig the cheesecake out from the pan (Yeah, don't do that…). These springform pans are fairly cheap and you can find them anywhere!
I highly recommend wrapping the springform pan with aluminum foil to prevent any leakage of liquid into the oven while it is baking. See picture below.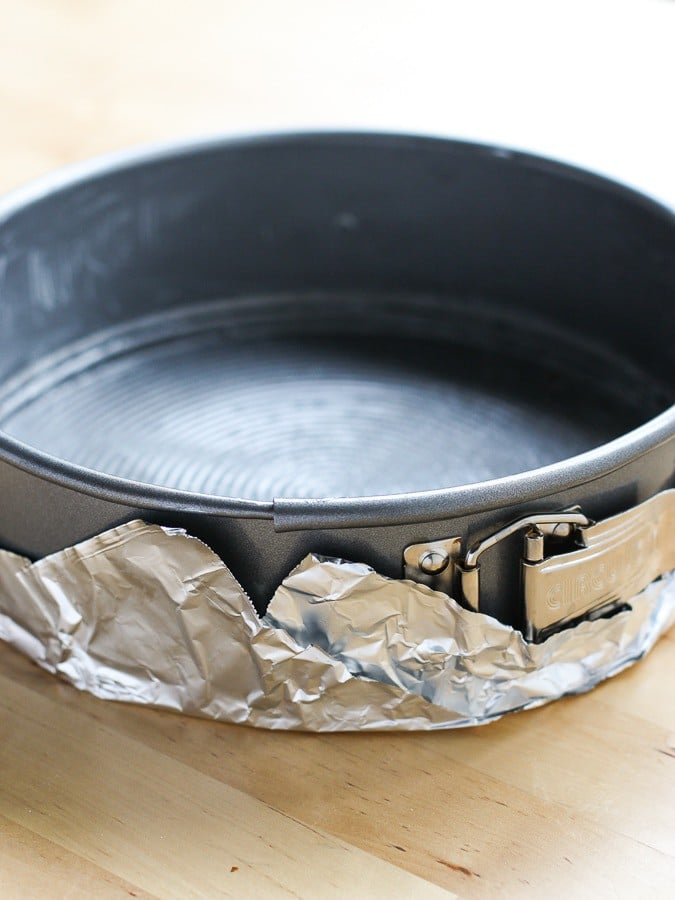 How to make crustless ricotta cheesecake
While this crustless cheesecake recipe is pretty easy to make and has a short list of ingredients, note that it does requires some time and a little bit of planning in advance.
In other words, if your cheesecake cravings hit and you hope to have your crustless ricotta cheesecake in the next hour, you are kinda out of luck.
It does take a few hours for this ricotta cream cheese cheesecake to cool and refrigerate. But trust me, the patience IS ALL WORTH IT once you bite into this life-changing, as-good-as-gold, delicious cheesecake!
Step 1: whisk ricotta cheesecake mixture
Let's bring together the filling of our crustless ricotta cheesecake by whisking all the ingredients (ricotta, softened cream cheese, sour cream, sugar, eggs, flour, vanilla extract) in a large bowl until it is very smooth.
It is recommended to whisk this for 20 minutes. It does seem like a long time, but we really want the remove any clumps and our Italian ricotta cheesecake needs to be smooth with a capital S.
Pro tip: if you have a stand mixer, it will make this part of the process a whole lot easier!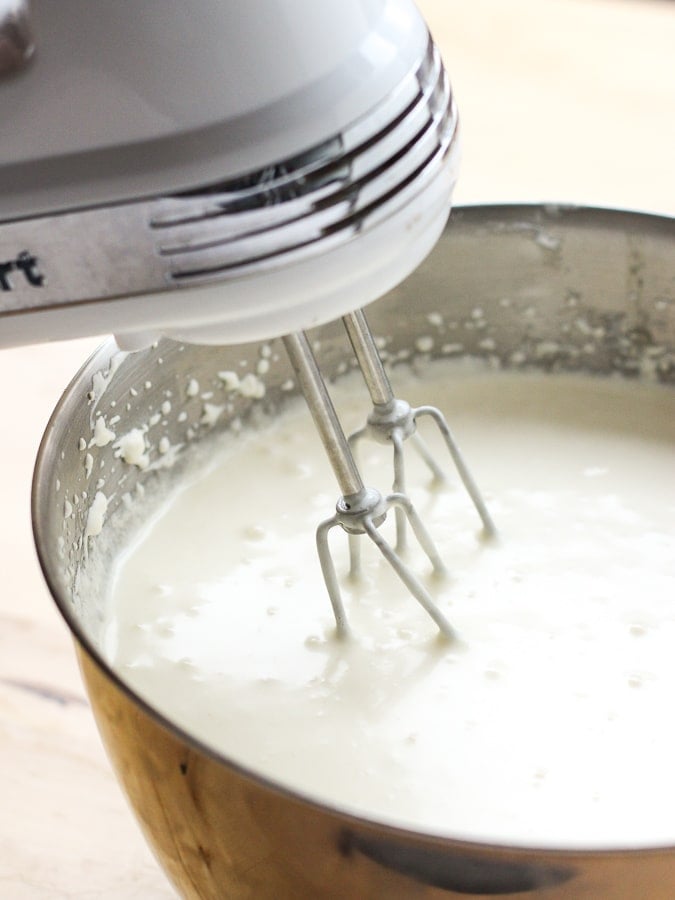 Step 2: Bake & Rest
Once the ricotta cream cheese cheesecake filling is whisked well together, pour the filling into a spring foam pan that has been greased with butter.
Bake Italian ricotta cheesecake in the oven for 1 hour.
And here's a unique part of the process: when it is done, switch off the heat in the oven but do not open the oven door, and let cheesecake sit in the oven for 2 hours.
Cooling the cheesecake slowly (not dropping the temperature drastically while it cools), will lessen the cracking.
Step 3: Refrigerate and wait some more…
Remove from the oven and gently release the crustless cheesecake by removing the sides of the spring foam pan.
Your Italian ricotta cheesecake should have a nice golden brown exterior and be slightly soft and jiggly on the inside.
Keep the bottoms of the spring foam pan stuck to the crustless cheesecake and transfer to a cake stand or container, and refrigerate crustless cheesecake for up to 4 hours or overnight, until your Italian ricotta cheesecake forms up.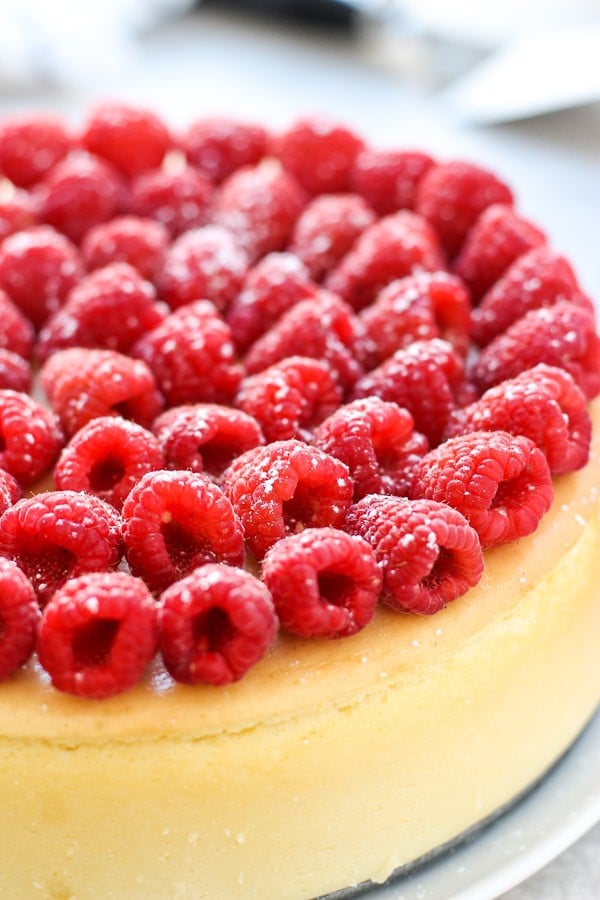 Step 4: Top with berries (or not…)
If you are a cheesecake purist and don't do berries or toppings on your crustless cheesecake because it will hinder your Italian ricotta cheesecake experience, I actually kinda understand and see where you are coming from. Especially when this cheesecake is amazing enough to stand by itself!
However, if you want to bring another layer of texture and flavor to further enhance the Italian ricotta cheesecake, top it with some fresh raspberries and make this incredible yet simple raspberry sauce recipe that goes perfectly with the cheesecake. It takes it OVER THE TOP.
Also, if you experience some cracking on the crustless cheesecake (because we are all humans, and cracking the cheesecake just happens!), the raspberries are the perfect way to hide it! 😉
Tips for making cheesecake
A few tips and tricks when making this crustless Italian ricotta cheesecake:
a springform pan is a must! In addition, make sure to grease it with butter so that your crustless cheesecake doesn't stick to it.
combine the ricotta cheesecake ingredients in a large bowl and take the time to beat it up well so that the mixture achieves the perfect consistency. To ensure the cheesecake texture comes out smooth, fluffy and creamy, use a stand mixture or electric hand mixture, whisk the cheesecake ingredients on medium high speed for 20 minutes. Yes, it is a little time consuming and a lot of beating. But again – WORTH IT! 😉
we are reducing the cracking by letting the Italian ricotta cheesecake sit in the oven for 2 hours after it is done baking to not drastically drop the temperature in the cheesecake while it cools. However, cracking is still likely to happen on the cheesecake after it bakes. I will admit, I am not cheesecake expert, have made this multiple times, and it almost always crack slightly on top. So if your cheesecake cracks a little bit, don't fret over it! Top some berries on there and call it a day ;). Or just eat it as is, because I promise you, it will still tastes glorious.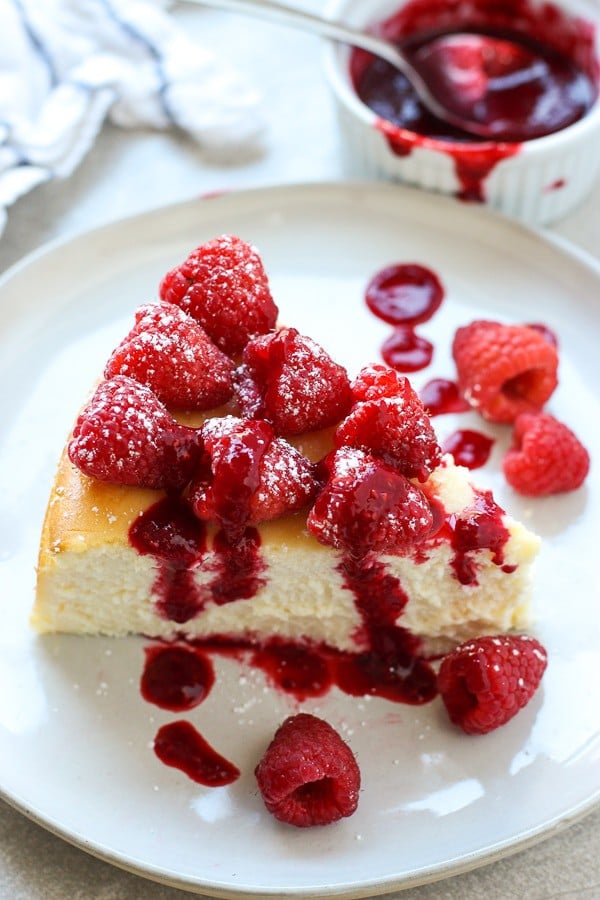 Frequently Asked Questions
Do I need to bake this in a water bath?
You can but it is not necessary. Water bath helps the cheesecake to be creamier and smoother, and also reduce cracking. In this recipe, we are whisking it thoroughly for 20 minutes to ensure the cheesecake is smooth and creamy, and letting the cheesecake sit in the oven for 2 hours after baking to reduce cracking.
How should I store this crustless cheesecake?
Store it in the refrigerator in an air tight container for up to 7 days.
Can I freeze cheesecake?
Absolutely. Cheesecake freeze very well and the consistency shouldn't change after freezing.
With the holidays coming up, Italian ricotta cheesecake is the PERFECT holiday dessert! Make this for Thanksgiving, Christmas, New Years eve, holiday parties!
But seriously, you don't need a reason for craving for this delicious crustless Italian ricotta cheesecake. If it is not the holiday season and you need some cheesecake in your life…I say make it anyway!! 🙂
DID YOU ENJOY THIS RECIPE? Please comment below and give us a 5-star rating! This will help others find this recipe on Google and Pinterest. We very much appreciate your help! 🤍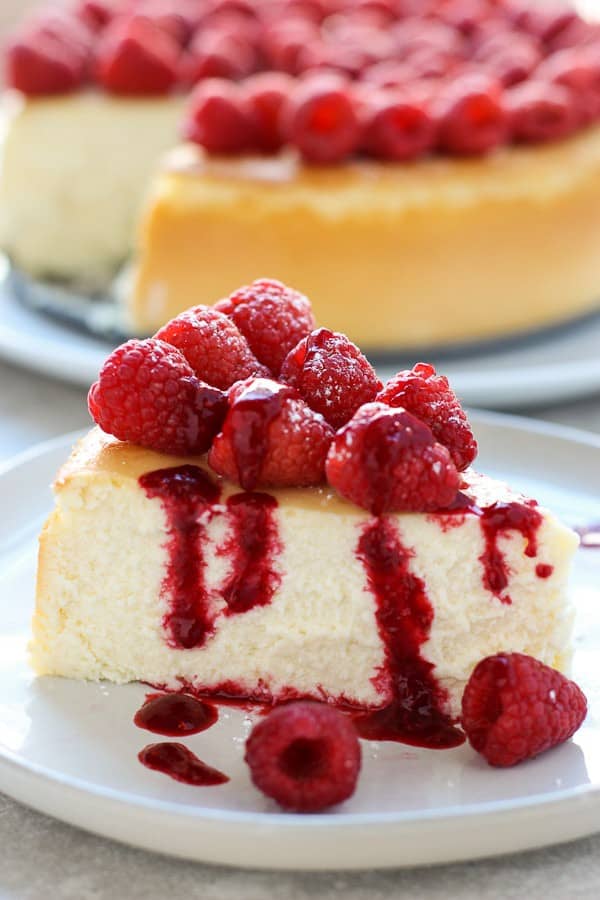 More delicious desserts
Since we are in fact in November, a.k.a. holiday season, check out these other fun desserts to make this holiday!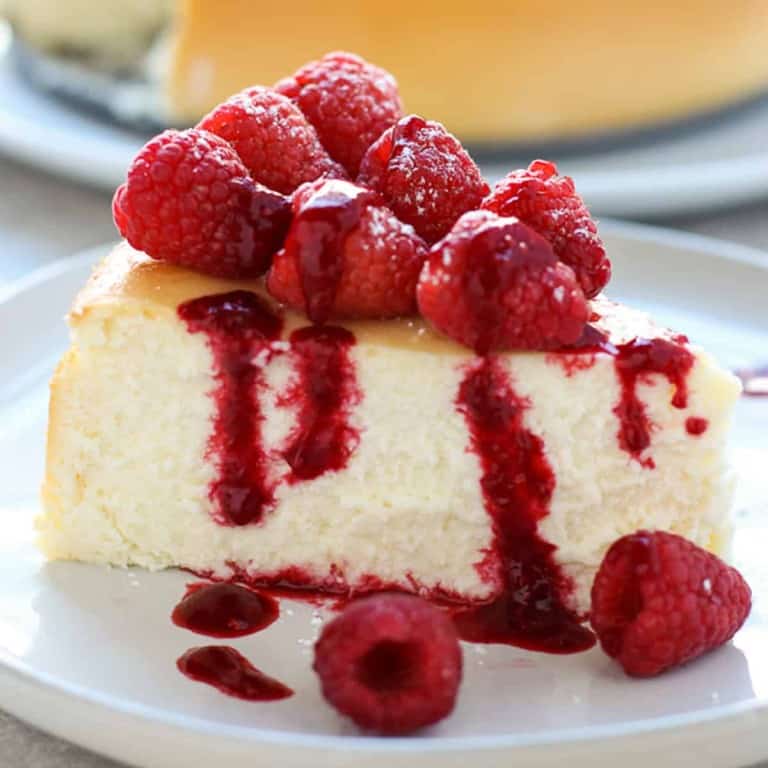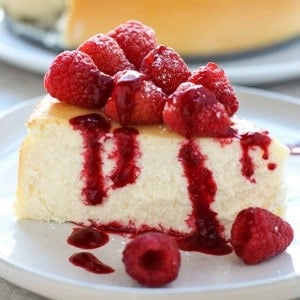 Italian Ricotta Cheesecake
Rich, smooth, creamy and fluffy, this crustless cheesecake recipe is Italian inspired and made with ricotta, cream cheese and sour cream.
Print
Pin
Ingredients
Cheesecake
16

oz

whole milk ricotta

16

oz

cream cheese

softened

16

oz

sour cream

2

cups

granulated sugar

4

eggs

1/2

cup

flour

1

tsp

pure vanilla extract

1/2

cup

unsalted butter

melted

1/2

tbsp

unsalted butter

melted
Toppings
1

cup

fresh raspberries

1/2

cup

raspberry sauce

1

tbsp

powdered sugar
Instructions
Pre-heat oven at 350 degrees F.

Bring whole milk ricotta, softened cream cheese, sour cream, sugar, eggs, flour, vanilla extract, 1/2 cup melted butter into a large bowl. Mix well and beat on medium high speed (using a hand-held mixture or standing mixture) for 20 minutes.

Butter springform pan with the other 1/2 tbsp of melted butter and wrap aluminum foil around the pan to prevent leakage.

Pour cheesecake mixture into springform pan. Bring to oven and bake for 1 hour.

Turn off oven and let cheesecake sit in oven for 2 hours. Do not open oven – we want to cool the cheesecake slowly.

Remove cheesecake from oven. Cheesecake might be slightly jiggly in the middle. Gently release the sides of the springform pan from cheesecake.

Refrigerate cheesecake in the fridge for another 4-5 hours, or overnight, until cheesecake is firm.

Optional: top cheesecake with fresh raspberries, then sprinkle raspberries with powdered sugar. Slice and drizzle with raspberry sauce.
Nutrition
Calories:
554
kcal
|
Carbohydrates:
52
g
|
Protein:
10
g
|
Fat:
35
g
|
Saturated Fat:
20
g
|
Polyunsaturated Fat:
2
g
|
Monounsaturated Fat:
9
g
|
Trans Fat:
1
g
|
Cholesterol:
157
mg
|
Sodium:
209
mg
|
Potassium:
197
mg
|
Fiber:
1
g
|
Sugar:
41
g
|
Vitamin A:
1247
IU
|
Vitamin C:
5
mg
|
Calcium:
172
mg
|
Iron:
1
mg