Fruit Salad with Honey Lime Dressing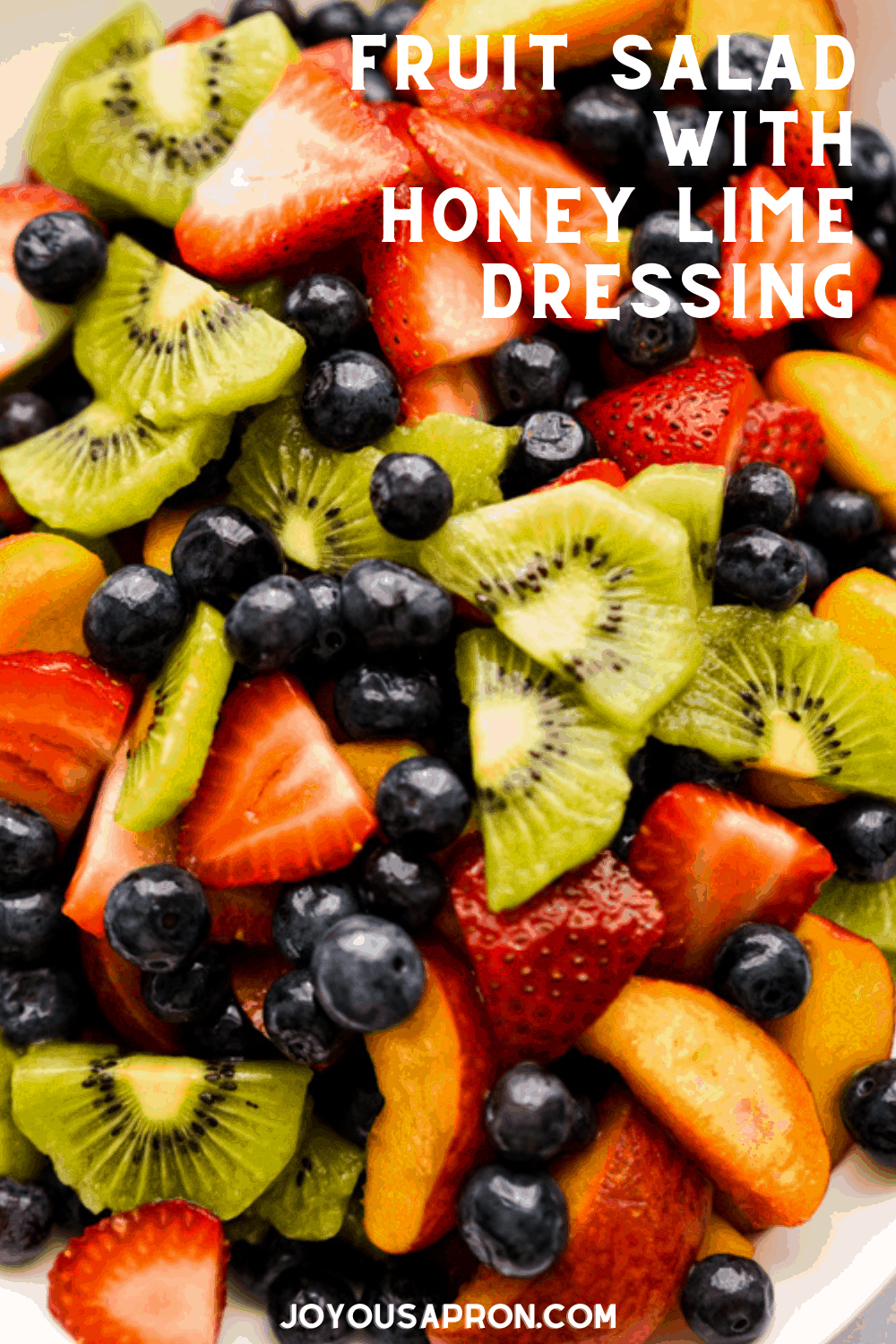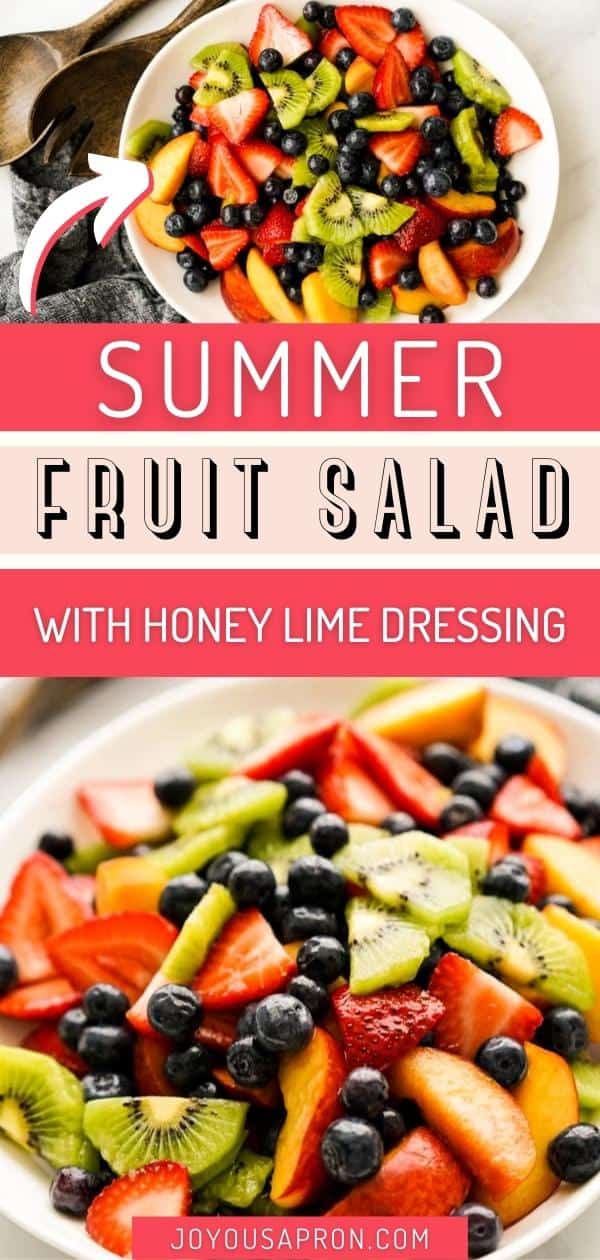 Prepare to fall in love with this Fruit Salad drizzled with Honey Lime Dressing this summer!
This glorious combination of summer fruits tossed in the sweet tangy dressing is refreshing, light, and honestly feels like dessert disguised as a side dish (a.k.a. best kind of side dish).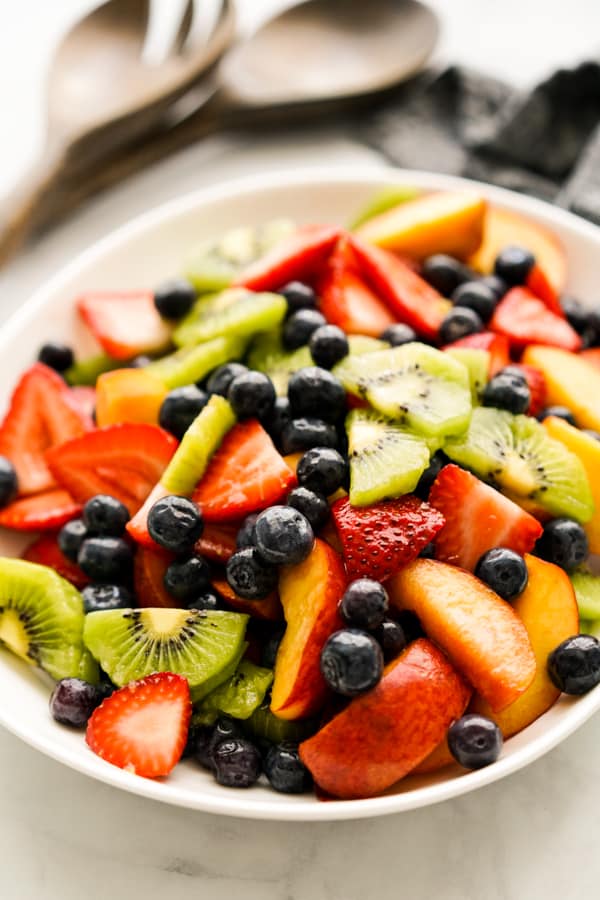 For the Love of Fruits
What I love about summer:
Long daylights
Pool days
FRUITS. The crazy amount of fresh, juicy, sweet-as-candy FRUITS
I eat copious amount of fruits during the summer. Every time I make a trip to the grocery store, the fruit bowl in my kitchen runs out of room…

This recipe is a celebration of fruits, and especially summer fruits. A fruit salad is the perfect, super easy side to any meal, and I love making this version that takes a purist approach.
That's where the Honey Lime Dressing magic comes in. Using just lime and honey, there is no dairy or heavy dressing involved to overshadow the fruits. Clean, simple, healthy, and ALL ABOUT THE FRUITS.
Making this Easy Fruit Salad
You can use any fruits to make this the fruit salad of your dreams. I'm taking a summer theme, and am incorporating some of my summer favorites: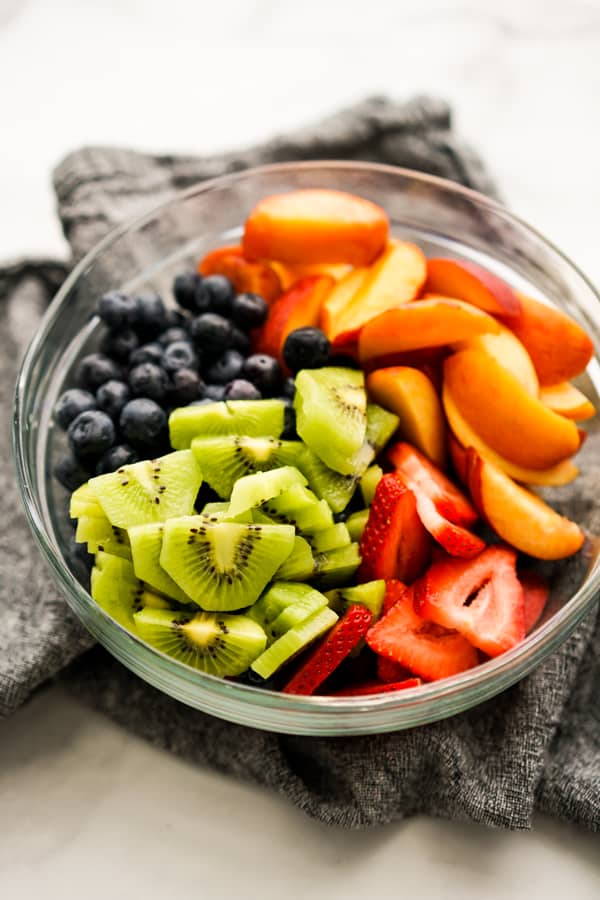 Strawberries
Blueberries
Peaches
Kiwis
Picking a favorite fruit for me is like picking a favorite child. If I were to pick my favorites, this bowl would probably be filled with 29 different types of fruits, and then things would get a bit out of control. So we are sticking to four today.
The dressing, on the other hand, is literally honey and freshly squeezed lime (yes – use fresh limes…it makes a difference!), with a 3:2 ratio, mixed together.
Whisk it using a whisk to break up the thick honey.
The product should be a slightly liquid-y, not-too-thick mixture.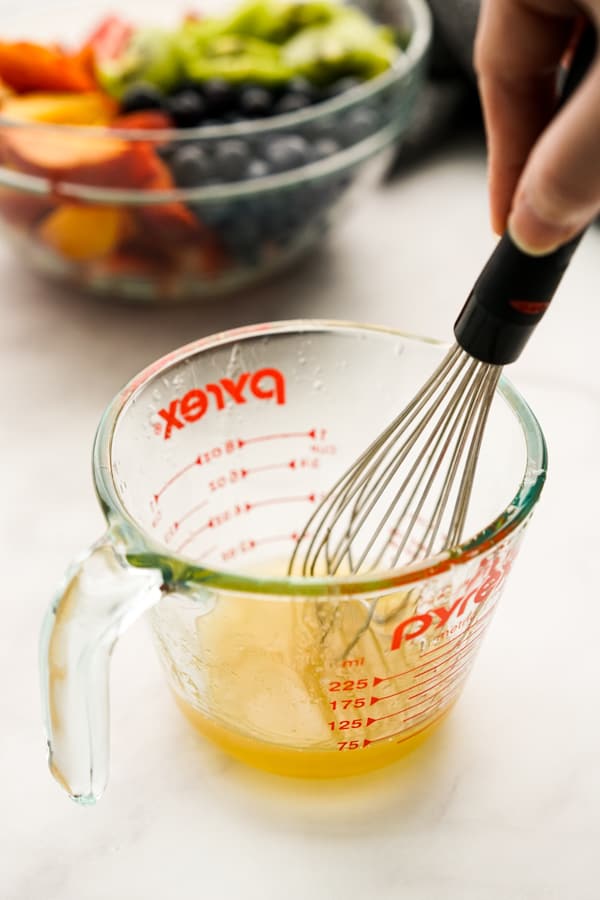 Drizzle that yummy dressing all of the fruits, toss the fruits to evenly coat them with dressing, and be careful not to squish them.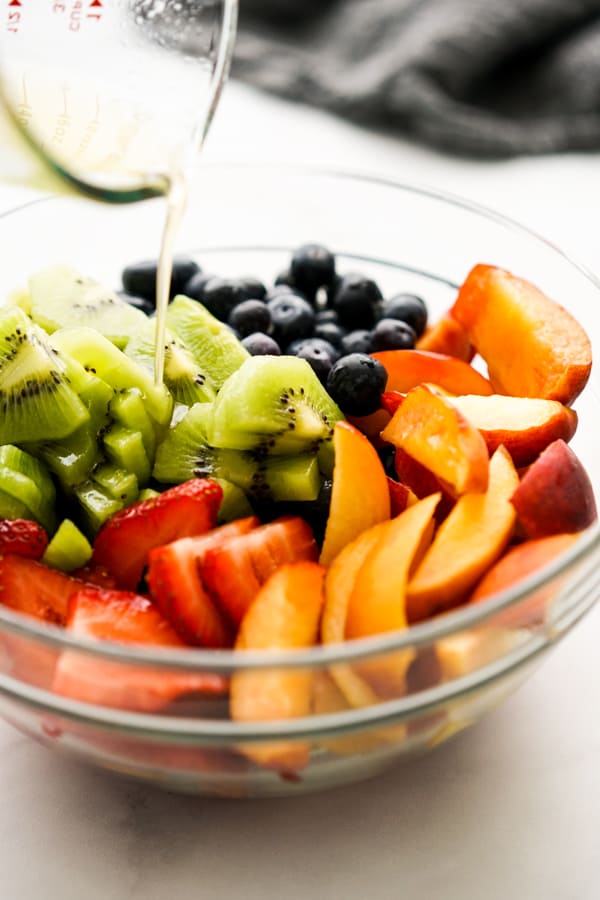 And that's it. So simple.
No frills, and lots of Vitamin C, lots of yumminess, and lots of time to spend time outside doing something else other than cooking!
Frequently Asked Questions
How to store uncut fruits?
Store peaches and kiwi in room temperature until they are ready to be consumed. Once they are ripen you can transfer them to the refrigerator, but I always prefer not store them in fridges.
Peaches should be soft to the touch and give out this heavenly peachy smell when it is ripen. It is quite glorious. Kiwis will be soft to touch when they are ripen too.
Strawberries and blueberries should be refrigerated at all times.
A general rule for me is that if the grocery store stores the fruit (or really anything else) in the refrigerated section, then you should too.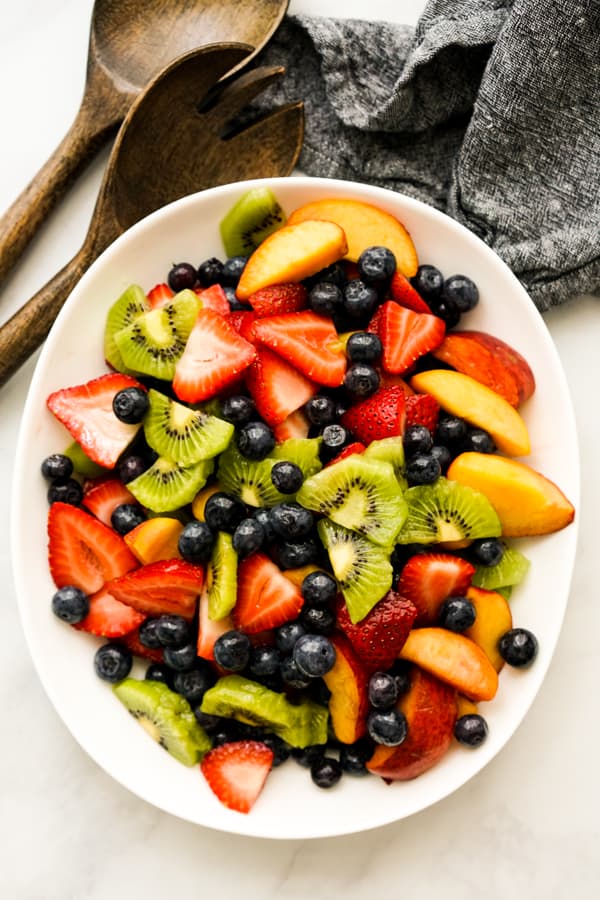 Does fruit salad keep well as leftovers?
Generally, this fruit salad recipe tastes the best eaten immediately. If there is leftovers, store in an airtight container in the refrigerator, and try to consume within 24 hours.
After being stored in the fridge, access liquid will form and the fruits will not be as fresh.
How to Make Ahead?
Cut up fruits and store in fridge ahead of time. Only toss fruits in Honey Lime Dressing when ready to serve.
What can I substitute honey or lime with?
Substitute lemon for lime, and maple syrup or agave for honey.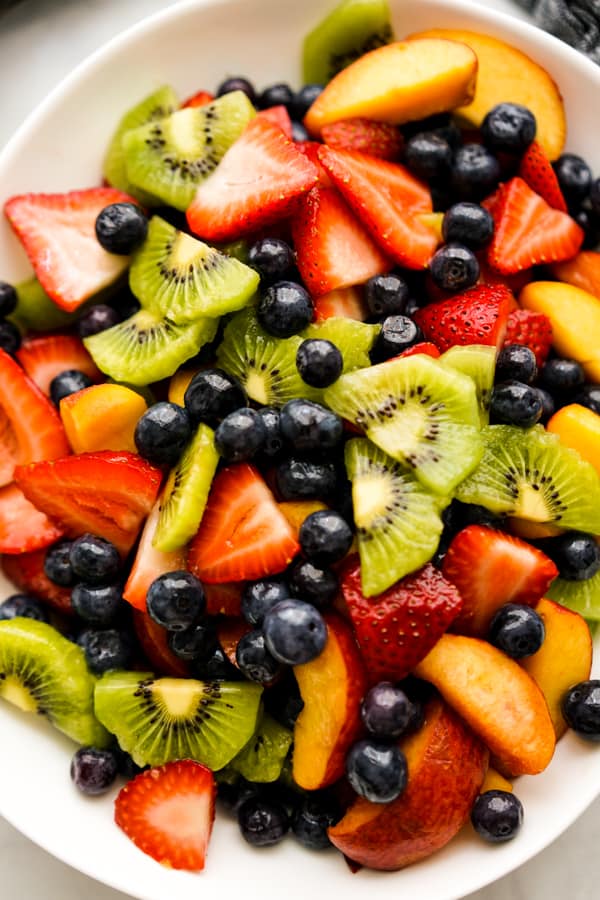 One of the many things I love about this Fruit Salad recipe is how the dressing enhances the sweetness of each of the fruit, giving it that extra omph, but doesn't overpower the fruits.
During the summertime, when fruits are super sweet and fresh, they really don't need that much help in the flavor department. I like to let them do their thing without much interference…being sweet and amazing to taste and all.
This is an easy side for just any day, especially those busy weeknights when you don't want to cook and still want a nice dose of Vitamin C.
If you are going to a party or potluck, this is your gem, my friend. It takes no time to make, and its pretty colors is just too pretty to ignore. It also makes a refreshing side to any grilled meats, burgers, hotdogs.
And what about a healthier dessert choice in the form of a fruit salad?? It's legit enough to pass for sweets, I assure you.
In short – You NEED this in your life!! ❤️
Other fruity goodness!
Check out some of these other fruit recipes that we love!
DID YOU ENJOY THIS RECIPE? Please comment below and give us a 5-star rating! This will help others find this recipe on Google and Pinterest. We very much appreciate your help! 🤍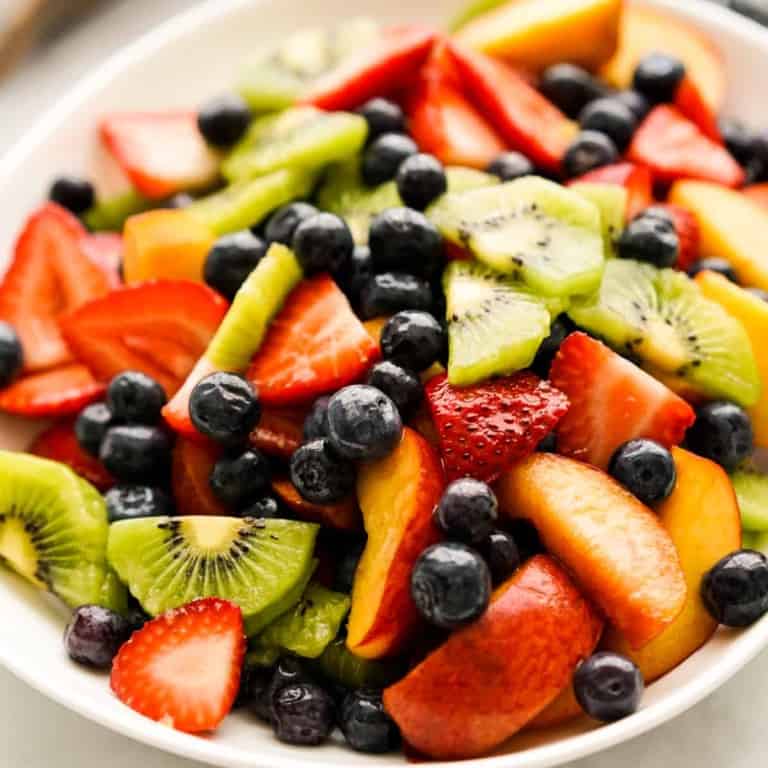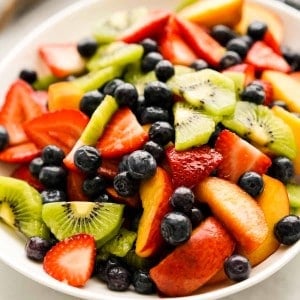 Fruit Salad with Honey Lime Dressing
A bowl of summer fruits drizzled with a sweet and tangy honey lime dressing. Refreshing, delicious and full of great fruity flavors! An easy side for any meals, potlucks and parties.
Print
Pin
Ingredients
12

oz

strawberries

3

peaches

1 1/2

cup

blueberries

2-3

kiwis

3

tbsp

honey

2

tbsp

freshly squeezed lime juice
Instructions
Cut up strawberries, peaches, blueberries and kiwis, and bring them all into a large bowl.

Combine honey and lime juice in a small bowl, and mix well.

Pour honey lime dressing onto cut-up fruits. Toss gently and be careful not to squash the fruits.
Nutrition
Calories:
120
kcal
|
Carbohydrates:
30
g
|
Protein:
2
g
|
Fat:
1
g
|
Saturated Fat:
1
g
|
Polyunsaturated Fat:
1
g
|
Monounsaturated Fat:
1
g
|
Sodium:
2
mg
|
Potassium:
364
mg
|
Fiber:
4
g
|
Sugar:
24
g
|
Vitamin A:
300
IU
|
Vitamin C:
72
mg
|
Calcium:
27
mg
|
Iron:
1
mg