No Bake Almond Butter Energy Balls
In need of some fun and delicious munchies? These Almond Butter Energy Balls are filled with good, healthy-ish ingredients, are easy to make and will actually keep you full for a while! Drop these in lunch boxes, keep them in your purses as to-go snacks…they make the best snack!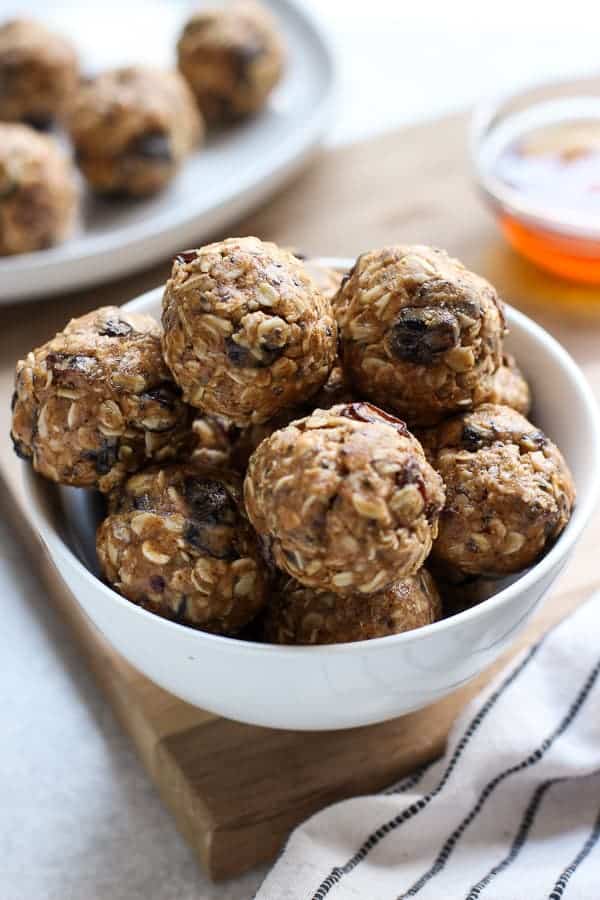 Ah summer. You came, you conquer, and before we know it, you will be gone again.
There's no denying the reality. Summer is coming to a close. Kids are going back to school, summer vacations are wrapping up, life is getting busier. And the meal prepping life is coming back in full force.
It's the time of the year to dig out the crockpot, and cook meals that will allow for leftovers for multiple days.
All my meal prep favorites are slowly making their way back to our household. We made Chicken Enchilada Casserole the other day, and have Slow Cooker Asian Shredded Pork, Chicken Lo Mein, and Steak Fried Rice on the list for the next couple of weeks.
And we devour them with much delight. And save lots of leftovers for other busy days.
At the same time, snacks such as Almond Butter Energy Balls start showing up in my refrigerator too.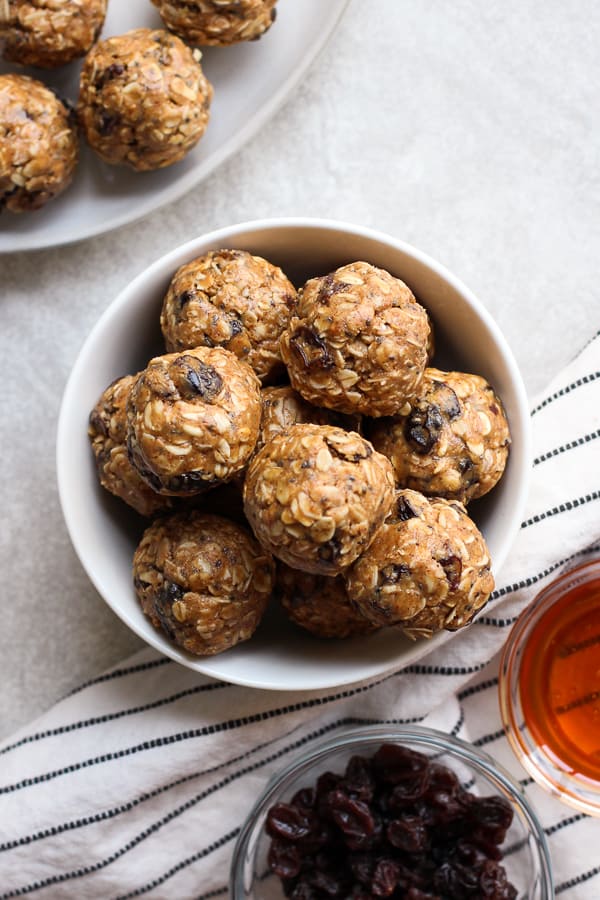 These bite-sized goodies are so convenient I make a large batch of them and keep them in the fridge or drop them into little baggies for my husband to bring to work. They are also perfect for kid's lunch boxes.
I may have lived off of them during many of those so-busy-I-forgot-to-eat-my-lunch days.
Why Almond Butter Energy Balls
There are so many reasons why I love these yummies, so let me just list them all:
These things require no cooking and only a few ingredients…in other words, they come together very easily!
They are made out of good ingredients such as almond butter, raisins, chia seeds, which are healthy AND keeps you full.
They are delicious! Because we don't settle for anything less than delicious around here. 😉
So convenient! They are bite-size and store well in freezers or refrigerators, and make the best grab-and-go snack.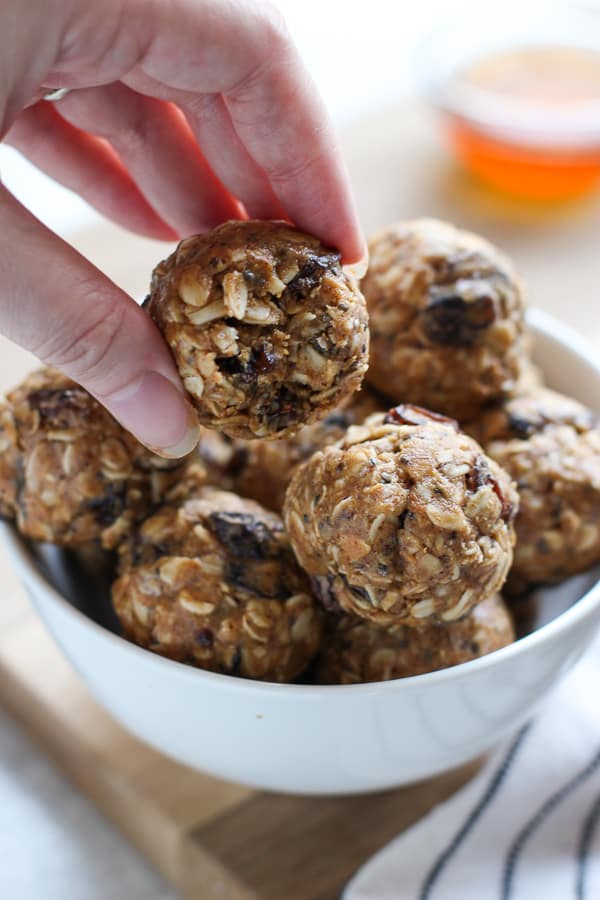 Tips for making Almond Butter Energy Balls
These goodies are super simple to make, and with these few tips it will be even easier!
After combining all the ingredients in a bowl, mix well and then leave it in the refrigerator for at least one hour. This will make it easier to form them into balls – mixture will not stick to your hands as much, and the balls will stay firmer and in shape better. Don't skip this step!
Also be sure to store them immediately in colder temperature if you are not consuming them right away. It will loose it shapes and get soggy otherwise.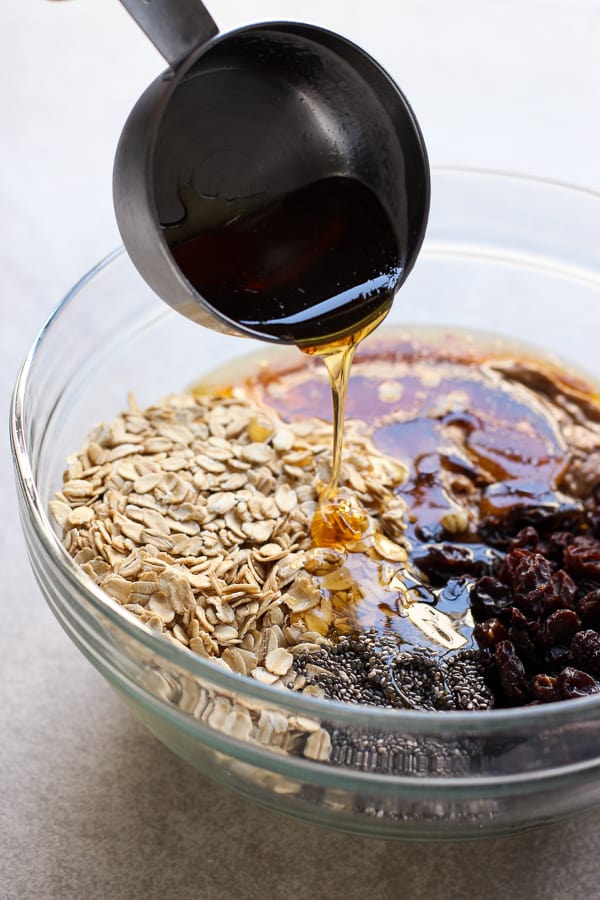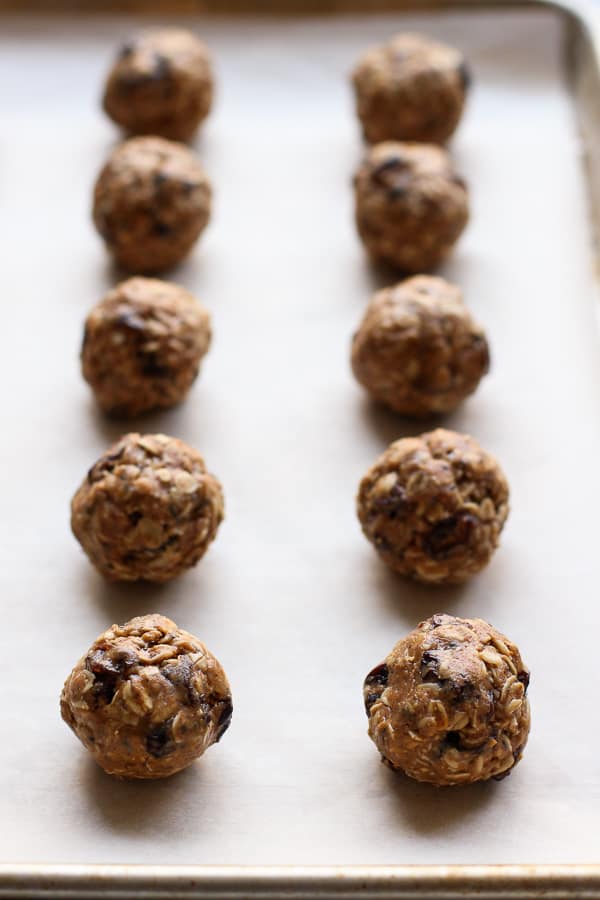 Substitution
This recipe is pretty versatile and you can definitely substitute ingredients for other ingredients you prefer.
Substitute almond butter with peanut butter or another nut butter
Use dates, dried cranberries or another dried fruit instead of raisins
Use flex seeds instead of chia seeds
Use maple syrup instead of honey
How to store Almond Butter Energy Balls
I store these in a ziplock bag or air tight container, and then keep them in the refrigerator or freezer.
Because they can easily lose their shape when they are not cold, avoid overcrowding or crushing them when placing them in containers or ziplock bags.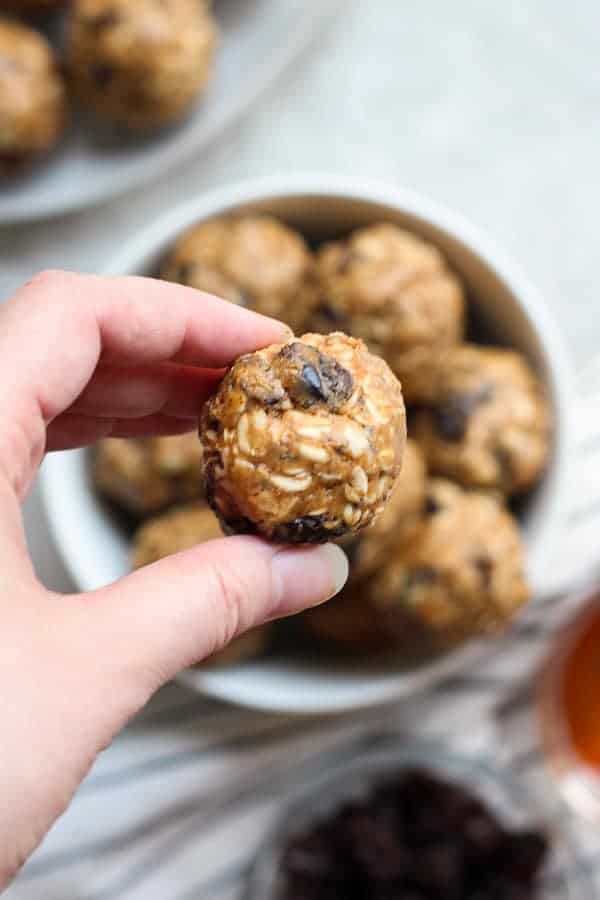 So there you go. One of my favorite homemade snacks. I love prepping and having good-quality snacks in the fridge, actually knowing what are the ingredients that make up these munchies, and being able to actually enjoy my munchies because they taste so dang good.
Other Fun Snacks!
DID YOU ENJOY THIS RECIPE? Please comment below and give us a 5-star rating! This will help others find this recipe on Google and Pinterest. We very much appreciate your help! 🤍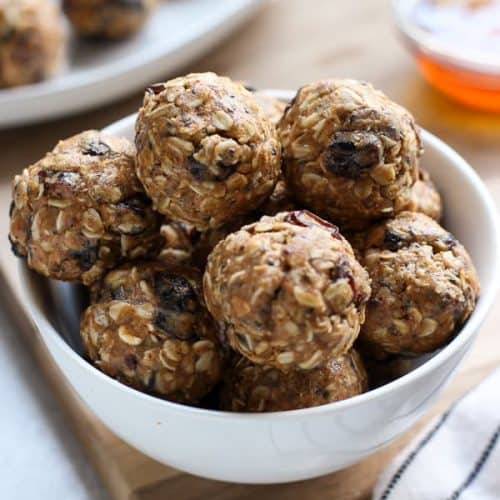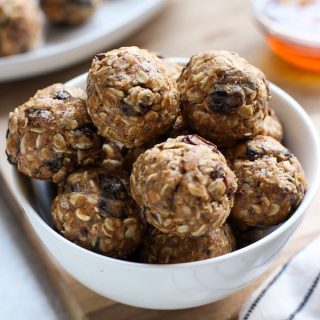 No Bake Almond Butter Energy Balls
An easy, no bake, and delicious snack! These bites are made out of 6 simple ingredients, and keeps well in fridge or freezer. Pack them in your lunch box or purse for a quick snack anytime!
Print
Pin
Ingredients
2

cup

rolled oats

1

cup

almond butter

or peanut butter

1/2

cup

honey

1

cup

raisins

or dates

2

tbsp

chia seeds

or flex seeds

1

tsp

vanilla extract
Instructions
Combine all the ingredients above in a large bowl. Using a spatula, mix everything up.

Cover bowl with seran wrap and leave in refridgerator for up to an hour.

Remove bowl from refridgerator (mixture should have harden slightly). Using a spoon, scoop ~ 1 tbsp of mixture and use hand to form it into a ~1.5inch diameter round ball shape. Repeat untill mixture is gone – should yield about 2 dozen energy balls.

Serve immediately or store in an airtight container or ziplock bag in fridge or freezer for later. Enjoy!
Nutrition
Calories:
134
kcal
|
Carbohydrates:
18
g
|
Protein:
3
g
|
Fat:
7
g
|
Saturated Fat:
1
g
|
Polyunsaturated Fat:
2
g
|
Monounsaturated Fat:
4
g
|
Trans Fat:
1
g
|
Sodium:
3
mg
|
Potassium:
160
mg
|
Fiber:
3
g
|
Sugar:
6
g
|
Vitamin A:
1
IU
|
Vitamin C:
1
mg
|
Calcium:
48
mg
|
Iron:
1
mg