The Best Cookies and Cream Ice Cream
Two back-to-back dessert posts? You betcha. It's hard to stay away from The Best Cookies and Cream Ice Cream.
I am on a dessert kick lately, and there's no stopping me. My husband is a happy man with so much sweets in the house this week. We probably need to hit the gym this weekend.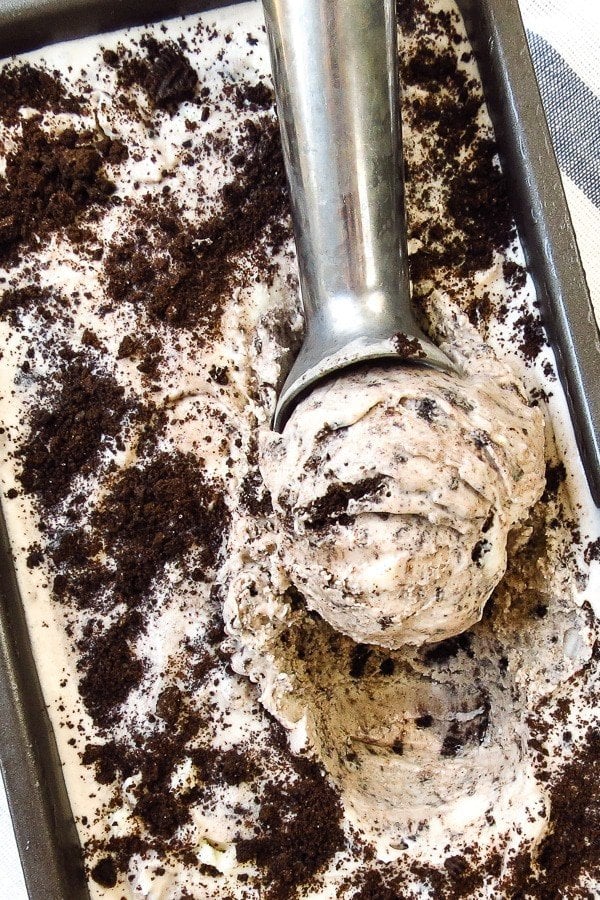 Gym or no gym, a good, a solid homemade Cookies and Cream Ice Cream is quite necessary in life. The perfect amount of crumbled Oreo cookies being churned into a vanilla-based ice cream. The creamy, velvety texture; the perfectly sweet taste of vanilla and chocolate crumbles; that soft crunch in every. single. bite.
You are staring at some amazing Cookies and Cream Ice Cream. In fact, it is so good I'm calling it the Best Cookies and Cream Ice Cream. Ever. Bold move on my part, but I'm just being honest because it is THAT fantastic.
John gifted me with an ice cream maker early on when we were dating. I have had this baby for the last few years and have tried countless versions of homemade ice cream of many different flavors. I tested, I tasted, I took notes, and did it all over again. And again. And again.
I wasn't going to give up because finding a solid ice cream recipe is GOLD. And I hit the jackpot a few weeks ago.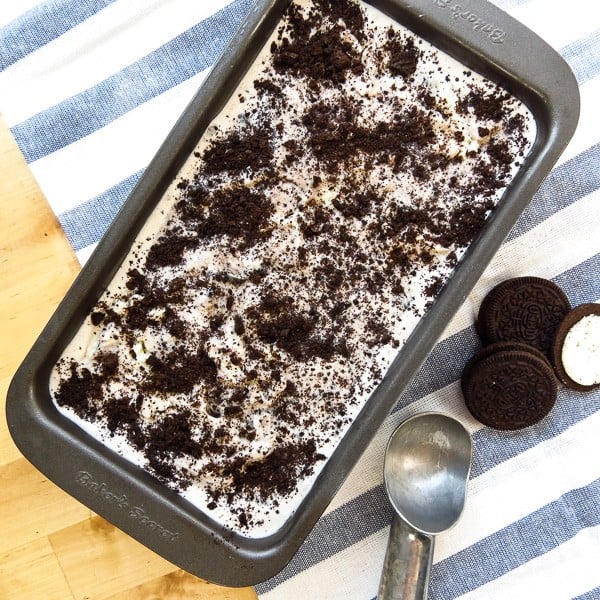 How to make Homemade Cookies and Cream Ice Cream
I tried different ways to make the custard, and settled on this. 3 cups heavy cream + 1/3 cup half and half + 3/4 cup 2% milk (+ sugar of course). It's the real deal guys. And guess what. No eggs. NO EGGS.
I spent many months believing that eggs are absolute necessary in an ice cream recipe. I tried using different number of eggs, separating yolks from whites, not using whites – all the egg variations you can think of. And it all led me to an acceptable, but not amazing, ice cream. I quickly realized that not only is eggs not necessary to the taste, cooking without it makes it so much easier. I don't think I will ever put an egg into an ice cream mixture ever again.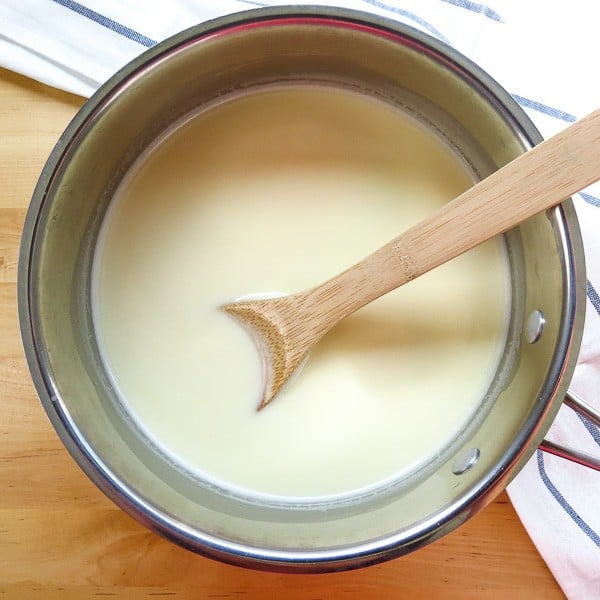 Start by adding heavy cream, half and half, 2%milk, sugar, and vanilla extract into a large pot. I usually add everything, then turn the heat to medium to get it to a boil while constantly stiring the custard. Once it reaches a boil, I usually take it to low heat and let it cook (also continue stirring) for another 2-3 minutes.
Take it off the heat and let it cool for at least one hour at room temperature. You don't have to watch it like a hawk, but stir the mixture every now and then. Then take it to the fridge and let it cool for another hour or two. You can let it cool for a longer time, not shorter.
It is important to ensure that the custard is fairly cool prior to adding it to the ice cream maker to be churned. If the mixture is not cool enough, it will warm the ice cream maker, and the ice cream will not thicken/become creamy and will remain liquid-y.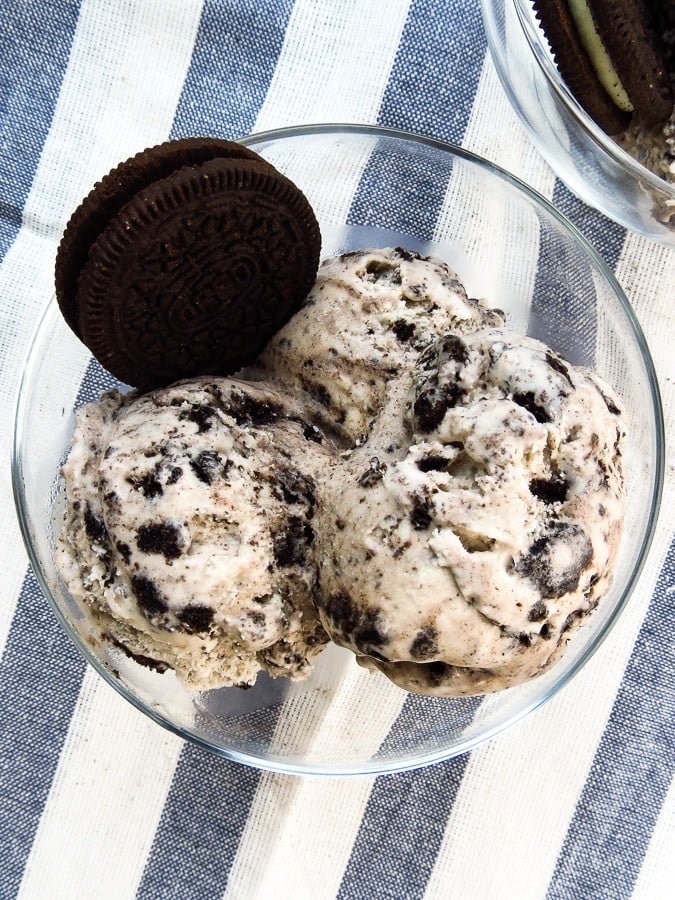 Refer to your ice cream maker's manufacturer manual to determine how long to churn the ice cream. Although the simple rule is to churn until the ice cream thickens. During the last five minutes of churning, add in the crushed Oreos.
Once done, transfer ice cream to a container and freeze for at least 5 hours.
I proudly present to you, THE BEST Cookies and Cream Ice Cream.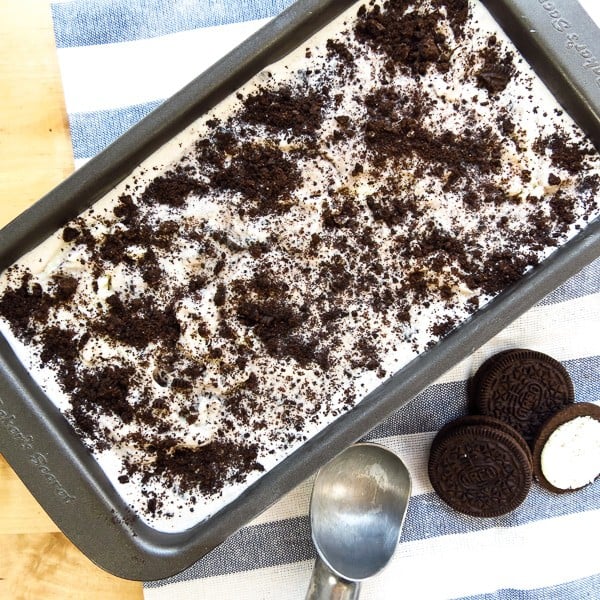 Friends, I kid you not. It is so good. I don't think I will ever buy store-bought Cookies and Cream Ice Cream again. Unless there is a worldwide confiscation of ice cream makers. Then I wouldn't have a choice. Because I will still want to consume Cookies and Cream Ice Cream. Duh.
It's Friday, and sweets are life breathed into humans after a long week. Feed yourself something sweet, and have a wonderful weekend. 🙂
More sweetness overload
We spread sweetness as much as we can on the blog. We take this responsibility really seriously here. Check out some of our other favorite desserts on the blog: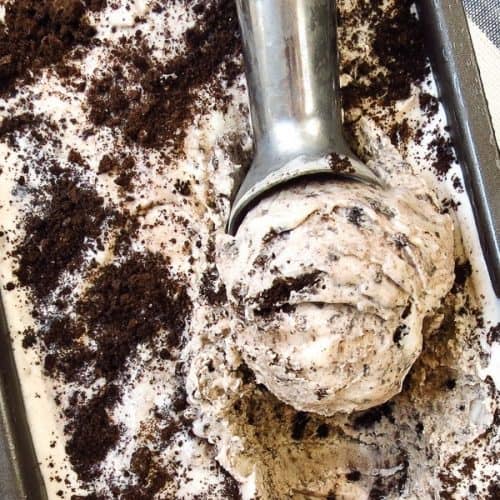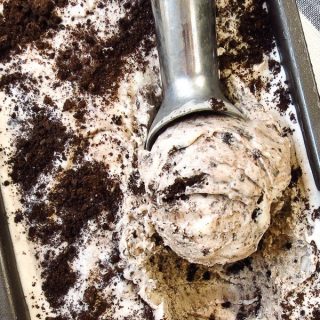 The Best Cookies and Cream Ice Cream
Lots of crumbled Oreo cookies churned into creamy, super smooth vanilla ice cream using the ice crema maker. You will never look at the store-bought version the same way after this. The BEST ice cream recipe!
Print
Pin
Ingredients
3

cups

heavy cream

1

cup

sugar

3/4

cup

2% milk

1/3

cup

half and half

1

tsp

vanilla extract

20

oreo cookies
Instructions
Add the first 5 ingredients into a large pot. Turn heat to medium and stir continuously. Once custard reaches a boil, turn heat to low and continue cooking for 2-3 minutes. Keep stirring the whole time.

Remove from heat and let it cool for an hour. Transfer to another bowl if needed to speed up the cooling process as some pots can retain heat for a while.

While waiting for the items to cool, crush up Oreo cookies.

Bring mixture into the refrigerator and cool for another 1-2 hours, or until mixture is slightly cold. Do not pour warm mixture into ice cream maker.

Pour mixture into ice cream maker and churn. Churn time will be according to your ice cream maker's instruction. Or churn until ice cream is thickened and creamy.

Five minutes prior to completing the churning process, add crushed Oreo cookies into ice cream maker to churn.

Transfer ice cream to a container and freeze for at least 5 hours.
Notes
This recipe uses a 2 Qt Ice Cream Maker. You will need 2 Qt or more to accommodate all the ingredients.
Nutrition
Calories:
571
kcal
|
Carbohydrates:
50
g
|
Protein:
5
g
|
Fat:
41
g
|
Saturated Fat:
23
g
|
Polyunsaturated Fat:
2
g
|
Monounsaturated Fat:
13
g
|
Trans Fat:
1
g
|
Cholesterol:
128
mg
|
Sodium:
187
mg
|
Potassium:
177
mg
|
Fiber:
1
g
|
Sugar:
39
g
|
Vitamin A:
1371
IU
|
Vitamin C:
1
mg
|
Calcium:
102
mg
|
Iron:
3
mg
This post contains affiliate links. I will get a small commission if you purchase the item(s) via some of the links attached at no additional cost to you. Thanks for supporting Joyous Apron!