Chipotle Chicken Tostadas
An easy Chicken Tostadas recipe with chipotle flavors, topped with avocados, cilantro, and lettuce. Or frankly, whatever topping you want! A simple and quick Mexican-inspired dinner using shredded rotisserie chicken that also happens to be incredibly flavorful!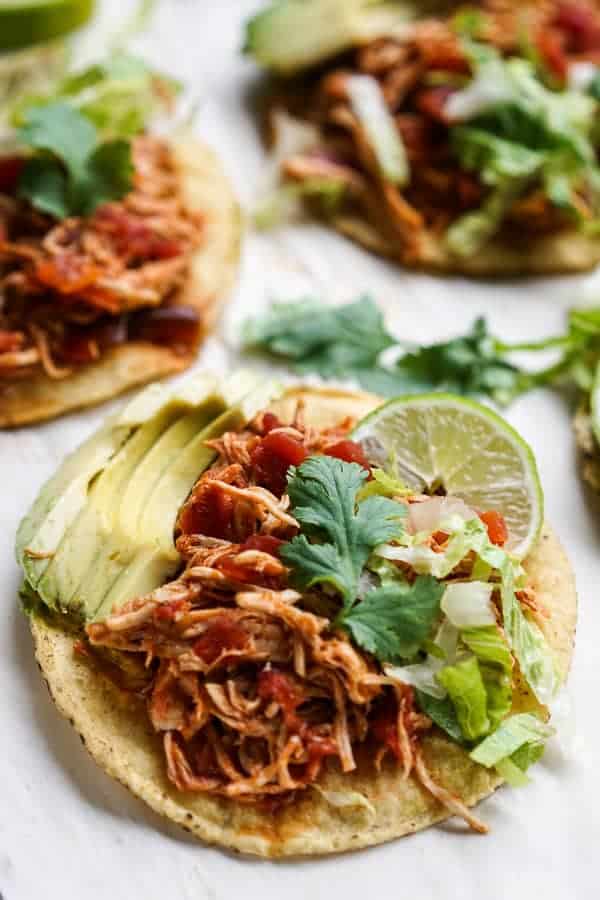 Why I love these Chicken Tostadas
Before we get started, I need to express how much I love flavorful spices. If you have tried my recipes, you know I am all about flavors. Real, deep, truly beautiful flavors.
None of that bland stuff. Because life needs to be a bit spicy. 😉
And my tastebuds like it a lot. That's probably the real reason.
Well, similar to many of the other recipes, there is no lack in flavors when it comes to this dish. I am loving experimenting and cooking with Mexican spices such as chipotle peppers in adobo sauce, cumin, chili powder, cilantro etc.
Add them to pretty much anything and you cannot go wrong.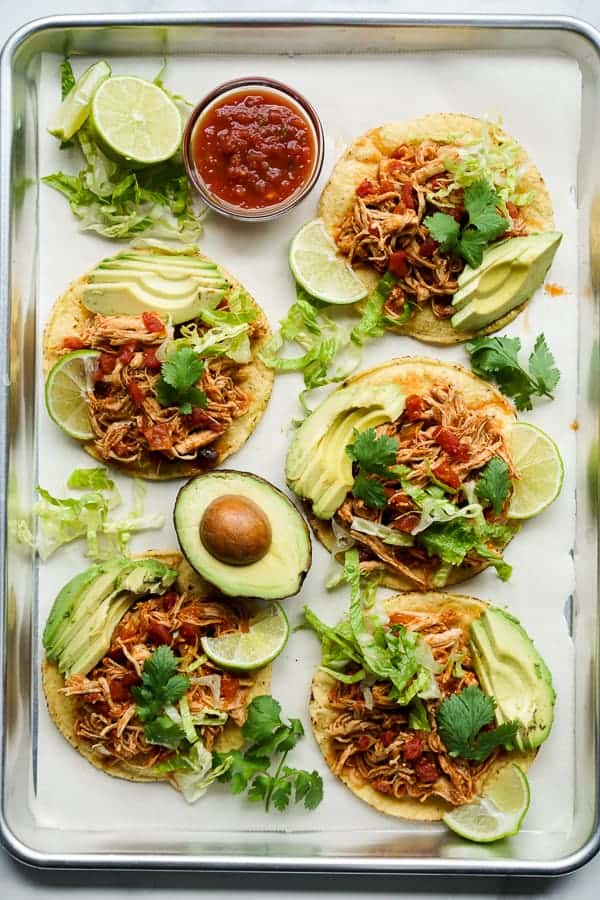 This dish is tangy, zesty, savory with a slight kick to it. You can make it less spicy by reducing the chipotle peppers in adobo sauce. The tomatoes incorporated rounds out the spiciness really well.
In addition to being 10/10 in the flavor department, here are a few other reasons why I love this Chicken Tostadas recipe:
Quick and easy – we use rotisserie chicken and it makes the job super simple!
So versatile – you can serve this dish in so many ways and top it with toppings you like.
Keeps well – store the meet separately for leftovers and freeze it if needed!
Let's Make Chicken Tostadas!
To keep this simple and quick, we are using rotisserie chicken. You can definitely also boil/steam chicken breast and shred it if you like.
There are three parts to this recipe:
Cook Chipotle Chicken
Prep toppings
Assemble!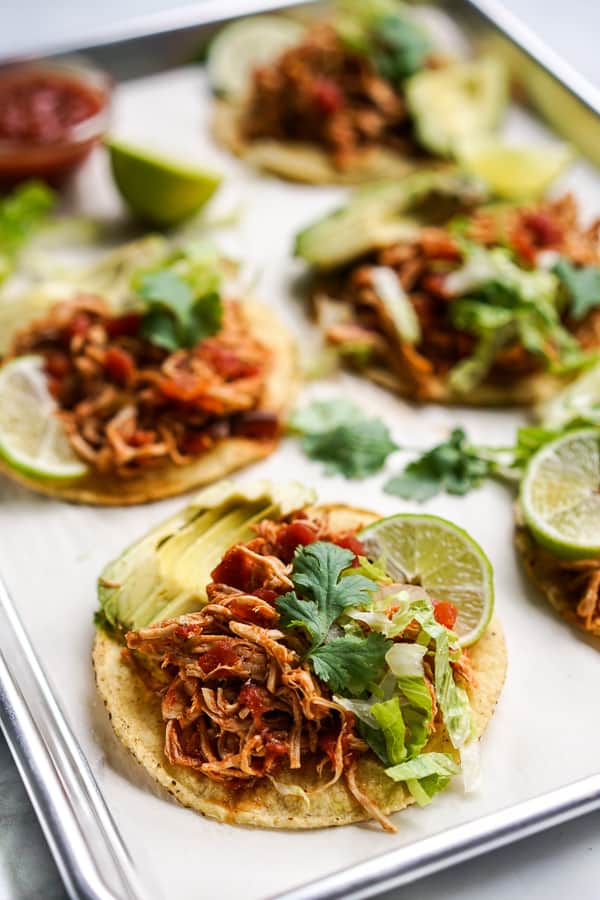 Super simple!
Cook Chipotle Chicken
This will be one of the easiest things you will ever cook in the skillet.
And it will also happen to be one of the yummiest.
Drizzle a little bit of vegetable oil then add everything to the skillet: shredded rotisserie chicken, chipotle peppers in adobo sauce (important spice for this dish! Use less if you want it less spicy), canned Mexican style diced (or stewed) tomatoes, tomato sauce, cumin, chili powder, and smoked paprika.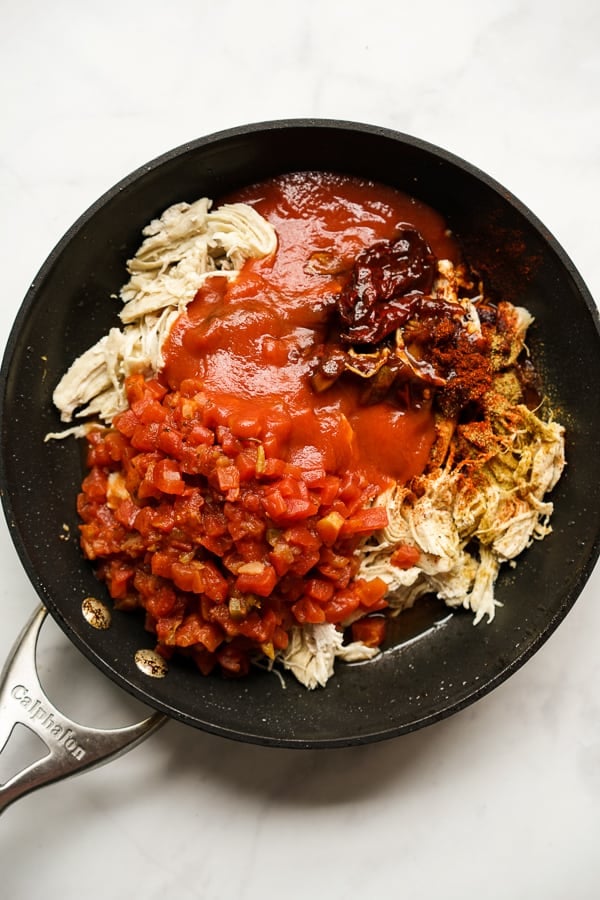 Stir well to combine the flavors.
Because the chicken is already cook, let everything come to a boil, cook for another few minutes on medium low heat, then remove from heat to avoid overcooking chicken.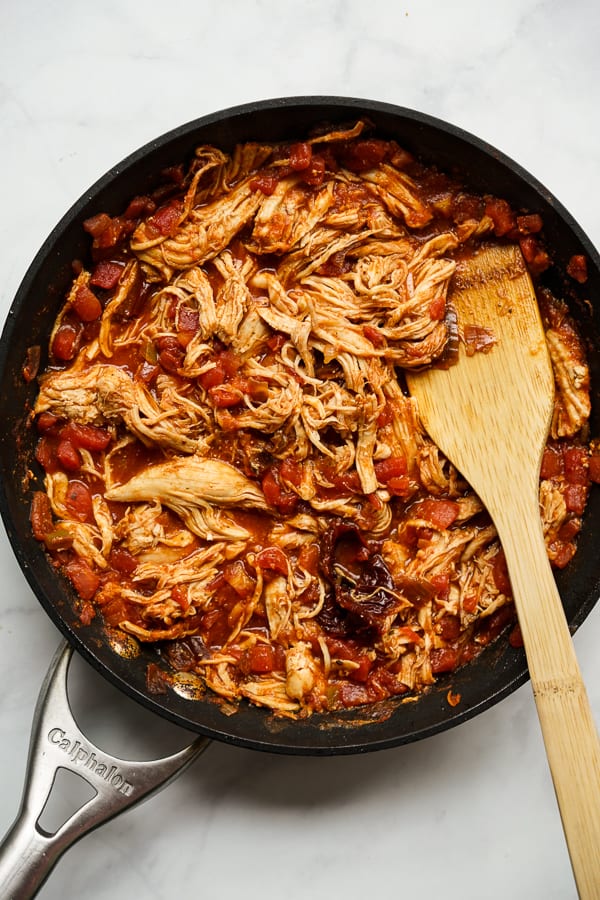 Prep Toppings
Here are the toppings I use for the tostadas:
Cilantro
Avocados
Lime
Lettuce
Salsa on the side
But don't let that limit you to just these! There are so many other ingredients and toppings that you can add to these Chicken Tostadas:
tomatoes
sour cream
cheese
jalapeño
corn
Pick your favorite and mix and match to your heart's content!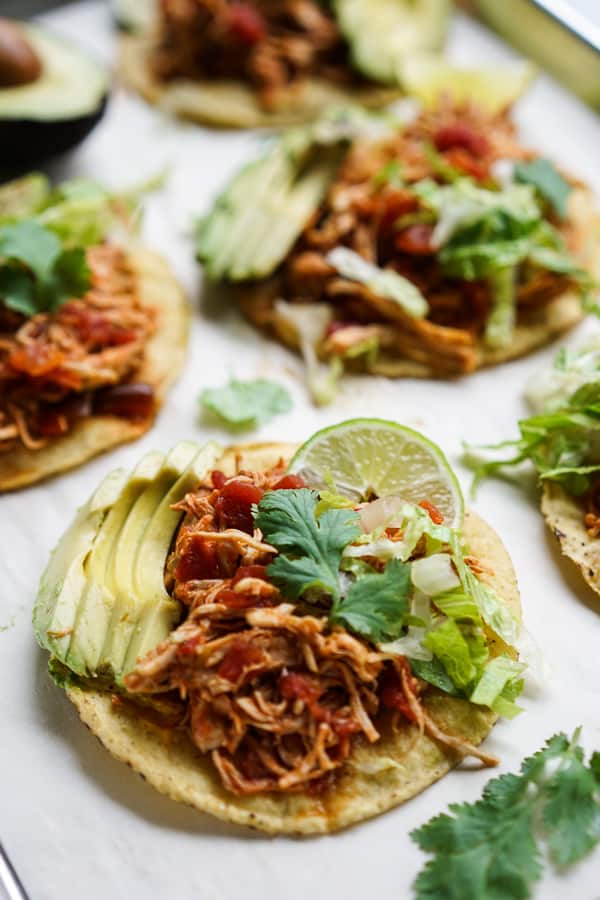 Assemble Chicken Tostadas
Once Chipotle Chicken is cooked and the toppings are prep, assemble the tostadas. If you like your tostadas warm, heat it up briefly (just a few minutes!) in the toaster oven or oven.
Add the Chipotle Chicken to it first, then pile on the toppings. I like to serve with the toppings on the side so everyone can tailor make their own tostadas.
Overloading your tostadas can make the eating process slightly messy, but it will be one tasty mess and I promise you you will not regret it! 🙂
DID YOU ENJOY THIS RECIPE? Please comment below and give us a 5-star rating! This will help others find this recipe on Google and Pinterest. We very much appreciate your help! 🤍
Other Mexican Inspired Recipes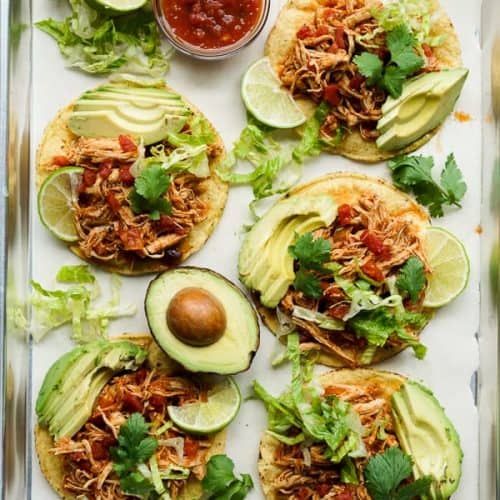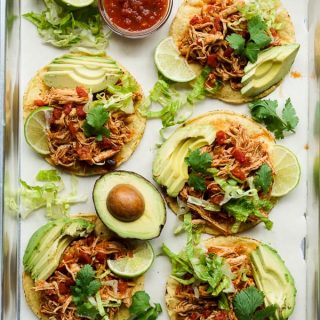 Chipotle Chicken Tostadas
A delicious Mexican-inspired meal! Tostadas topped with flavorful shredded chipotle chicken, sliced avocados, cilantro, lettuce and a wedge of lime.
Print
Pin
Ingredients
Chipotle Chicken
1

tsp

cooking oil

3

cups

shredded rotisserie chicken

packed

2-3

chipotle peppers in adobo sauce

4

oz

tomato sauce

1/2

tsp

chili powder

1/2

tsp

smoked paprika

1/4

tsp

cumin
Other
8

tostadas

2

tbsp

cilantro

2

cups

shredded lettuce

2

avocados

1

lime

wedges

1/4

cup

salsa
Instructions
Add cooking oil to skillet and heat skillet under medium heat. Add shredded rotisserie chicken, and the rest of the ingredients under "Chioptle Chicken". Note regarding Chipotle Peppers in Adobo Sauce: start by using only 2 chipotle peppers, then add another one if needed. Also add 1-2 tbsp of adobo sauce to skillet. This ingredient is spicy so adjust the amount accordingly. To make this mild, use only 1 chipotle pepper and 1 tbsp of adobo sauce.

Bring to a boil, then lower to medium low heat and simmer for 2-3 minutes. Remove skillet from heat.

Heat tostadas for a few minutes in toaster oven or oven and prepare the other toppings and ingredients.

Assemble tortadas by adding Chipotle Chicken, then topped with sliced avocados, cilantro, lettuce and lime wedges.

Serve with salsa and enjoy!
Nutrition
Calories:
644
kcal
|
Carbohydrates:
48
g
|
Protein:
33
g
|
Fat:
40
g
|
Saturated Fat:
8
g
|
Cholesterol:
92
mg
|
Sodium:
1023
mg
|
Potassium:
1319
mg
|
Fiber:
14
g
|
Sugar:
4
g
|
Vitamin A:
3638
IU
|
Vitamin C:
24
mg
|
Calcium:
93
mg
|
Iron:
3
mg