Mango Crumb Bars – BEST mango dessert ever!
Life is much sweeter with some Mango Crumb Bars in it. These crumbly bars are filled with fresh mangos, then baked to perfection. Savor that tropical flavor. Indulge in this fruity dessert. And if you must, grab them for an afternoon snack. Heck, have them for breakfast! Because WHY NOT.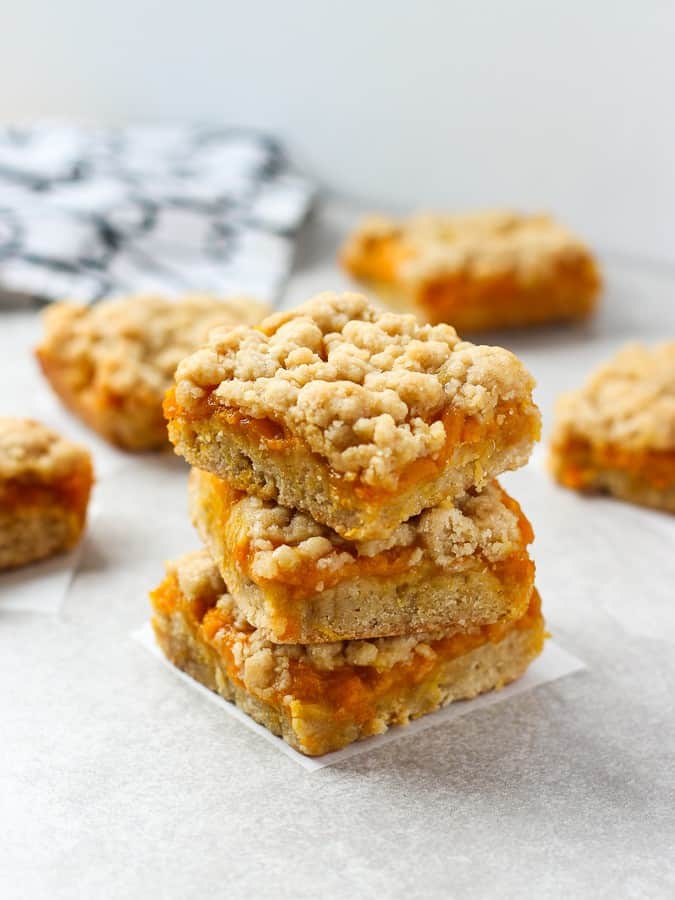 Mango Crumb Bars are great because they are deceivingly easy to make. A few simple tips and tricks will give you everything you need to bake your heart out and never look back.
Mangoes are also in season right now and are such a treat when incorporated into desserts.
Besides having a distinct flavor and scent, the ripened fruit itself is sweet as candy. Does that not spell dessert material or what?!?
My love for mangoes has led to a boat load of mango recipes on this blog. Everything from the traditional Thai Mango Sweet Sticky Rice dessert to Fish Tacos with Mango Peach Salsa. And now this.
Mango is one of those fruits that I love and love to incorporate into dishes and desserts even more.
Mangoes used in Mango Crumb Bars
This recipe calls for ripened, super sweet mangoes. A ripened mango will typically be orange/yellow-ish in color, and it smells sweet and mango-y (if you know what I mean 🙂 ).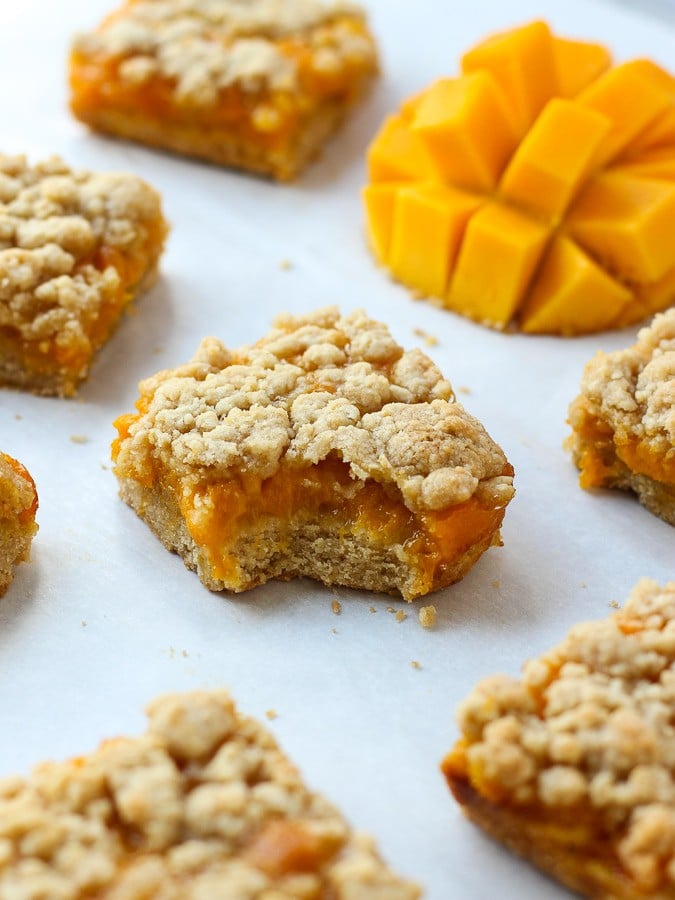 Sour, under-ripe mangoes don't work as well in this recipe. If your mango isn't super sweet, you will want to add more granulated sugar to the mango mixture to sweeten it.
I use ~2 mangoes for this recipe, maybe 3 if they are smaller.
How to make Mango Crumb Bars
Step 1: Make Mango Mixture
Cut the mangoes into small chunks, and mix with sugar and cornstarch in a mixing bowl.
If you are using less sweet mangoes, add more sugar to the mixture.
Set aside until you are ready to layer it onto the baking pan.
Step 2: Make dough
The dough requires cold butter.
Yes, cold! So bring it out from the refrigerator right before you need to use it so it won't be softened by the time you use it.
After mixing the dry ingredients together (flour, baking powder, salt), add chunks of cold butter into the food processor.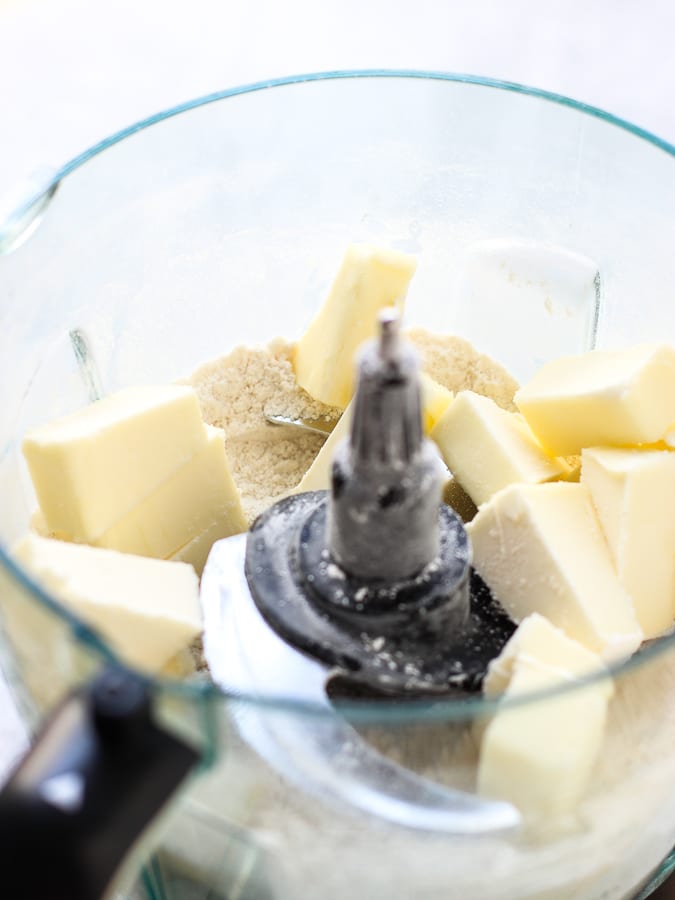 Pulse until mixture turns crumbly (see picture below).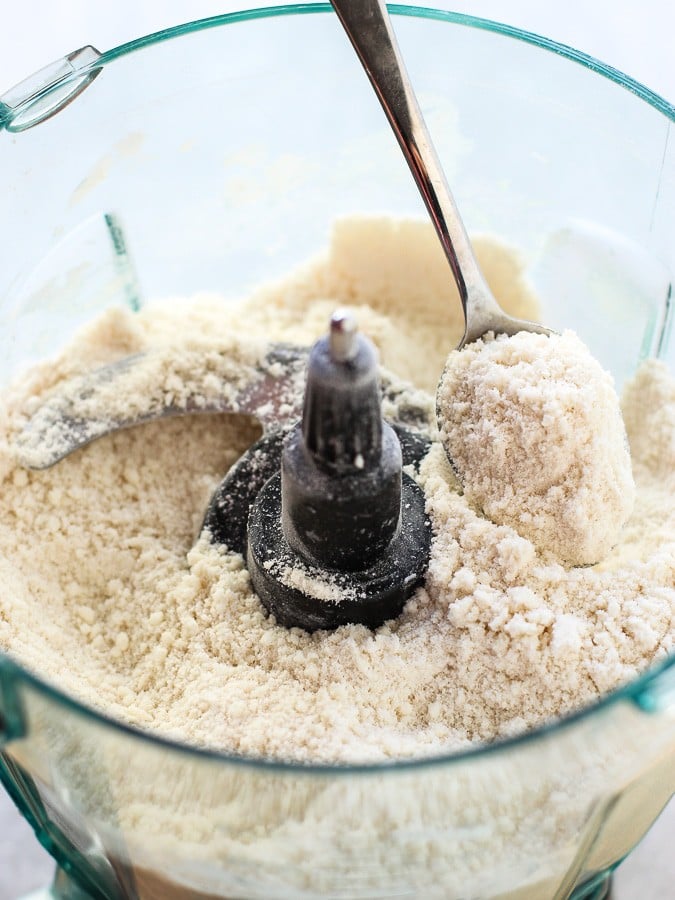 Alternatively, you can also use a pastry cutter to mix the butter into the dry ingredients until mixture becomes crumbly.
Mix together wet ingredients (brown sugar, egg, vanilla extract), then pour wet ingredients into the crumbly mixture and mix well.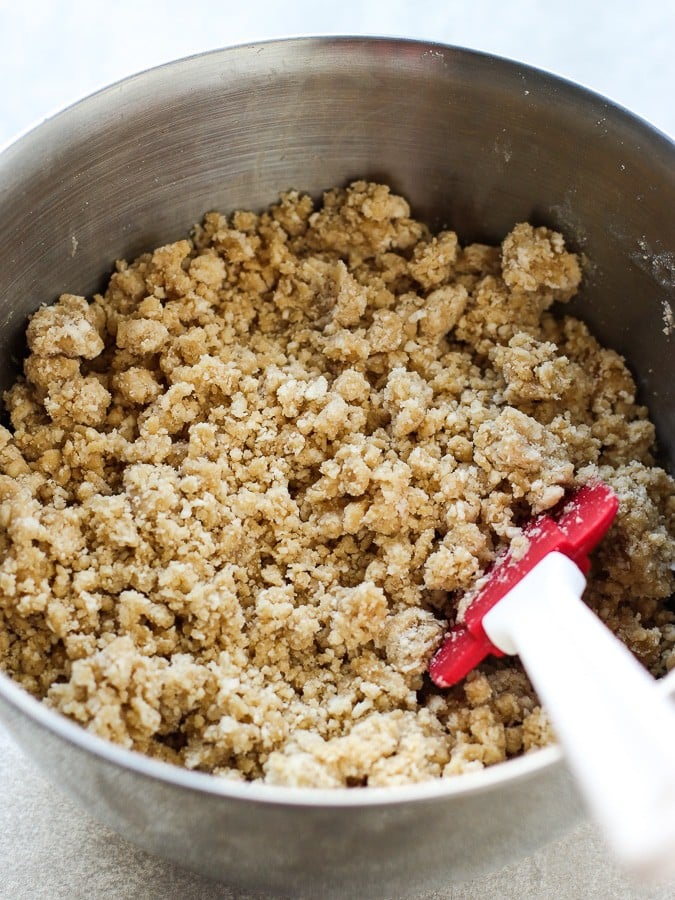 Step 3: Layer it
Bring ~2/3 of the crumbly mixture and spread it onto a 8″x8″ baking pan lined with parchment paper (for easy removal of the bars and less cleanup!).
If you are not using parchment paper, consider greasing the pan.
Use a spatula to press crumbs onto the pan to form the bottom layer of the bar.
Next, pour and spread mango mixture onto the bottom crumb layer.
Lastly, sprinkle the rest of the crumb mixture on top of the mango mixture.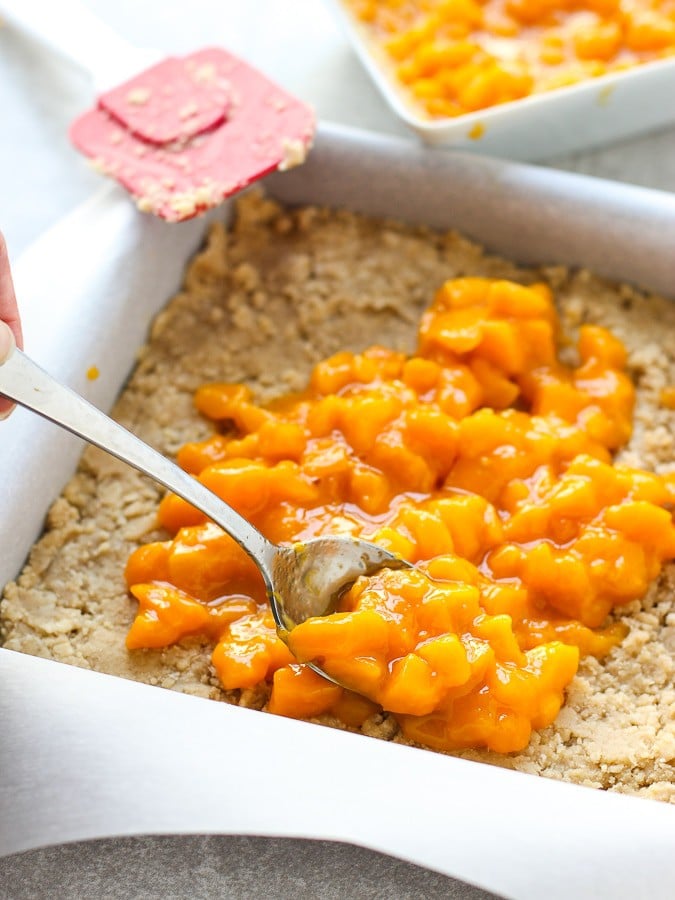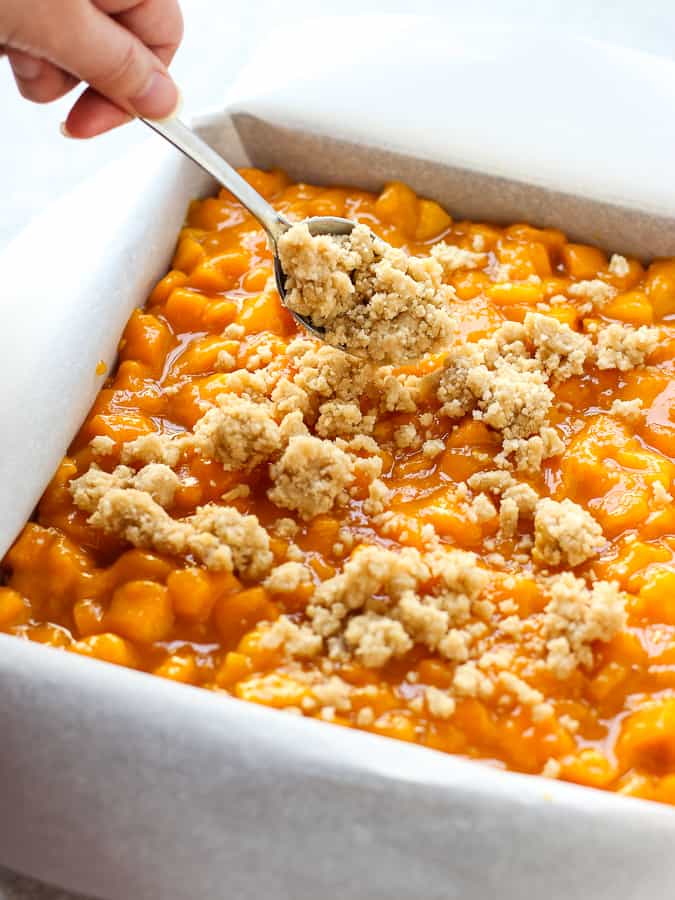 Step 4: Bake!
Bake in the oven for 35-40 minutes at 350 degrees F.
And viola.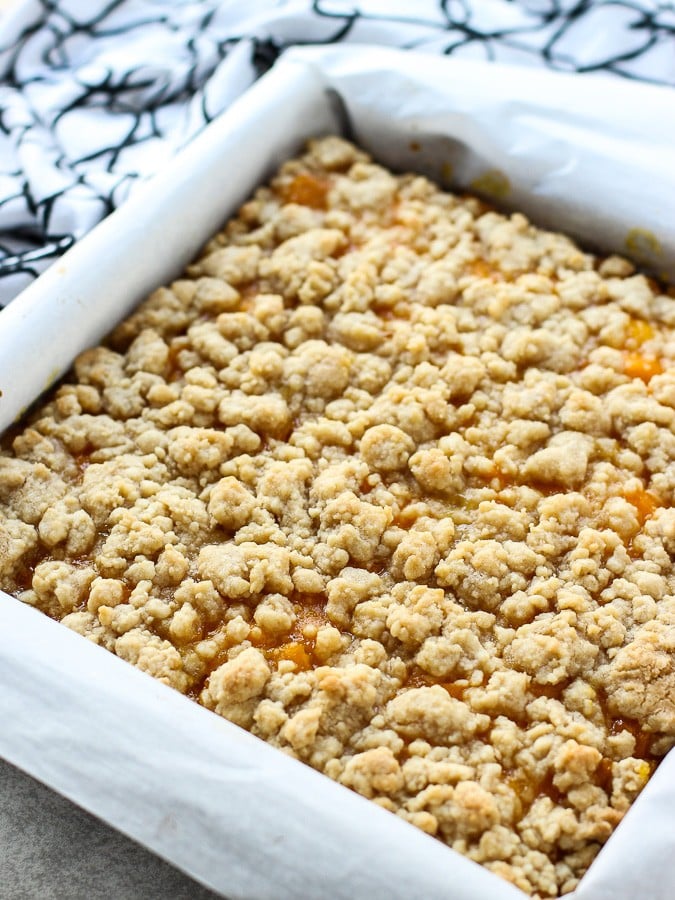 Step 5: Let it cool and slice!
Let the pastry cool in the pan for 5-10 minute.
Lift parchment paper and bring the pastry out to cool further on a cooling rack. Give it at least 15-20 minutes, then cut into square bars after it cools down.
And there you have it. Crumbly, buttery, juicy sweet Mango Crumb Bars.
So lovely, and so very delicious!
Tips and Tricks
If the mango used isn't super sweet, you will need to add more sugar to the mango mixture.
Use cold butter! Do not use melted or soft butter, the texture of the pastry is not the same.
Line basking dish with parchment paper for easier cleanup and removal.
Store in air tight container in room temperature for up to 2 days or the refrigerator for up to a week.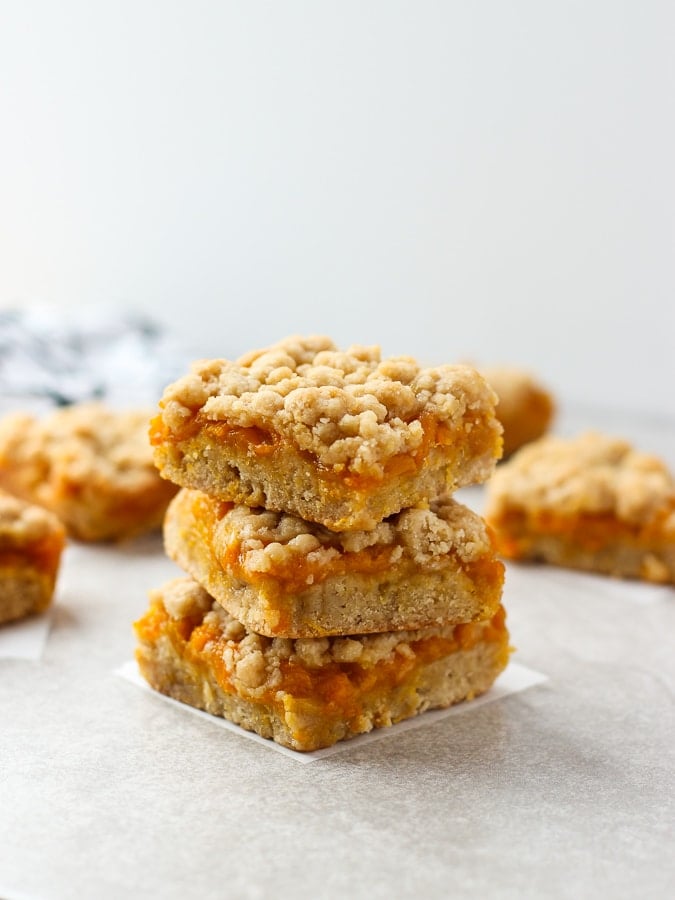 The next time you are craving for dessert, and are about to bake a cookie or a cake, consider baking some Mango Crumb Bars. It's the ultimate mango dessert treat!
If you love mangoes and mango dessert, you will fall in love with this! 🧡
DID YOU ENJOY THIS RECIPE? Please comment below and give us a 5-star rating! This will help others find this recipe on Google and Pinterest. We very much appreciate your help! 🤍
Other Dessert Recipes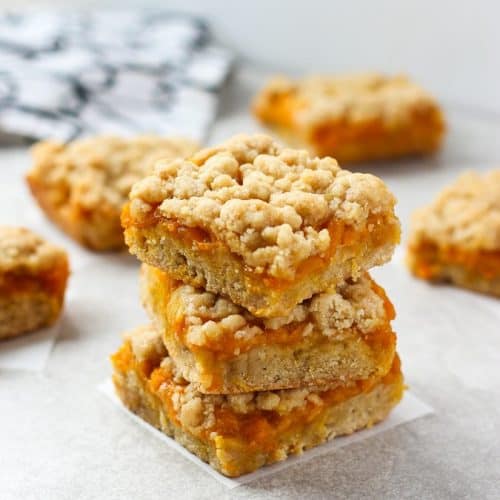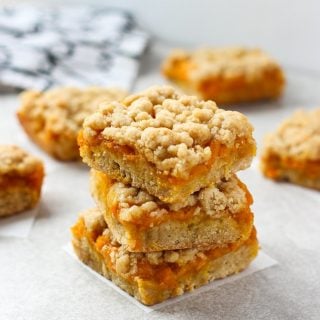 Mango Crumb Bars
Fresh, sweet, juicy mangoes sandwiched between two layers of crumbly, buttery pastry. These Mango Crumb Bars are super easy to make, and are the perfect dessert and snack!
Print
Pin
Ingredients
2 1/2

cups

ripe mangoes (small chunks)

2-3 mangoes

3-5

tbsp

granulated sugar

1/2

tbsp

corn starch

2

cups

flour

1/2

tsp

baking powder

1/4

tsp

salt

3/4

cup

cold unsalted butter

2/3

cup

brown sugar

1

large egg

1/2

tsp

vanilla extract
Instructions
Pre-heat oven to 350 degrees F.

Cut mangoes into small chunks. In a bowl, combine mango chunks, sugar (use more if mango is not ripened) and corn starch. Mix well and set aside.

In a large bowl, combine flour, baking powder and salt.

Cut cold (important: make sure it is cold!) unsalted butter into chunks and add to flour mixture.

If using a food processor, pulse until small crumbs are formed. If using a pastry cutter, cut butter into flour mixture until small crumbs are formed.

Mix together wet ingredients – brown sugar, egg and vanilla extract. Then add wet ingredients into buttery dry mixture. Mix well – mixture should be slightly crumbly.

Bring ~2/3 of crumbly mixture to the bottom of a 8″ x 8″ baking pan lined with parchment paper. Press mixture onto pan to form a layer of crumb pastry.

Add mango mixture, and spread it out evenly.

Then sprinkle the top with the rest of the crumbles.

Bake in the oven for 35-40 minutes.

Remove from oven and let it cool for 5-10 minutes. Then lift parchment paper and bring pastry out from the pan. Let it cool for another 15-20 minutes.

Cut into 9 square bars. Serve and enjoy!
Nutrition
Calories:
351
kcal
|
Carbohydrates:
49
g
|
Protein:
4
g
|
Fat:
16
g
|
Saturated Fat:
10
g
|
Polyunsaturated Fat:
1
g
|
Monounsaturated Fat:
4
g
|
Trans Fat:
1
g
|
Cholesterol:
59
mg
|
Sodium:
103
mg
|
Potassium:
140
mg
|
Fiber:
1
g
|
Sugar:
26
g
|
Vitamin A:
995
IU
|
Vitamin C:
17
mg
|
Calcium:
43
mg
|
Iron:
2
mg