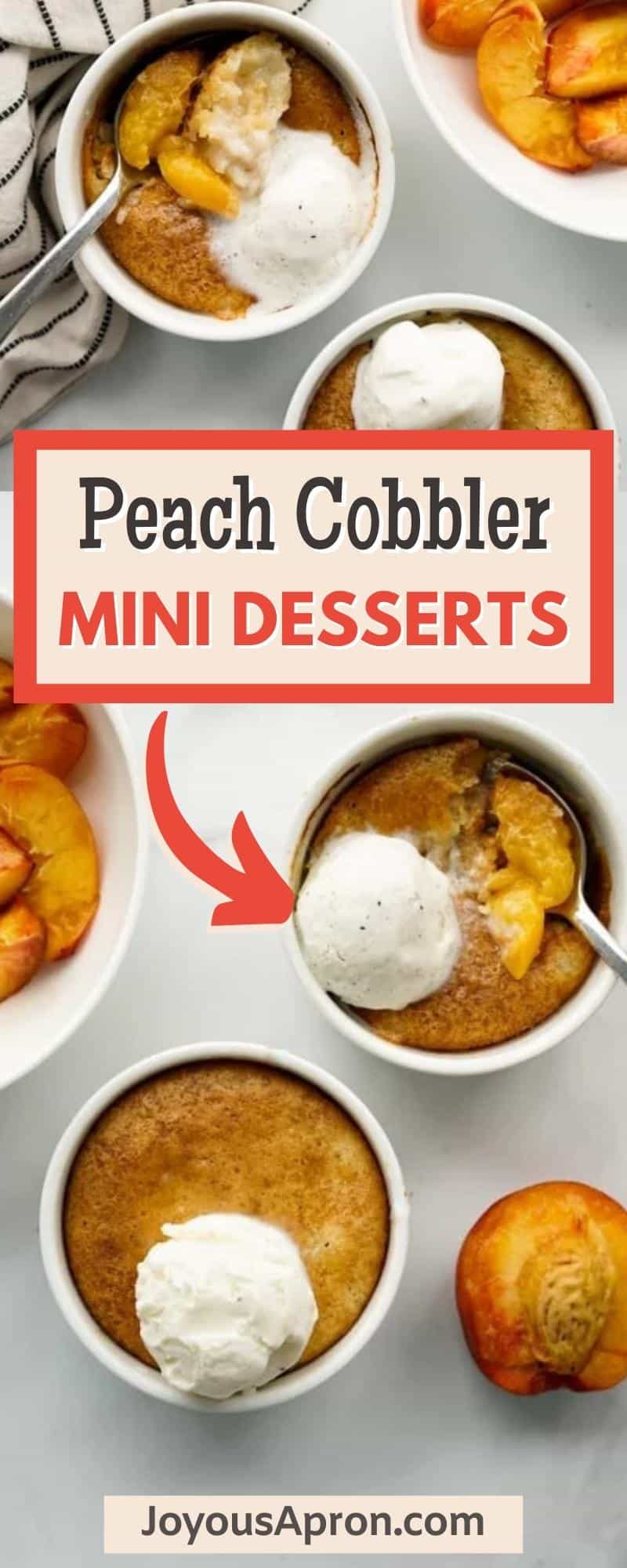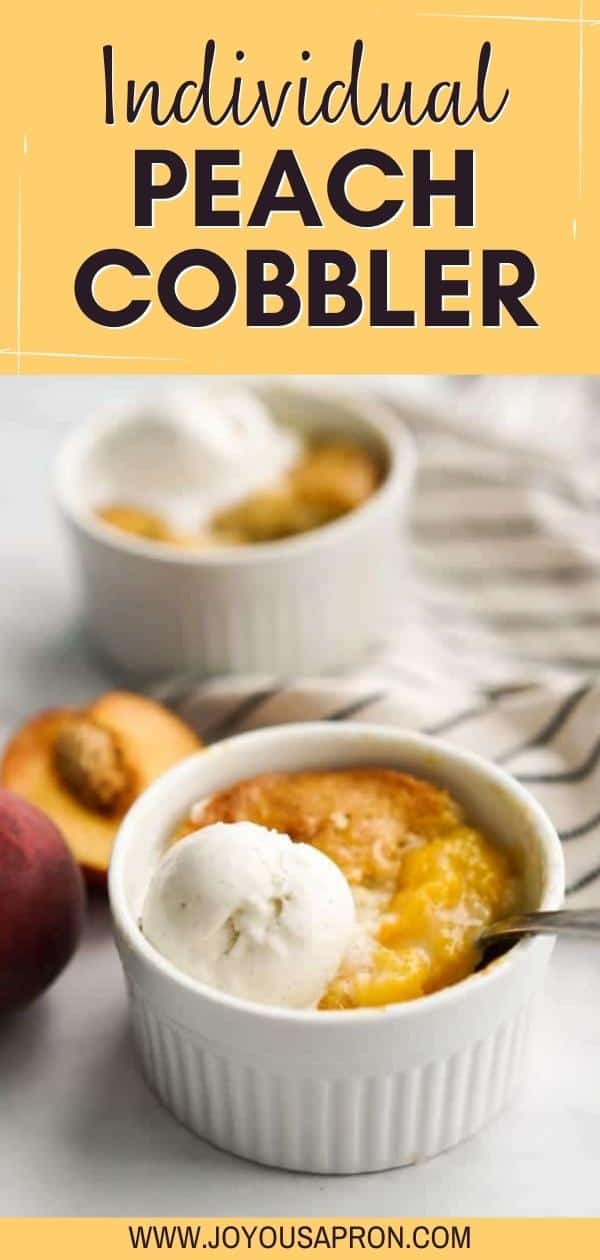 This post may contain Amazon or other affiliate links. As an Amazon Associate I earn from qualifying purchases at no additional cost to you.
My heart (and stomach) is calling for some warm cobbler filled with fresh peaches topped with vanilla ice cream, but in portion control fashion…a.k.a Individual Peach Cobbler!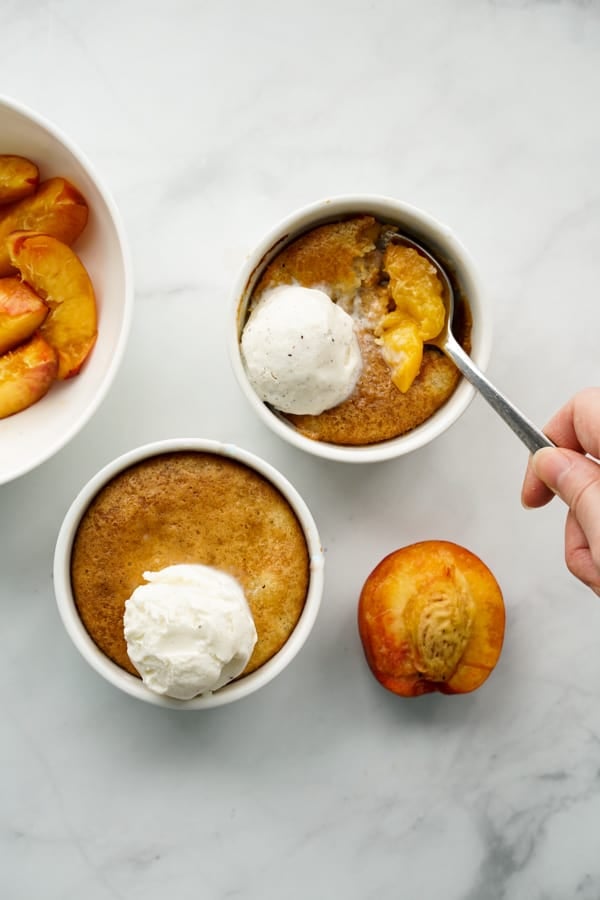 You know how it is…
Summer is here, fresh peaches are juicy and sweet and perfect, and all you want is a good, solid peach dessert that will scratch that itch.
But you don't want to be tempted by a large casserole of peach cobbler sitting in your fridge for days, because you know you don't need that much cobbler in a seven day span in your life.
But you still so desperately want cobbler.
You know, the classic dessert that is gooey, sweet and warm on the inside, covered with a caramelized crusty, cake-y topping and then topped with vanilla ice cream.
So summer-y, so dreamy. I could eat multiple bowls of this at a time. But I will not. I will not.
And that's really the whole point of this "individual" peach cobbler thing…
Let's make Individual Peach Cobbler
Peach cobbler is seriously one of my all-time favorite desserts.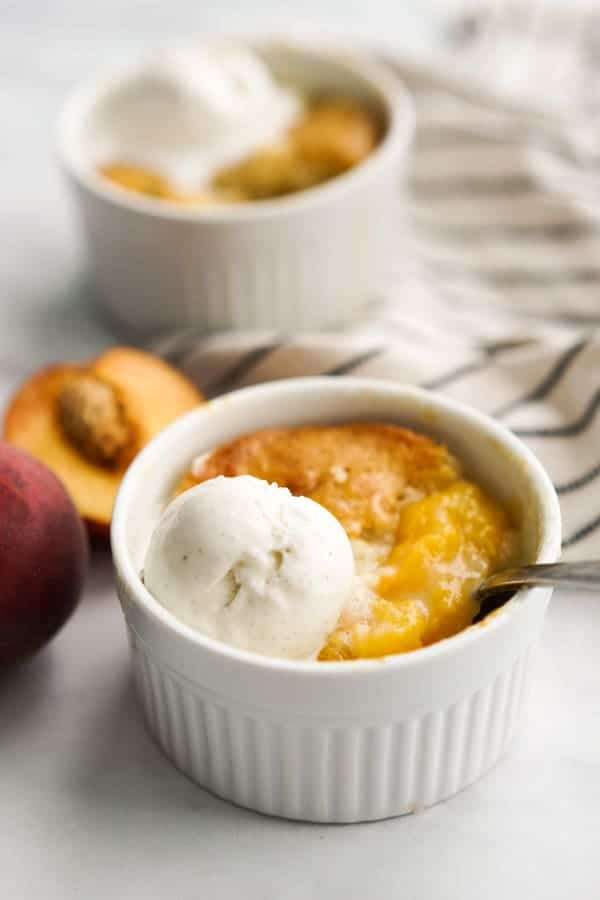 If fresh peaches were available all year round, I would be eating this dessert all year round.
I was sad when I couldn't convinced my husband to have a peach cobbler bar instead of cake for our wedding, because that man loves his cakes.
So yeah…I really do love this cobbler thing with my whole dang heart. That's why I put so much energy into figuring out how to make these little small ones.
There are two of us in this household. A whole casserole of peach cobbler and me alone in the house is a dangerous situation.
In addition, the beauty of making small portions is that it really does simplify the whole baking/cooking process.
Plus, you'll find this to be a fairly light dessert, not crazy sweet, and you'll leave feeling like it's just enough to scratch that dessert itch, without that heavy feeling in your stomach.
Here's all you need:
Prepare the flour mixture in a small bowl
Prepare peach + sugar mixture in another small bowl
Two 6 oz ramekins with melted butter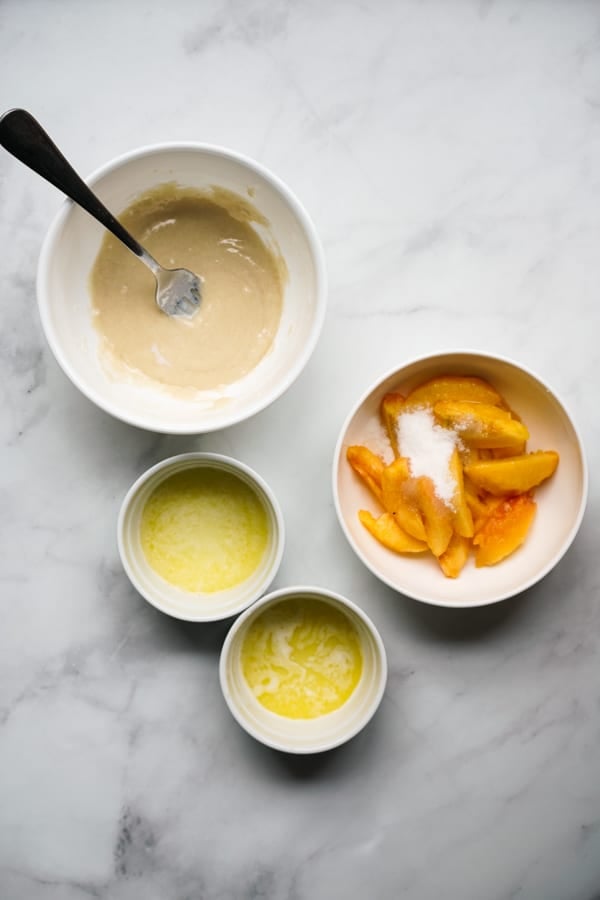 No large mixing bowls needed. You don't really even need a whisk – a fork should suffice. And yes, easy cleanup – which is always a win in my books…anybody else feeling that way?
Simplicity is the word of the day.
Assemble cobbler by adding peaches + sugar into the ramekins, and then pour the mixture onto the top of the peaches.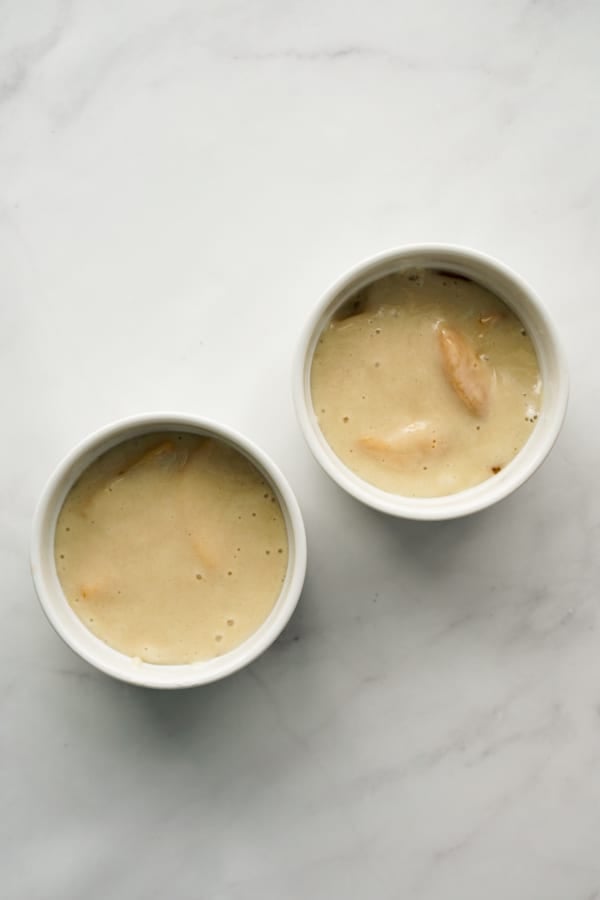 If flour mixture doesn't completely cover all the peaches that is okay too. Then send it to the oven to bake!
How to serve it
As for how to serve this, peach cobbler goes hand in hand with vanilla ice cream.
I don't eat peach cobbler without vanilla ice cream.
It's just not complete. It just doesn't make sense.
That warm gooey cobbler with a crusty topping is made for the creamy cold ice cream melting all over it.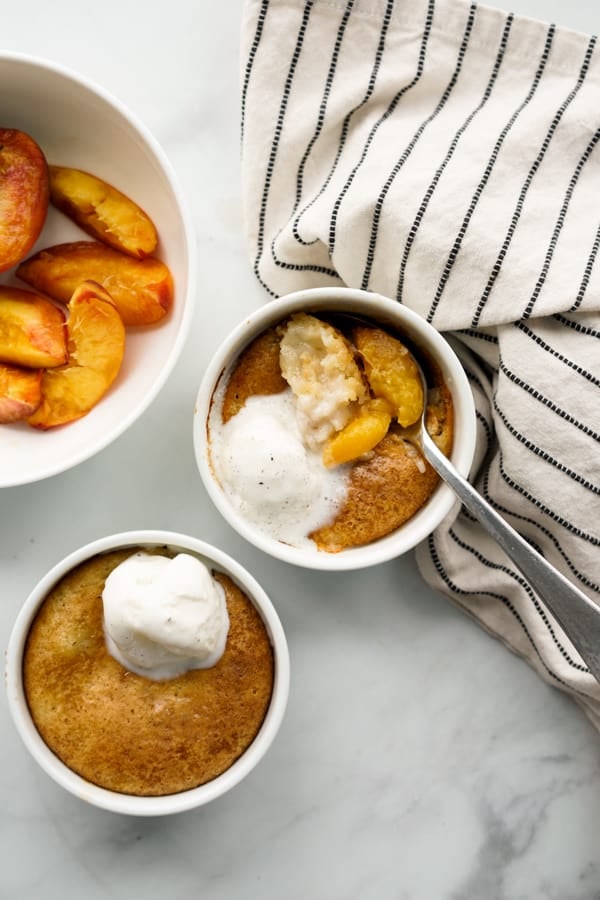 And if you really really want to, you can also serve with cool whip or whipped cream if you are not in the mood for ice cream. I am not that person, but that's okay we can still be friends. 😉
Something creamy and cold is a good fit for this dreamy yum thing.
I call this my blissful summer indulgence….
Indulge, my friends!
DID YOU ENJOY THIS RECIPE? Please comment below and give us a 5-star rating! This will help others find this recipe on Google and Pinterest! We very much your help! 🤍
Other Fruit Desserts:
Because I sure love them!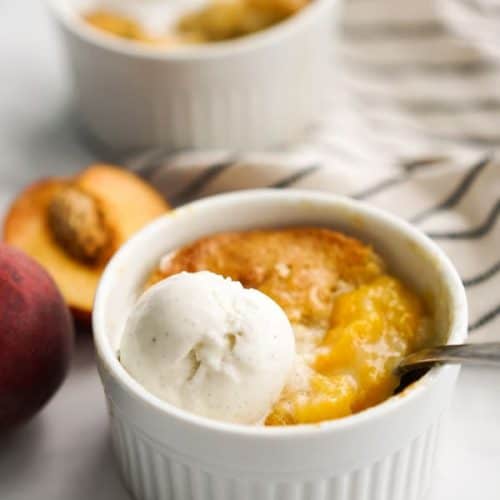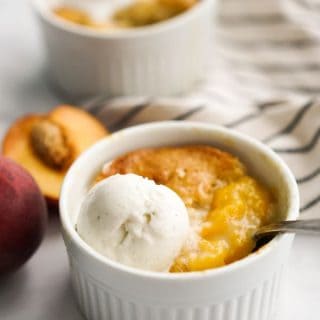 Individual Mini Peach Cobbler
Warm, gooey peaches topped with a caramelized cake topping and served with vanilla ice cream. A delicious light dessert made in a small ramekin for an individual serving!
Print
Pin
Ingredients
Cobbler Mixture
2

tbsp

unsalted butter

1/4

cup

all purpose flour

1/8

cup

granulated sugar

1/2

tsp

baking powder

a pinch of salt

1/8

cup

milk

1/4

tsp

vanilla extract
Peach Mixture
1

cup

peaches

sliced

1/8

cup

granulated sugar
Other
2

scoops

vanilla ice cream

or more!
Instructions
Prepare two 6 oz ramekins by adding 1 tbsp of butter to each ramekin. Bring to pre-heated oven to melt butter. Remove promptly once melted (should take only a few minutes).

In a small bowl, bring together all the dry mixture for cobbler – flour, 1/8 cup sugar, baking powder, and salt. Mix well.

Dig a hole in the middle of the dry mixture and add wet mixture – milk and vanilla extra. Combine until there are no lumps in the mixture.

In another bowl, combine sliced peaches and 1/8 cup sugar.

Evenly divide peach mixture into two ramekins. Then top both ramekins with cobbler topping.

Place ramekins on baking tray or cookie sheet to avoid drippings onto the bottom of the oven. Bake for 30 minutes. Then broil for 3 minutes to brown the top (optional).

Serve with vanilla ice cream and enjoy!
Notes
If using canned peaches, drained liquid and omit 1/8 sugar added to peaches (assuming canned peaches are already sweetened).
Nutrition
Calories:
434
kcal
|
Carbohydrates:
61
g
|
Protein:
5
g
|
Fat:
20
g
|
Saturated Fat:
12
g
|
Cholesterol:
61
mg
|
Sodium:
416
mg
|
Potassium:
298
mg
|
Fiber:
2
g
|
Sugar:
46
g
|
Vitamin A:
884
IU
|
Vitamin C:
5
mg
|
Calcium:
169
mg
|
Iron:
1
mg