Vietnamese Noodle Bowl with Grilled Pork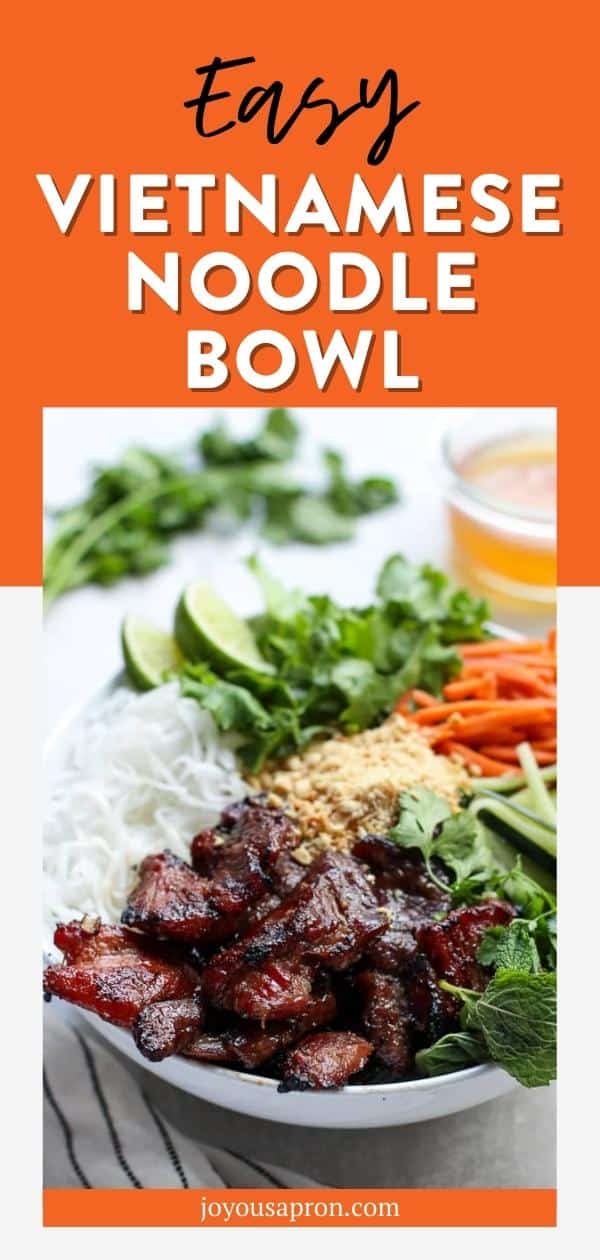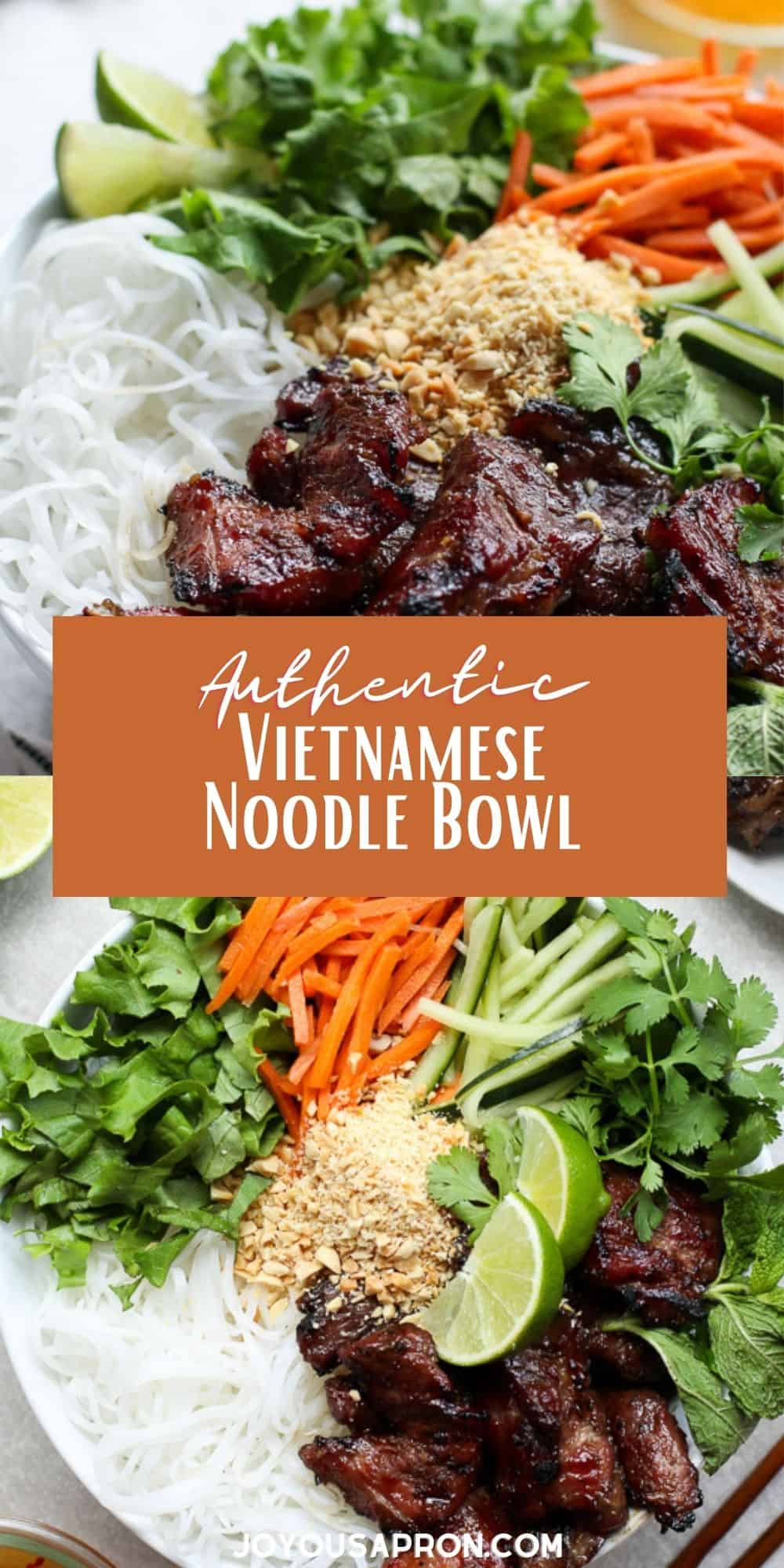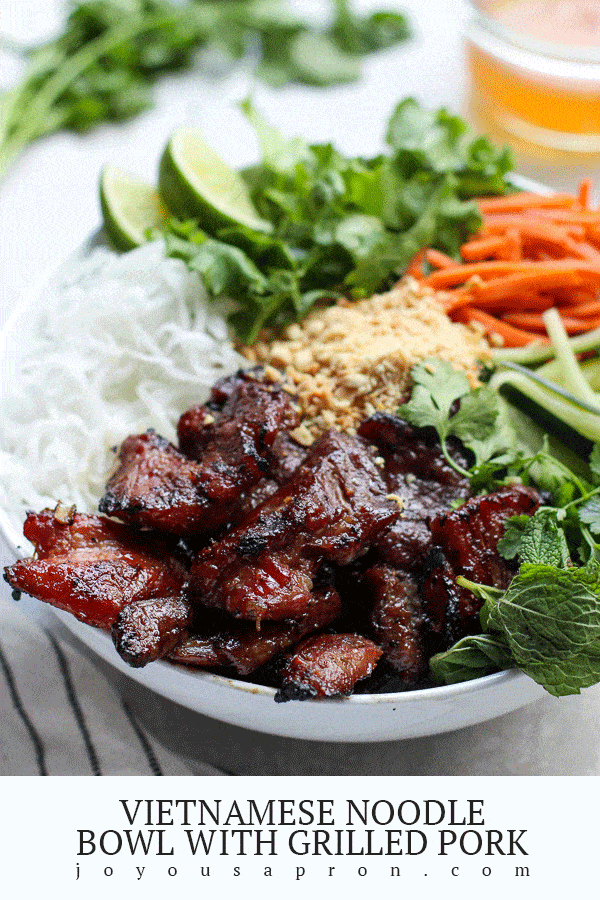 BEHOLD. Vermicelli noodles topped with chargrilled pork, crunchy veggies, lime and peanuts. A healthy and light meal bursting with freshness and packed with so much yum! Vietnamese Noodle Bowl is the epitome of great flavor and texture.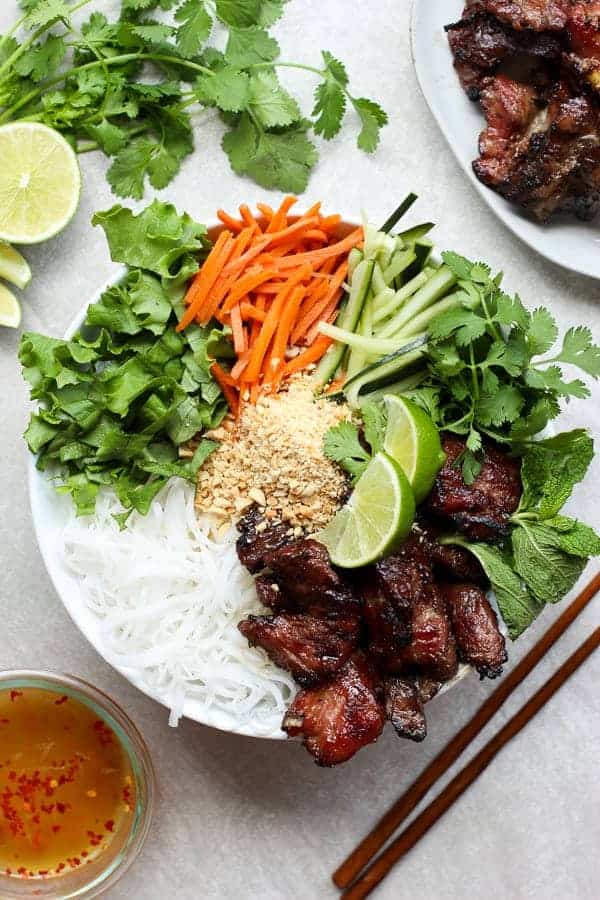 What is Vietnamese Vermicelli Noodle Bowl?
This is a popular noodle dish originated from Vietnam that is served dry with lots of fresh veggies, grilled meats or seafood, and drizzled with a bold flavored fish-sauce-based sauce. Noodles used are thin rice vermicelli noodles that are white in color when cooked, similar to noodles used in Pho.
Today, you can find this dish in almost any Vietnamese restaurants across the United States. It is light, fresh and loaded with amazing flavors and textures.
I wanted to create something that is simple enough for everyday people to make (i.e. most of us who are not professional chefs but still want to make/eat good food at home), yet complex enough to capture the beauty, authenticity and complexity of this beautiful concoction. And to do it justice.
Because this noodle dish is a GORGEOUS blending of flavors and textures. One of the absolute best.
So fire up that grill (or pan fry it because that works too), grab some Vietnamese Egg Rolls should you choose to (talk about a pairing made in foodie heaven), and get ready to put together this delicious Vermicelli Noodle Bowl with Grilled Pork, or also called bun thit nuong.
What type of noodles to use?
Thin vermicelli rice noodles are used for this recipe. You should be able to find this at Asian grocery stores, and some mainstream stores in the Asian section. Here is an affiliate link for it if you want to get it online.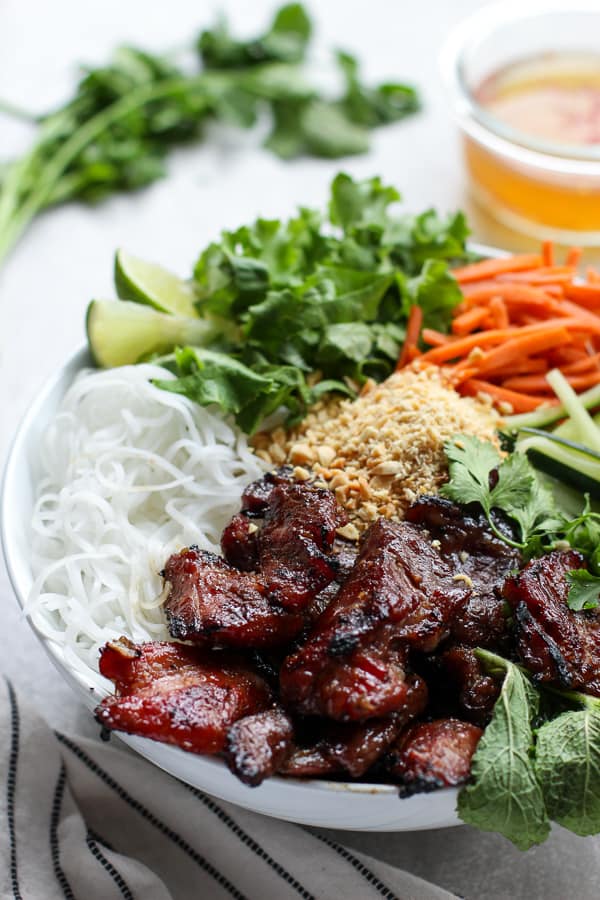 These are noodles used for Pho (Vietnamese noodle soup). They are also similar to noodles used for Pad Thai and Pad See Ew, but are thinner in shape. Pad Thai and Pad See Ew use thicker rice noodles.
Do note that they are different from mung bean thread noodles (they look very similar!). Bean Thread noodles are usually clear and transparent when cooked.
How to make Vietnamese Rice Vermicelli Noodle Bowl?
There are a few components to this dish, but don't let it intimidate you because once you break it down it's fairly straight forward!
Grilled Pork
Noodles
Veggies + Garnishes
Sauce
Grilled Pork
Grilled pork is marinated in a ridiculously flavorful sauce. My husband calls this the star of the dish, I say every component is just as crucial.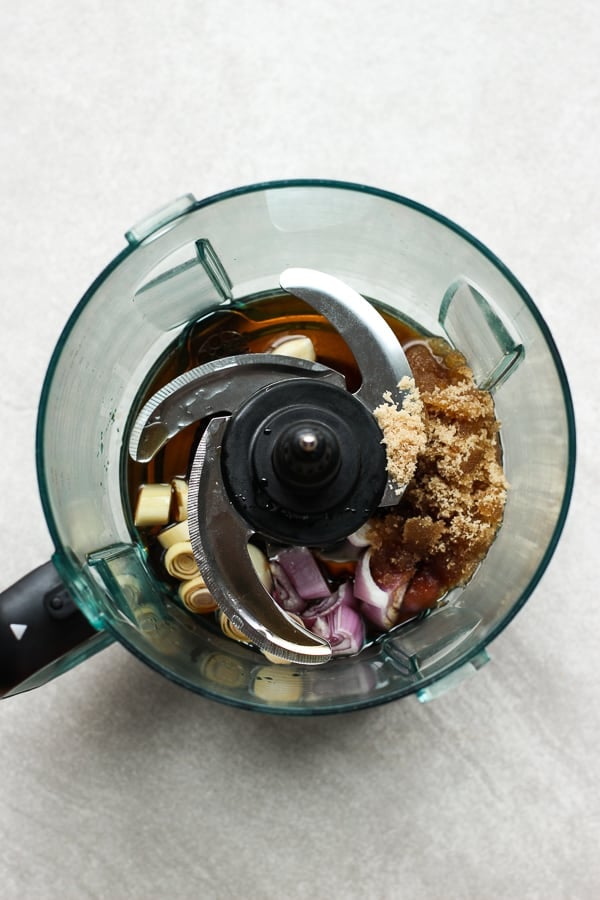 The pork marinate is made with:
brown sugar
garlic – fresh, avoid substituting with garlic powder
shallots
lemongrass – feel free to omit it if you cannot find it.
Throw everything into a food processor or blender, and blend it up.
If you don't have a food processor or blender, chop up the shallots, garlic and lemongrass and mix everything together with a whisk.
I typically marinade the pork first as it takes about an hour for the flavor to really sink into the meat.
Grill pork on a grill pan or outdoor grill. If you don't have a grill, pork can be pan-fried on a skillet as well.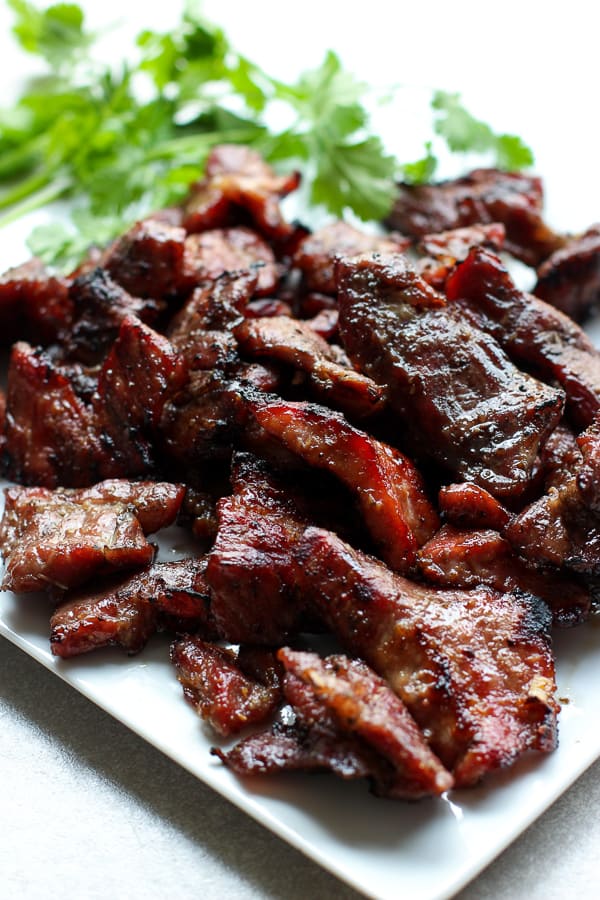 Grill under indirect heat (if using charcoal grill), or medium/low heat (if using grill pan, electric grill, or skillet) to make sure the insides of the pork is completely cook.
There is sugar in the marinate, so pork will brown/burn quickly on the outside. So check on it every now and then, and lower heat as needed!
Vegetables and Garnishes
Once the meat is on the grill, go ahead and chop/prep the rest of the veggies and garnishes.
Then pickle carrots and cucumber.
Pickling the carrots and cucumber gives them an extra oomph, and that tangy vinegary flavor goes perfectly with the noodles, pork and the rest of the garnish.
It doesn't have to be pickled for a long time – about 30-60 minutes is sufficient.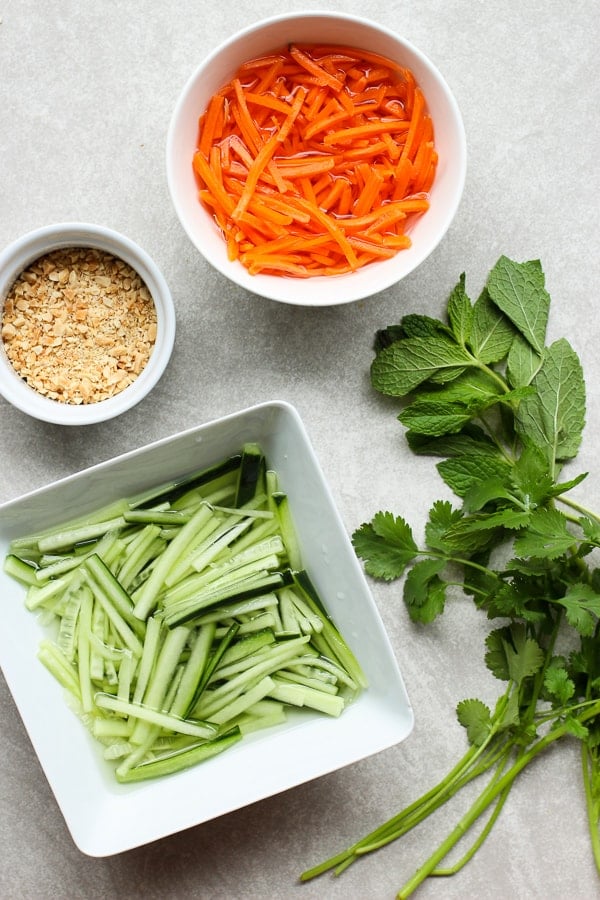 Vermicelli Rice Noodles
As for the noodles, we will be using thin vermicelli rice noodles.
I typically buy them dry, but you can also find refrigerated ones in the Asian grocery stores.
Some will require boiling noodles in water briefly, and some just requires soaking noodles in boiled, hot water briefly. My recommendation is to follow package instructions. All we are trying to do is soften the noodles.
Sauce
If you think we are just eating the noodles plain, you are very much mistaken. Plain is not the word to describe this dish! In fact, I will argue quite the opposite.
We are about to make a sweet, tangy, salty sauce which comprise of fish sauce, lime juice (squeezed from fresh limes), brown sugar, water and red pepper flakes. And you betcha we are going to smother the noodles with that yum sauce.
How do you eat Vietnamese Noodle Bowl?
So many components!! How do we serve and eat them?
I asked myself the same question when I had this for the very first time!
Pile everything onto the rice vermicelli noodles – grilled pork, veggies, garnishes. Then splash that yum sauce all over it.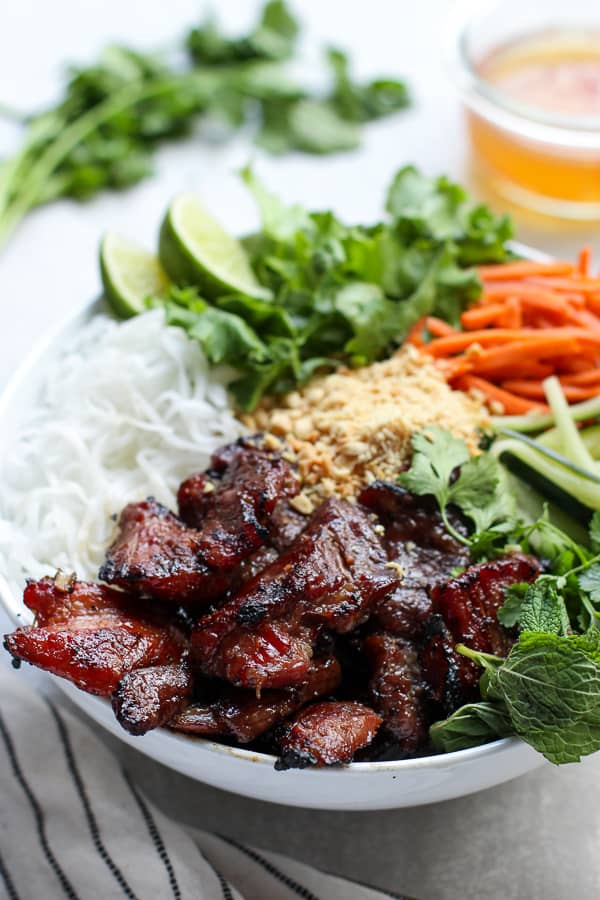 Then you decide how you want to proceed. Mix it all up; Or, mix some portion of it up, eat, and mix more of it up. I suggest pouring lots of sauce to it because that flavorful liquid is GOLD.
Optional, but highly recommended for your pleasure: Savor every bite.
Close your eyes and shut the rest of your senses so you get the full impact of the taste and texture of this heavenly Vietnamese Noodle Bowl with Grilled Pork.
Substitutions and Variations
If you cannot find these ingredients, here's what you can do!
Rice vinegar – use white vinegar instead!
Shallots – use white, yellow or sweet onions instead!
Lemongrass – simply omit this.
Brown sugar – granulated sugar works fine too.
Frequently Asked Questions
How do I store this as leftovers?
Store each component separately, and only combine rice vermicelli noodles, veggies and garnishes, meat and sauce, when ready to eat. Store each item individually in a sealed container for up to 1 week in the refrigerator.
What are other ingredients can I add to this noodle bowl?
I love adding some Vietnamese Egg Rolls or fried egg to it as well! Yum!
And that's all, folks. Vietnamese Vermicelli Noodle Bowl. Just like the ones you get at restaurants. ENJOY!!
If you make this recipe please comment below and let me know how it goes! It would also make me SO HAPPY if you'd take a picture of your creation and tag me on Instagram. Because I WANNA SEE!
DID YOU ENJOY THIS RECIPE? Please comment below and give us a 5-star rating! This will help others find this recipe on Google and Pinterest. We very much appreciate your help! 🤍
More Asian Recipes!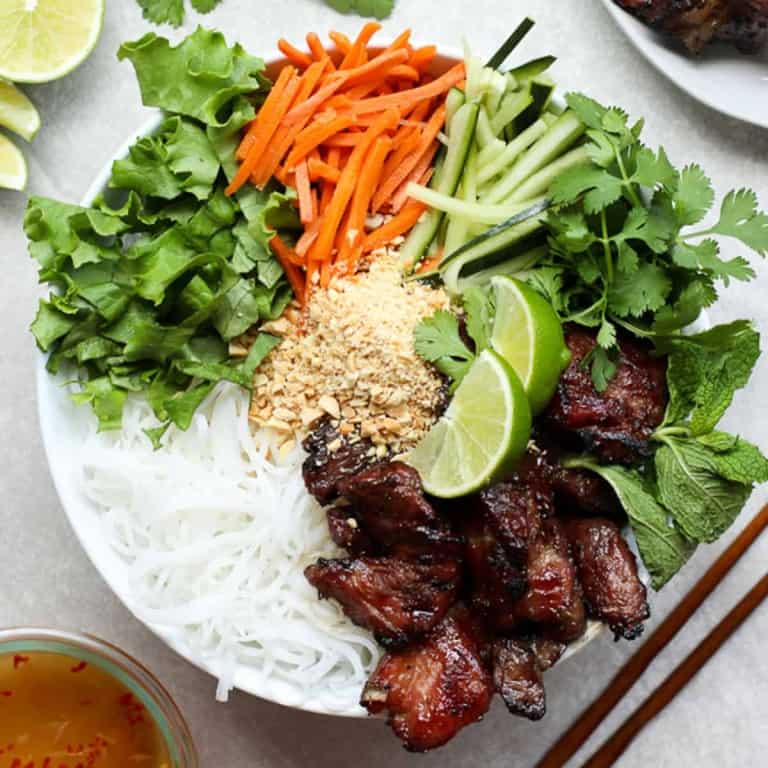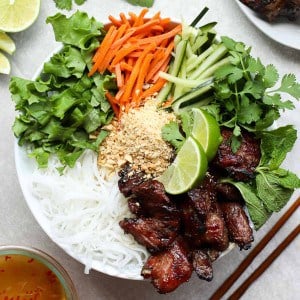 Vietnamese Noodle Bowl with Grilled Pork
A classic Vietnamese recipe! Vermichelli noodles topped with grilled pork, crunchy veggies and garnishes, served with a flavor bursting sauce. Make this classic Asian dish at home!
Print
Pin
Ingredients
Grilled Pork
2

lbs

pork shoulder

1/2

cup

brown sugar

2

tbsp

fish sauce

1/2

tbsp

soy sauce

3-4

cloves

garlic

1

tbsp

shallots

~2

inch

lemongrass

bottom white part

3

tbsp

vegetable oil
Noodles
7-8

oz

dried rice vermicelli noodles
Vegetables and Garnishes
1 1/2

cups

cucumber

shredded

1 1/2

cups

carrots

shredded

1/2

cup

rice vinegar

1/2

cup

hot water

1/4

cup

sugar

A

few leaves

lettuce

A

handful

cilantro

A

handful

mint leaves

1/2

cup

peanuts

chopped

1

fresh lime
Sauce (Nuoc Cham)
1/2

cup

hot water

3

tbsp

sugar

2

tbsp

fish sauce

2-3

tbsp

freshly squeezed lime juice

or to taste

1/4

tsp

red pepper flakes

or to taste
Instructions
Grilled Pork
Remove some of the fat from pork shoulders (but it is not necessary to remove all the fat), and slice pork into thin slices. Bring them into a large ziplock bag.

Combine and blend the rest of the ingredients listed under "Grilled Pork" in food processor/blender to create marinate, and add to zip lock bag. Make sure pork is evenly coated with marinate. Marinade pork for at least 1 hour, or up to a few hours.

Grill pork on a grill pan or outdoor grill. Pork can be pan-fried on a skillet as well. Grill under indirect heat (if using charcoal grill), or medium/low heat (if using grill pan, electric grill, or skillet) to make sure the insides of the pork is completely cook. Note that because there is sugar in the marinate, pork will brown/burn quickly on the outside.
Pickled Vegetables
Bring hot water and sugar (see ingredients under "Vegtables and Garnishes") together in a bowl to dissolve sugar. Add rice vinegar. Stir to combine.

Add shredded cucumber and shredded carrots to bowl with vinegar miture. Or, if desire, separate vinegar mixture into two bowls and separately pickle cucumber and carrots.

Press the carrots and cucmber down so that they are completely submerged in the mixture. Pickle for 30-60 minutes.
Other Vegetables and Garnishes
Prep/chop the rest of the vegetables and garnishes – lettuce, cilantro, mint leaves, and peanuts. Slice lime into a few wedges.
Noodles
Cook noodles base on package insutrctions. It's usually cooks quickly! If noodles needs to sit for a while before combining with the other ingredients, rinse them in cold water to prevent them from sticking to each other, continuing to cook and turning mushy.
Sauce (Nuoc Cham)
Combine hot water and sugar to completely dissolve sugar. Then add the other sauce ingredients. Stir to combine.
Combine
Bring noodles to bowl, and top with grilled pork, vegetables, and garnishes. Serve with sauce, and enjoy!
Notes
Tip: I typically start by marinating pork and pickling the carrots and cucumber. While waiting on the marinate and pickling, I work on chopping/prepping vegetables, creating the sauce, and cooking the noodles.
Nutrition
Calories:
731
kcal
|
Carbohydrates:
103
g
|
Protein:
36
g
|
Fat:
19
g
|
Saturated Fat:
5
g
|
Polyunsaturated Fat:
4
g
|
Monounsaturated Fat:
9
g
|
Cholesterol:
93
mg
|
Sodium:
1784
mg
|
Potassium:
1002
mg
|
Fiber:
5
g
|
Sugar:
52
g
|
Vitamin A:
8115
IU
|
Vitamin C:
14
mg
|
Calcium:
117
mg
|
Iron:
4
mg